Lucky Charms Cookies!!! A super soft vanilla cookie studded with lucky charms marshmallows and sprinkle of gold turbinado sugar, giving these incredible and unique texture.
When I told my family I was making lucky charms cookies, I go some mean side eye. They actually admitted to me that they didn't think they were going to like them. That's okay, I knew these cookies would blow their minds.
Imagine: a super soft lofthouse-like cookie with marshmallows mixed in and baked. But the BEST part is that immediately when they come out of the oven, you press a few extra marshmallows (because we all know and love their toothy texture) on top and sprinkle with turbinado sugar – aka the gold at the end of the rainbow.
If you'll excuse me, I'm going to curl up in that rainbow marshmallow. brb.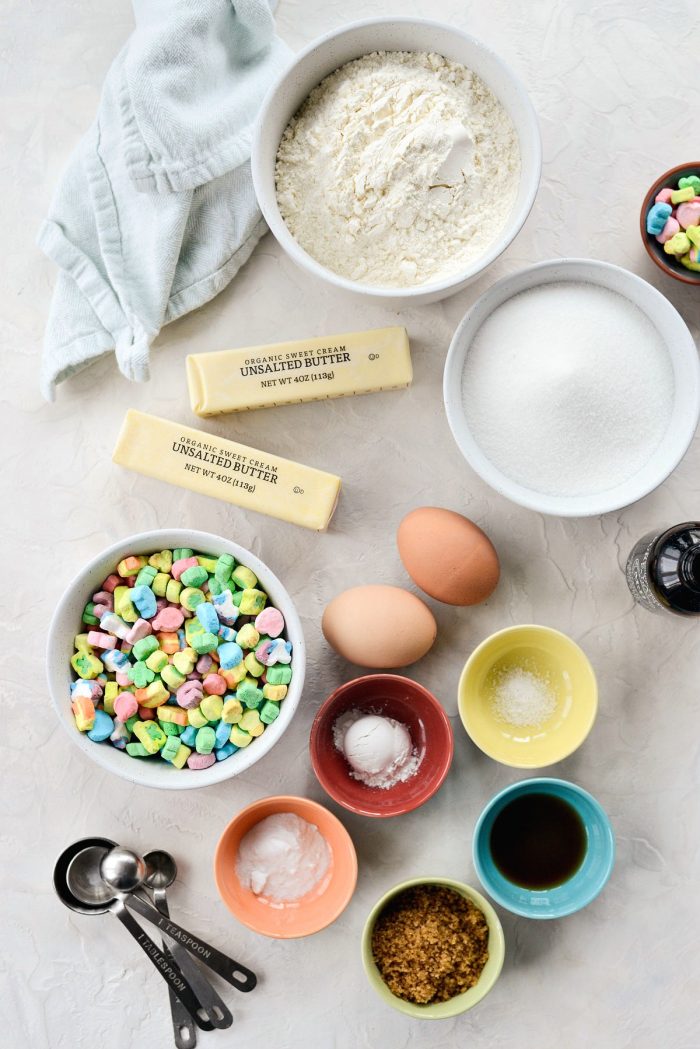 To Make These Lucky Charms Cookies You Will Need:
unsalted butter
granulated sugar
eggs
vanilla
unbleached all-purpose flour
cream of tartar
baking soda
kosher salt
lucky charms marshmallows
turbinado sugar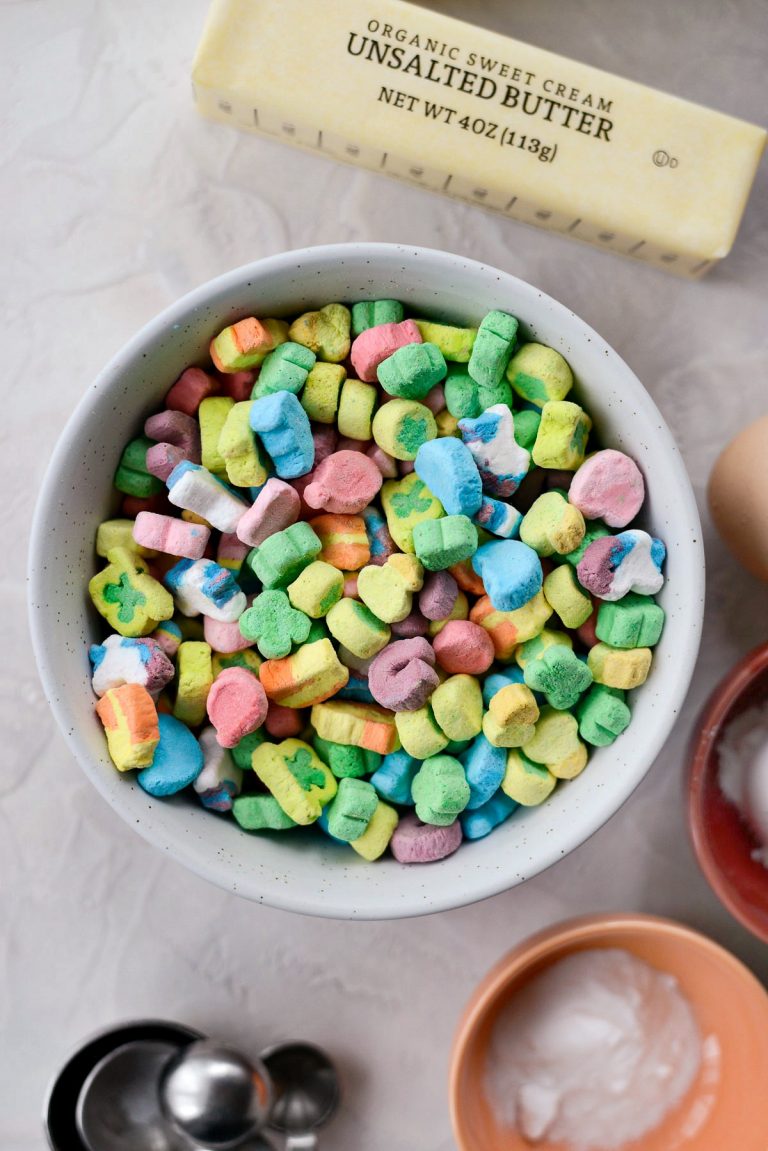 Start by separating the marshmallows from the cereal pieces. You will need 1-1/2 cups for the cookies and about 1/3 to 1/2 more for pressing into the cookies after they bake.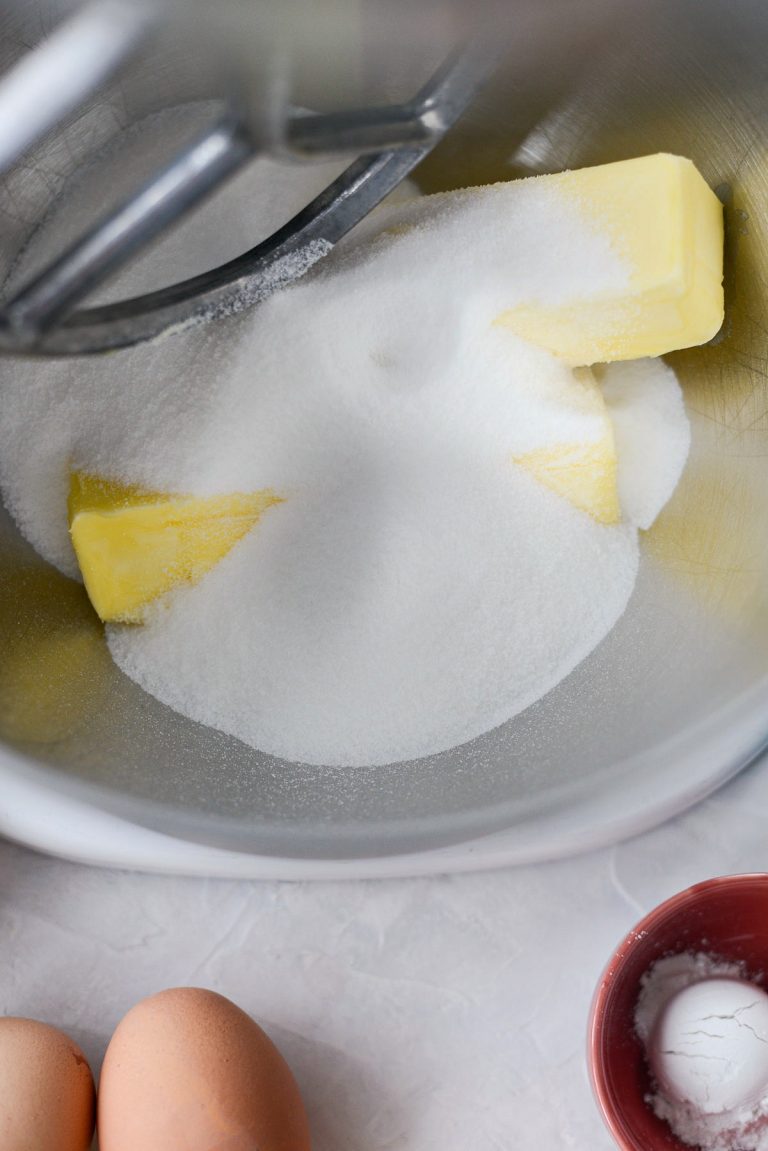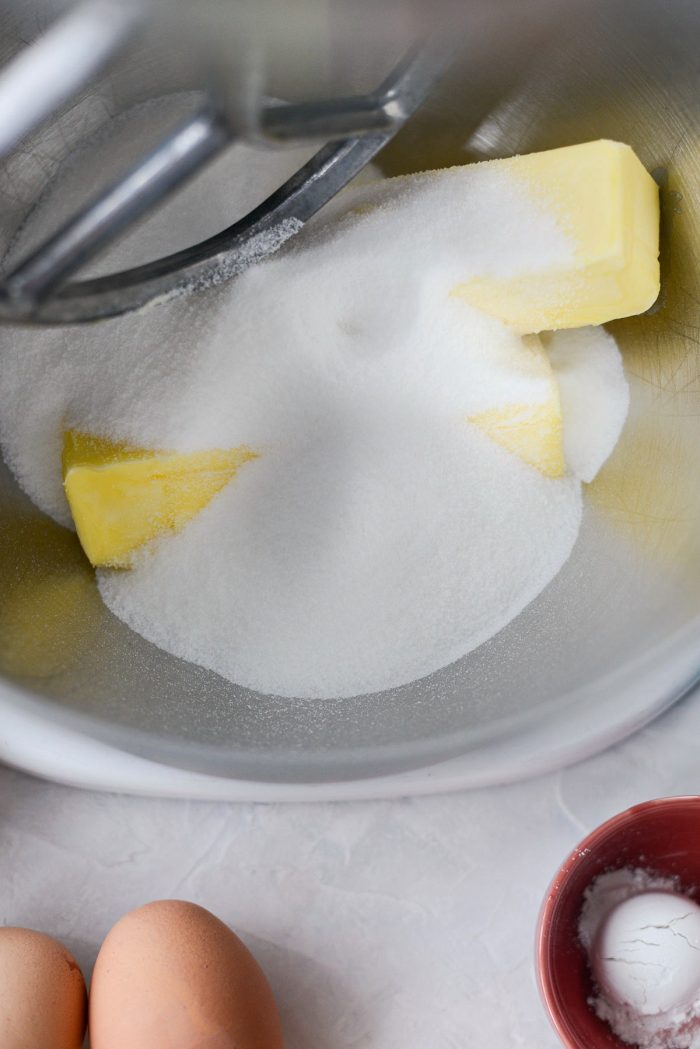 Into the bowl of your stand mixer fitted with the paddle attachment, add the 2 sticks softened unsalted butter and 1-1/4 cup granulated sugar. Mix on low to medium-low speed until light and creamy, about 2 minutes.
Add 1 egg at a time, mixing well after each. With the second egg, add in 1 teaspoon pure vanilla extract.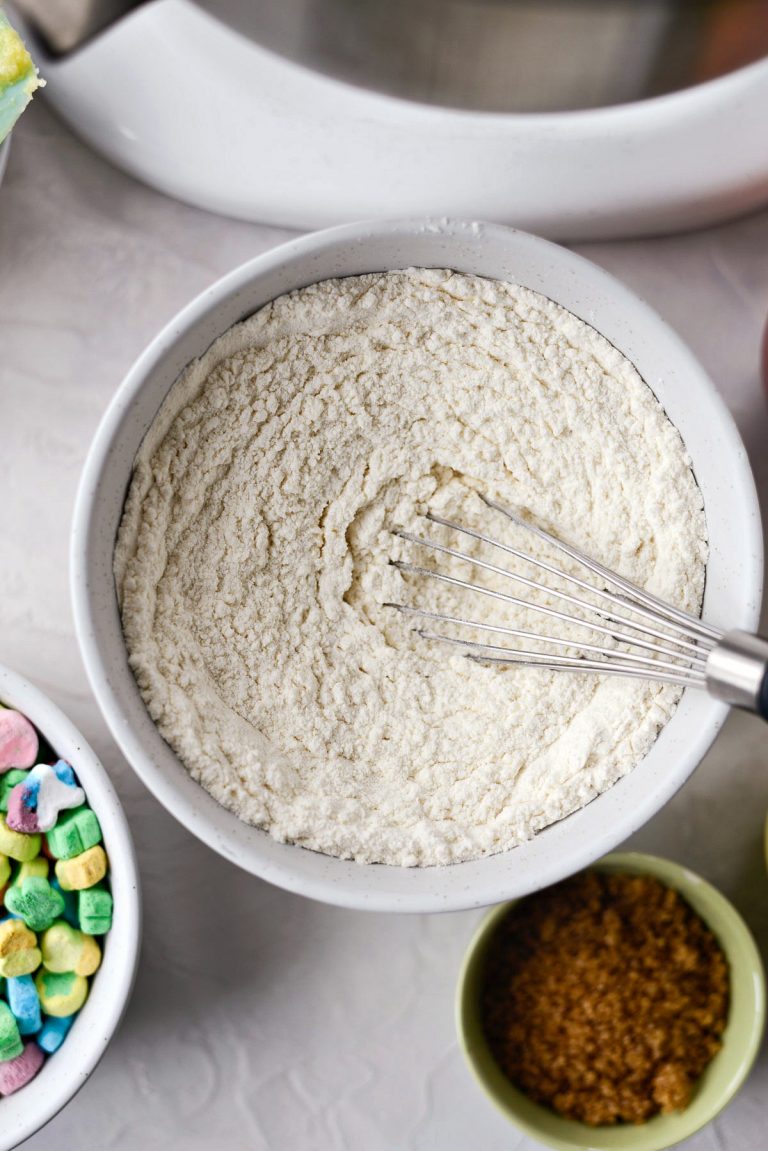 In a medium mixing bowl, measure and add 2-3/4 cups unbleached all-purpose flour, 2 teaspoons cream of tartar, 1 teaspoon baking soda and 1/4 teaspoon kosher salt.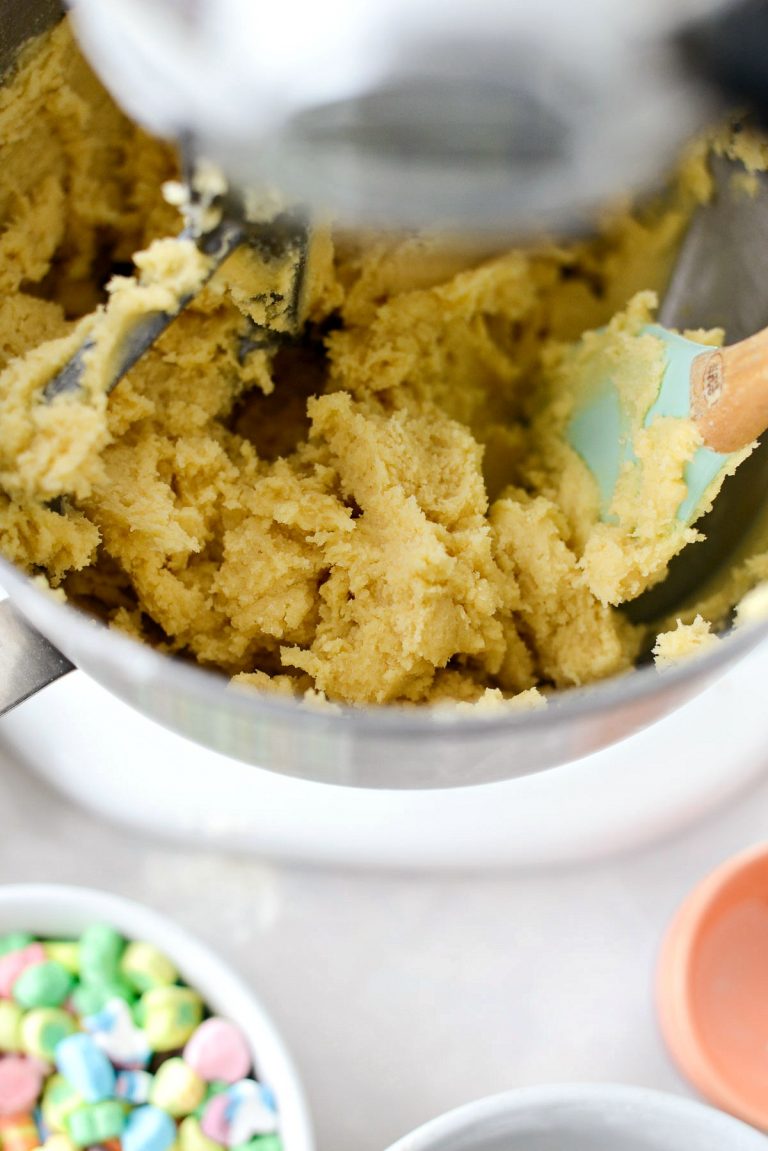 Gradually add the dry ingredients and blend until just combined.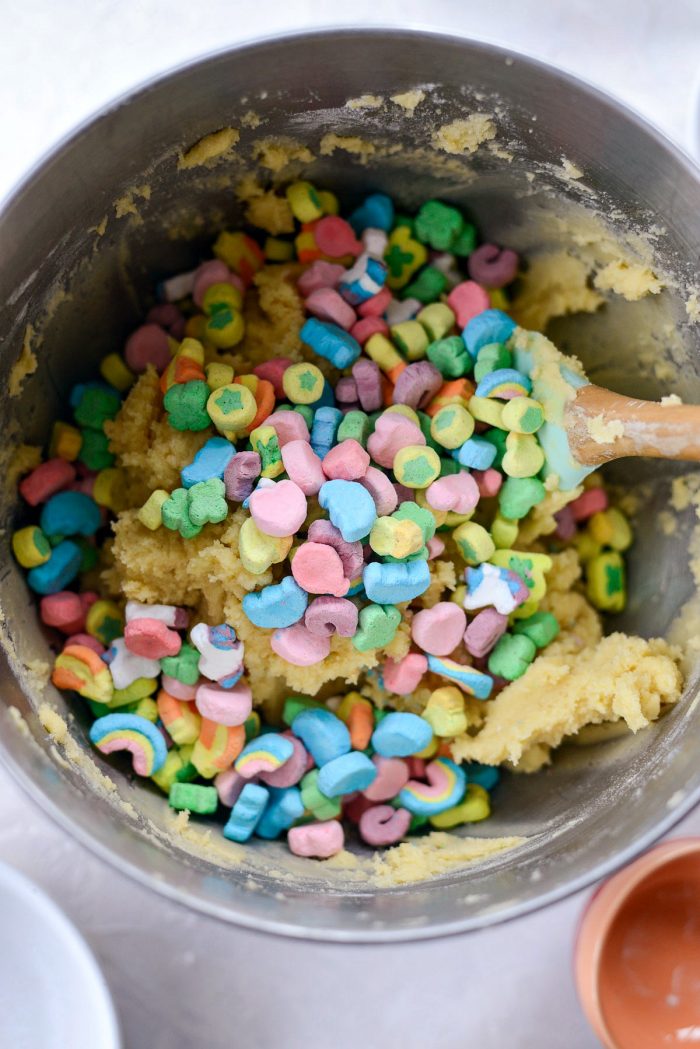 Add 1-1/2 cups of marshmallows to the cookie batter.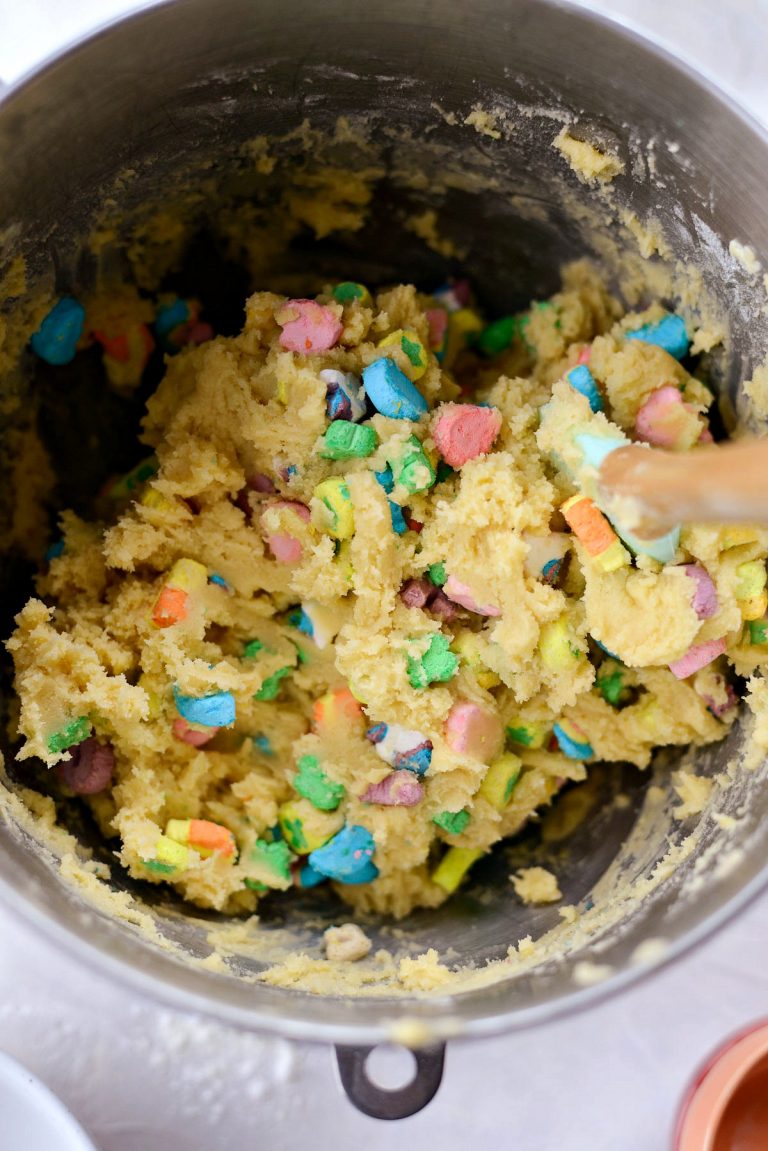 Gently fold in to combine.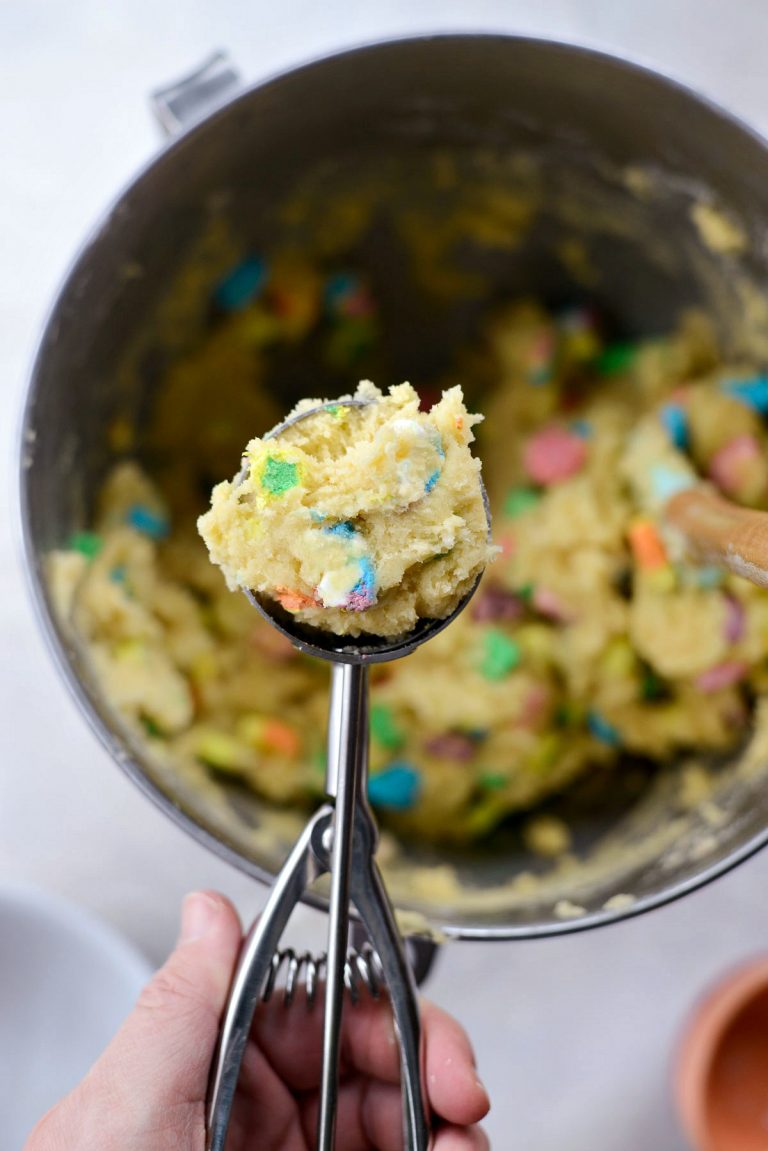 Using a 1-1/2 tablespoon scoop, measure out 8 cookies.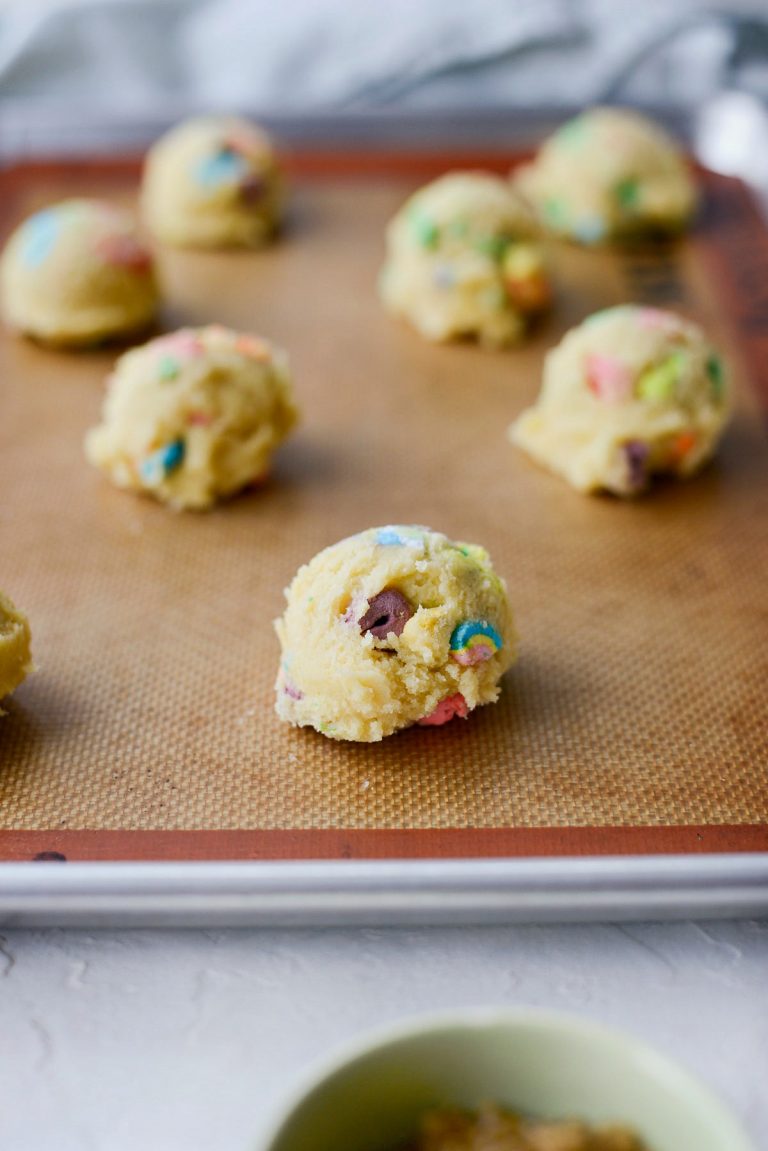 Place them onto a rimmed metal baking sheet lined with a silicone mat. With clean hands, roll the cookies into balls.
Bake in the middle rack of your preheated 325° oven for 10 to 12 minutes. In my oven it's 10. However my oven is tiny and hottttt so, with that said, watch carefully and remove before they get any brown golden spots.
As soon as you pull these out of the oven, press a few extra marshmallows into the tops of the cookies and sprinkle with turbinado sugar.
There's always gold at the end of every rainbow.
Let cool on a wire rack before storing.
For More St. Patrick's Day Recipes Click Here.
Enjoy! And if you give this Lucky Charms Cookies recipe a try, let me know! Snap a photo and tag me on twitter or instagram!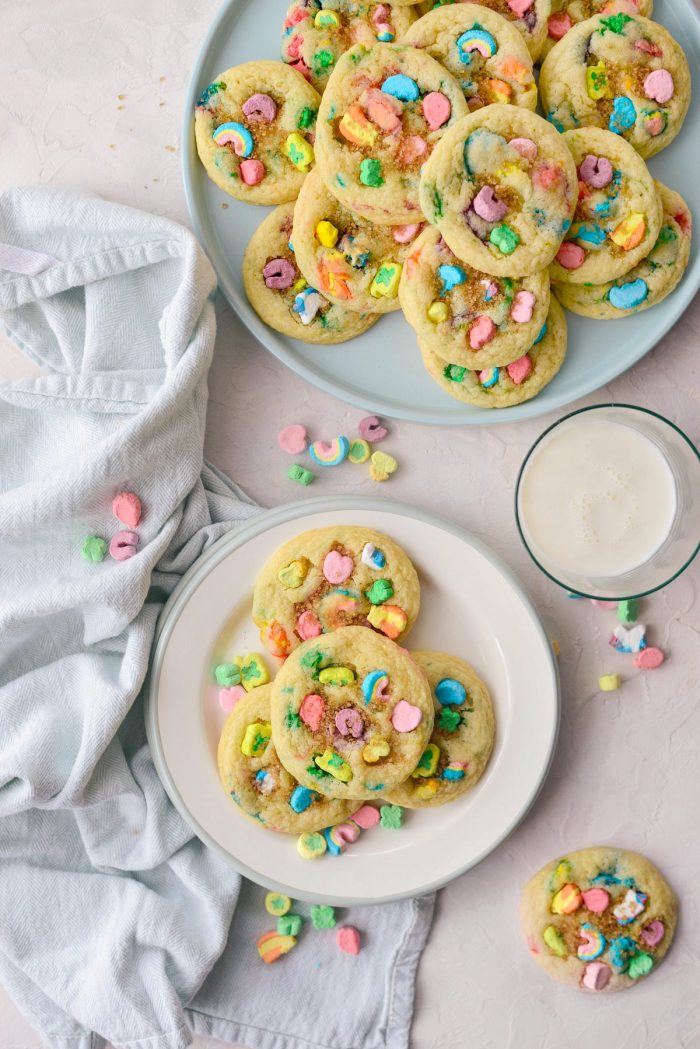 This post may contain affiliate links.
Buy the Cookbook: Simply Scratch : 120 Wholesome Homemade Recipes Made Easy Now available on Amazon »
THANK YOU in advance for your support!