Crispy Sheet Pan Chicken Fried Rice is a one pan main meal or side dish. Leftover rice and chicken get a new life with the addition of veggies and a simple Asian sauce. Serves 4 to 6 (depending).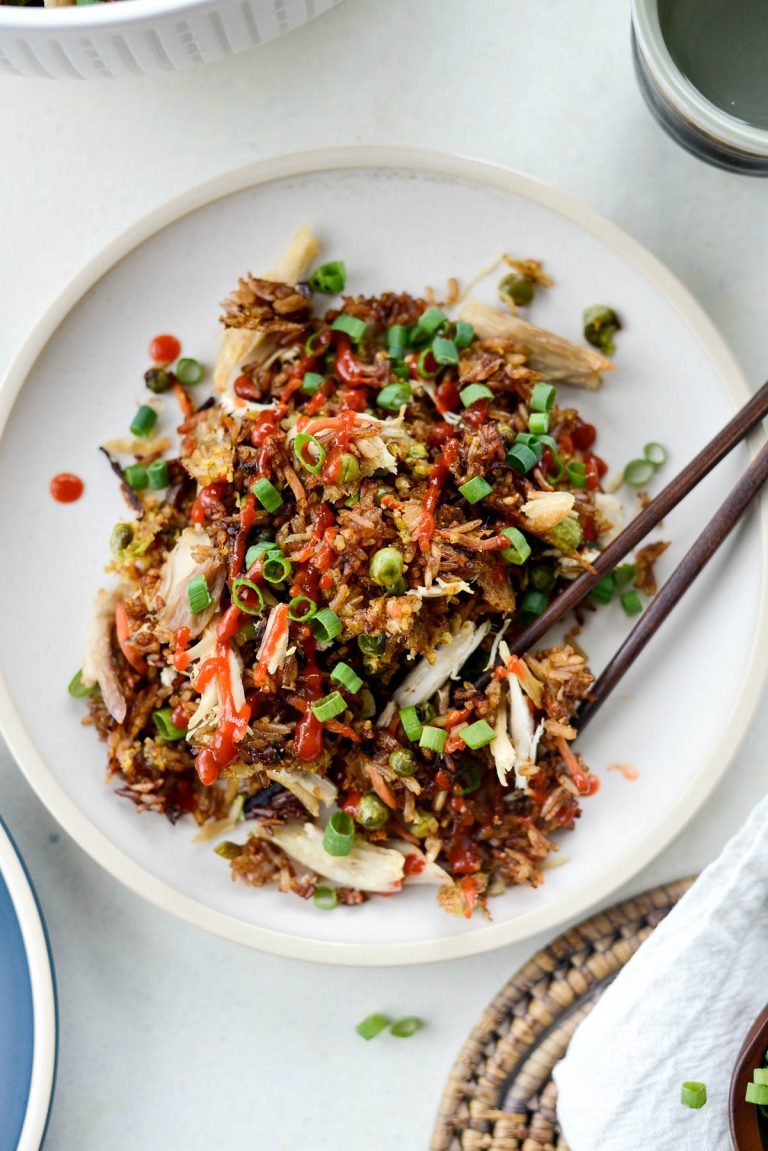 Being a food blogger, leftovers are inevitable; rice, chicken, cheesecake banana bread… life is so rough. However I do always try to find a way to use them. Doing things like giving them away 😉 or trying to create a second meal out of what's left. Fried rice is probably the best way to use up those little baggies of leftover salad veggies or that extra pork chop or chicken breast that's hanging around your fridge. It's easy and who doesn't like fried rice? Besides Malloree, who else? Because I'm pretty sure she's the only person in the world. (kidding)
Needless to say, the rest of my family loves fried rice. Any rice, really. However, crispy fried rice has quickly become a favorite. I first fell in love with it when I made a different sheet pan dinner and it was love at first bite.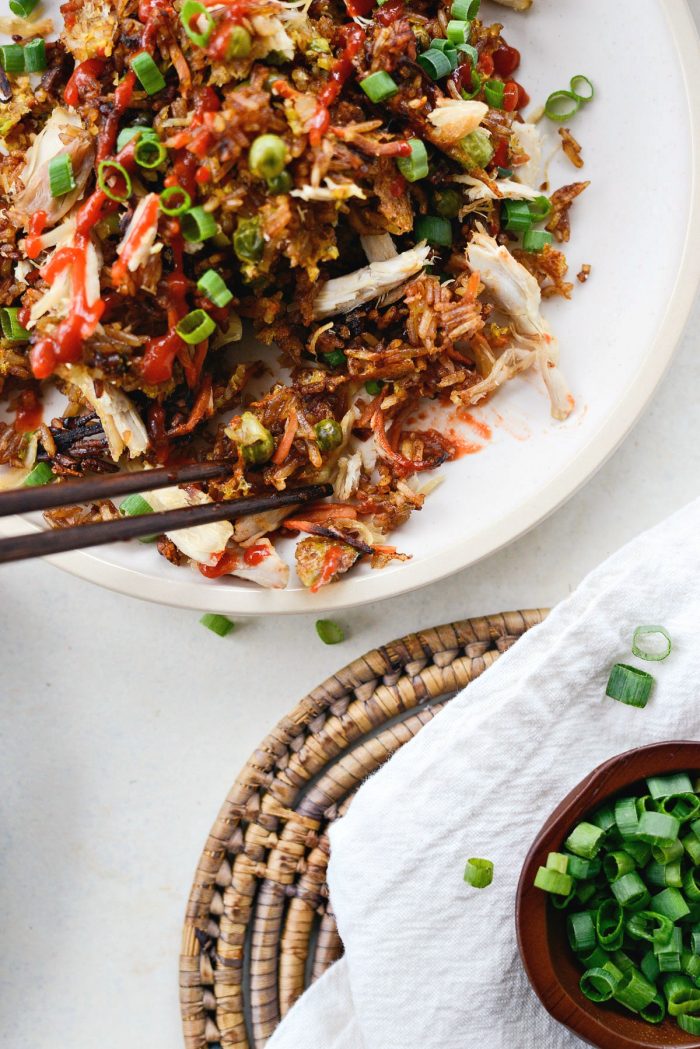 The texture of the crispy bits is the ultimate. This recipe is more of a classic version but don't think for one second I don't have another one I'm brainstorming.
Because rice is life.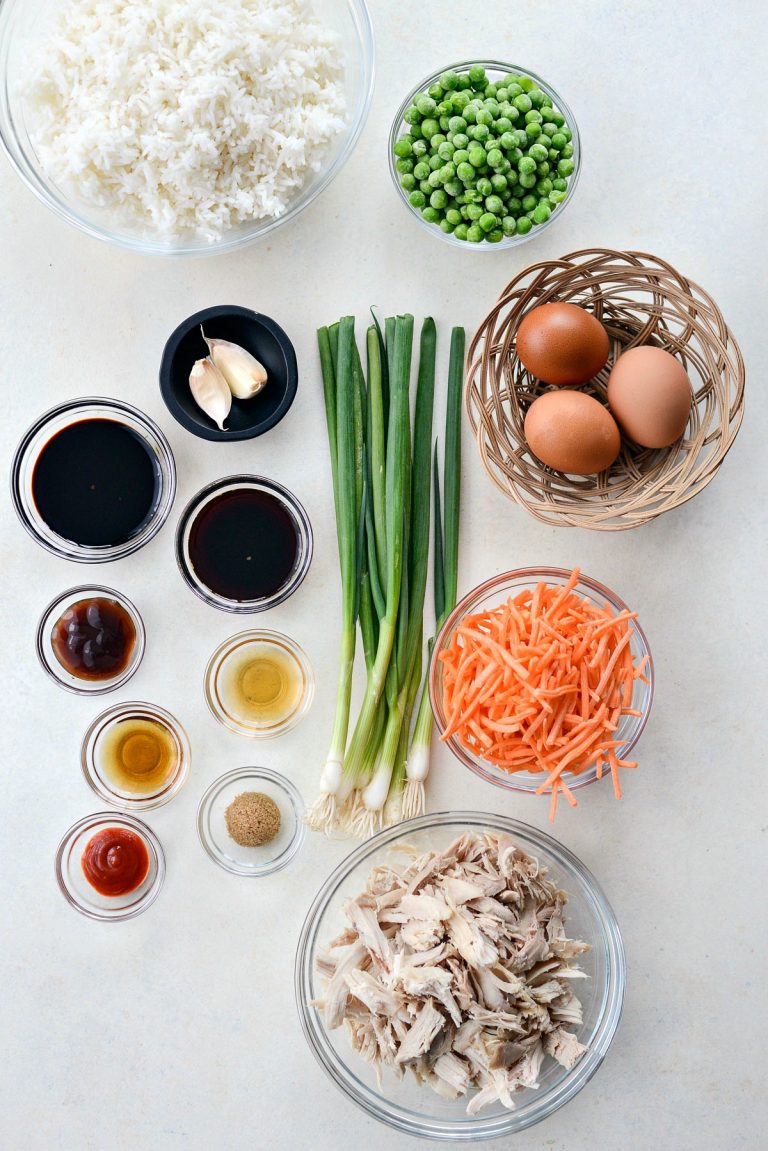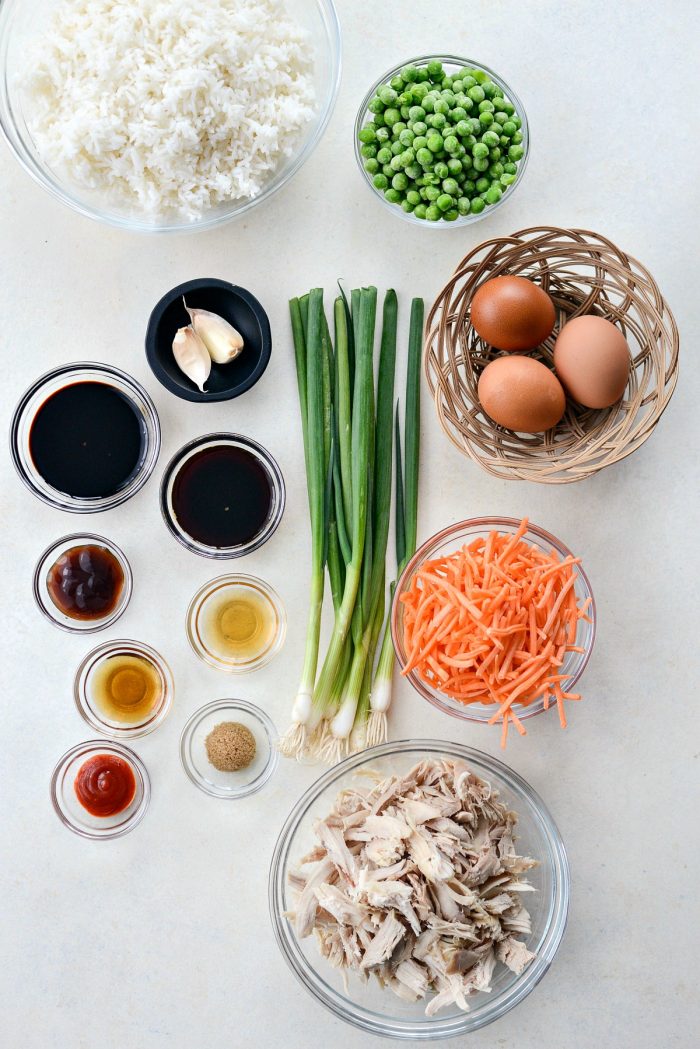 To Make This Sheet Pan Chicken Fried Rice You Will Need:
fresh garlic
dark soy sauce
light soy sauce
fish sauce
shaoxing wine
oyster sauce
dark brown sugar
sriracha
leftover cooked rice (fresh rice has too much moisture)
green onions
shredded (or julienned) carrots
peas (frozen)
eggs
shredded cooked chicken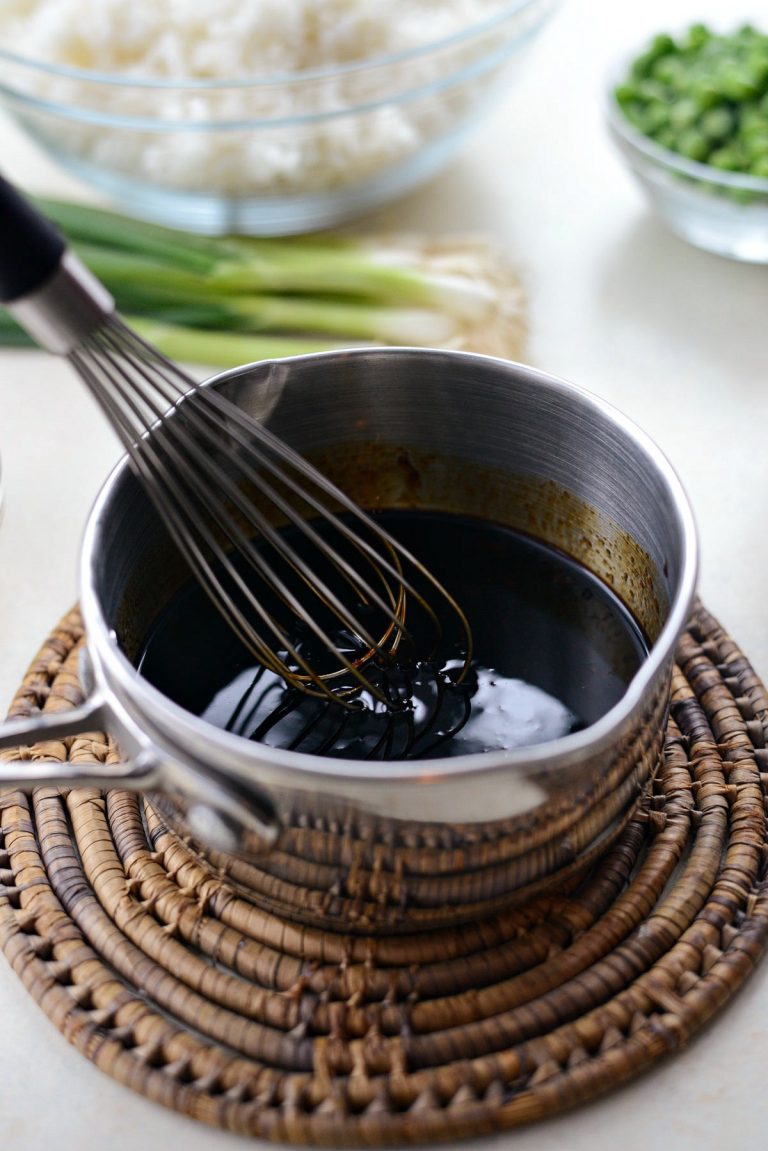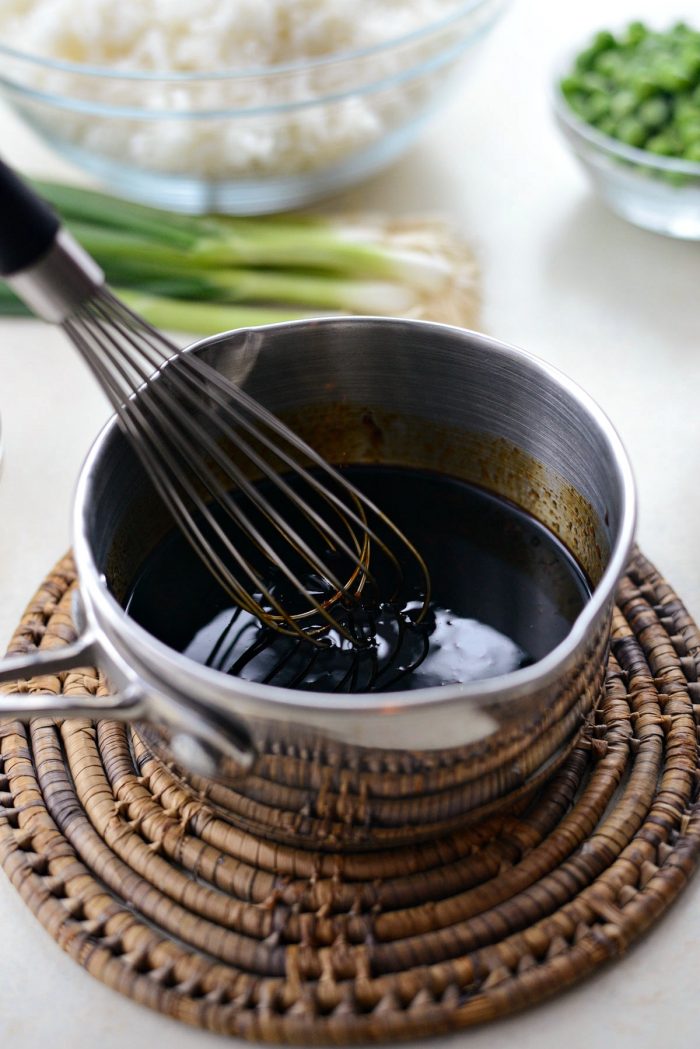 Place a rimmed, metal baking sheet into your oven and preheat to 450°.
In a small sauce pan, measure and add; 2 cloves freshly grated garlic, 1 teaspoon dark brown sugar, 2 tablespoons dark soy sauce (I purchase mine on amazon), 2 tablespoons light soy sauce (which is what you commonly find in all grocery stores), 2 teaspoons fish sauce, 2 teaspoon shaoxing wine, 1 teaspoon oyster sauce and 1 teaspoon Sriracha – more or less to taste. While whisking, bring to a bubble on medium high heat. Once boiling, remove the pan off of the heat and set aside.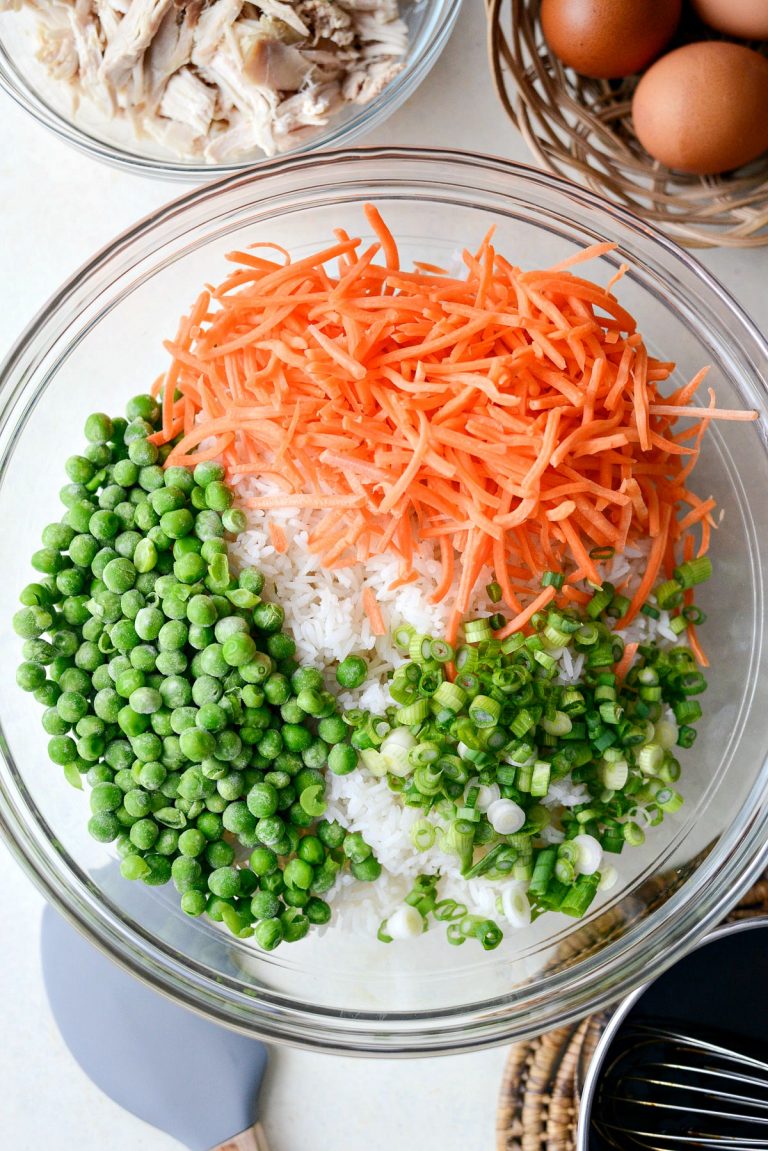 Meanwhile, in a large bowl, add 4 cups leftover cooked rice, light white and light green parts of the green onions (save the dark parts for serving), 1 cup shredded carrots (I always have a bag in my fridge for salads! total time saver) and 3/4 cup frozen peas.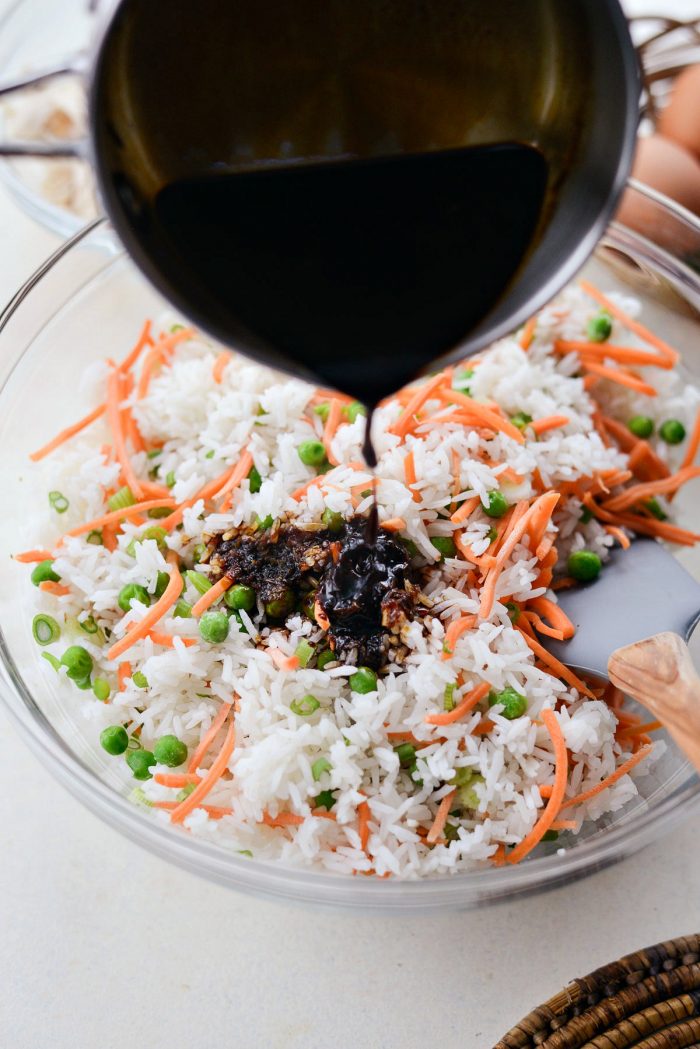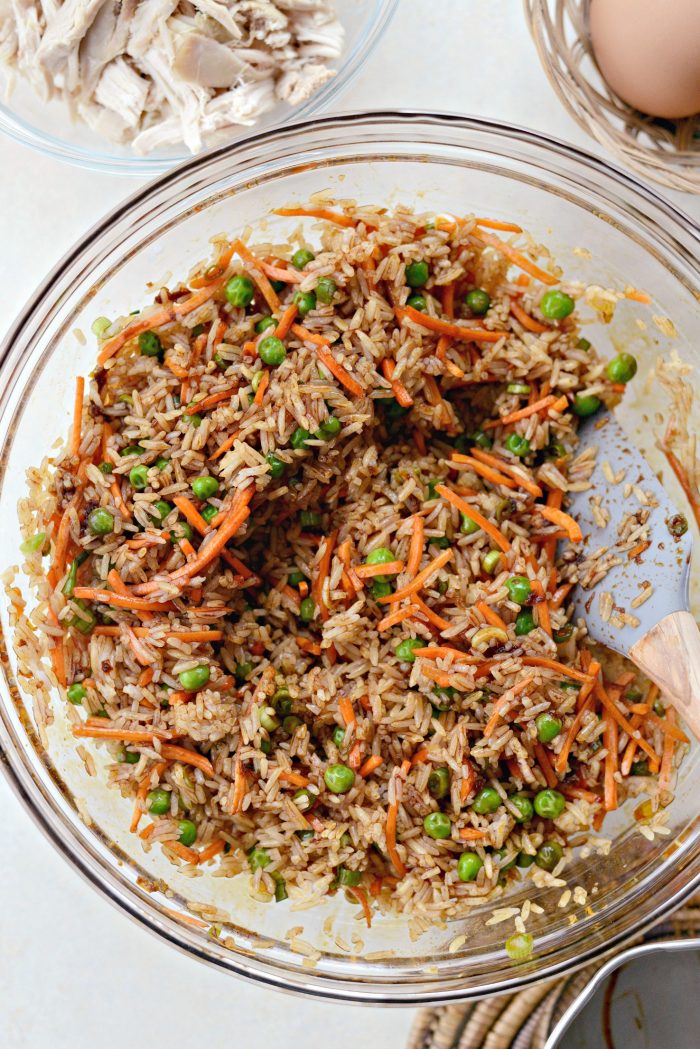 Pour the fried rice sauce all over and toss to combine.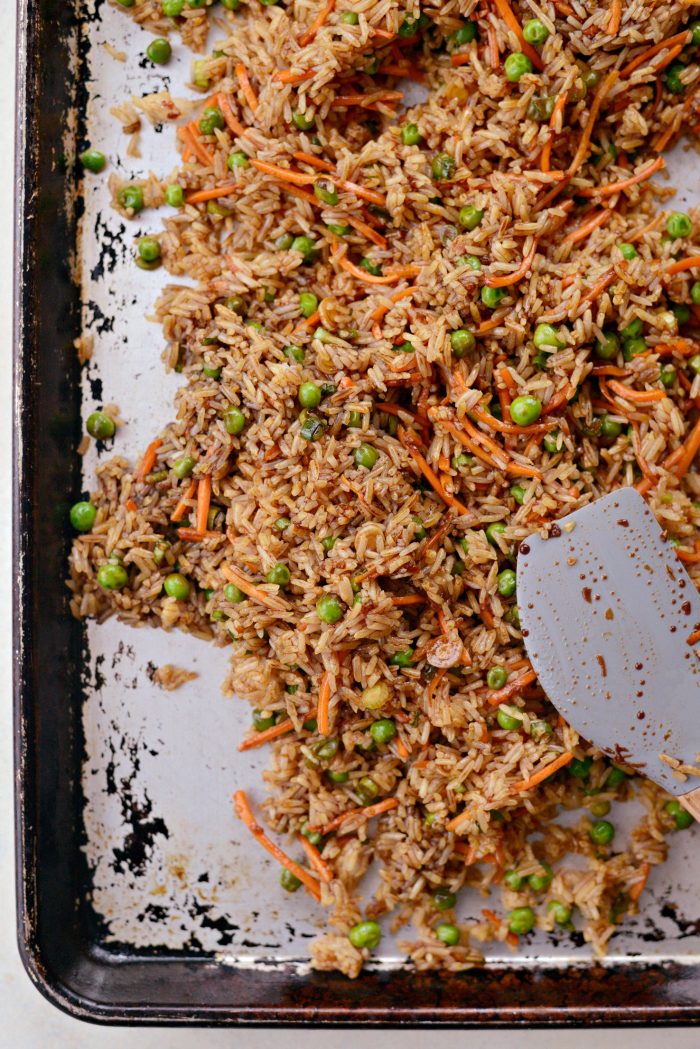 Once the oven is preheated, and the pan is hot, use oven mitts to remove the pan and immediately spray with olive oil and add the rice mixture. It should sizzle! Quickly spread the rice out into an even layer and pop back into the oven for 12 to 15 minutes.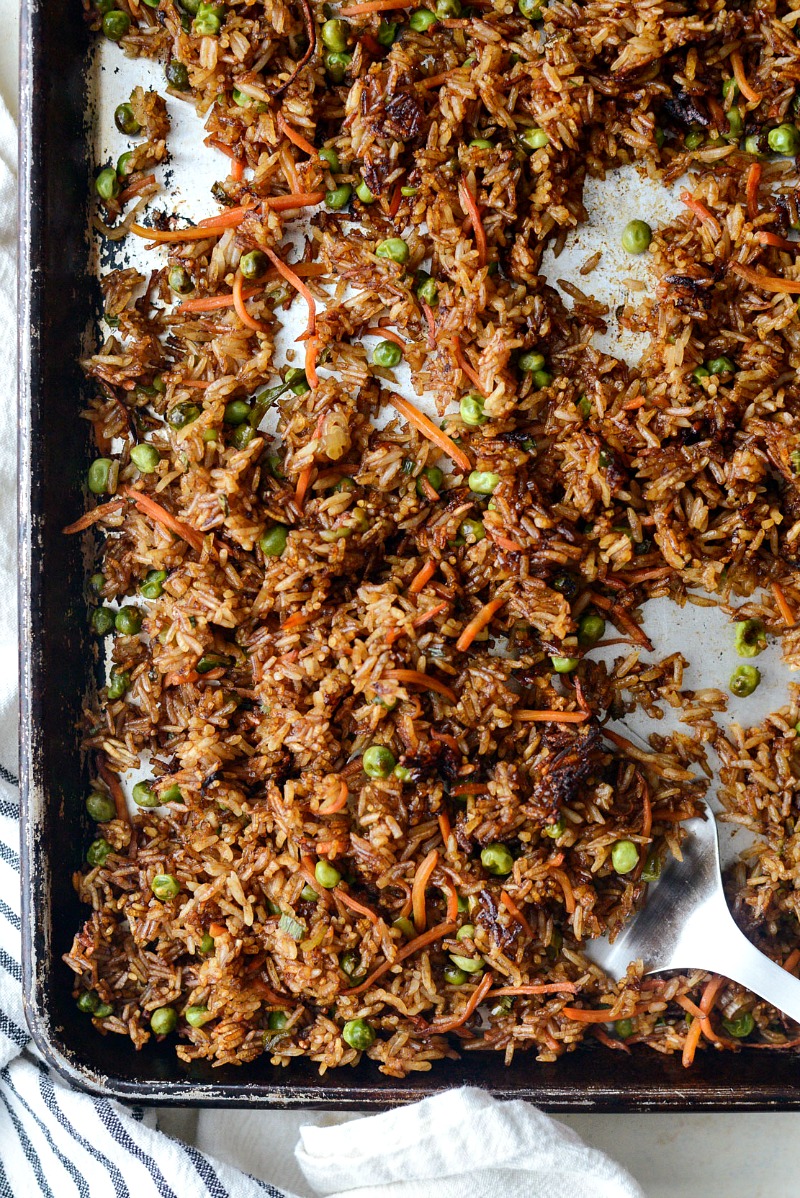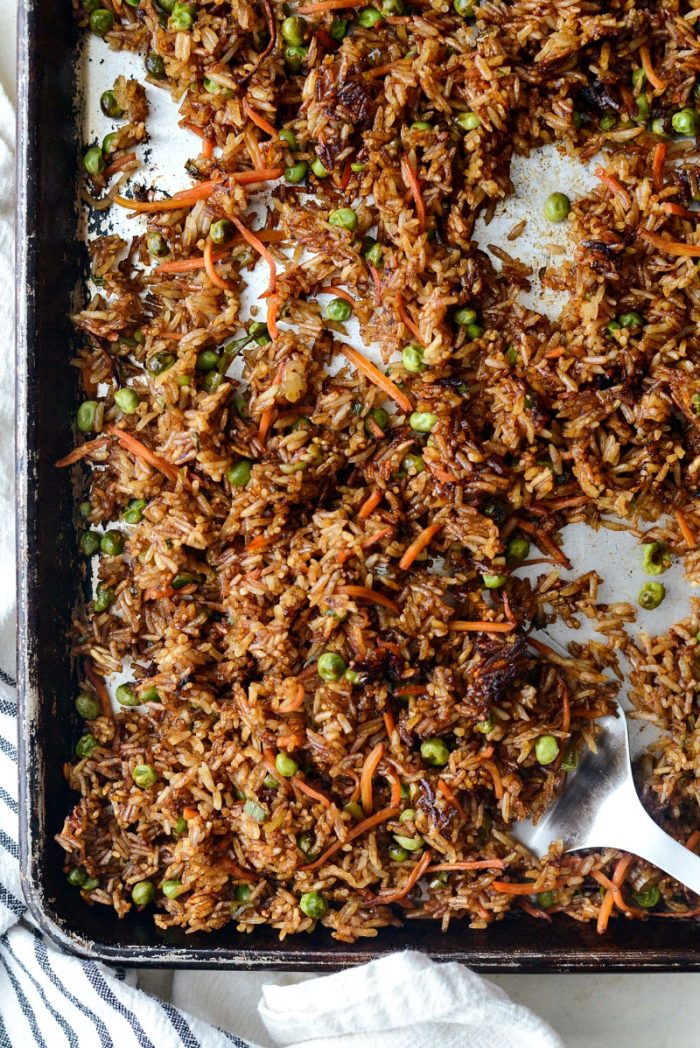 Remove the pan and reduce the oven temperature to 350°. Use a metal spatula to scrape up the rice. There should be noticeable crispy bits <—so good!
Haphazardly pour the beaten eggs over the rice.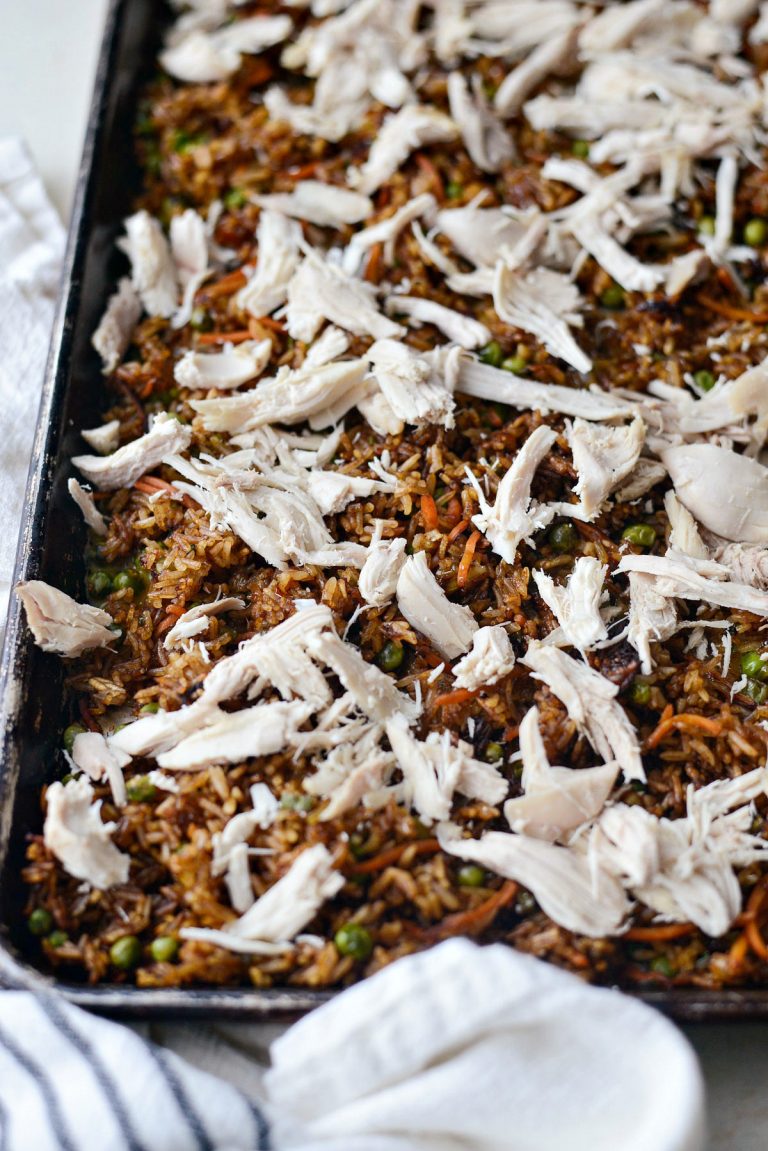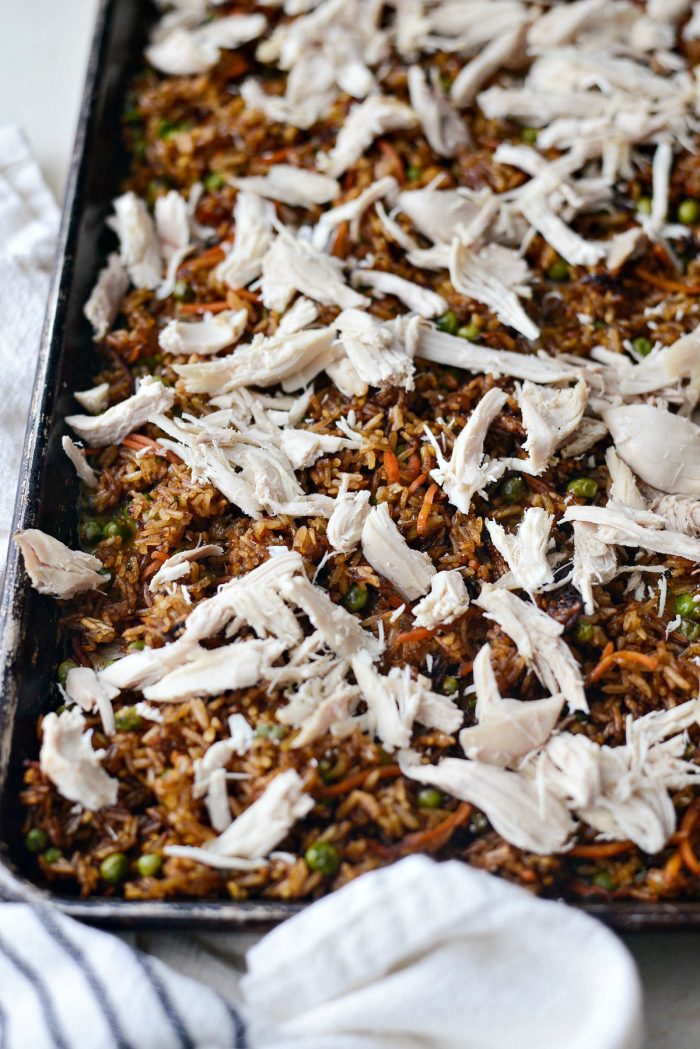 Scatter the chicken over top before popping the whole thing back into the oven for 5 to 8 minutes Or until the egg is set.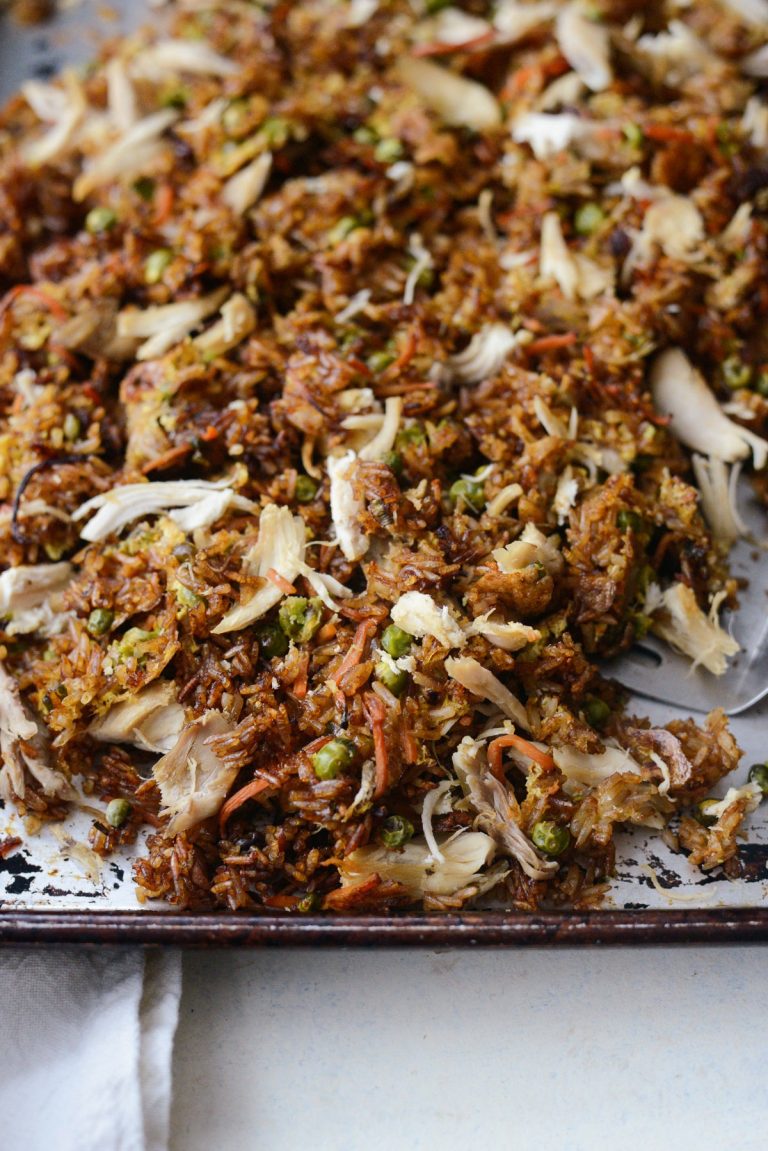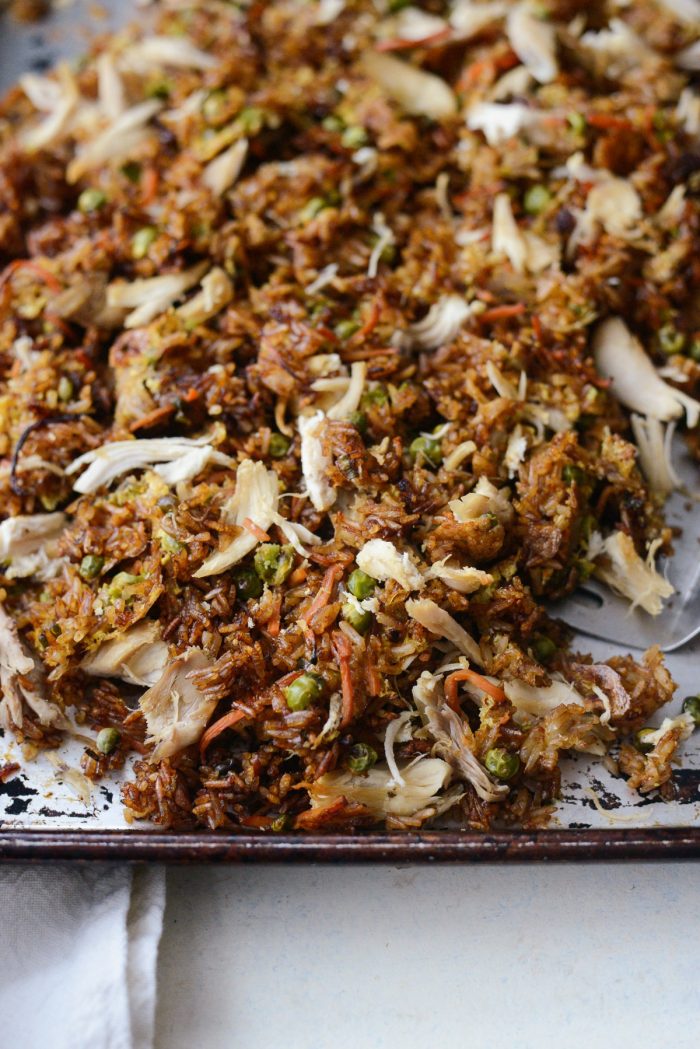 Stir it all one last time before serving. I actually forgot to turn down my oven (story of my life) and my eggs and rice were a little extra crispy yet still so. dang. good.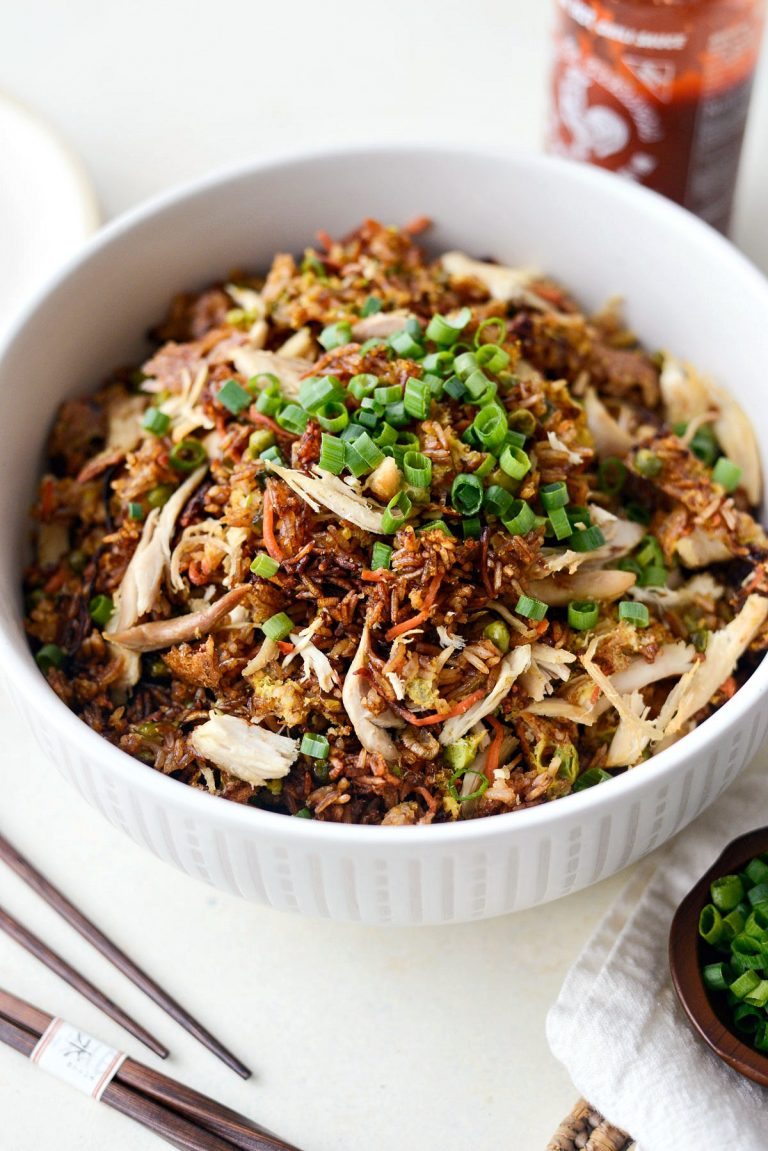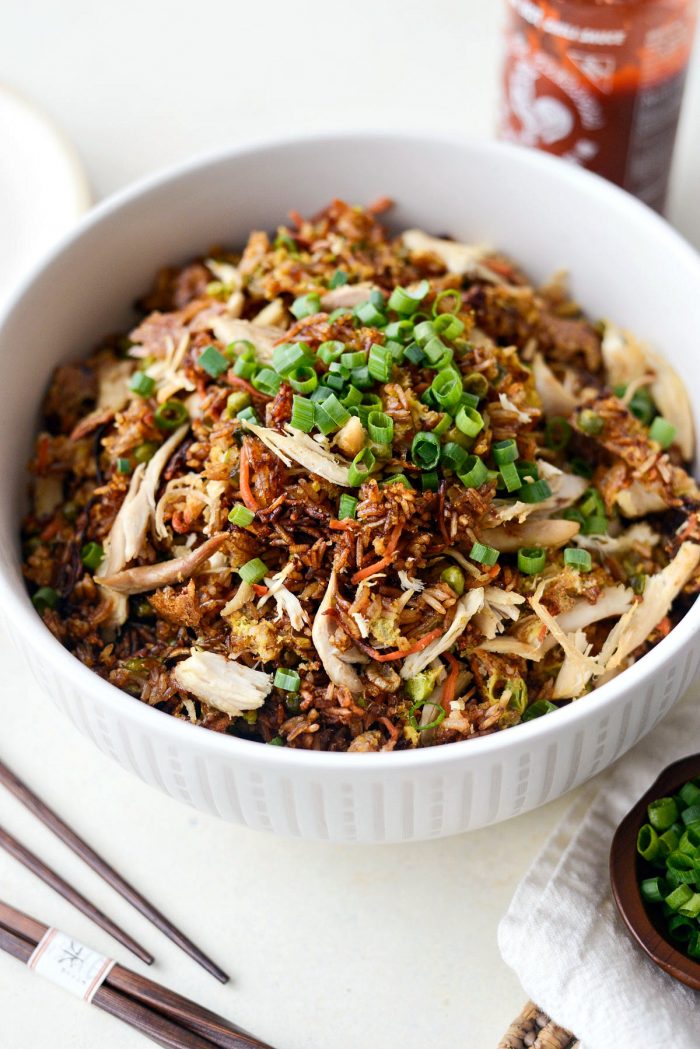 Sheet pan chicken fried rice could be a main dish all on it's own because it's so satisfying, but I've also made teriyaki chicken and roasted broccoli and served it as a side before too.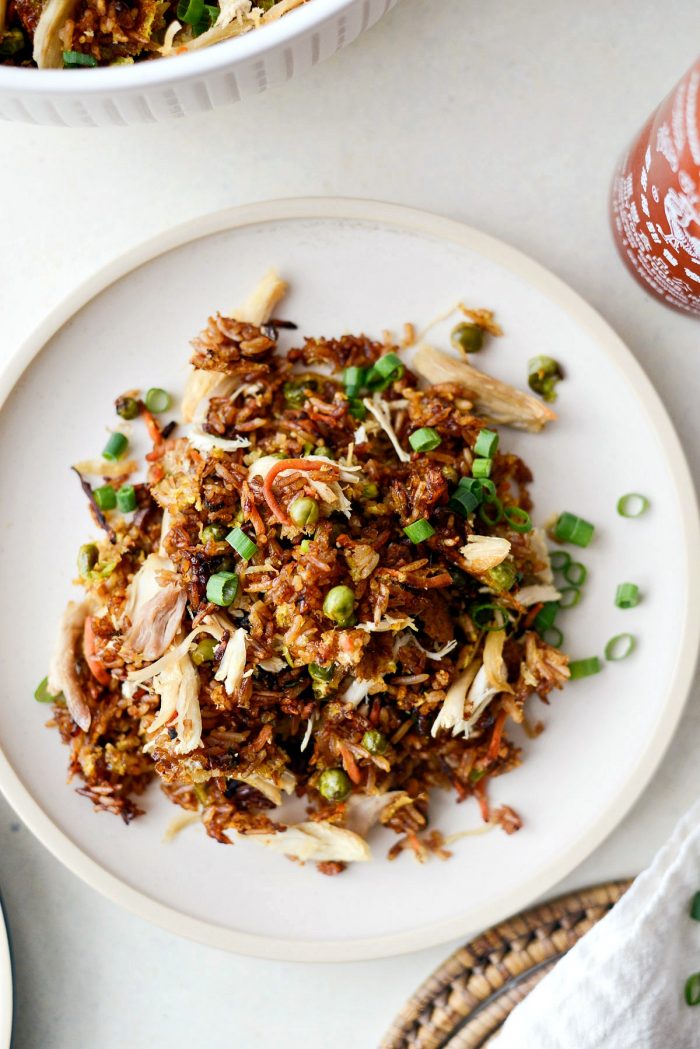 Either way it's incredible.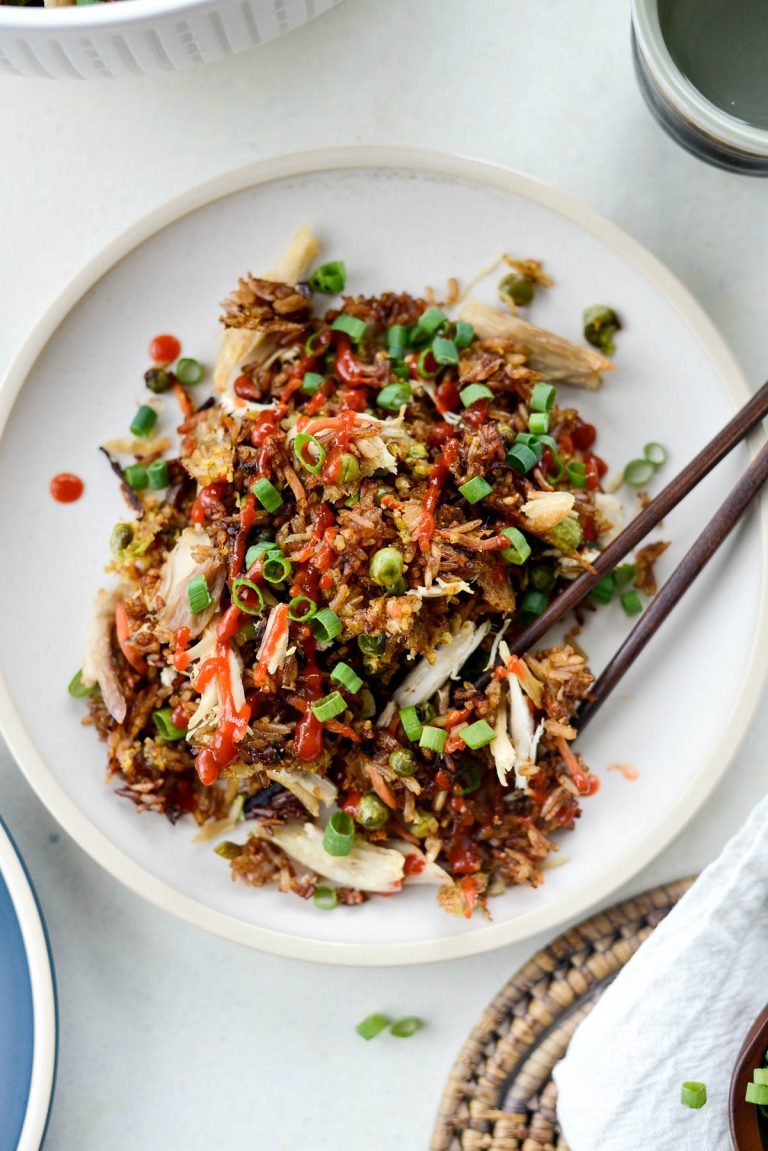 With our without extra sriracha, that is the question.😉
For More Sheet Pan Recipes Click Here.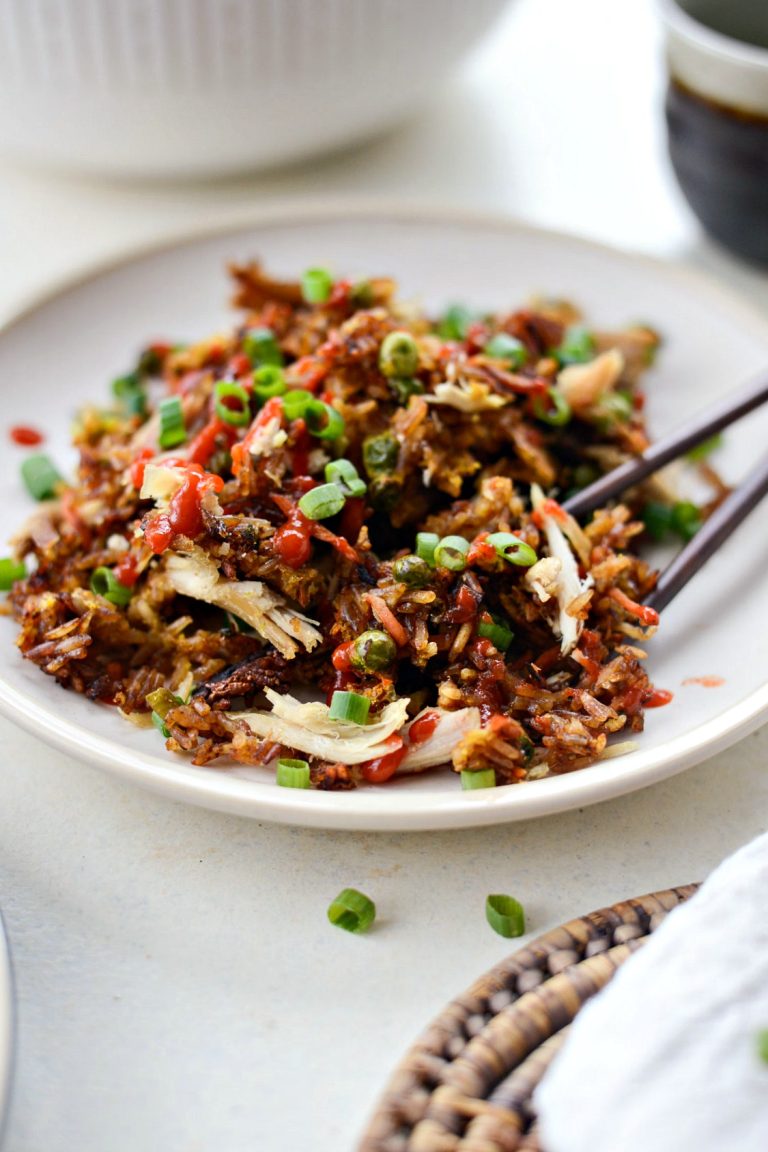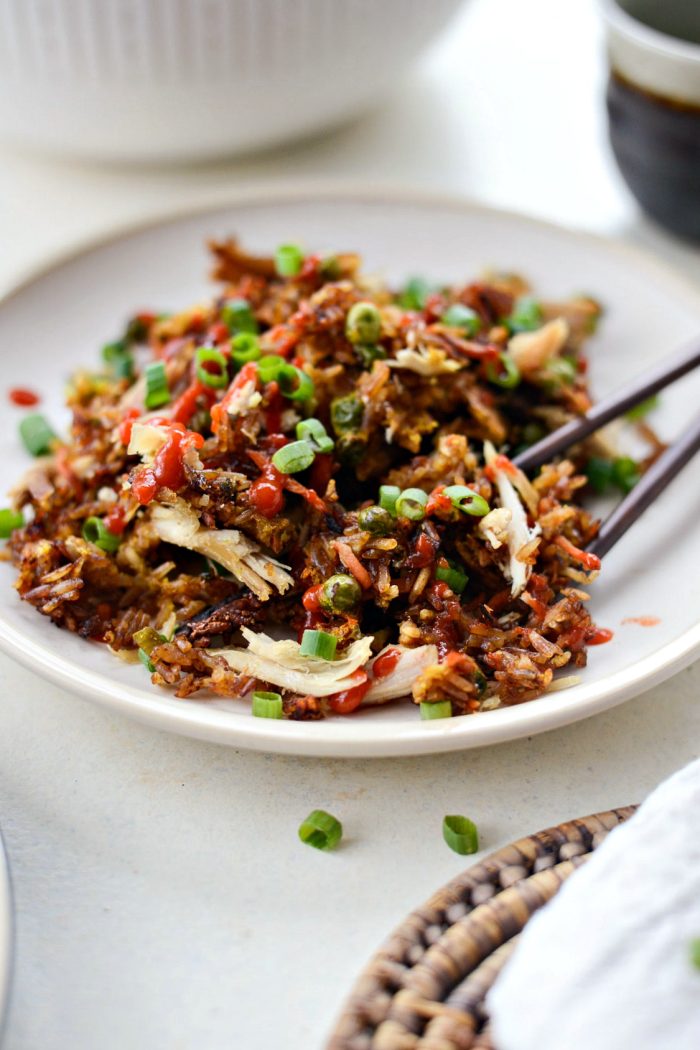 Enjoy! And if you give this Sheet Pan Chicken Fried Rice recipe a try, let me know! Snap a photo and tag me on twitter or instagram!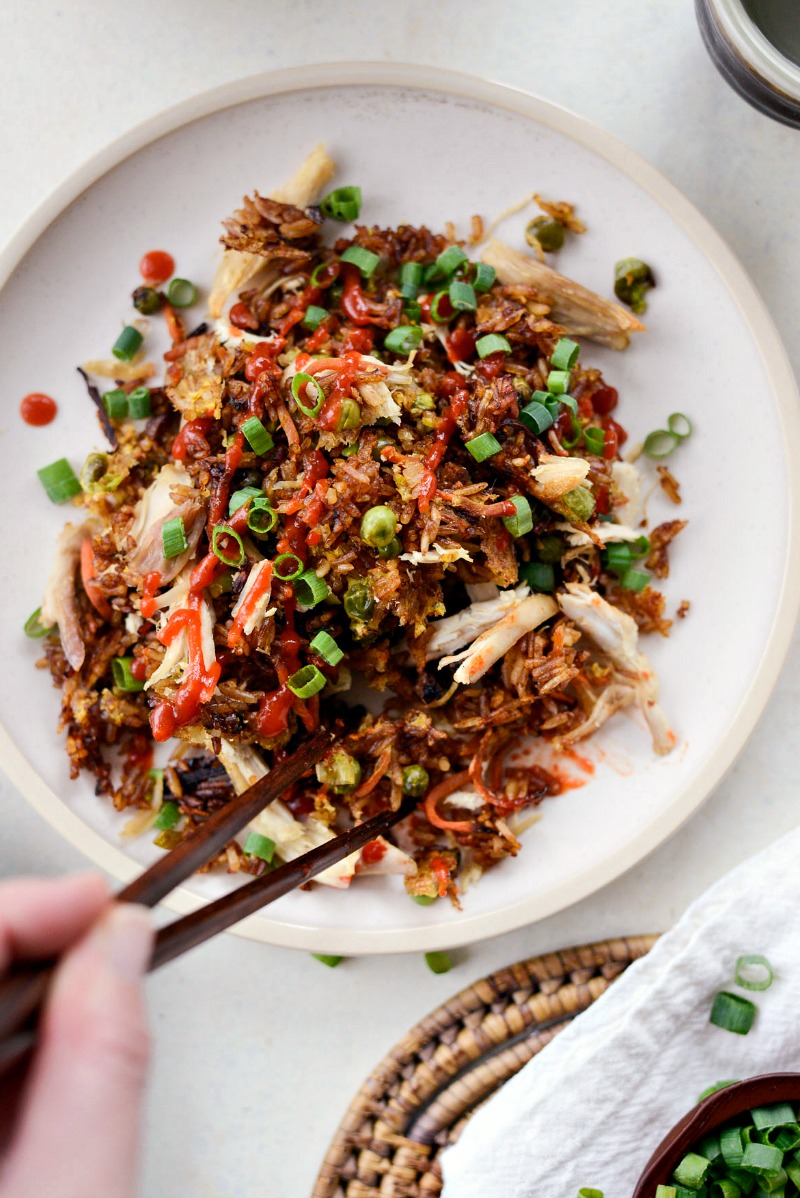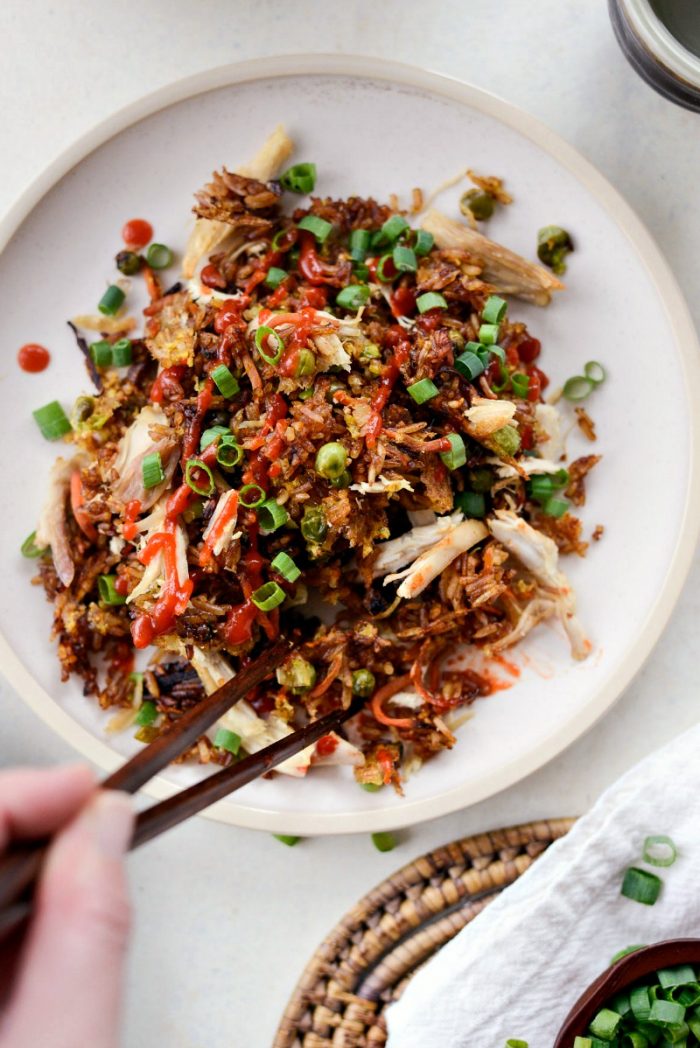 This post may contain affiliate links.
Buy the Cookbook: Simply Scratch : 120 Wholesome Homemade Recipes Made Easy Now available on Amazon »
THANK YOU in advance for your support!