Forget deep-frying, these Air Fryer Cheesecake Chimichangas are the ultimate dessert! Soft flour tortillas are filled with strawberry or banana filled cheesecake, with a dab of Nutella and air fried until crisp and golden. As if that wasn't already insanely decadent, the chimichangas get brushed with melted butter and rolled in cinnamon sugar.
If you haven't had a dessert chimichanga, let me introduce you!
Crispy, sugary and filled with cheesecake. Seriously, what's not to love?? I like add fresh strawberries and bananas, along with some Nutella but it all is wrapped in a tortilla that's then air fried, brushed with butter and rolled in cinnamon sugar. You see where this is going, right?
Just be warned, these are messy. But in the best possible way. The crunchy cinnamon sugary coating and the oozy cheesecake and Nutella filling definitely makes things interesting. Definitely serve with a couple napkins.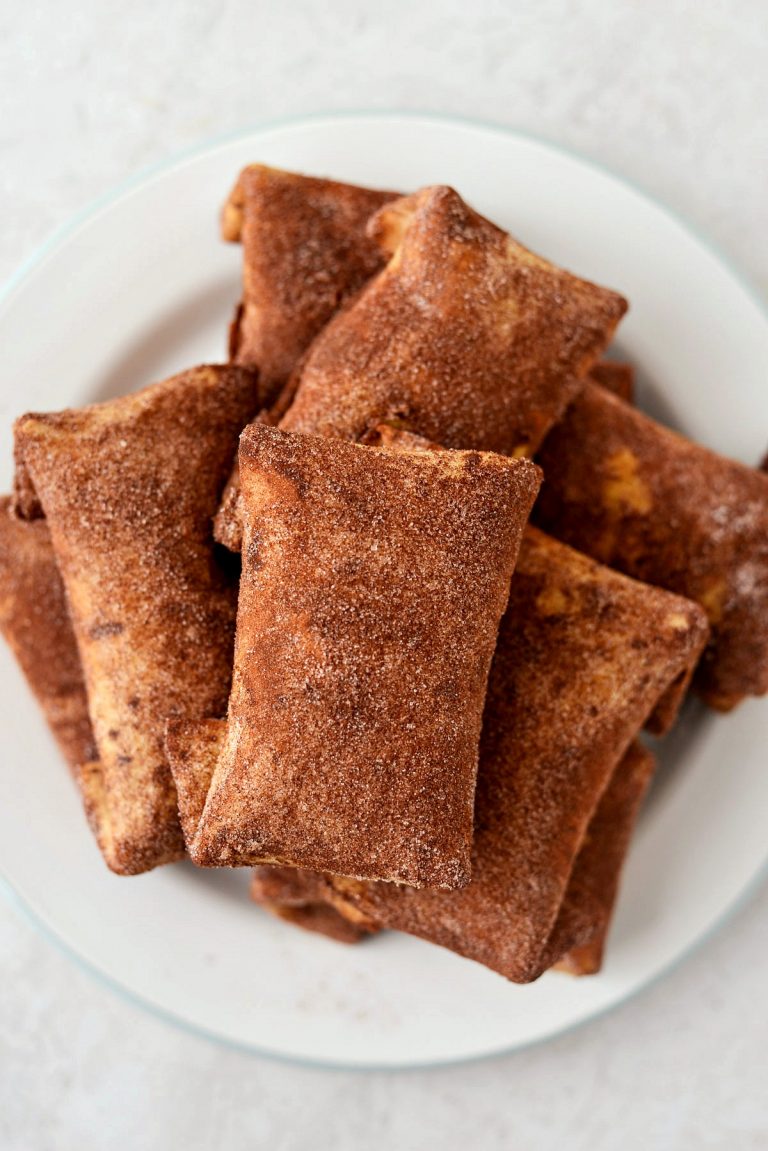 And although these dessert chimis may not the most photogenic dessert, it makes up for it in every other way possible.
To Make These Air Fryer Cheesecake Chimichangas You Will Need:
softened cream cheese
sour cream or plain nonfat greek yogurt
granulated sugar
vanilla extract
strawberries
banana
soft flour tortillas (8 inches – soft taco size)
Nutella
olive oil spray
melted butter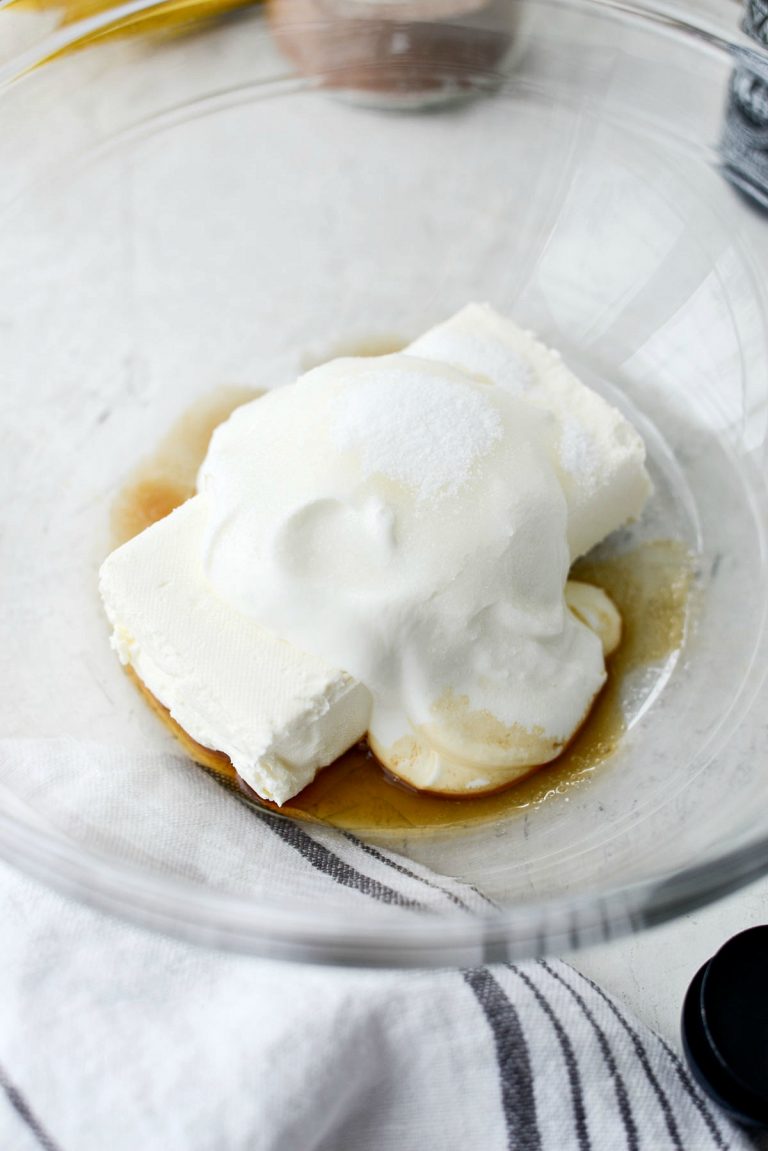 In a medium mixing bowl, cream together 1 (8 ounce) brick of softened cream cheese, 1/4 cup sour cream (or plain nonfat greek yogurt), 1-1/2 tablespoons granulated sugar and 1 teaspoon vanilla extract.
I will say that using plain nonfat greek yogurt in place of full fat sour cream does change the visual texture a smidge once air fried, however it doesn't impact the flavor whatsoever. Rarely do I ever have sour cream so I used unsweetened plain nonfat greek yogurt.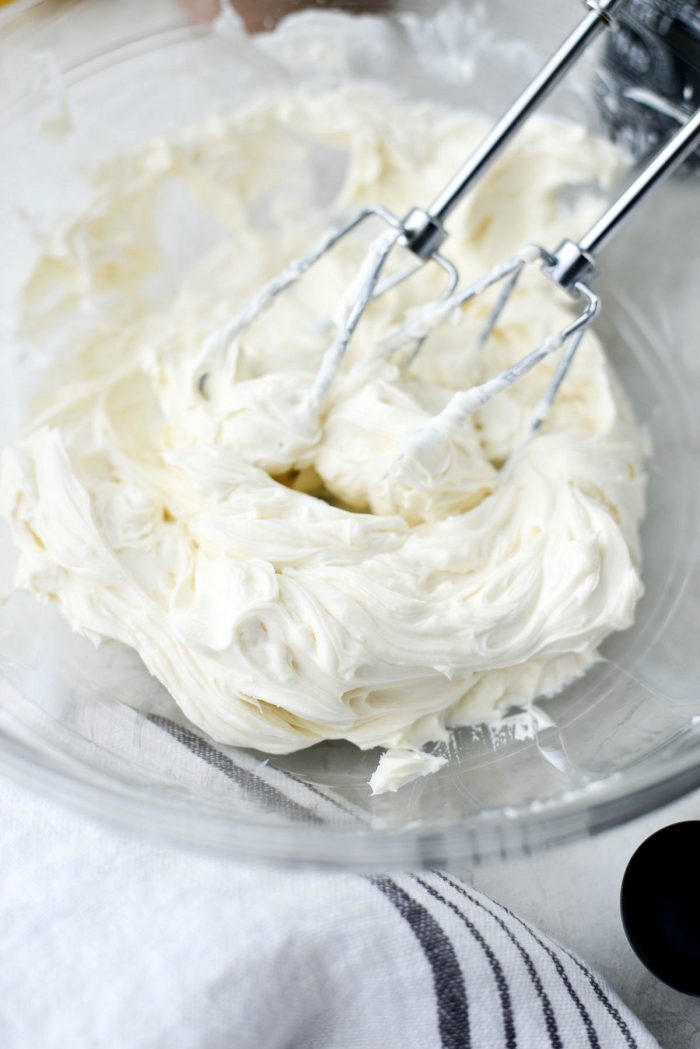 Blend until smooth and creamy.
If you're making both kinds of chimichangas, divide the cream cheese mixture in half among two bowls. To one bowl, add 8 quartered strawberries and 1 sliced banana to the other.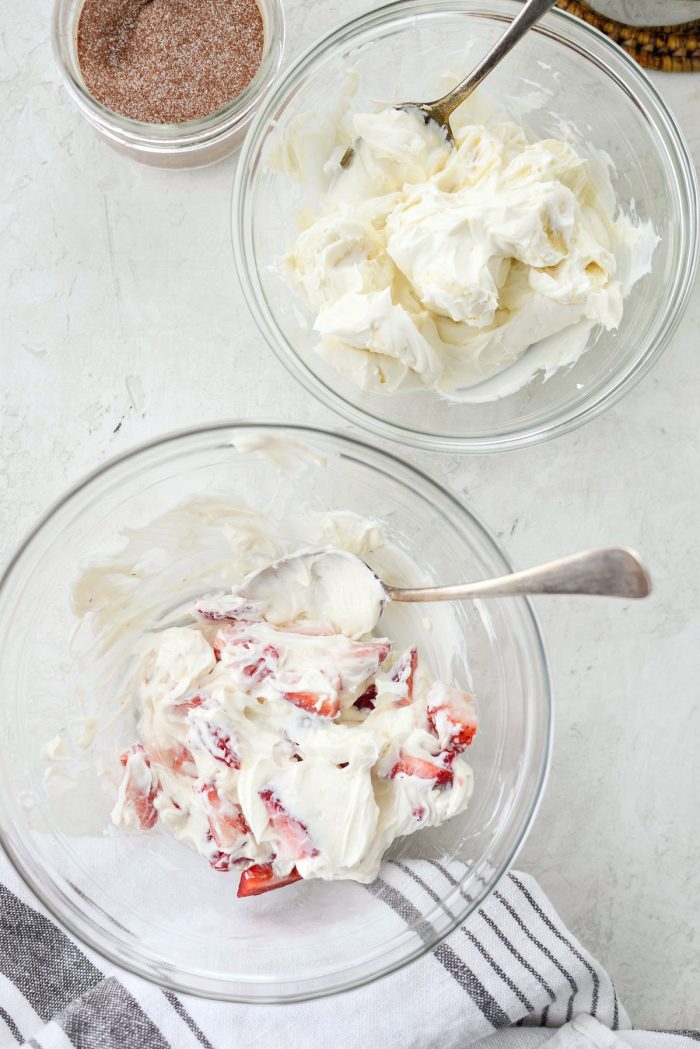 Gently stir to combine.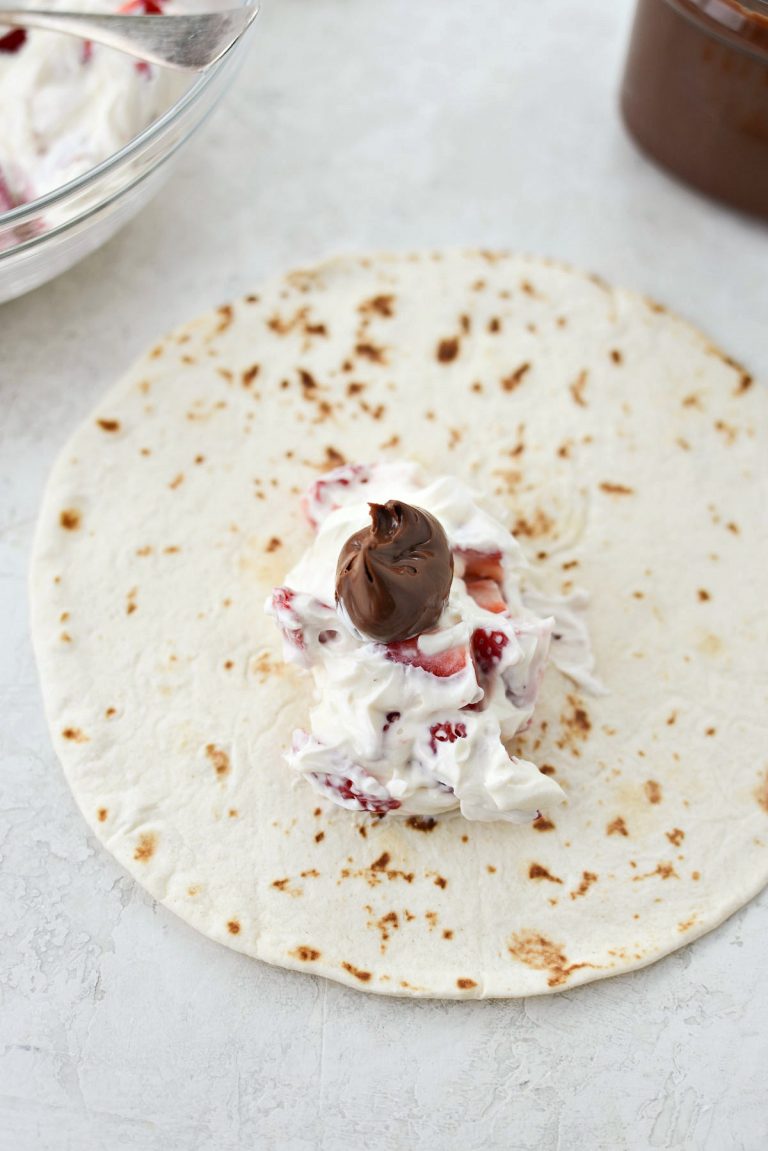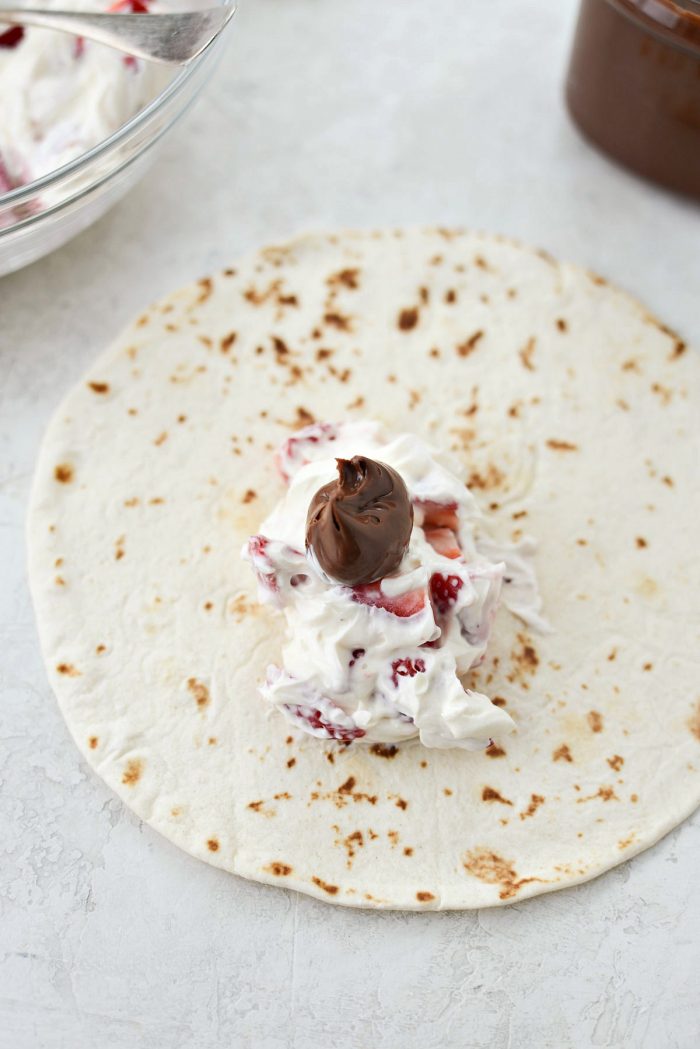 Place a soft flour tortilla on to a clean work surface. Add 1/4 of the strawberry mixture to just left of center on the tortilla. Then add a teaspoon of nutella.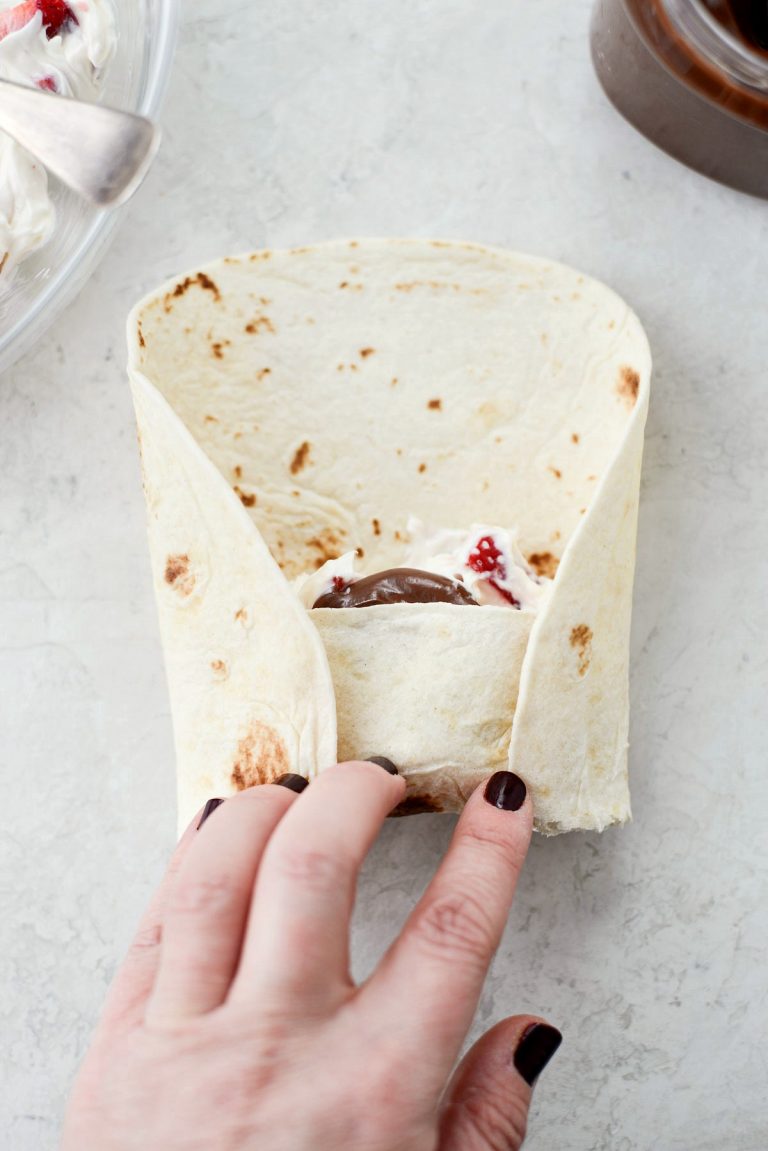 Fold the left side of the tortilla over the filling. Fold the short ends in and roll like a burrito.
Like little handheld packages of love.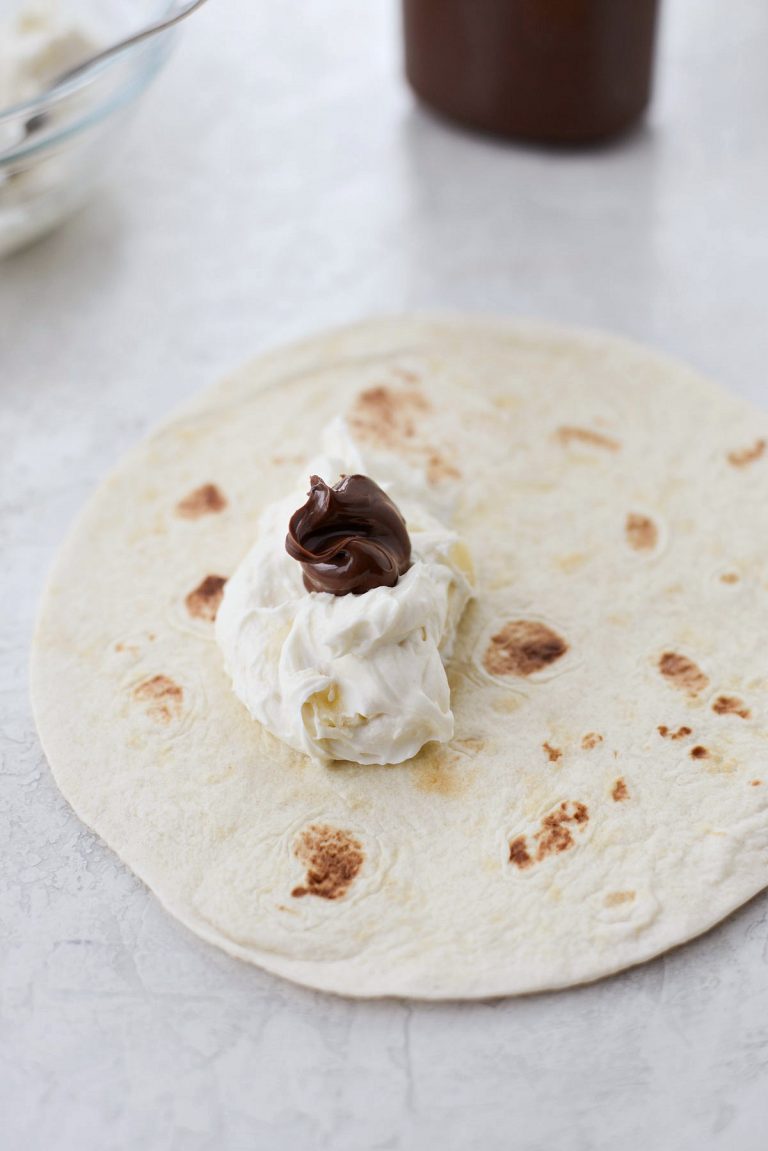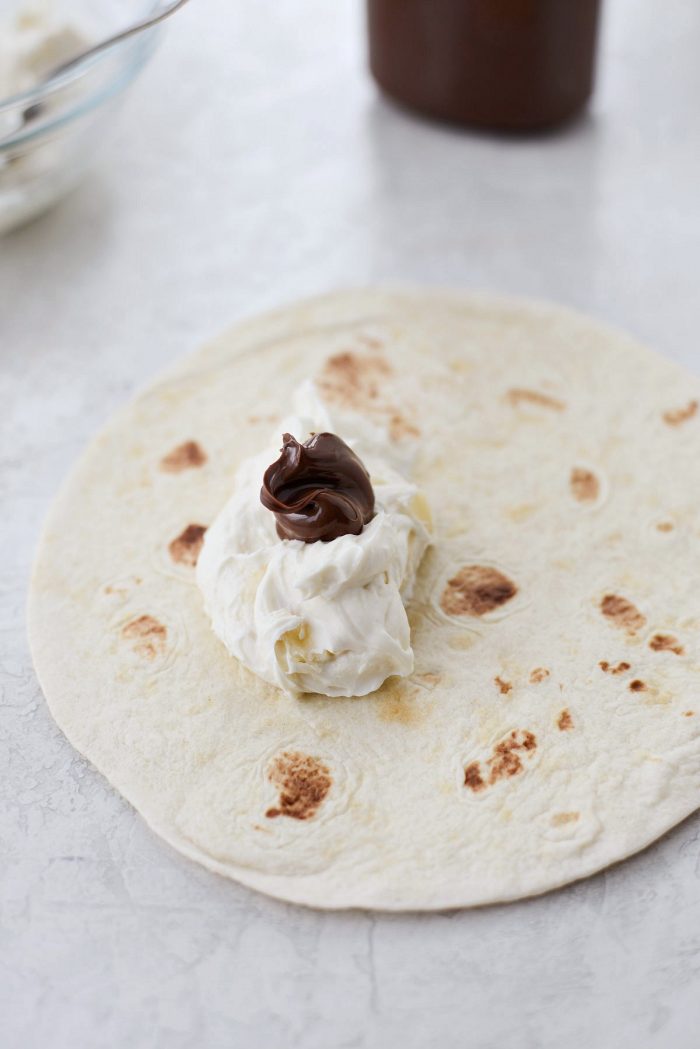 Repeat this with the remaining strawberry mixture and then do the same with the banana mixture.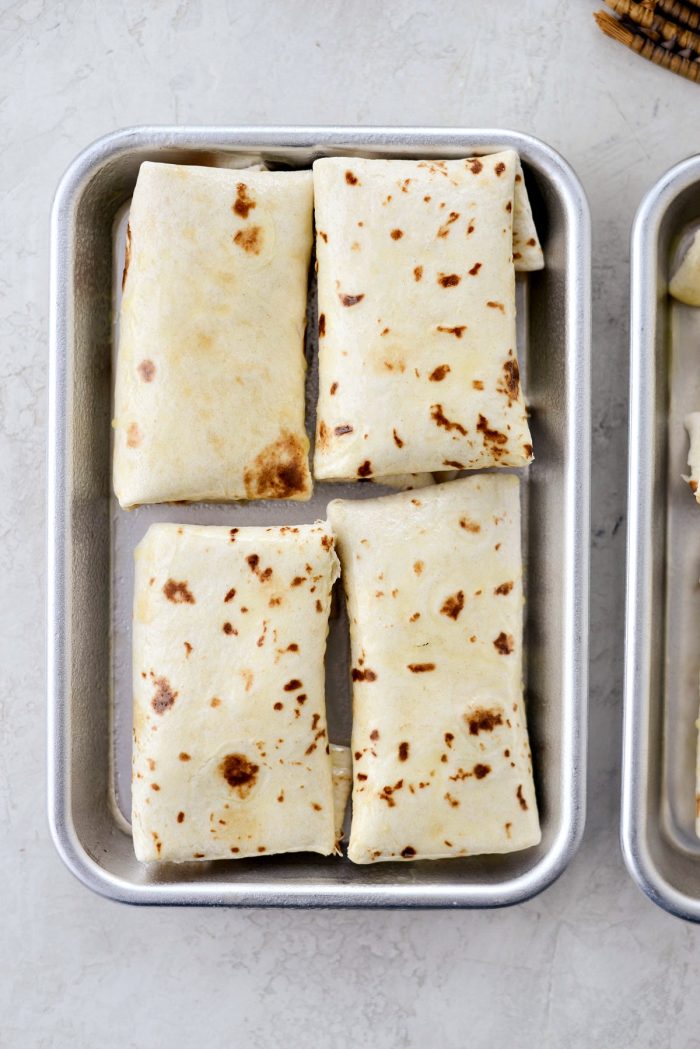 Spray the chimichangas with olive oil spray and preheat your air fryer to 360°.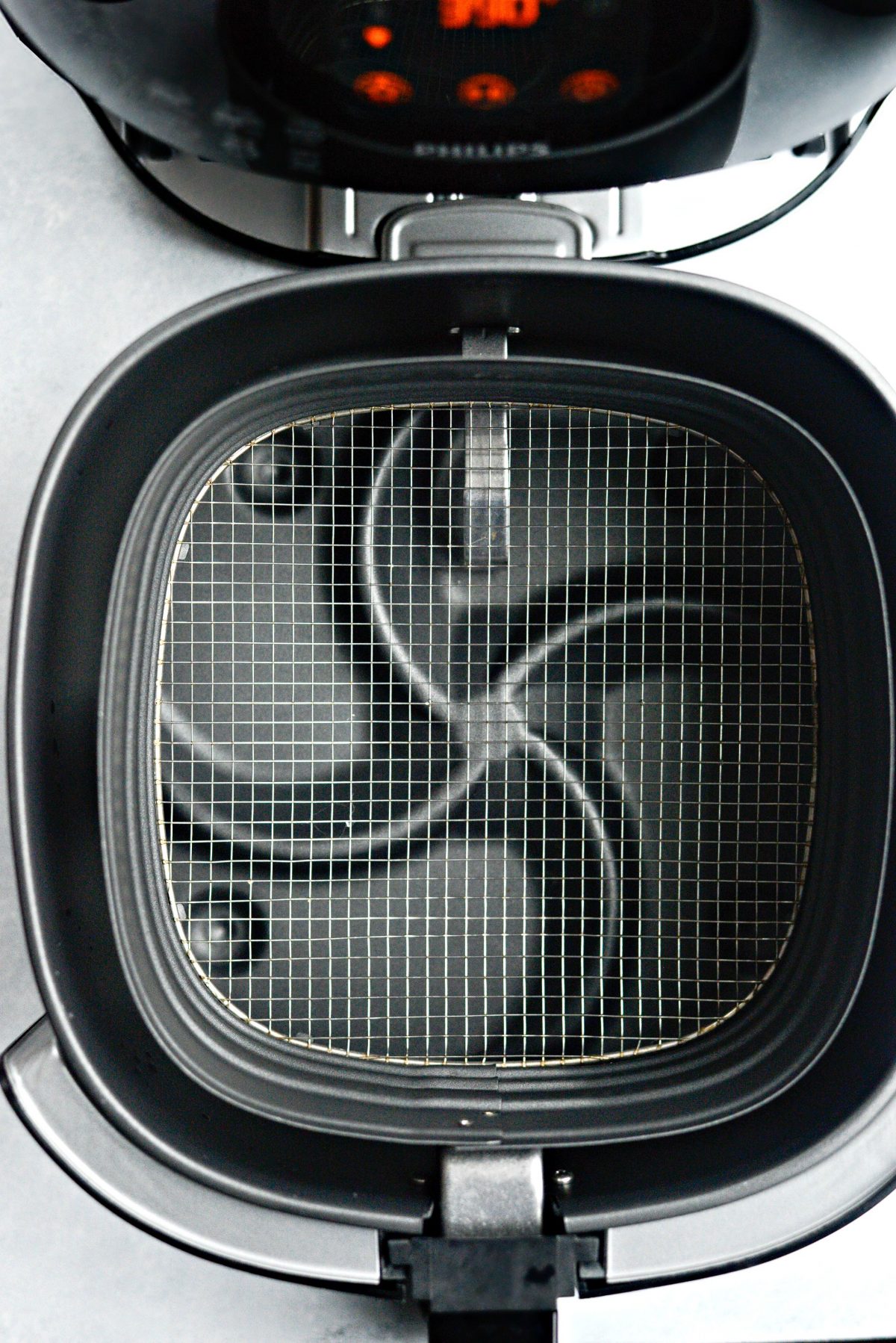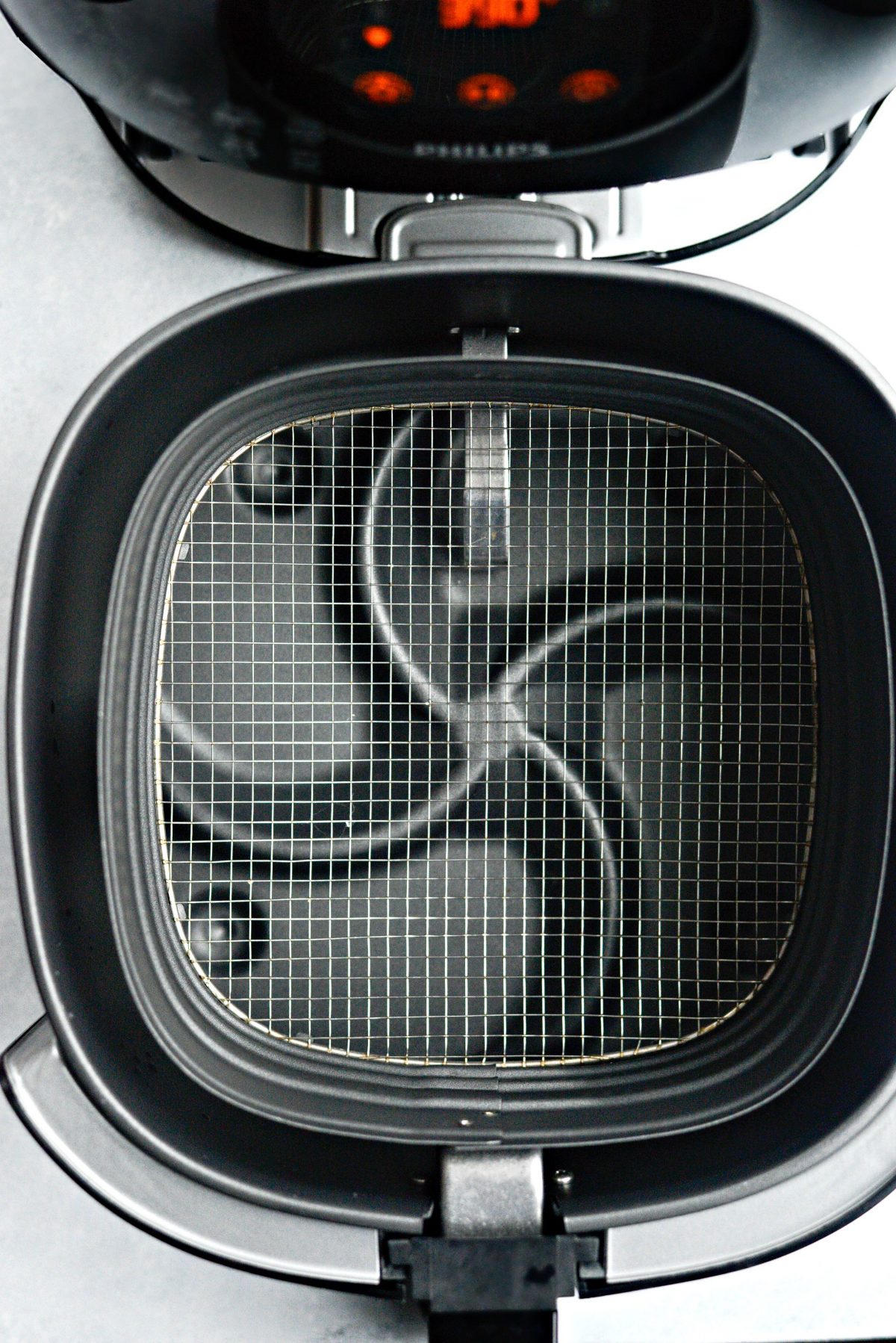 What Is Air Frying?
An air fryer is a counter top appliance that requires less oil (anything from a few spritz to 1 tablespoon) yet produces crispy food that rivals most deep fried foods. By using circulating hot air, it moves at a high speed so the food tends to cook in a fraction of the time.
There are a bunch of different makes and models of air fryers. My husband did the research (as he's known to do) and found this air fryer [affiliate] to be one of the best. But do your research and purchase one that fits your lifestyle.
How is Air Frying Healthier?
Air frying is healthier because only a thin layer of oil coats the food and when the hot air comes in contact it will crisp. Saving you a ton of fat and calories (without sacrificing any flavor!) because food is not being submerged in a vat of hot oil.
For more Air Fryer recipes, click here for my growing collection.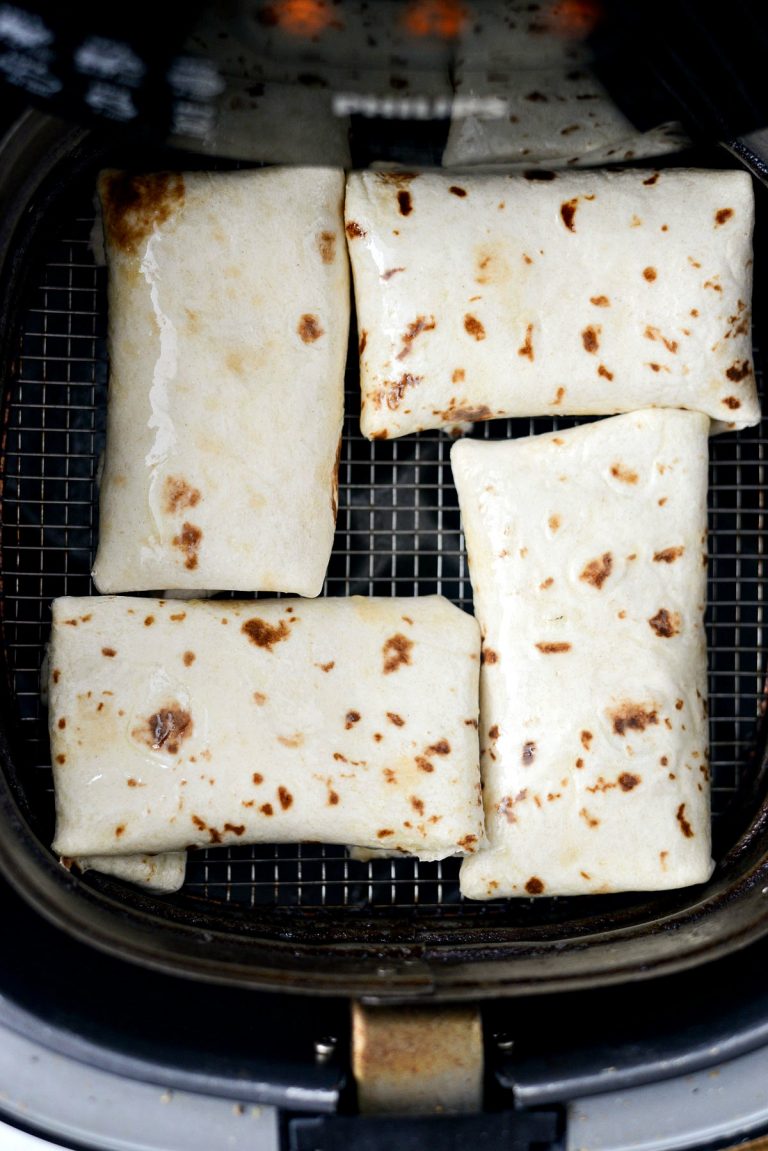 Depending on the size of your air fryer, work in batches, placing the chimichangas seam-side down in and even layer and air frying for 8 to 10 minutes or until the tortilla is a deep golden brown.
My air-fryer fries 4 at a time.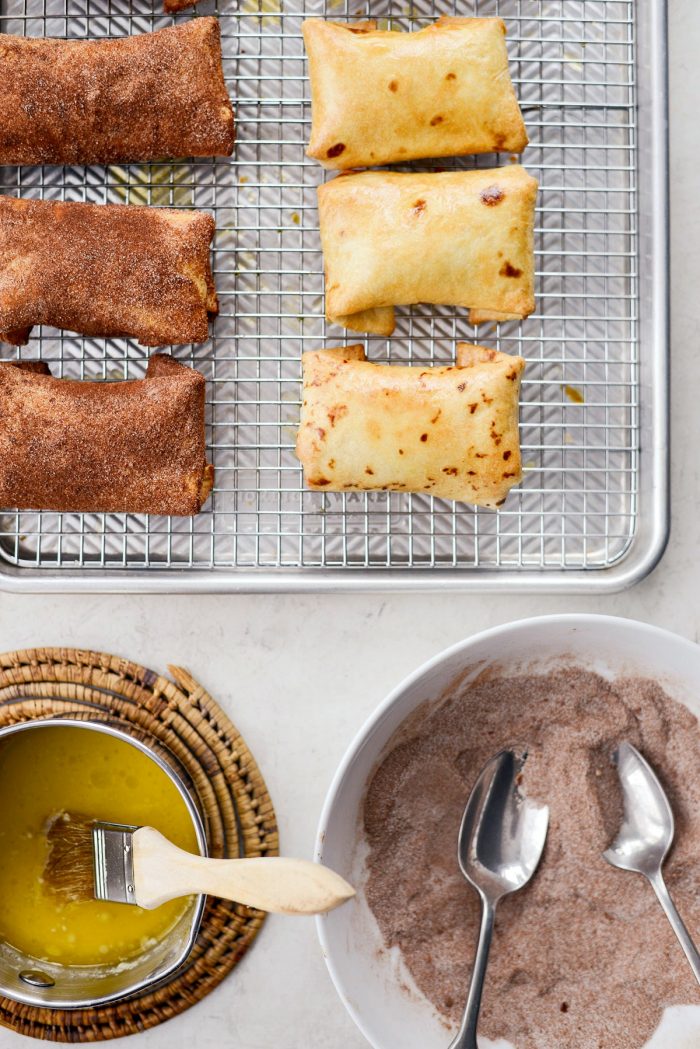 Brush the tops, bottoms and every nook and cranny with melted butter.
Then roll each one in a bowl of cinnamon and sugar.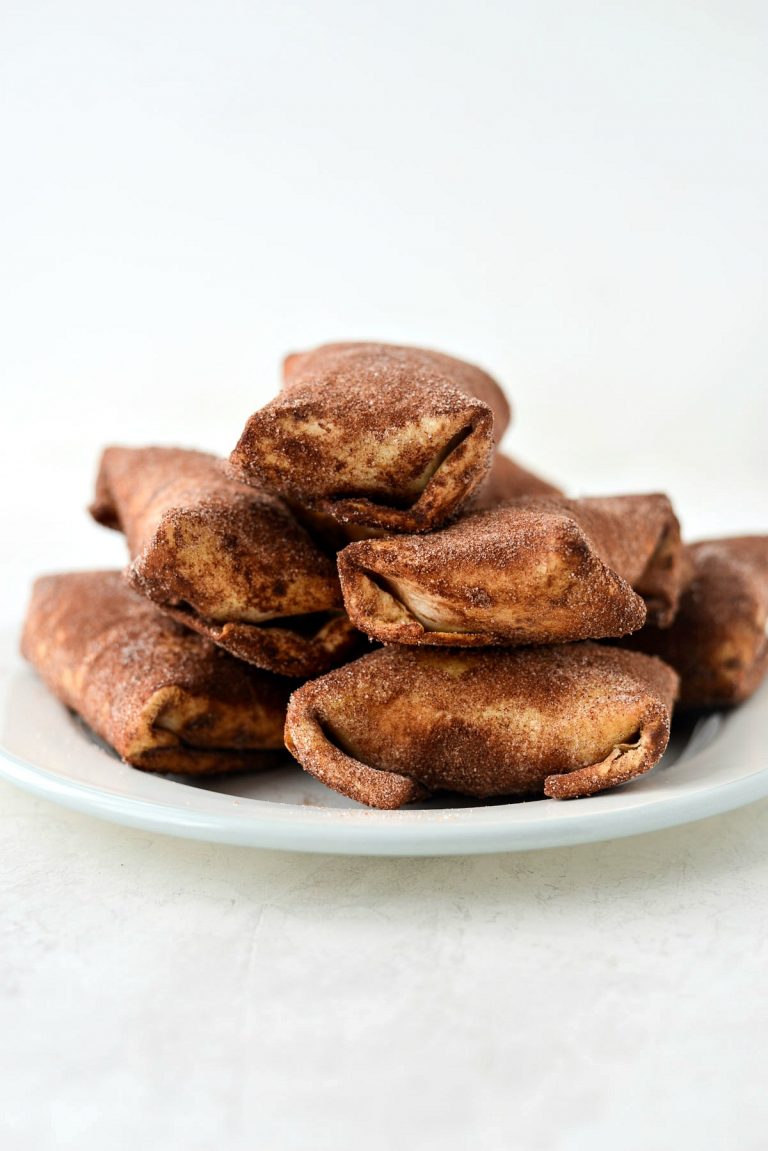 Look at that crisp sugary goodness!
The hardest part is picking between strawberry or banana because both are equally phenomenal.
(so have both)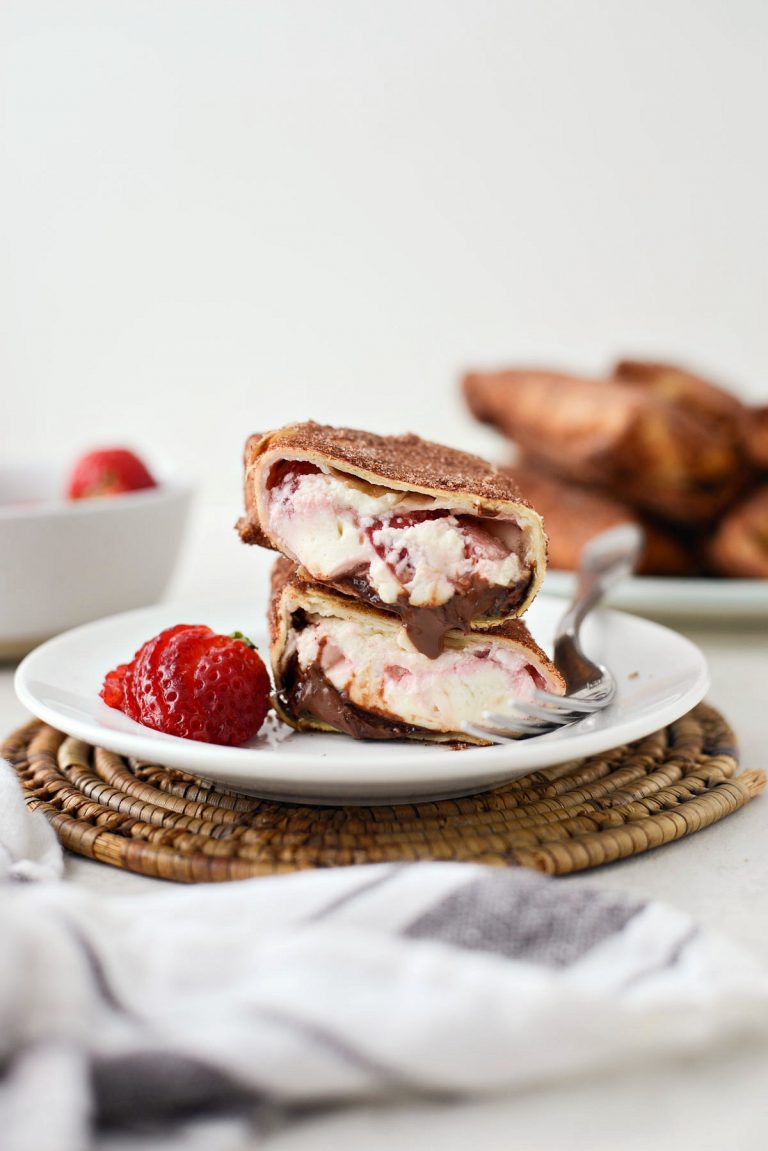 Enjoy! And if you give these Air Fryer Cheesecake Chimichangas a try, let me know! Snap a photo and tag me on twitter or instagram!
This post may contain affiliate links.
Buy the Cookbook: Simply Scratch : 120 Wholesome Homemade Recipes Made Easy Now available on Amazon »
THANK YOU in advance for your support!