Grilled Teriyaki Chicken Rice Bowls are simple and delicious! Grilled chicken thighs glazed with a sweet homemade teriyaki sauce is served with fluffy cooked rice and a medley of roasted vegetables.
Hello, gorgeous bowl of food!
Of course at the time when I planned to make this, Michigan was experiencing some weird warm front and it was 45-ish degrees outside. On the actual day i made this, it was negative a billion degrees (exaggerating), actively snowing and my grill (and deck) had a good 28 inches of snow on top (more exaggerating). So I pulled out my trusty cast iron grill pan instead. I was totally okay with it.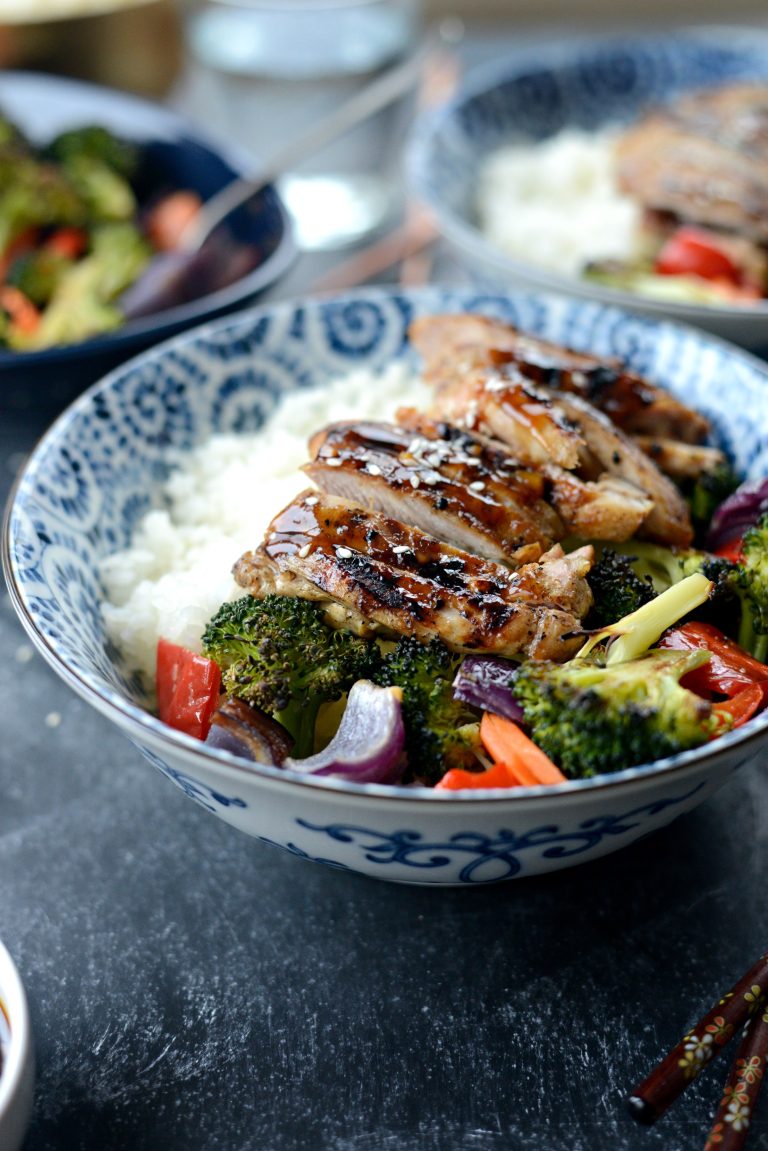 Did you know that Teriyaki isn't just a "kind of sauce"?
t's actually a cooking method in which grilled (or broiled) meat is glazed with soy-based sauce. I just so happen to be doing some internet research on teriyaki when I read that nugget of info and in turn, it inspired this recipe. I suddenly had visions of grilled slices of chicken thighs dripping in a glossy, teriyaki sauce and couldn't rest until I made it happen.
And I'll say, the sweet sauce is spectacular with the char from the grilled chicken. Ohhh my goodness is it ever delicious! Then I piled slices of this glossy, grilled chicken on rice and serve it with a medley of roasted vegetables. To. Die. For.
Get all the veggie prep out of the way. Chop one medium red onion, red bell pepper and two medium-ish heads of broccoli (I buy Earthbound and it's 1 package). Finely minced 3 cloves fresh garlic, grate 1-1/2 teaspoon fresh ginger (or use the stuff in a tube – no judgement!) and slice up 2 carrots thinly and on an angle.
Preheat your oven to 500 degrees.
I know it seems high but really it's the best way to caramelize all these veggies and do it quickly. Then place the broccoli, peppers and onions onto a rimmed, metal sheet pan.
Drizzle with a generous amount of oil, you want these veggies glistening!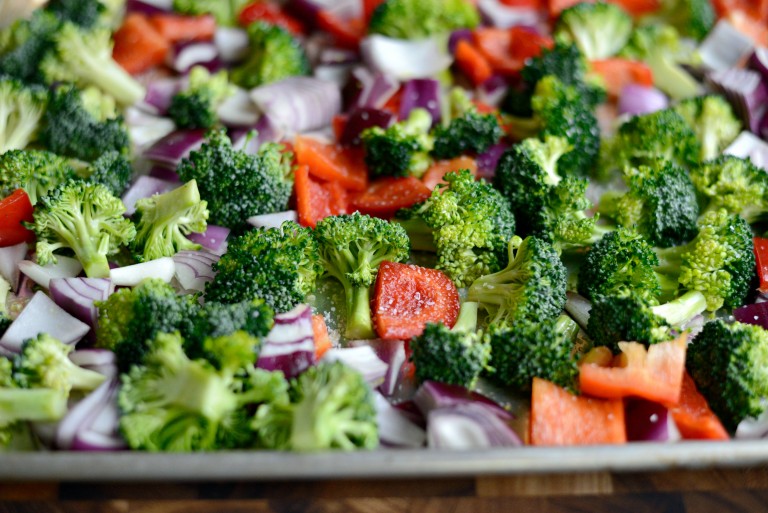 Sprinkle with a few generous pinches of kosher salt and set this off to the side.
Now let's make the teriyaki glaze/sauce.
In a medium bowl, combine 2 tablespoons dark brown sugar, 1 tablespoon honey, 1/2 teaspoon chili garlic paste (or sambal oelek), 1/4 cup low-sodium tamari and 3 tablespoons water (or broth can be substituted).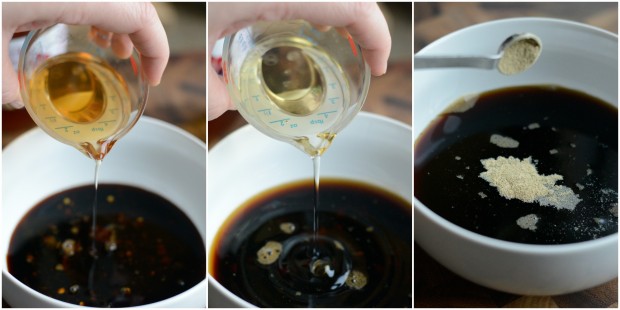 Next add in the 3 tablespoons dry sherry, 3 tablespoons rice vinegar and 1/4 teaspoon white pepper.
Whisk with a fork to break up the brown sugar, making sure that the honey gets dissolved throughout the sauce.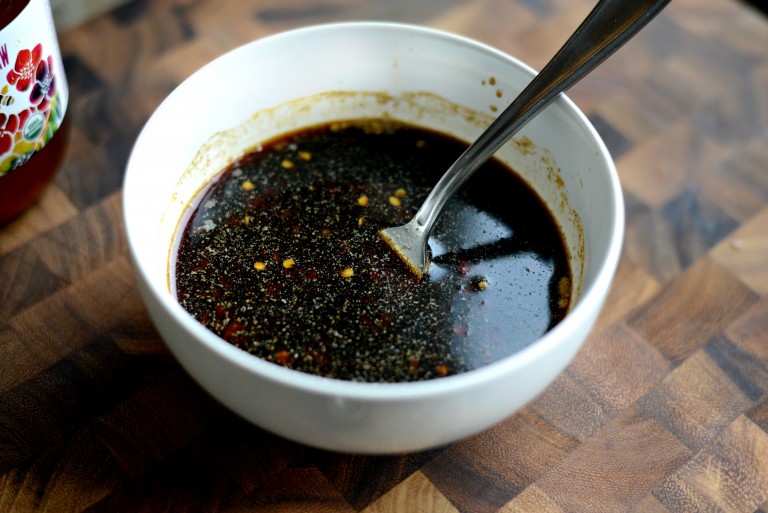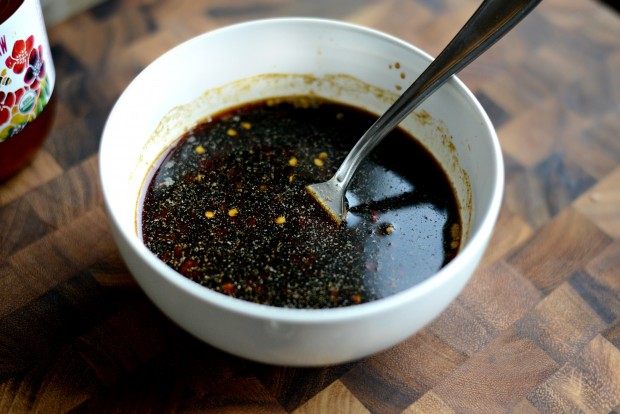 That's it! (for now)
Heat a wok or large chefs pan over medium-high heat. Add a teaspoon of oil and once it's glistening add in the sliced carrots. Cook until they just start to soften. Remove with a spatula and set off to the side.
Why didn't I roast the carrots?
The reason I don't roast these with the remaining vegetables is because I don't want them to over cook. This way I can still have tender yet still firm carrots.
To the remaining oil in the pan, add the garlic and ginger and cook for 30 seconds before pouring in the teriyaki sauce. Bring to a boil and stir in the cornstarch slurry.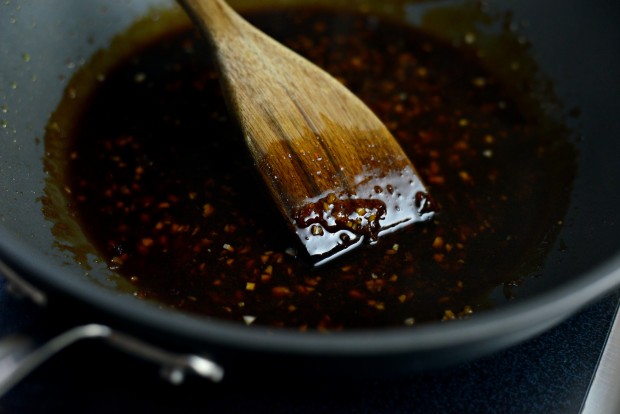 Cook the sauce until slightly thickened, about a minute or two.
Transfer the glaze to a bowl.
Measure out a 1/4 cup of the final sauce into a smaller bowl. We'll use this to brush the grilled chicken with and save the other bowl for the final rice bowl.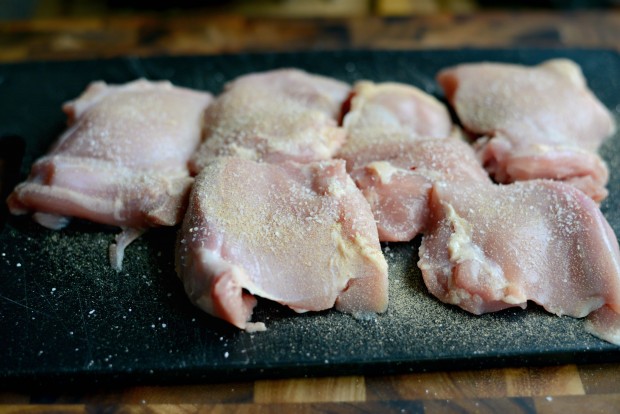 Season 1-1/2 pounds of chicken thighs with kosher salt and white pepper.
Heat a grill pan over medium-high heat.
Once hot, work in batches grilling the chicken for 5 to 6 minutes a side or until fully cooked. If using an outdoor grill, this can be done in one fell swoop and save you TONS of time. As I said earlier, my grill is covered in snow, so the grill pan was my only option.
Once you start grilling your last batch of chicken, slide the pan of vegetables into your preheated oven. It only takes 10-12 minutes to roast them so it times perfectly with the how long it takes to grill the final round of chicken thighs.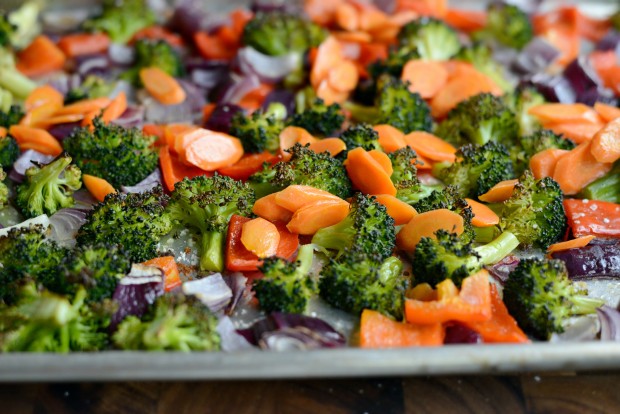 Once the vegetables are roasted, add the carrots and return the pan of roasted vegetables back to the oven to keep warm. Be sure to turn the oven off and crack the door.
In the final few minutes of grilling, brush both sides of the chicken and grill for only a minute to caramelize the glaze. 1/4 cup will be perfect for 6 chicken thighs.
Please note that there are sugars in the is glaze that will burn if you allow it to grill too long.
As you grill, transfer the grilled teriyaki chicken to a cutting board, cover with foil to keep warm and allow to rest for a few minutes.
Then it's time to dish it up.
Slice the grilled thighs into thin strips and place on top of spoonfuls of rice and a generous serving of the roasted vegetable medley.
Spoon more of the reserved teriyaki glaze over top and sprinkle with sesame seeds. I reheated leftovers and put green onions on too and that was pretty delicious as well!
When I test a recipe recipe, I always ask Pat to rate it 1 out of 10.
If he thinks it's "good" he always says 7.65, which gets real old, trust me. However, the first time I served these grilled teriyaki chicken rice bowls to him, he honestly gave it a 10 out of 10.
It's seriously that good you guys.
The teriyaki glaze will BLOW your mind… it's the absolute best. Sweet, a smidgen sour with a kick of heat from the chili garlic paste which compliments the char on the grilled chicken perfectly. As far as rice goes, you can use any you like… but I'm sort of digging sushi rice lately. You prepare it just like jasmine or any white rice but it's a shorter grain and has a subtly different flavor than what I typically use. I'm pretty positive Pei Wei uses sushi rice because the rice and the teriyaki chicken reminded me of when I'd order from there back when I had a "real" job and would pick it up for lunch.
These grilled teriyaki chicken rice bowls are delicious. Chicken thighs are grilled and brushed with my homemade teriyaki sauce and served with rice and vegetables. And the vegetable medley is just as easy! By roasting them, you're bringing out their natural flavors with only oil and kosher salt. No other seasoning is required.
I have a feeling you will love these grilled teriyaki chicken rice bowls!
Enjoy! And if you give this Grilled Teriyaki Chicken Rice Bowlsrecipe a try, let me know! Snap a photo and tag me on twitter or instagram!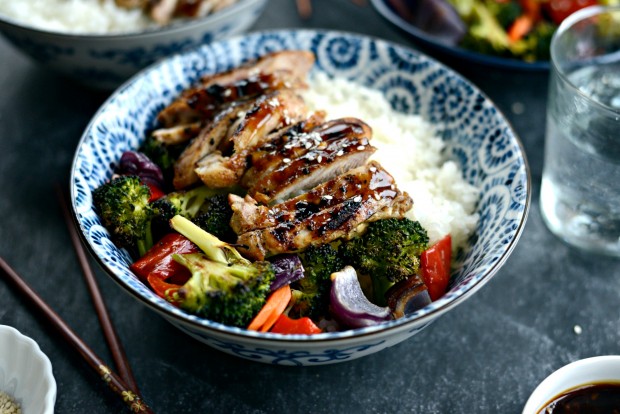 This post may contain affiliate links.
Buy the Cookbook: Simply Scratch : 120 Wholesome Homemade Recipes Made Easy Now available on Amazon »
THANK YOU in advance for your support!