In this from-scratch White Bean and Ham Soup, great northern beans are soaked overnight and then cooked with herbs, onions and a leftover ham bone in broth for a simple, comforting and flavorful soup. Yields 4 bowls or 6 smaller cups.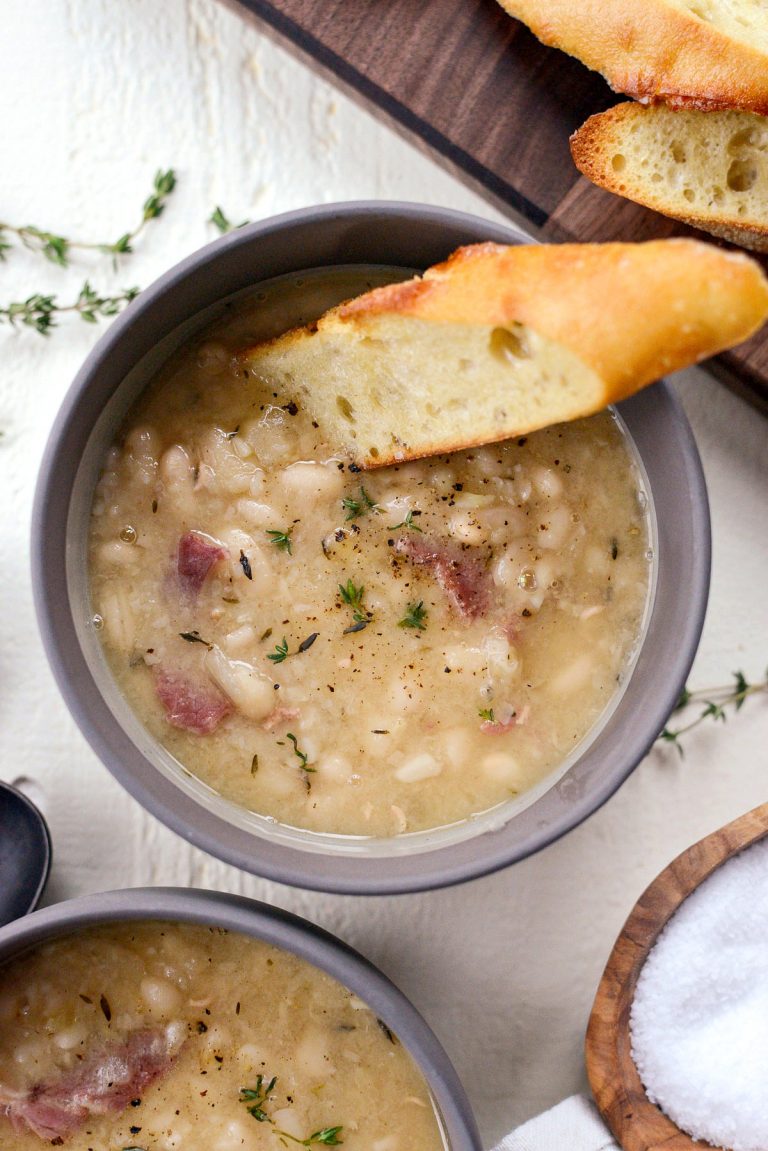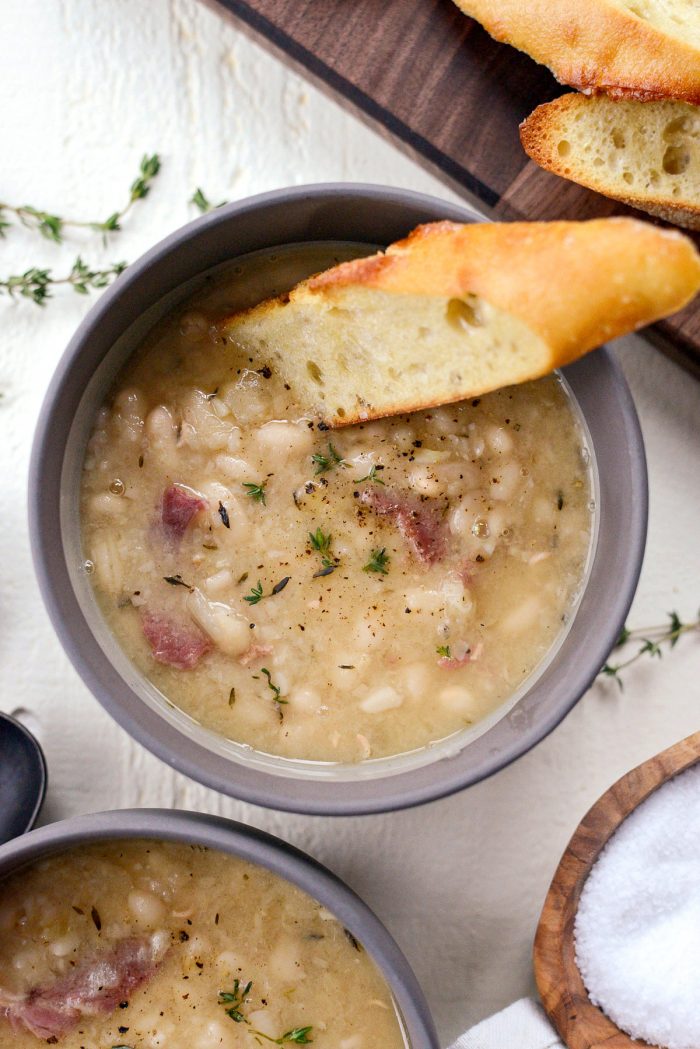 Have you ever made the perfect recipe on the perfect day?
I love when that happens. Which was the case yesterday when I woke up to a drizzling rain. It was chilly and cold – also known as the best day for soup. Pat took Finn to run him in fields at a nearby state park while I made this white bean and ham soup.
This year, I planned to make this recipe because I knew I would have a leftover ham bone from the holidays. So whatever you do, do not throw that bone away as it makes for excellent soup! And I always leave ham attached to the bone because it will come off during cooking and leave little meaty gems throughout.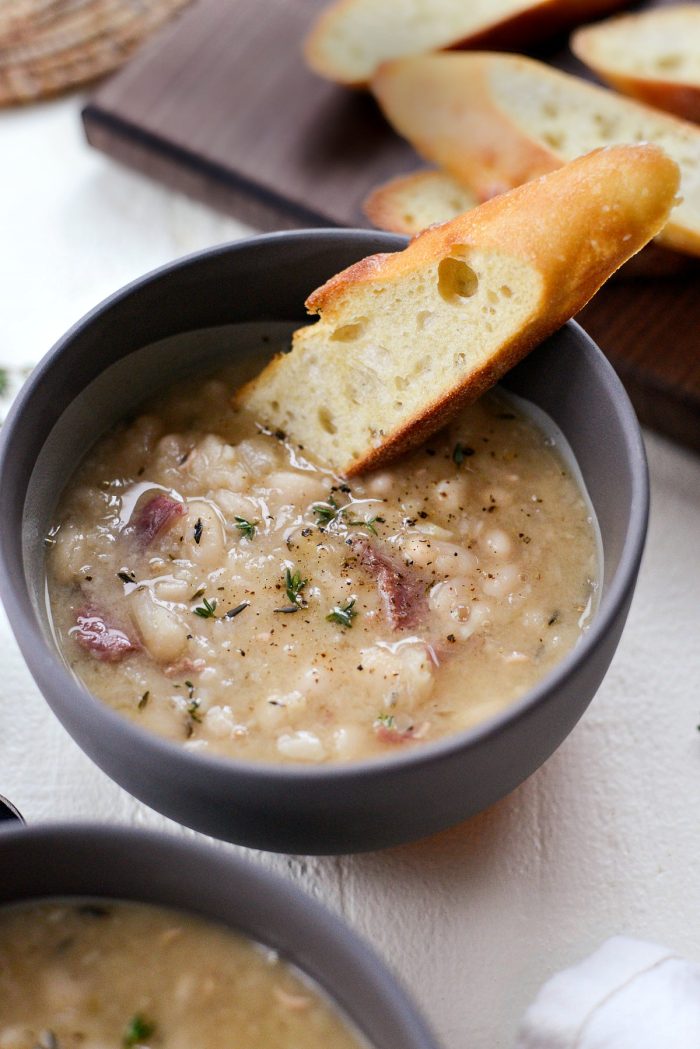 When Pat came home with Finn, the soup was ready and I served it with toasty crostini for dipping. It's so good.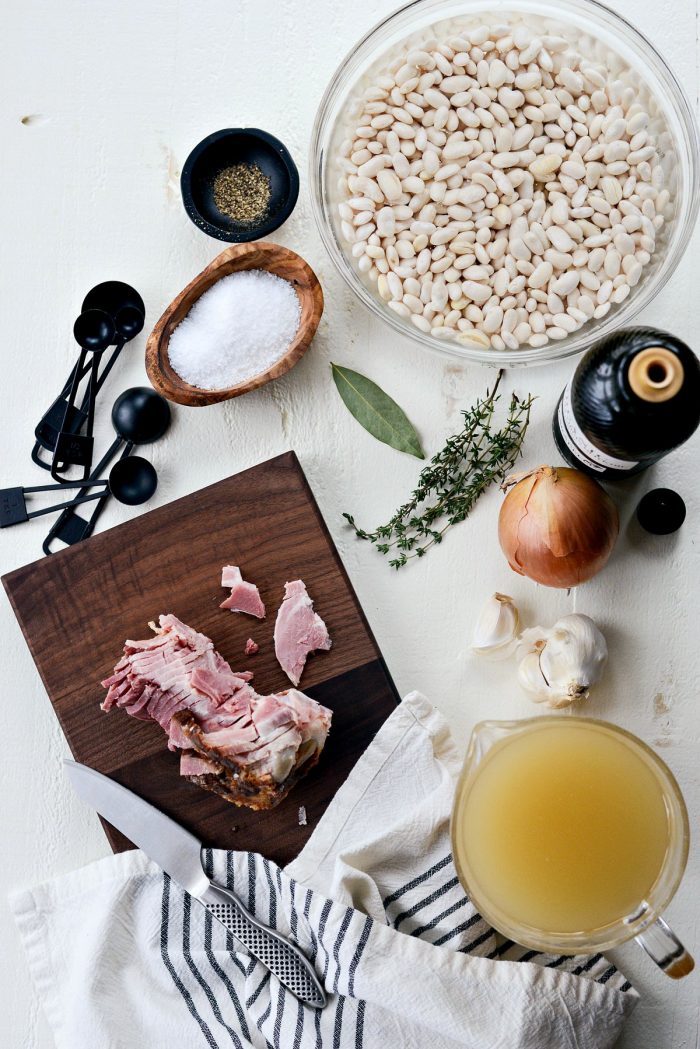 To Make This White Bean and Ham Soup You Will Need:
dried great northern beans
olive oil
onion
kosher salt
garlic
thyme
bay leaf
leftover ham bone
low-sodium chicken broth
black pepper
The night before, sort through the pound of great northern white beans and discard any debris or cracked beans. Add the beans to a large bowl and cover with 6 cups of cool water. Allow the beans to soak for at least 6 hours or over night. During this time the beans will double in size and soften a bit.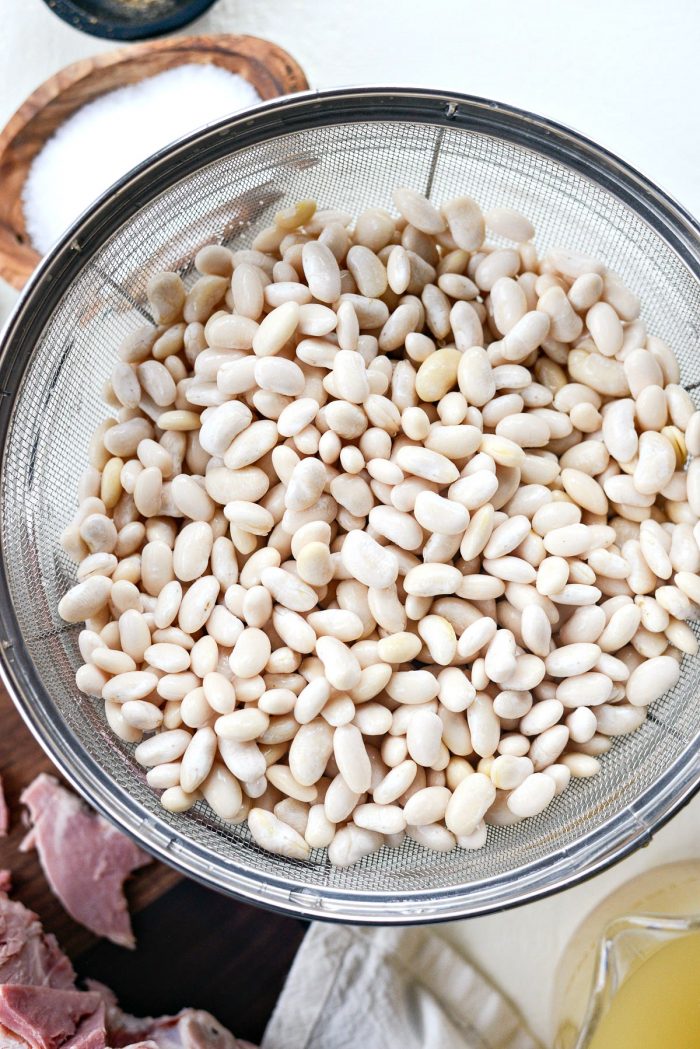 Before preparing the soup, drain the beans and set off to the side.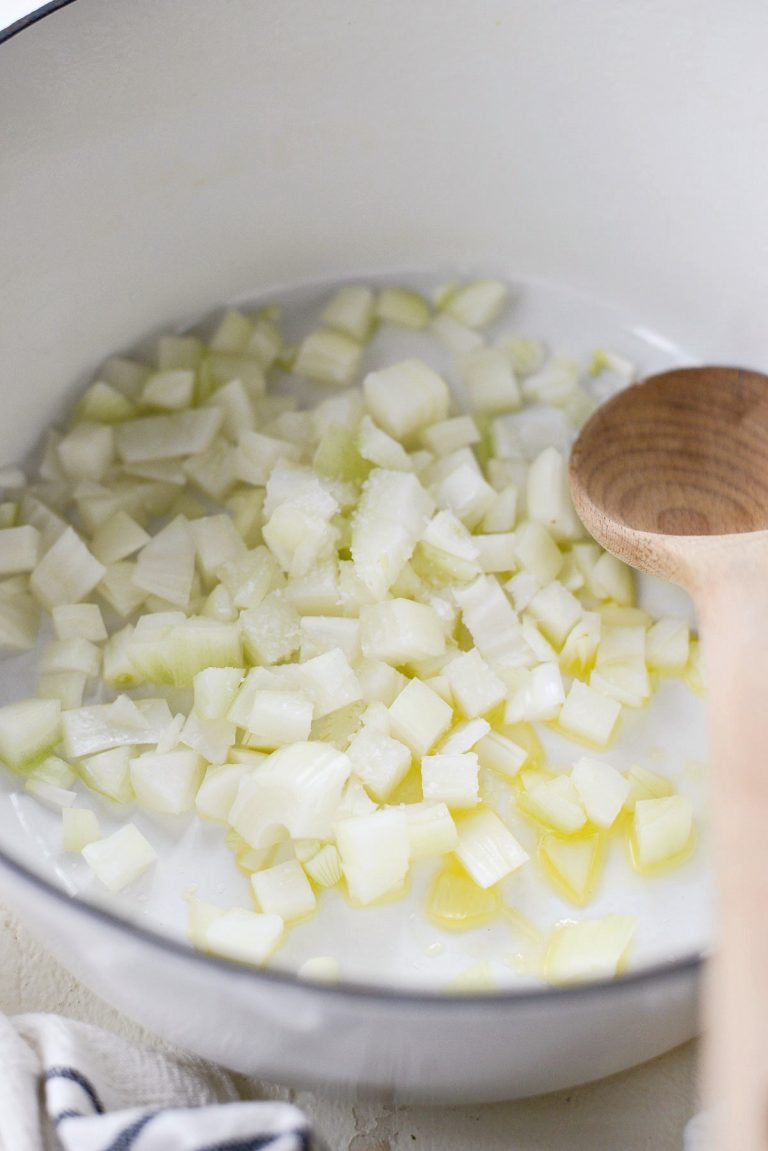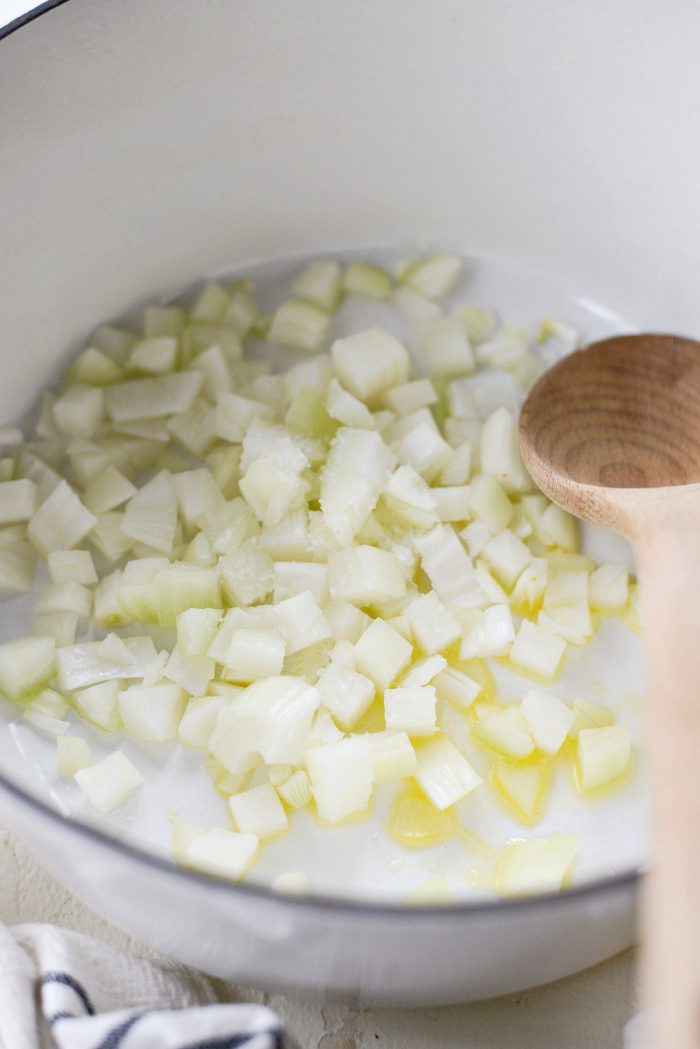 Heat a dutch oven over medium to medium-low heat. Measure 1 teaspoon olive oil into the pot and add in 1 diced medium onion (about a cup, give or take) with a pinch of kosher salt. Stir and cook 5 to 8 minutes.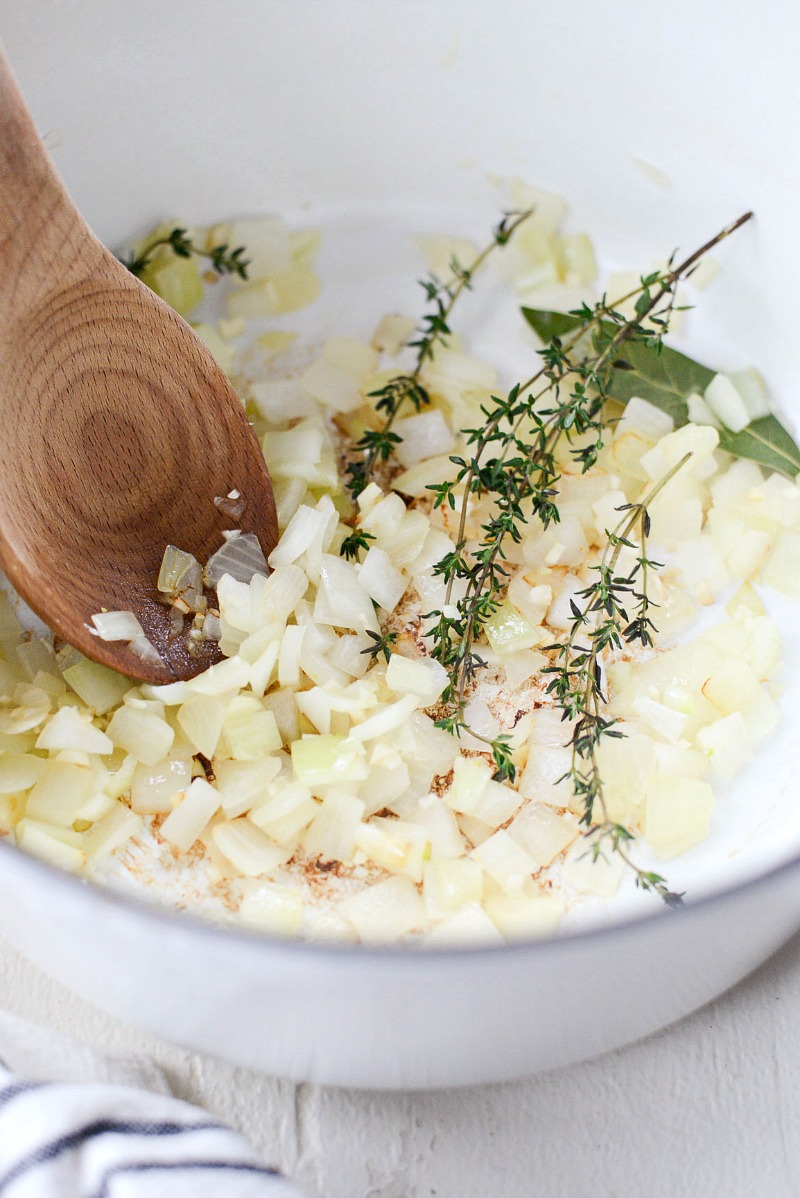 Next add in 1 large clove of fresh garlic that has been minced, 4 sprigs of fresh thyme and a bay leaf. Then stir and cook for 1 minute.
To that, add the leftover ham bone and pour in 8 cups (2 quarts) low-sodium chicken broth. Cover the pot, bring to a boil and reduce to simmer for 30 minutes.
I prefer using a ham bone instead of a ham hock. However, if you are using a ham hock know that this soup will be even more smoky.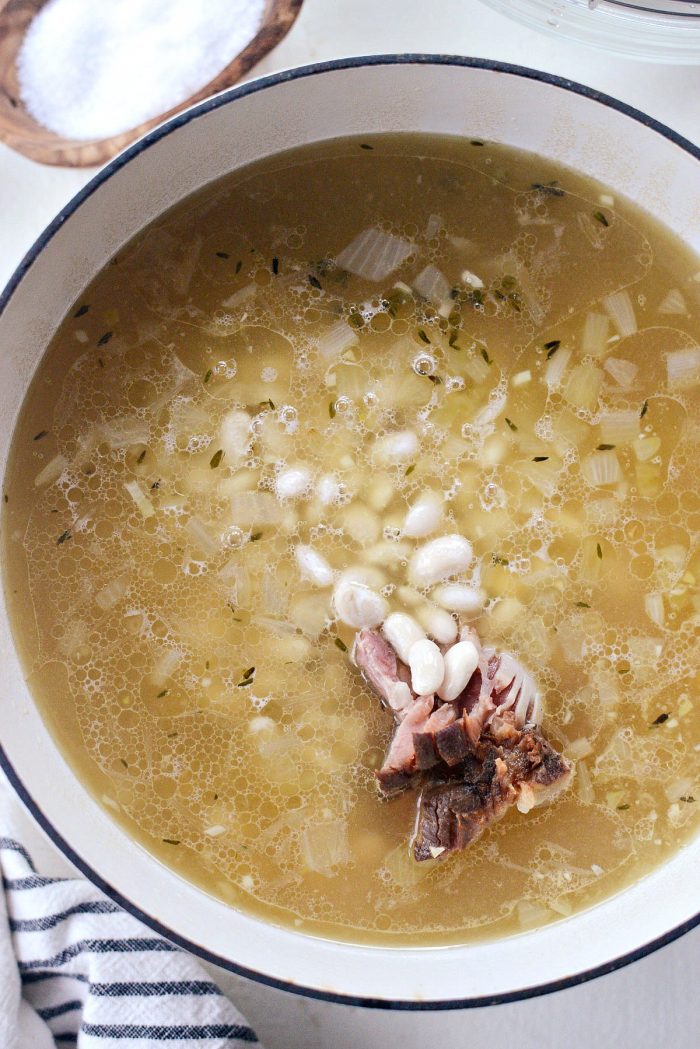 Once the soup has simmered with the bone for 30 minutes, add in the drained beans. Cook with the lid skewed or cracked about an inch for 1 hour and 3o minutes or up to 2 hours.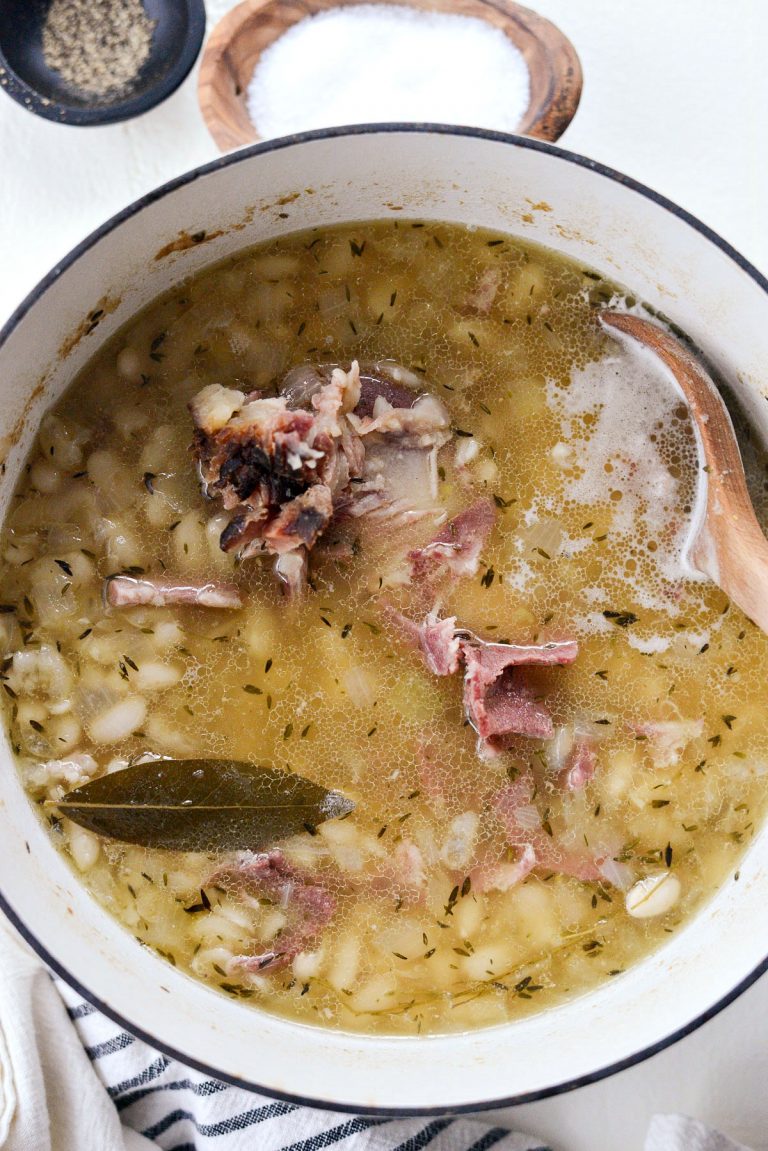 After the time is up, the beans will be super soft and tender and the ham can easily be picked from the bone.
Remove the ham bone and add back any ham that didn't already come off during cooking. You will also want to remove and discard the bay leaf and thyme stems.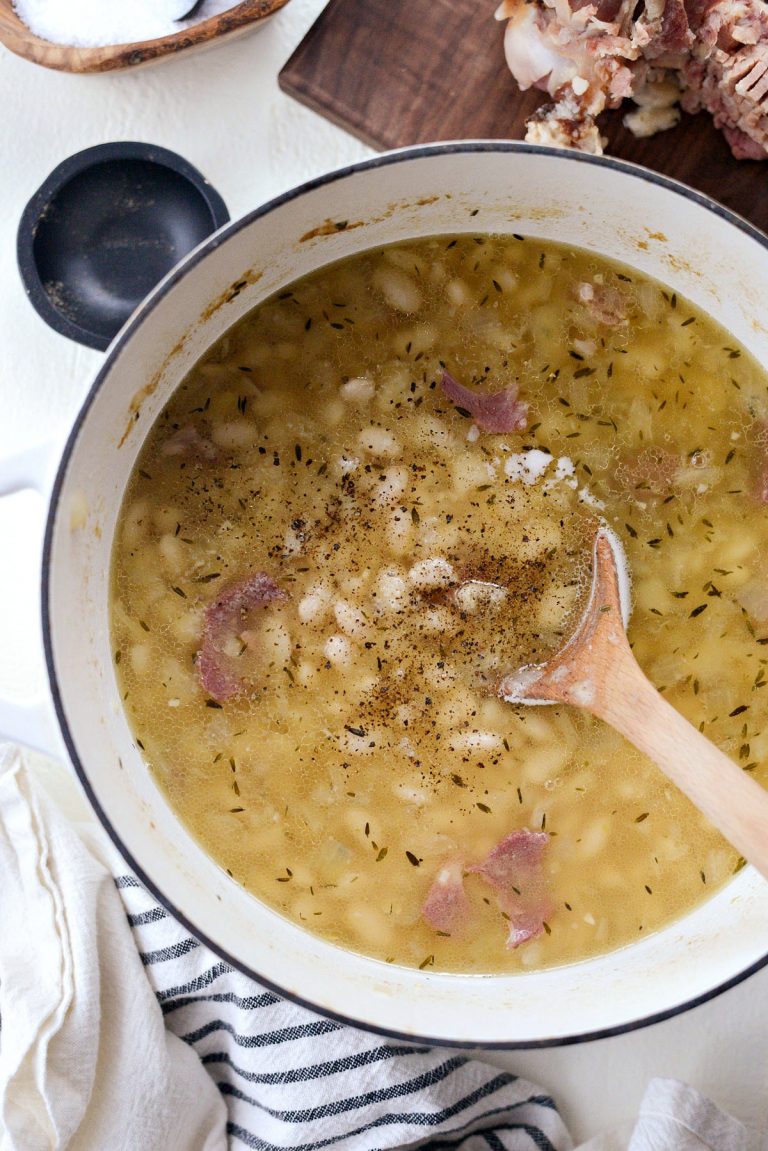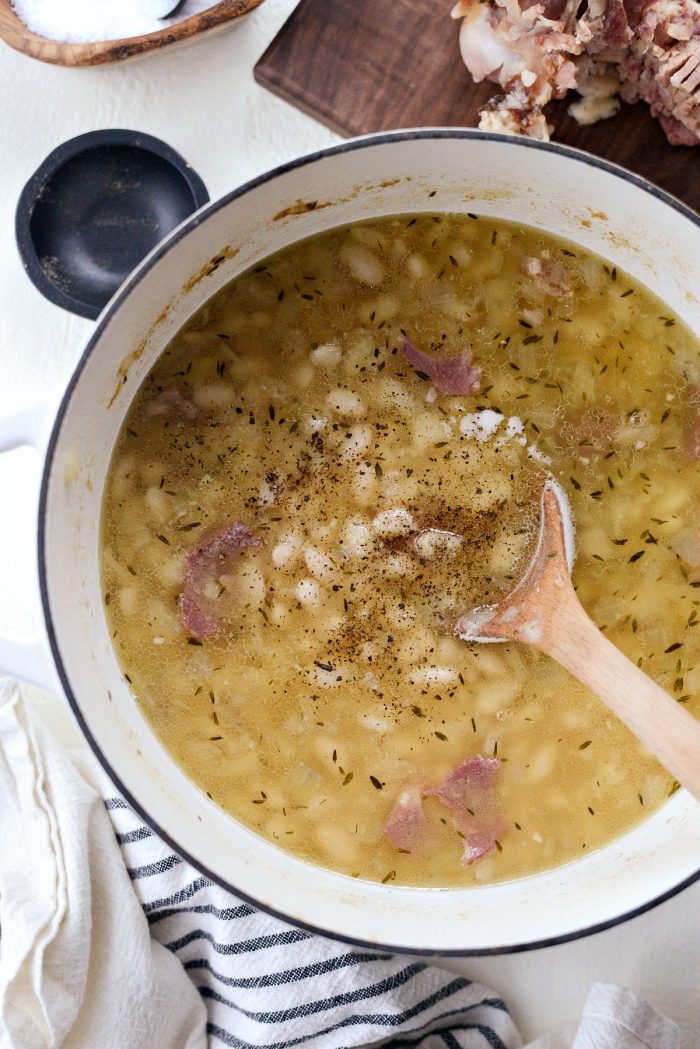 Season the soup with kosher salt and freshly ground black pepper to taste. For me it was about 1 teaspoon kosher salt and 1/4 teaspoon black pepper.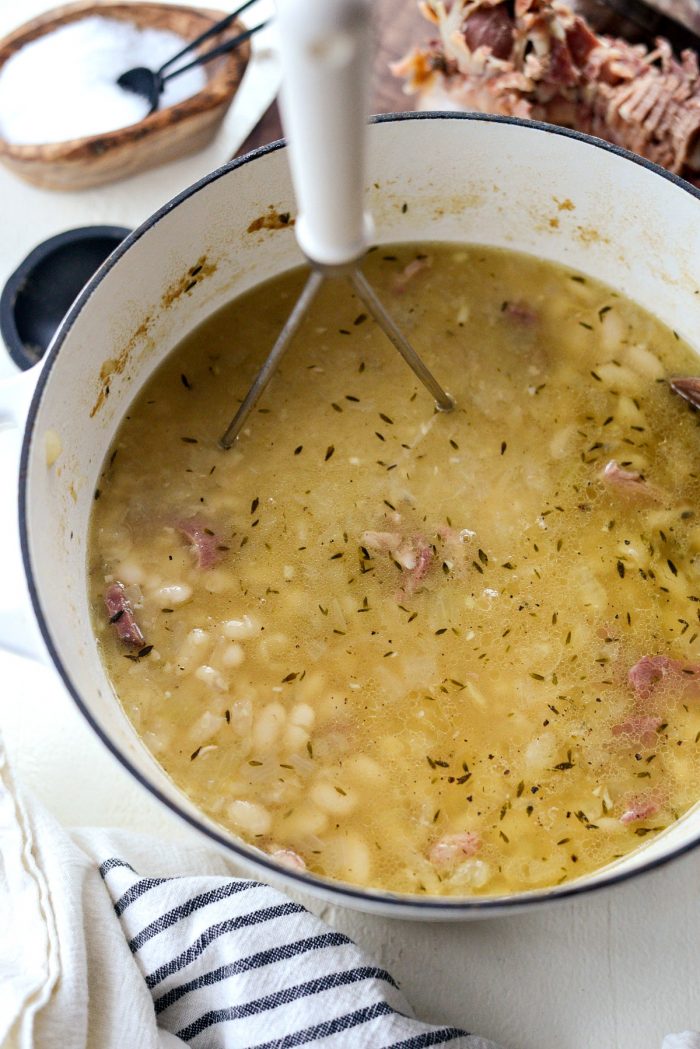 Lastly, grab your potato masher and mash the beans a few times.
Doing this will thicken the soup a tad, but is completely optional.
However, if the soup reduces too much, you can add 1 to 2 extra cups of broth.
Finally, it's time to ladle the soup into bowl and top with a little extra ground black pepper.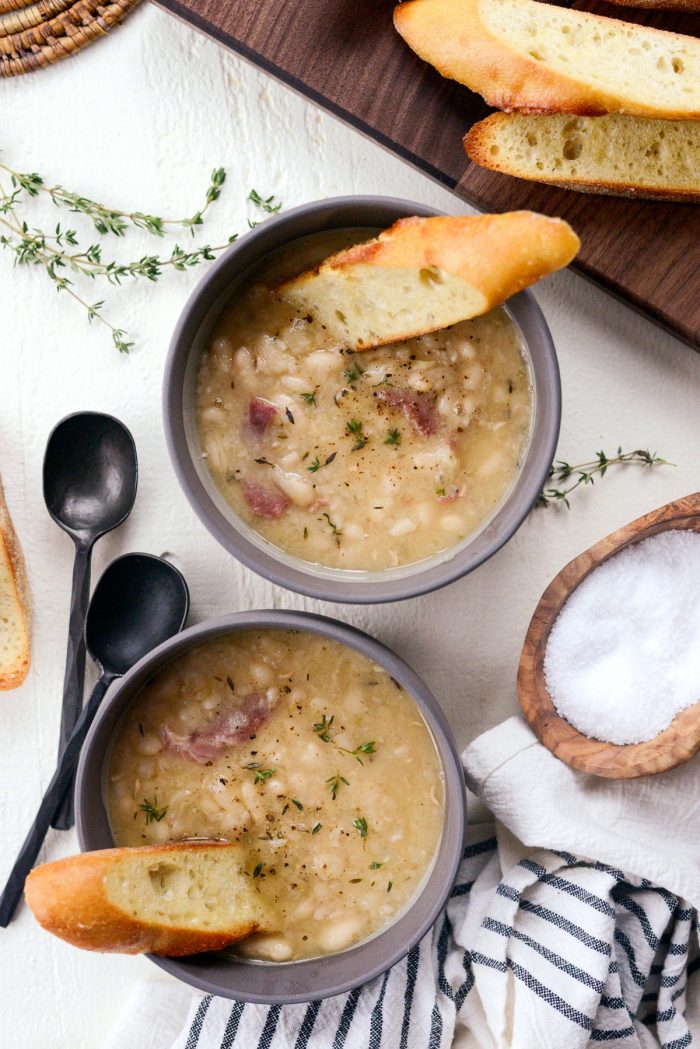 Serve with grilled cheese sandwiches or buttery crostini.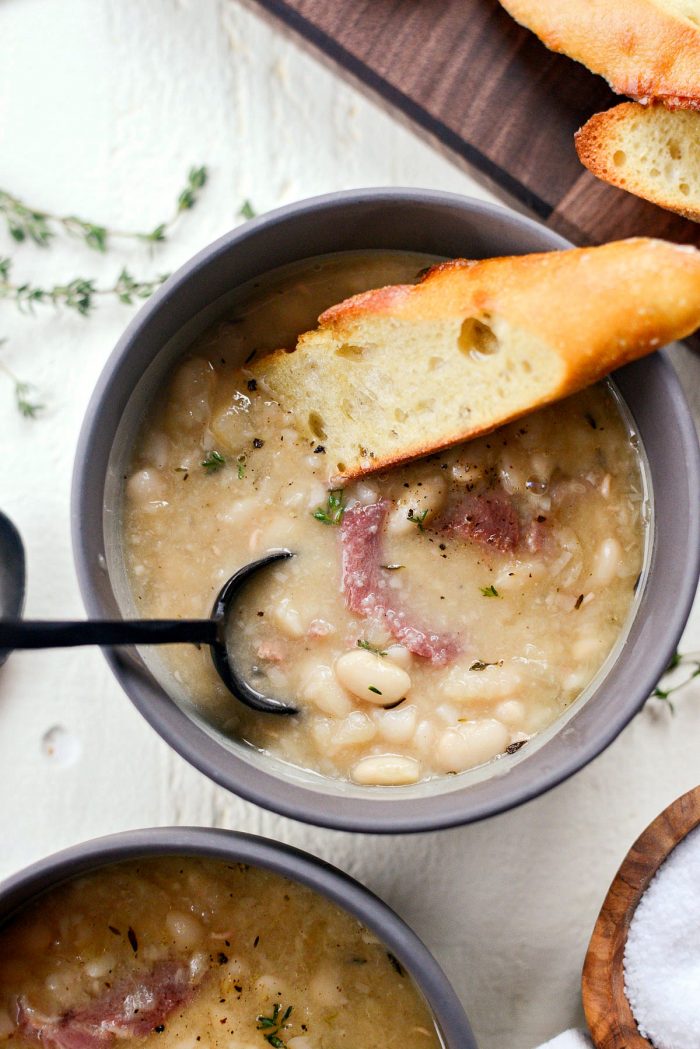 Deliciously homemade and cozy. This soup will warm you up from the inside and it couldn't be any easier.
Dip.
Eat.
Repeat.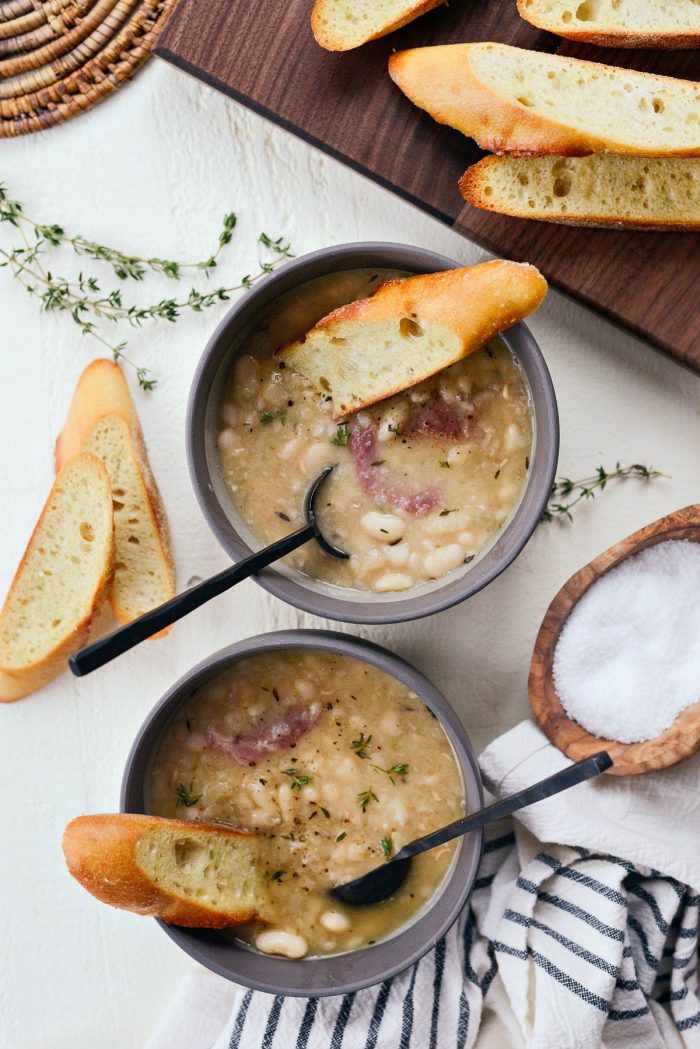 Enjoy! And if you give this White Bean and Ham Soup recipe a try, let me know! Snap a photo and tag me on twitter or instagram!
This post may contain affiliate links.
Buy the Cookbook: Simply Scratch : 120 Wholesome Homemade Recipes Made Easy Now available on Amazon »
THANK YOU in advance for your support!