This beautiful Chicken Blueberry Feta Salad has fresh blueberries, pistachios and feta is topped with chicken and drizzled with a super simple Pomegranate jam vinaigrette. The perfect spring salad bursting with flavor and delicious texture.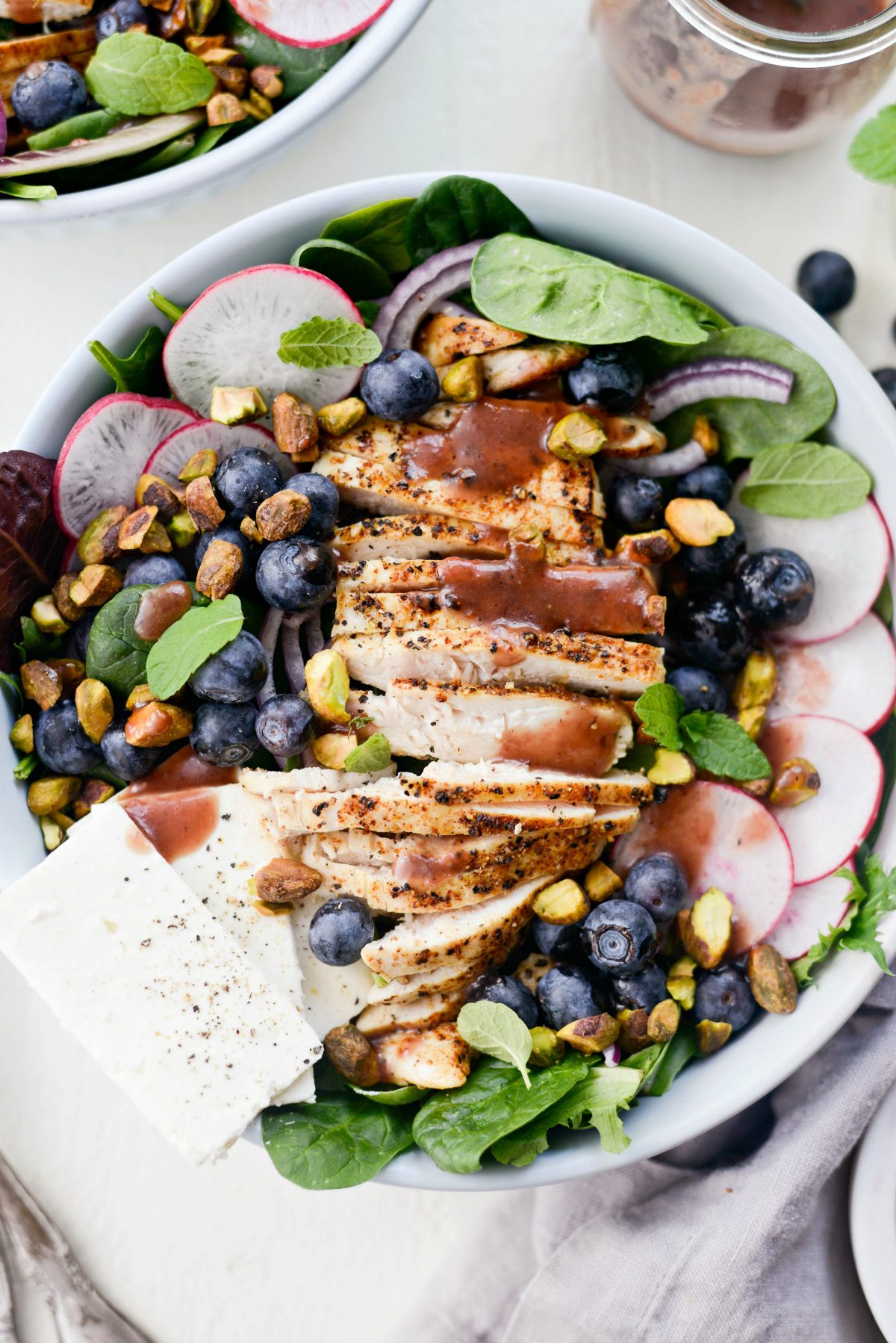 I'm so happy to finally see signs of spring. The ice on the lake and snow and the has melted (and then came back and then melted again) and the temperatures are starting to warm up a bit. We've also started to hear the little spring peepers which is a sure tale tell sign spring is here.
With the arrival of spring, comes my love for salads. Just kidding, I always love salads. I love salads SO much that have a backlog of new recipes, with amazing flavor and texture combinations that I had to start sharing starting back in January! The first one for spring is this chicken feta and blueberry salad. Pretty similar to this but with the addition of more toppings like radish, mint, sliced chicken and the most delicious jam vinaigrette everrr.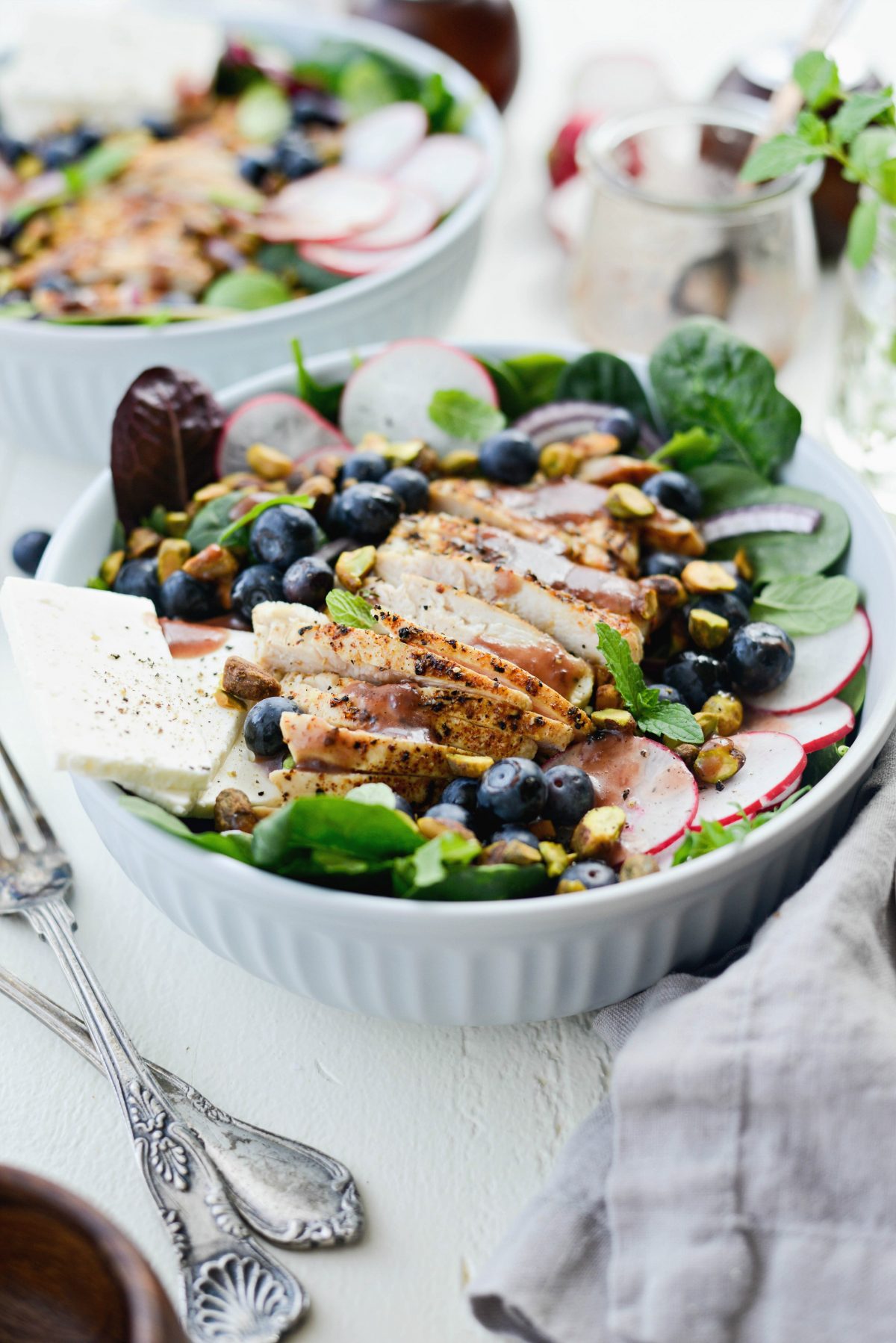 Happy spring my friends! I hope you enjoy this delicious spring salad.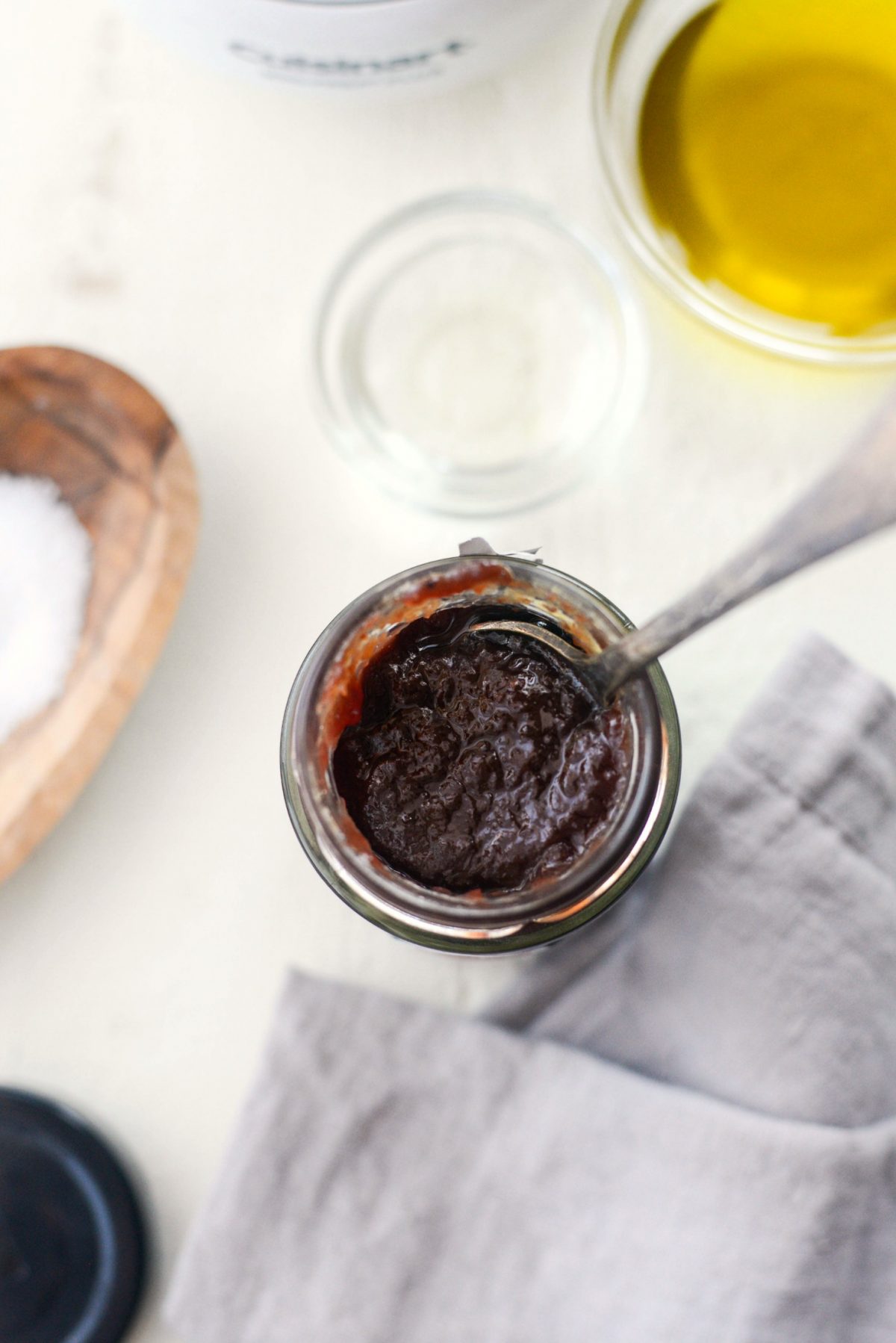 I love using jam in vinaigrettes. It adds the perfect sweetness and the end result has a luscious consistency.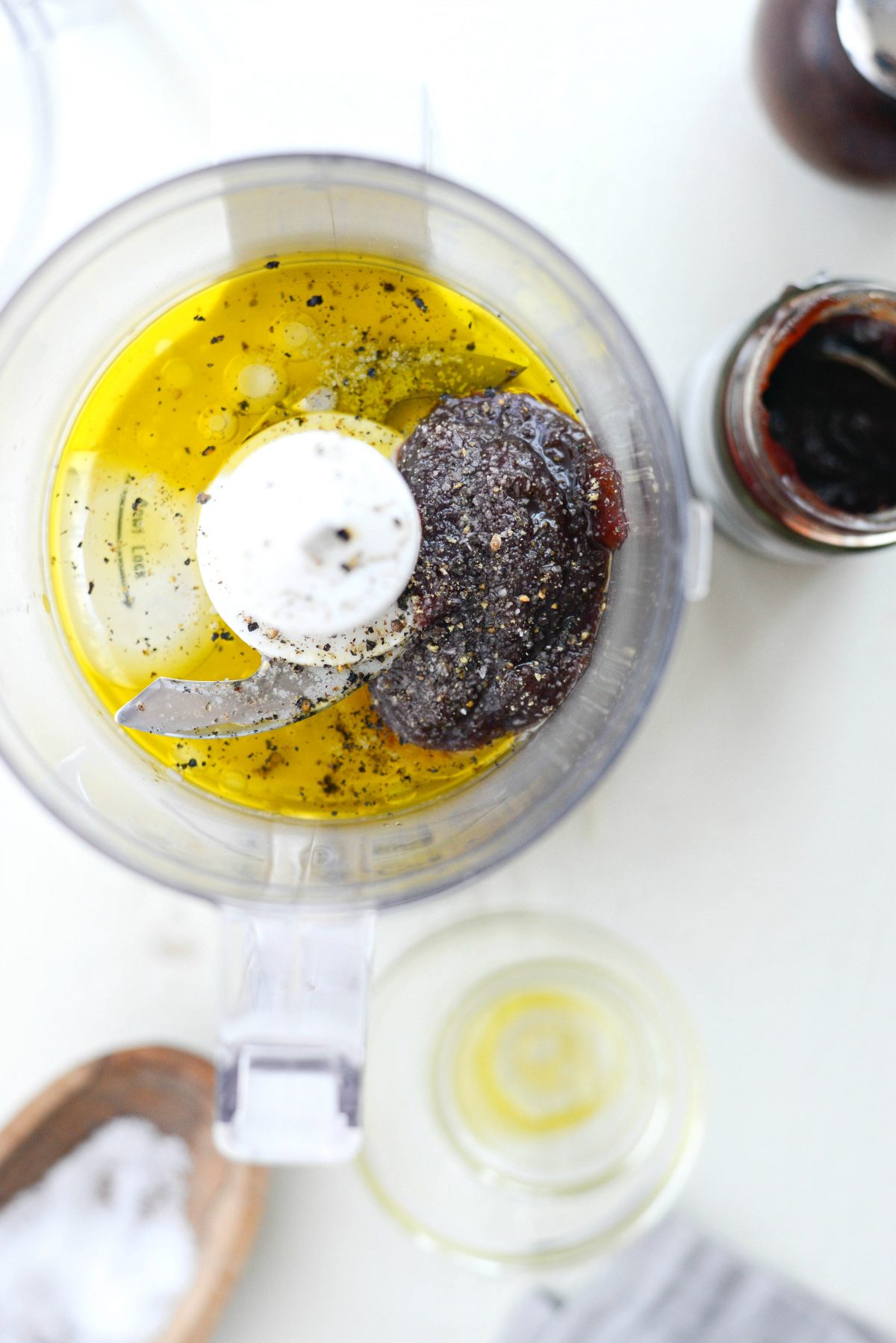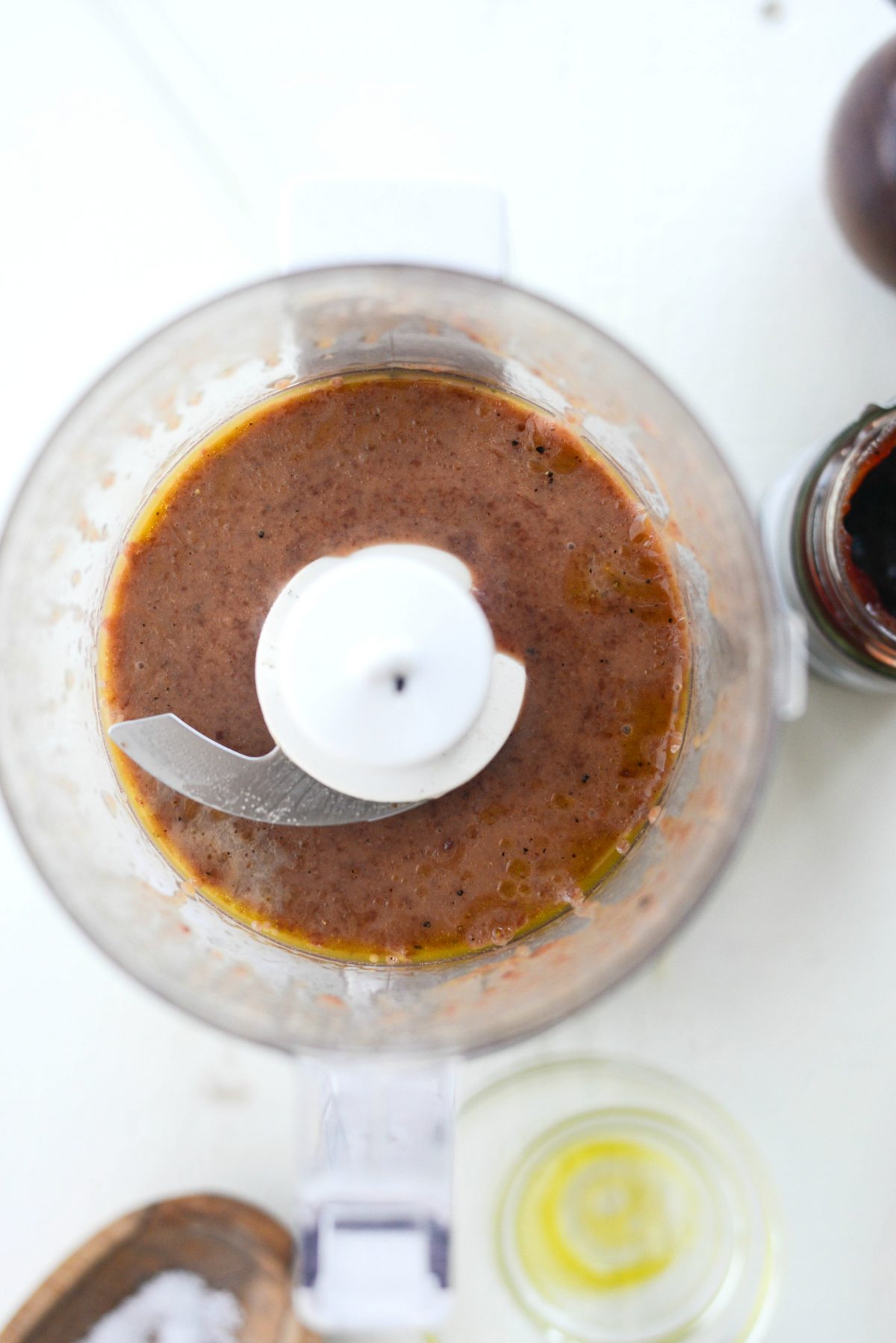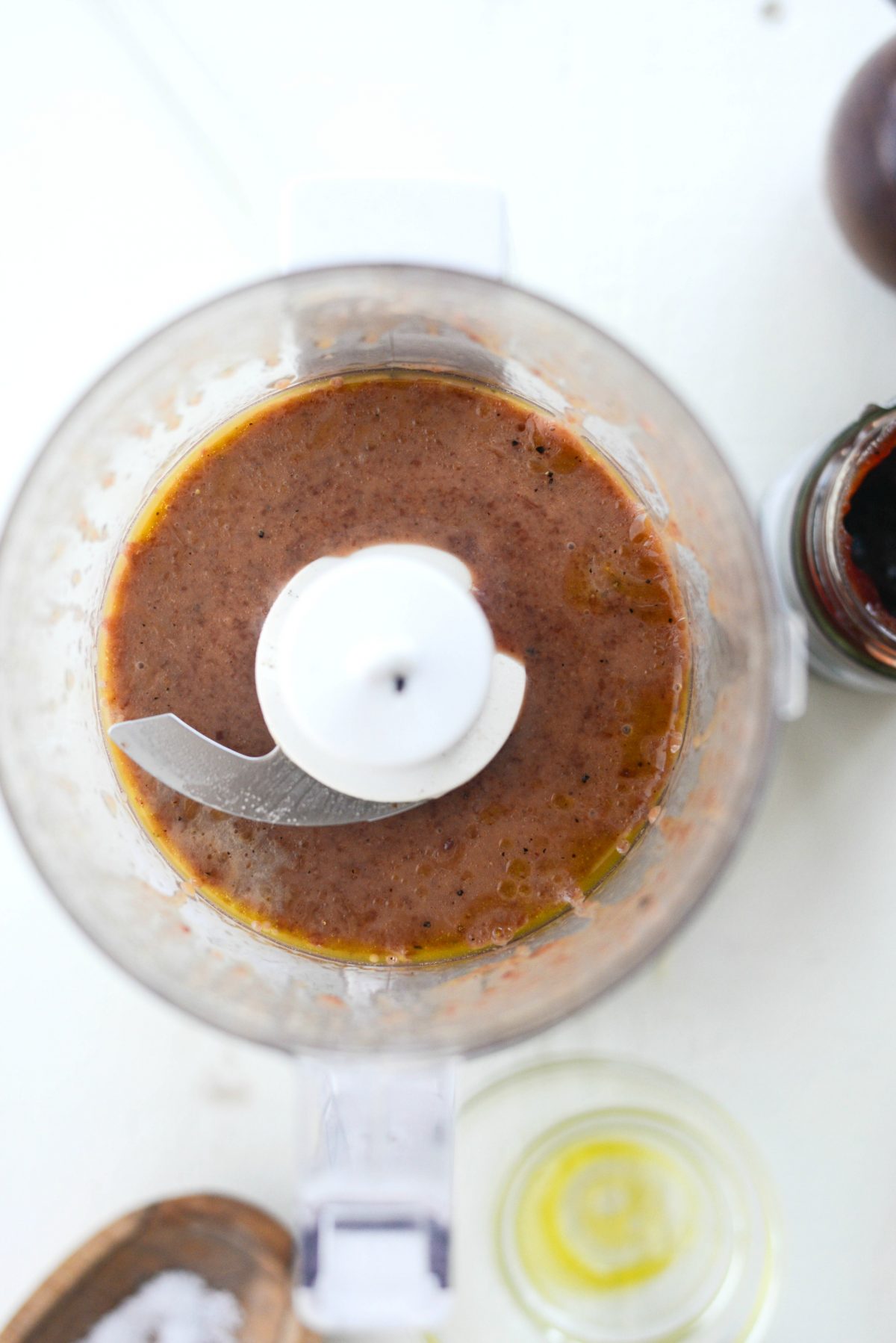 To Make The Pomegranate Jam Vinaigrette You will Need:
pomegranate jam
champagne vinegar
extra virgin olive oil
kosher salt
freshly ground black pepper
First, in the bowl of your mini food processor or in a bowl using a whisk, combine 2 tablespoons pomegranate jam, 1 tablespoon champagne vinegar, 3 tablespoons extra virgin olive oil and pinch or two of kosher salt and a few turns of freshly ground black pepper. Turn your food processor or whisk until thoroughly combined.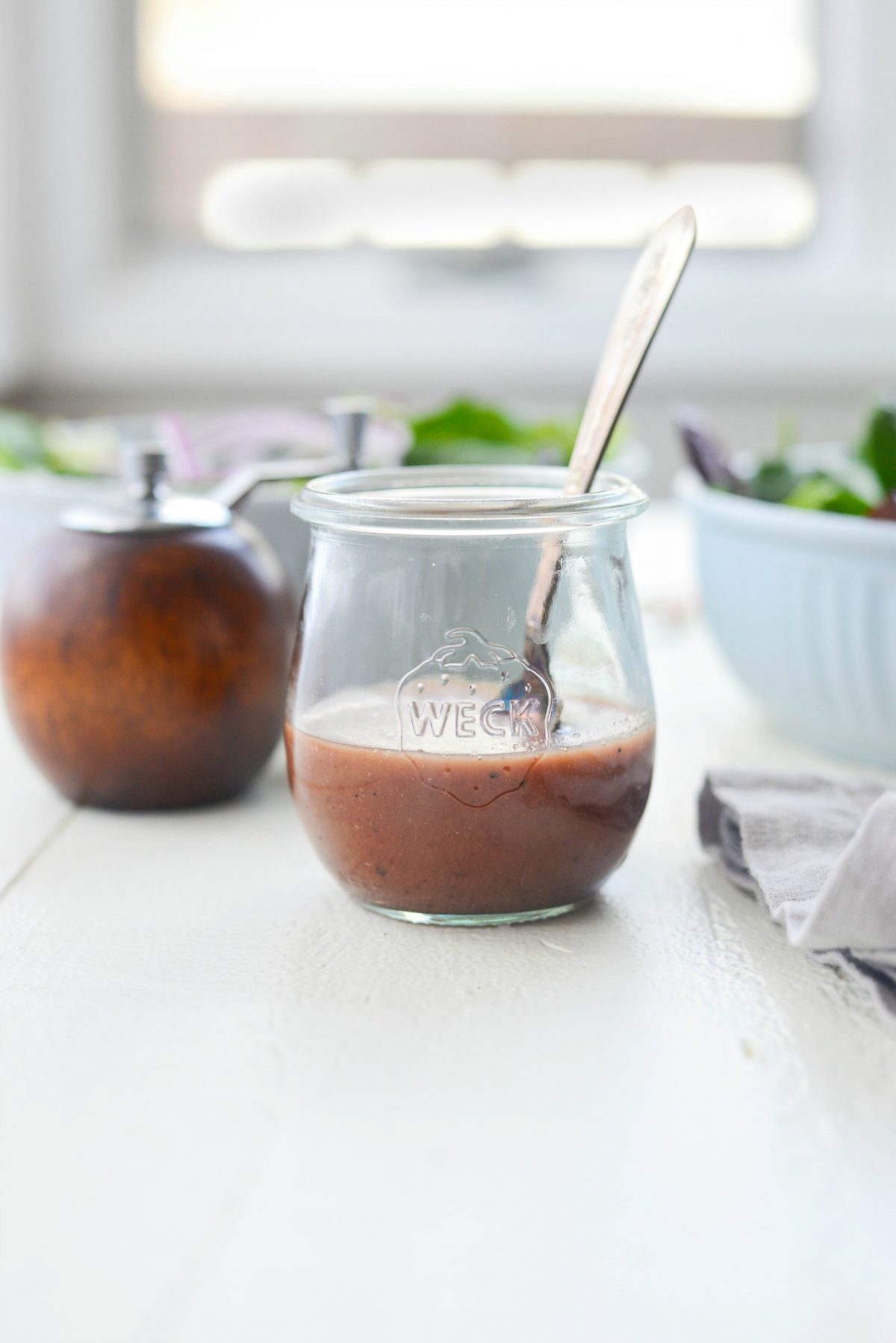 Once the pomegranate jam vinaigrette is made, pour it into a serving vessel and then set off to the side. Note: this is a small batch dressing. Perfect for 4 salads using a couple spoonfuls per serving. Therefore consider doubling if wanting a more dressing heavy salad. 🙂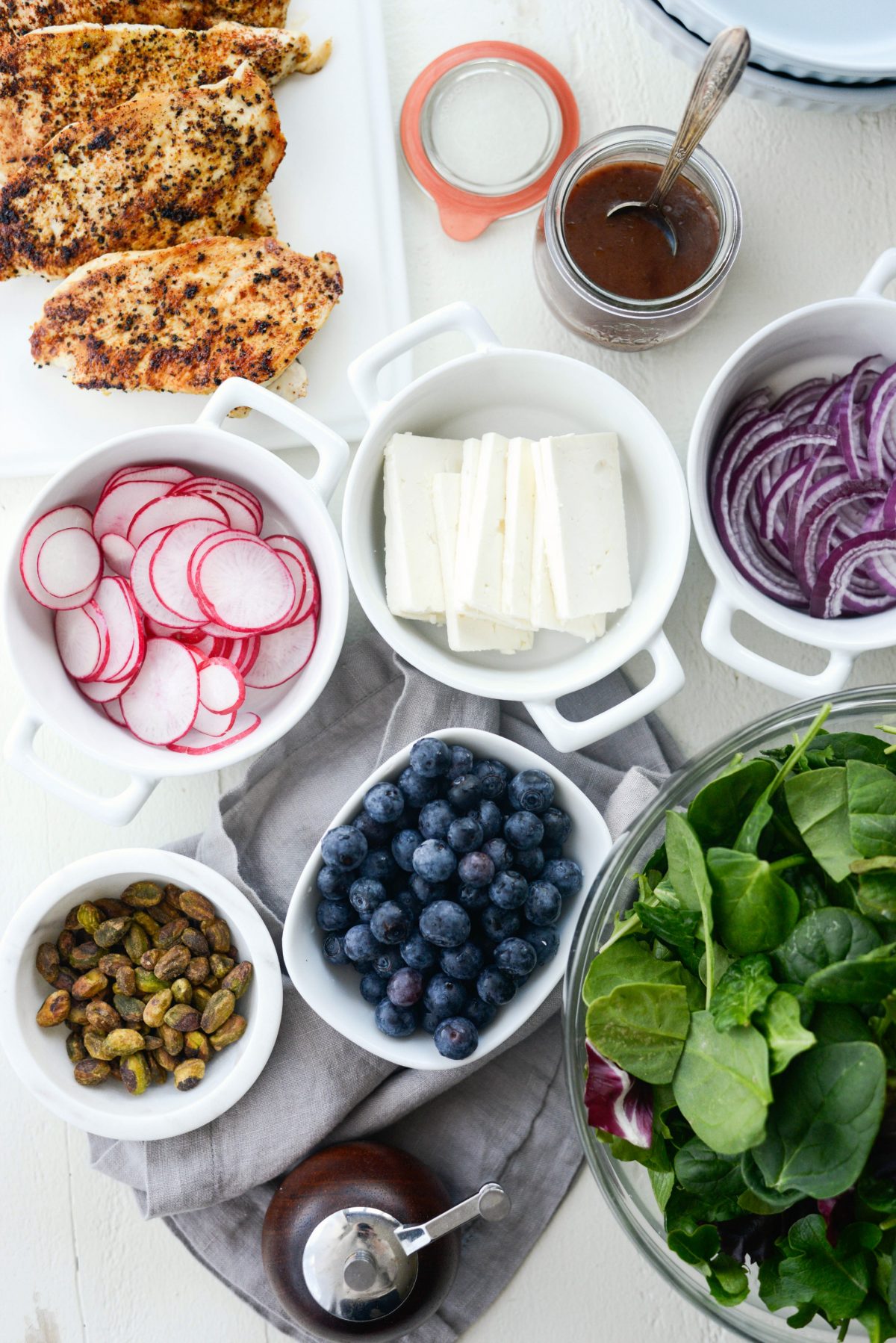 To Make This Chicken Blueberry Feta Salad You Will Need:
5 ounces spring mix or spinach blend
1/2 a small red onion – thinly sliced
1 cup (I just eyeball it) fresh blueberries
feta – crumbled or sliced from a brick
roasted and lightly salted shelled pistachios
4 to 6 radishes – thinly sliced
fresh mint leaves
cooked chicken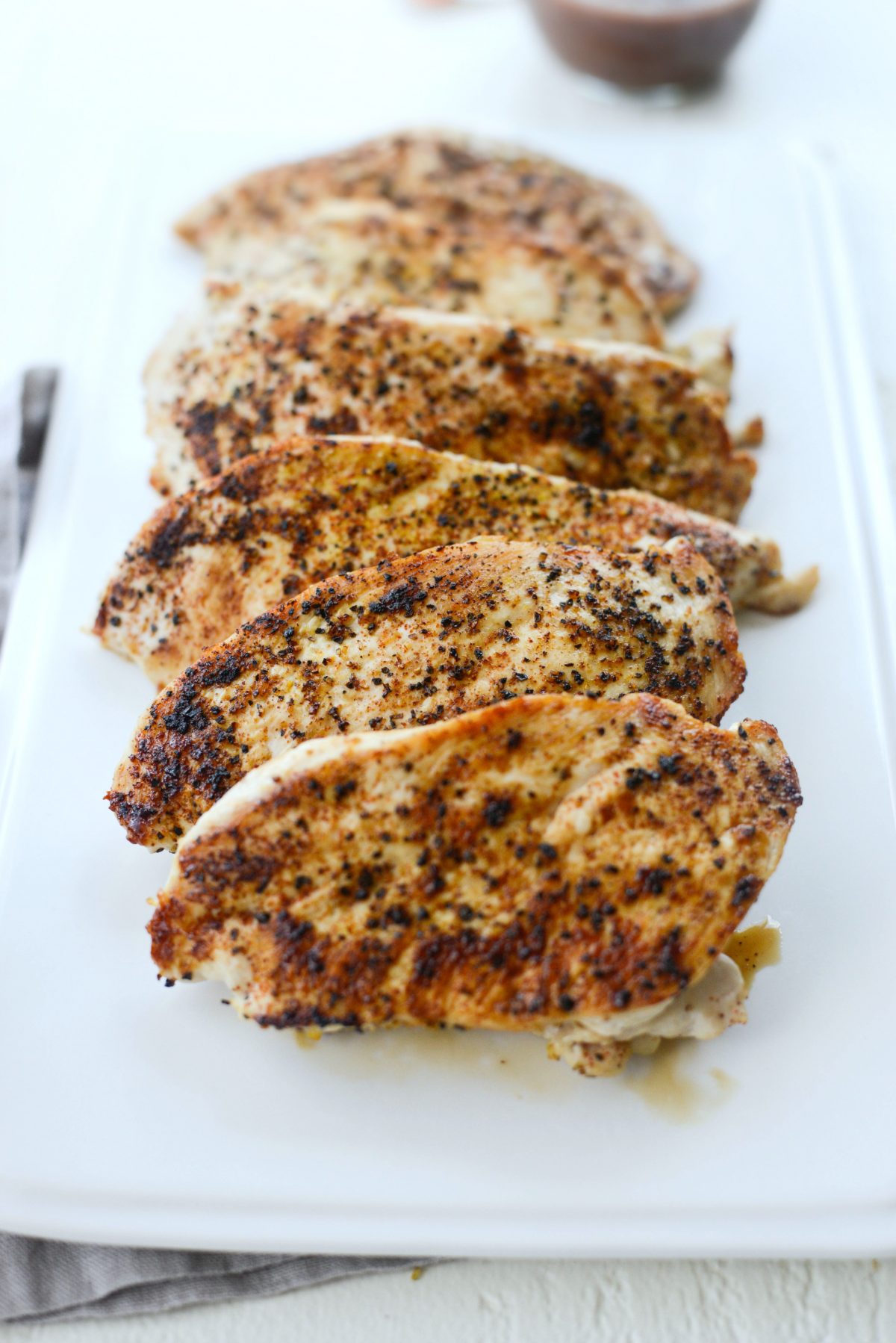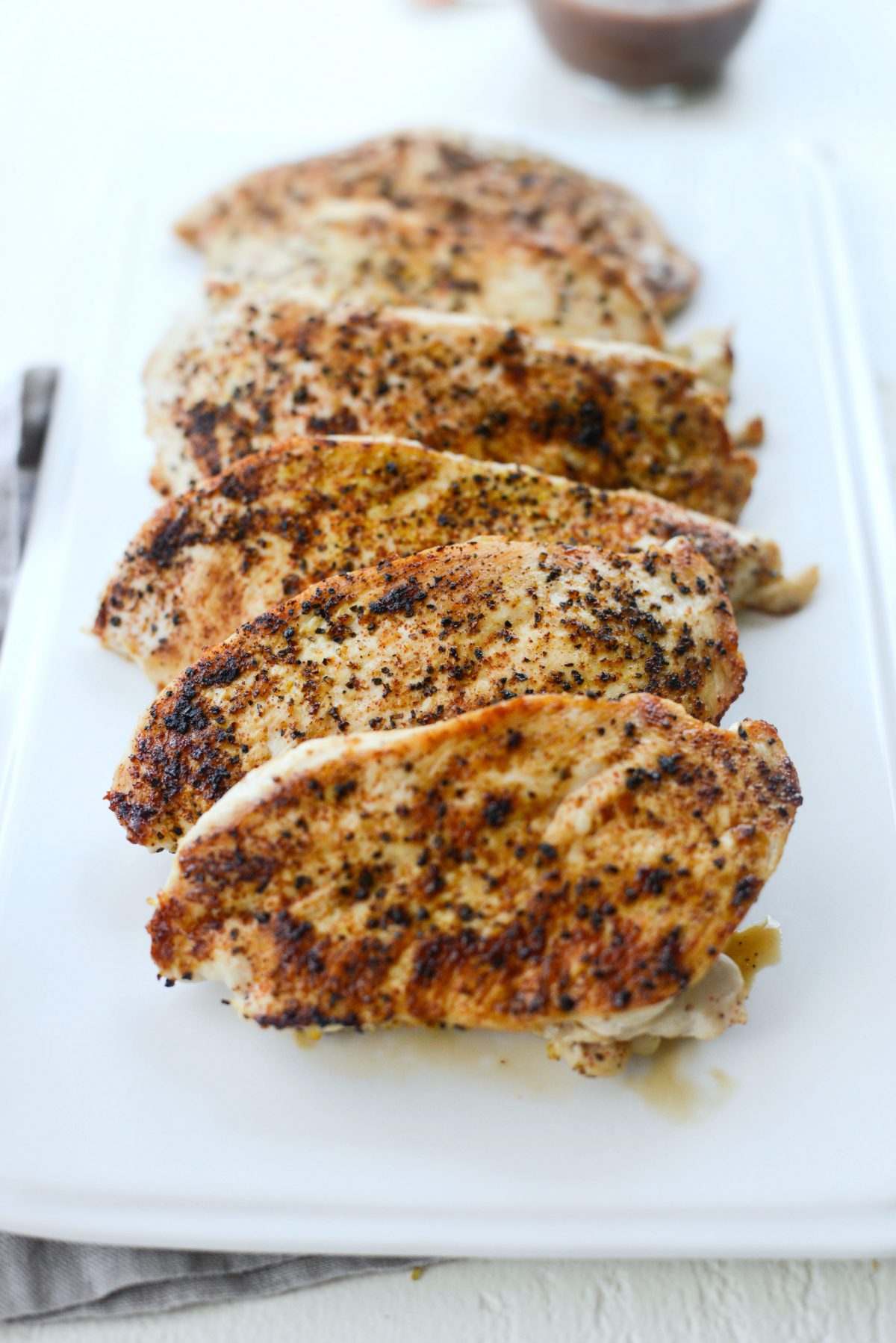 Then, for the chicken, slice 2 to 3 chicken breasts in half horizontally. Next, season with lemon pepper and paprika. Then spray a skillet with olive oil and cook the chicken for about 6 minutes a side (depending on thickness) until fully cooked and no longer pink. Allow the chicken to rest for 5 minutes under foil, before slicing.
Lastly, divide the salad greens among bowls. Then add the sliced chicken breast, blueberries, radish, onion, pistachios, mint and feta.
Finally, drizzle with a couple of spoonfuls of that delicious jam vinaigrette and scatter a few fresh mint leaves for a burst of herbaceousness. Next grab your fork and get to work. However first, prepare yourself to fall in love, because this salad is incredible. Between the pistachios, feta, chicken and dressing. It's hard to pick a favorite. I think you will agree. 🙂
Fresh and light and healthy. My kind of salad!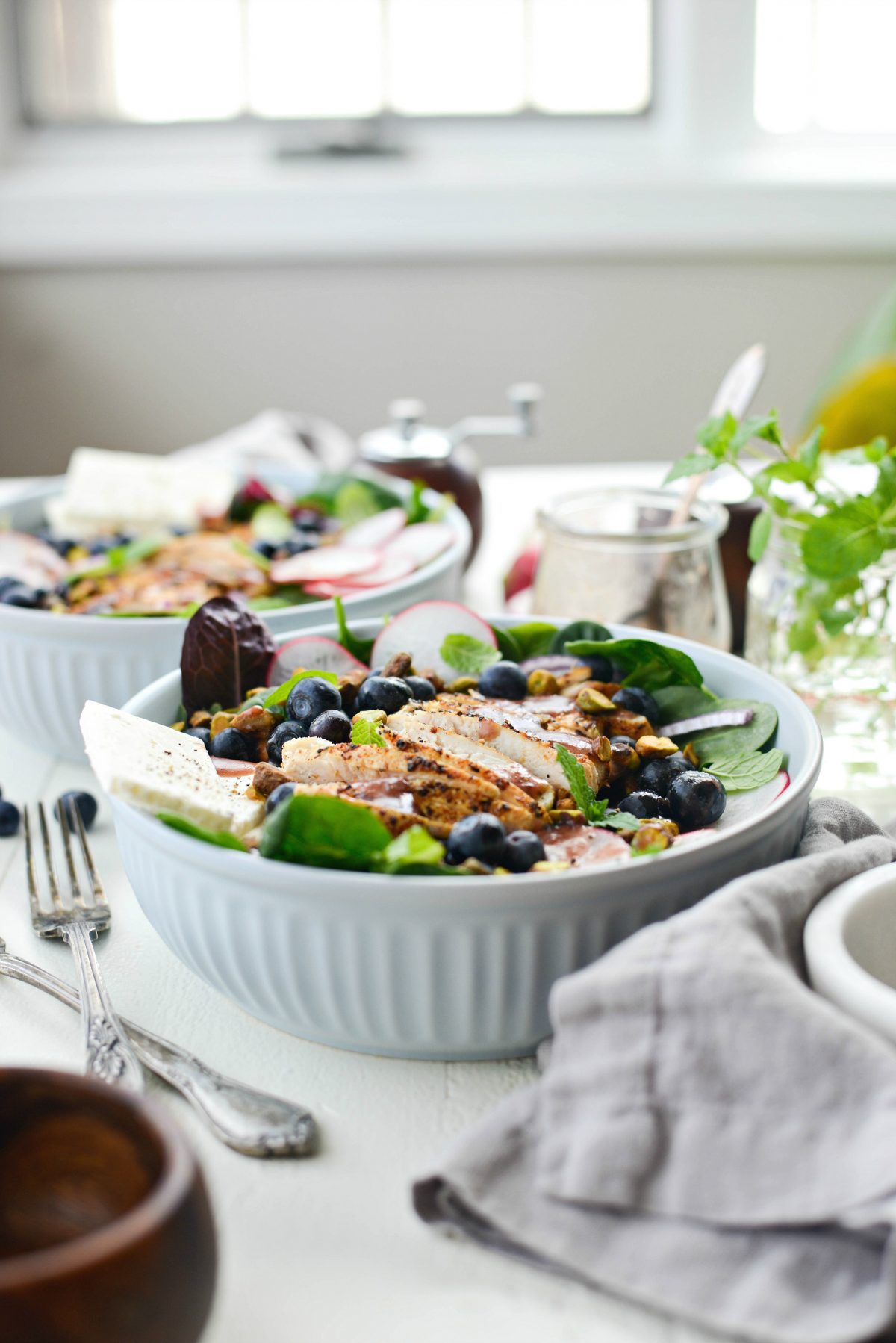 Enjoy! And if you give this Chicken Blueberry Feta Salad recipe a try, let me know! Snap a photo and tag me on twitter or instagram!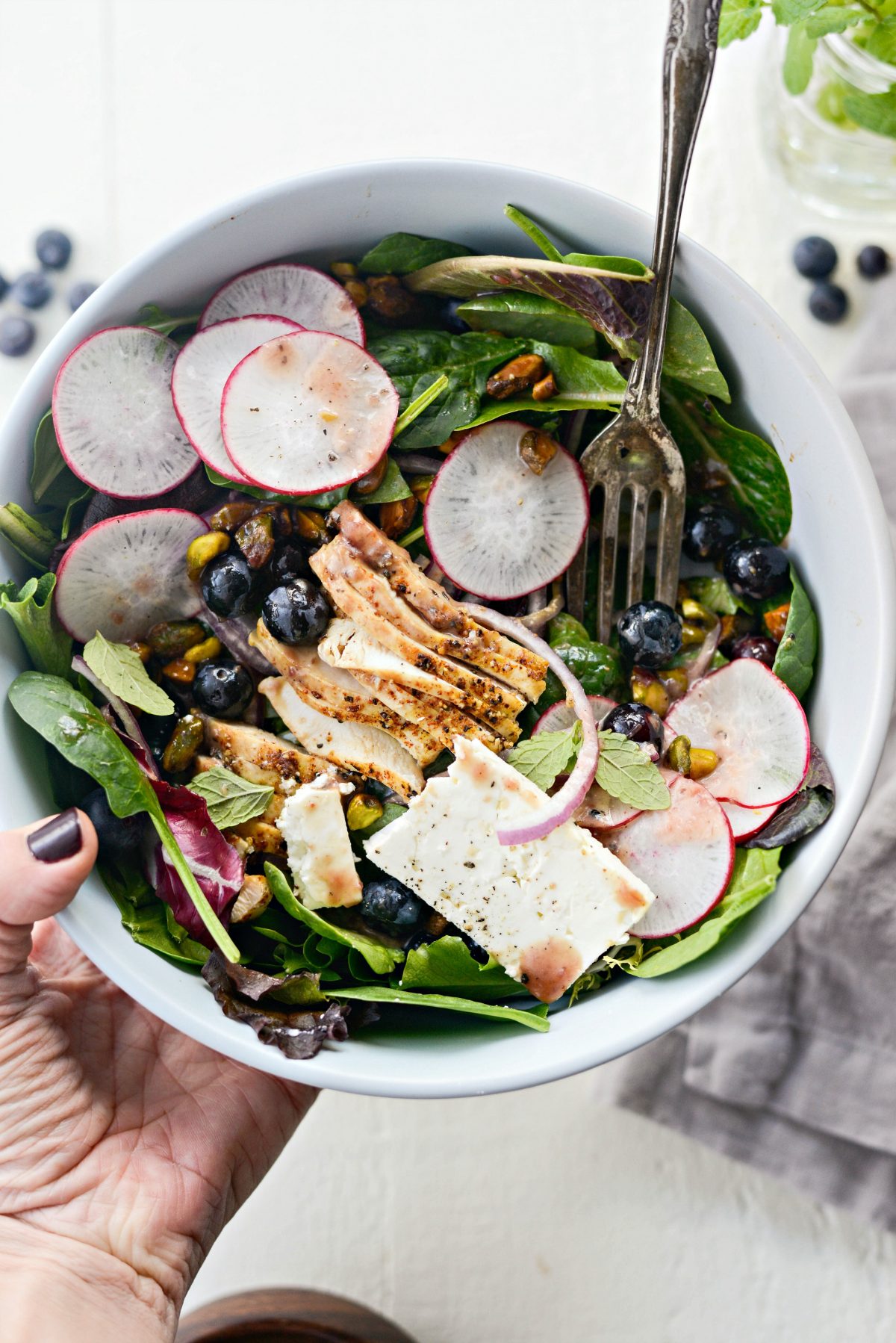 This post may contain affiliate links.
Buy the Cookbook: Simply Scratch : 120 Wholesome Homemade Recipes Made Easy Now available on Amazon »
THANK YOU in advance for your support!