Slow Cooker Mushroom Barley Stew is a cozy filling vegetarian recipe consisting of rutabega, carrots and celery, leeks and mushrooms are cooked with broth, low and slow in your slow cooker. Majority of this recipe can be prepped into a freezer meal kit and then easily whipped up on a chilly day or when you're just not in the mood to cook.
Would you even believe me if I told you I made this last year and forgot to post it? I remember prepping a bunch of slow cooker freezer meal kits and somehow this one slipped through the cracks. I know. It's madness.
Luckily it's the perfect season for stew and this Slow Cooker Mushroom Barley Stew is just the comforting meal after Mother Nature dumps 4 inches of snow.
In this post I will walk you through the actual kit and explain how to prepare from the kit in your slow cooker. Because what's better than waking up, throwing a bag of ingredients int your slow cooker and coming home to a low and slow cooked stew?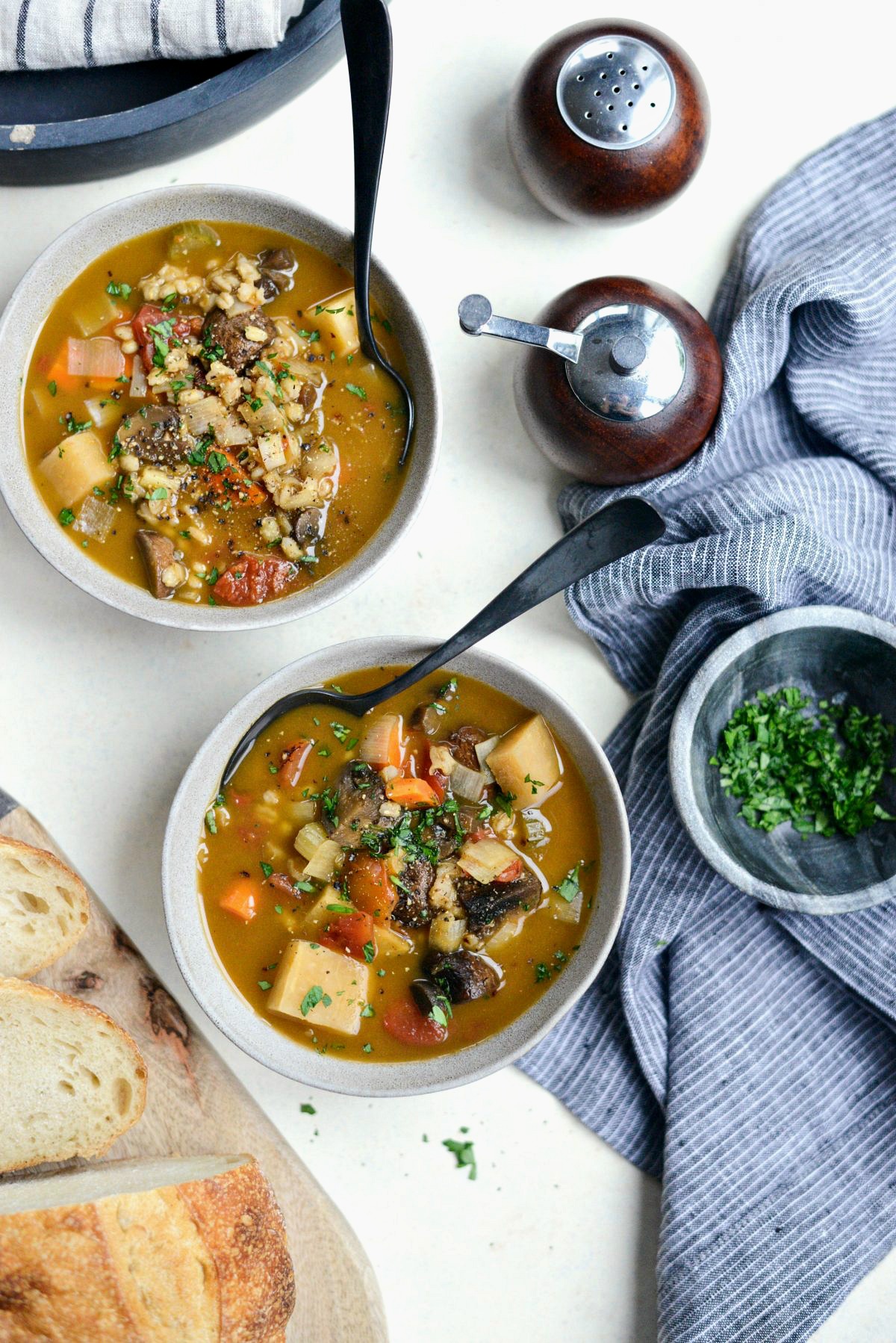 I can't think of anything.
To prep for the Slow Cooker Mushroom Barley Stew freezer meal kit you will need:
fire roasted diced tomatoes
cremini mushrooms
uncooked barley
carrots
celery
leek
parsnips
Above is just what you need to build the kit. I don't use potatoes because they don't freeze as well.
On the day you plan to make the recipe, you will also need:
2 quarts (8 cups) vegetable broth or stock
1 bay leaf
kosher salt
freshly ground black pepper
crusty bread, for serving (optional)
I bought a few of these clip storage bag holders (affiliate) which really helped to hold my gallon ziplock bags upright so I could add in all of the prepped ingredients. If you're prepping a few recipes at a time, I would highly recommend buying a few of these holders, they are so extremely handy!
To Build The Slow Cooker Mushroom Barley Stew Freezer Meal Kit:
Starting with the tomatoes, add 1 (15 ounce) can in the bottom of a freezer-safe gallon bag. Then layer in the 1 to 2 diced rutabagas (about 3 cups), 1 (sliced, rinsed and patted dry) leeks or onions, 2 stalks sliced celery, 2 sliced carrots, 1 pound quartered mushrooms and 1 cup barley. Next, lay the freezer kit flat and gently press out as much air as possible and seal tight.
Prep is done.
I also recommend writing out the labels (if using them) in advance and placing them on the baggies before adding the ingredients. Write down ingredients that are in the bag, the ingredients you will need day of in order to make the recipe and then any garnishes or ideas for serving. This is helpful, so when you pull out the bag to thaw, you can purchase any ingredients that you don't have on hand.
The Day Before:
Pull it out of the freezer and place it into your fridge to thaw. I DO NOT recommend adding a completely frozen meal kit in to your slow cooker. Doing so may affect cooking times and the outcome of the recipe. I also read that the contents might not reach a safe temperature to consume.
However, partially thawed is absolutely fine. In fact, after my stew kit thawed in my fridge for 24 hours, the vegetables were pretty thawed so this rule of thumb may not apply to this meal kit, but is important information to know when making any slow cooker freezer meal kit.
Day Of:
First, place the entire thawed contents from the slow cooker mushroom barley stew kit into your slow cooker. Next, add in the bay leaf and pour in 8 cups of vegetable stock or broth. Then push the rutabaga down to submerge them into the liquids. Cover and cook on low for 6 to 8 hours. Once cooked, remove the bay leaf, taste and season with kosher salt and freshly ground black pepper to your liking.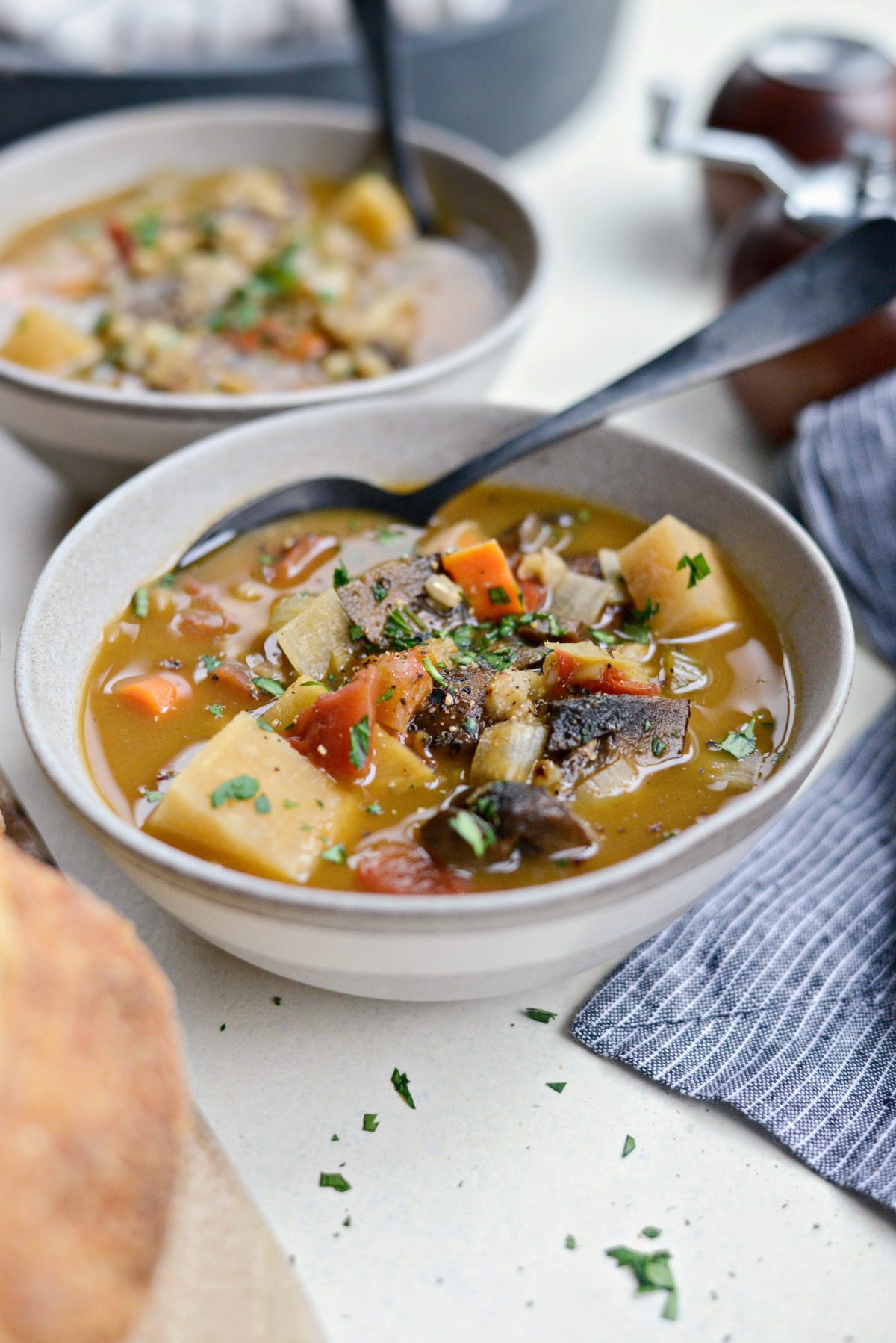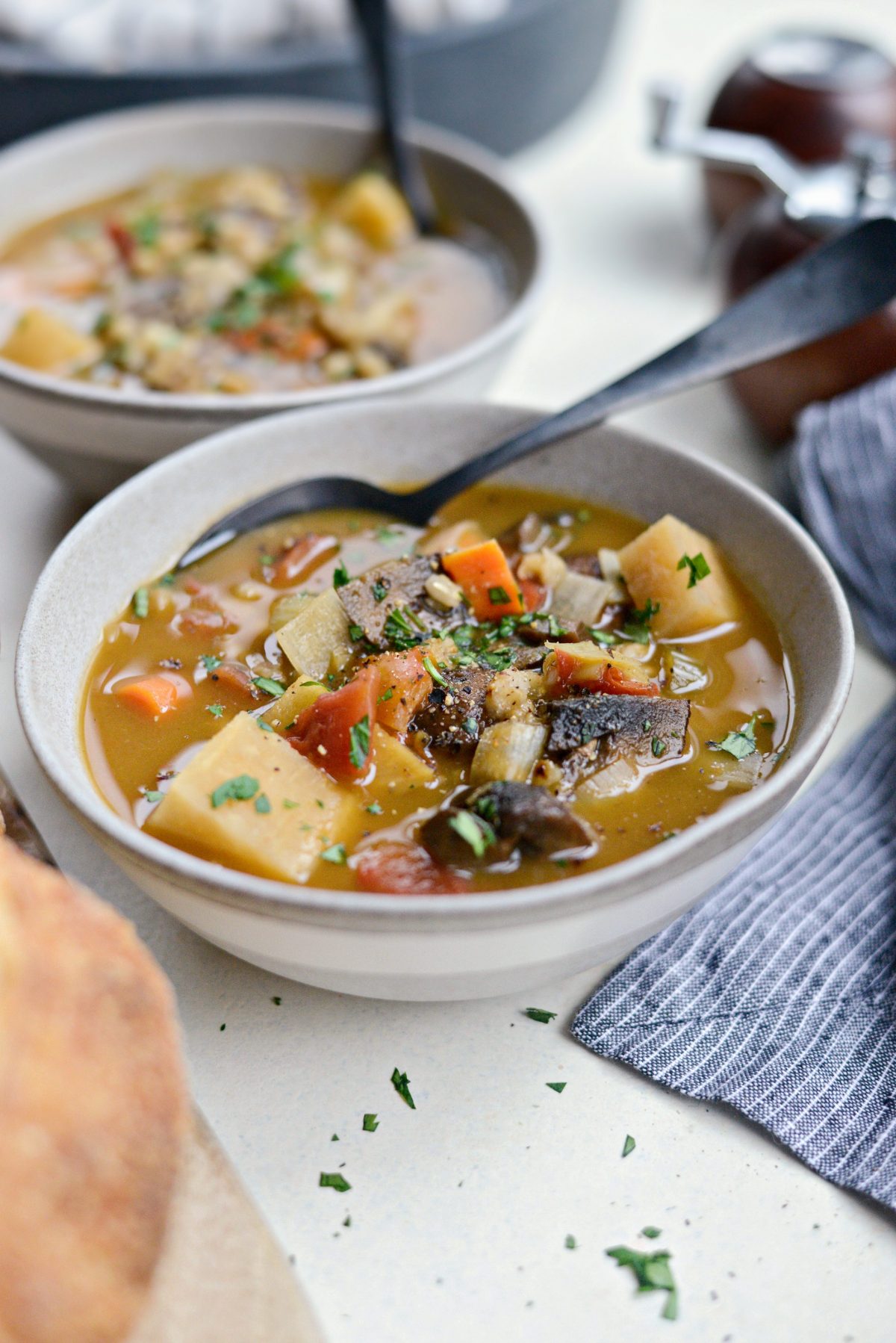 Lastly, ladle the piping hot soup into bowls. The serve with a sprinkle of minced fresh parsley and more fresh ground black pepper.
This robust, healthy stew will warm you to your soul! And it just so happens to be the perfect stew to dunk slices of crusty bread into.
For MORE slow cooker freezer kits, check out these recipes:
Enjoy! And if you give this Slow Cooker Mushroom Barley Stew recipe a try, let me know! Snap a photo and tag me on twitter or instagram!
This post may contain affiliate links.
Buy the Cookbook: Simply Scratch : 120 Wholesome Homemade Recipes Made Easy Now available on Amazon »
THANK YOU in advance for your support!