Gingerbread Pecan Slab Pie, homemade gingerbread spice mix is combined with molasses, sugar, eggs and butter to spice up my traditional pecan pie. Baked in a quarter sheet pan so it is perfect for serving a small crowd of 12.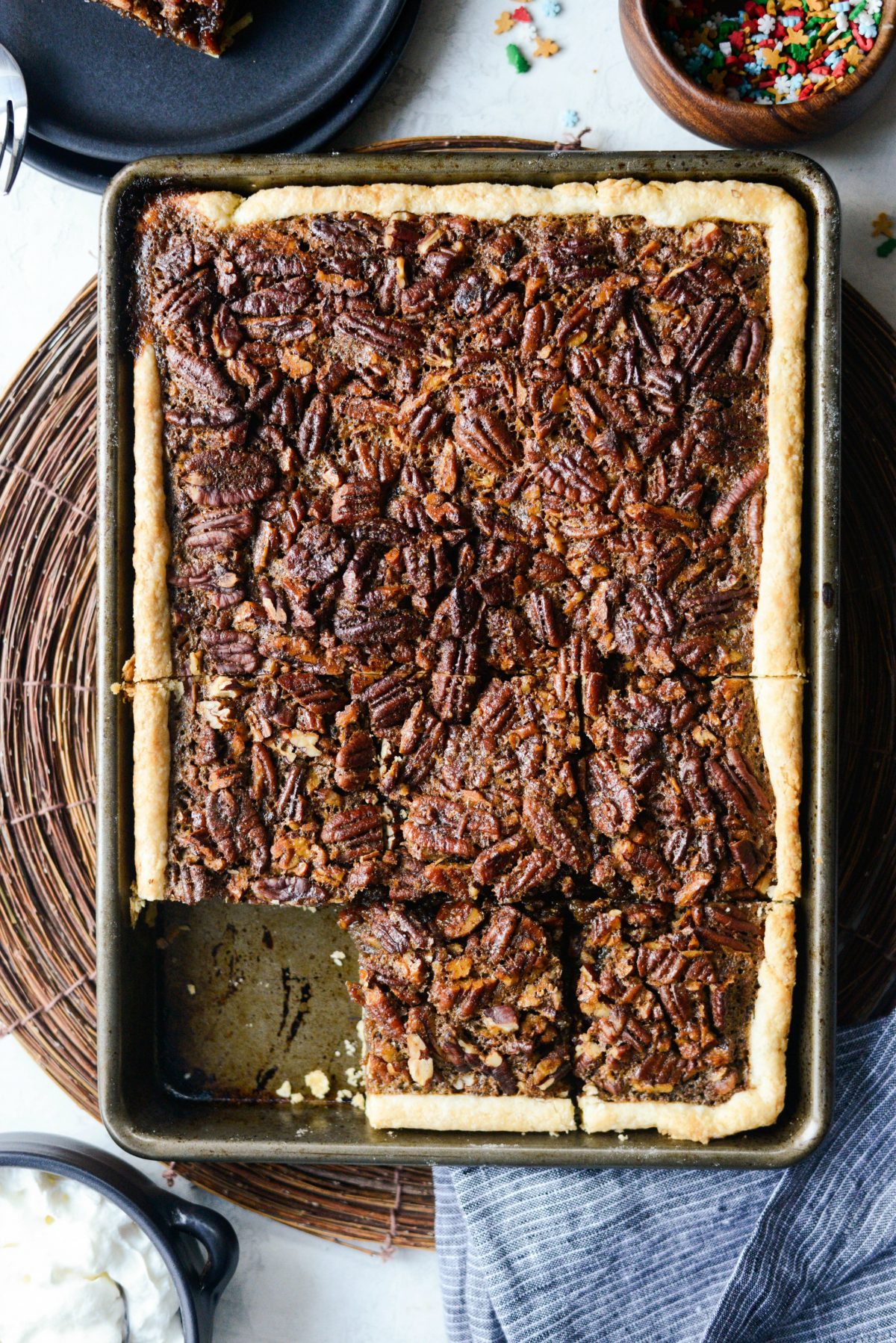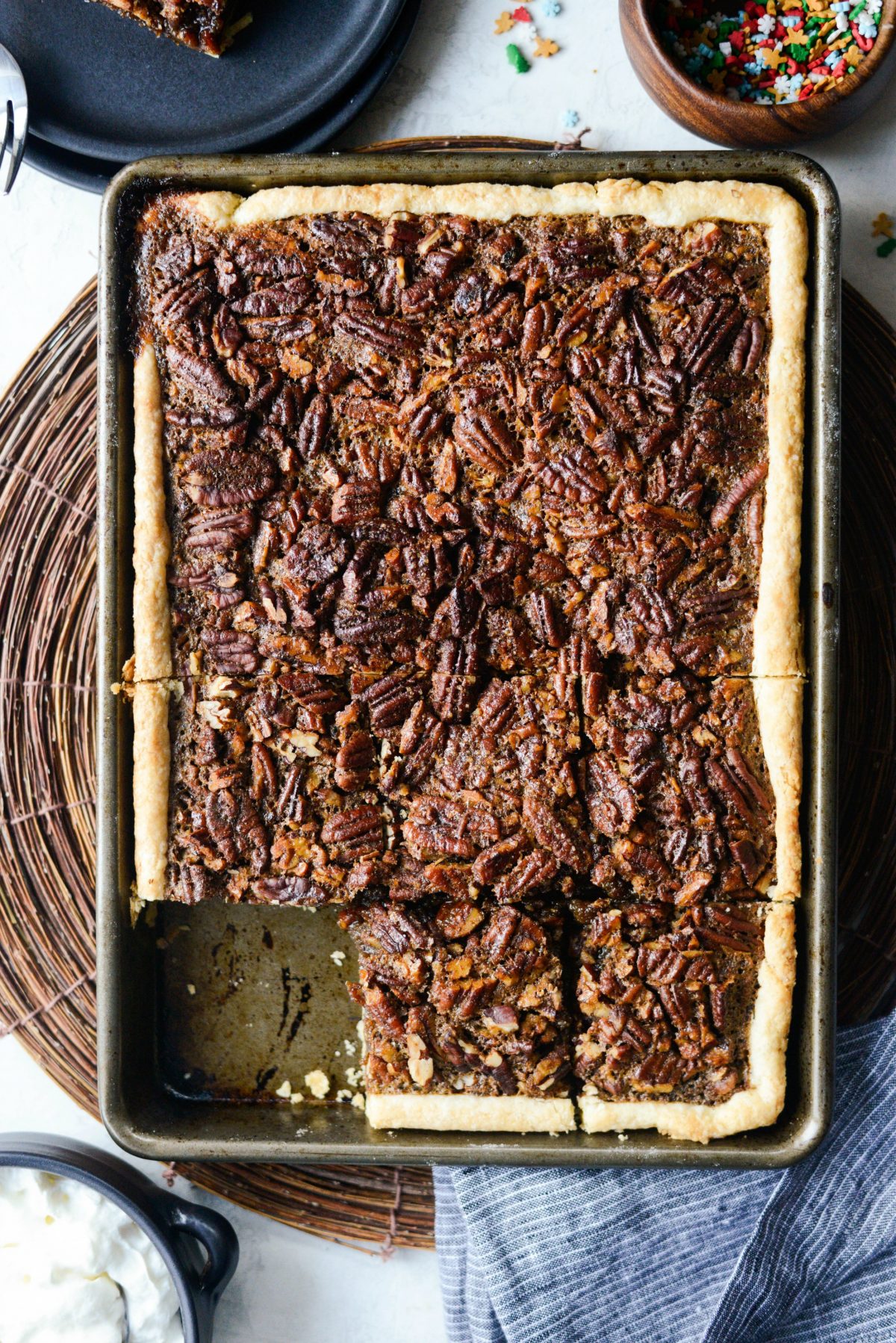 It's just a few days until Christmas, do you know what dessert you'll be serving? Because this might be my favorite recipe idea of 2018! Combining gingerbread spices with pecan pie makes total and complete sense, right?
I originally had planned this recipe to be just a slab pecan pie since I shared a pumpkin slab pie before Thanksgiving. That was until I made gingerbread spice and thought to myself, what if? What if I combined the two? So I did.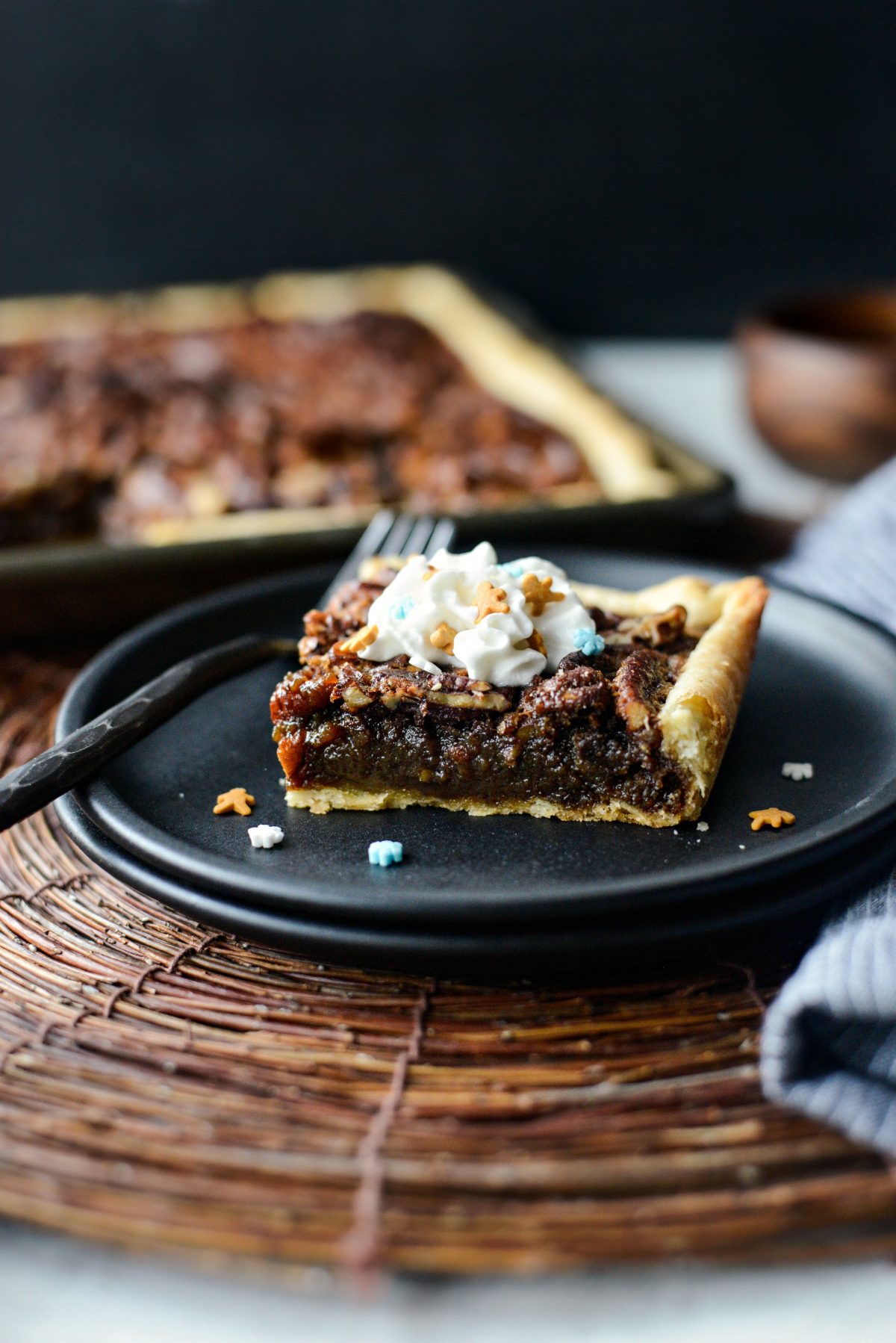 The crust is cookie like and the color of the pie is a little darker. But the flavor? Incredible.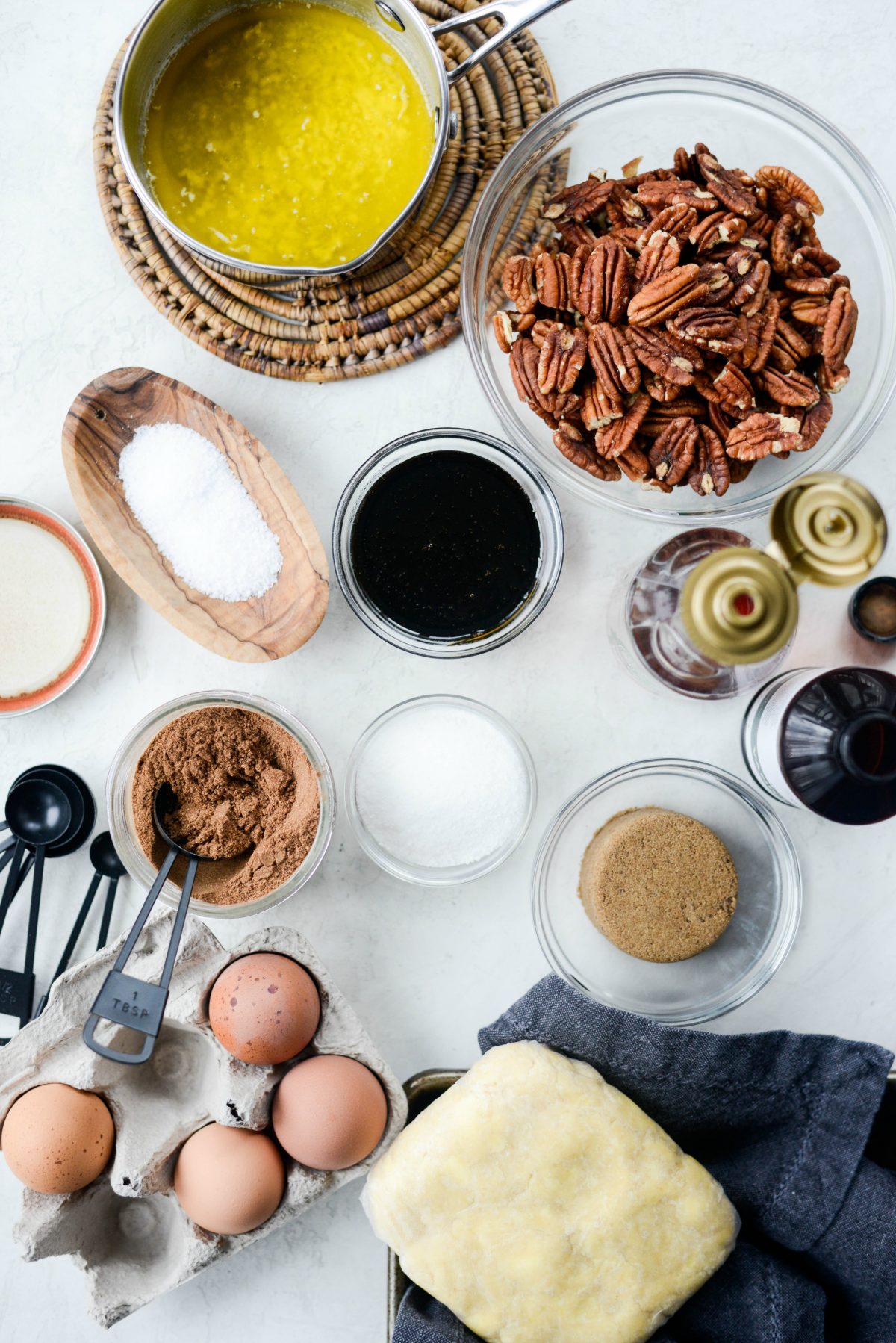 For this recipe you will need: 1 recipe easy pâte sucrée, 4 large eggs at room temperature, 1/4 cup granulated sugar, 1/3 cup dark brown sugar, 1-1/2 tablespoons homemade gingerbread spice, 1/2 teaspoon kosher salt, 3/4 cup golden syrup, 1/4 cup unsulphured molasses, 1 teaspoon vanilla extract, 1/4 cup (or 4 tablespoons) unsalted butter that is melted and has cooled, and 3 cups coarsely chopped pecans.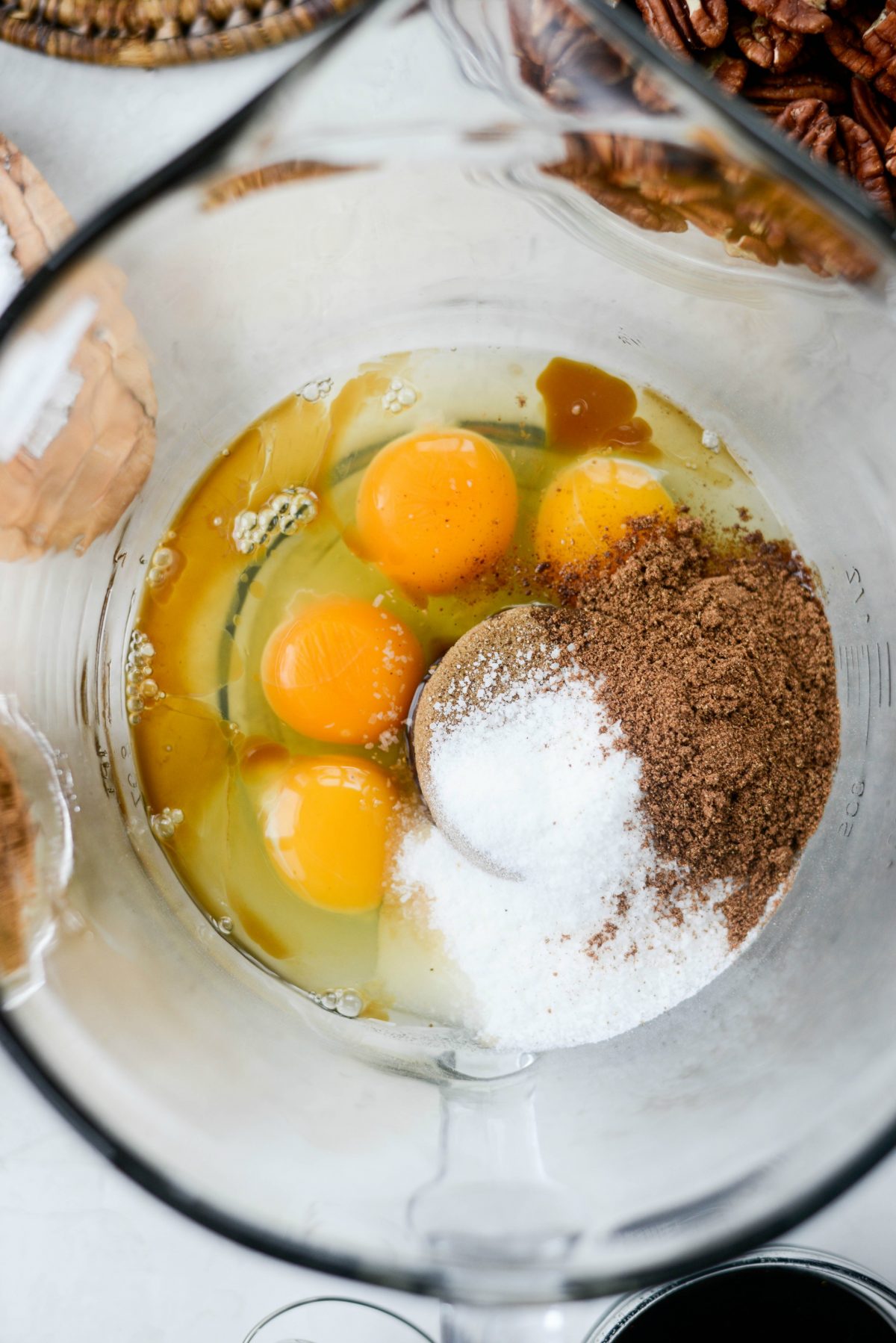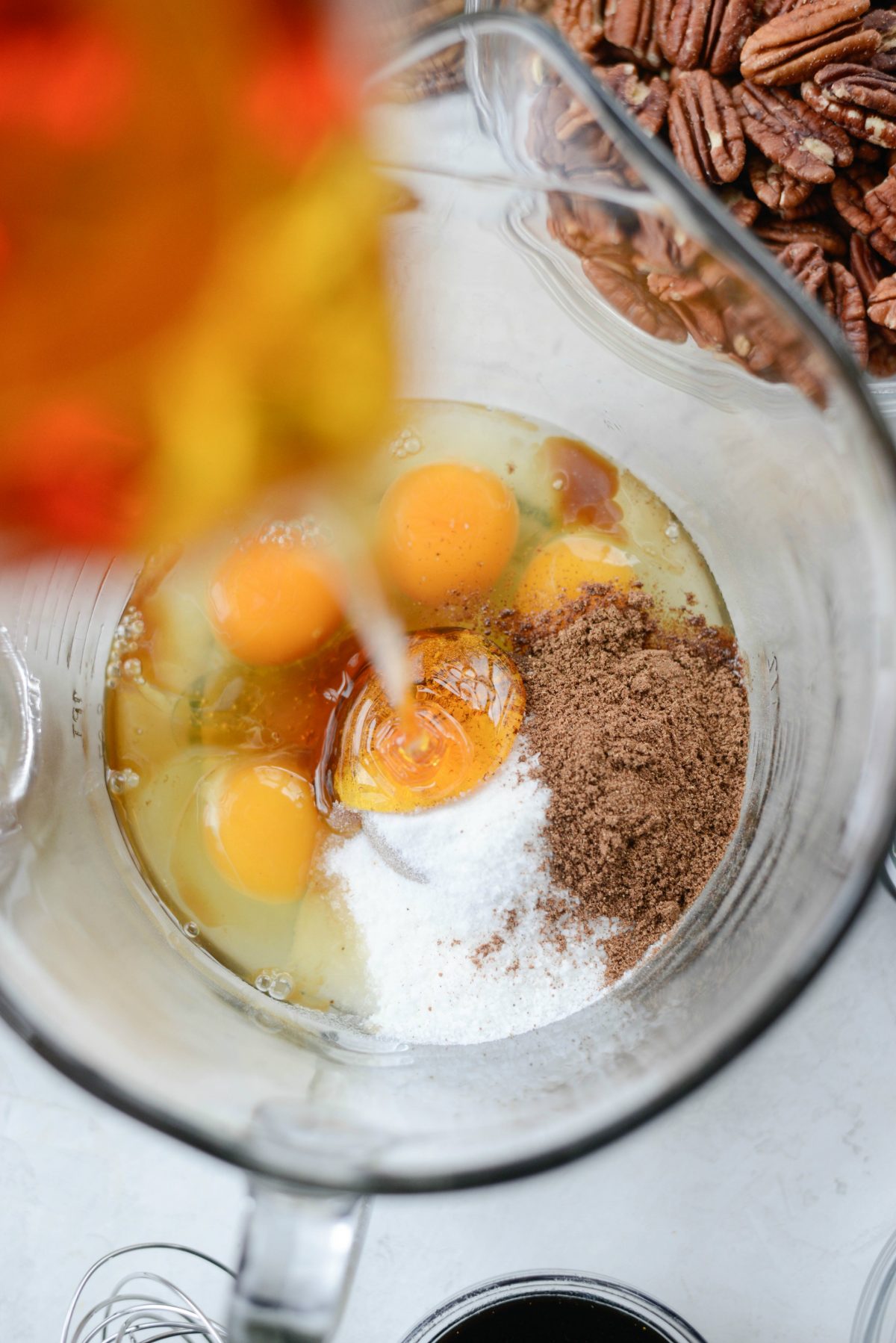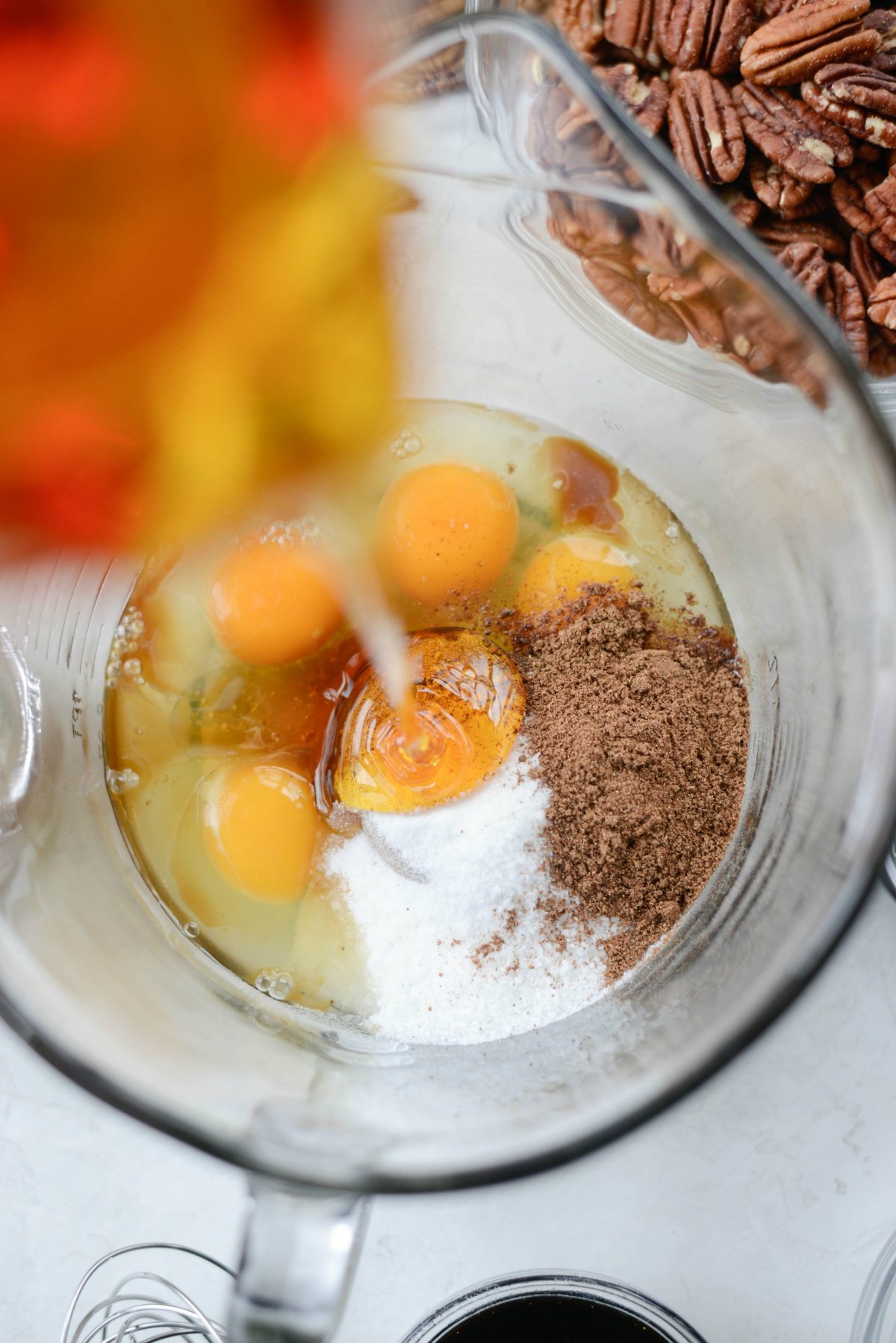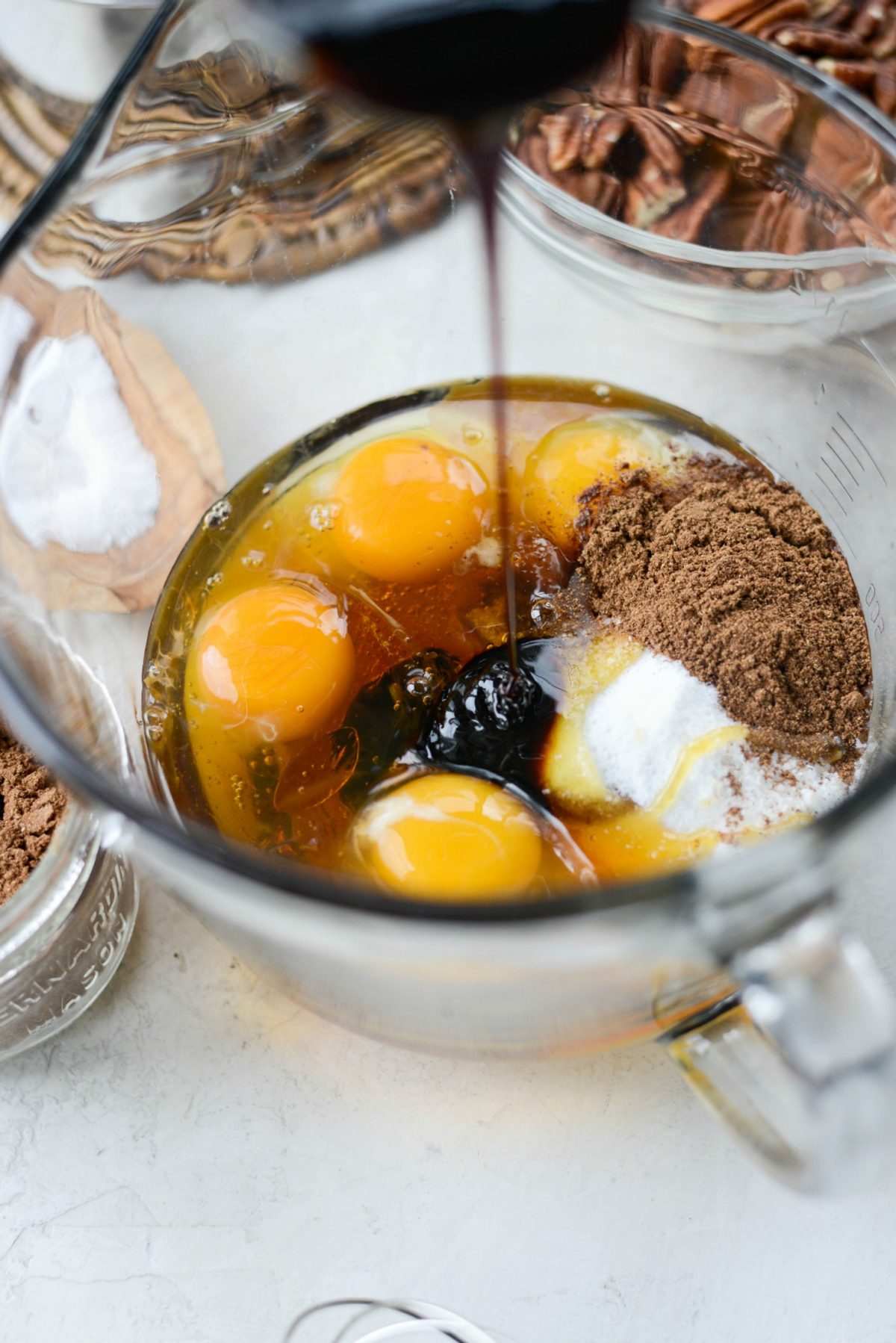 Next pour in the golden syrup and unsulphured molasses.
What is golden syrup? It's a thick syrup made from sugar cane. Whereas corn syrup is made from cornstarch. It's a personal preference and either will work wonderfully in this recipe!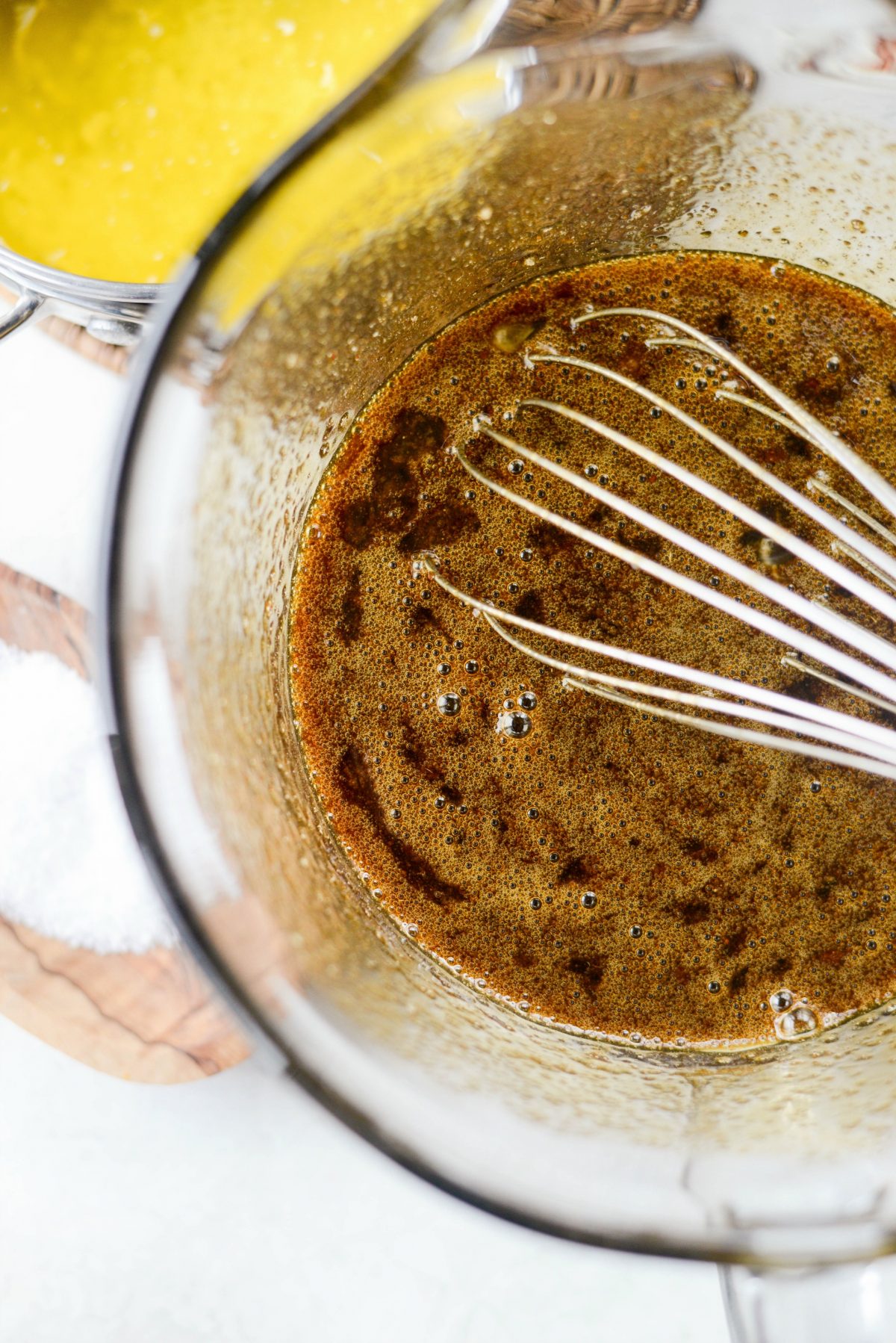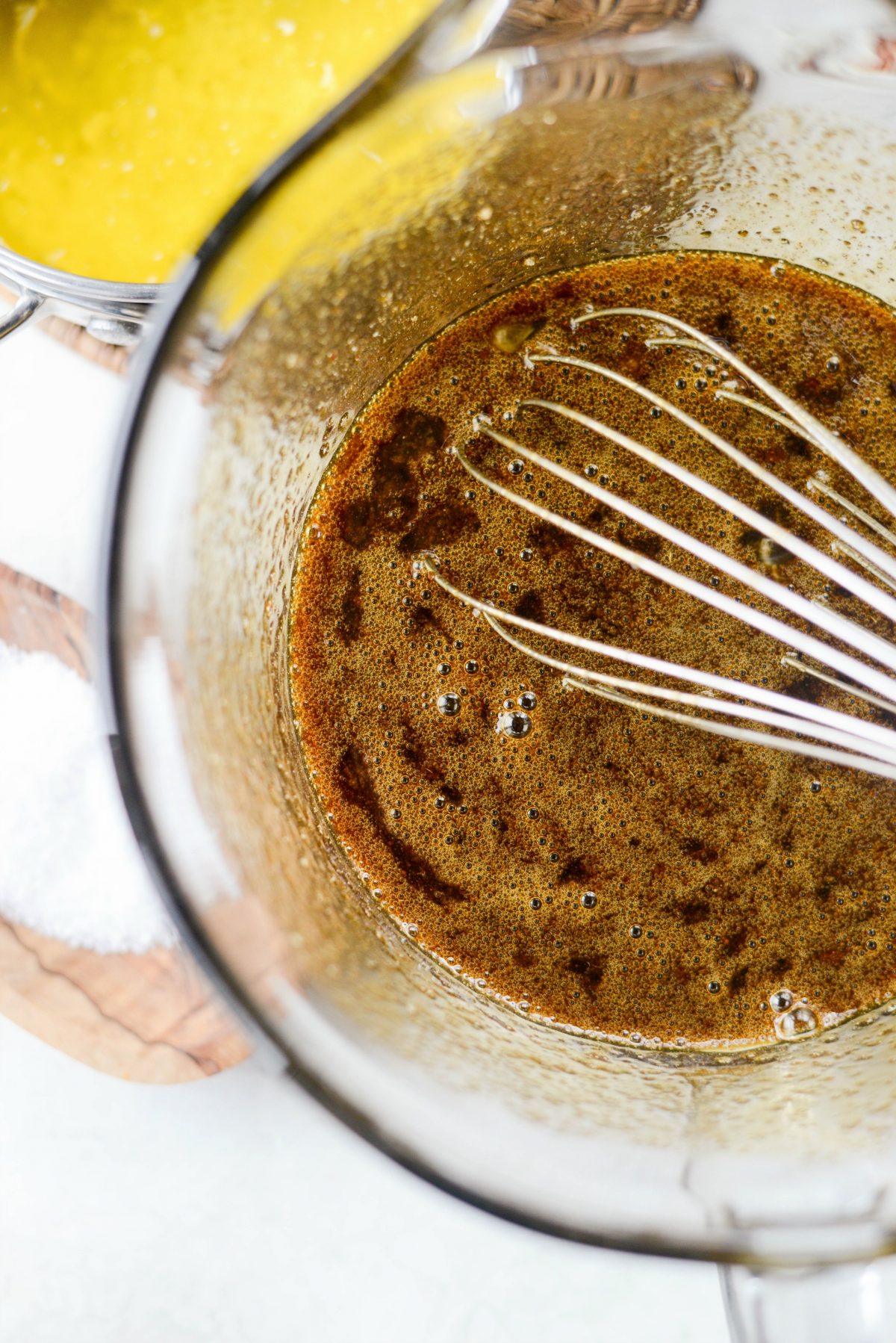 Then whisk to thoroughly combine.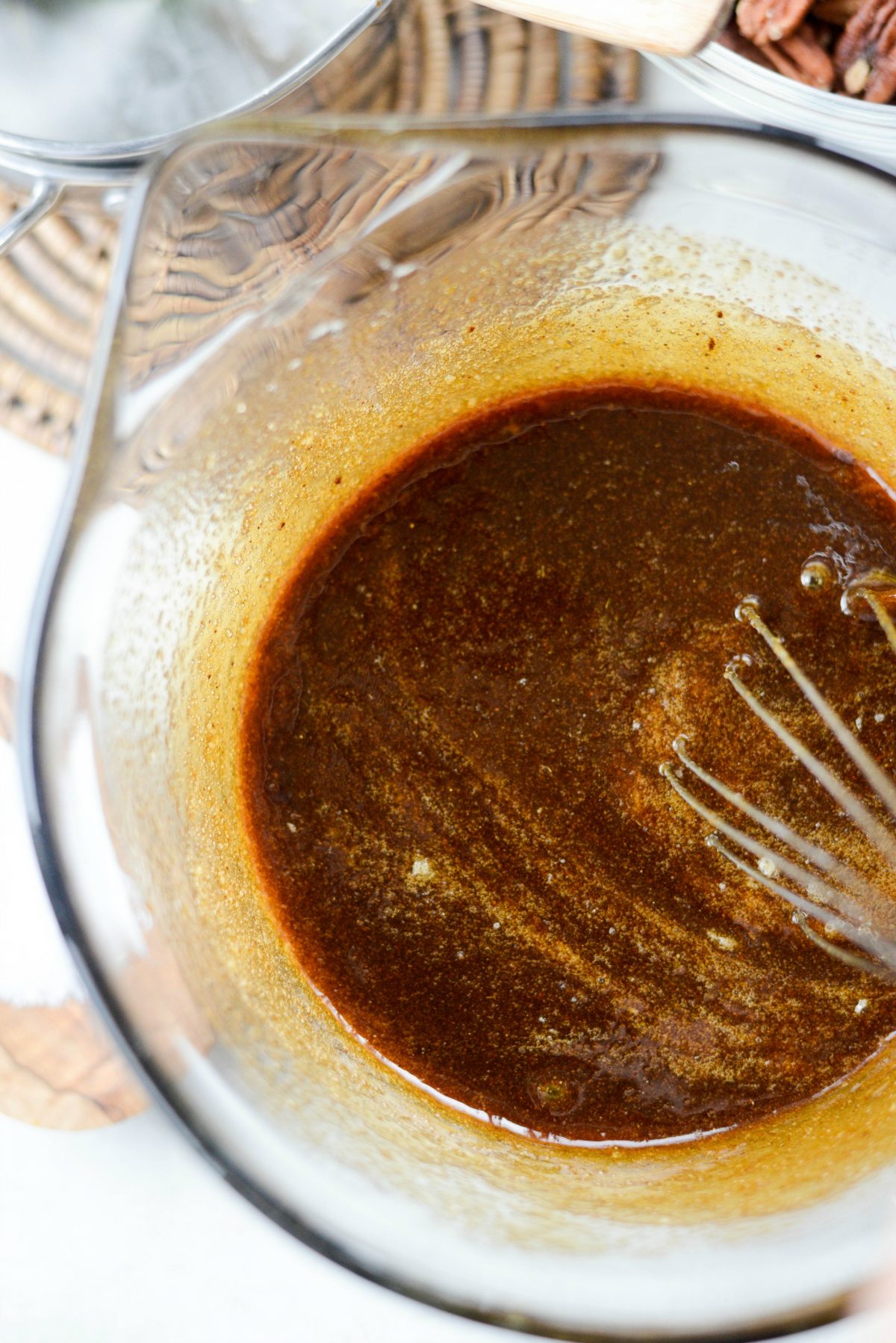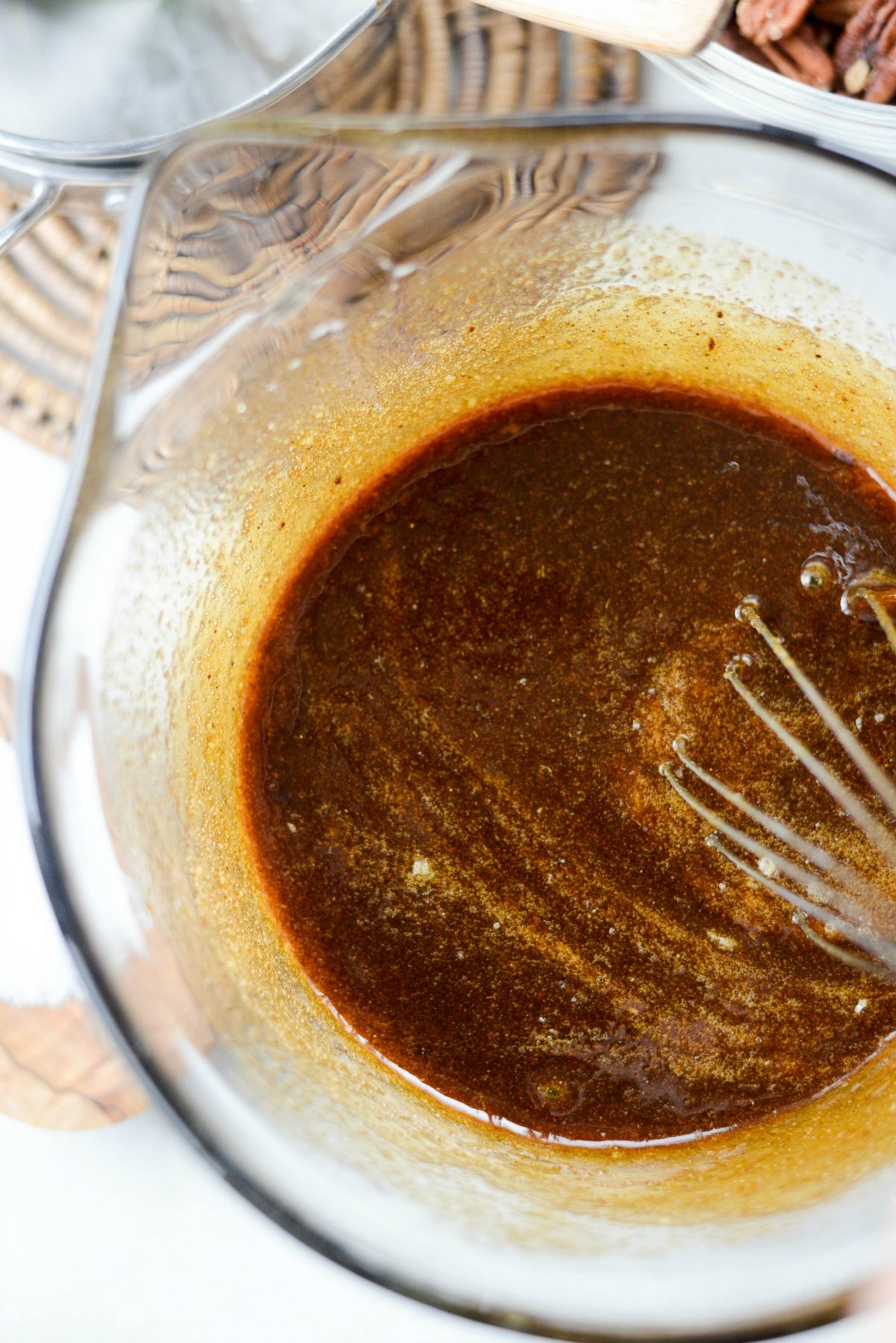 Lastly, pour in the cooled, melted butter and give it one last whisk to incorporate.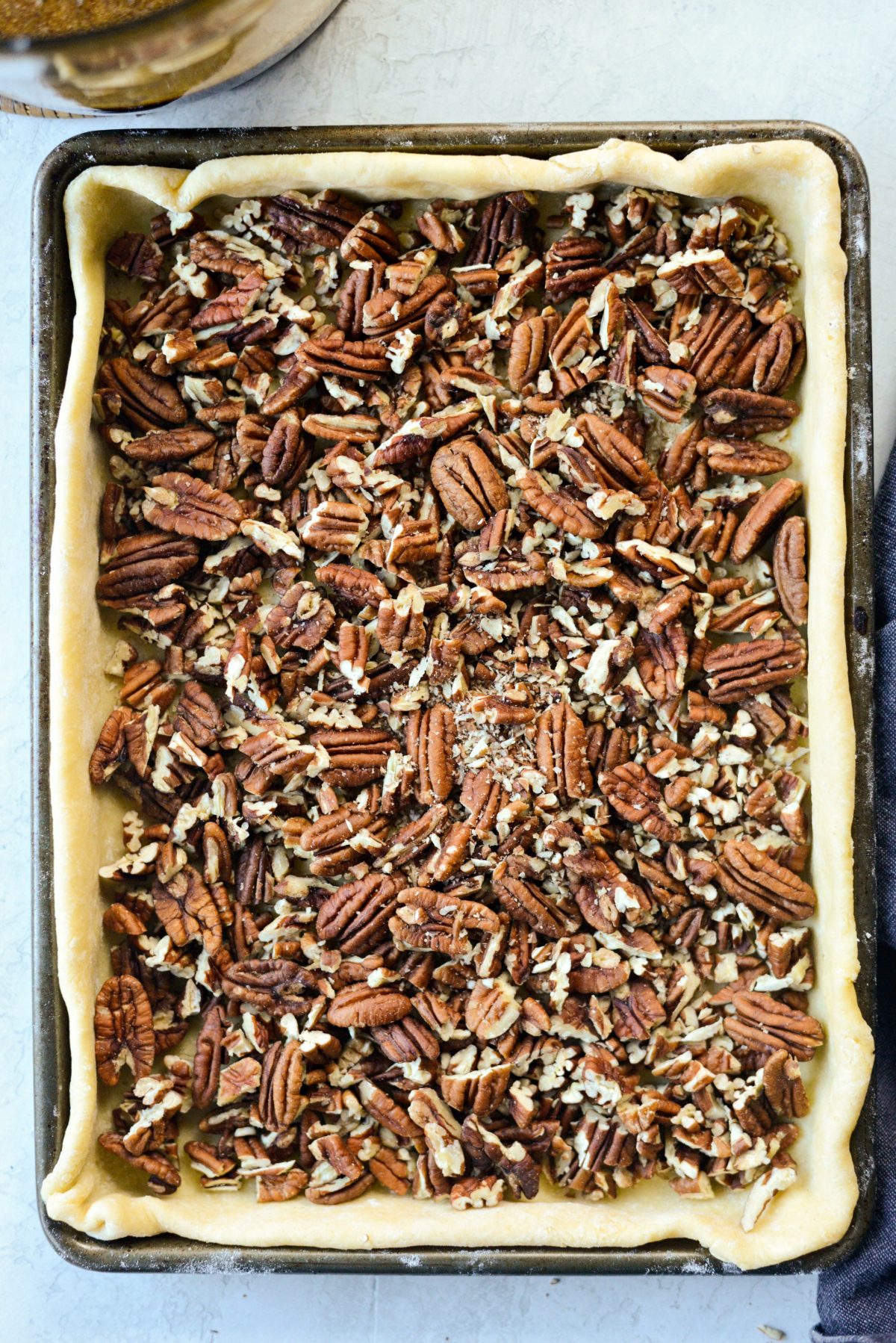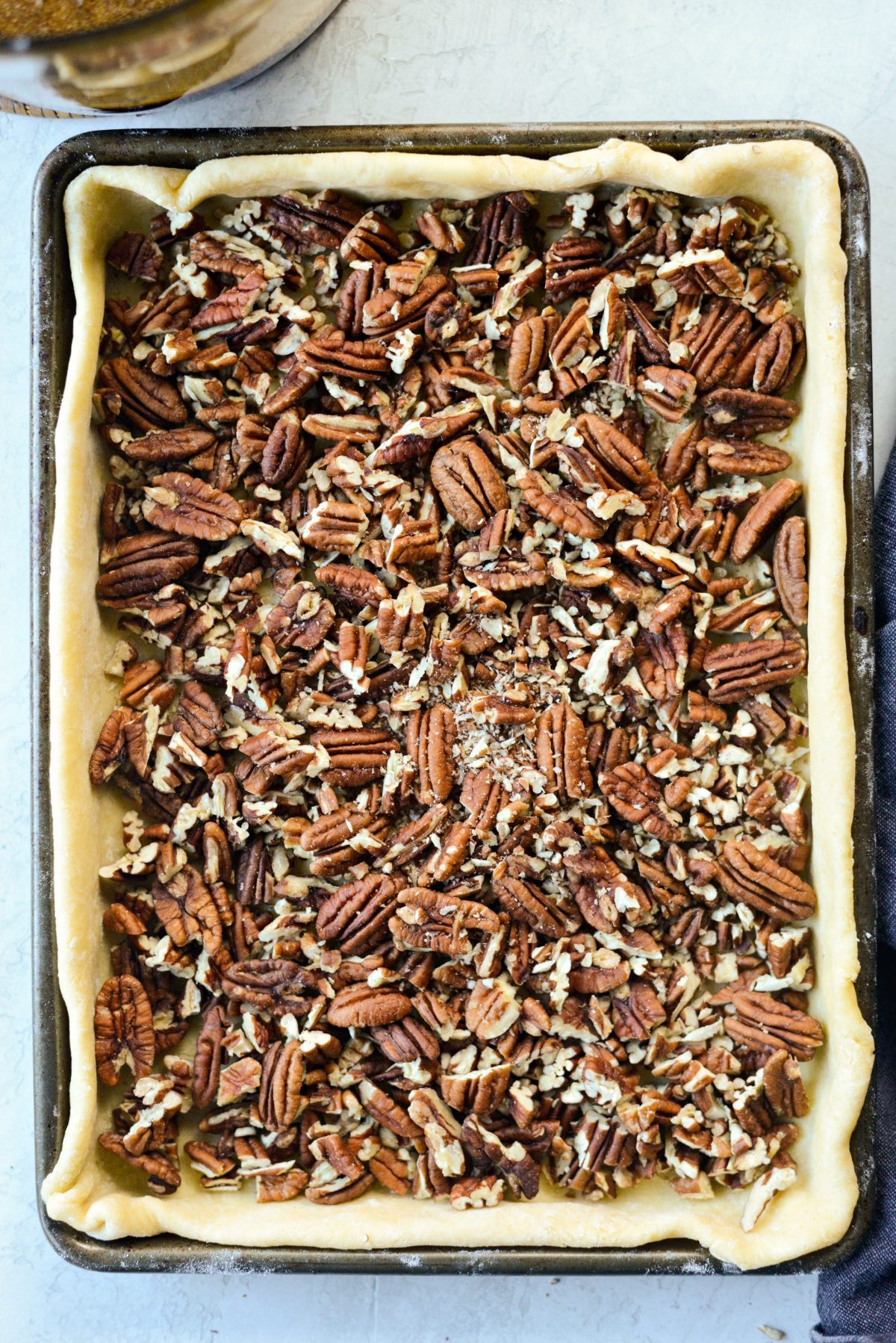 Earlier I rolled out the pastry dough to fit a quarter sheet pan (dimensions in the printable recipe) and then chilled it while I made the filling. To that, add the chopped pecans. I chop 2/3 of the nuts while leaving the rest whole.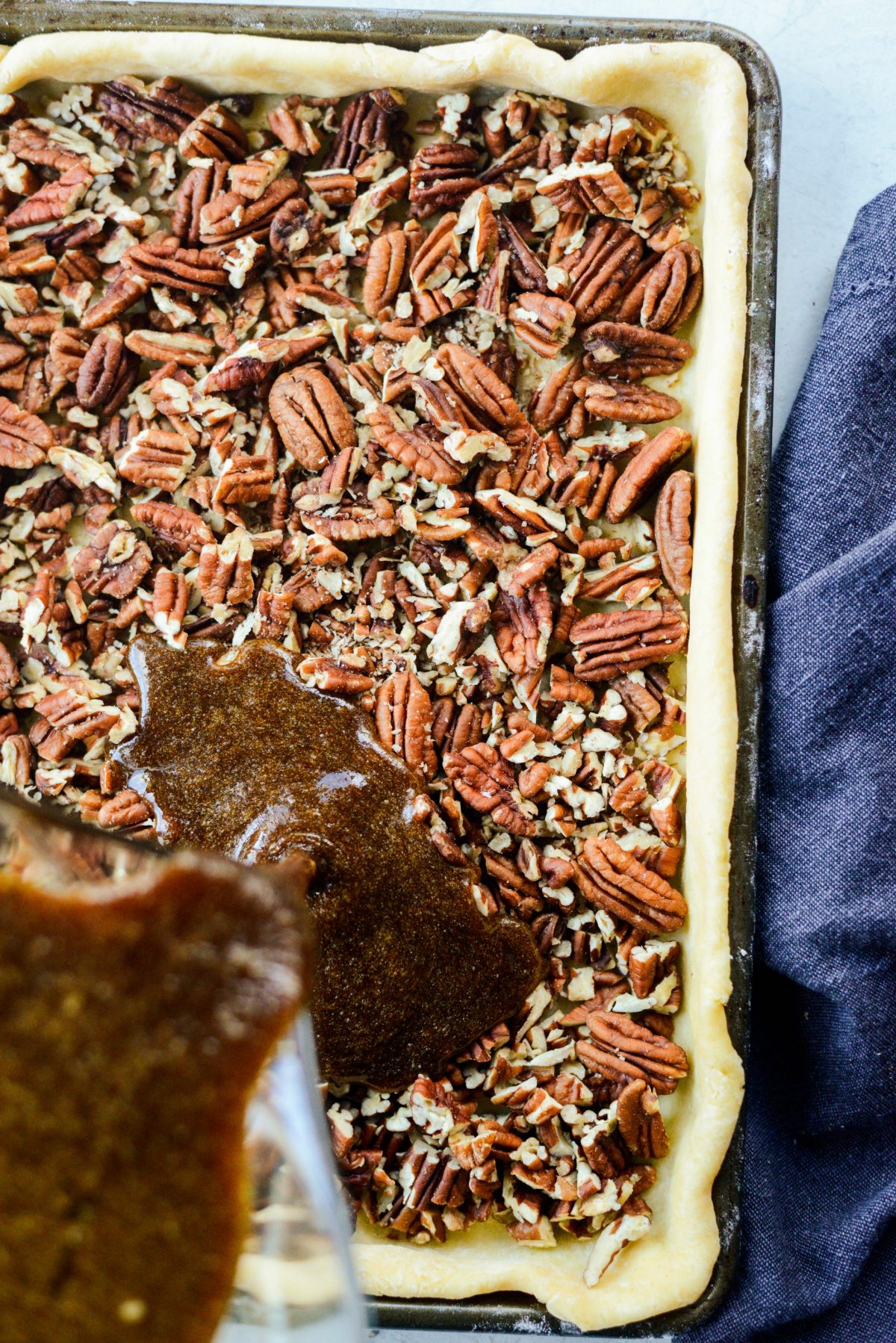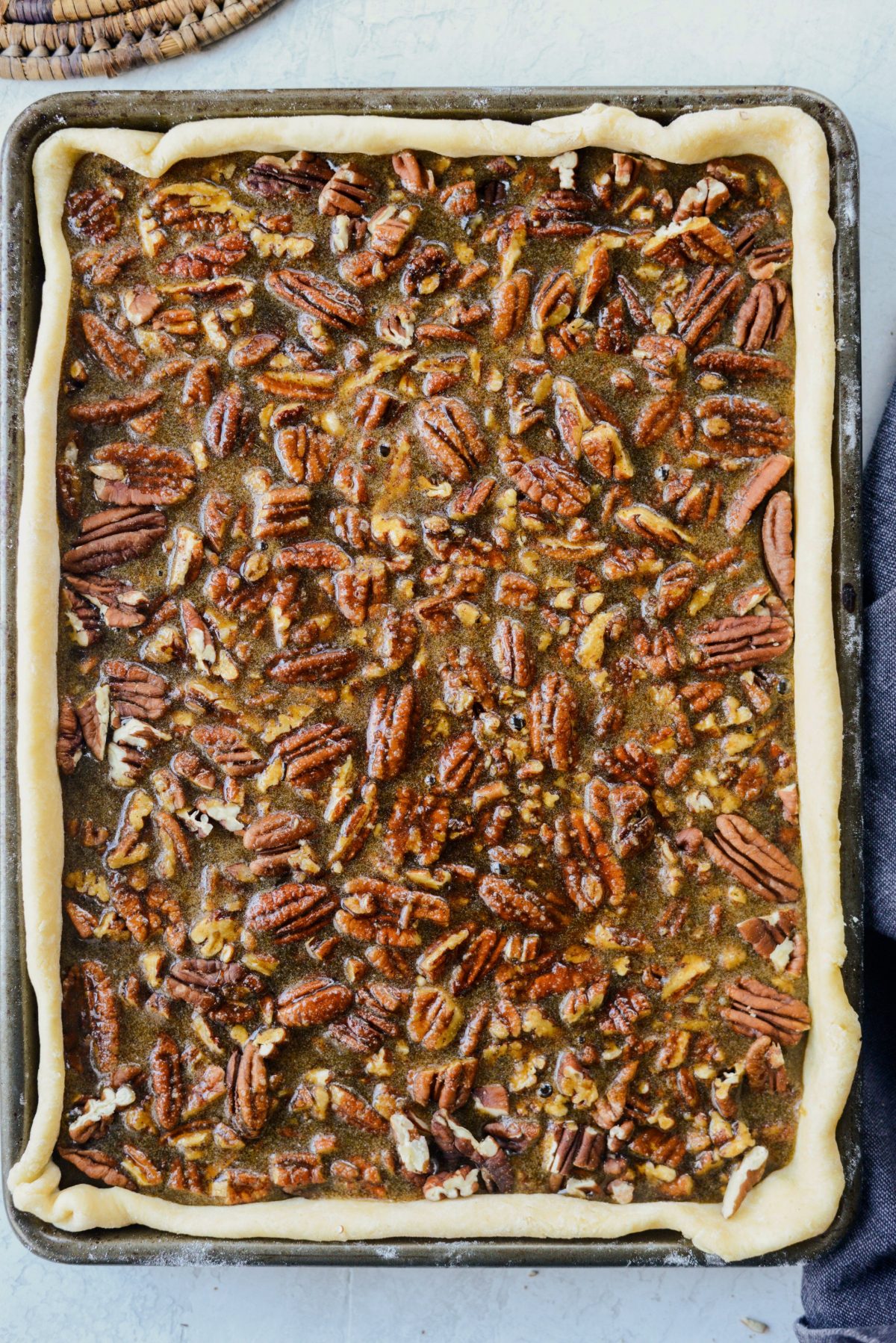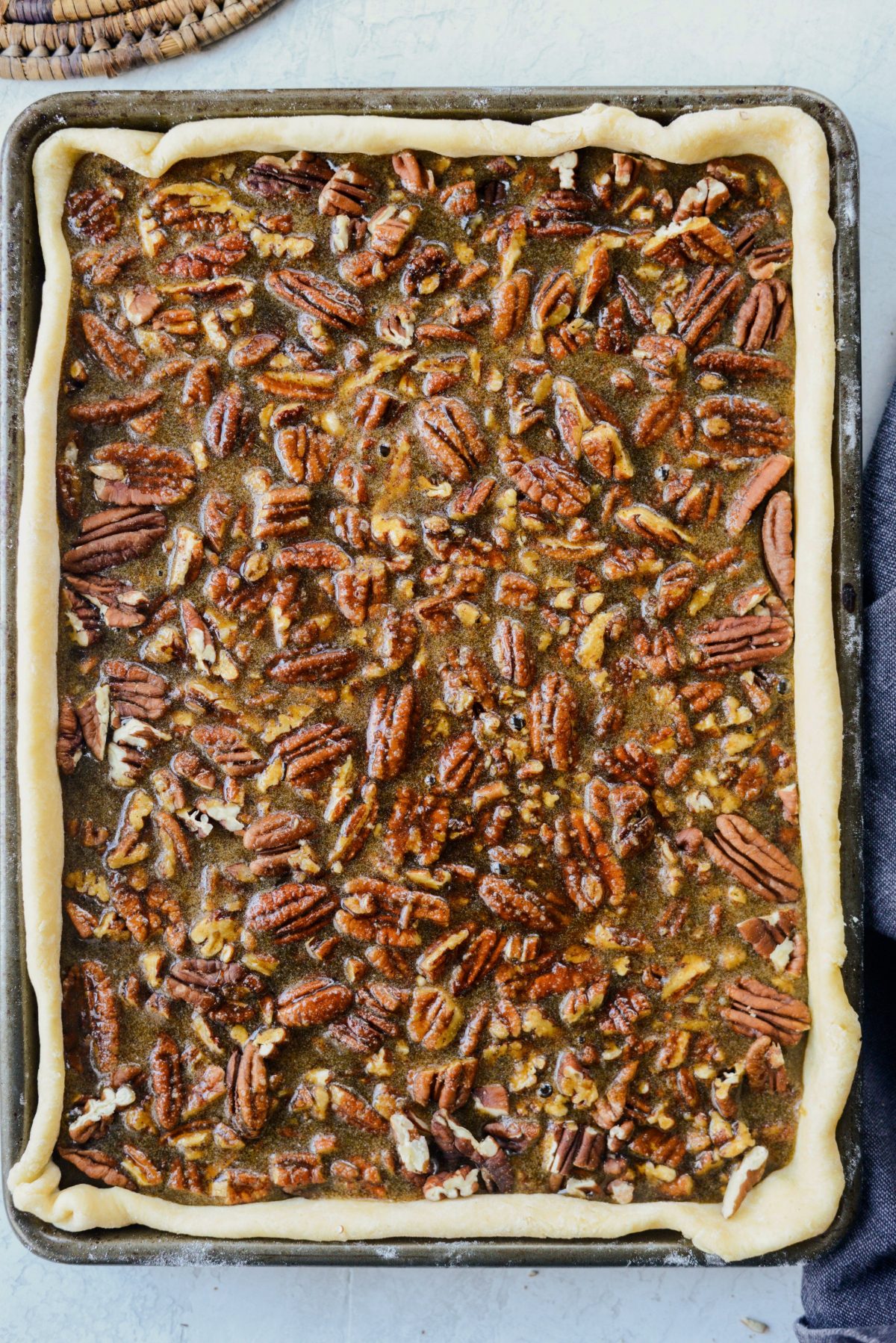 Lastly, pour in the gingerbread filling and slip the sheet pan onto the lowest rack in your preheated 375° oven for 30 minutes. Rotate the pan halfway during baking to ensure even baking and browning.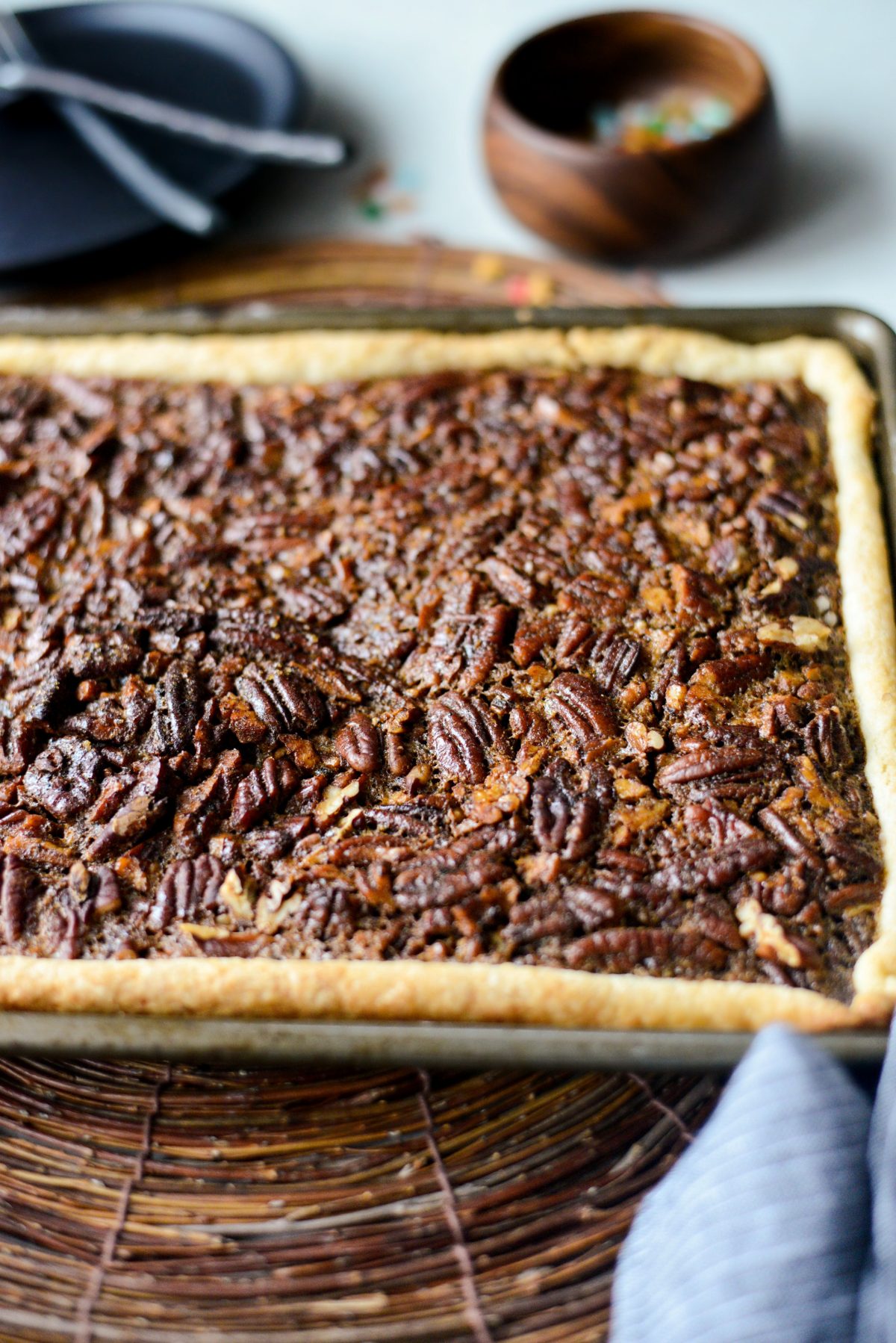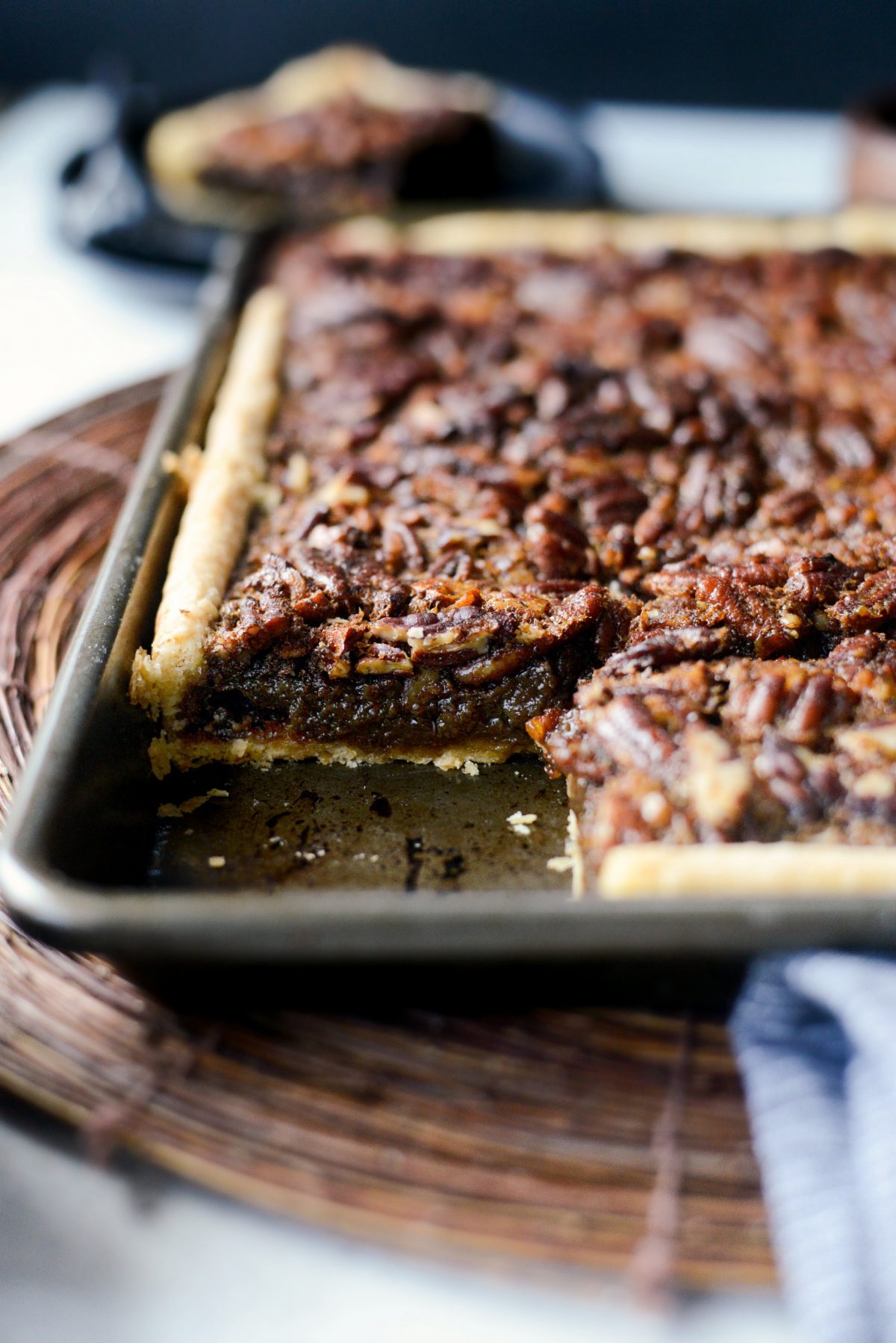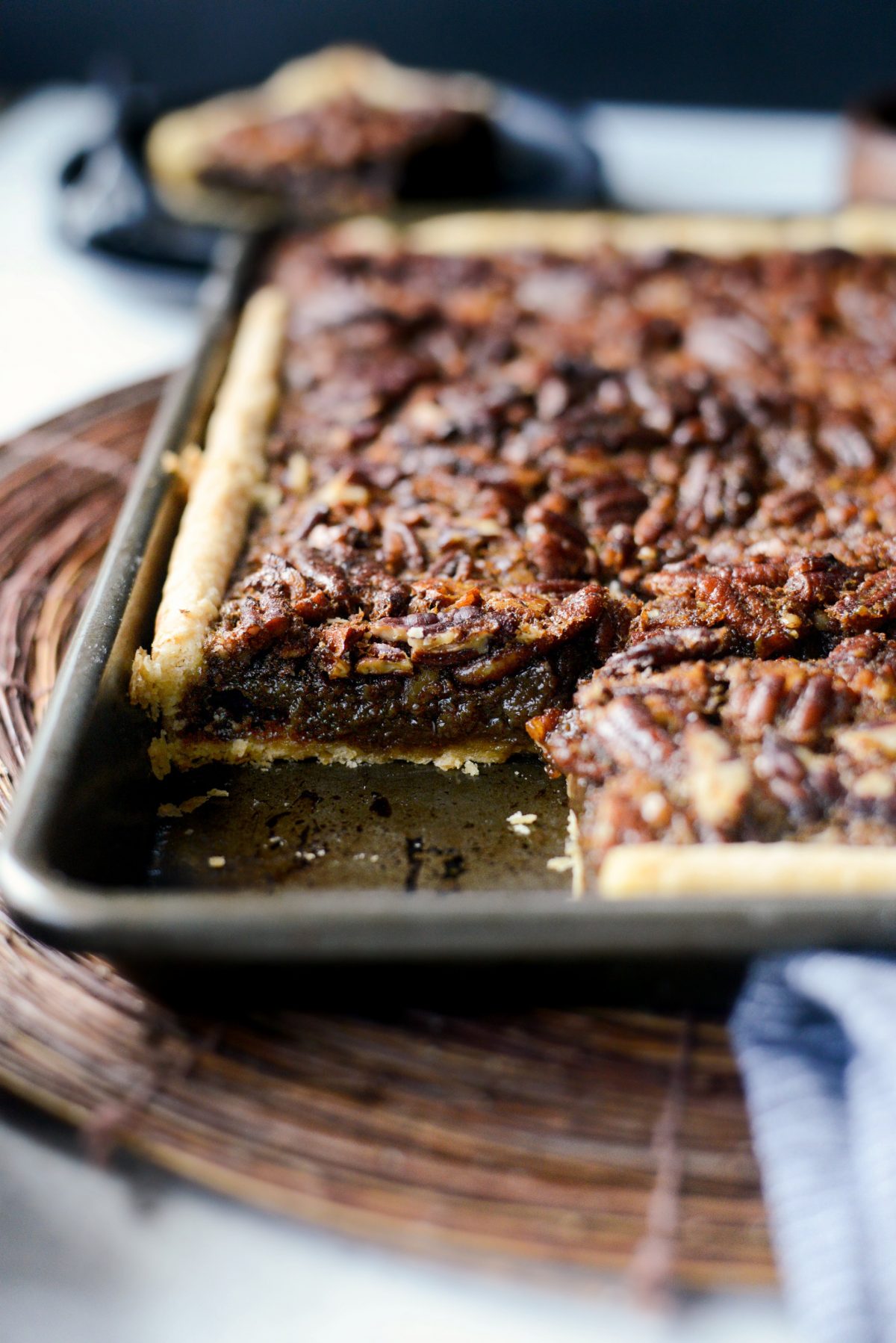 When the gingerbread pecan slab pie has finished baking, use oven mitts to transfer it to a wire cooling rack. Allow the slab pie to cool for at least 1 to 2 hours before slicing and serving.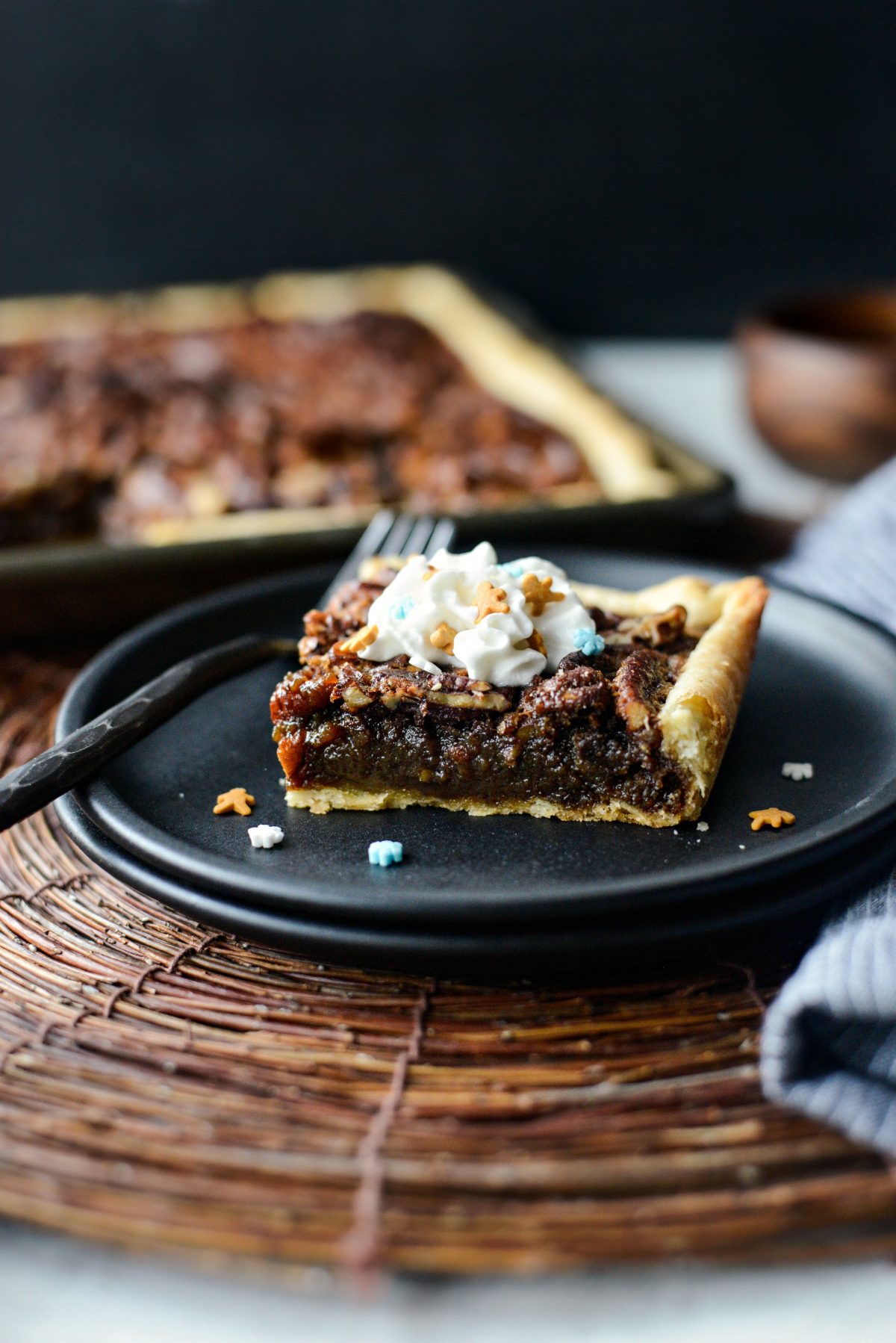 I seriously love how the pecans work perfectly with the warm gingerbread spices! And even more perfect served with either a dollop of homemade whipped cream or vanilla ice cream.
Festive gingerbread people sprinkles are optional.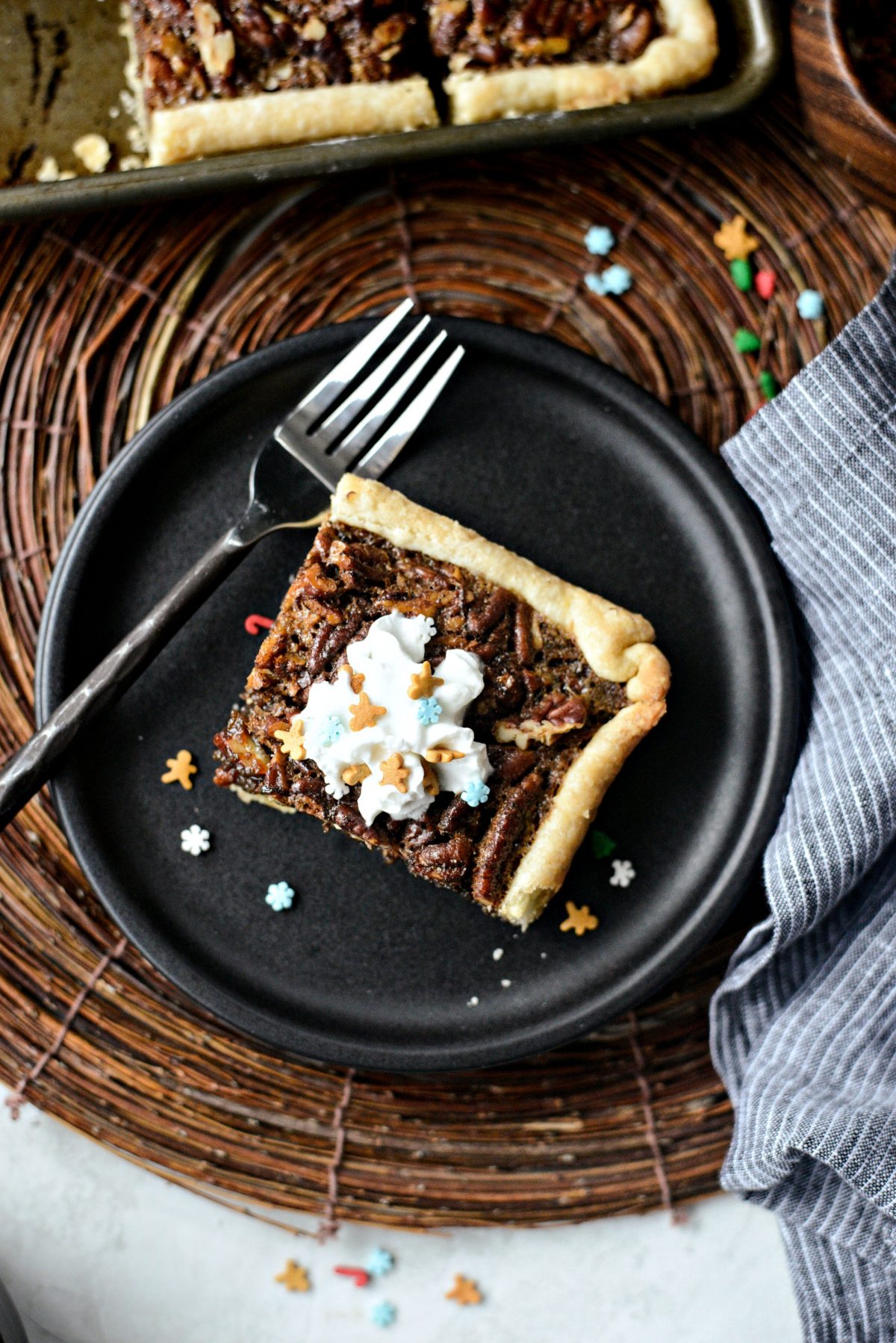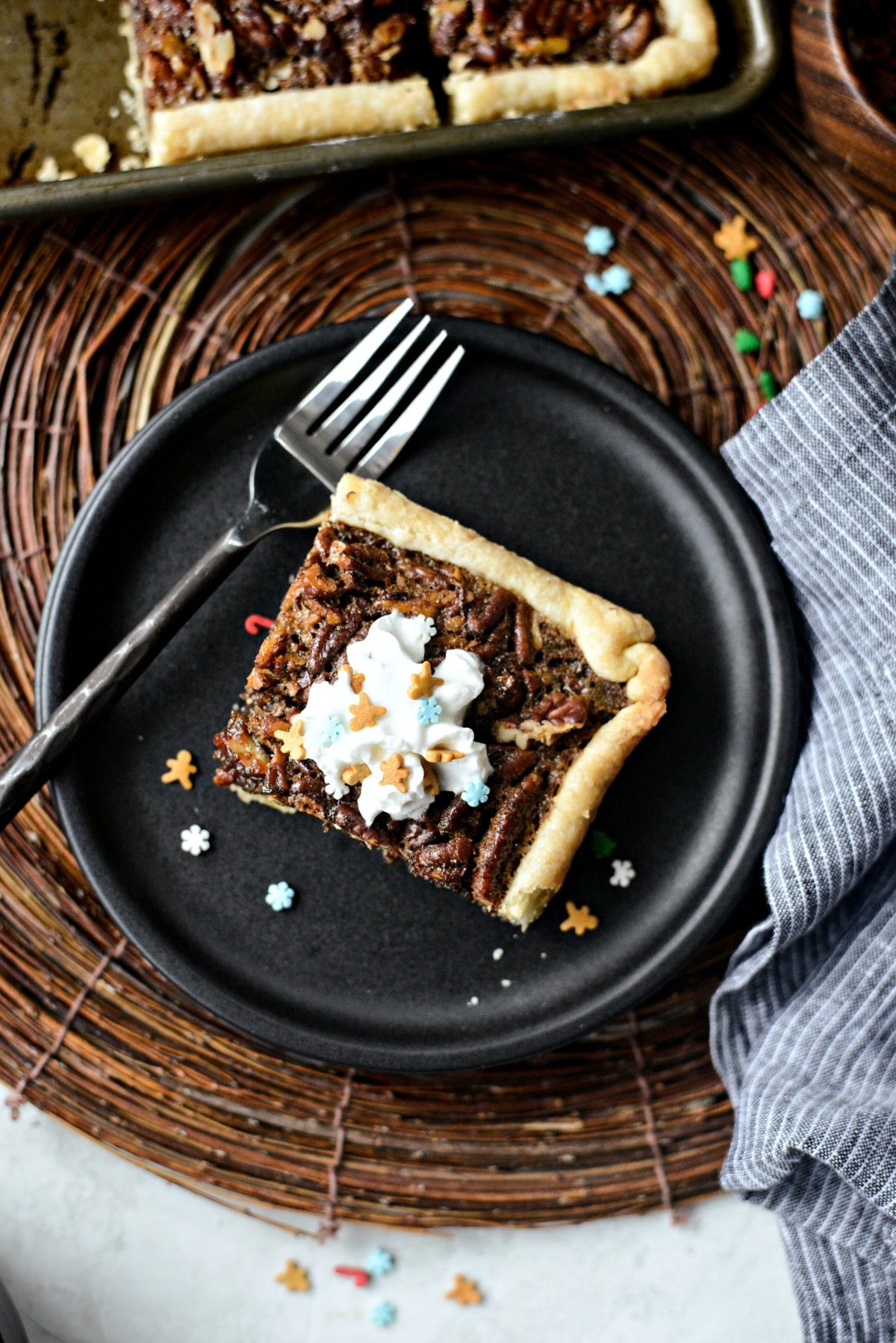 Enjoy! And if you give this Gingerbread Pecan Slab Pie recipe a try, let me know! Snap a photo and tag me on twitter or instagram!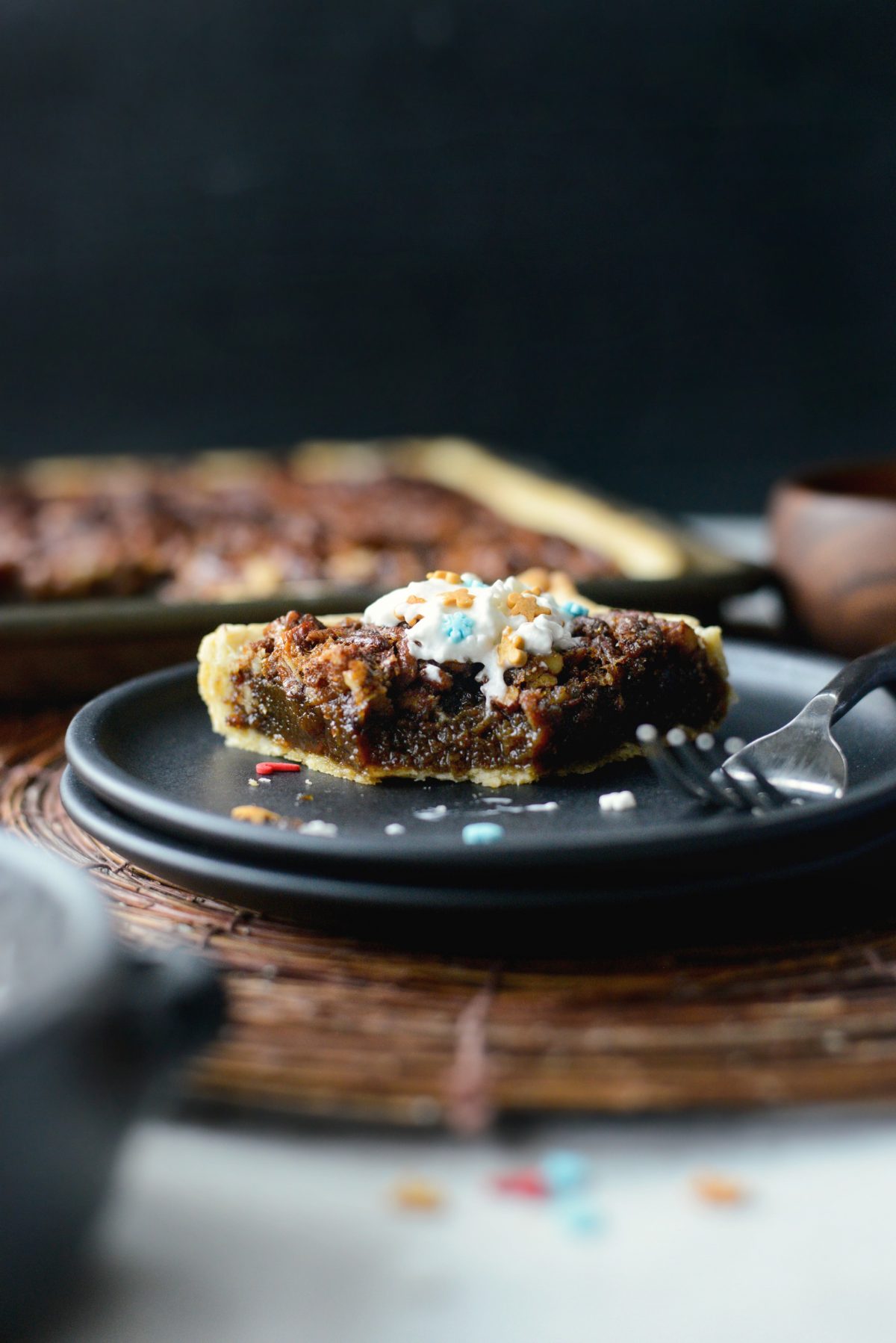 My cookbook Simply Scratch : 120 Wholesome Homemade Recipes Made Easy is now available! CLICK HERE for details and THANK YOU in advance!
[this post contains affiliate links.]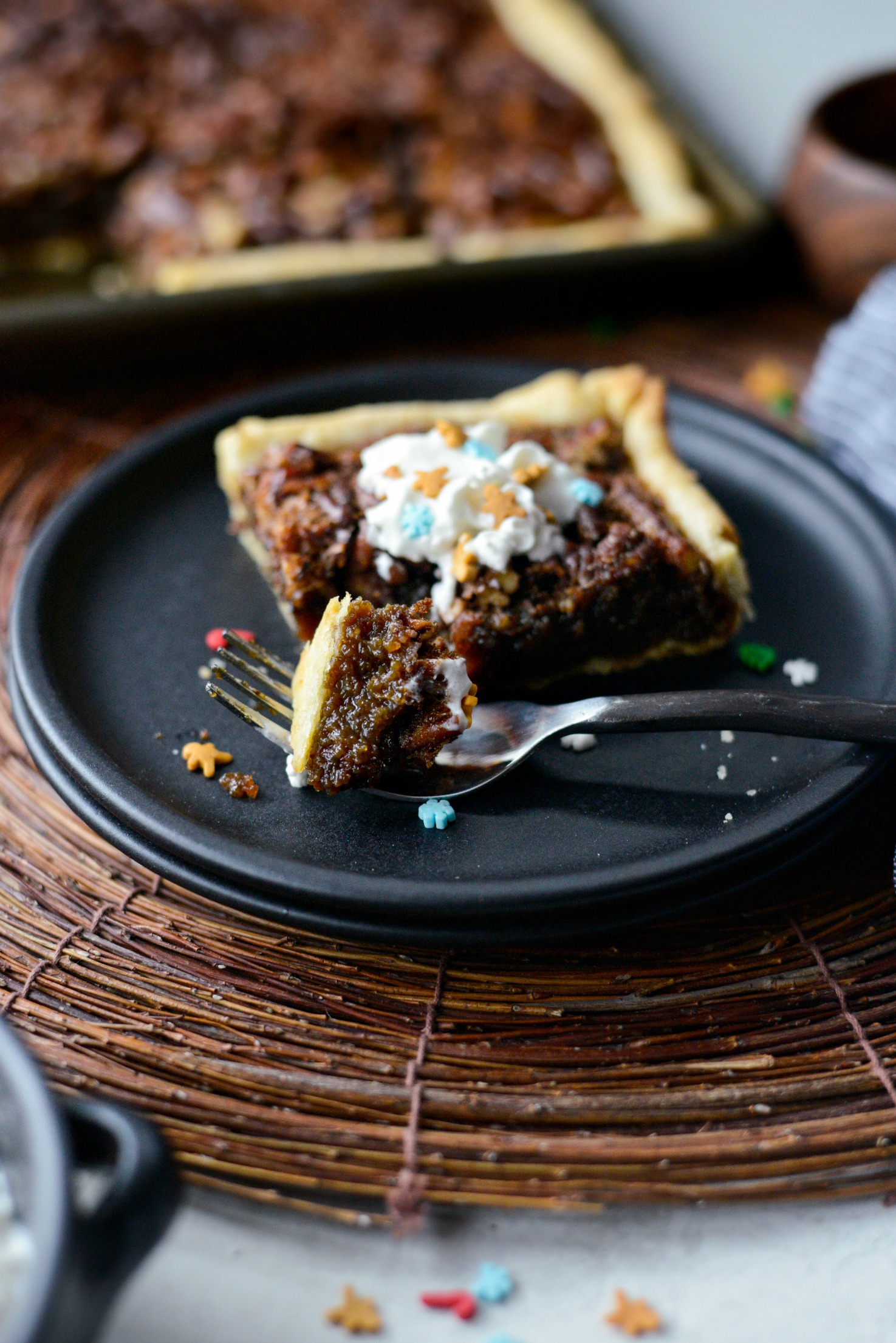 This post may contain affiliate links.
Buy the Cookbook: Simply Scratch : 120 Wholesome Homemade Recipes Made Easy Now available on Amazon »
THANK YOU in advance for your support!