Grab your knife and fork for this Open-faced Breakfast BLAT! Sourdough English muffins slathered with a spicy mayo and topped with a blend of arugula and baby spinach. Layers of avocado, oven-roasted herbed tomatoes, peppered bacon is crowned with a perfectly cooked fried egg. Serves 4 in about 1 hour.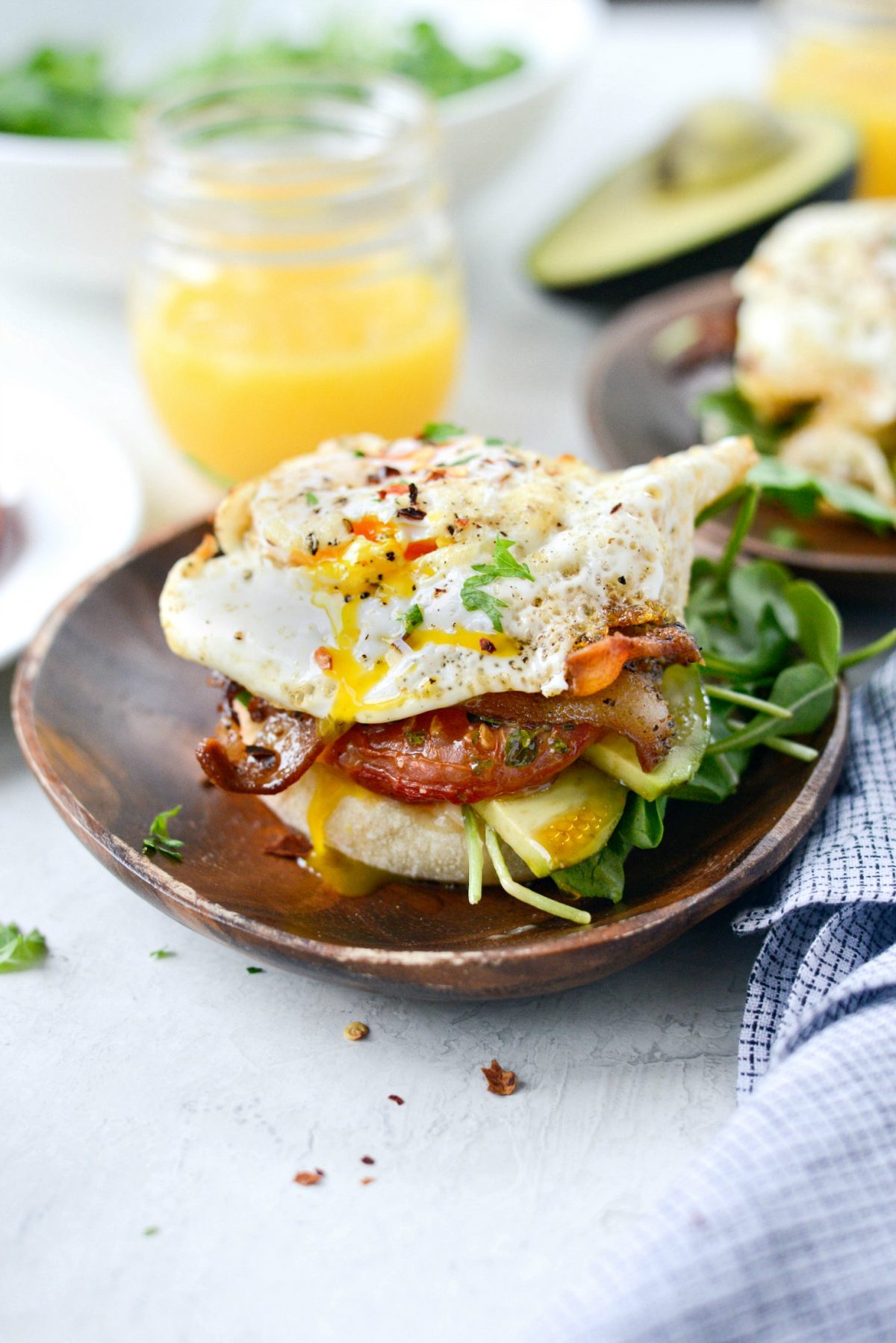 Need a way to bust out of a breakfast rut? You and me both. Well, look no further than what just may be the ULTIMATE breakfast sort-of-sandwich.
What we have hear is an open-faced breakfast BLAT and it's ahhhmaaazing! I toasted up a couple sourdough English muffins and swiped a generous amount of spicy mayo, working it into those nooks and crannies. Then topped it with a blend of arugula and baby spinach. Then I topped that with sliced avocado, oven roasted tomatoes, crispy peppered bacon and a fried egg for the crowning glory!
Hungry yet?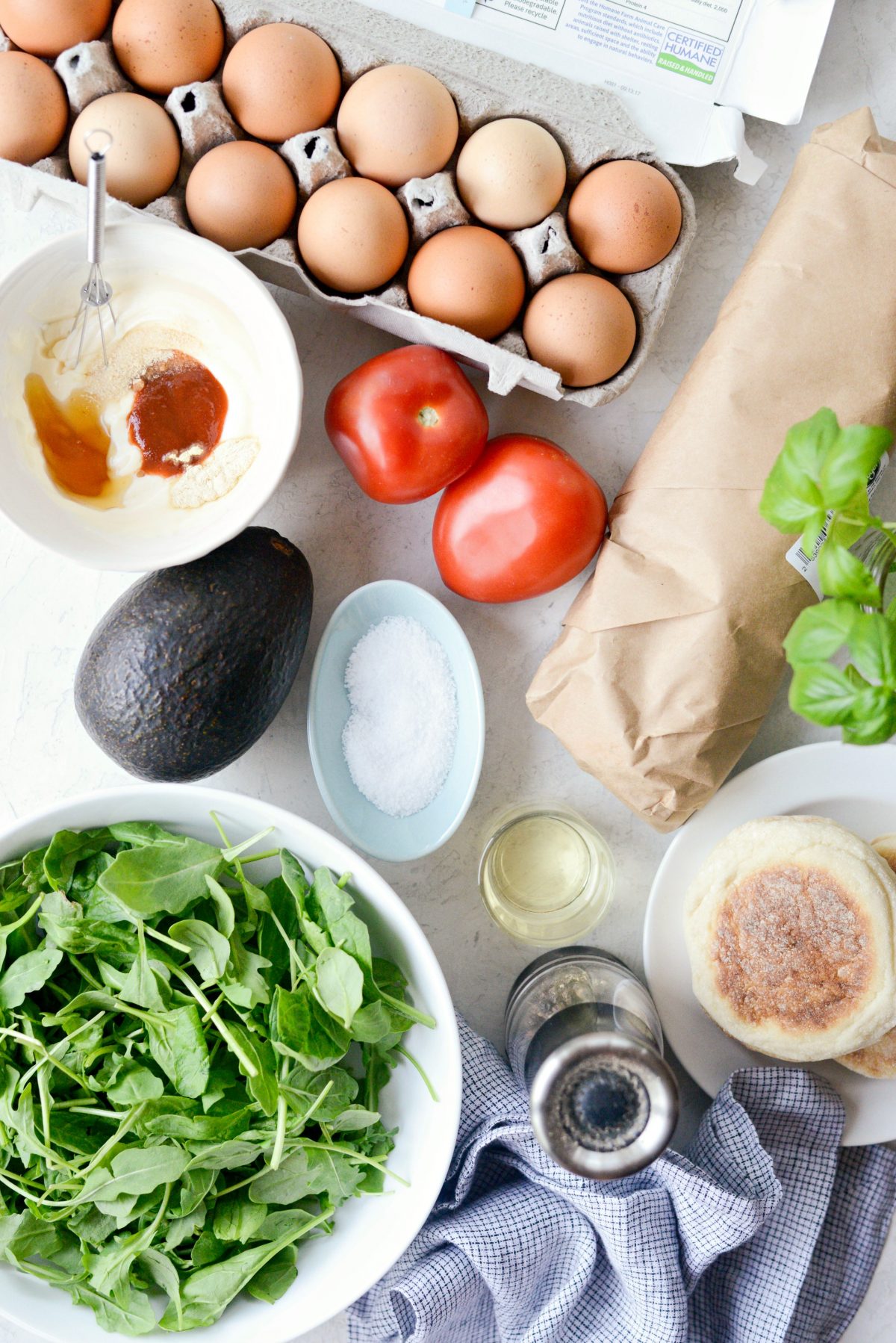 To Make these Open-Faced Breakfast BLAT You Will Need:
2 English muffins (I used sourdough)
spicy mayo
baby arugula and spinach blend
roma tomatoes
olive oil
kosher salt
freshly ground black pepper
fresh thyme and rosemary
an avocado
6 slices of peppered bacon
4 large eggs
The spicy mayo isn't "spicy" per say, but it's yummy!
It's just 1/2 cup mayonnaise mixed with a teaspoon or so of both sriracha and honey with 1/2 teaspoon onion powder, 1/4 teaspoon garlic pepper and freshly ground black pepper. Make this first because then it can work its magic in the fridge while you prepare the rest.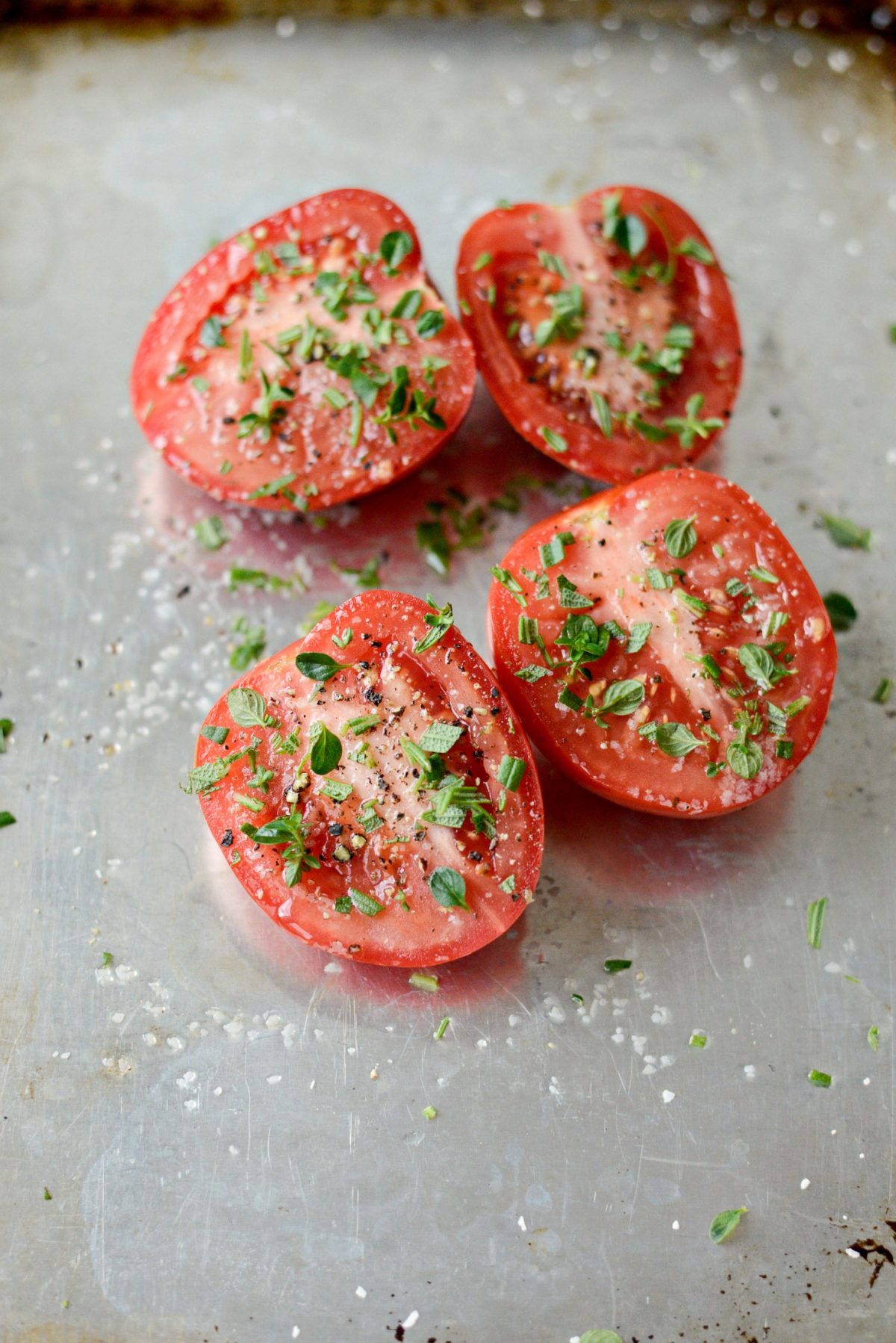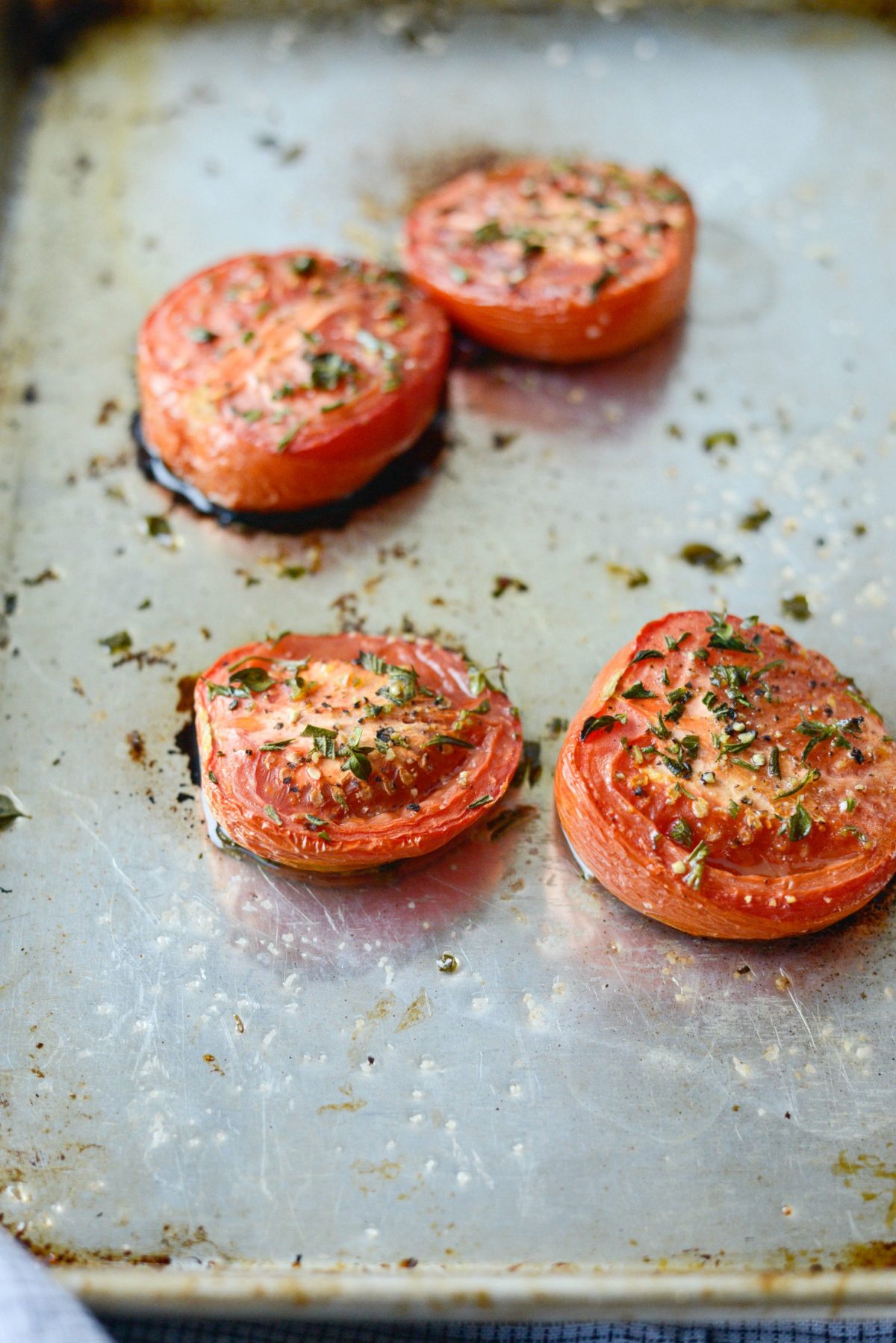 Next, slice 2 Roma tomatoes in half lengthwise and place them onto a rimmed, metal baking sheet. Drizzle the tomato halves with a little bit of olive oil and season with a pinch of kosher salt and black pepper. Mince up a teaspoon or so (go on and eyeball it) of fresh rosemary and strip the leaves off of a couple sprigs of fresh thyme. Sprinkle those over top as well.
Slide the pan into your preheated 375° oven and roast for 40 to 45 minutes, rotating the pan halfway through.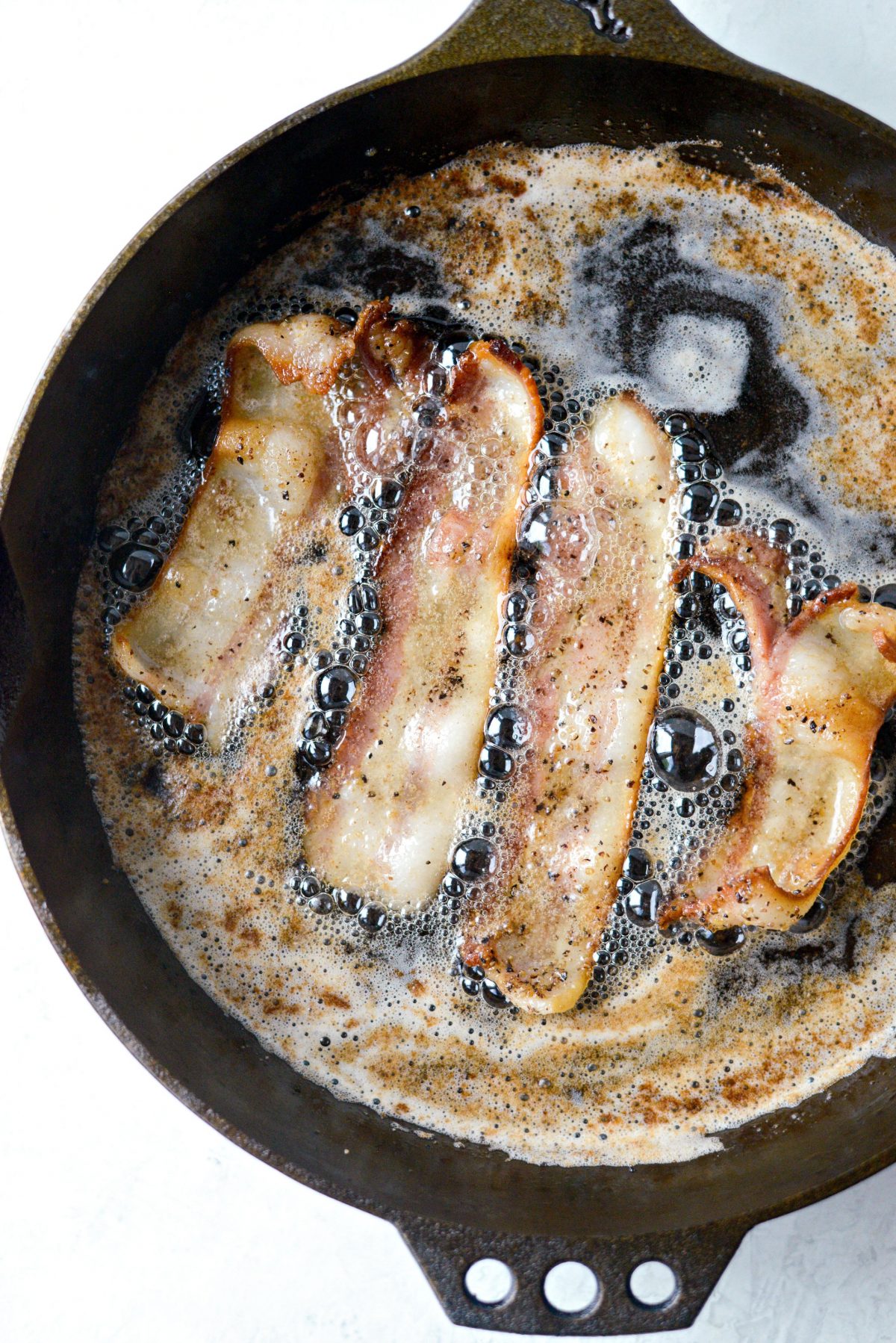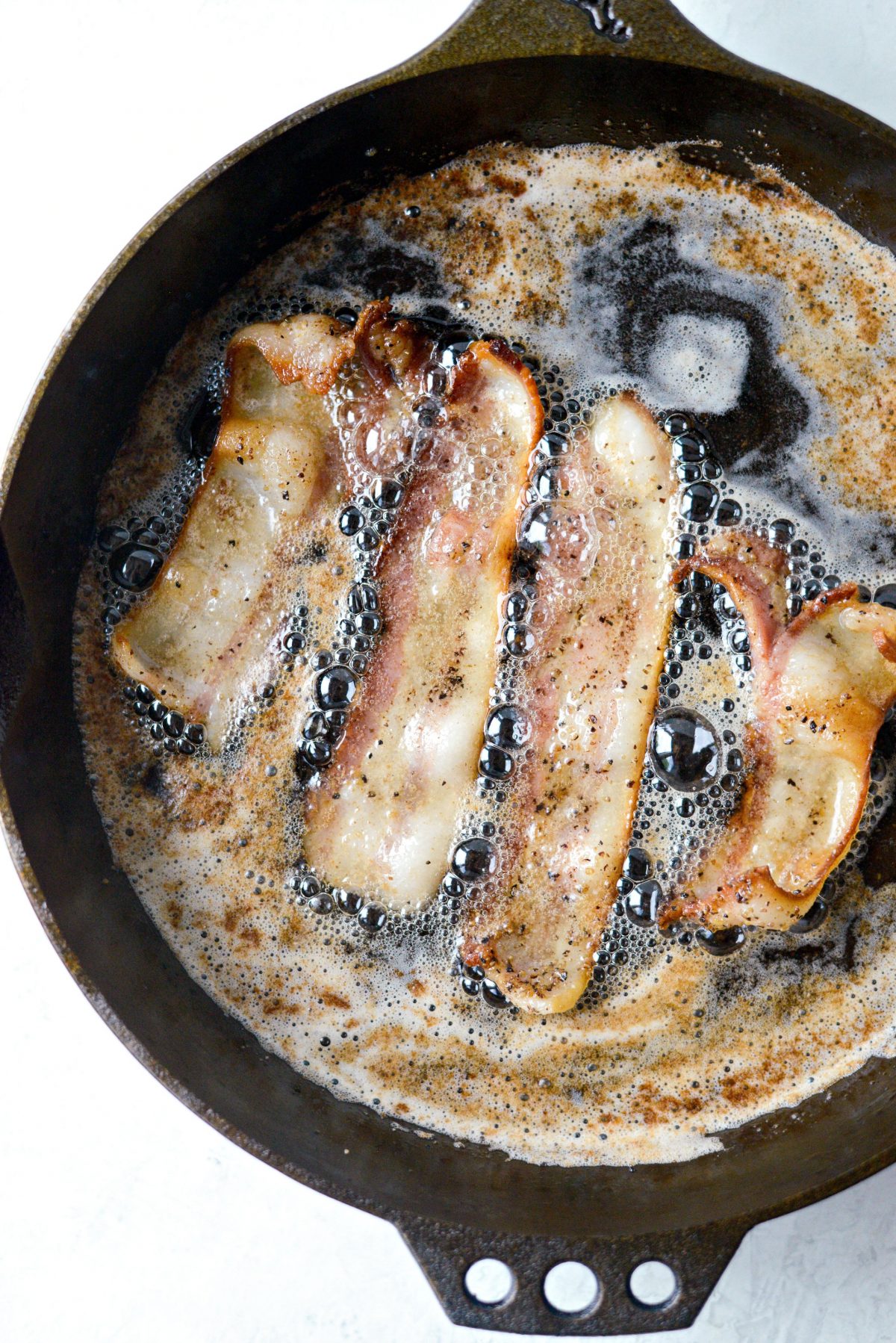 Meanwhile cut 6 strips of thick-cut peppered bacon and cook until crispy, then transfer the cooked bacon to a paper towel lined plate to drain.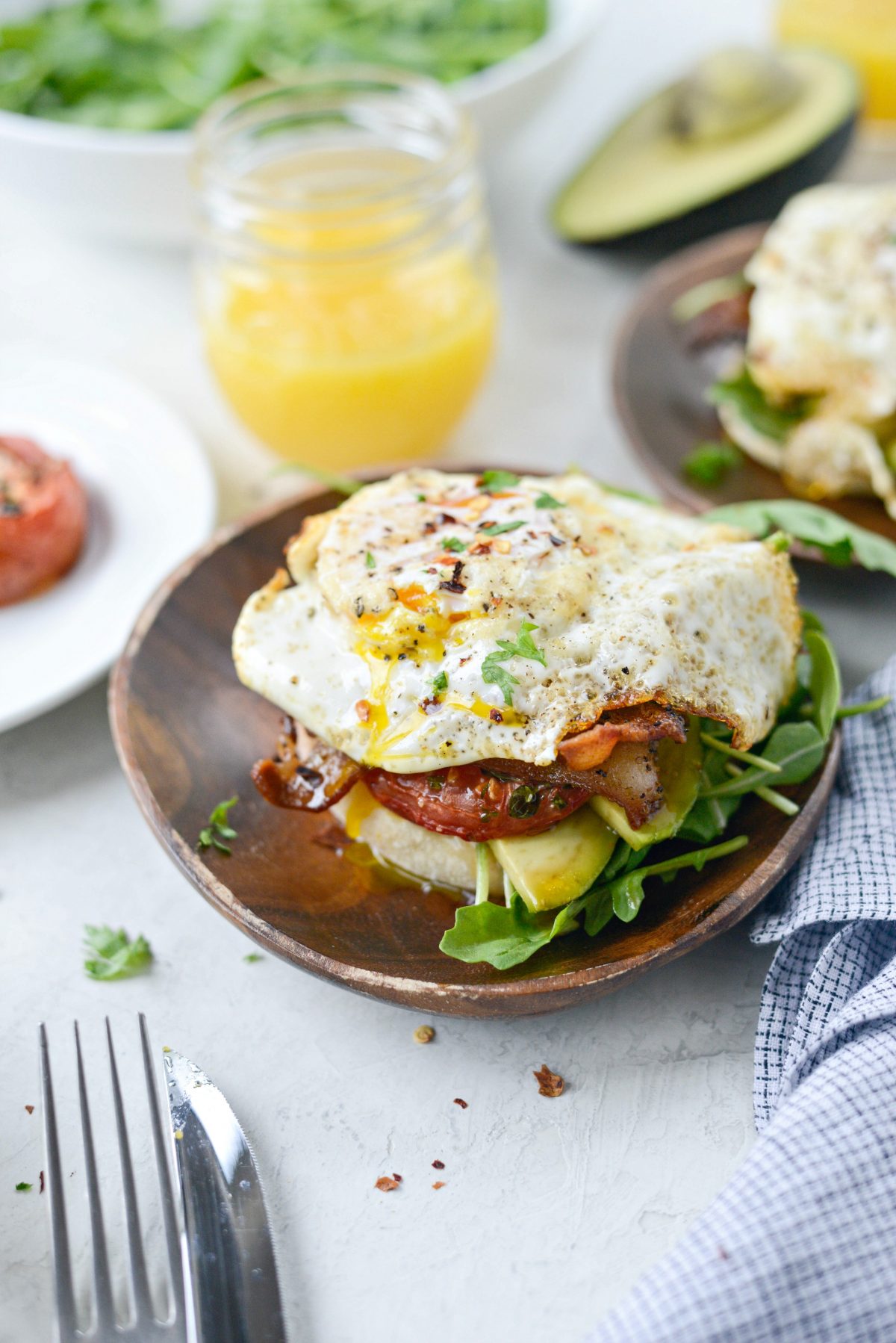 Toast the English muffins until lightly golden and spread with the spicy mayo. Top with the spinach arugula mix, avocado slices and roasted tomatoes and three half-strips of peppered bacon. All that is left to do is top this open-faced breakfast BLAT with either a fried egg or poached egg.
Lastly, sprinkle with fresh parsley and a little red pepper flakes for some subtle heat.
I kept this open-faced for a few reasons. The first being that it makes me feel better when breakfast is lower in carbs. Secondly, there's no way I can fit this in my mouth graciously. Nope. Thirdly, it gets a little messy with the roasted tomato, avocado and drippy yolk. This is best attacked with a fork and knife. But you do you and if you want to slap a lid on it and go for it, by all means don't let me stop you. 😉
How To Get Ripe Avocados To LAST:
The trick to storing ripe avocados so they last is a no-brainer, it's easy and effective and has saved me SO much money. First buy hard to the touch, bright green avocados and allow them to ripen on the counter. Once they are black, soft to the touch (NOT squishy) pop them into the fridge. Because here is where they will last for quite a few days! You guys this has changed my life and I owe this trick to my sisters. No more wasted avocados!
Enjoy! And if you give this Open-Faced Breakfast BLAT recipe a try, let me know! Snap a photo and tag me on twitter or instagram!
This post may contain affiliate links.
Buy the Cookbook: Simply Scratch : 120 Wholesome Homemade Recipes Made Easy Now available on Amazon »
THANK YOU in advance for your support!