Creamy Lemon Chicken with Spinach is a flavorful and rustic skillet main dish. Chicken breasts are seasoned with lemon pepper and paprika, seared until golden and nestled in a creamy garlicky, lemon and thyme sauce with spinach. This recipe is great with pasta or rice and with a roasted or grilled veggie on the side. Serves 4 in about 40 minutes.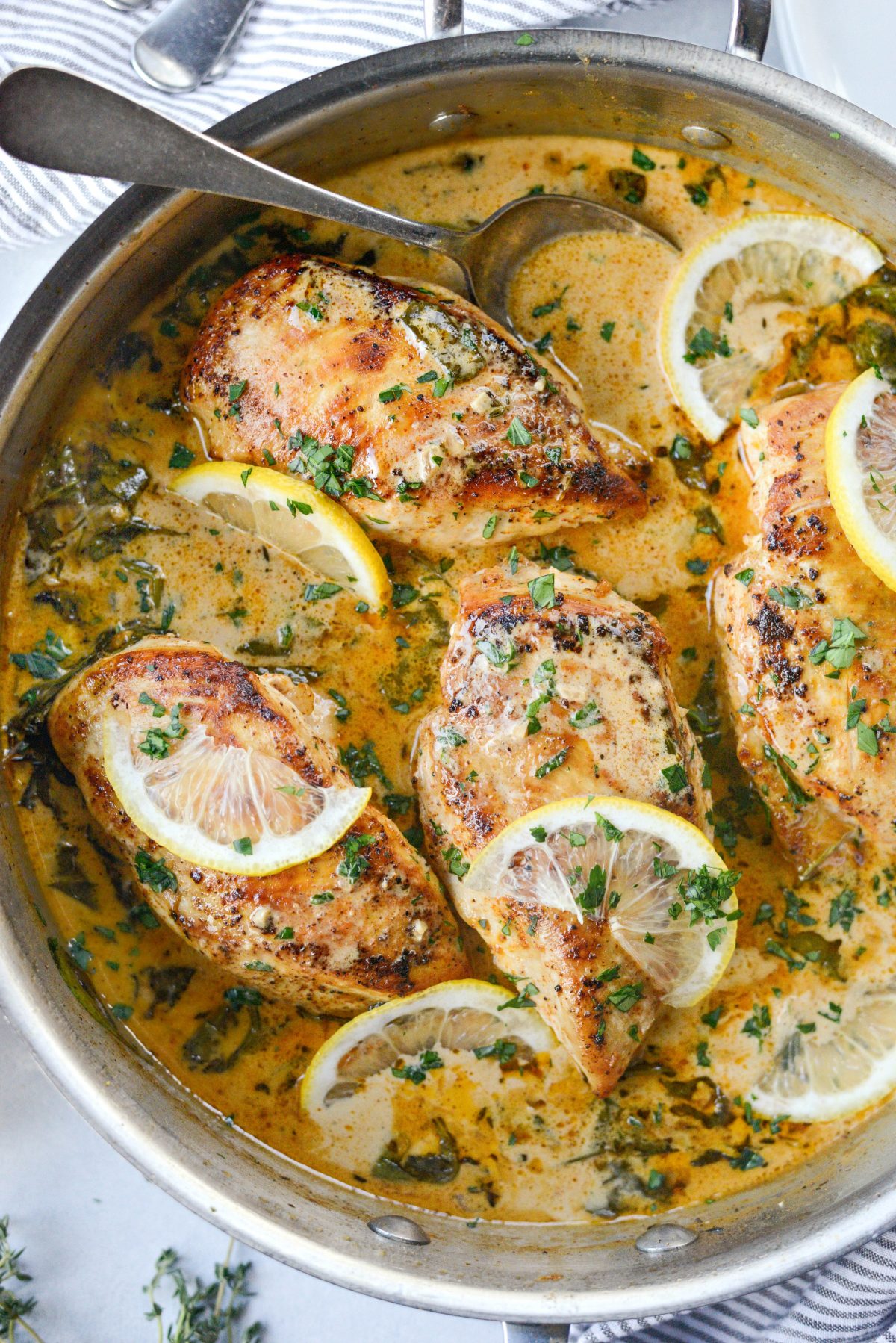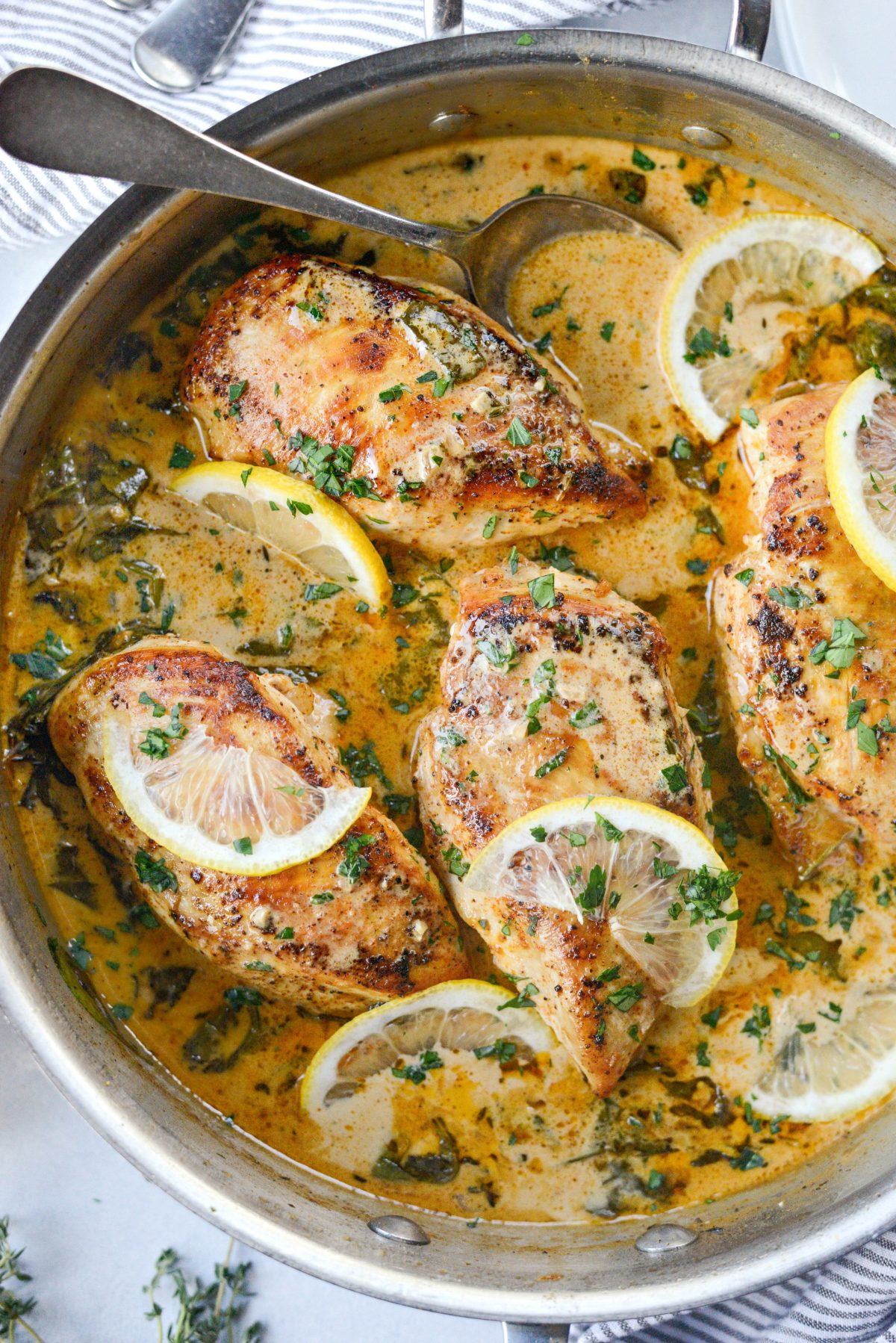 Today I woke up and there was snow on the ground. I kid you not. It's a week into April and it still feels like winter. I'm 100%, sick and tired of cold weather. It feels as if winter has lasted an entire year. I just want to open my windows, plant my herbs and NOT wear boots! I'm craving grilled salmon and orzo salad but the weather is forcing me to make comfort foods still. Until I decided to bring a little spring indoors.
I frist started by making this creamy lemon chicken recipe. I served it over angel hair pasta with asparagus and a glass of wine on the side. It was just what I needed to lift my melancholy mood.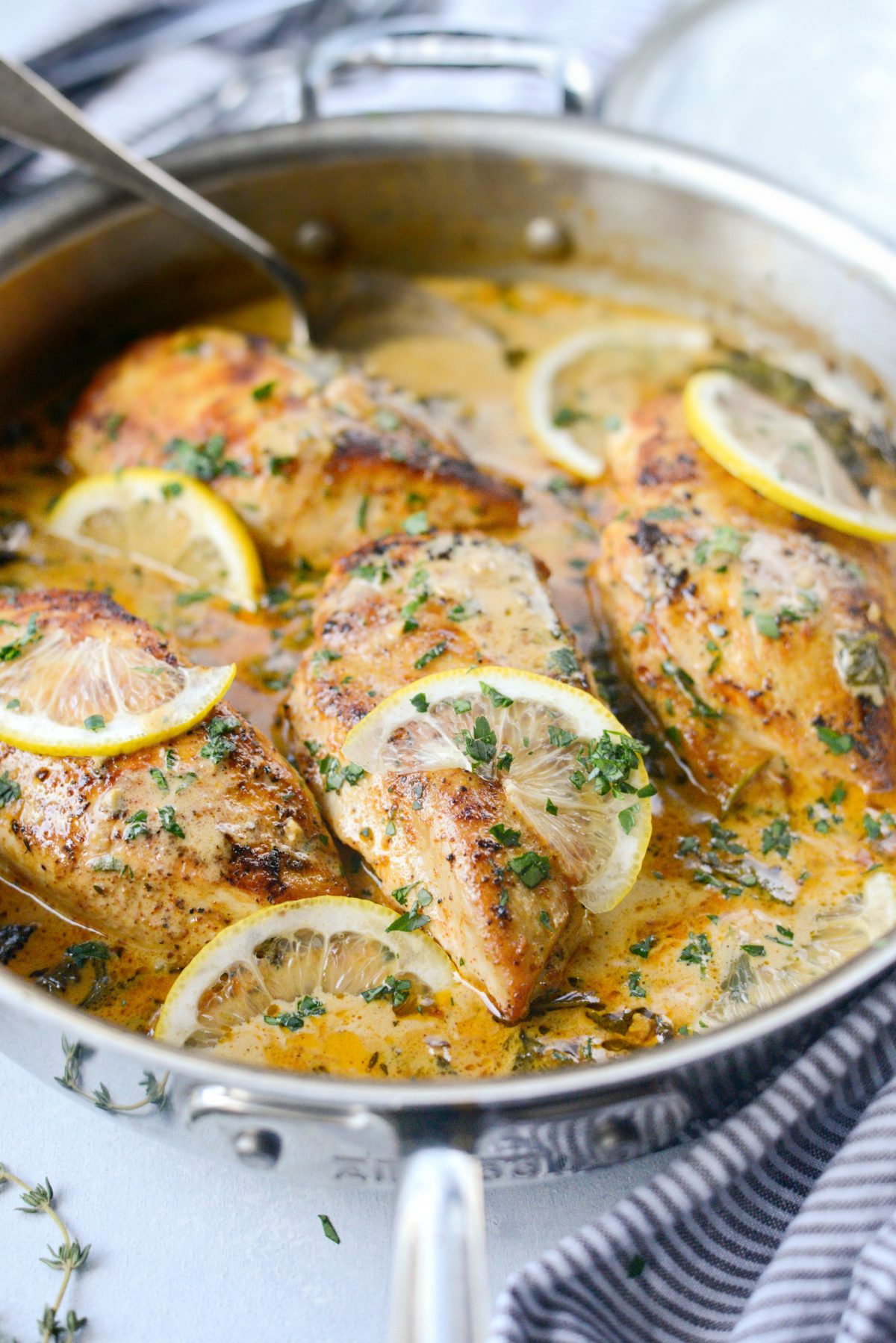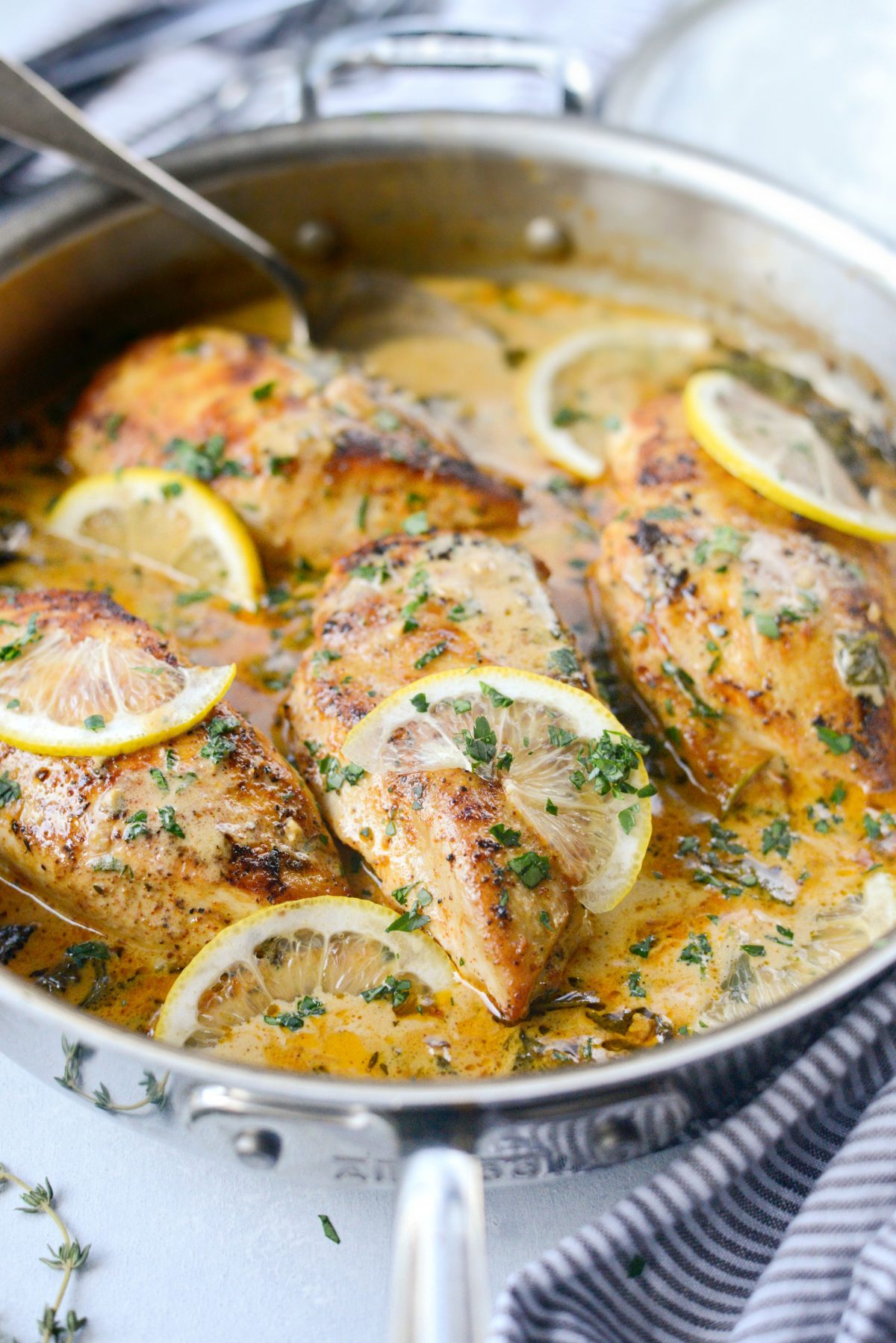 With ingredients like shallots and garlic, lemon, wine and spinach. It's a skillet dinner that tastes like a million bucks.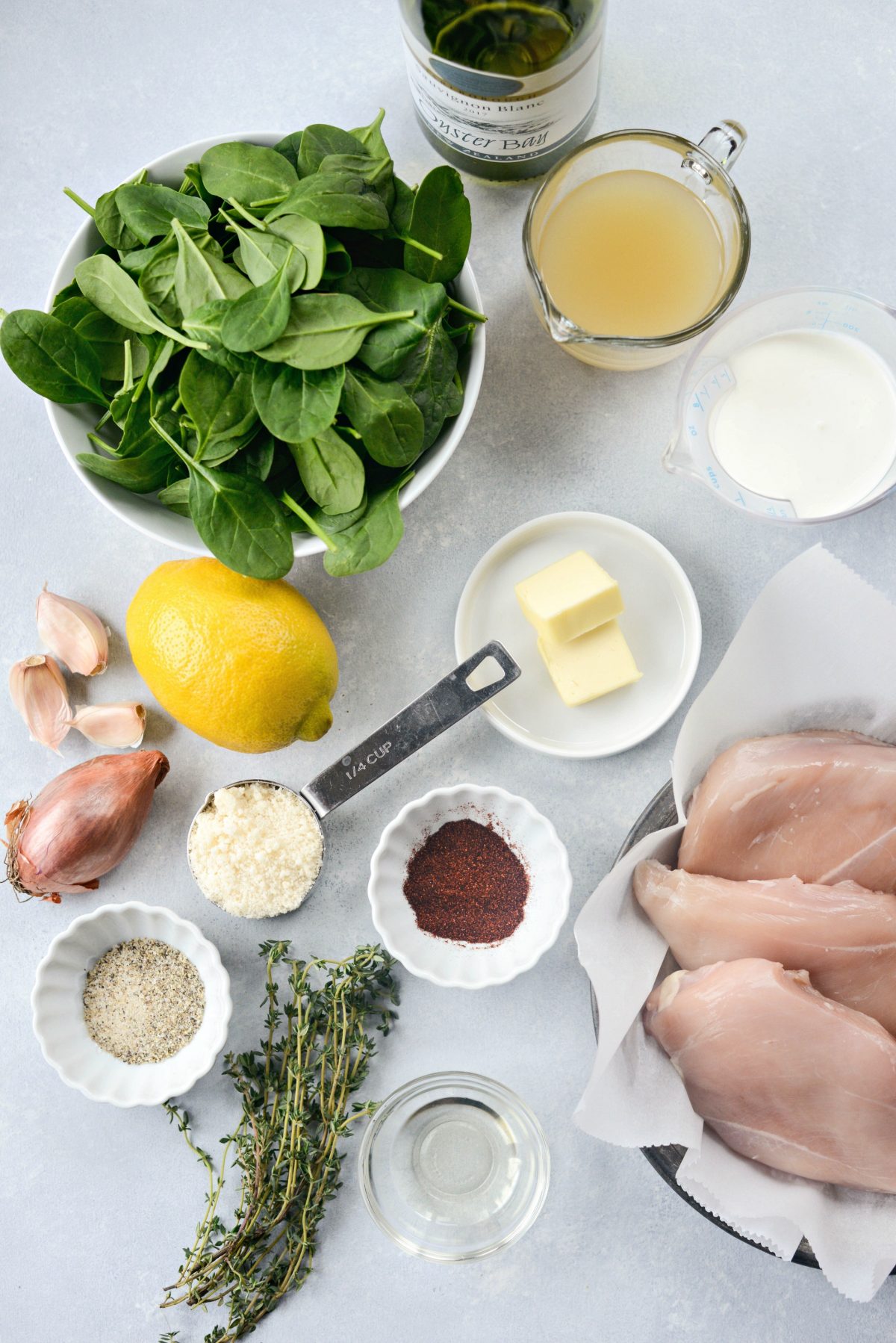 To Make this Cream Lemon Chicken You Will Need:
butter
oil
boneless skinless chicken breasts
lemon pepper
paprika
shallots
garlic
fresh thyme
lemon juice
wine
heavy cream
broth (optional)
baby spinach
kosher salt
freshly ground black pepper.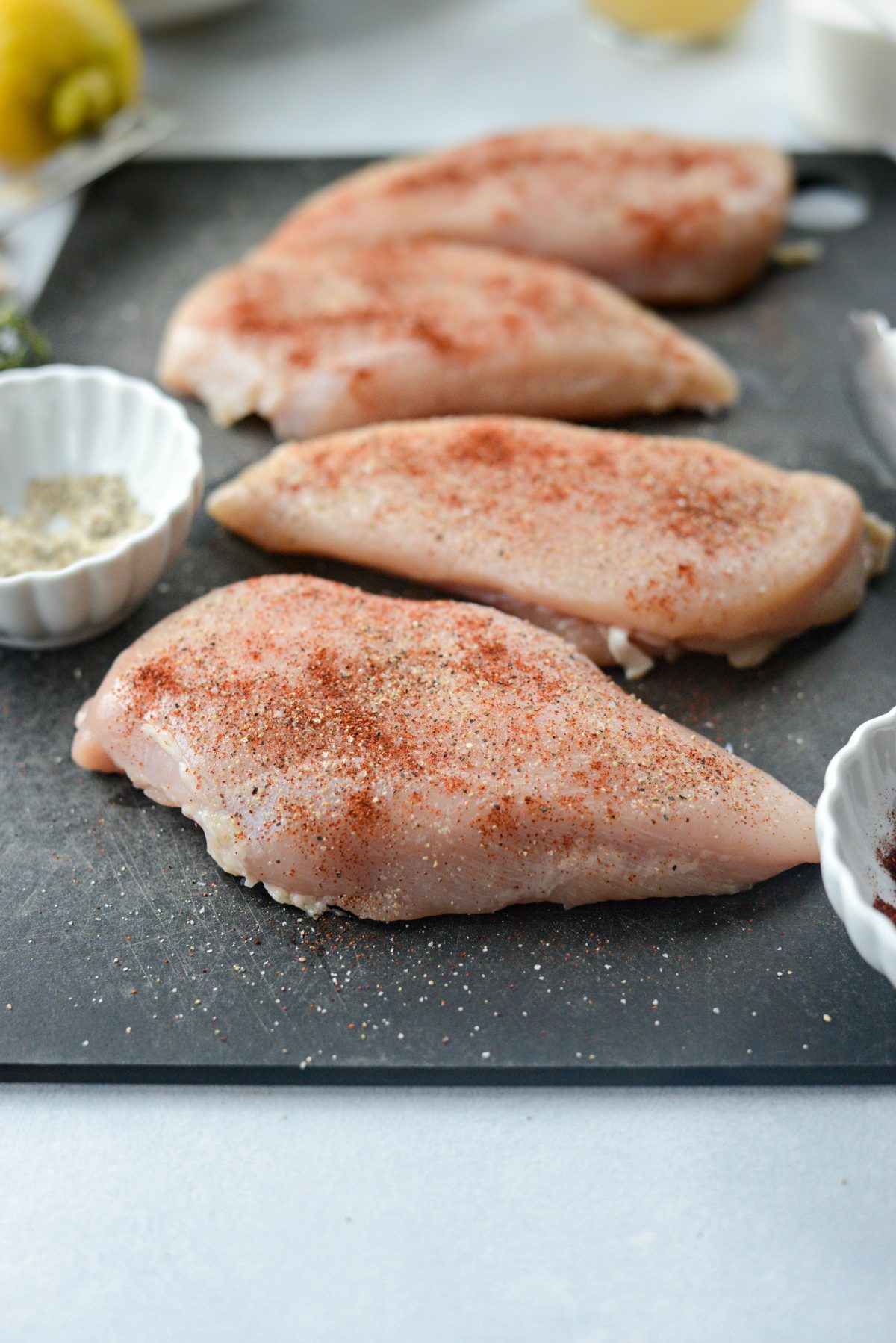 First, heat 1 tablespoon of butter and a tablespoon of light olive oil on medium-high heat. Meanwhile, season both sides of the chicken with lemon pepper and paprika.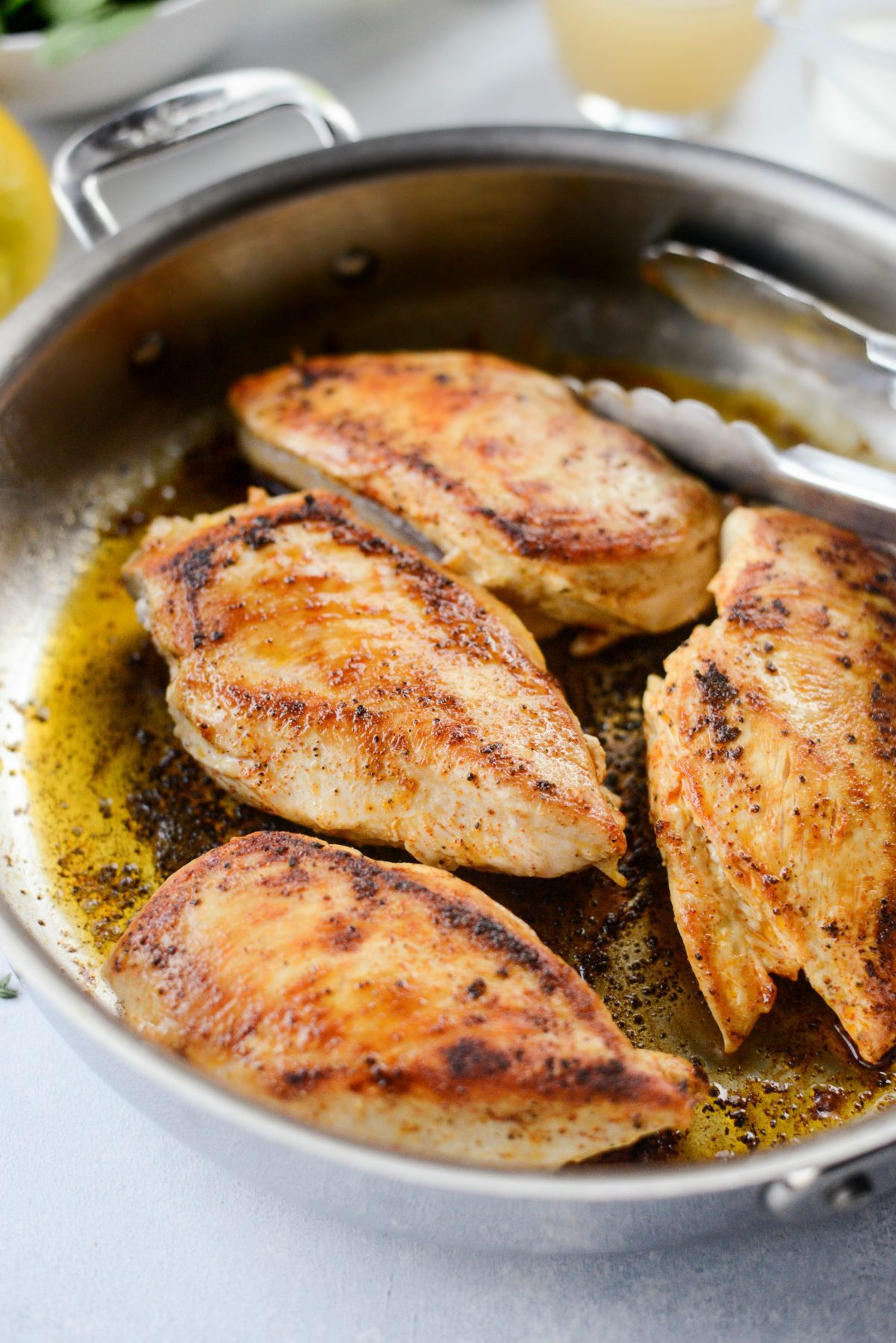 Next, sear the chicken for 4 to 5 minutes on both sides before transferring it to a clean platter, then tent with foil.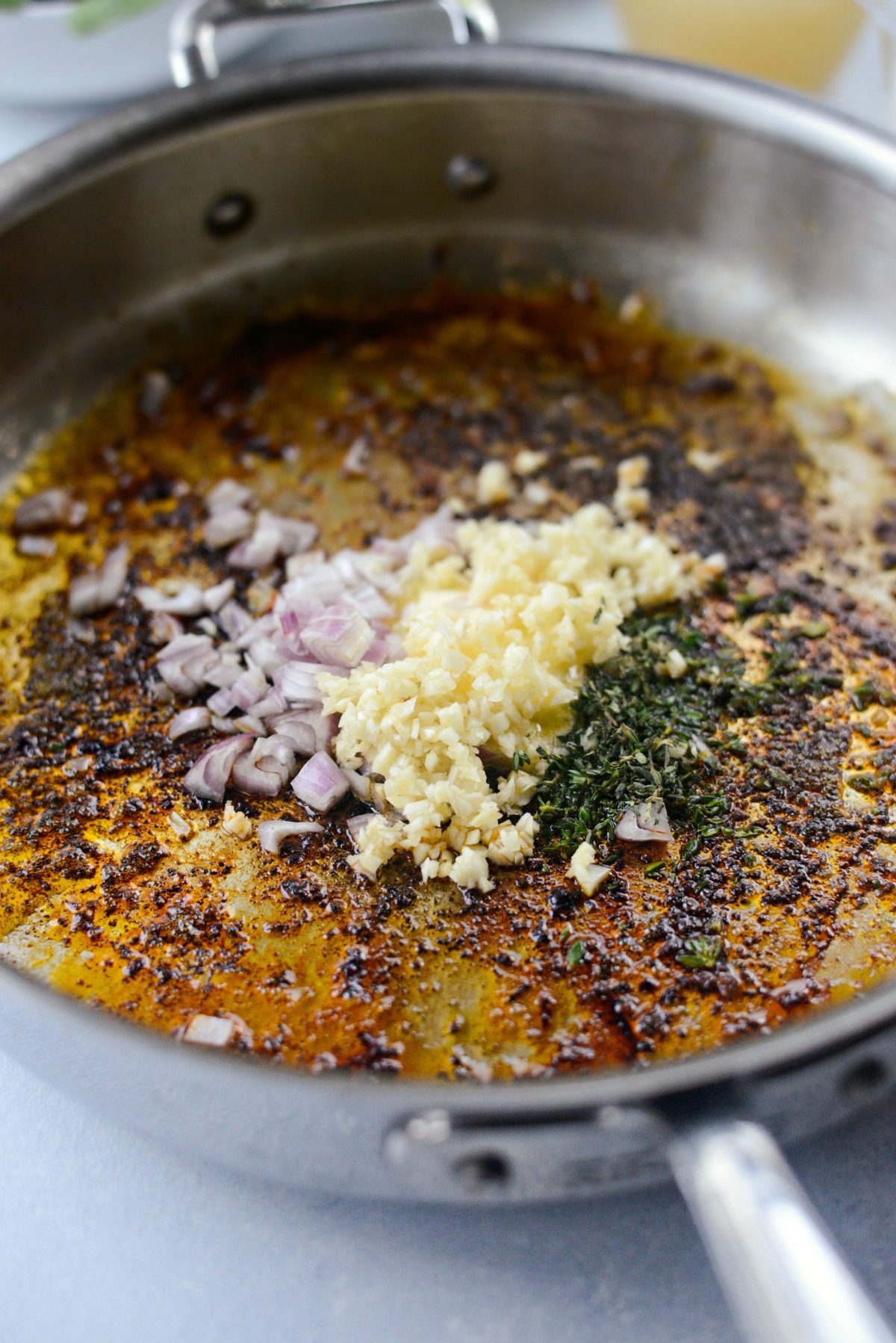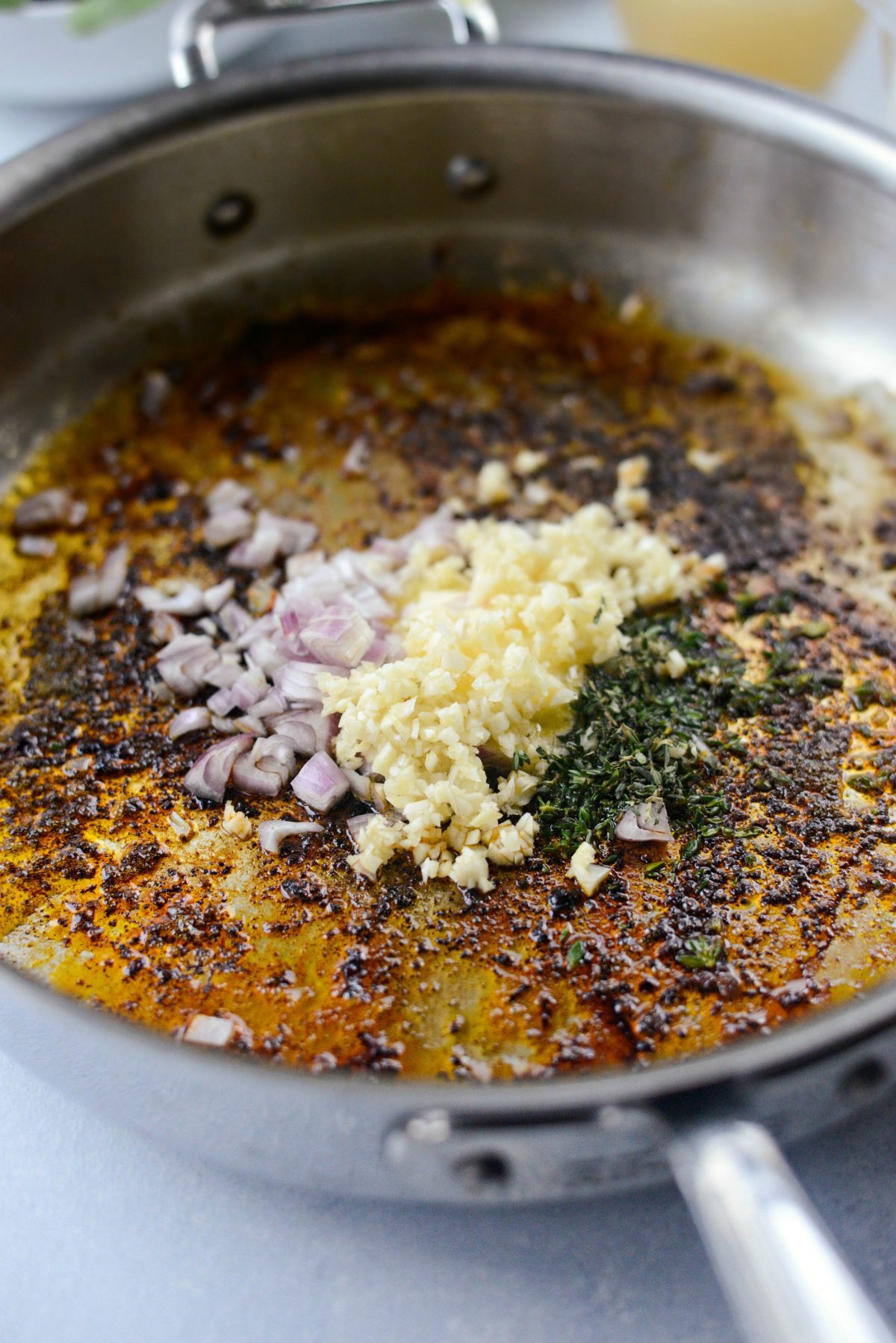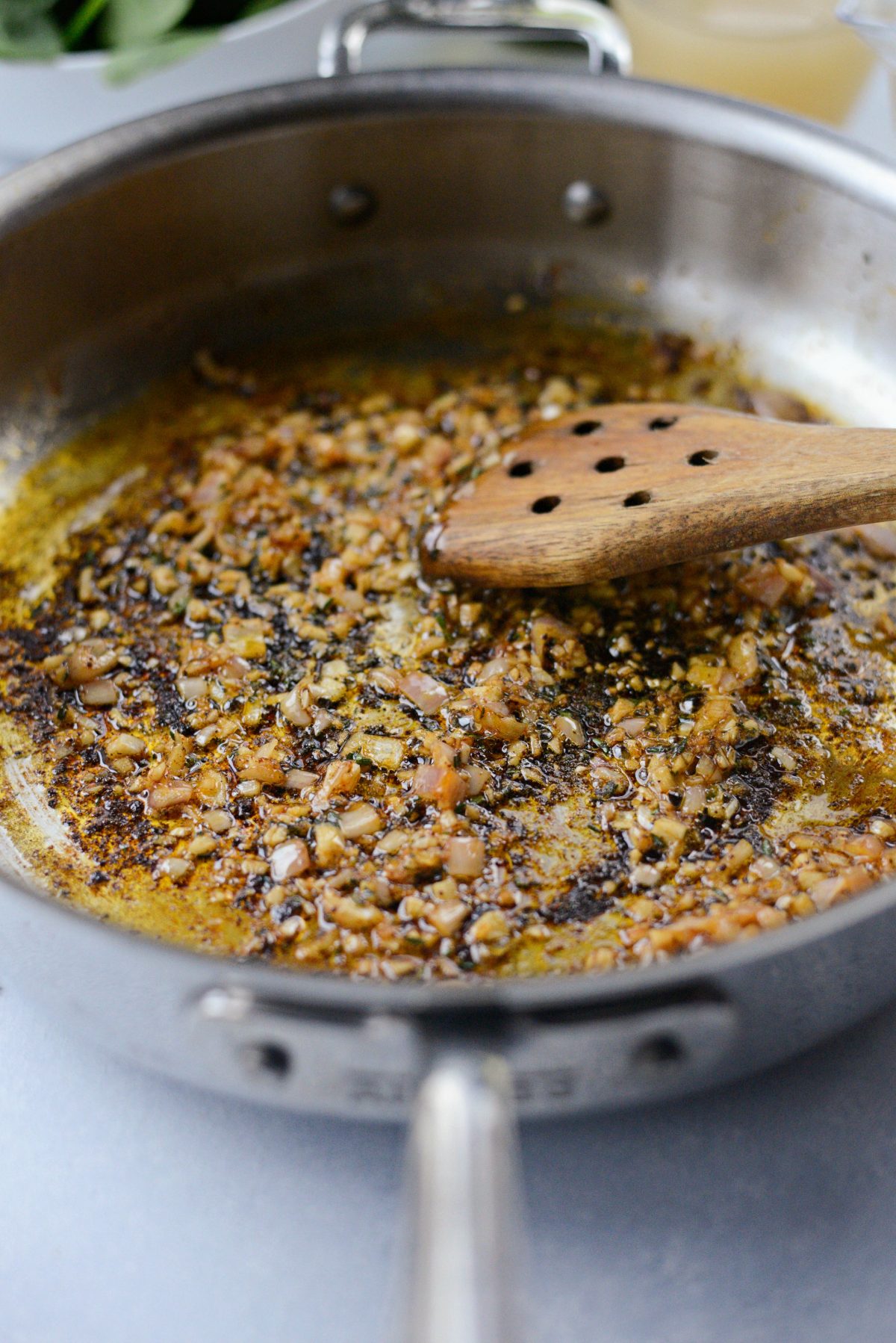 Reduce the heat to medium-low before adding the remaining tablespoon of butter to the skillet. Next add in the 1/3 cup of diced shallot, 3 cloves of minced garlic, and 3/4 teaspoon of minced fresh thyme leaves. Sauté until tender and golden brown.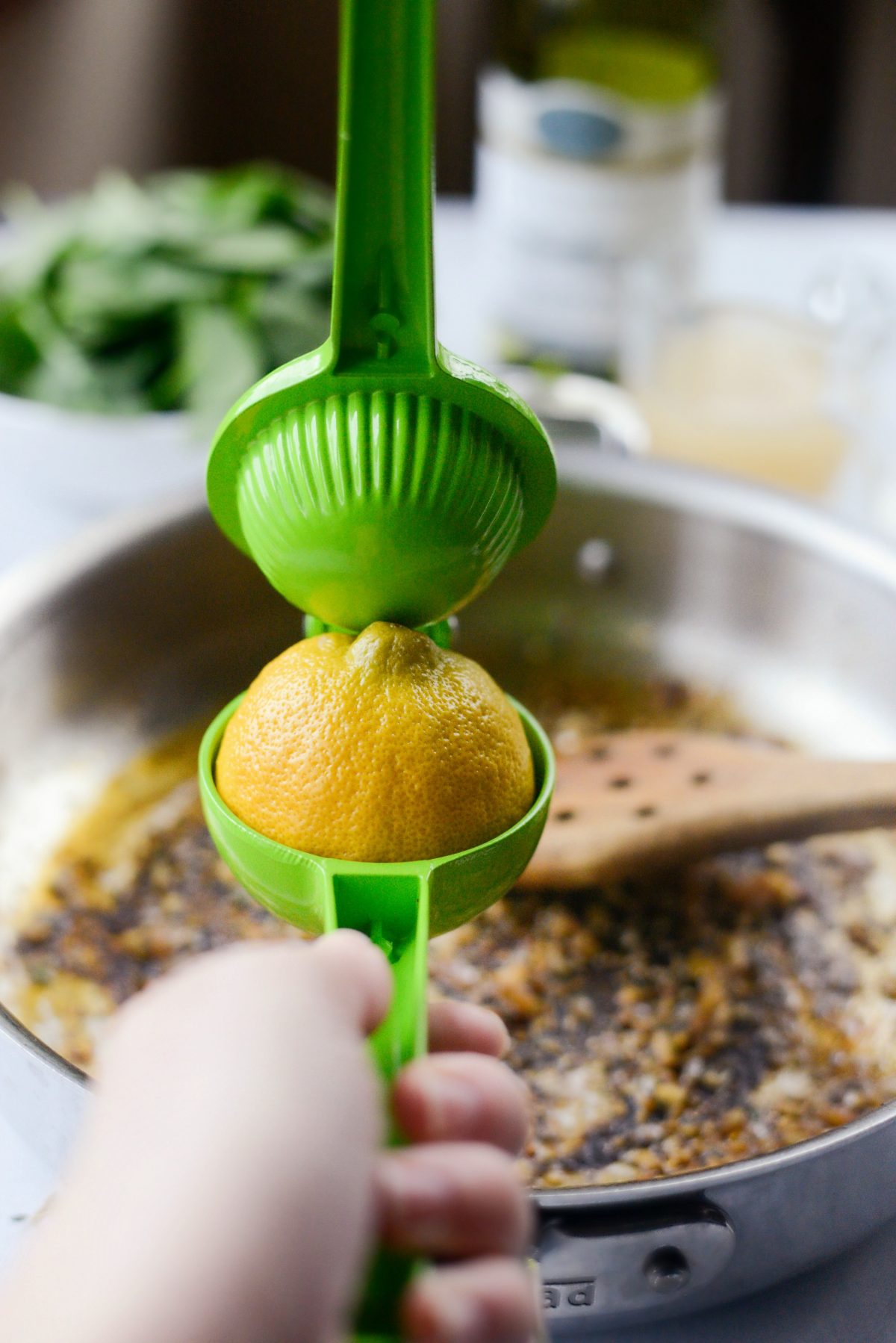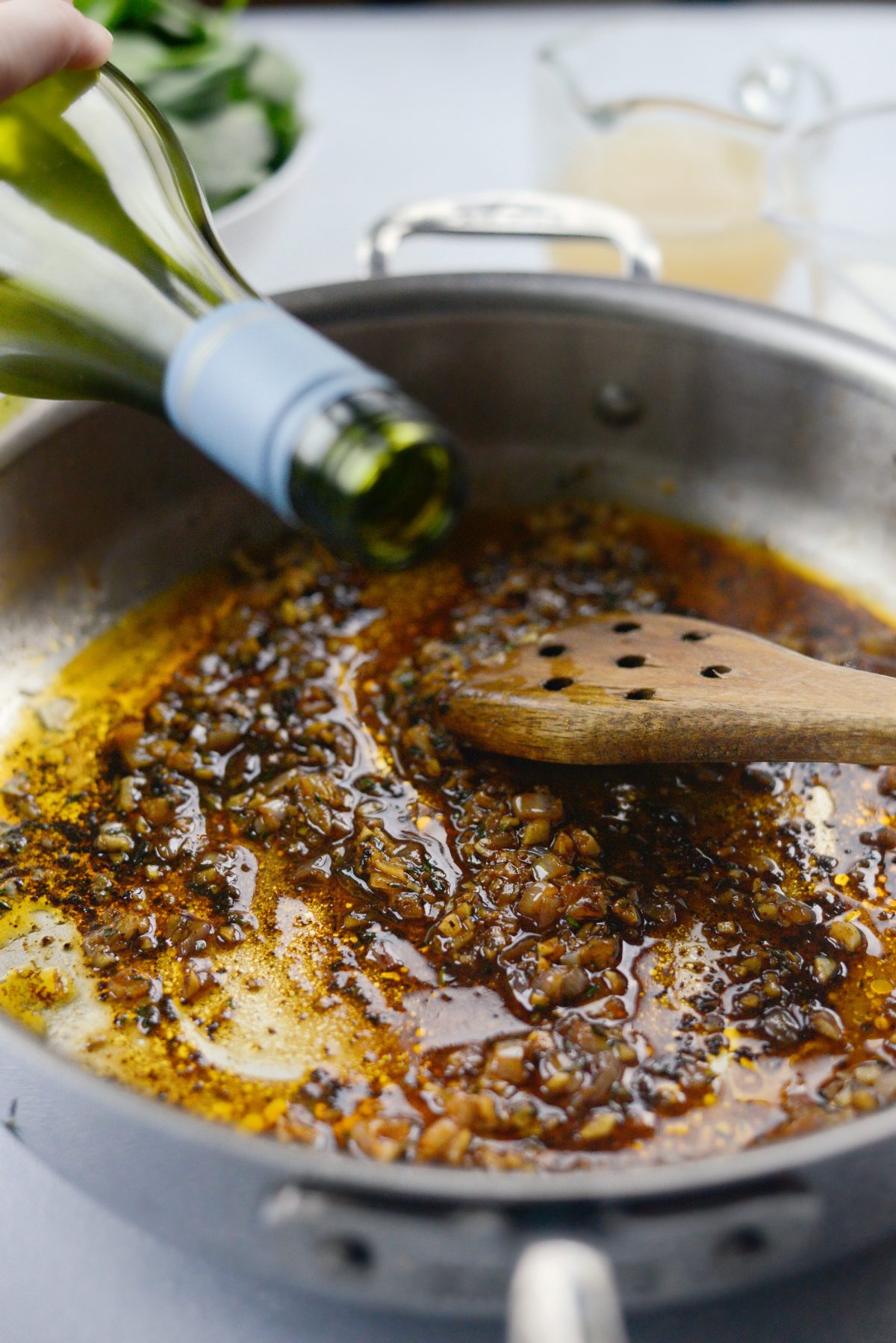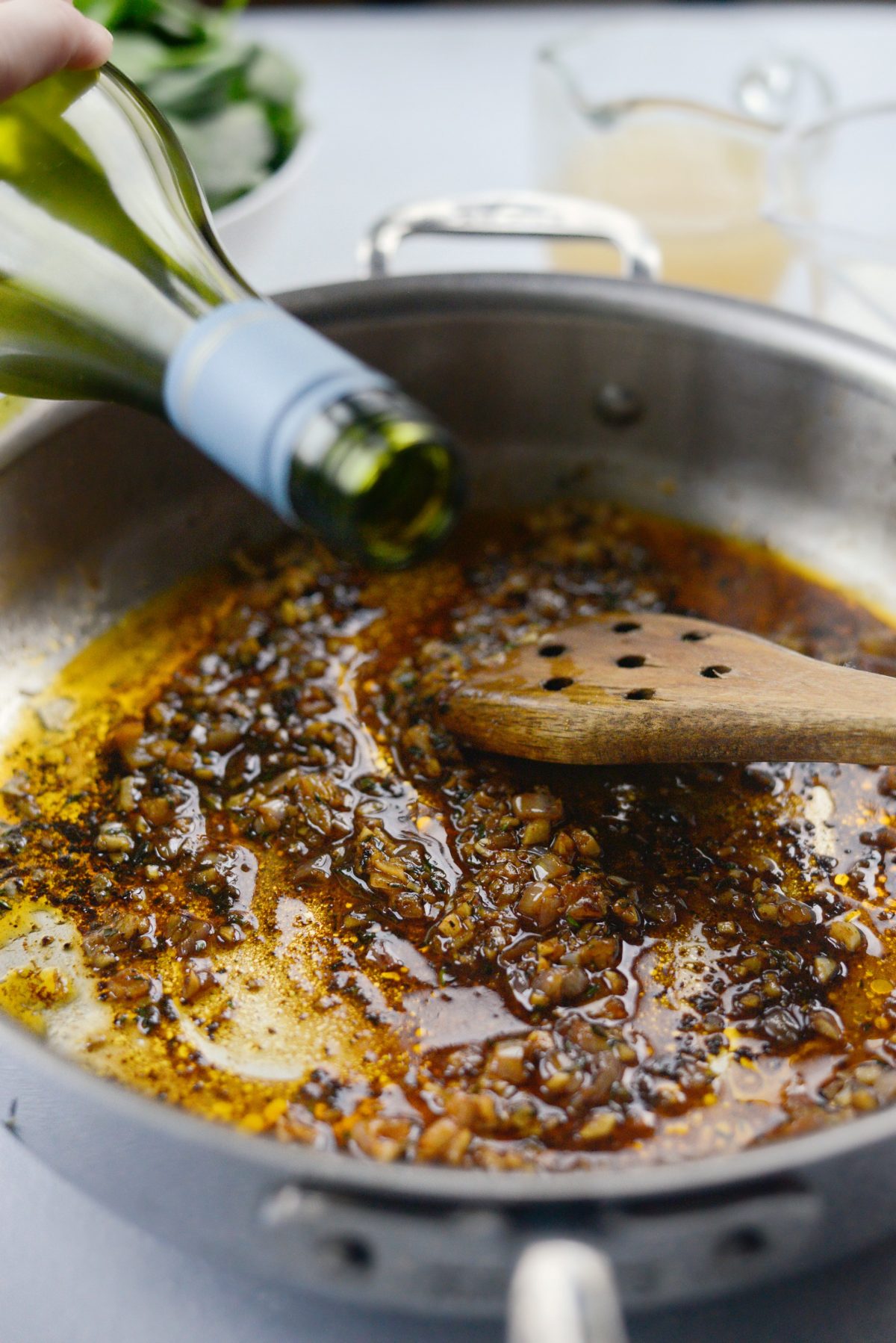 Now increase the heat to medium-high and squeeze in the juice of 1/2 a lemon and a few splashes of dry white wine. Next simmer until reduced, use a wooden spoon to scrape up the browned bits on the bottom. Those brown bits on the bottom of the pan are money and the flavor base of this sauce!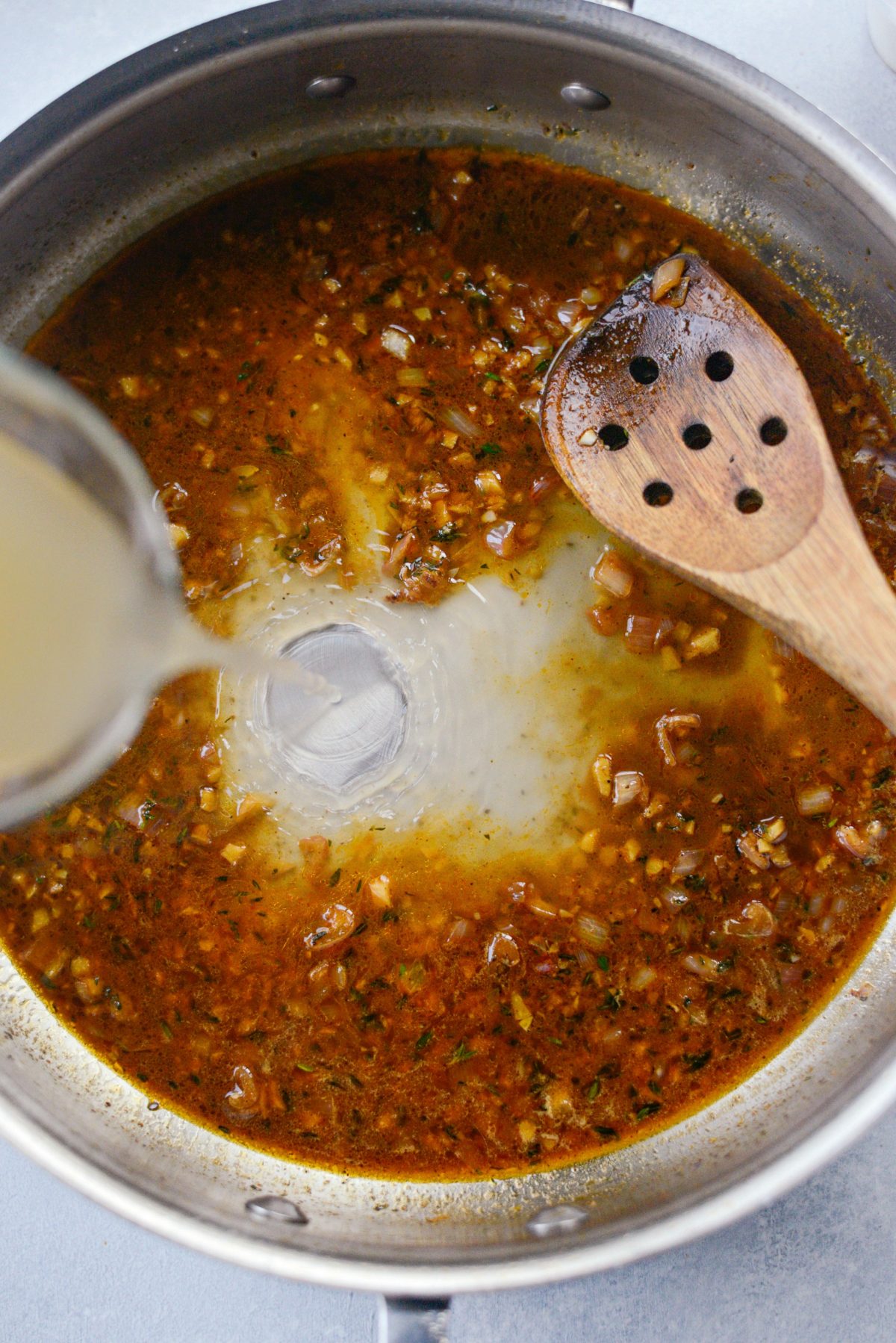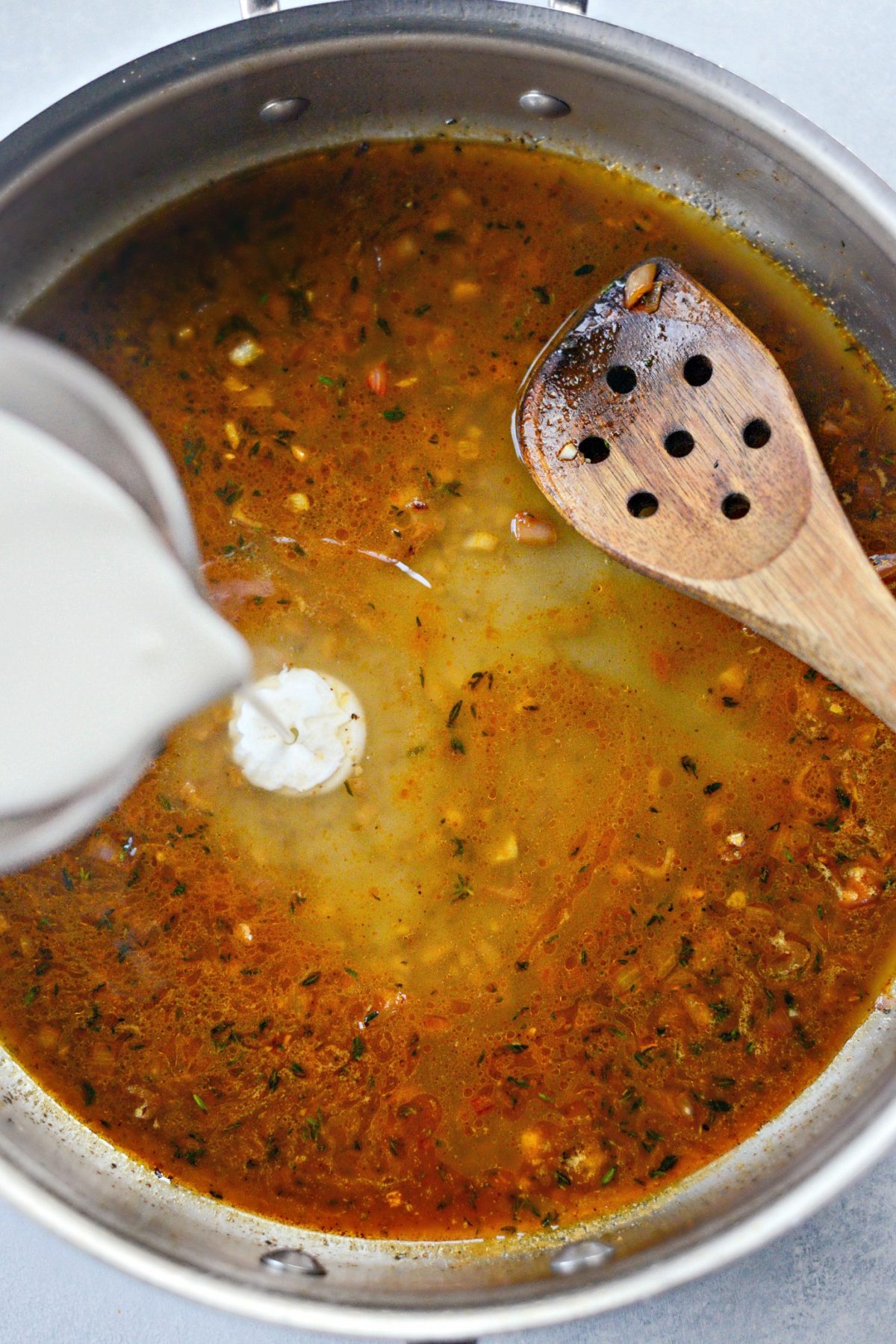 Now I personally added 1/4 cup of low-sodium chicken broth to lighten up our sauce, but this is optional. Just know that the sauce might not be as thick if you add the broth. Then pour in 3/4 cup of heavy cream and simmer until the sauce has started to thicken.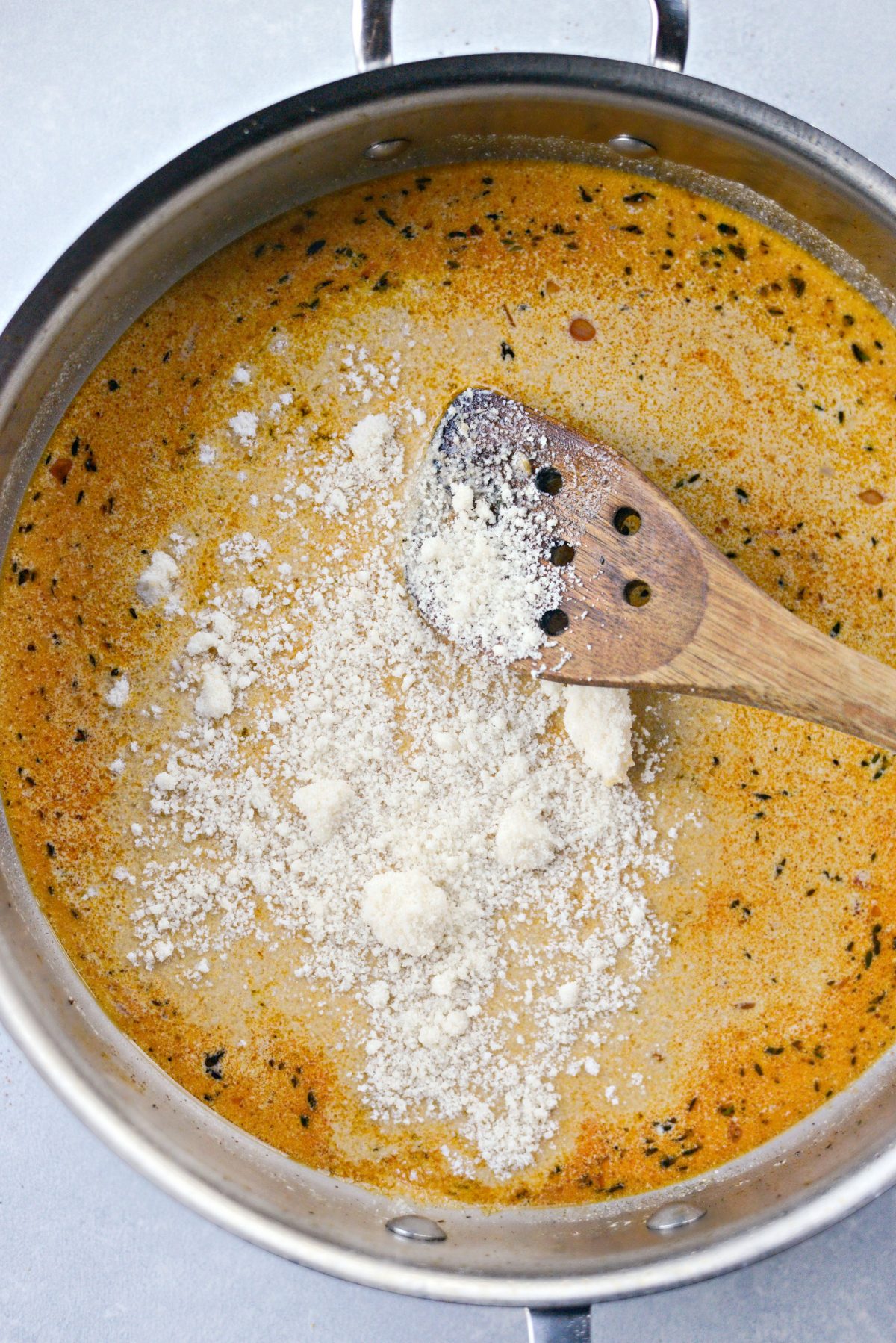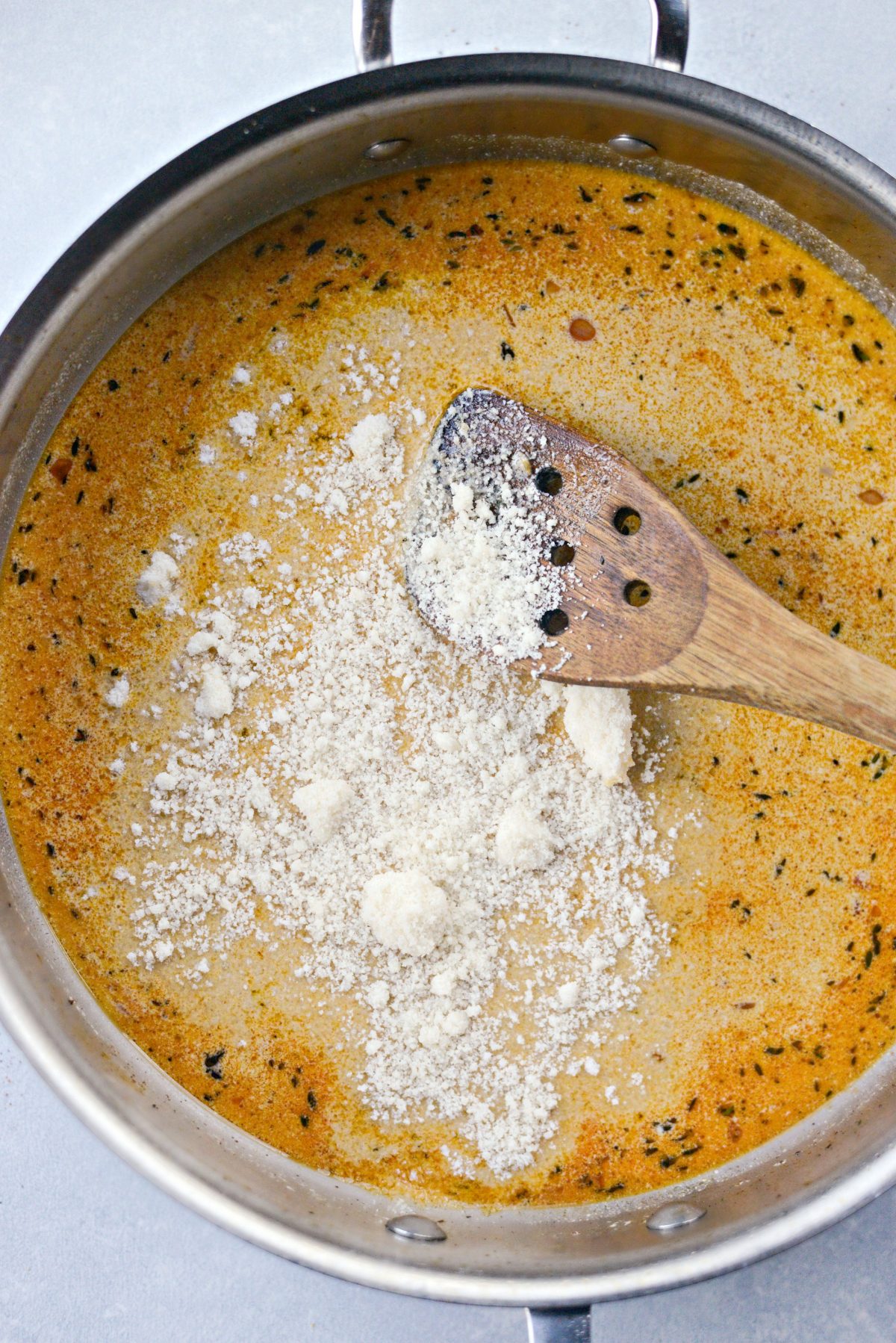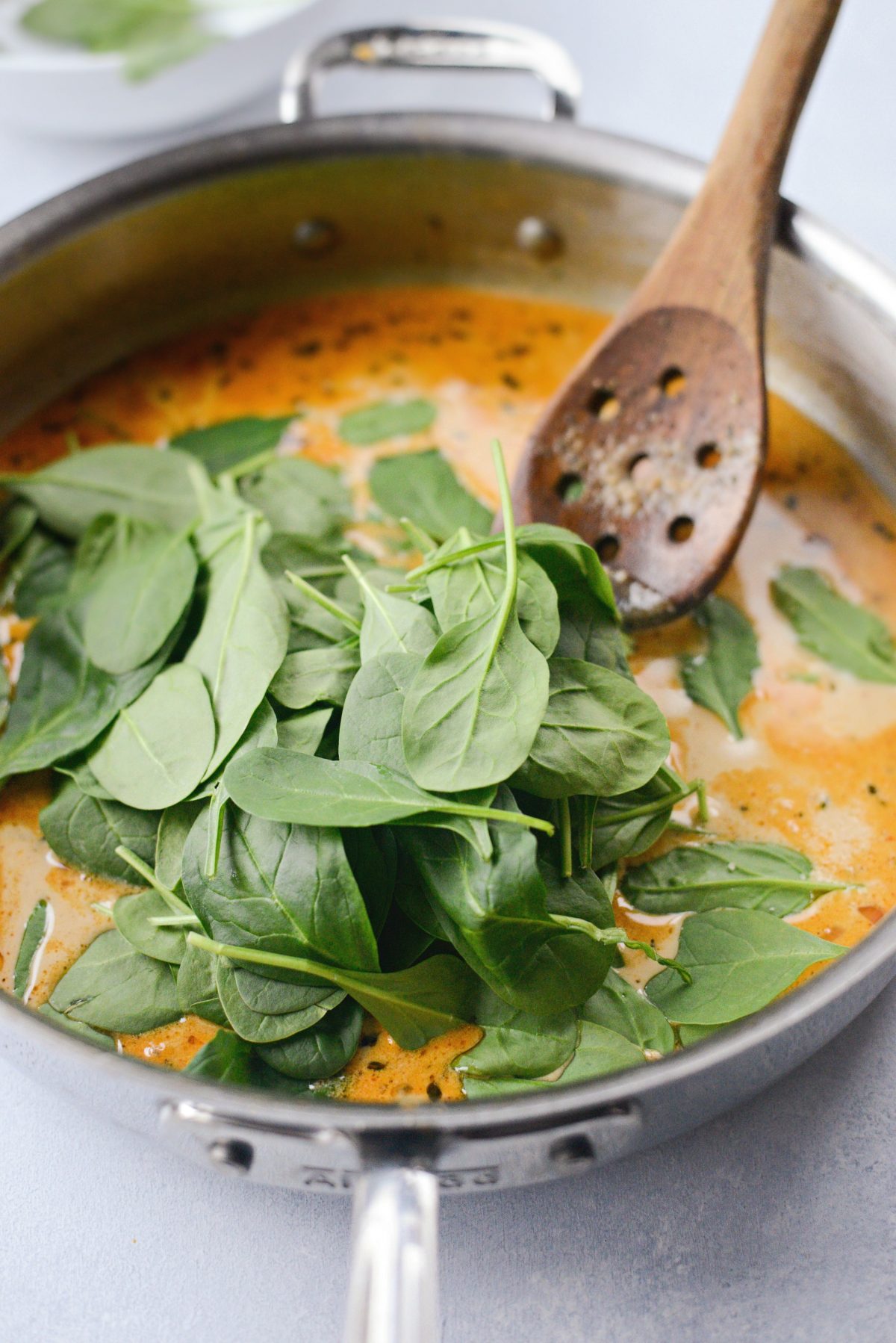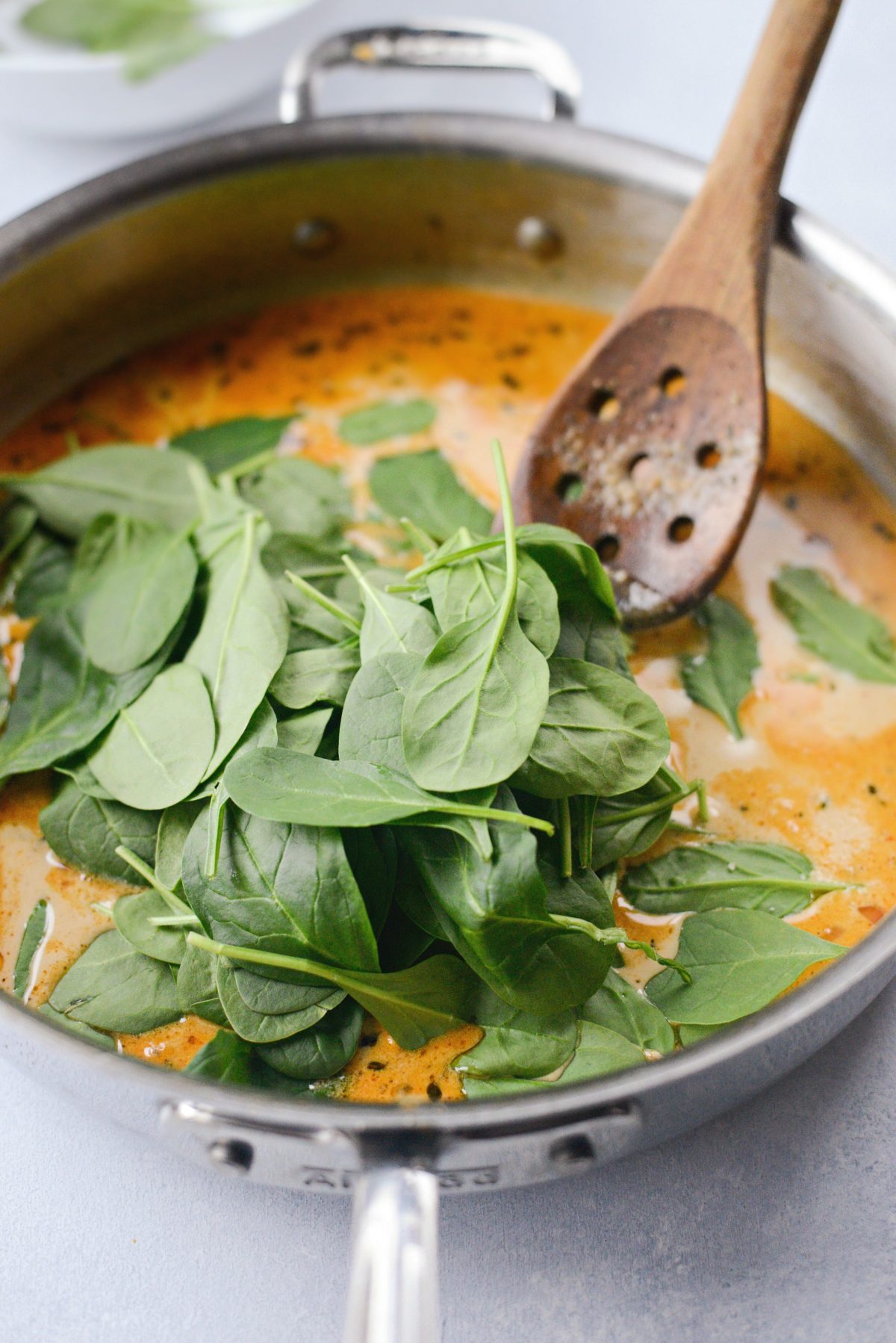 Next add in 1/4 cup of freshly grated parmesan cheese and 2 handfuls of baby spinach. Still continuously until the spinach has wilted.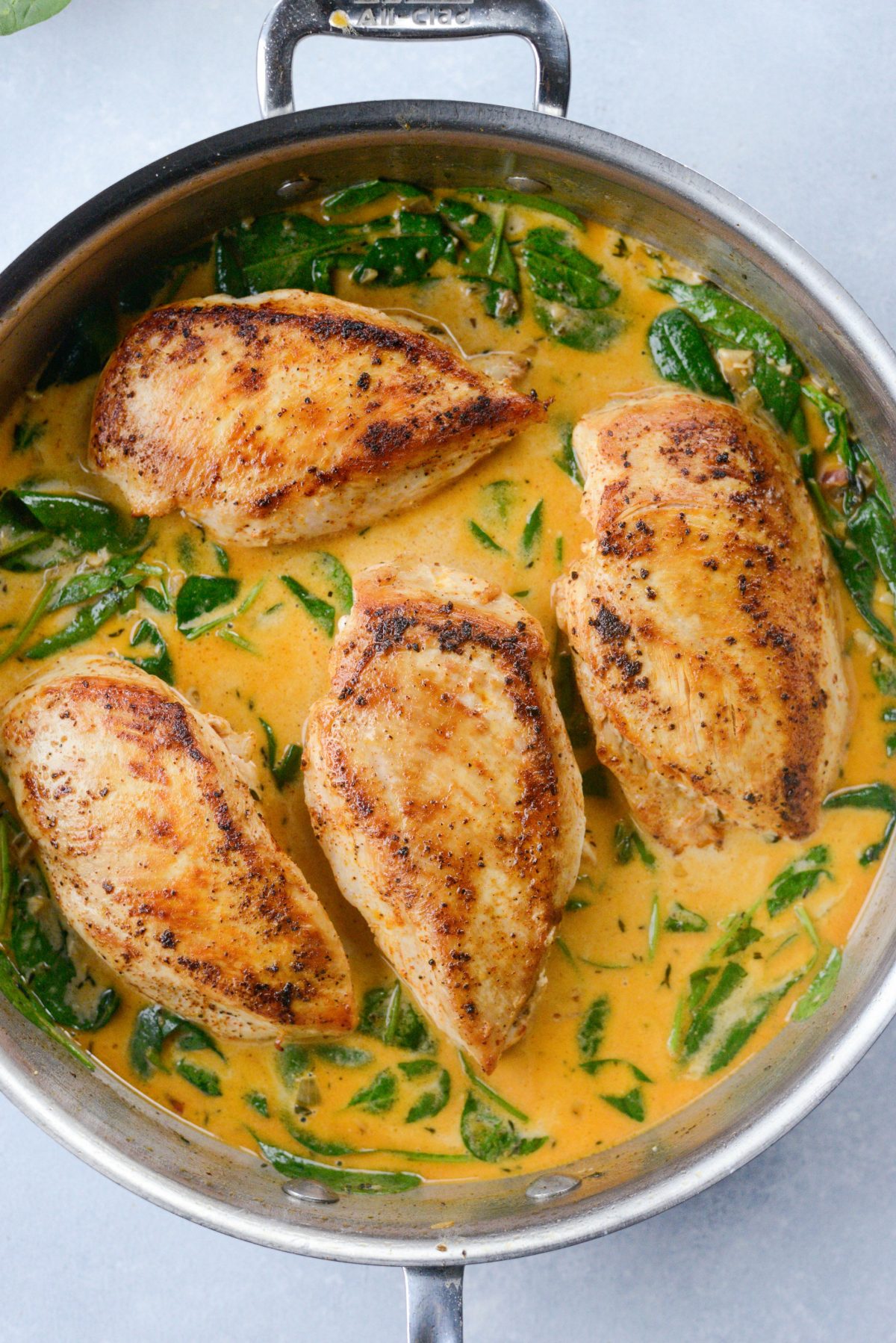 Lastly, return the chicken to the pan, cover and cook for 10 to 12 minutes or until the chicken is fully cooked. Finally taste and season the sauce with salt and pepper to your preference.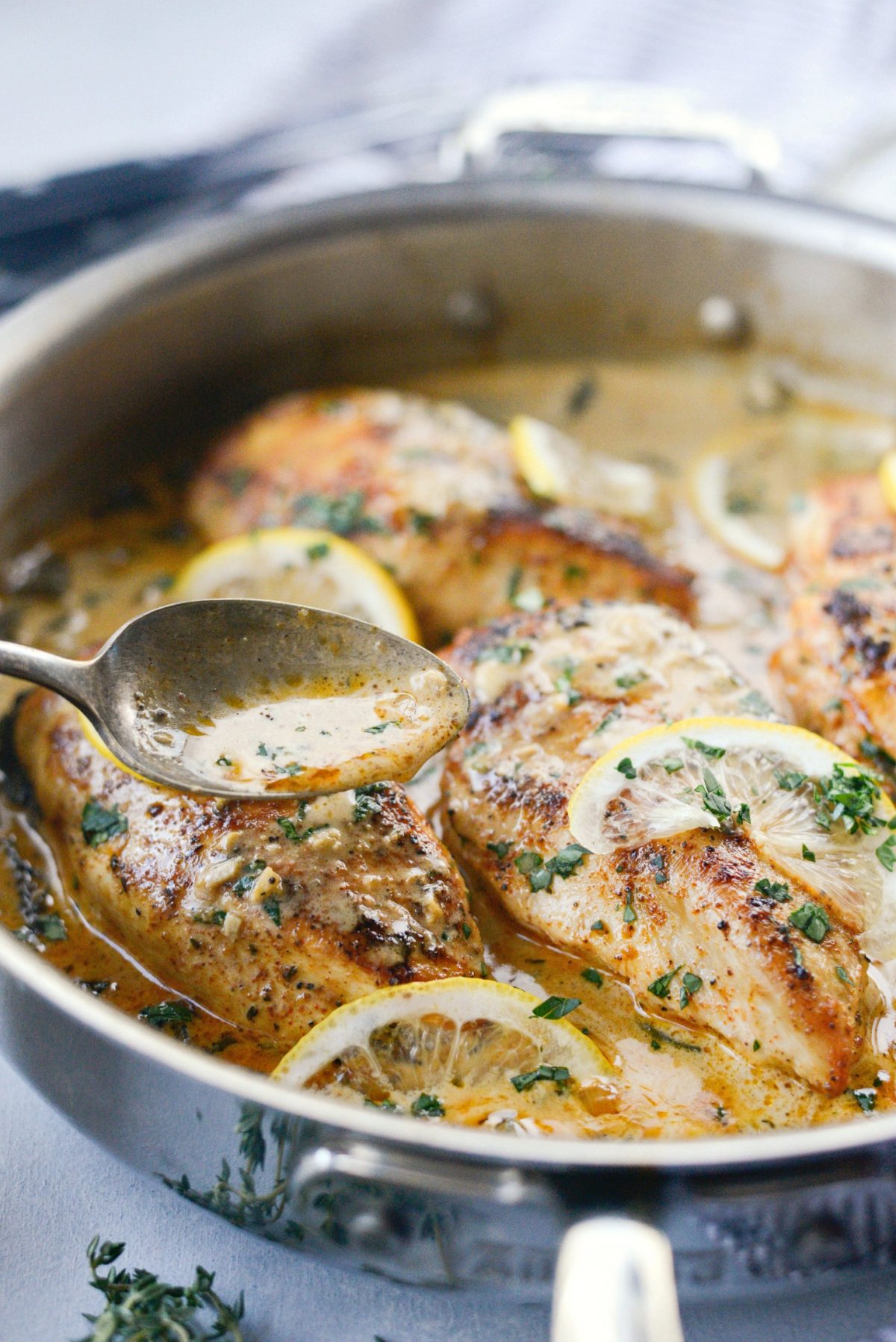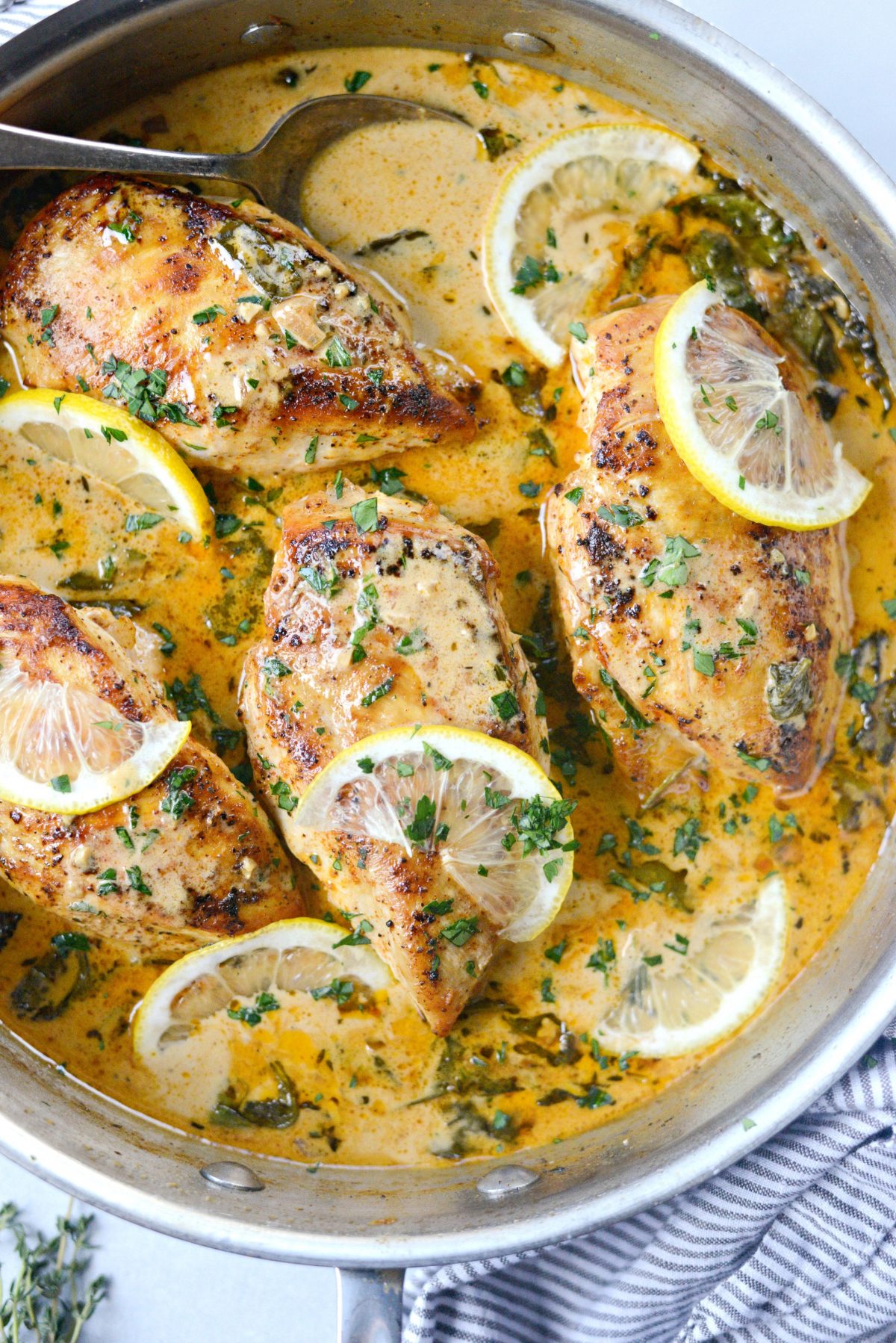 Spoon the lusciously, creamy and lemony parmesan cheese sauce over top of the chicken right before serving.
You of course can plate it as is or over pasta with spoonfuls of the sauce and a sprinkle of fresh minced parsley over top.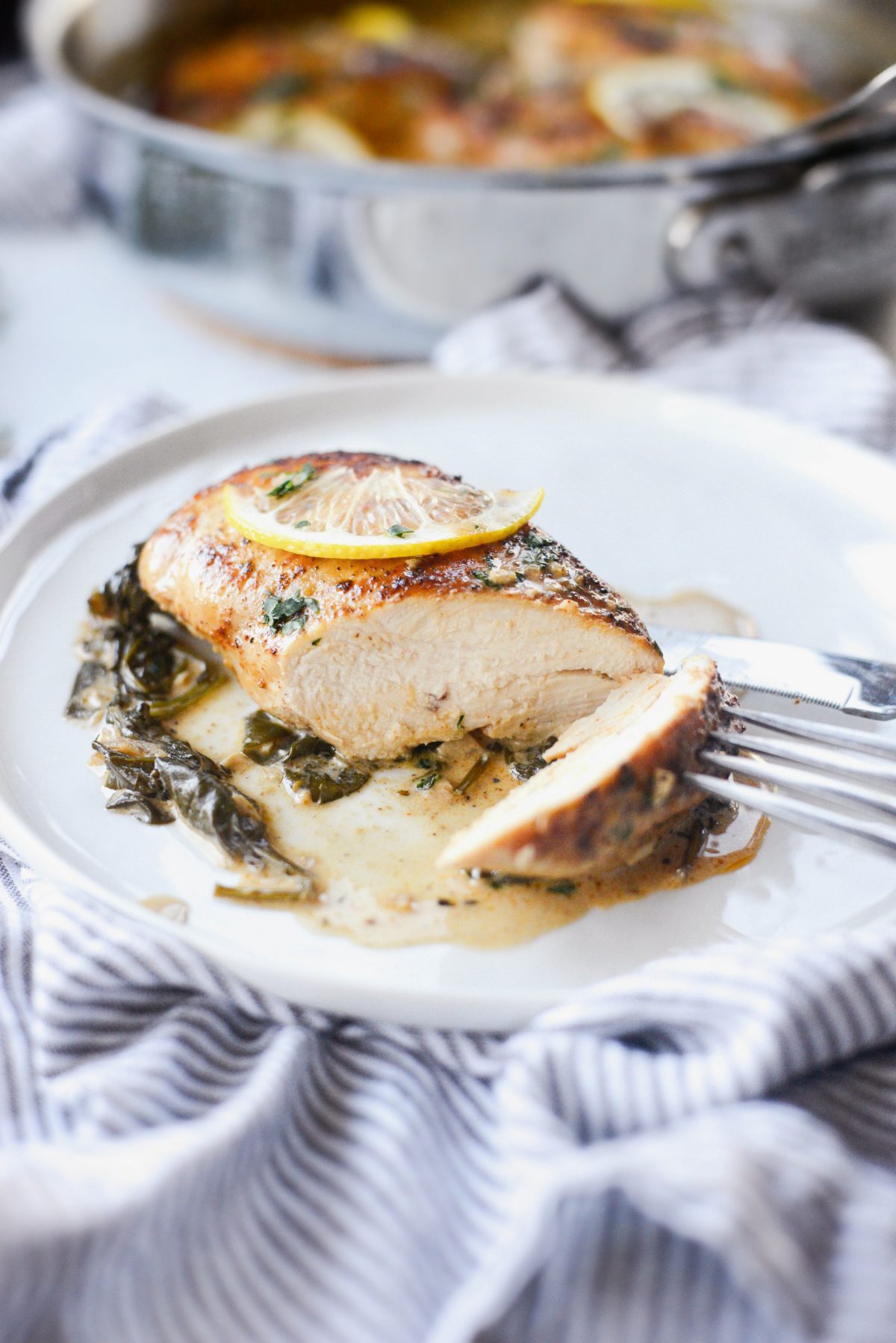 Enjoy! And if you give this Creamy Lemon Chicken recipe a try, let me know! Snap a photo and tag me on twitter or instagram!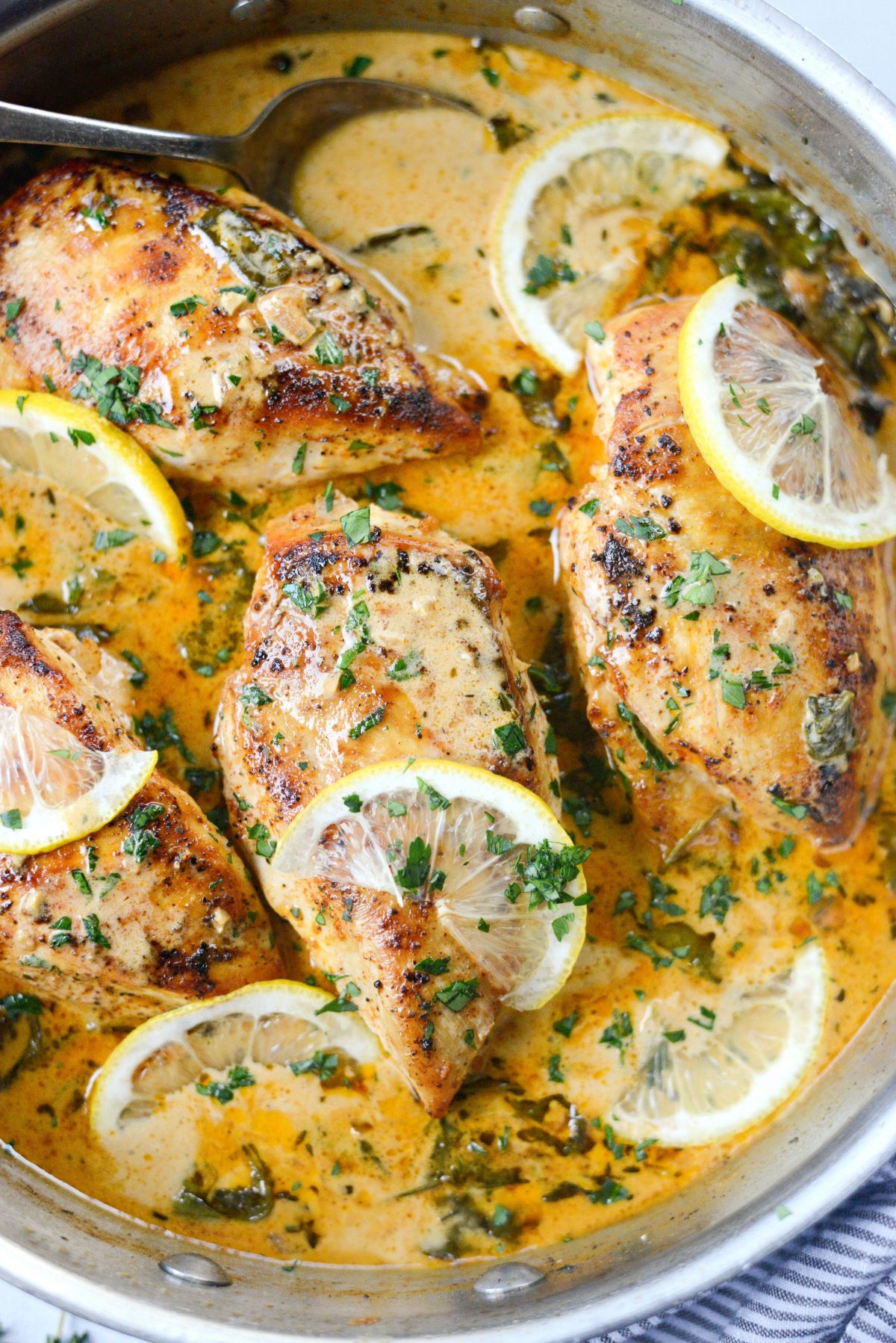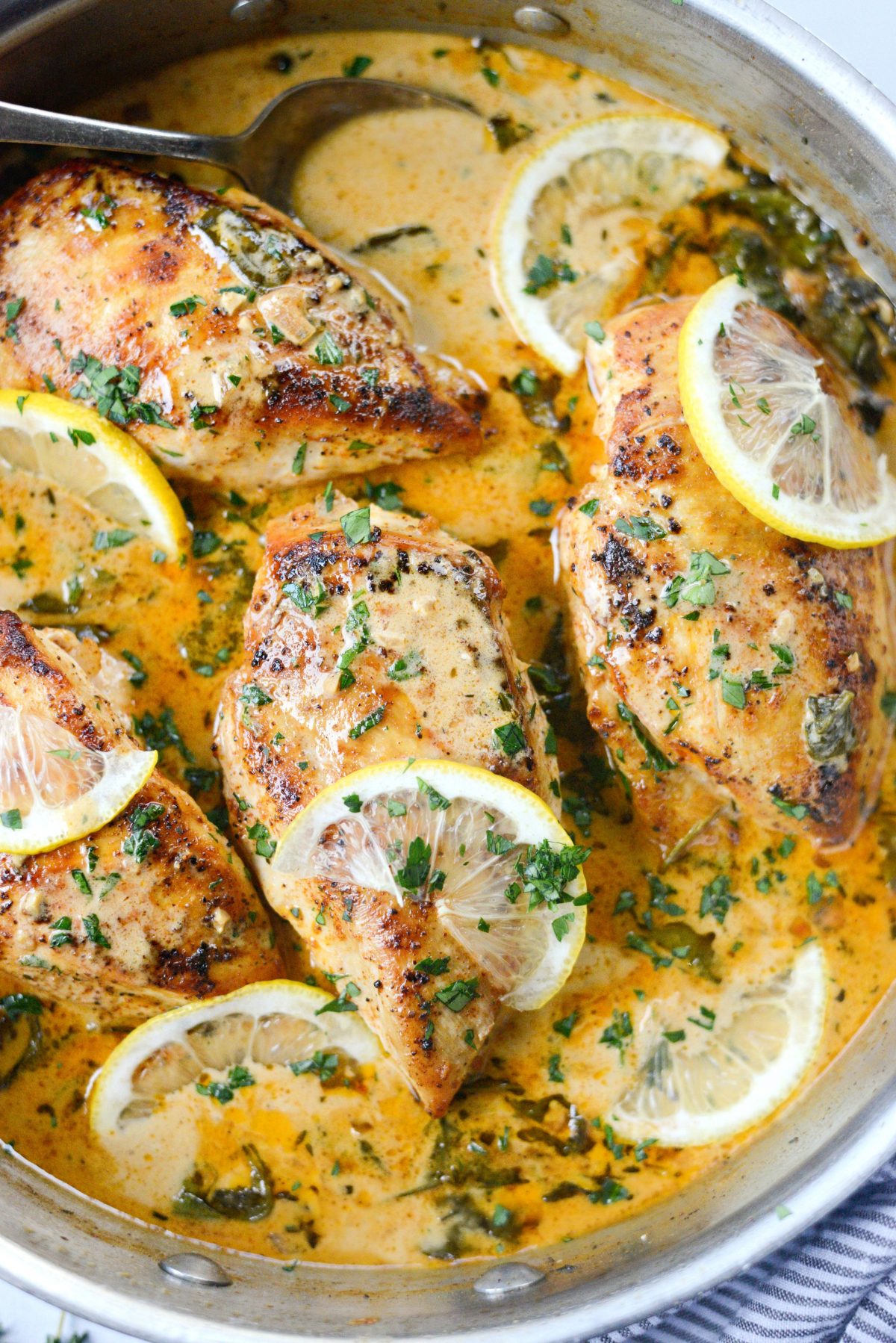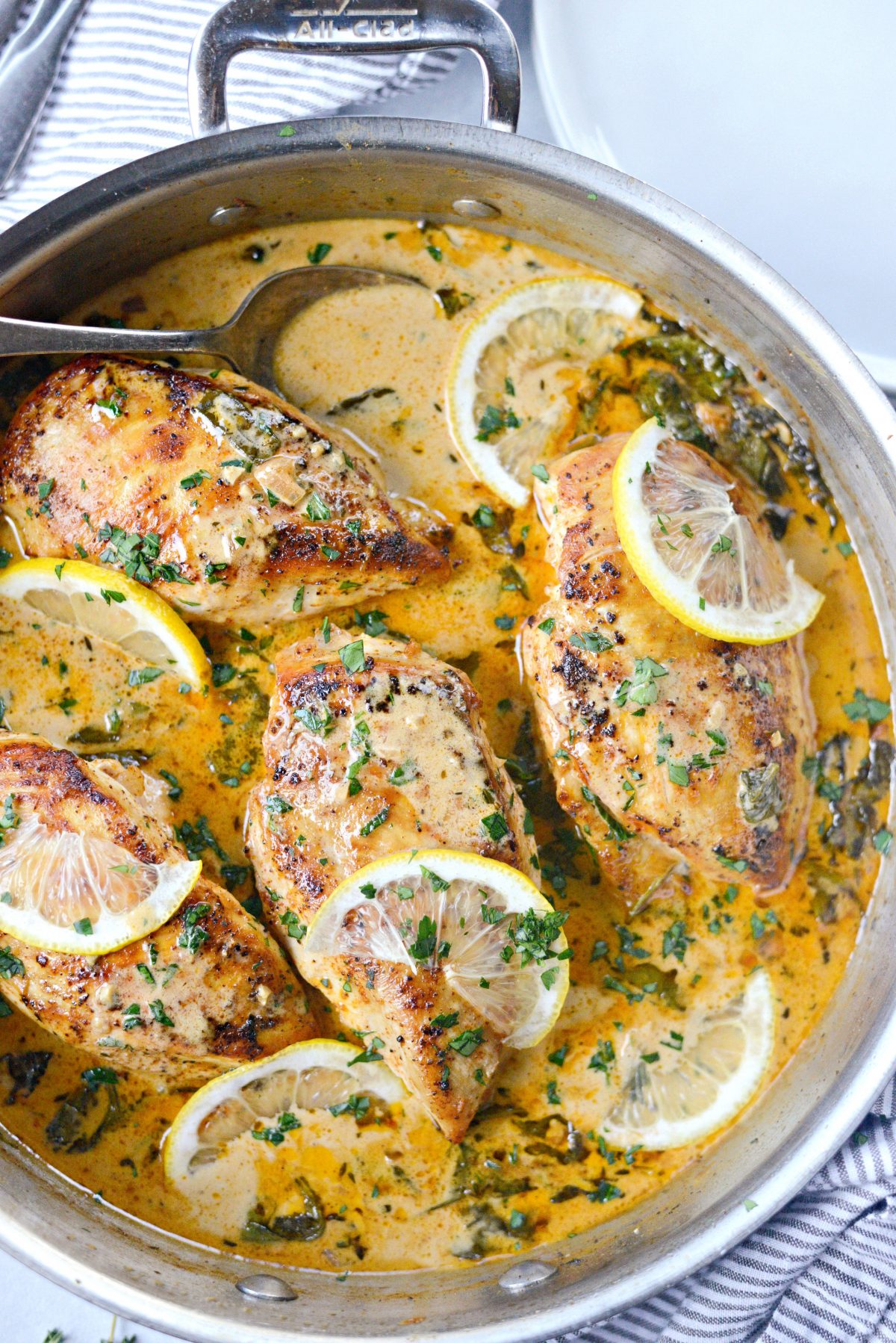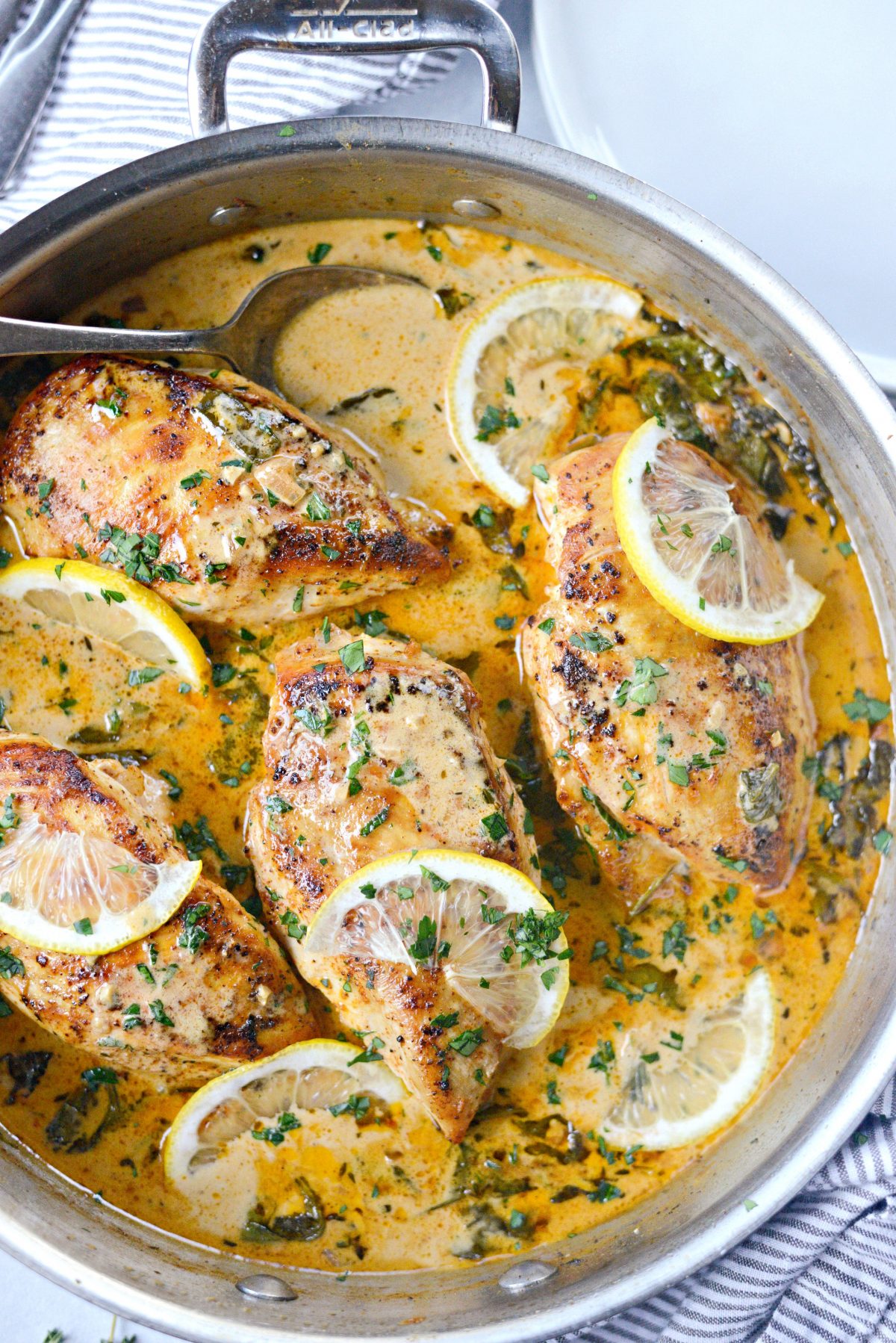 This post may contain affiliate links.
Buy the Cookbook: Simply Scratch : 120 Wholesome Homemade Recipes Made Easy Now available on Amazon »
THANK YOU in advance for your support!