Baked Buffalo Chicken Dip is one of the most loved and devoured dips, especially during football season. Cream cheese is blended with blue cheese dressing, Frank's Red Hot sauce, shredded cooked chicken and crumbled blue cheese. I like to top my dip with shredded Monterey Jack cheese and extra blue cheese -because there's no such thing as to much blue cheese- before baking. Serves a small crowd in about 35 minutes.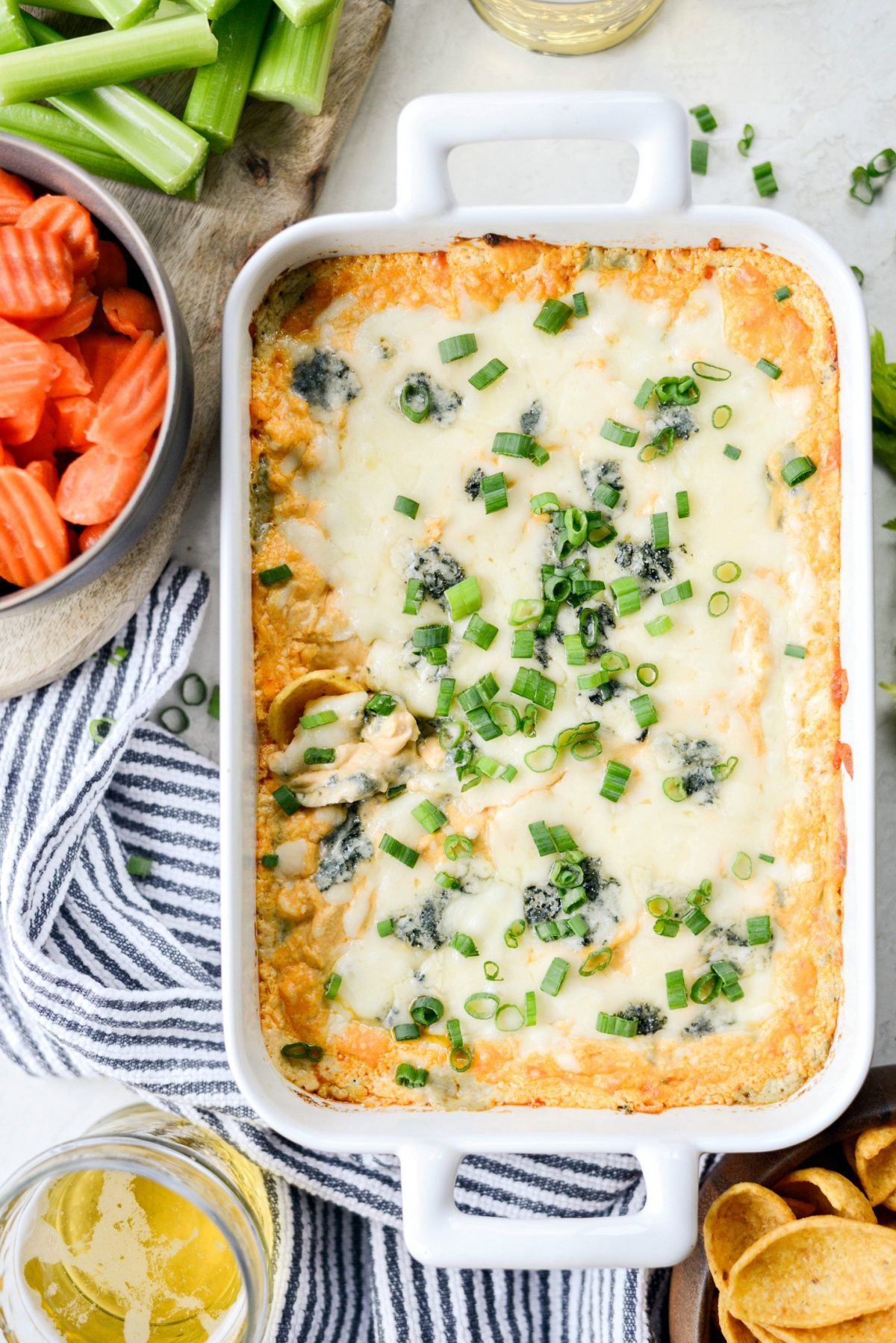 The first time I had buffalo chicken dip was years ago, way before blogging.
My aunt had brought it to a party my sister was hosting and it was the first time I've had the pleasure of tasing it. Back then, I was kind of meh about spicy foods. However I couldn't tear myself away from this dip. It had heat but didn't make me sweat or cry out for a glass of milk for relief either. It was the perfect blend of creamy, spicy and blue cheese.
Before Christmas, Haileigh's friend Ashlyn was over and I knew that she makes buffalo chicken dip all the time, and so I asked for her recipe because I (surprisingly) didn't have one and was requested to bring it to a family holiday gathering. Ashlyn rattled off her go-to recipe by memory as I took notes. I only slightly adapted this recipe from hers, adding a little more hot sauce, using a stronger blue cheese and topping it with Monterey Jack cheese before baking.
This dip go rave reviews from my family and was gone by the end of the night. I'd call that a winner.
Thanks, Ash!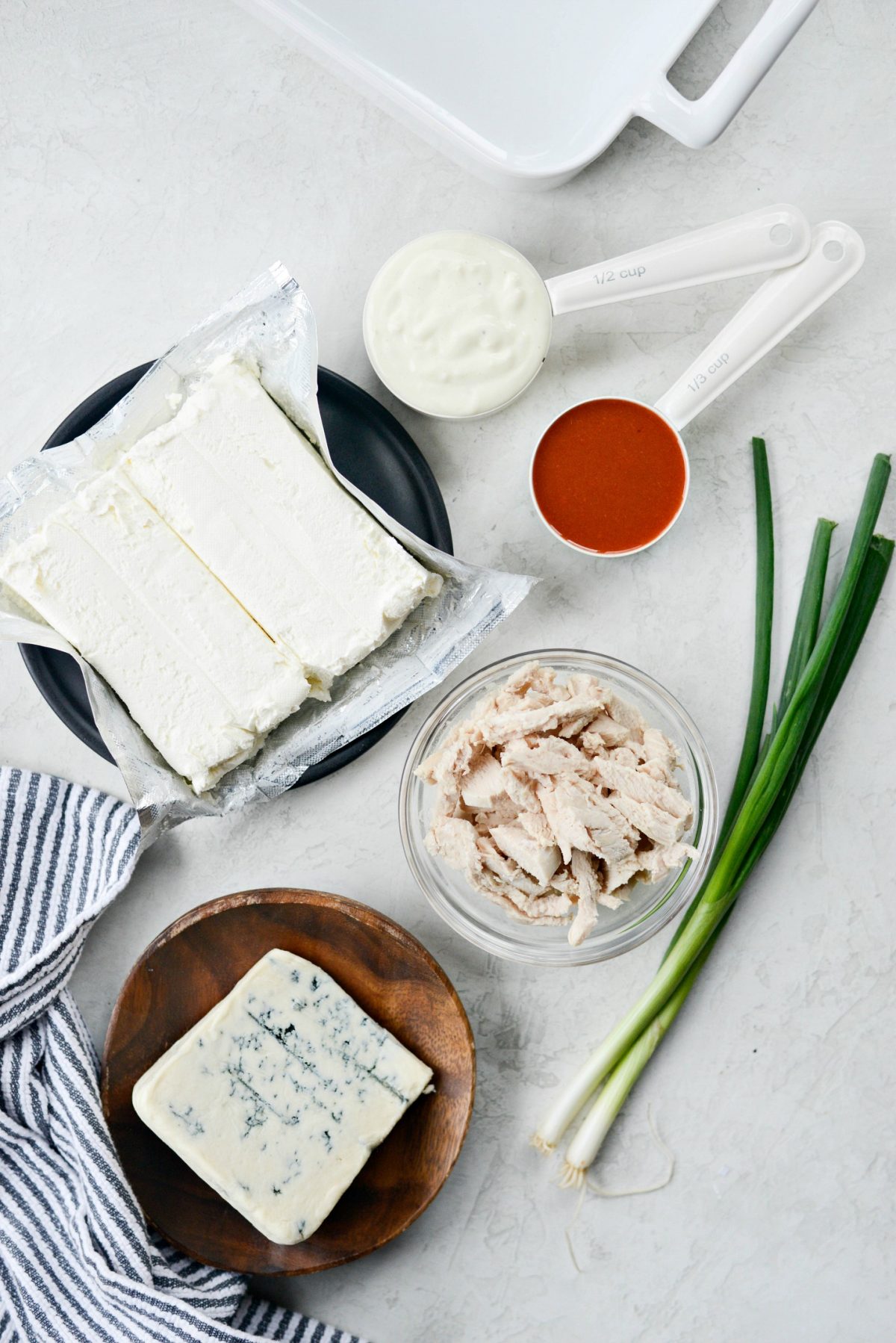 To Make This Buffalo Chicken Dip Here's what you'll need:
2 bricks [softened] cream cheese
1/2 cup blue cheese dressing
1/3 cup Frank's Red Hot sauce
1 cup chopped cook chicken
1/4 cup of crumbled blue cheese
1 cup Monterrey jack cheese (not pictured)
2 green onions.
plus whatever you plan to dip with.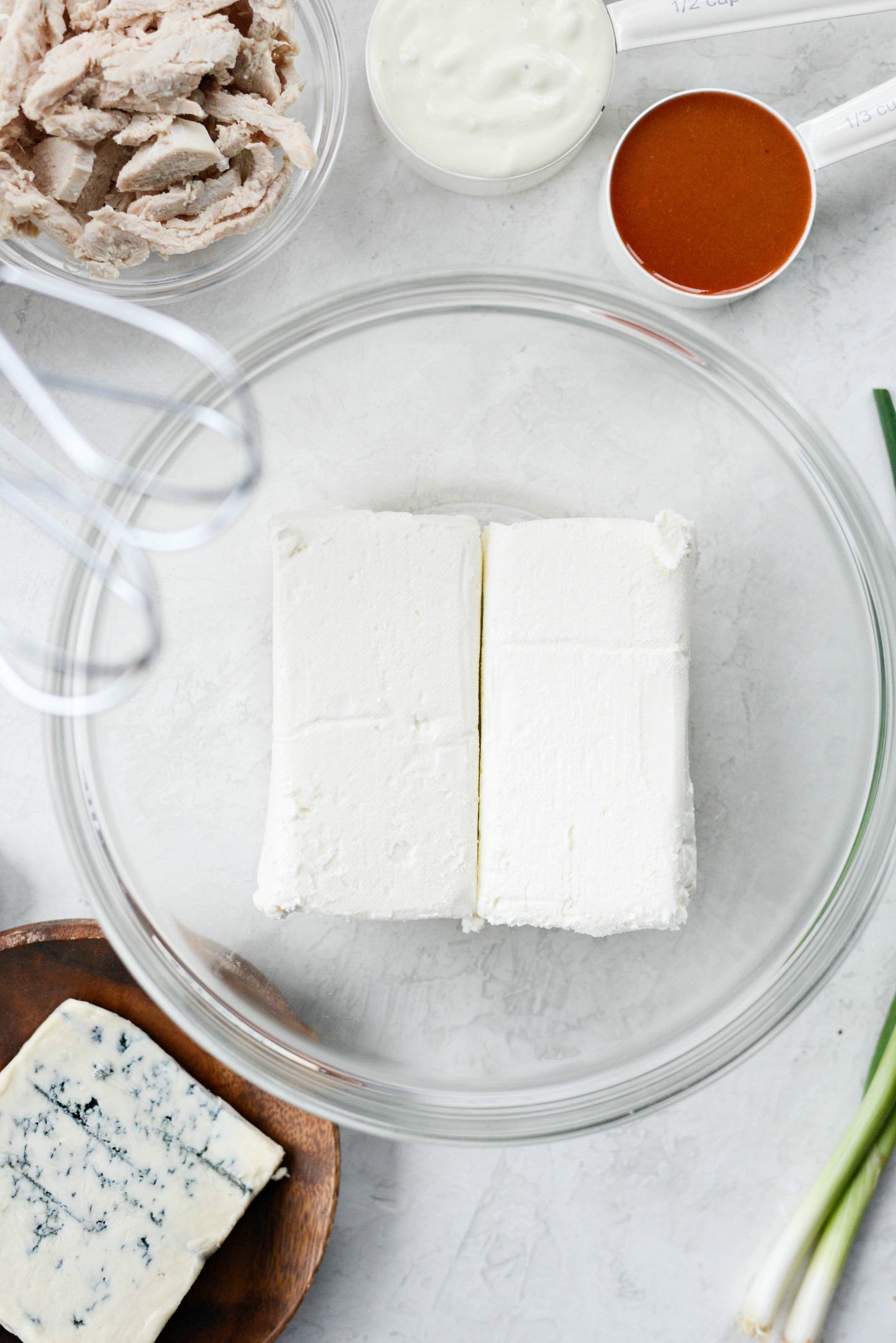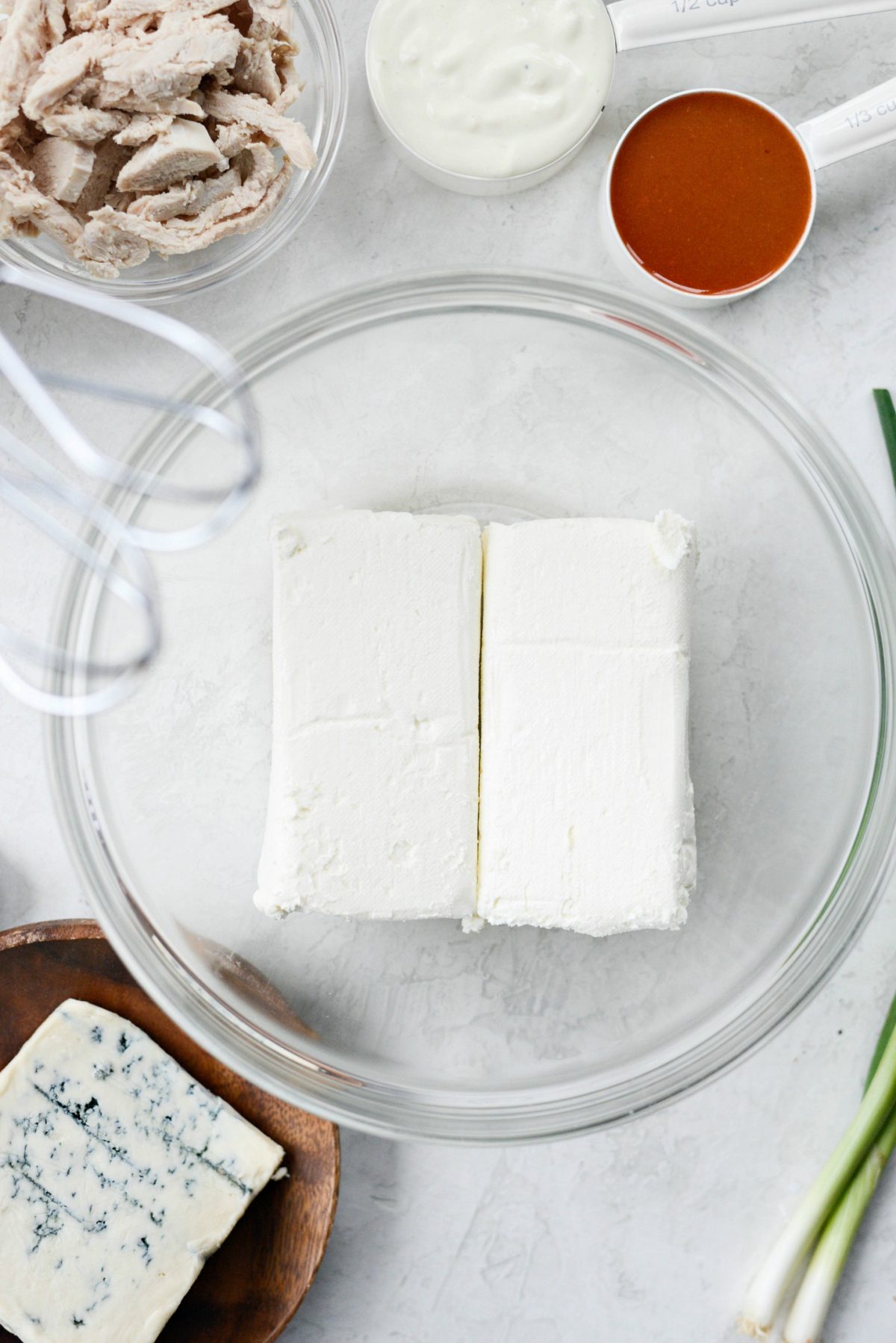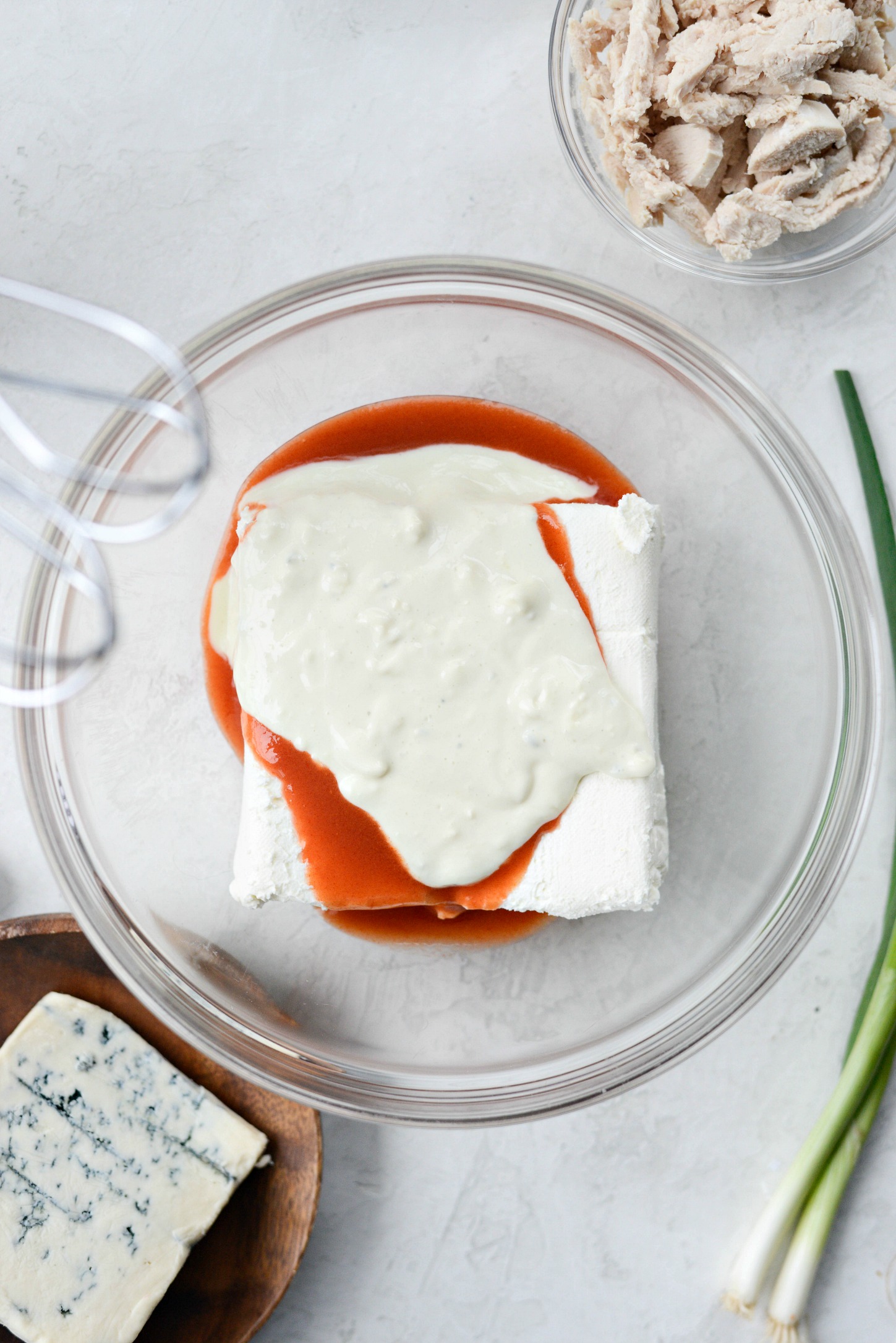 Start by adding the 2 bricks of cream cheese, along with the 1/2 cup of blue cheese dressing and 1/3 cup of Frank's Red Hot into a medium bowl.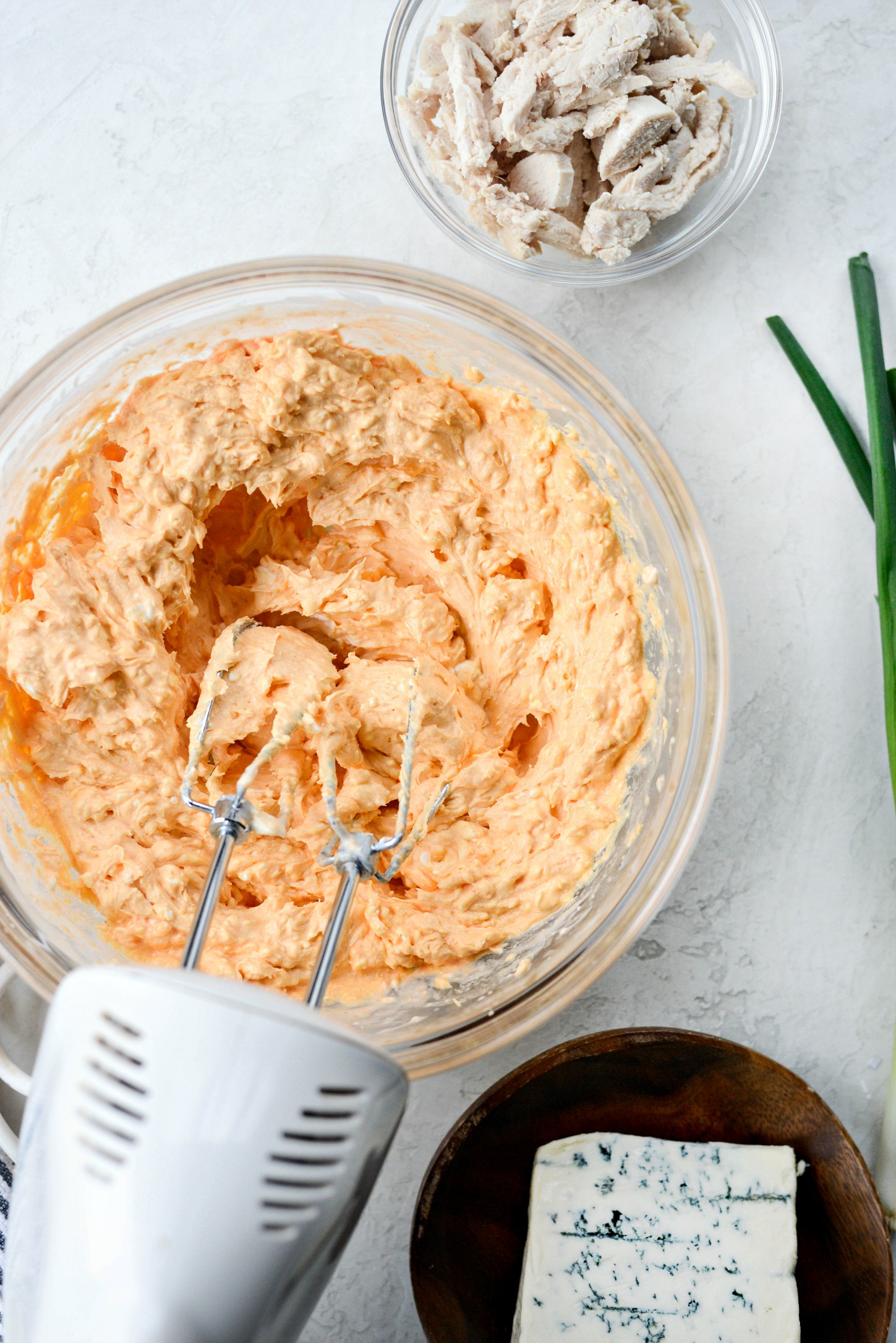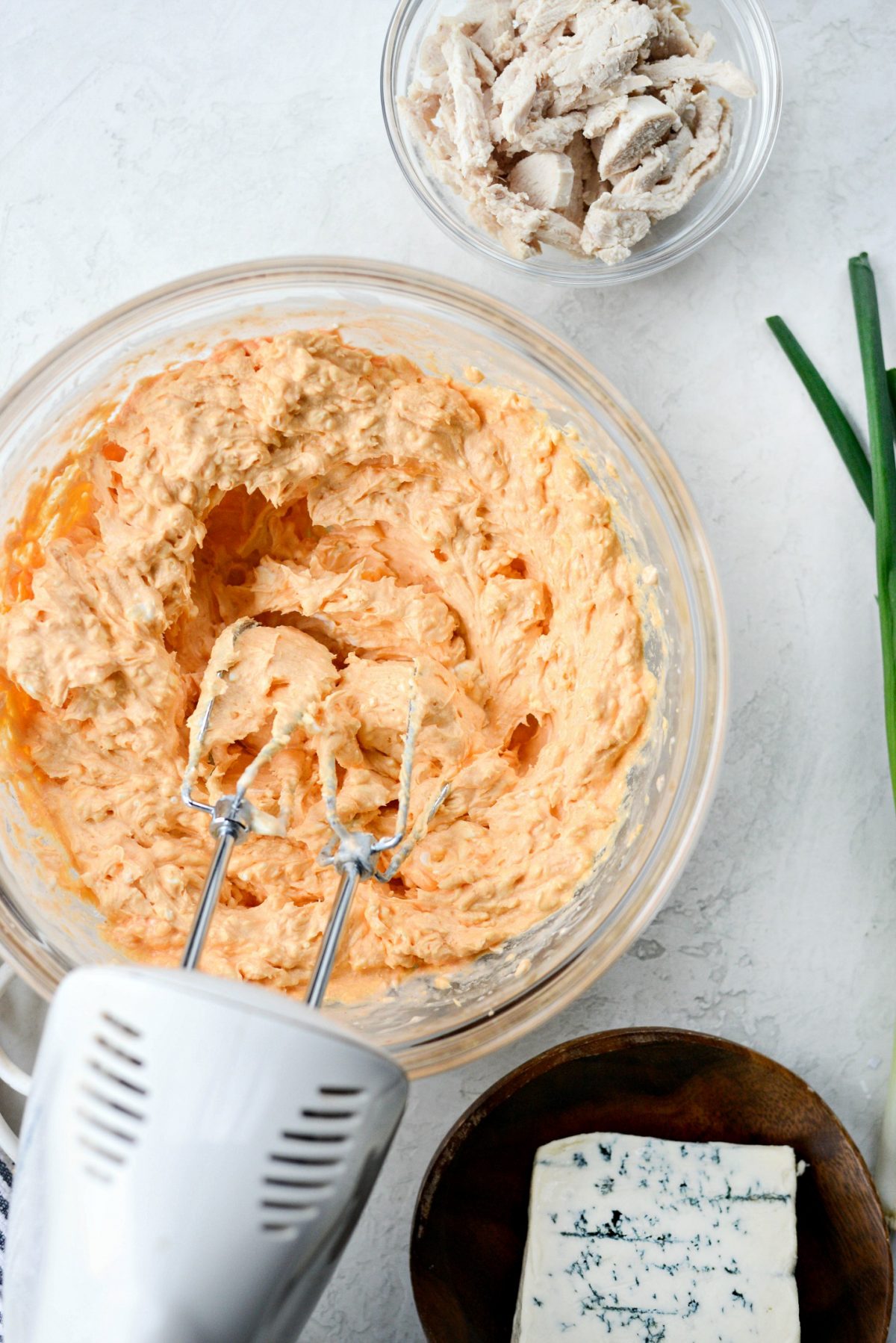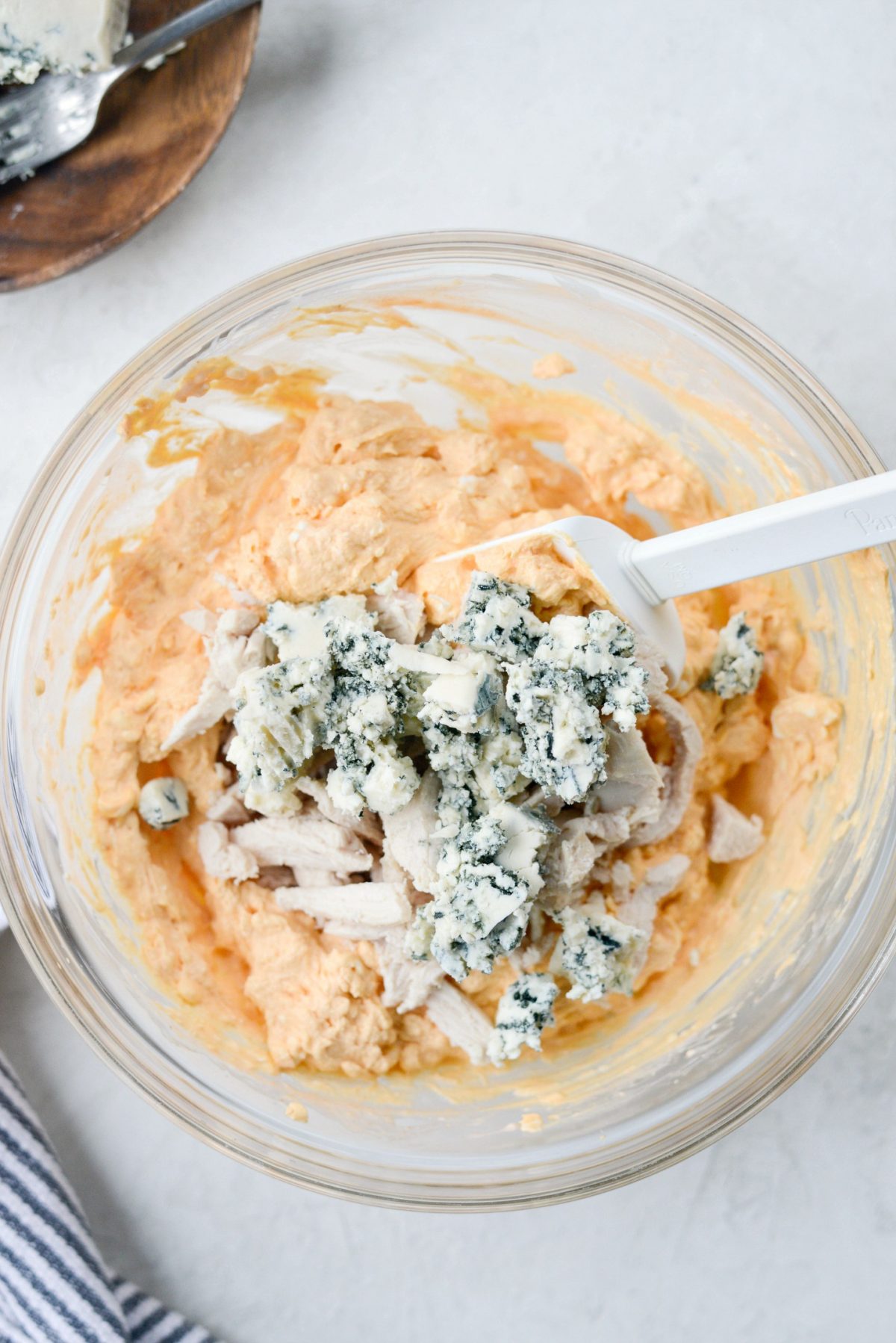 Mix well until combined before adding in the cooked chicken and 1/4 cup crumbled blue cheese. I'm using a blue cheese I love, but it's probably a little more potent than what you can find pre-crumbled. In my opinion, the stronger the blue cheese the better! But you should use a blue cheese you love.
Then spread the buffalo chicken dip into a 1.5 quart baking dish and spread evenly.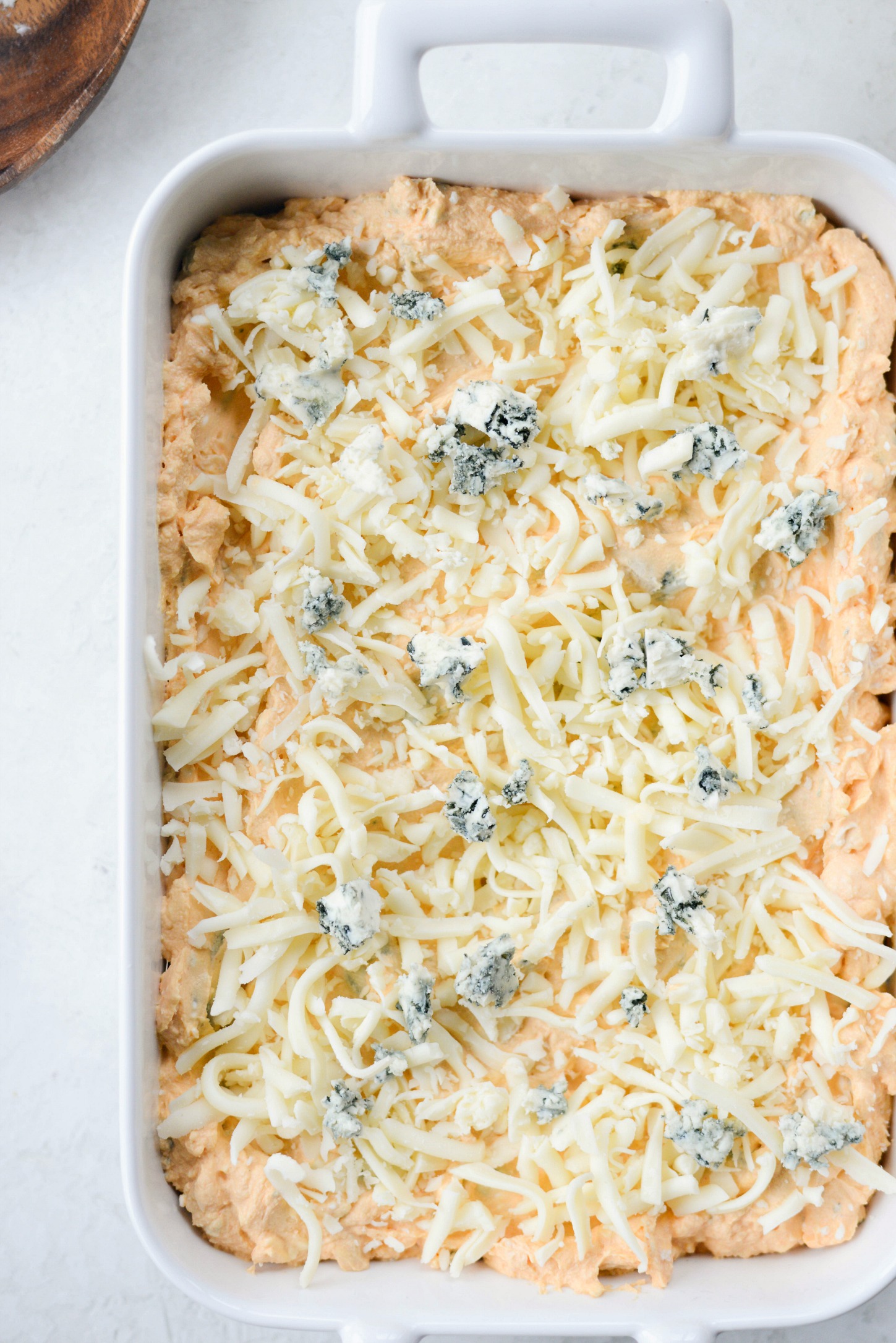 Next, top with grated Monterey Jack cheese and a few extra crumbles of blue cheese.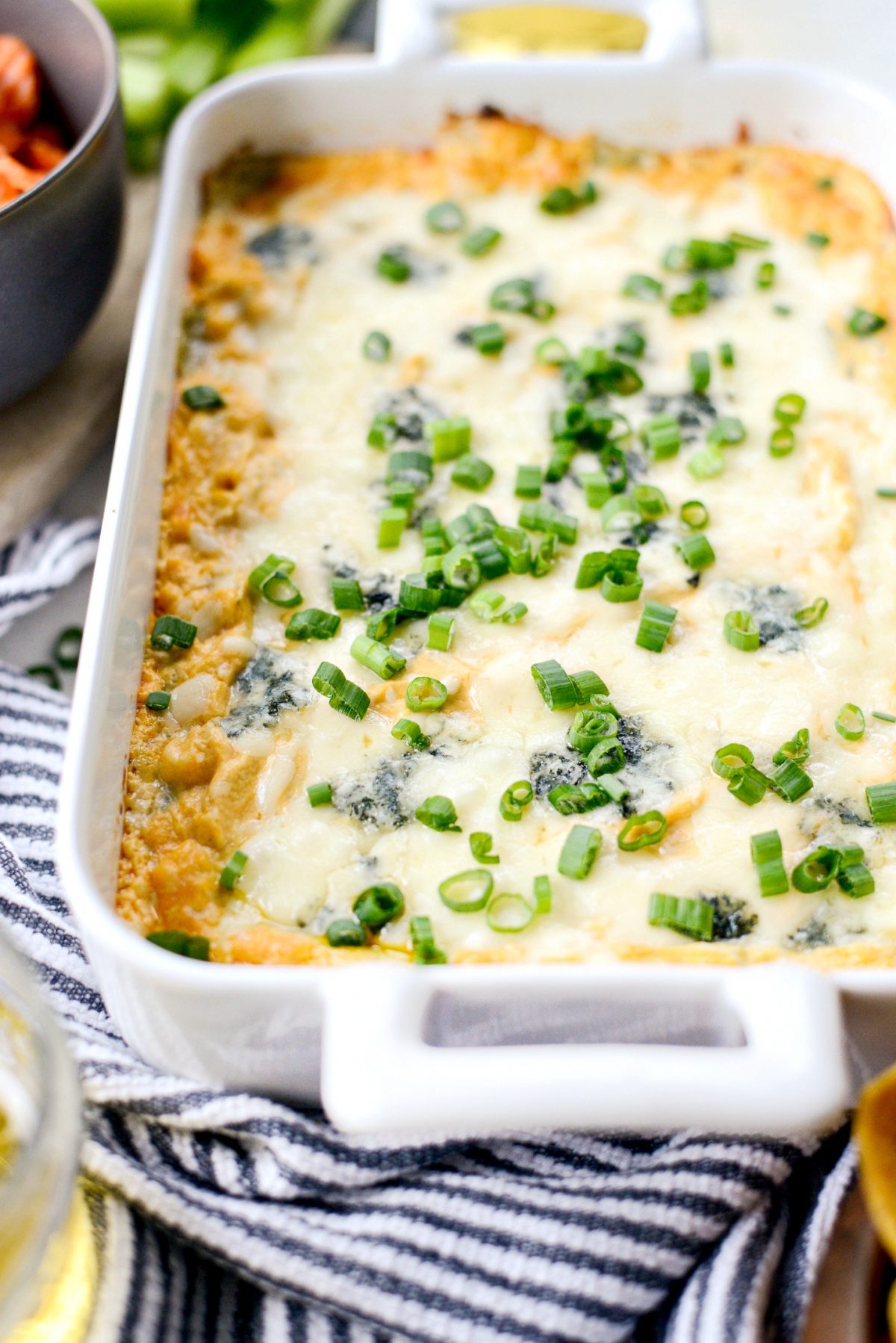 Lastly, bake on the middle rack of your preheated 350° oven for 20 to 25 minutes. Then, using pot holder, remove and allow the buffalo chicken dip to cool for a few minutes before serving.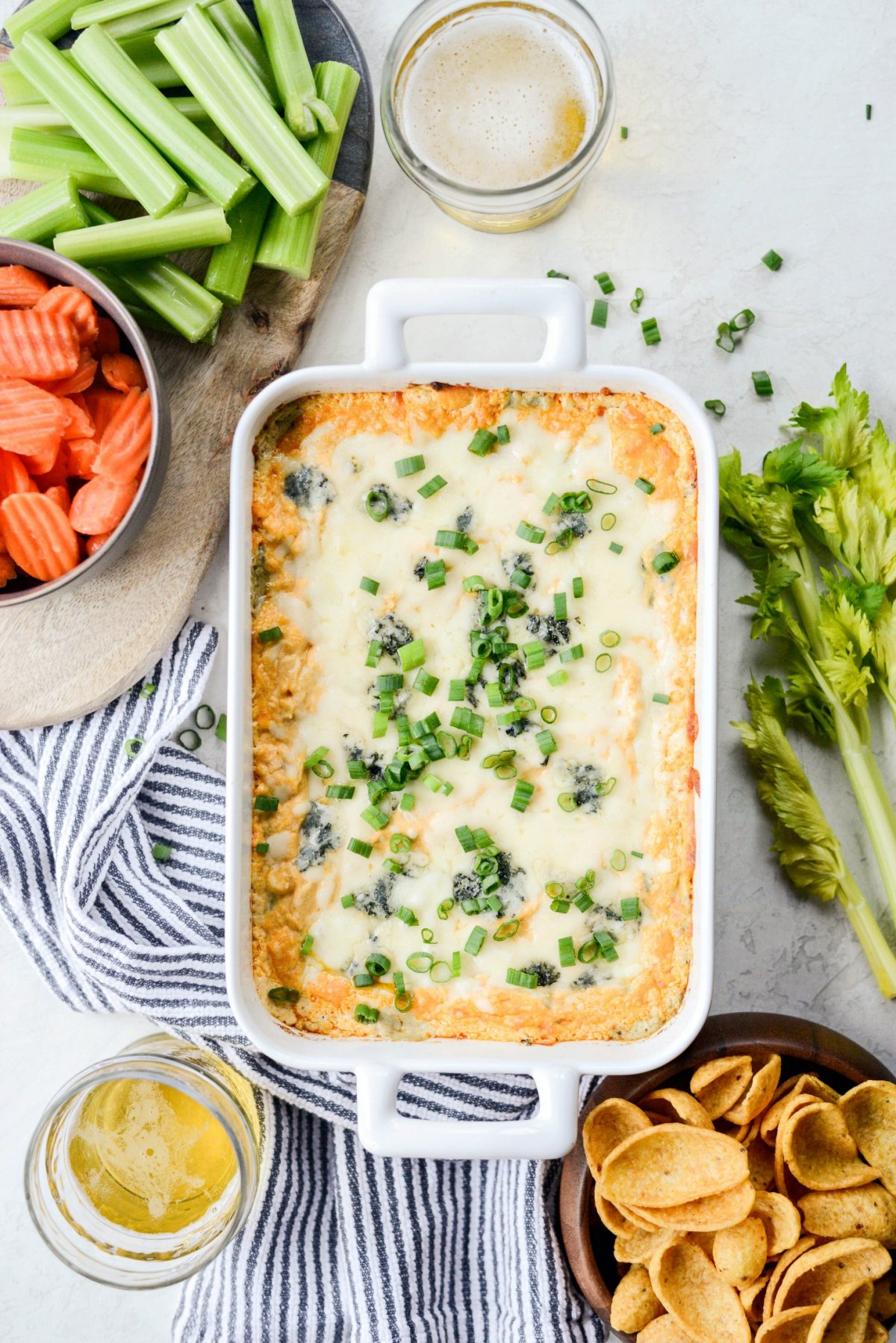 Now, if you're wondering what to serve with buffalo chicken dip, I like Frito Scoops, carrot slices and or celery sticks. [and beer(s)🍻]
Spicy and cheesy and addicting.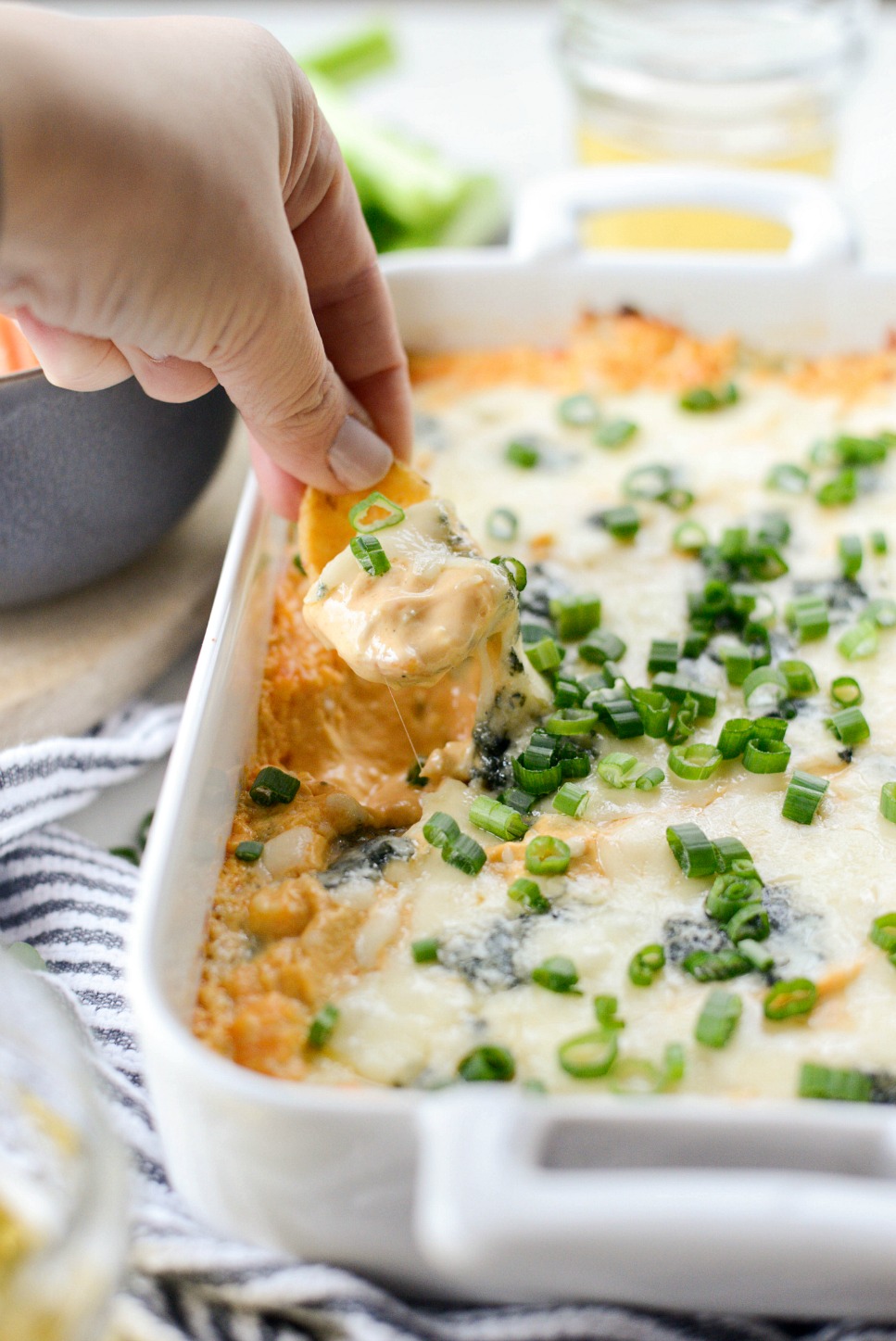 Have a safe and winning Super Bowl!
Dip on, friends!
For more cheesy baked dips, check out the following:
Caramelized Shallot and Blue Cheese Dip
Four Cheese Spinach Artichoke Dip
Enjoy! And if you give this Buffalo Chicken Dip recipe a try, let me know! Snap a photo and tag me on twitter or instagram!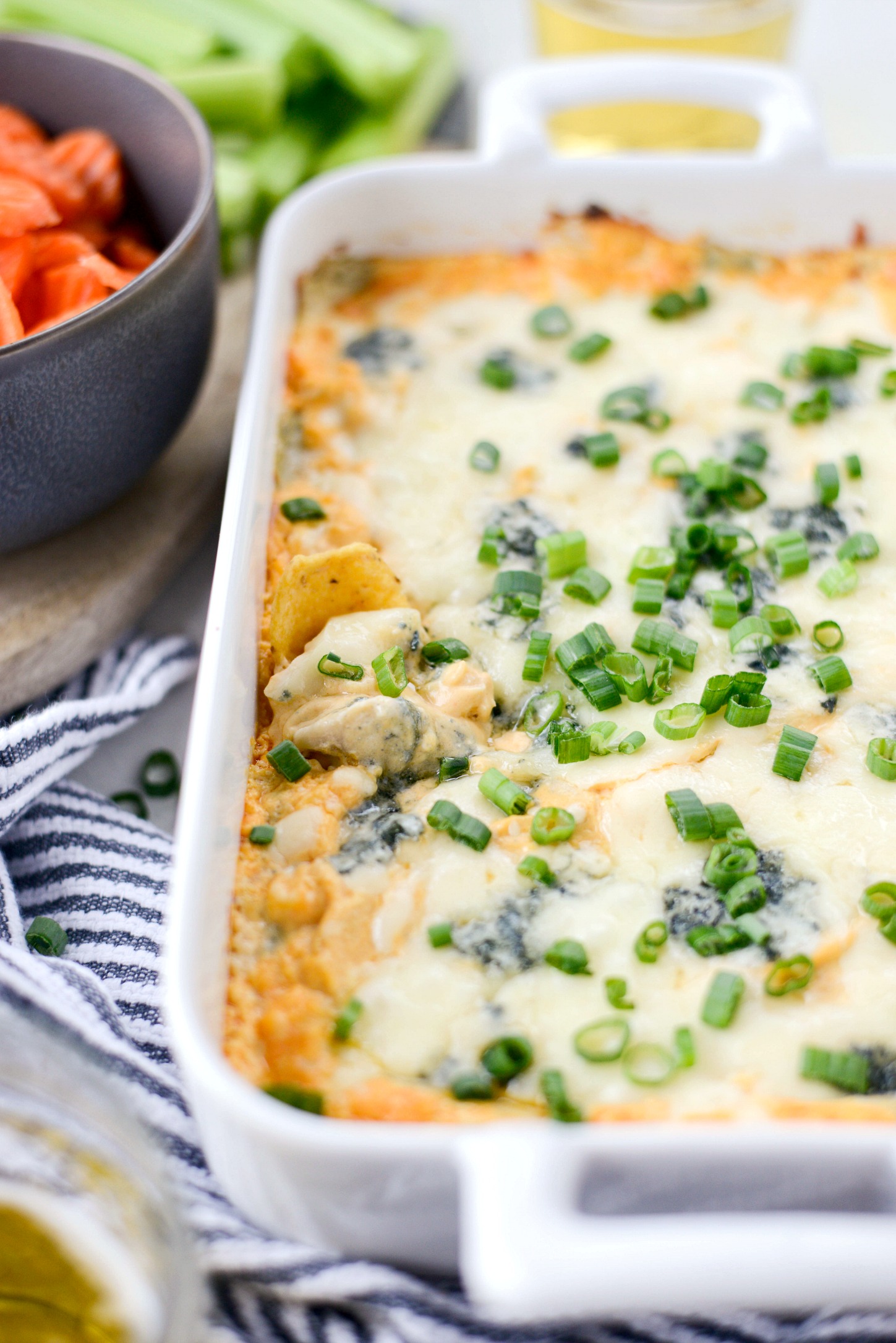 This post may contain affiliate links.
Buy the Cookbook: Simply Scratch : 120 Wholesome Homemade Recipes Made Easy Now available on Amazon »
THANK YOU in advance for your support!