Michigan Cherry Salad is a popular salad you'll find on menus in restaurants all around Michigan. And it's one of my favorites. A mix of spring greens, baby spinach topped with sliced apples, red onion, dried cherries, pecans or walnuts and gorgonzola or blue cheese.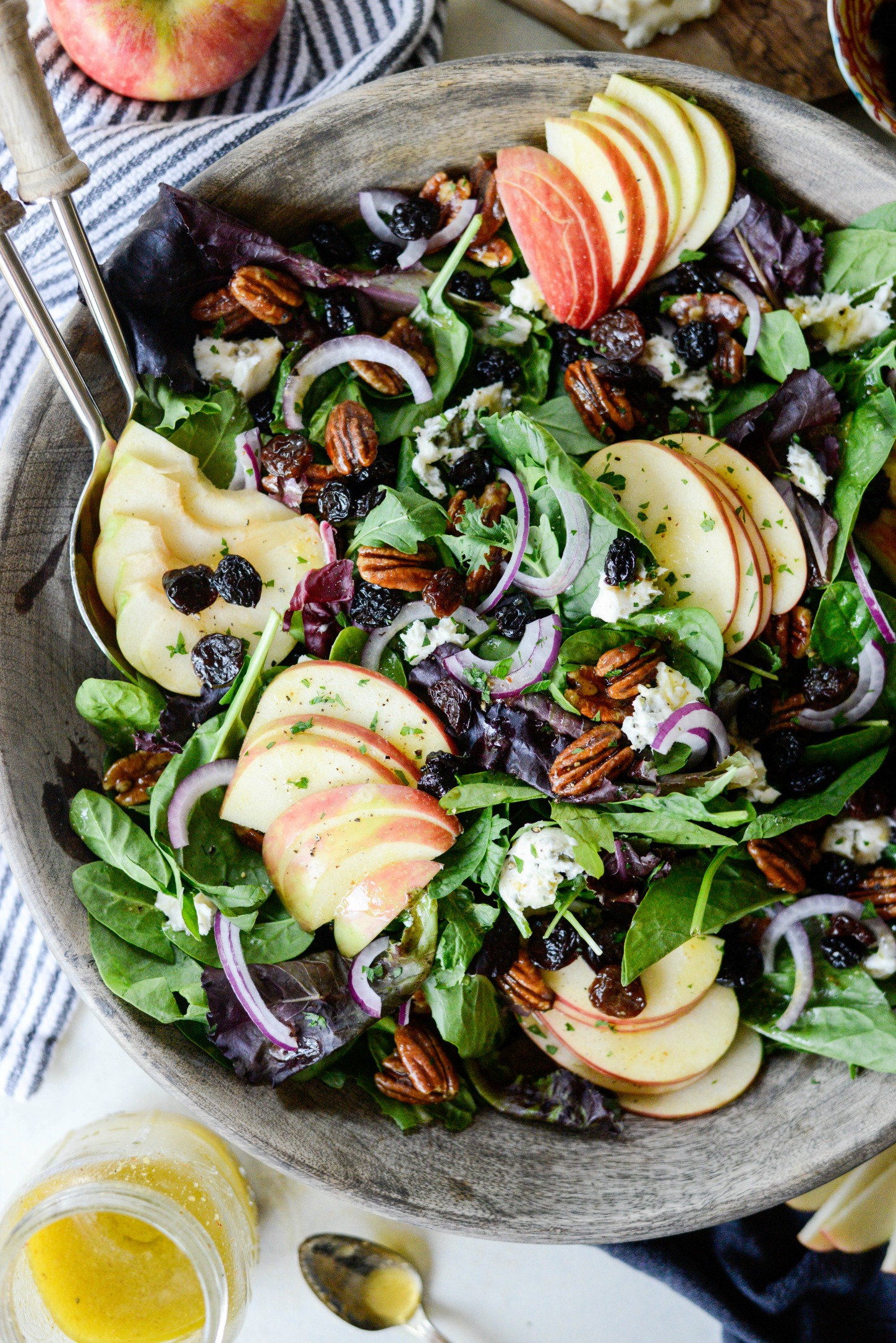 Gah! This salad. Filled with fall flavors and with lots of delicious goodies.
If you're ever in the mitten and see this on the menu, order it! Spring greens topped with Michigan apples and dried cherries, thinly sliced red onion and blue cheese? What's not to love about this salad? It even has candied pecans! Which is exactly why the is my favorite salad.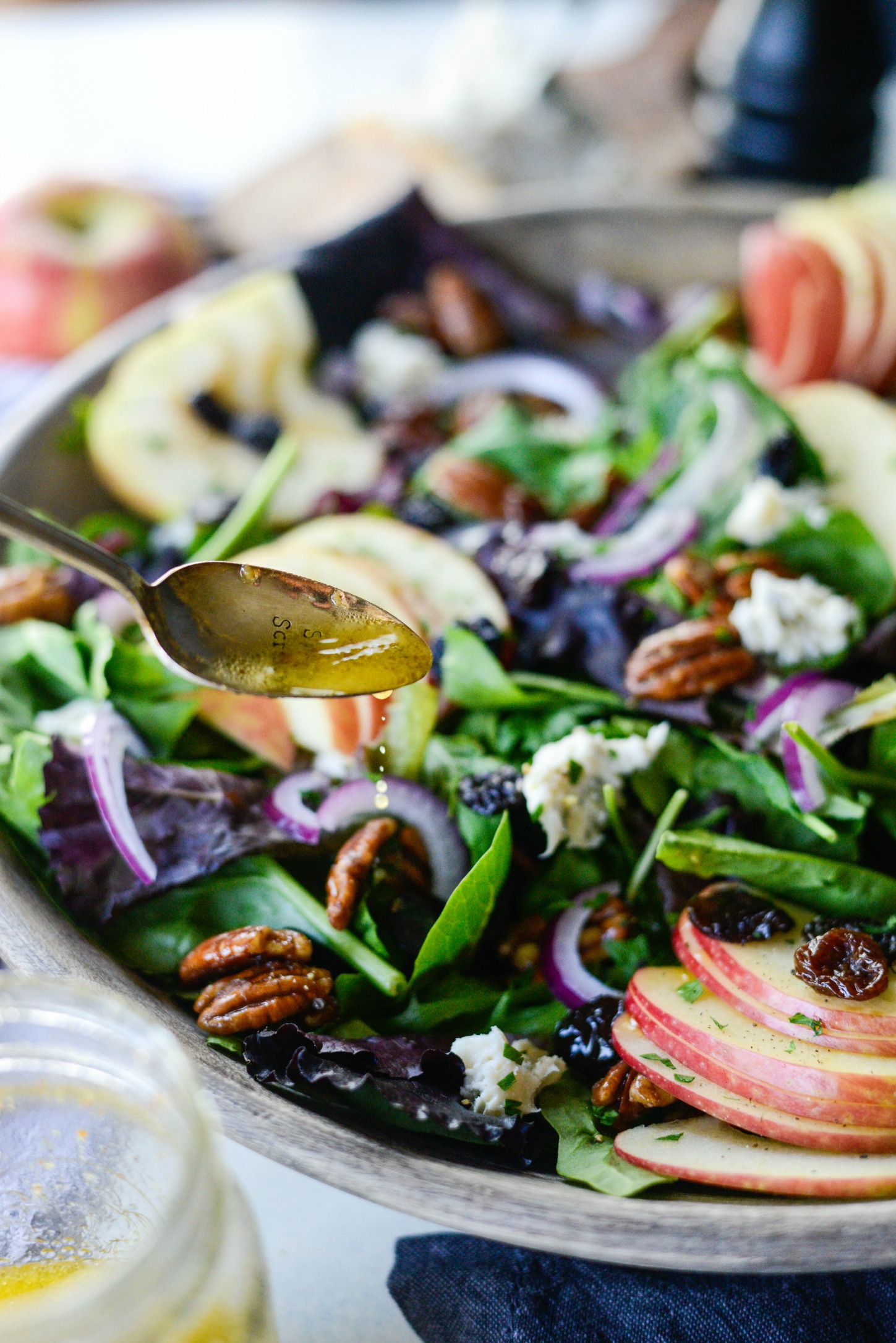 It's a collaboration of fruits, nuts, tender greens and red onions in a light vinaigrette. Sometimes it's a raspberry vinaigrette and sometimes it's not. I like making a super simple cider Dijon dressing. I also candied some pecans. Overachiever much? That is me.
This salad is not just a pretty face, it's delicious one.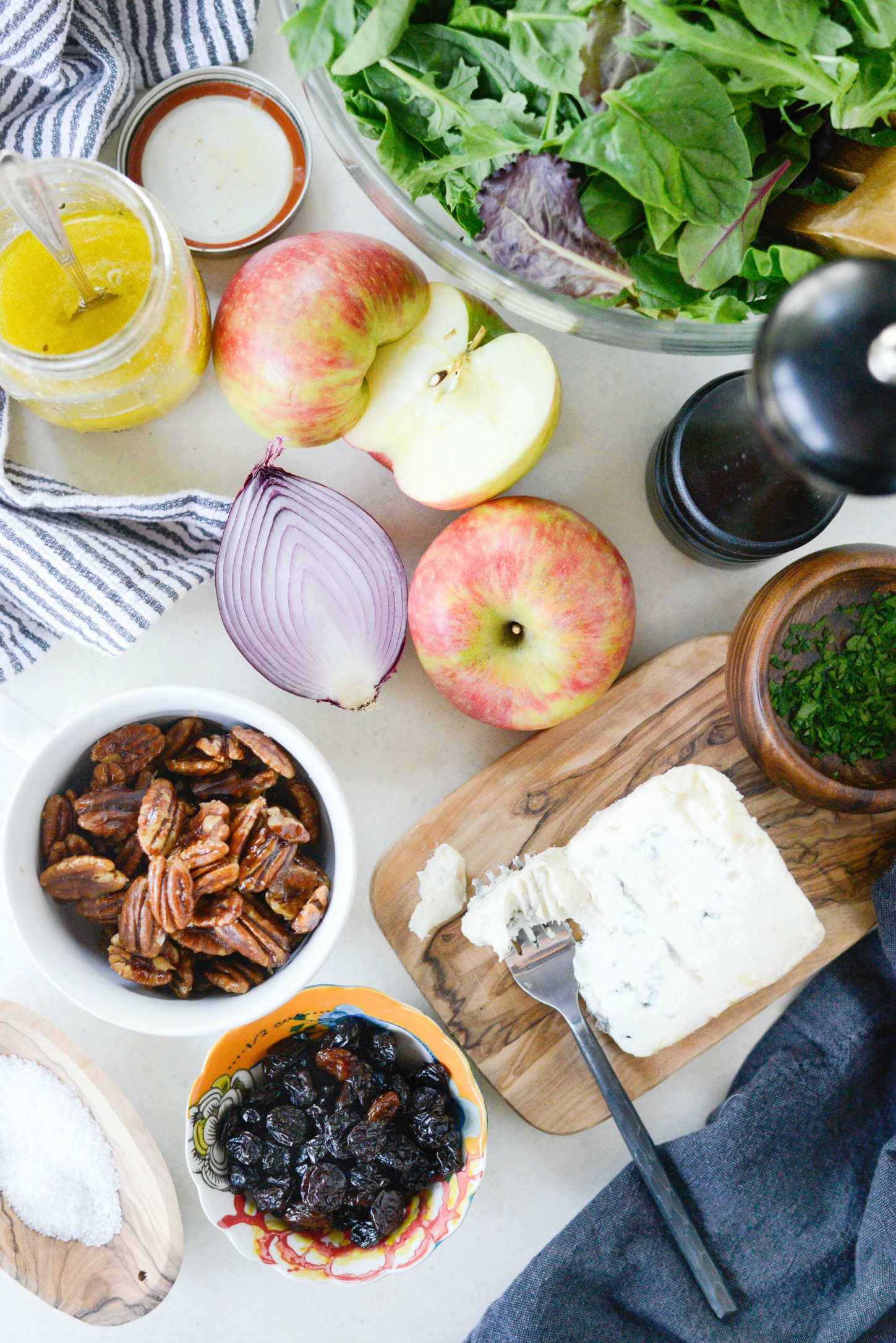 To Make This Michigan Cherry Salad You Will Need:
CIDER DIJON VINAIGRETTE:
dijon mustard
kosher salt
freshly ground black pepper
real maple syrup
cider vinegar
olive oil
MAPLE CANDIED NUTS:
pecan halves or walnuts
maple syrup
kosher salt
MICHIGAN CHERRY SALAD:
baby spinach
spring mix
honeycrisp apple
small red onion
crumbled gorgonzola
dried cherries
candied nuts
minced fresh parsley, for serving
freshly ground black pepper, for serving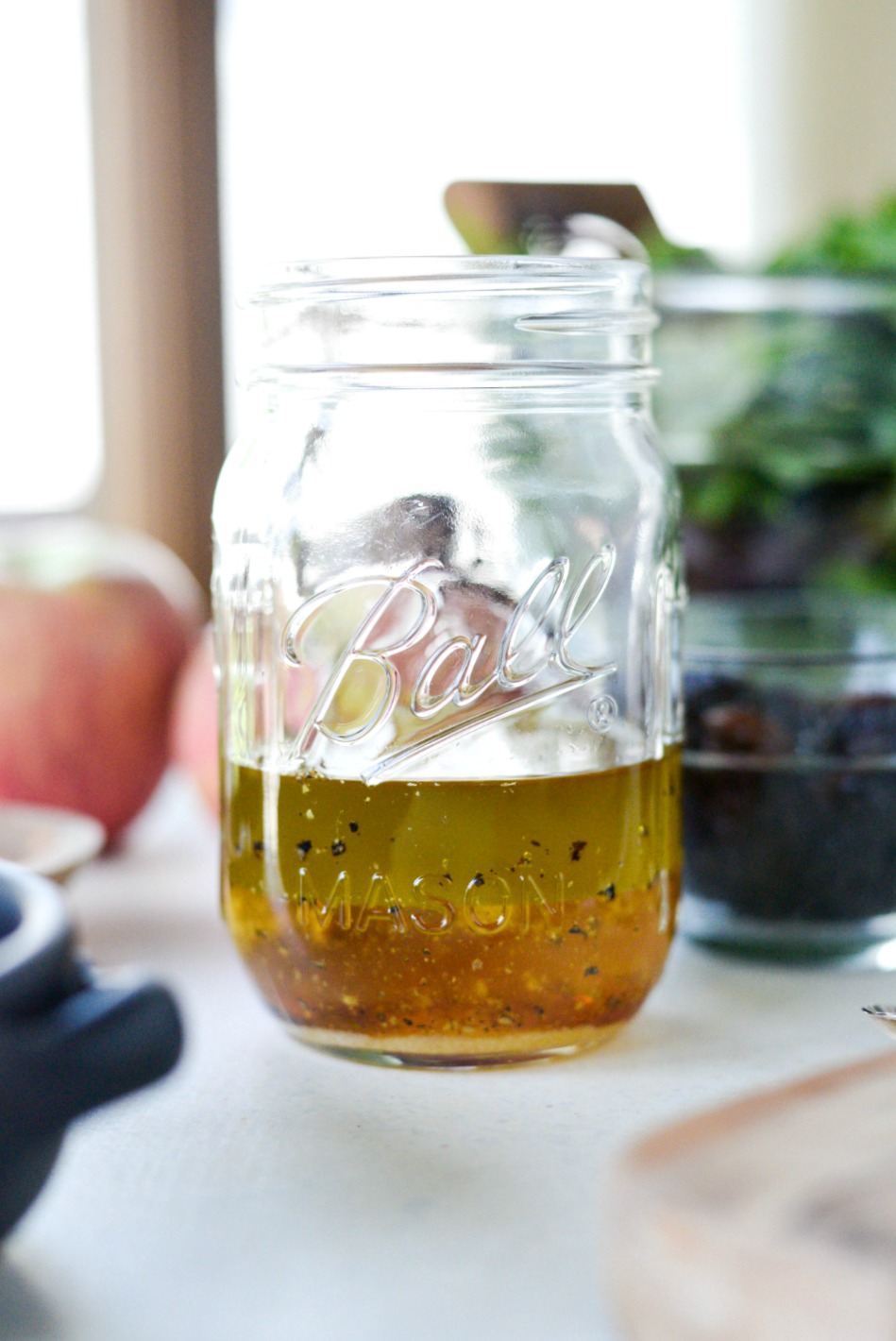 Now for the dressing! Add 1 heaping teaspoon Dijon mustard, 1/2 teaspoon kosher salt, 1/4 teaspoon freshly ground black pepper, 1-1/2 tablespoons maple syrup, 1/4 cup cider vinegar, 6 tablespoons olive oil and lastly, pour in 6 tablespoons of olive oil into a glass jar.
Shake well to combine.
Lately, I've been all about candying nuts. First it was candied almonds, then these honey candied pistachios and now maple candied pecans but hey, walnuts work here too. These are ridiculously easy and only take 3 simple ingredients.
Start by adding 1 cup of pecans [or walnuts] to a 10-inch skillet. Then pour in 5 tablespoons of real maple syrup and a pinch of sea or kosher salt.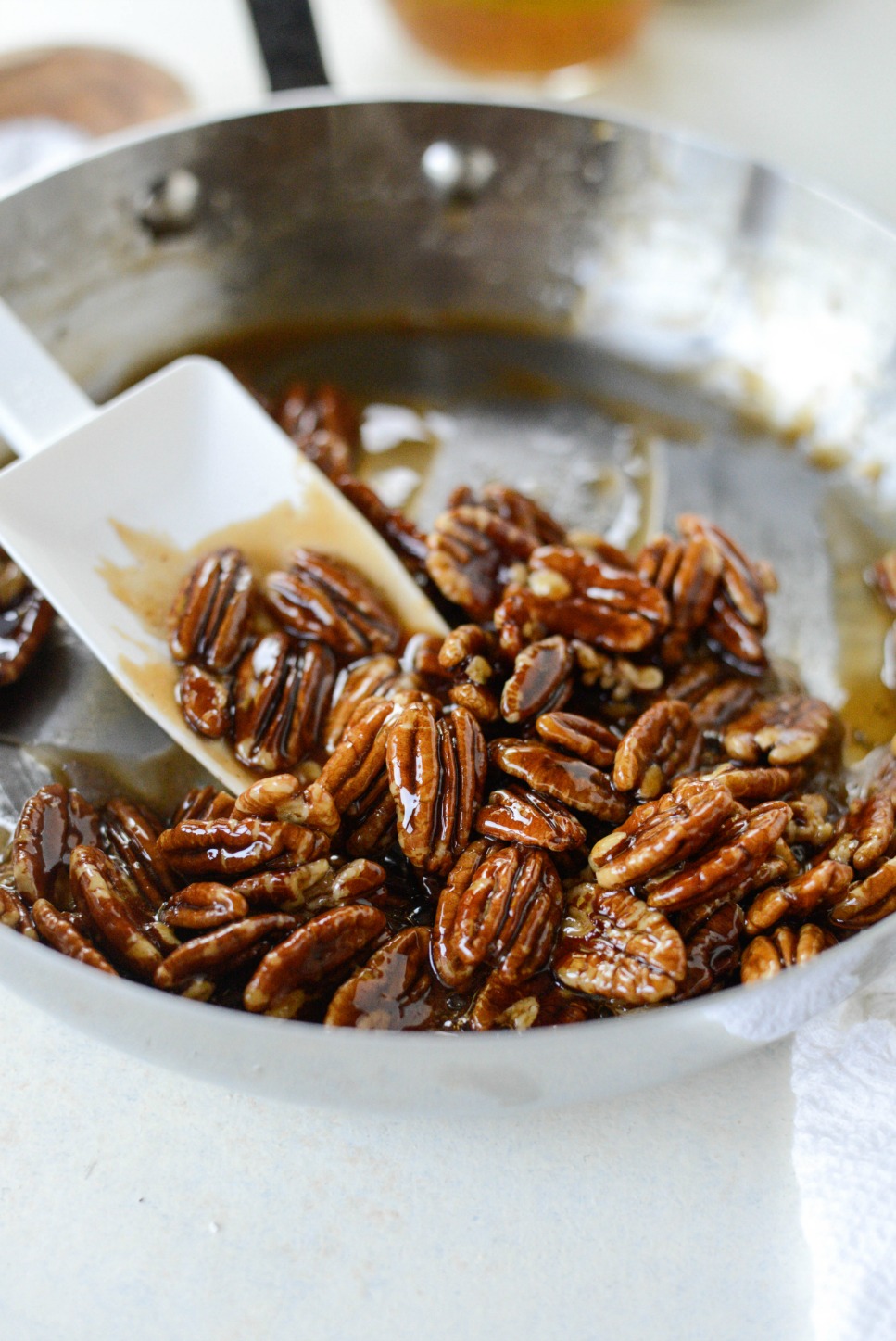 Next heat on medium-high and stir often.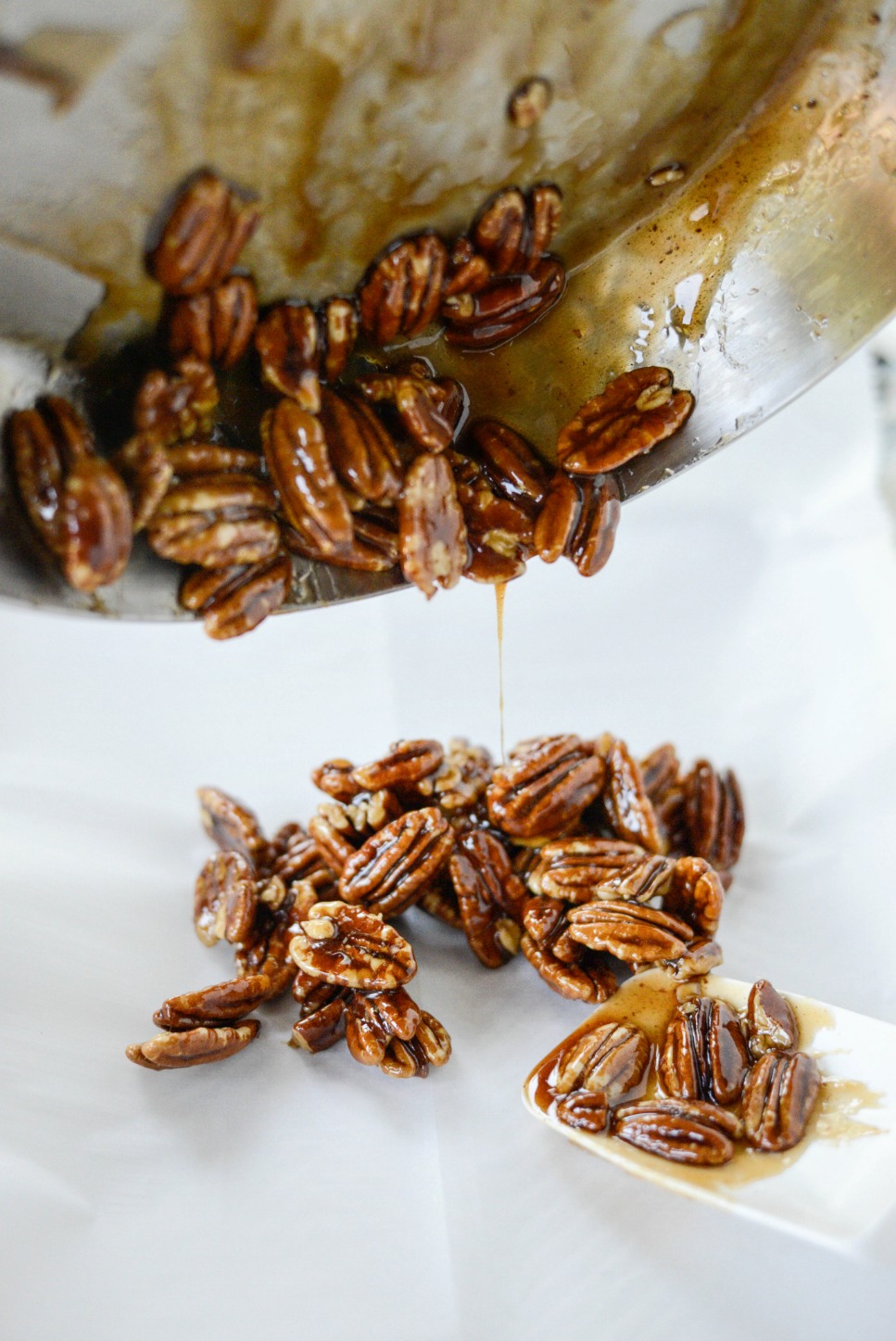 Once the maple syrup caramelizes and thickens and the nuts are toasted, then remove from the heat and carefully transfer the hot nuts to a parchment paper lined sheet pan. They'll harden as they cool.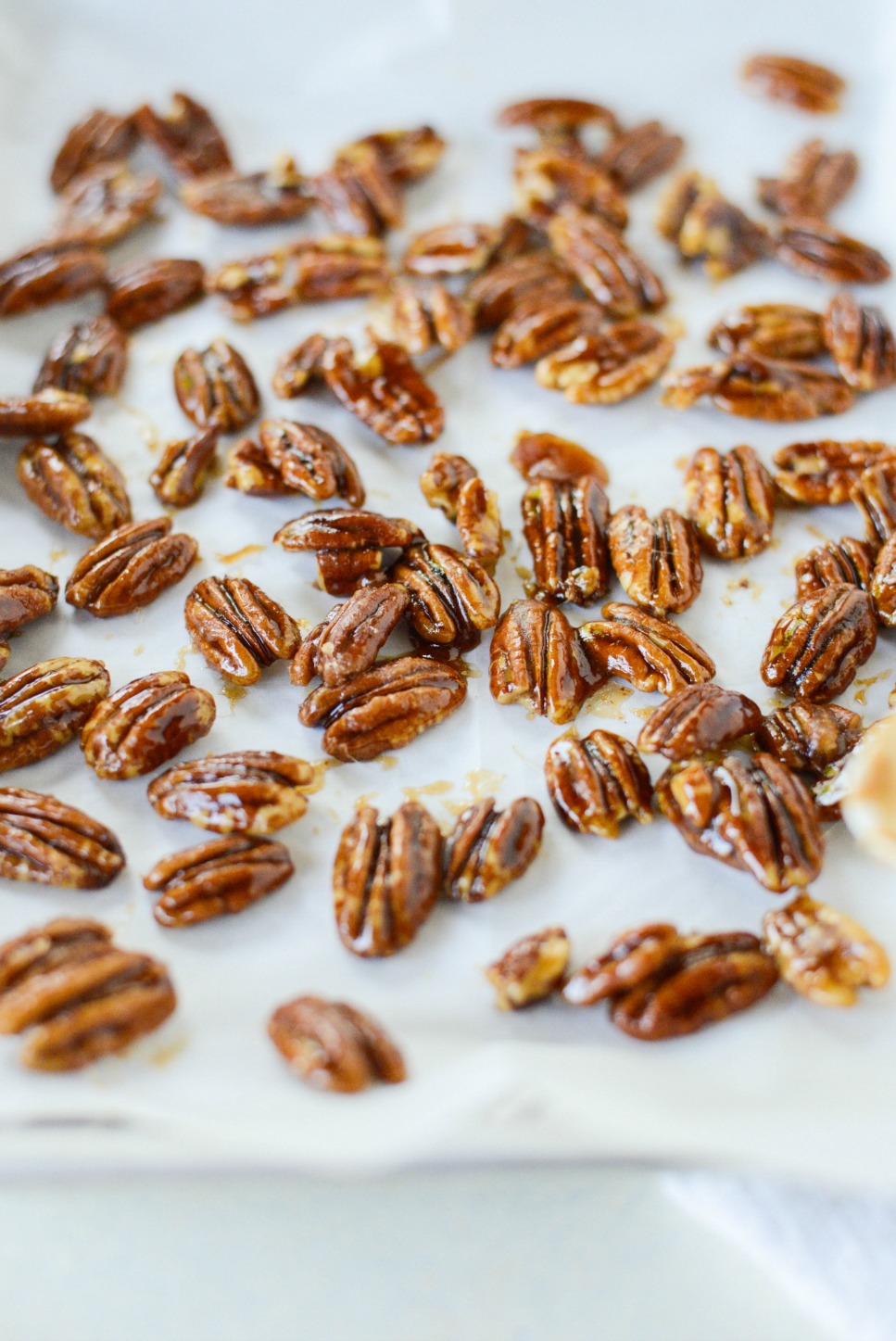 I have noticed that pecans tend to be a little softer than the walnuts afterwards. But maybe that's just me.
Next toss 5 ounces of both spinach and spring greens and top it with 1 to 2 sliced honeycrisp apples, 1/2 of a red onion – thinly sliced, 1/2 cup dried Michigan cherries, the maple candied pecans (or walnuts), 2 to 3 ounces crumbled gorgonzola. Lastly season with fresh black pepper and sprinkle with minced fresh parsley.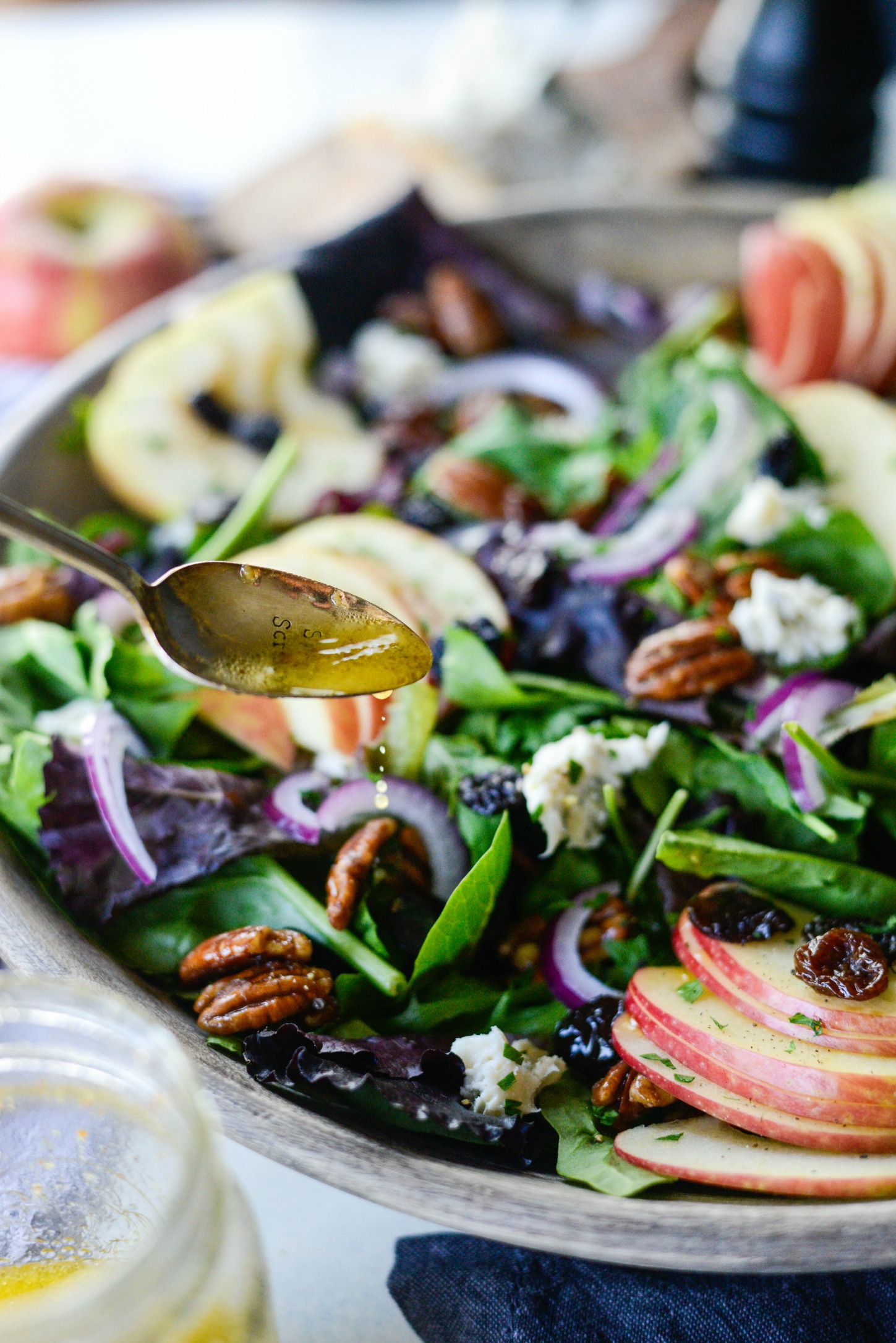 Then drizzle spoonfuls of the cider dijon dressing over the Michigan cherry salad. Prepare to fall in love.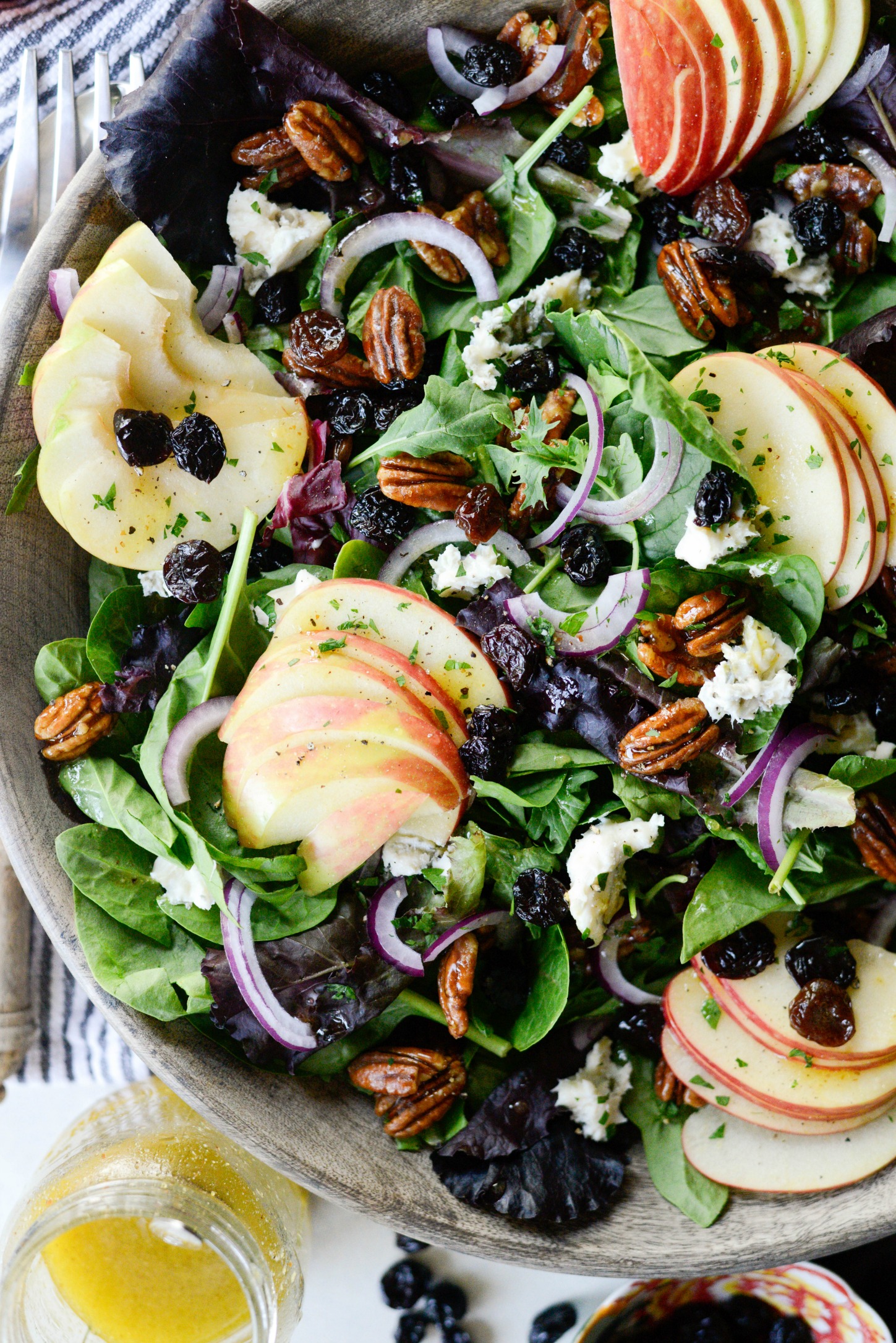 This is what salad perfection looks like.
To make this an entree, pile the salad onto plates and top with sliced grilled chicken breasts.
It's a gorgeous salad and all of these ingredients work so harmoniously together. Crispy, salty and tangy, sweet and nutty… it's fall's best salad.
Enjoy! And if you give this Michigan Cherry Salad recipe a try, let me know! Snap a photo and tag me on twitter or instagram!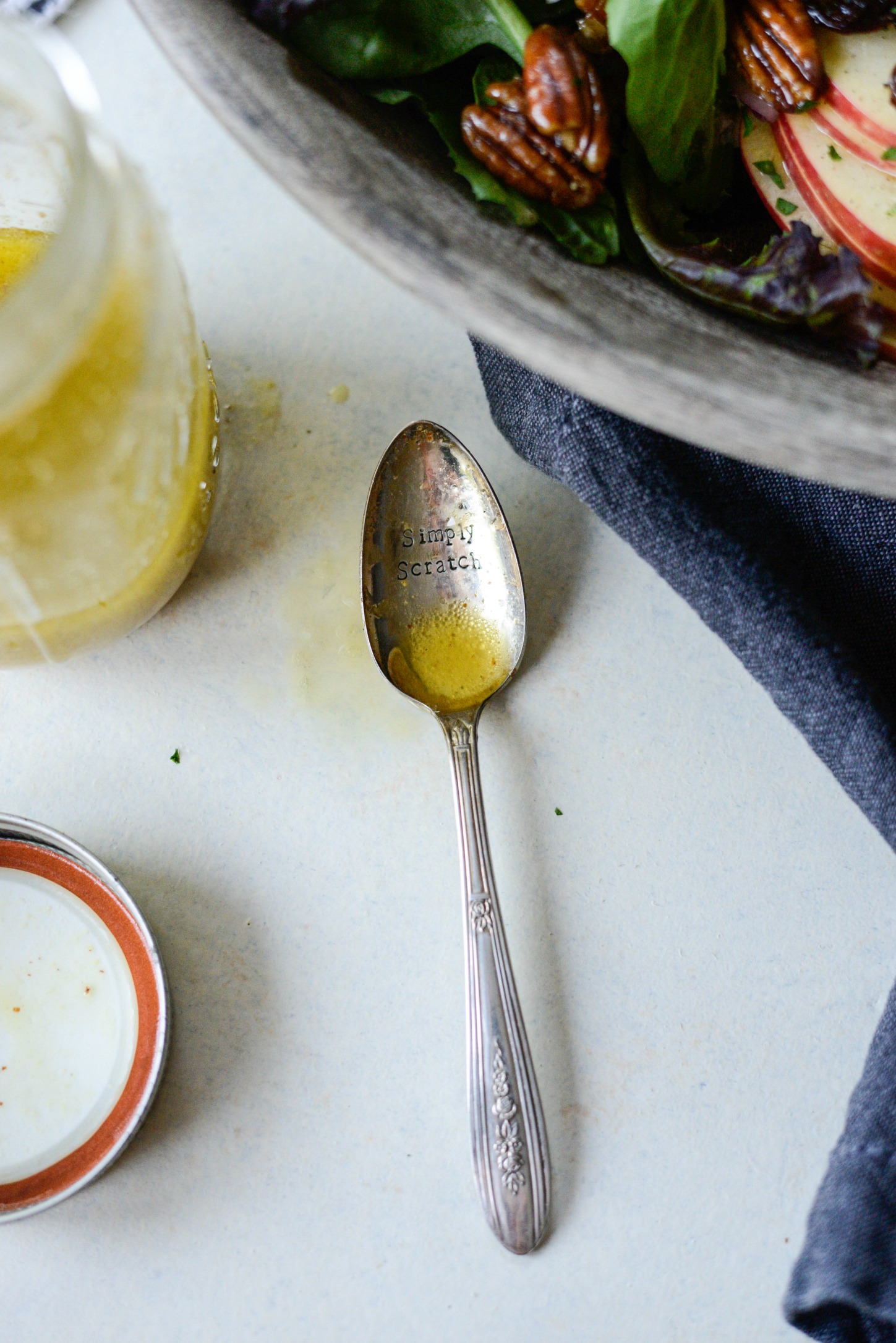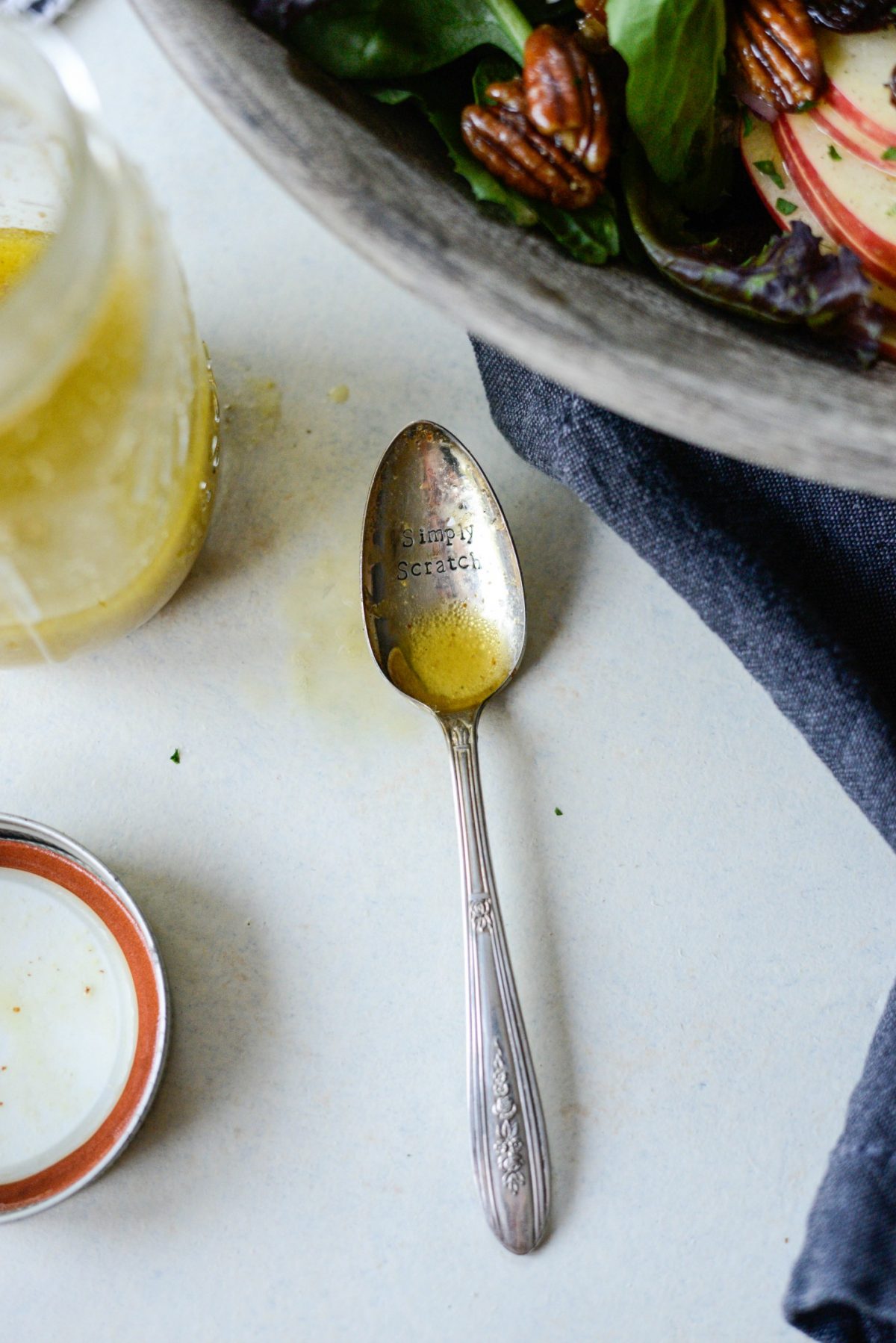 This post may contain affiliate links.
Buy the Cookbook: Simply Scratch : 120 Wholesome Homemade Recipes Made Easy Now available on Amazon »
THANK YOU in advance for your support!