Grilled Sticky Sweet Chicken Skewers are just that- sticky and deliciously sweet! Cubed chicken breast, tossed in a ginger-garlic sauce and then threaded onto skewers and grilled. The sauce caramelizes while on the grill, so you get the char plus the sweet glaze — which is an amazing flavor-punch to your tastebuds.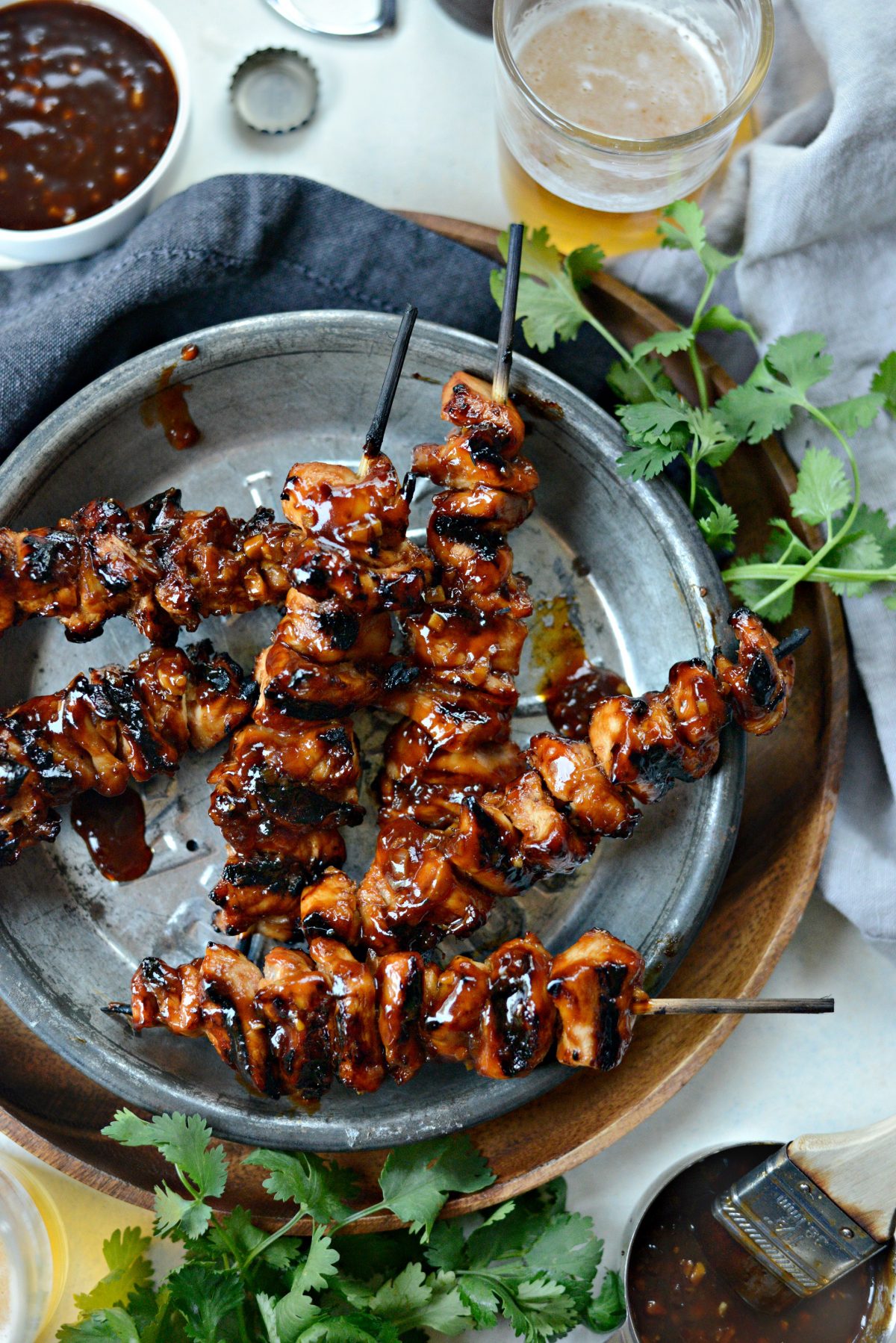 So these were delicious. Bet you didn't expect me to say that, did ya? I positively love when meat or seafood is grilled and then slathered in a sauce so that when it touches the grill, it caramelizes into a sticky delicious mess. I'm talking about having to lick your fingers clean kind of sticky.
I made these grilled sticky sweet chicken skewers for dinner on Tuesday afternoon because I knew we would be home late and I am adamant about not stopping anywhere for carryout.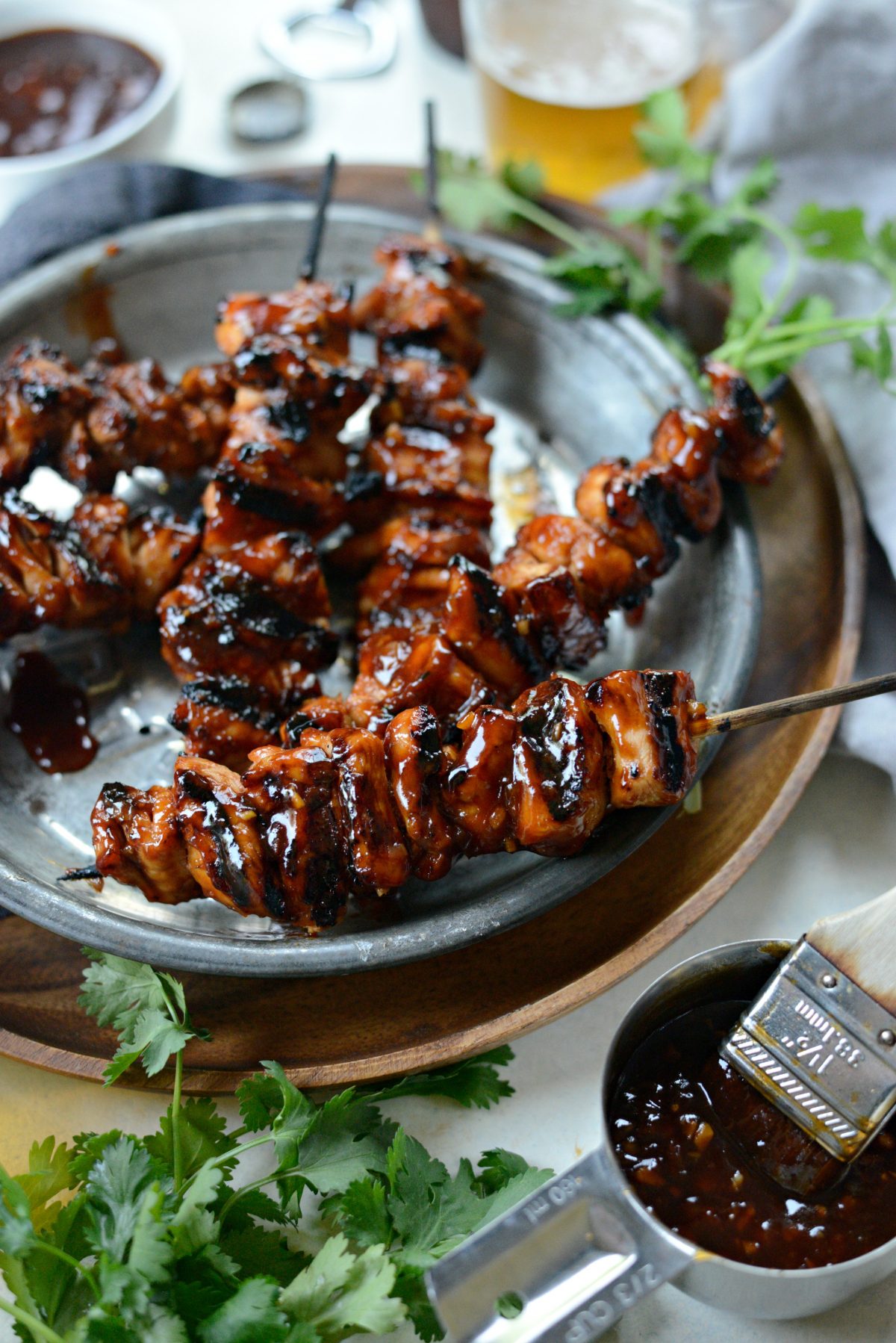 Since these reheat beautifully, it was a no brainer. I served them with coconut rice, roasted broccoli and extra sauce on the side.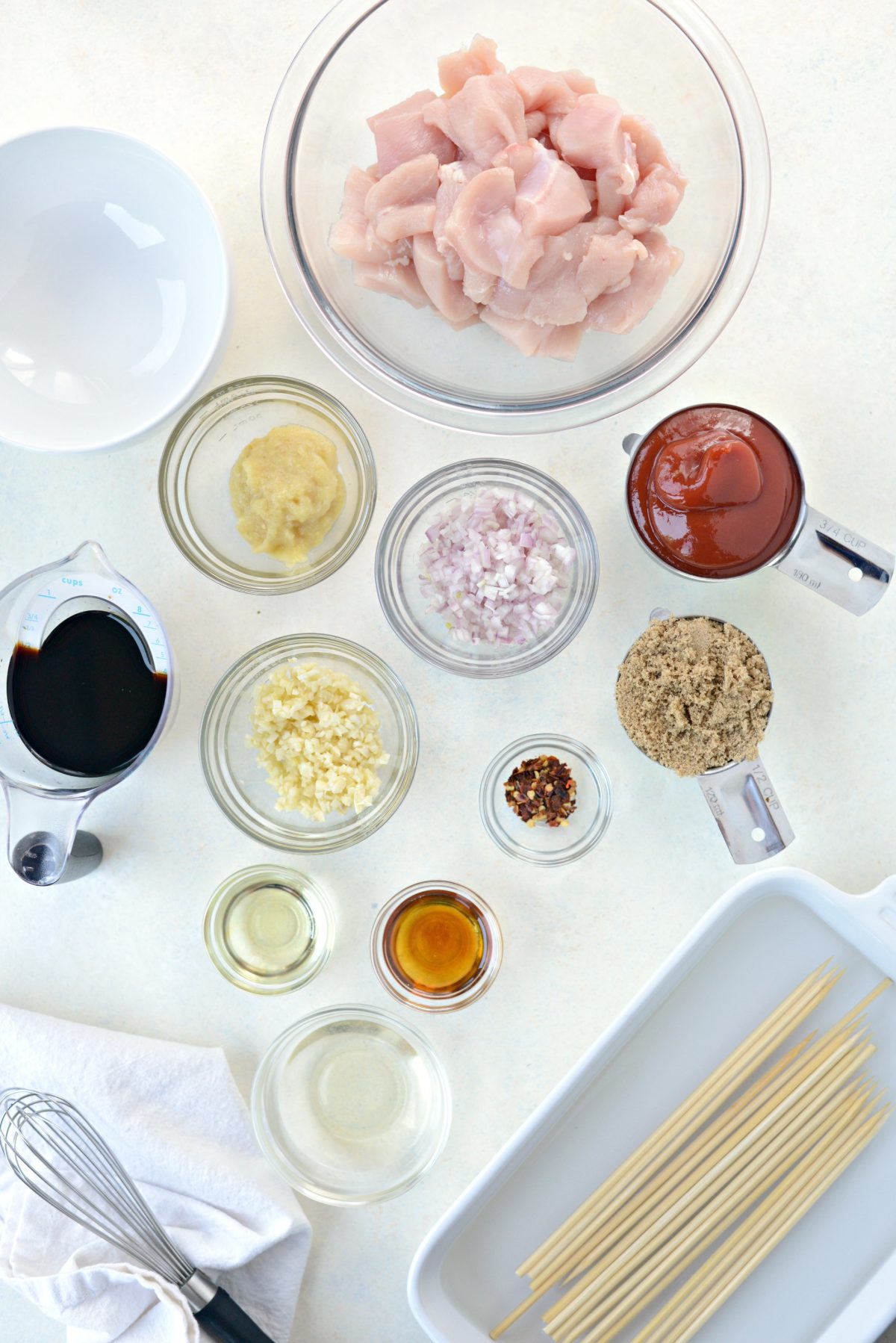 The sticky sweet sauce is simple; it's ketchup based and then there's garlic, shallot, ginger, brown sugar, tamari, rice vinegar, toasted sesame oil and red pepper flakes.
If using wooden skewers then soak them for 20 minutes to an hour so they don't burn up too quickly.
In a medium bowl, whisk together 3/4 cup ketchup (store-bought or homemade), 1/2 cup brown sugar, 1/2 cup of low-sodium tamari, 2 tablespoons rice vinegar, 1 tablespoon toasted sesame oil and 3/4 teaspoon red pepper flakes (more or less to taste) until all the ingredients are thoroughly combined and the sauce is thick.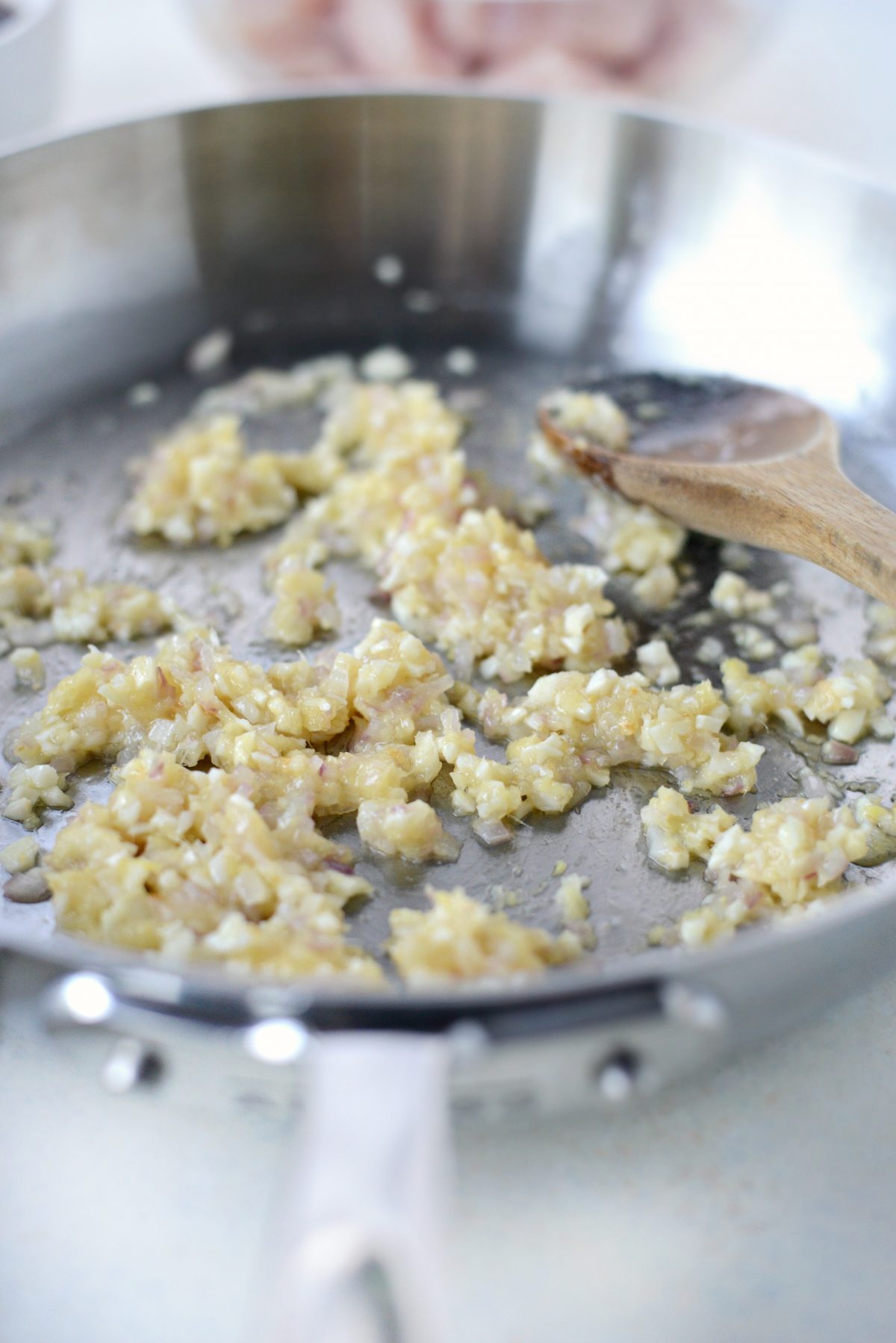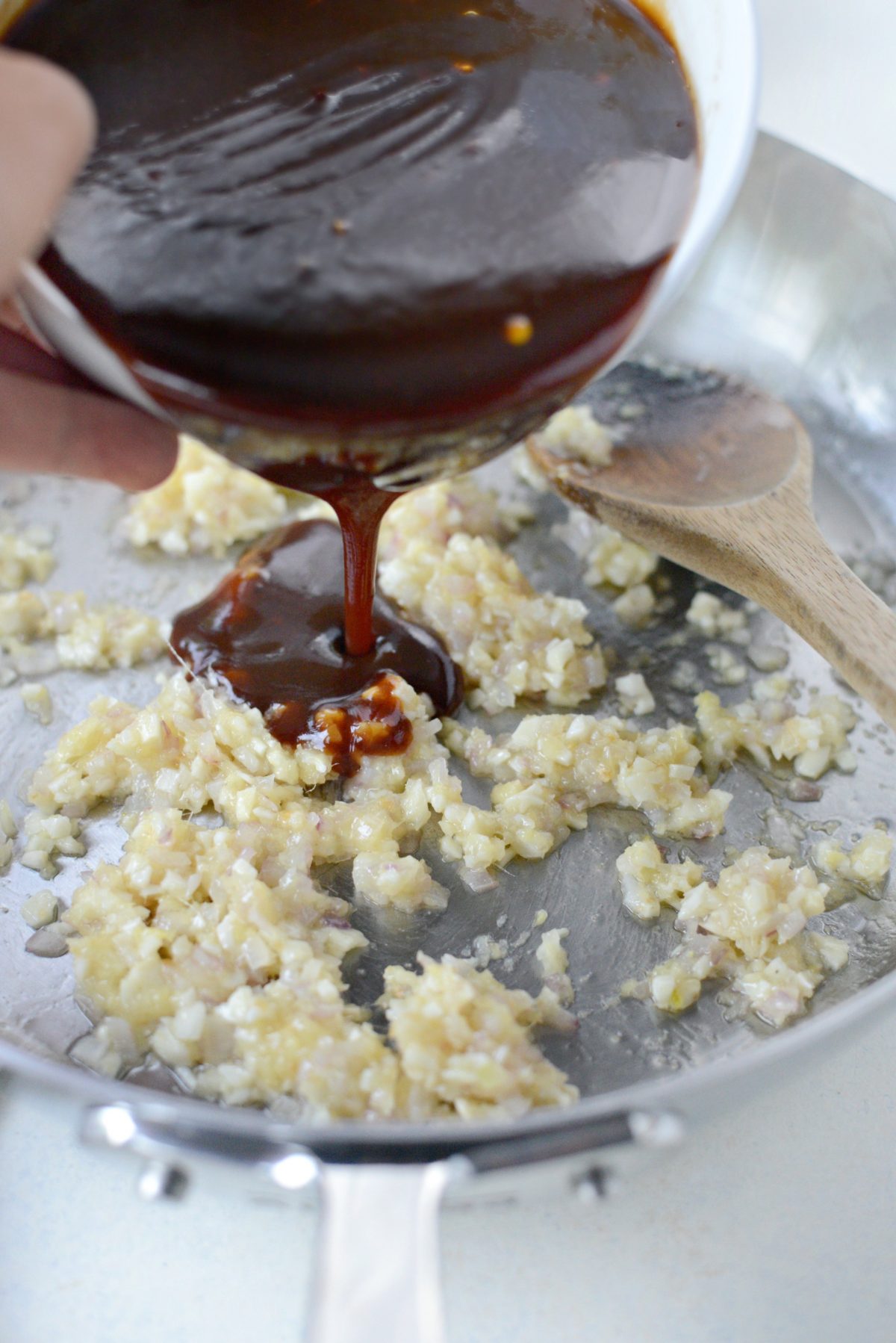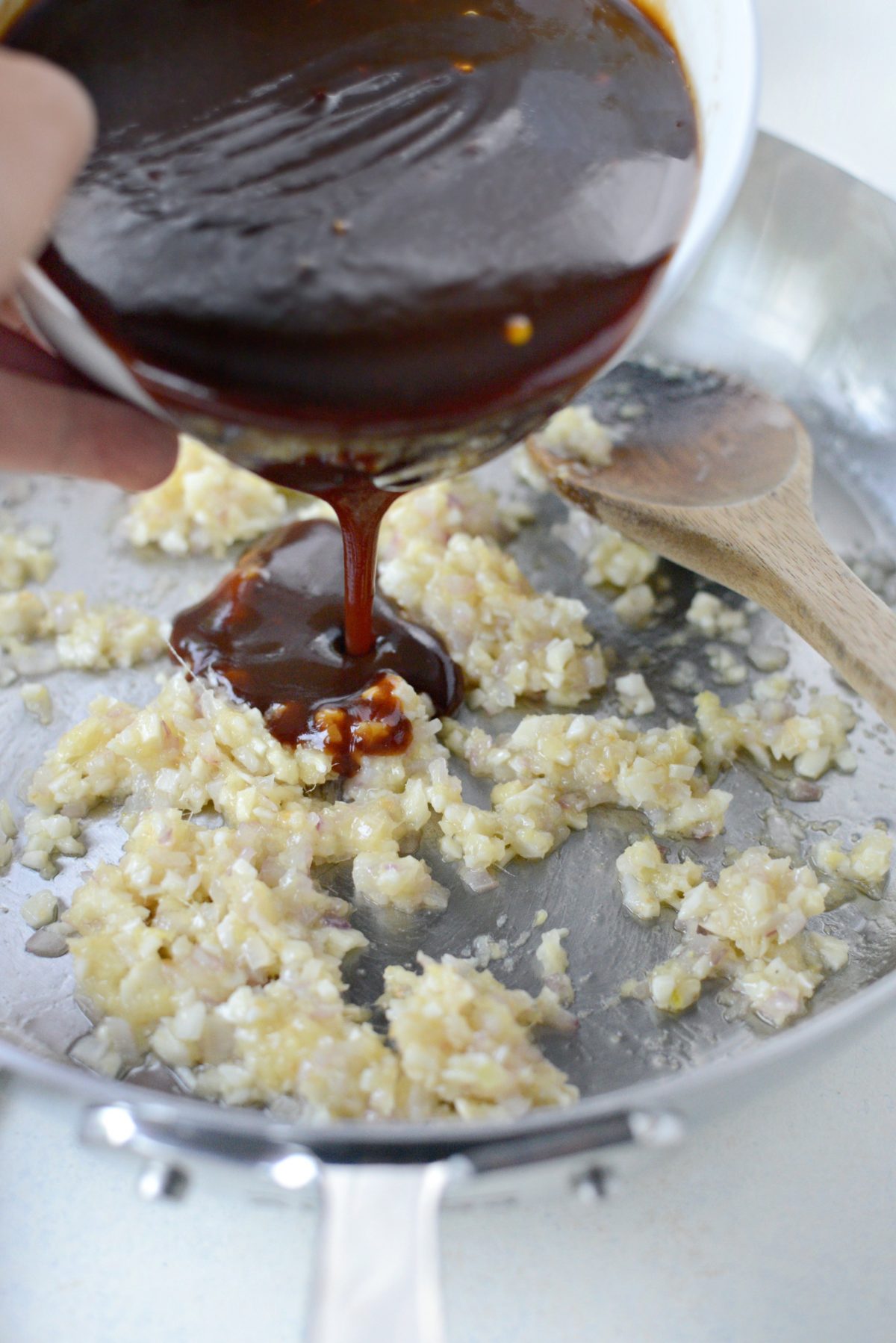 Add 1-1/2 tablespoons of olive oil to a skillet and sauté 1/3 cup finely chopped shallot until tender. Then add in 2 tablespoons grated fresh ginger and 4 large cloves of garlic that have been minced. Cook for an additional 2 minutes before pouring in the sauce. Simmer on low for 8 to 10 minutes.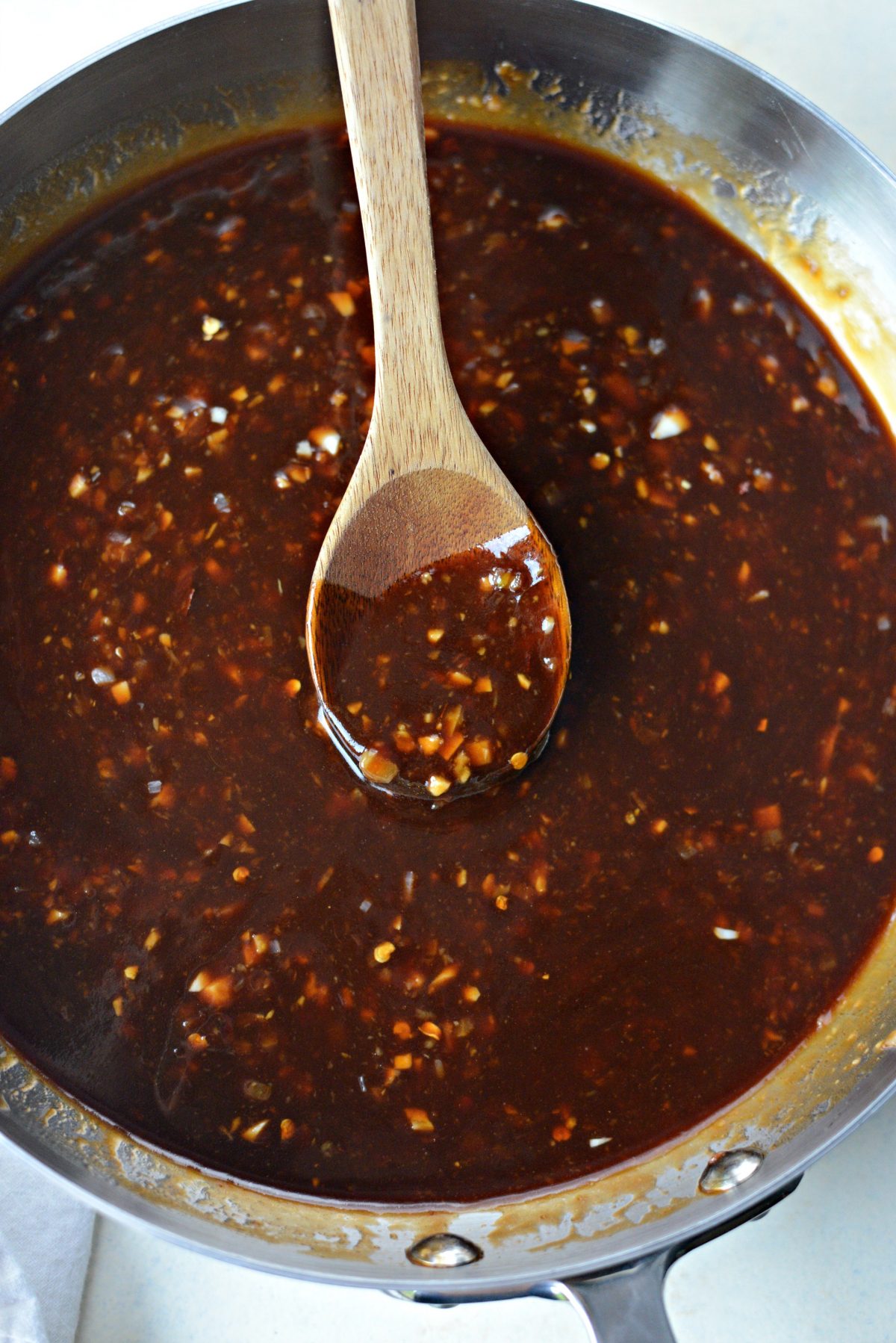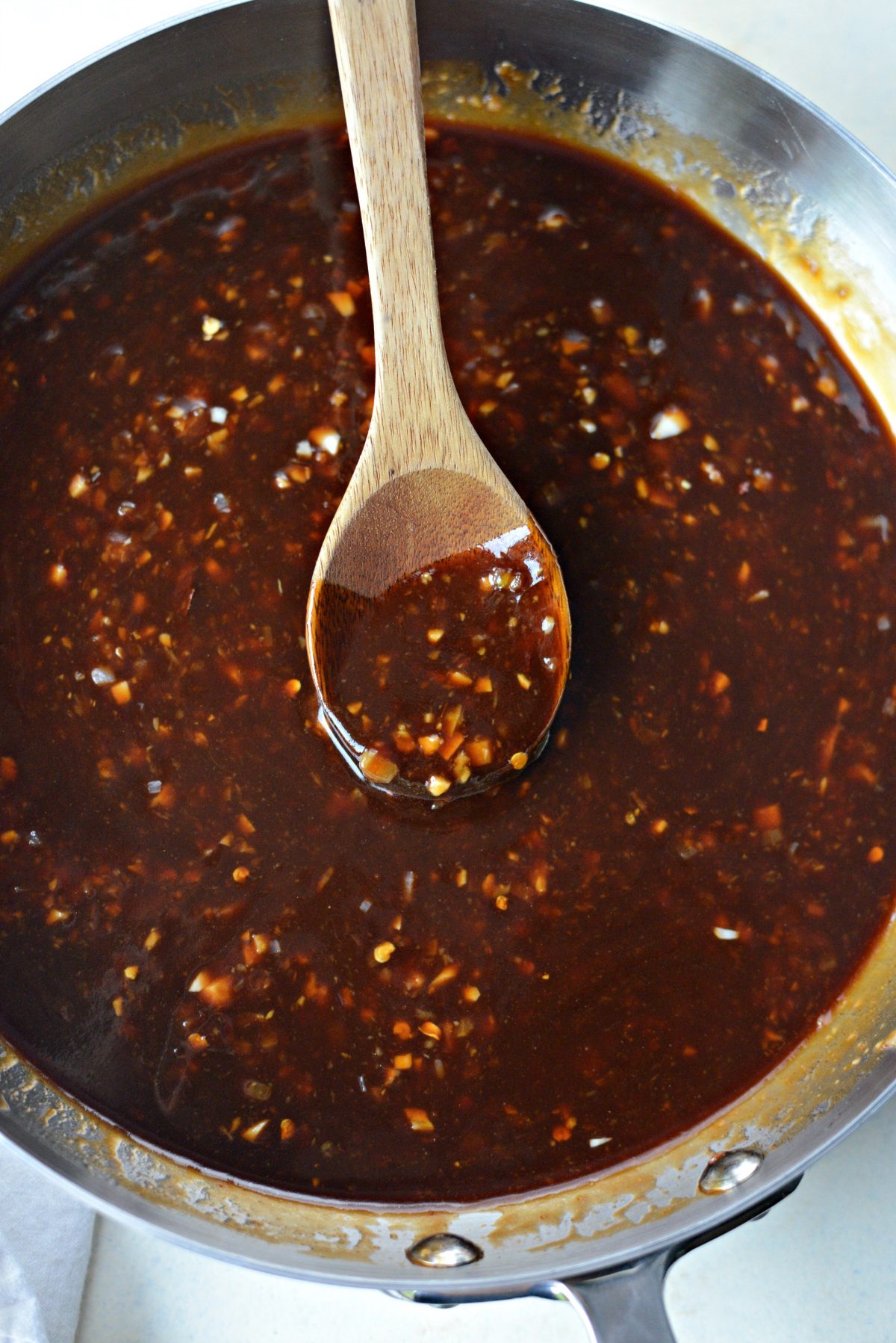 YUM! and it smells amazing too!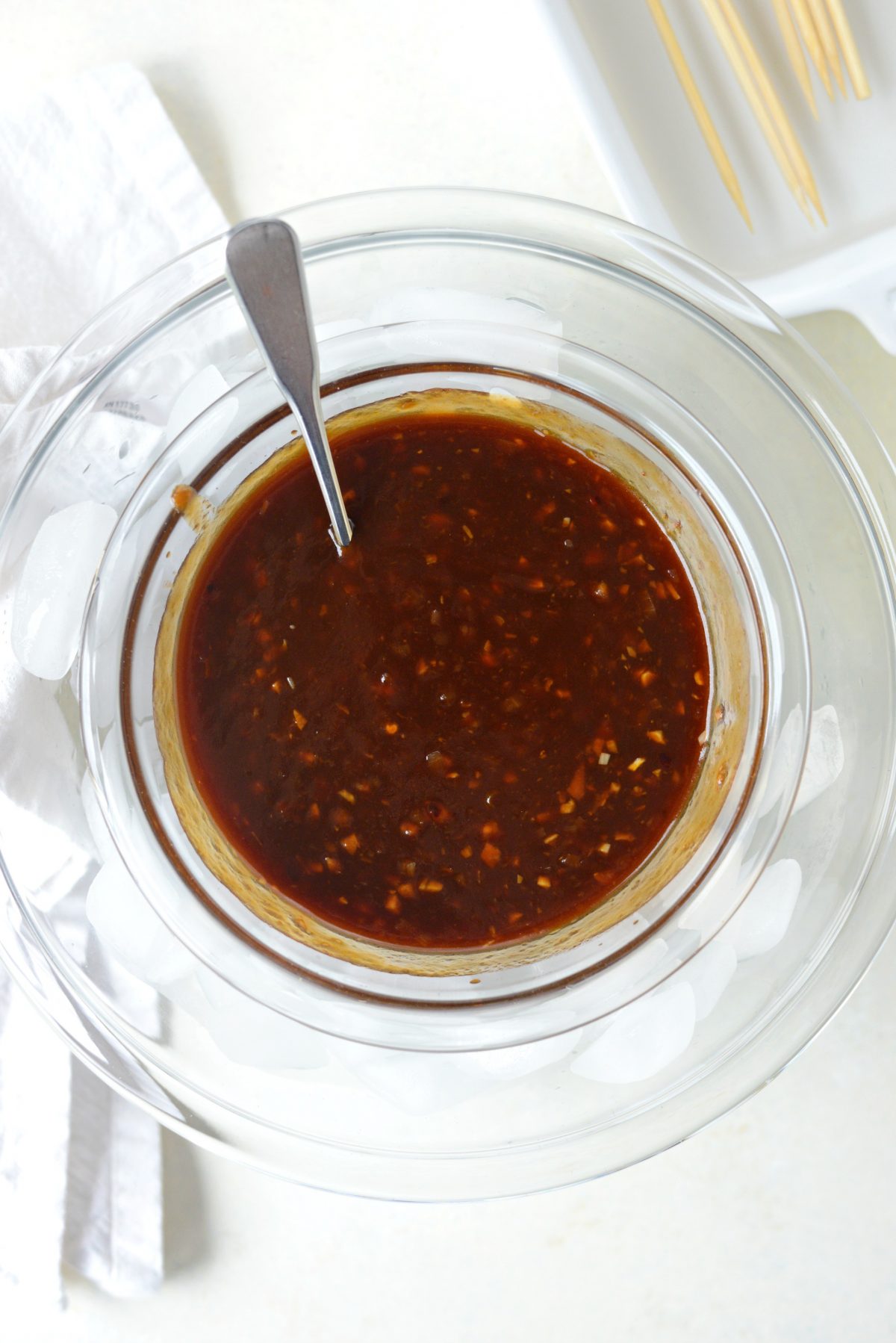 Cool the sauce completely before using. I pour it into a smaller bowl and set that into a larger bowl filled with ice. Stir the sauce occasionally to release steam until cooled– this way it takes about 30 minutes to cool.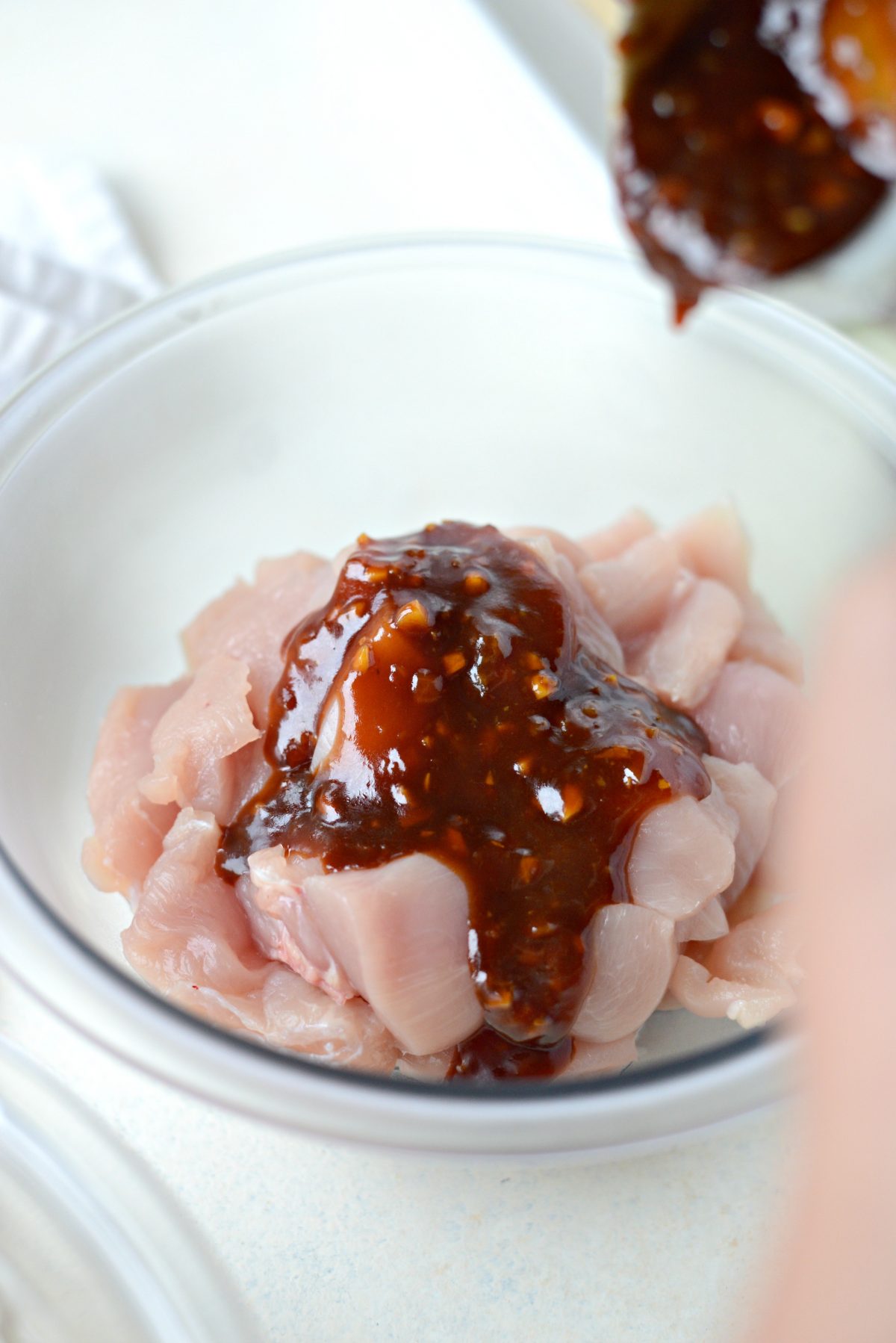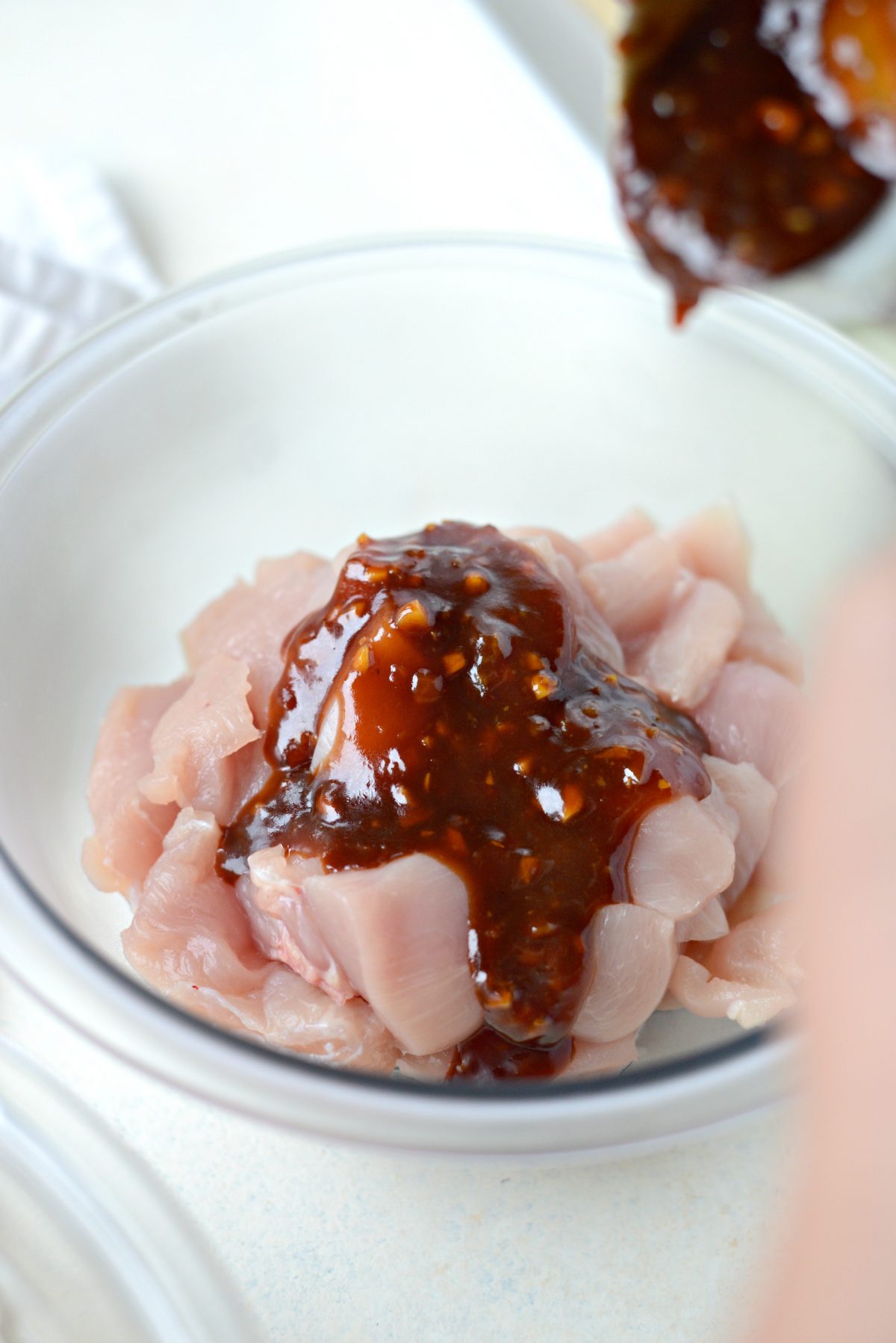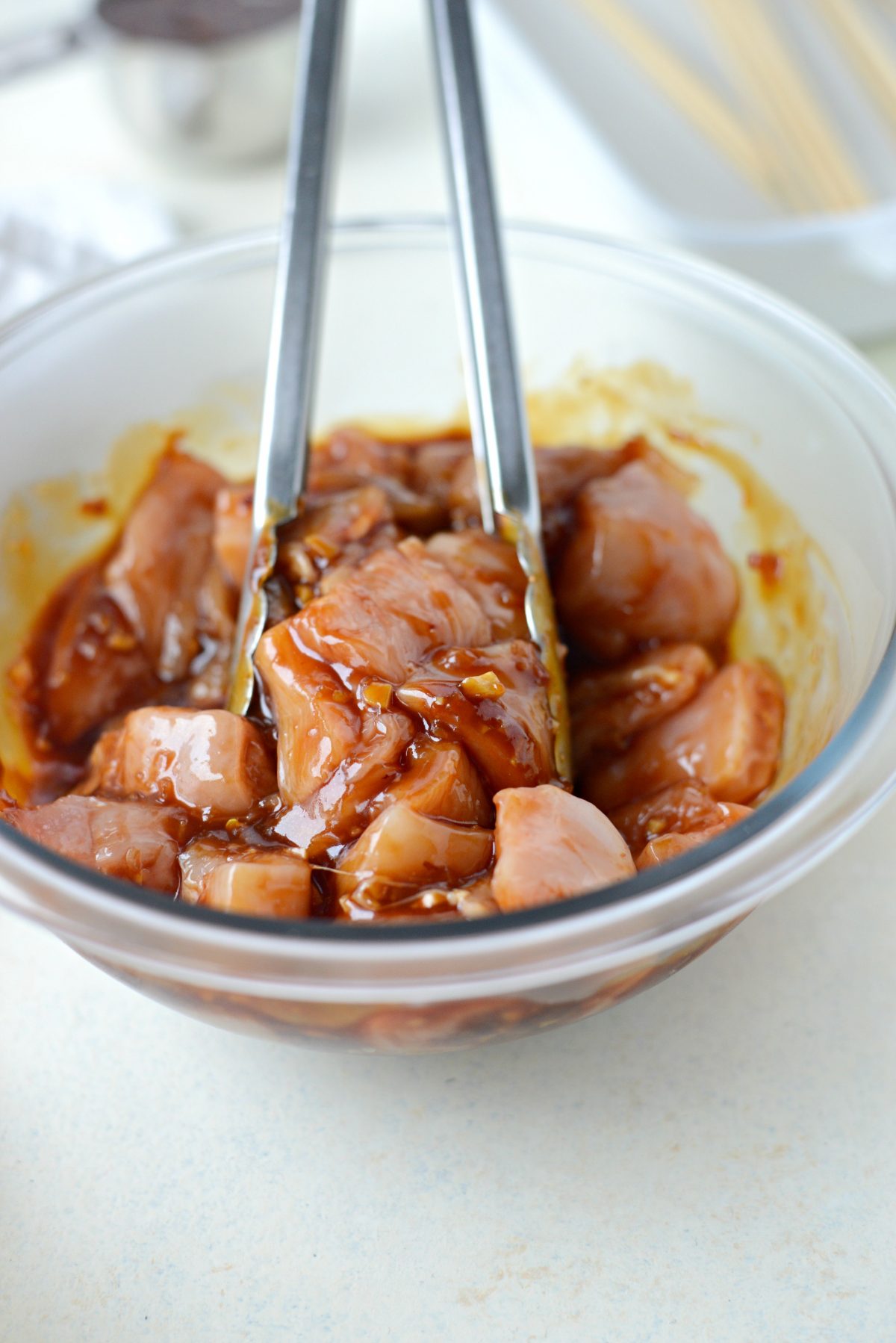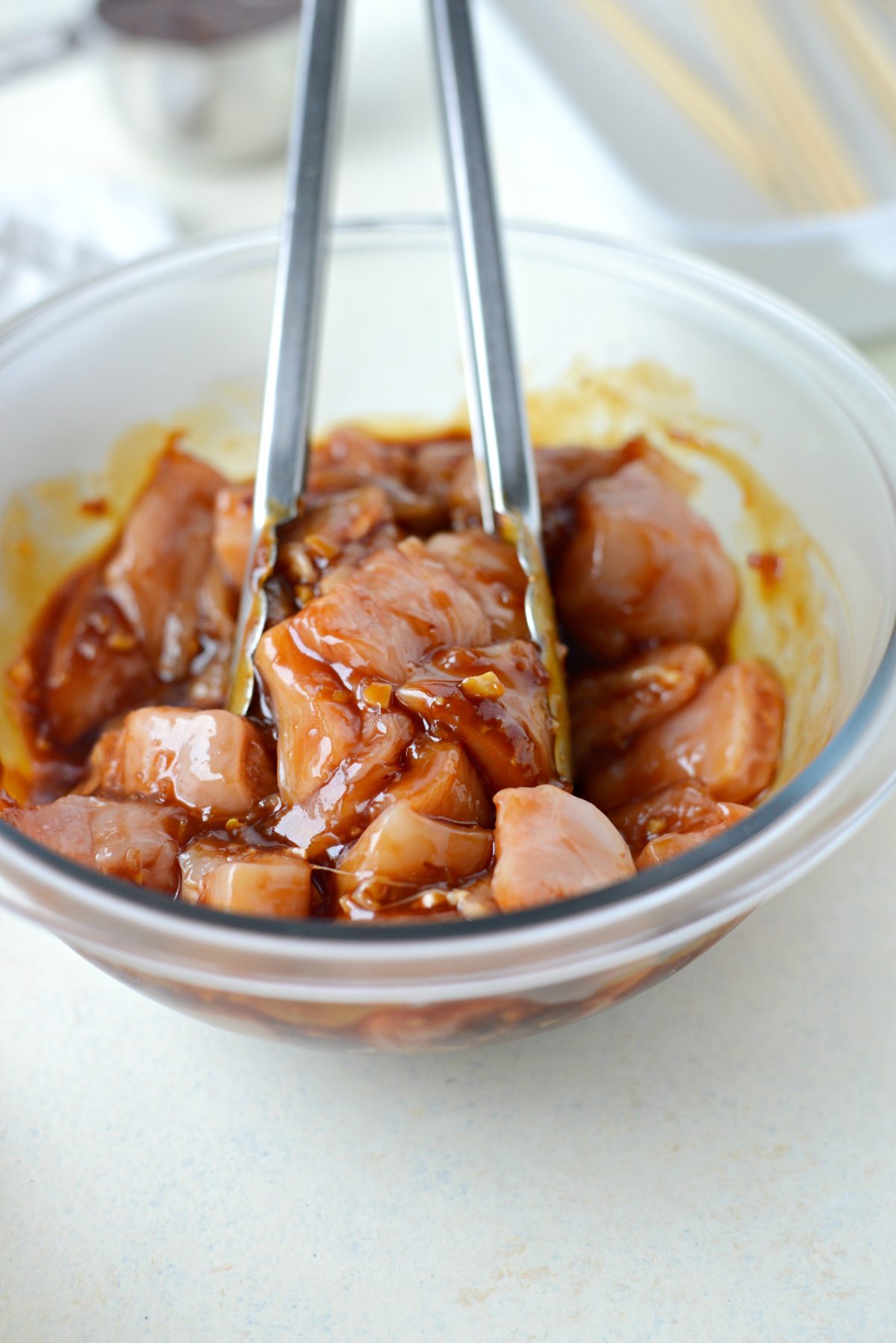 Once the sauce has cooled, toss 1/2 cup of it with the chicken. Reserve 1/2 cup for brushing on the chicken when on the grill. The remaining sauce can be saved and then served with the grilled chicken skewers.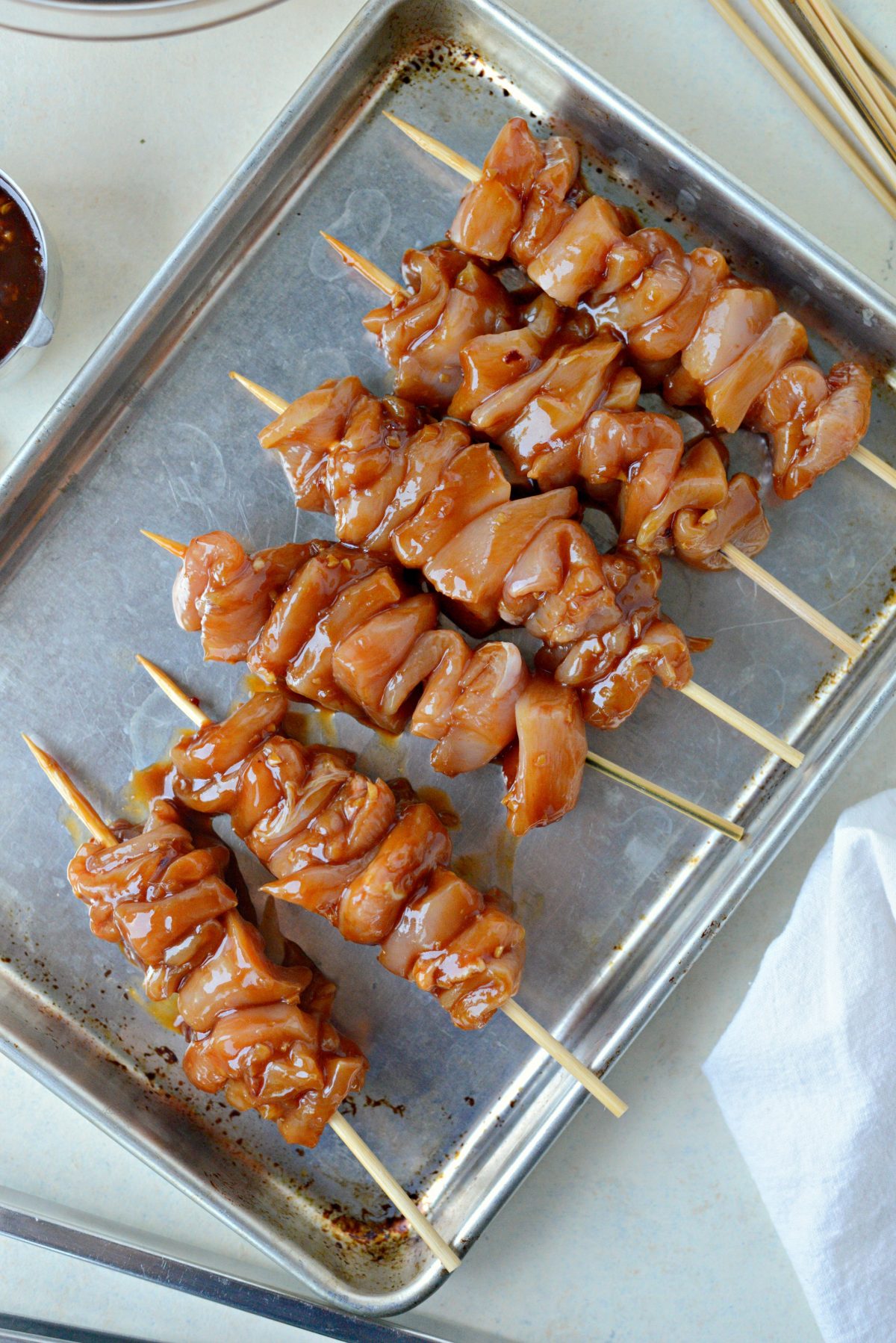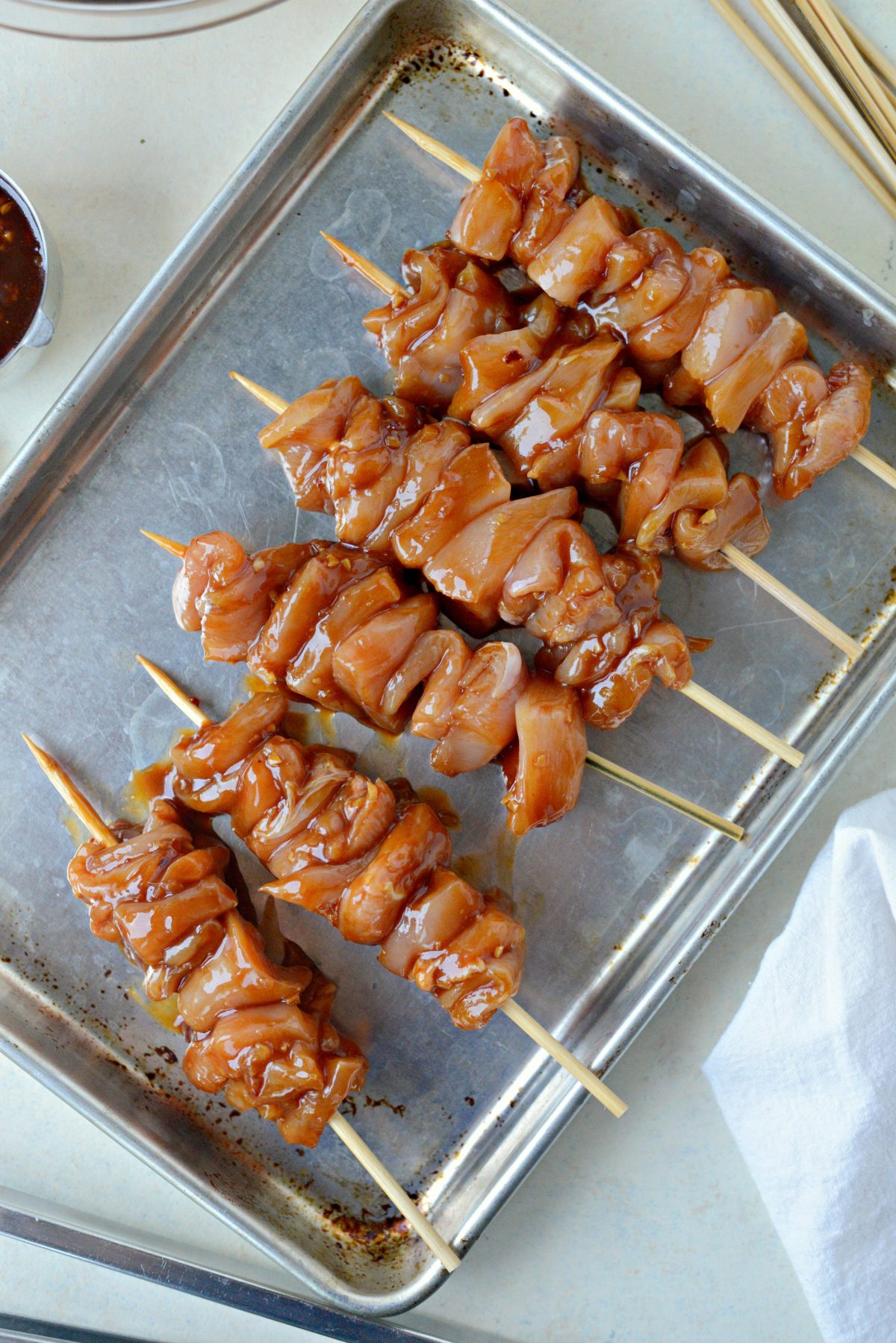 Clean your grill grates, spray or wipe with oil before reheating to about 400 degrees. Meanwhile, thread the chicken onto skewers. If using wooden skewers soak for at least 20 minutes to an hour.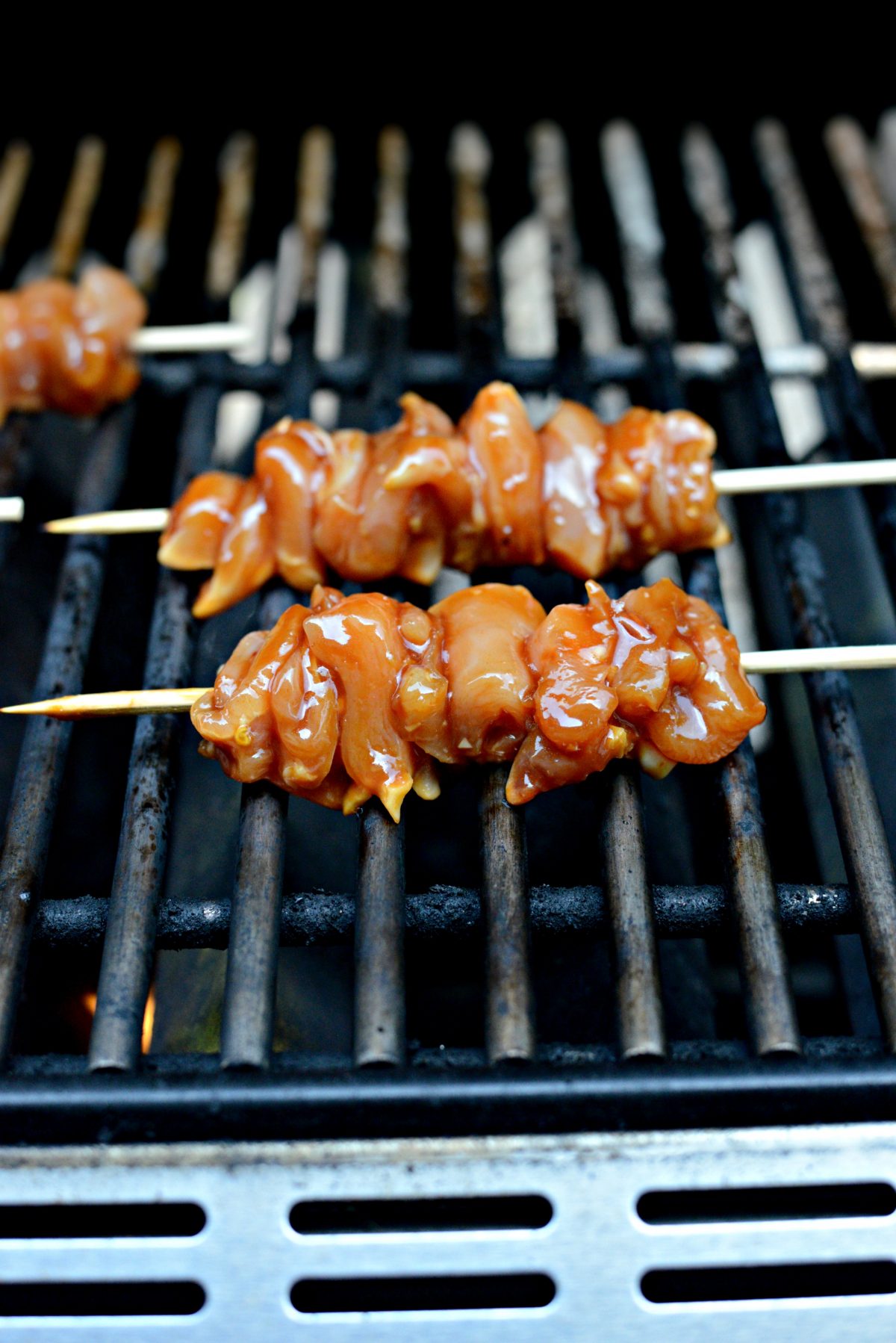 Place the skewers onto the grates, cover and cook for 5 to 7 minutes. Use tongs to turn the skewers over.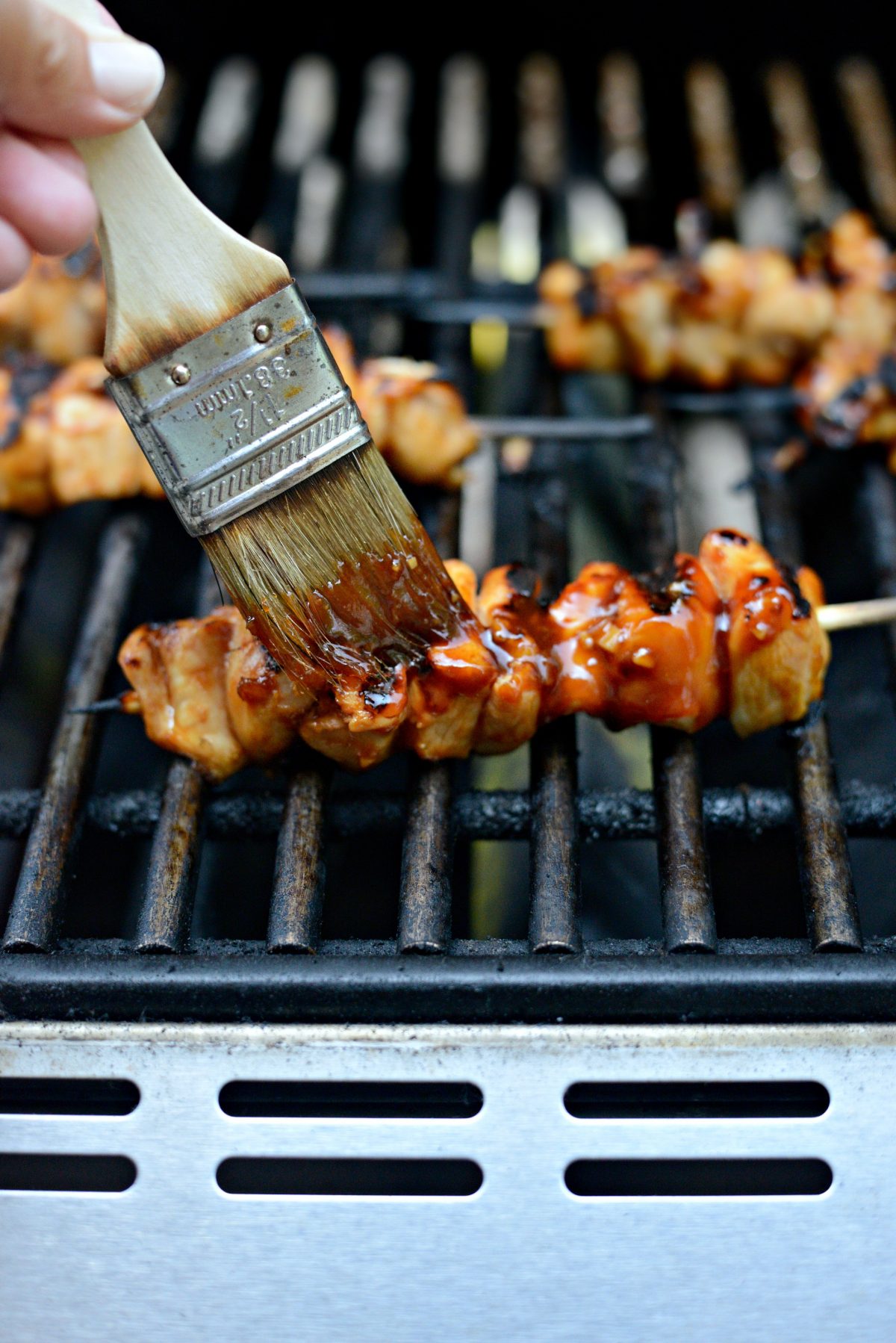 Then baste the chicken skewers with more of the sauce. Cover and cook for 4 to 5 minutes or until the chicken is fully cooked. Turn and brush one more time before taking the skewers off of the grill.
The smoky char mixed with the sweet sauce is indescribable! These skewers went fast! In the past I've served them with rice, salad, grilled corn or roasted broccoli– but really you can do anything you'd like.
Now, who's ready to get sticky?
Enjoy! And if you give this Grilled Sticky Sweet Chicken Skewers recipe a try, let me know by snapping a photo and tagging me on twitter or instagram!
My cookbook Simply Scratch : 120 Wholesome Homemade Recipes Made Easy is now available! CLICK HERE for details and THANK YOU in advance!
[this post contains affiliate links.]
This post may contain affiliate links.
Buy the Cookbook: Simply Scratch : 120 Wholesome Homemade Recipes Made Easy Now available on Amazon »
THANK YOU in advance for your support!