I'd like you to meet this delicious, one-pan chicken parmesan casserole.
A dump-and-bake, one-pan casserole that takes little effort to prepare but tastes as if it took you all day.
I like that about this recipe.
This recipe comes in handy on those nights when you've either worked all day, or spent the afternoon driving kids to and fro or for when you just can't even imagine cooking– which all of the above is pretty much every single day and night of the week for me.
See! Look how minimal the ingredient list is. Pasta, marinara (homemade or store-bought, I used the recipe from my book, but a good quality jarred sauce is fine), broth, Italian seasoning (again, I used my recipe from the book), homemade Panko breadcrumbs and freshly grated Parmesan and Mozzarella cheese.
First things first, season the chicken in a tablespoon of Italian seasoning.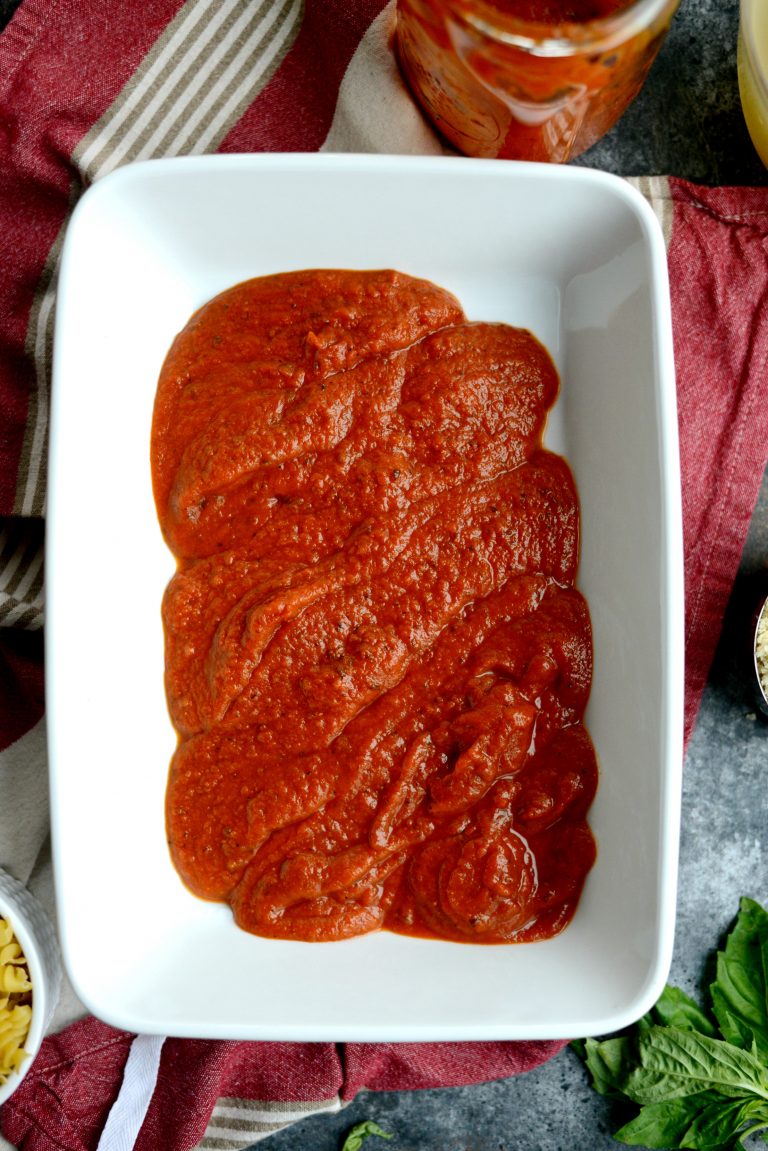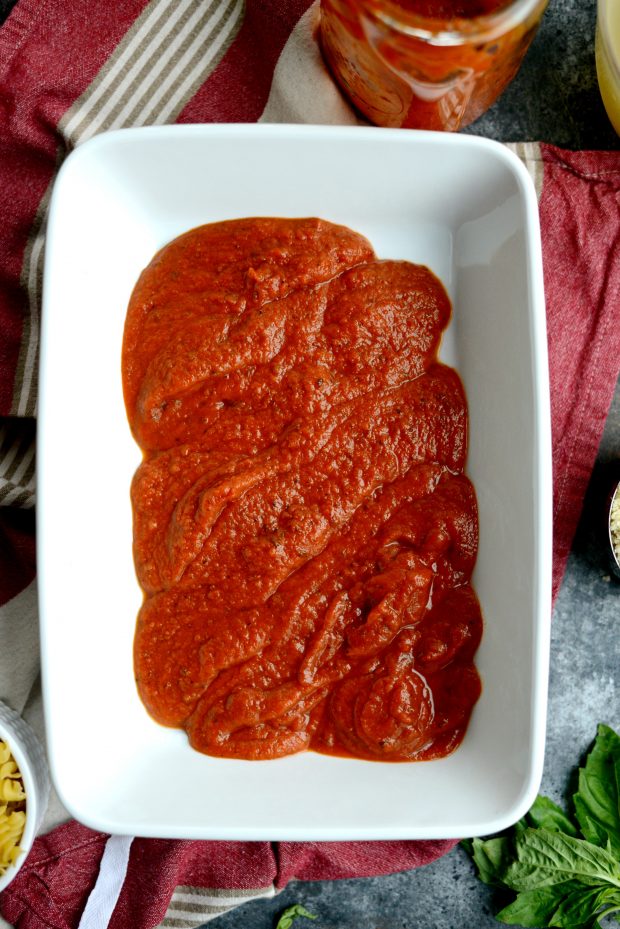 Then pour the sauce into the bottom of your casserole dish.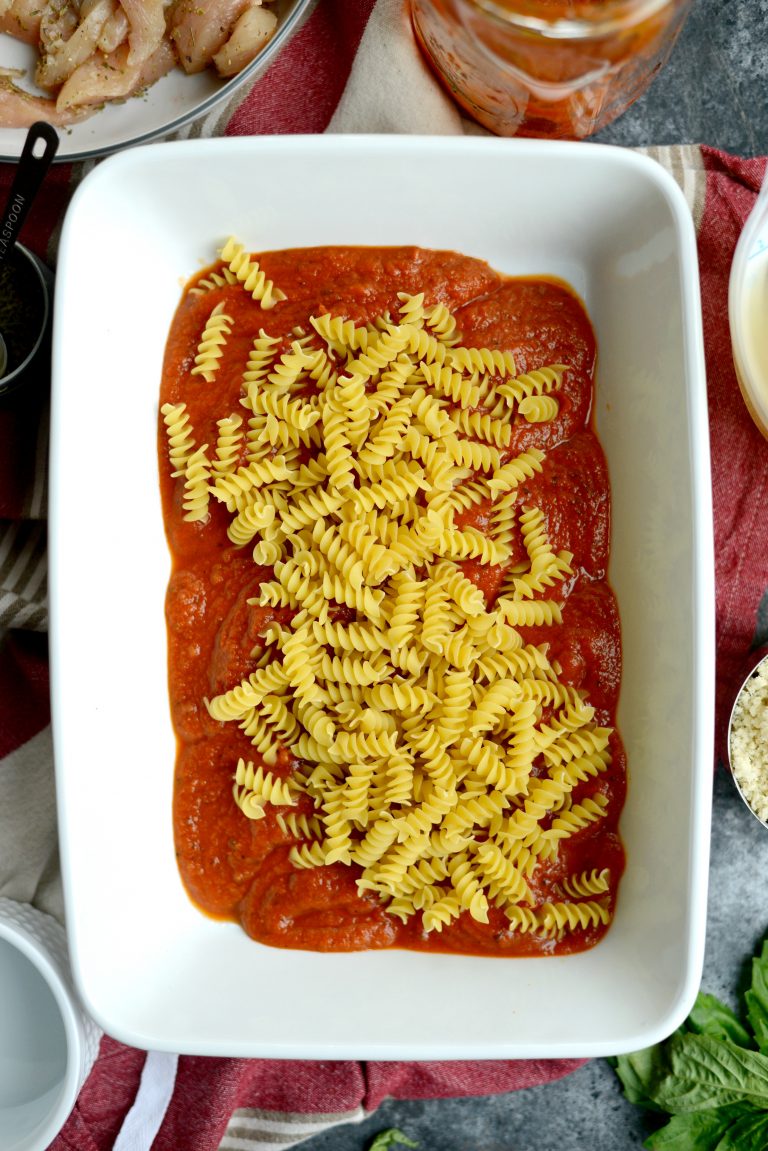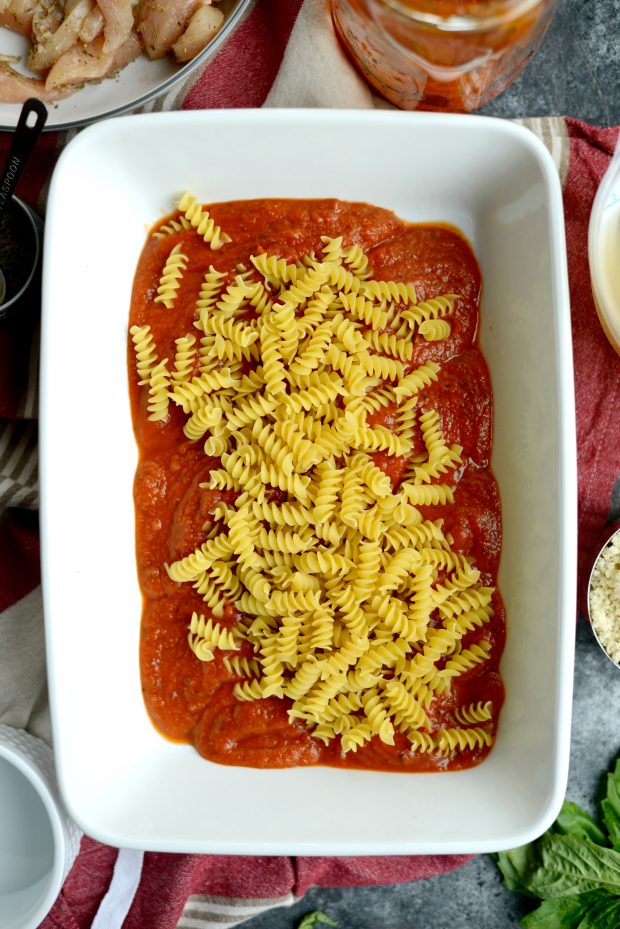 Follow that by adding in the pasta…
…and pour in 2 cups low-sodium chicken broth.
Then give it a stir before adding the seasoned chicken on. You don't want to stir the chicken in to the liquids because you want the seasoning to stick to the chicken. Cover tightly with aluminum foil and bake in your preheated 425° for 30 minutes.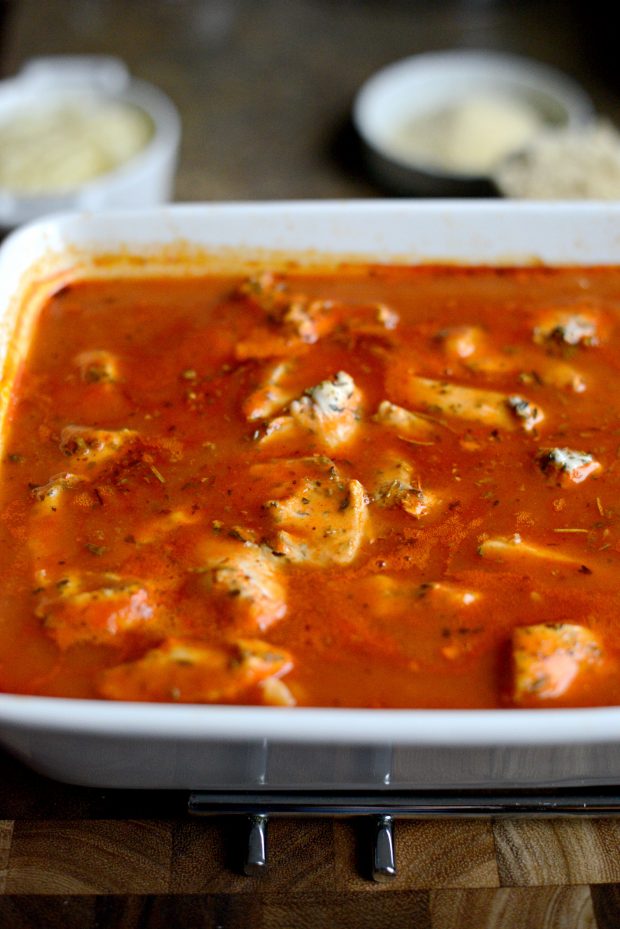 Next, remove the foil and bake uncovered for 10 more minutes.
Then sprinkle with the Parmesan cheese, mozzarella and those homemade Panko breadcrumbs I was telling you about.
Bake for 10 to 12 minutes or until golden brown and crispy.
Holysmellsallkindsofamazing!!!
Lastly, to add some pop of green and herby freshness, sprinkle on fresh basil before serving.
Haileigh needed to practice her knife skills for a test she was having in her food science and nutrition class, so I had her chiffonade the basil. I'd like think she inherited her knife skills from me. 😀
Anyhoo! THIS one-pan chicken parmesan casserole is SO good!!!!! My whole family loved it! Especially Malloree, my sometimes picky 12-year-old. And when she raves about something, I know it's good.
I served this with a Caesar salad, but any green salad would be delicious.
Enjoy!
My cookbook Simply Scratch : 120 Wholesome Homemade Recipes Made Easy is now available! CLICK HERE for details and THANK YOU in advance!
[this post contains affiliate links.]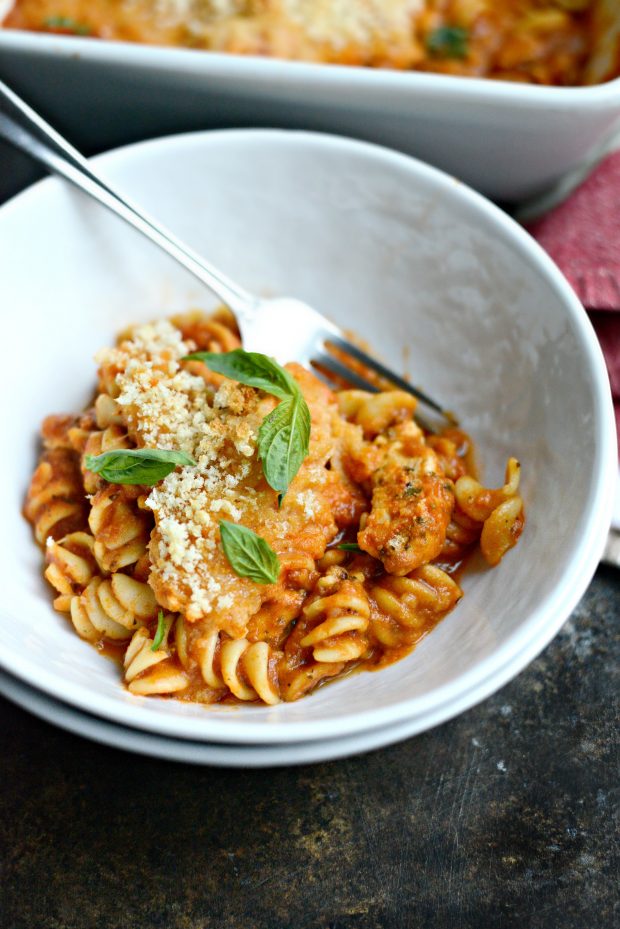 This post may contain affiliate links.
Buy the Cookbook: Simply Scratch : 120 Wholesome Homemade Recipes Made Easy Now available on Amazon »
THANK YOU in advance for your support!