This Ancho Chorizo Chili recipe is inspired from a delicious chili my daughters order at our favorite Mexican restaurant. What's better than a simple, cozy chili? Nothing. This chili get's its rich and bold flavor from chorizo, crushed fire roasted tomatoes and a generous amount of ground ancho chili powder. Believe it or not, but this huge pot of chili is ready in just 1 hour!
I was craving chili. That's weird right?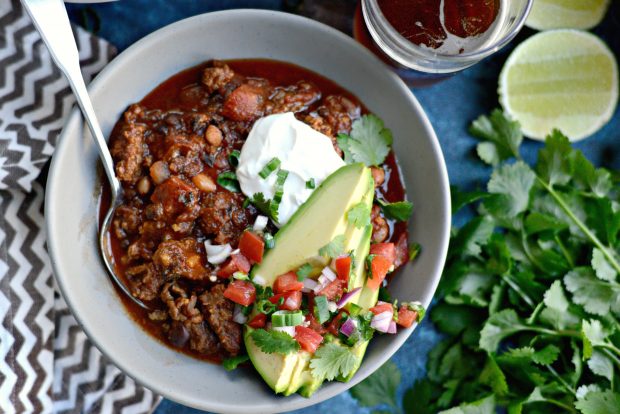 Chili cravings are not normal, are they? I mean chocolate, pasta, wine… those are obvious and normal cravings. Chili though? I'm a little embarrassed to admit it.
Here's how it happened: It started with this week being a total chaotic blur. My kids finally went back to school Wednesday which really threw my schedule for a loop. Add in a delicious breakfast with my best friends, kids after school stuff and maybe a nap or two, and come Thursday I realized that I really didn't get much done in the way of blogging.
Actually, this chili was supposed to be a Mexican lasagna of sorts, but as I tossed and turned while trying to fall asleep I kept thinking "…but I want chili." Then I recalled this amazing chili my daughter's order at our favorite Mexican restaurant; it's heavily ancho'd, a smidgen spicy and a deep, rich mahogany color. Suddenly couldn't think of anything else. My mind was made up.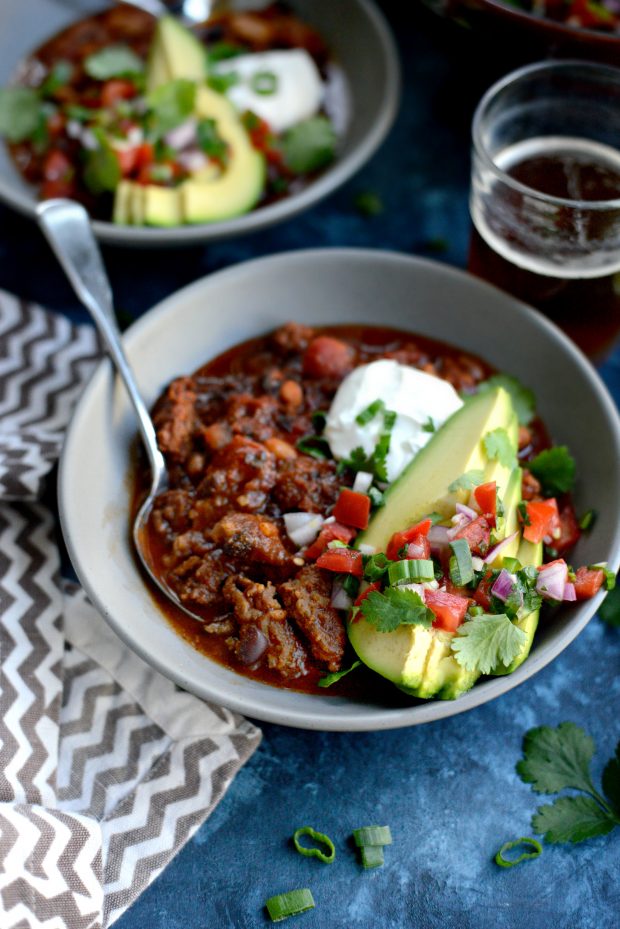 Chili it is.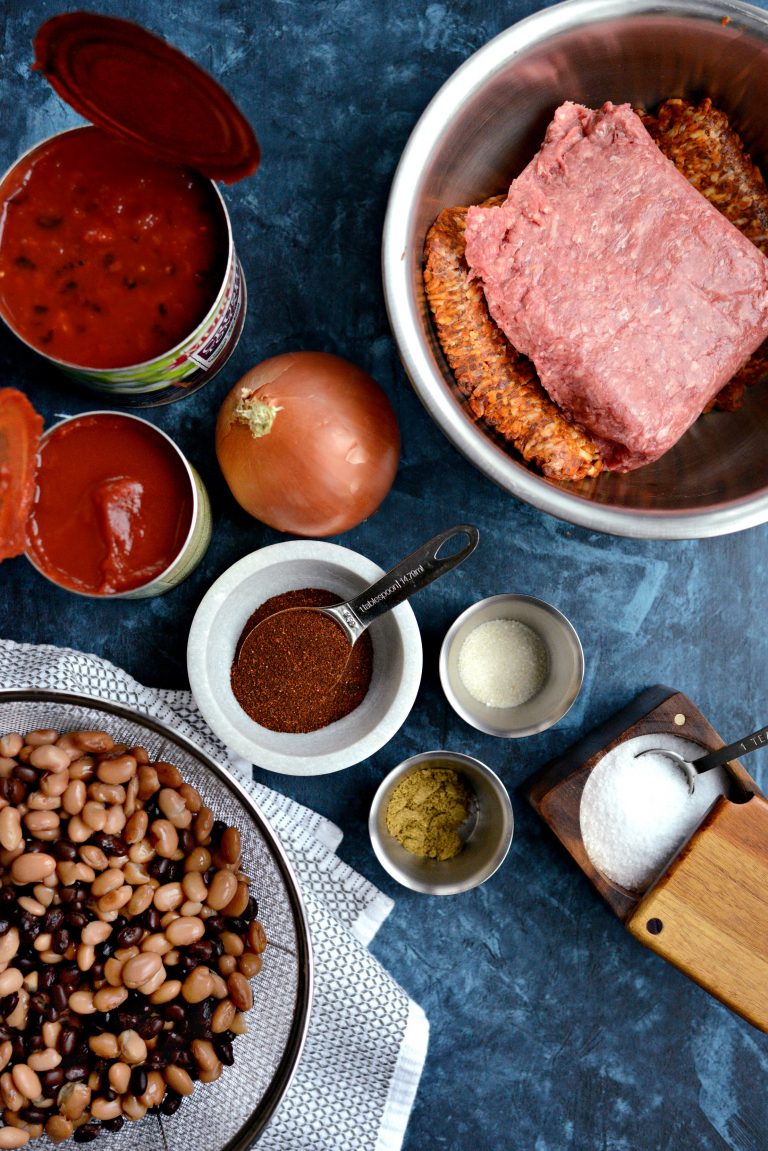 What I like about chili recipes is that it doesn't have to be complicated. It's basically an ingredient dump and simmer until ready to eat.
In this ancho chorizo chili, the chorizo adds so much flavor, you really don't need much of anything else in the way of spices. I load up on just ancho chili powder and a little cumin, that's it.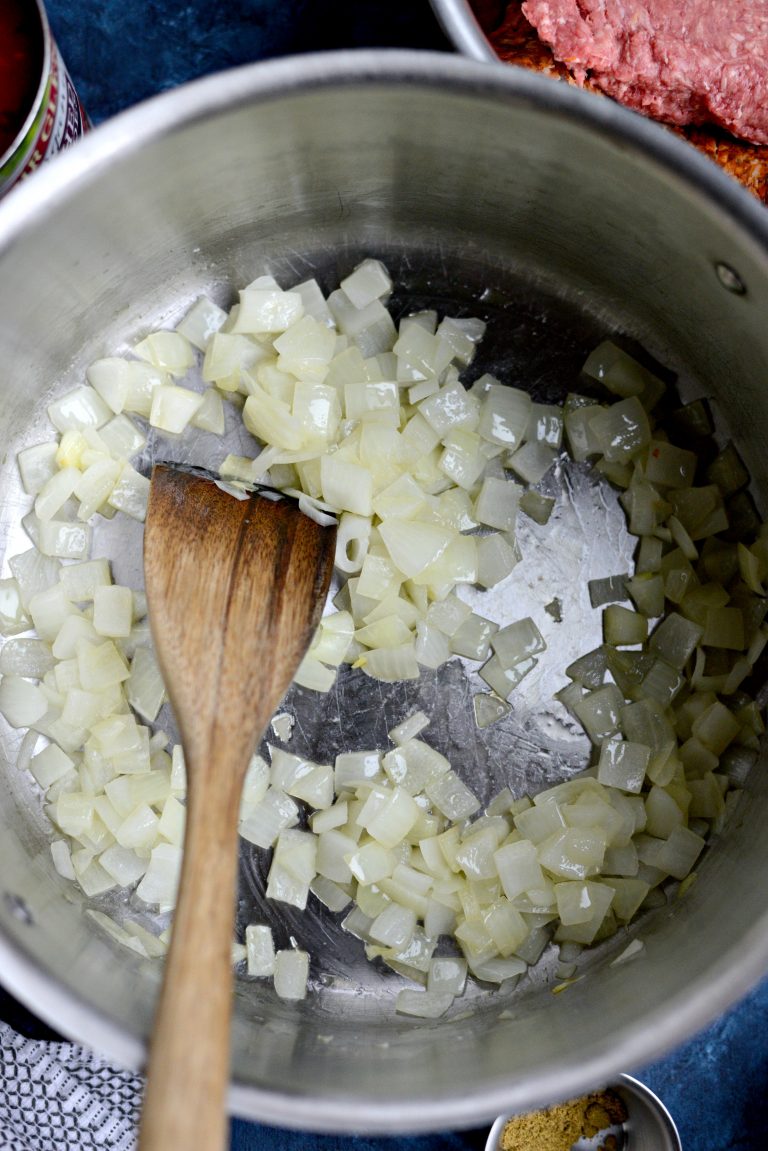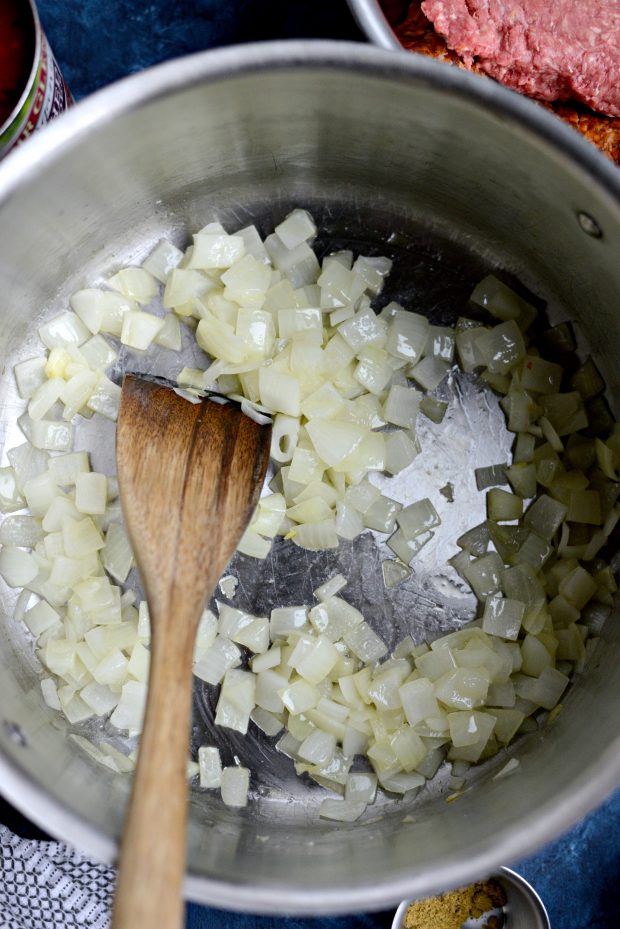 Start by sautéing the chopped yellow onion, over medium-low heat, with a tablespoon of olive oil until just tender, about 5 minutes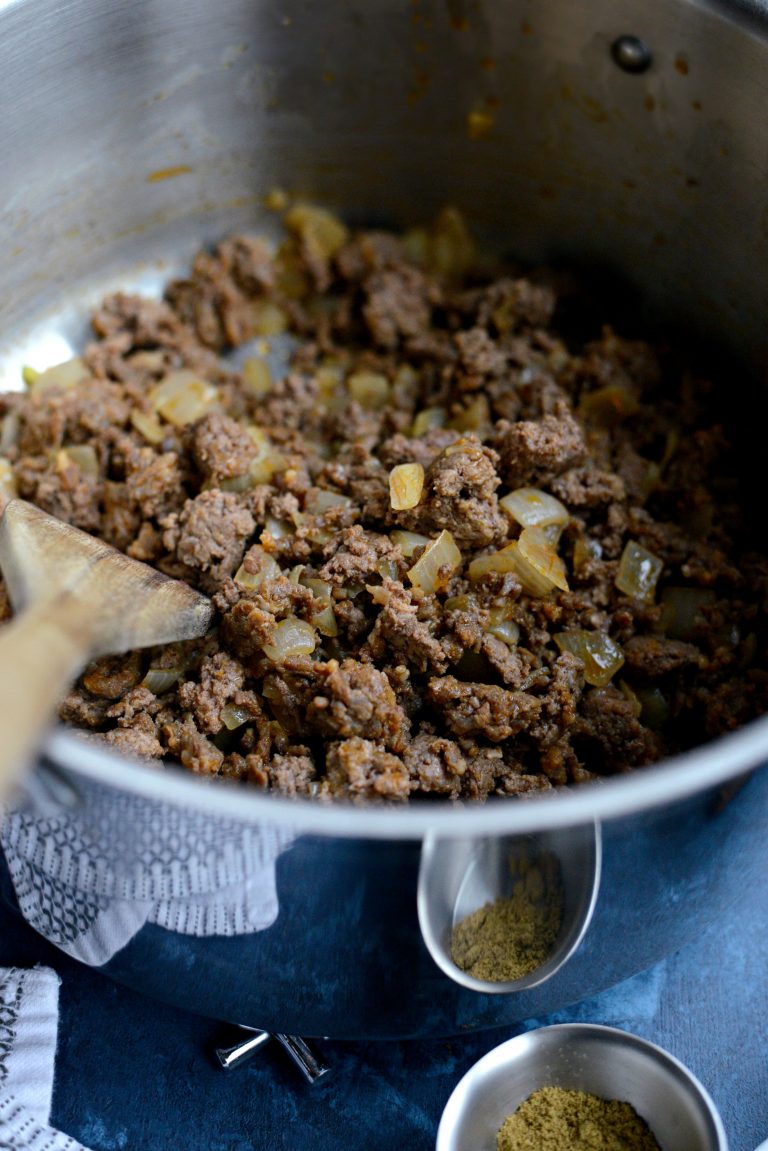 Then add in a pound of both lean ground beef and chorizo. Cook, using a wooden spatula to break up the meat into small crumbles, for about 15 to 20 minutes or until no longer pink.
Next, add in the crushed fire roasted tomatoes, tomato puree, all the beans, ancho chili powder, cumin, sugar and salt.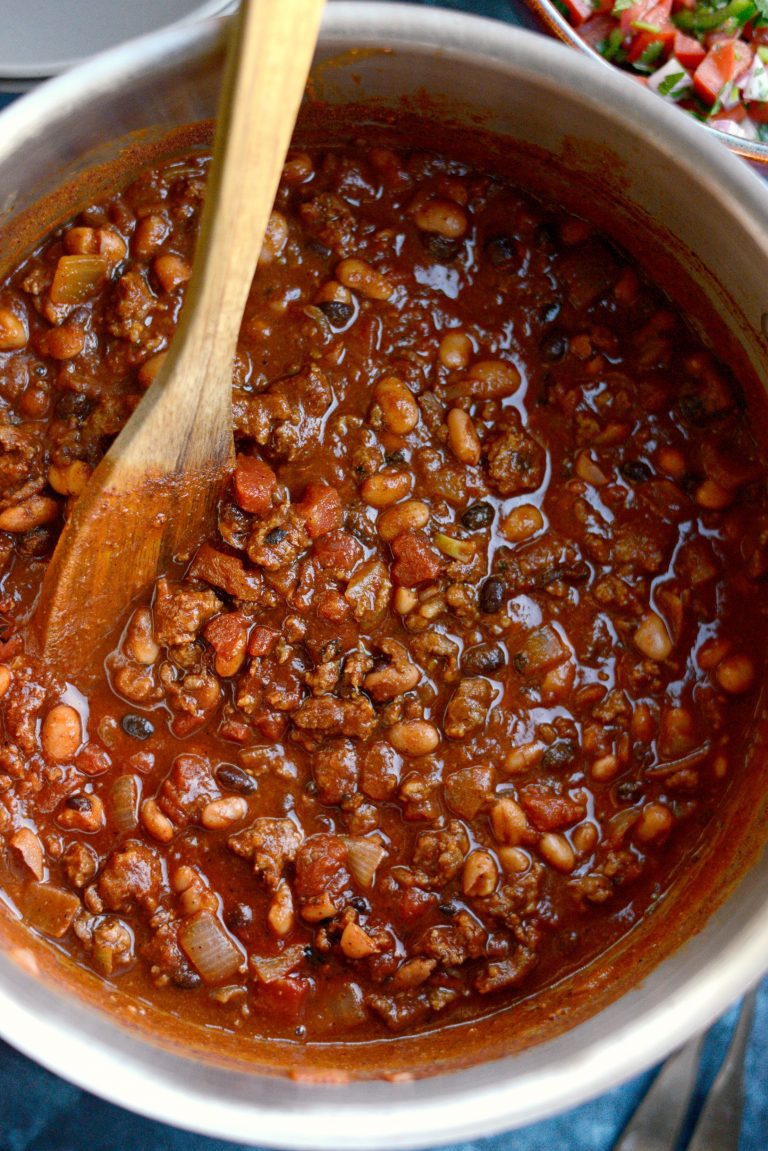 Then just cover and simmer on low heat for about 35 to 40 minutes, stirring occasionally. Meanwhile, enjoy the aroma!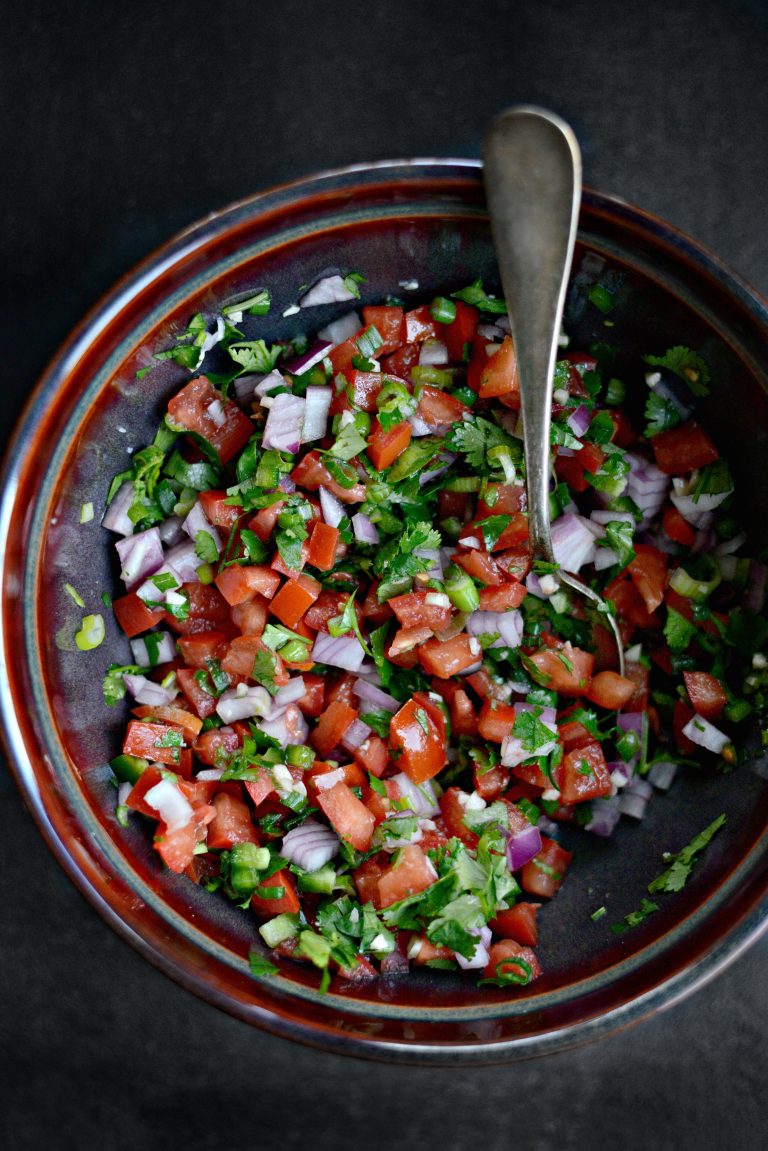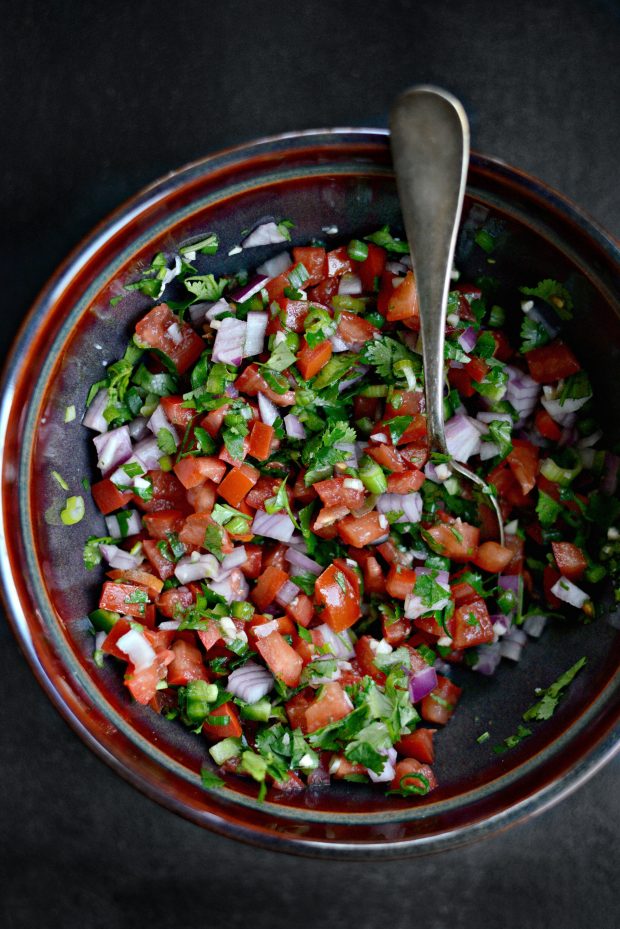 Garnishing chili is my favorite part. I topped my ancho chorizo chili with a dollop of sour cream, sliced avocado, homemade pico de gallo and extra cilantro.
But the sky is the limit! My family topped theirs with anything from cheddar to hot sauce to green onions. It's all good! I will admit that I really love the pico with this robust chili, it adds a fresh flavor that just works.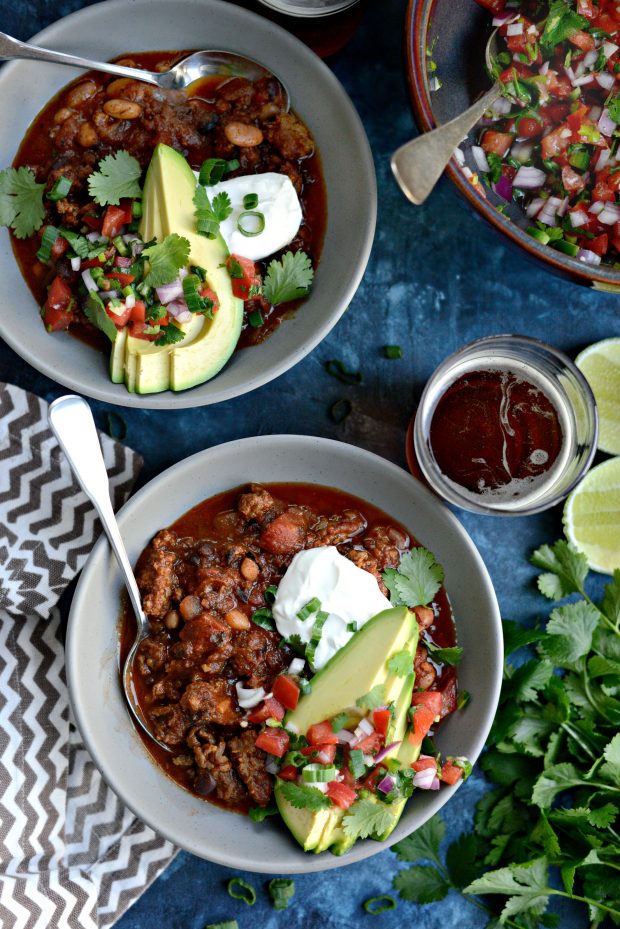 Enjoy!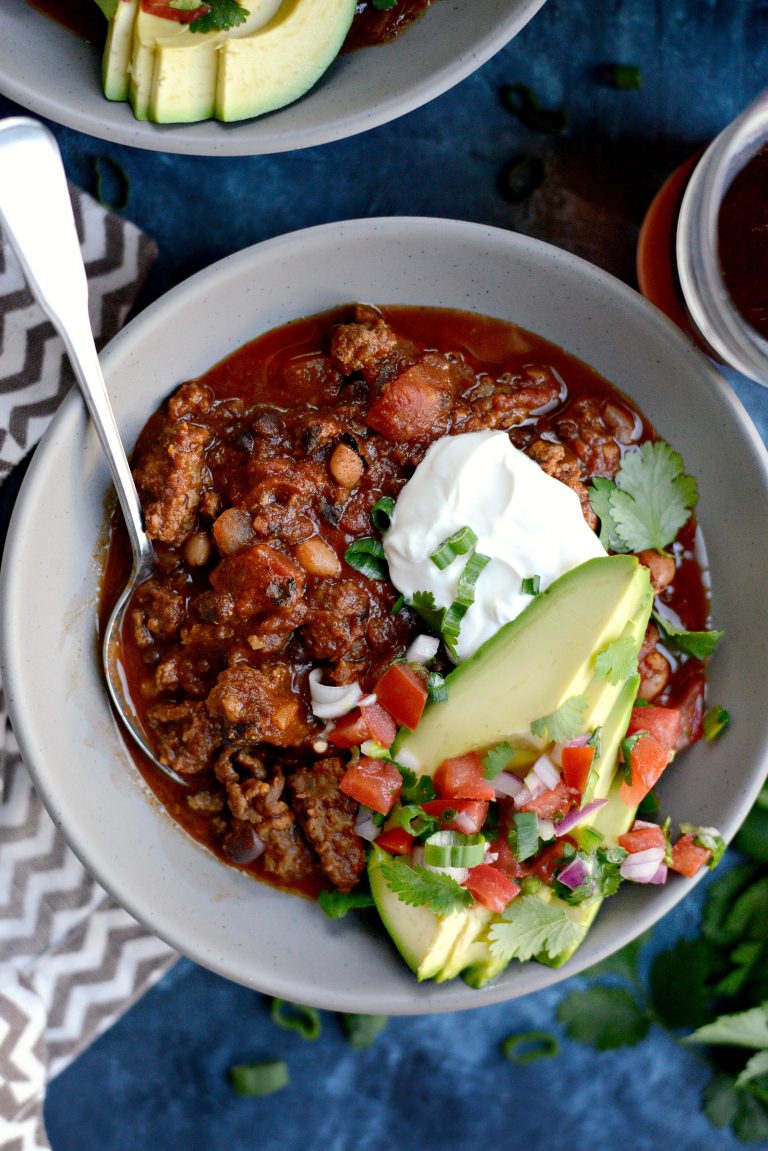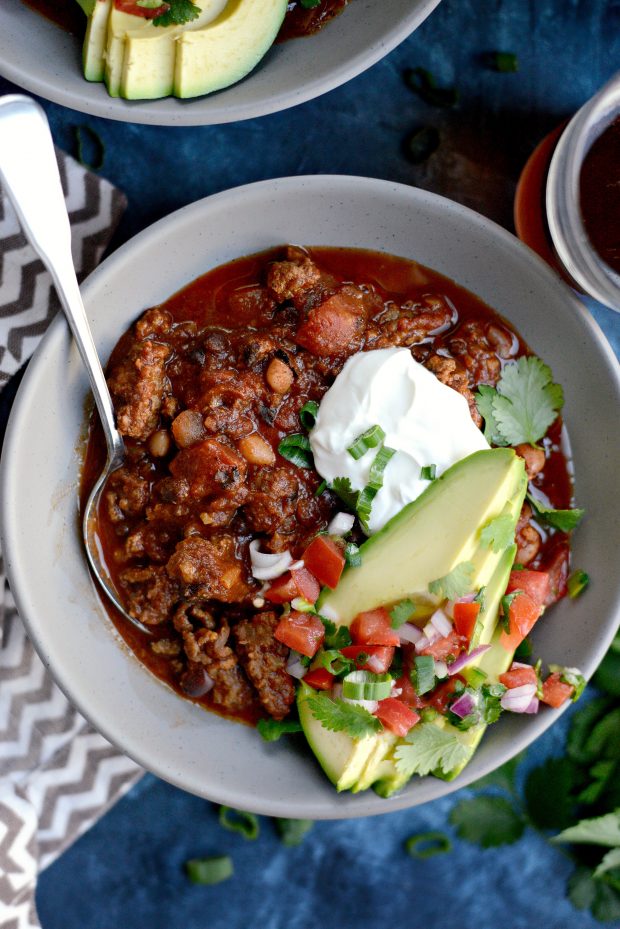 My cookbook Simply Scratch : 120 Wholesome Homemade Recipes Made Easy is now available! CLICK HERE for details and THANK YOU in advance! 
[this post contains affiliate links.]
This post may contain affiliate links.
Buy the Cookbook: Simply Scratch : 120 Wholesome Homemade Recipes Made Easy Now available on Amazon »
THANK YOU in advance for your support!