Apple Pear Crumble is my go-to holiday no-brainer dessert.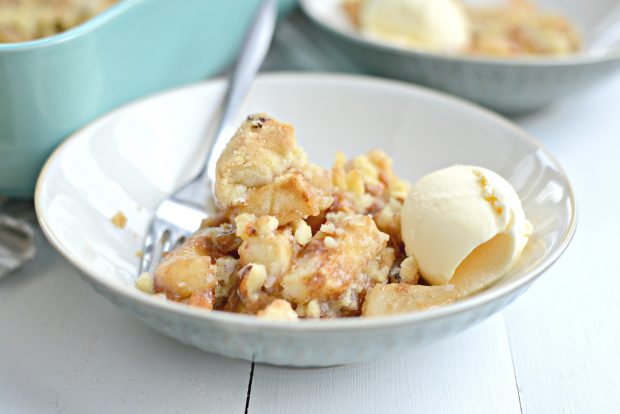 I tend to put all of my time and efforts into the main and side dishes, so I usually take the easy route when it comes to the dessert. So for years I'd make this crumble on Christmas Eve; diced honeycrisp apples and bosc pears are tossed with brown sugar, both lemon and orange zest and juice and also with spices like cinnamon, ginger and freshly grated nutmeg. And this isn't a crumble with out an amazingly buttery-crisp crumble topping. I like to sneak nuts into my crumble because it adds more texture and of course, a delicious nutty flavor. Today I used almonds –because I had them on hand– but walnuts, pecans or hazelnuts are always a scrumptious option.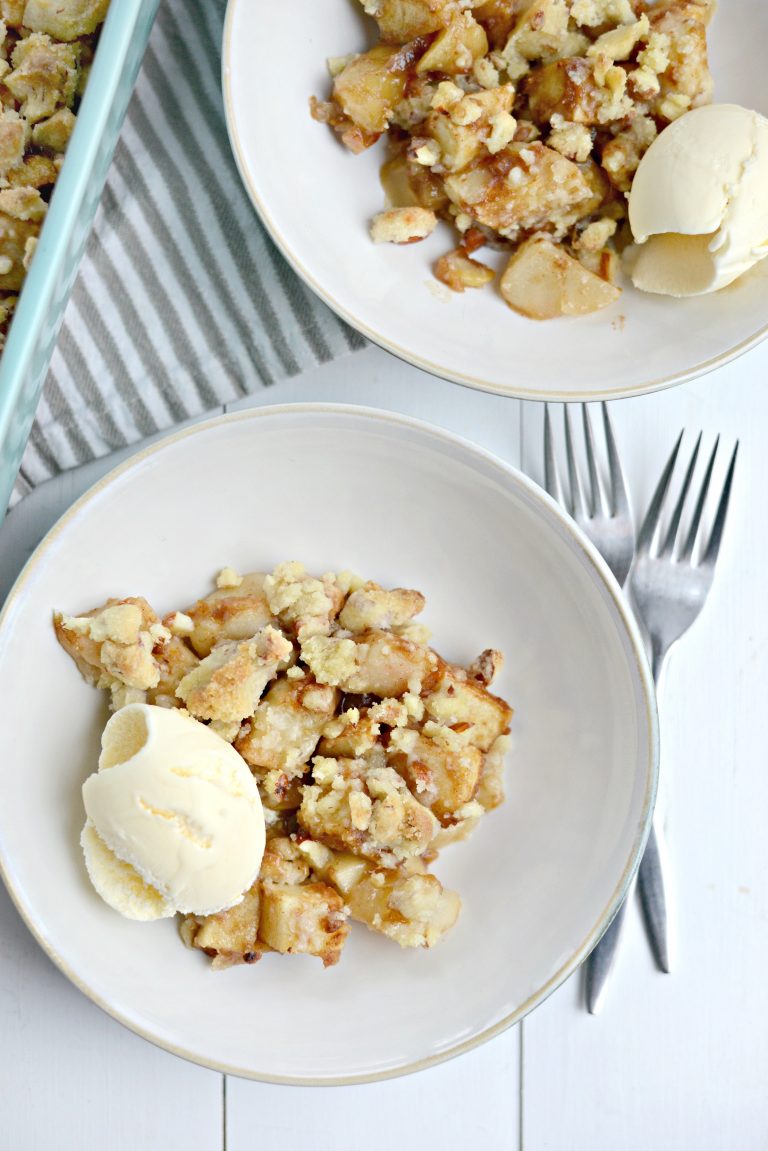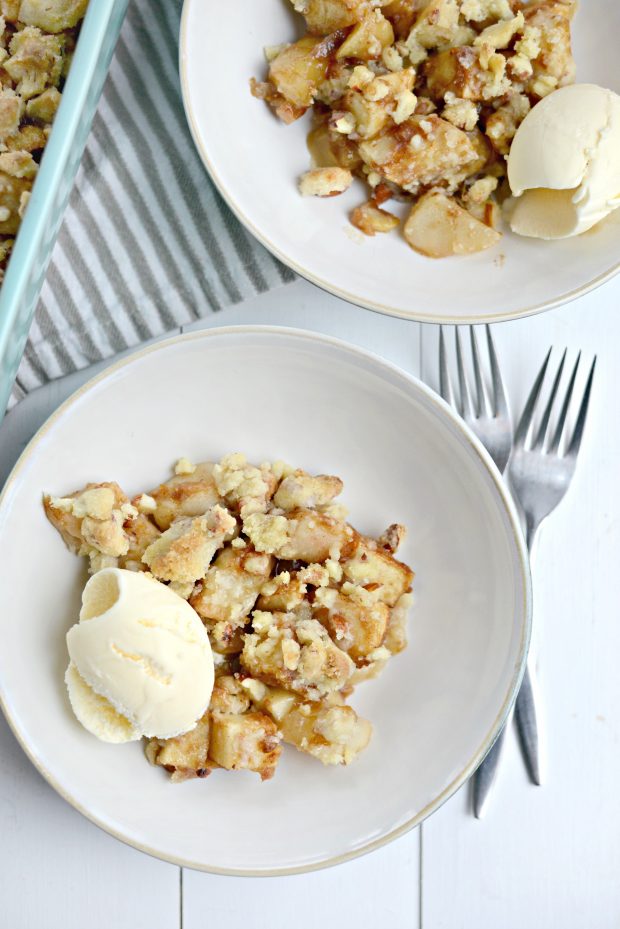 This crumble can be served piping hot, just out of the oven or warm and at room temperature. But always served with a scoop of vanilla ice cream.
Always.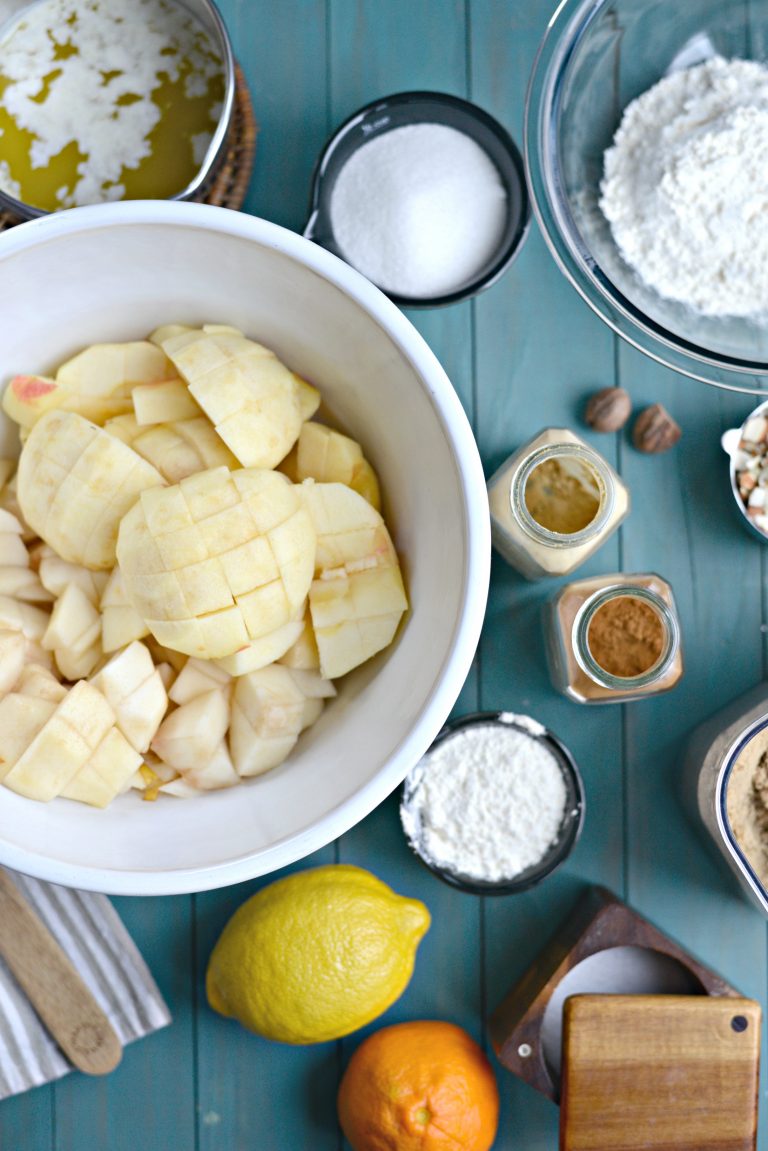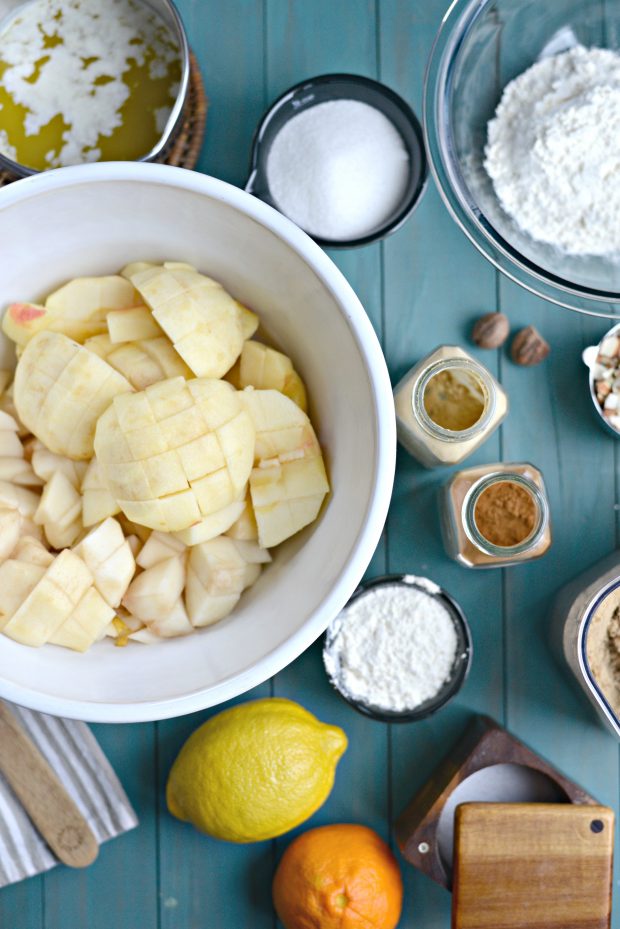 I quickly peel and dice up 3 of each honeycrisp apples and anjou pears. The pears are ripe yet still quite firm.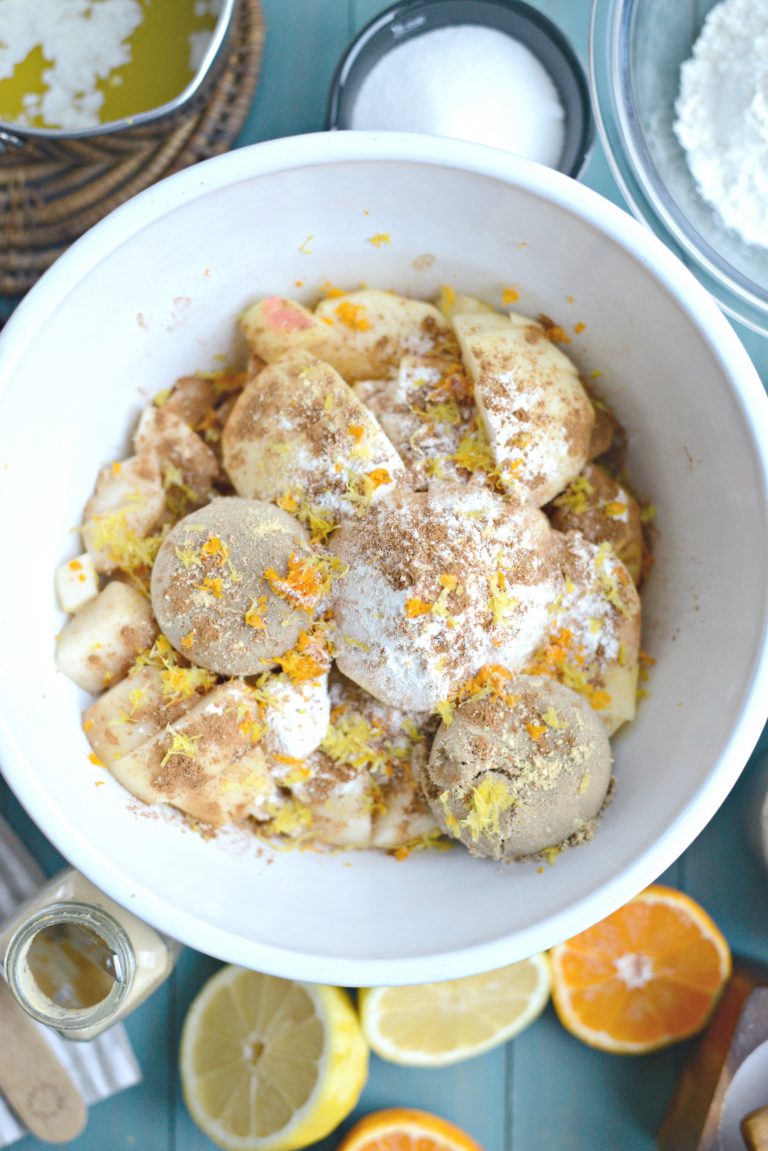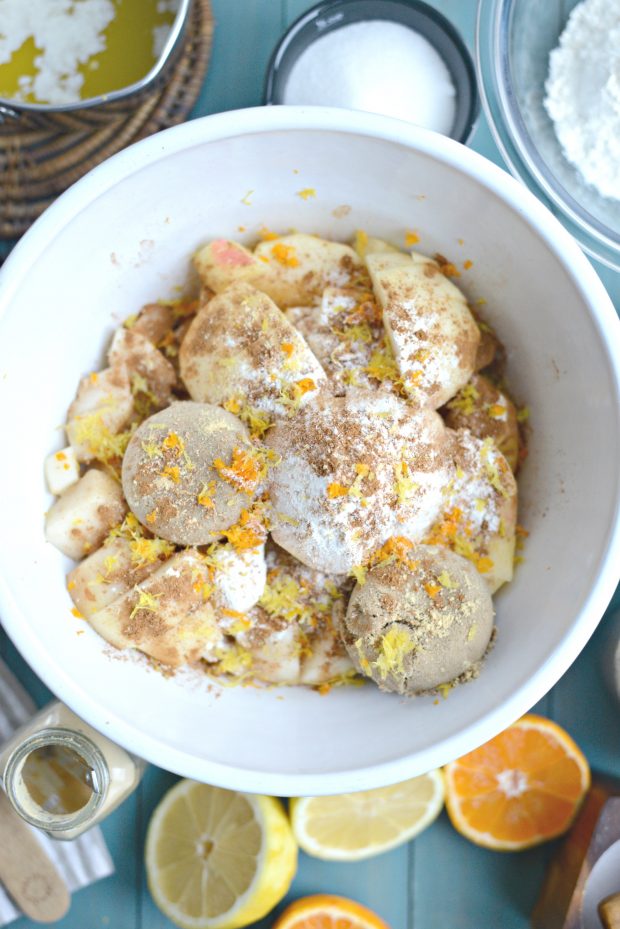 Then to the apples and pears, add 1/2 cup light brown sugar, 1/4 cup flour, 1 teaspoon cinnamon, 1/4 teaspoon of both ground ginger and freshly grated nutmeg. Next use a microplane [affiliate] and grate in 3/4 teaspoon of both lemon and orange zest. Then squeeze in  a tablespoon of juice from each (I eyeball the juice quantity).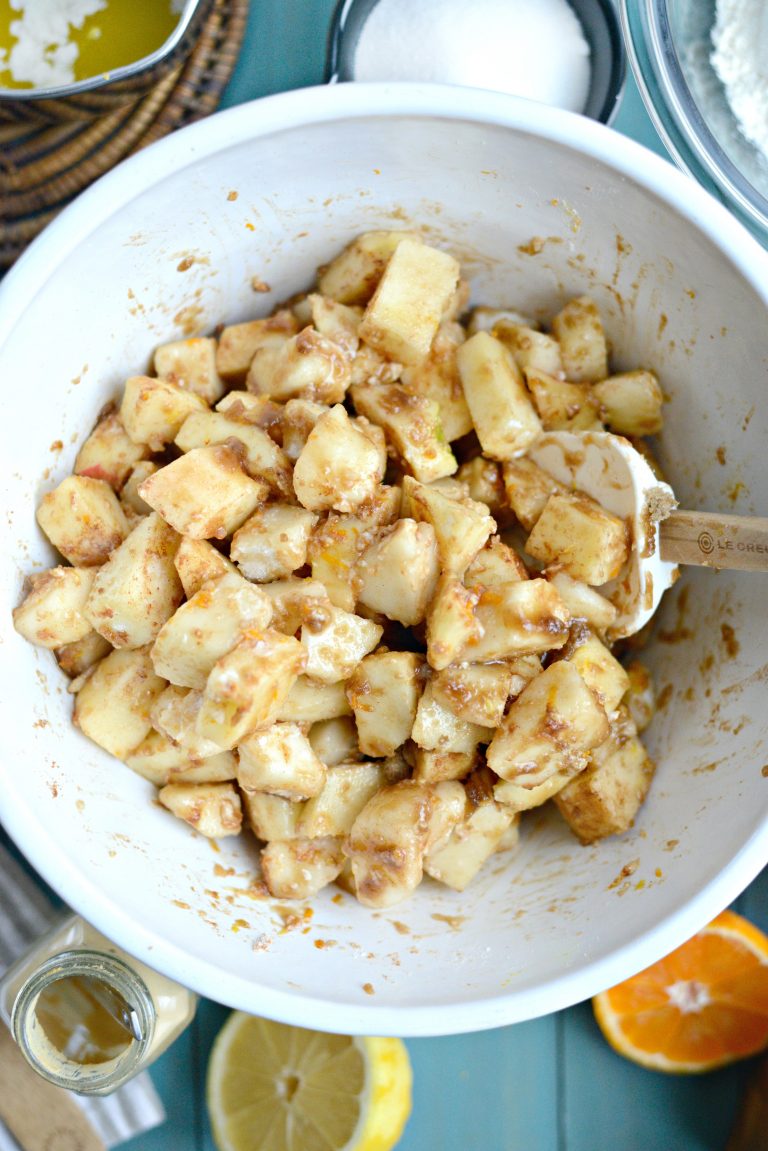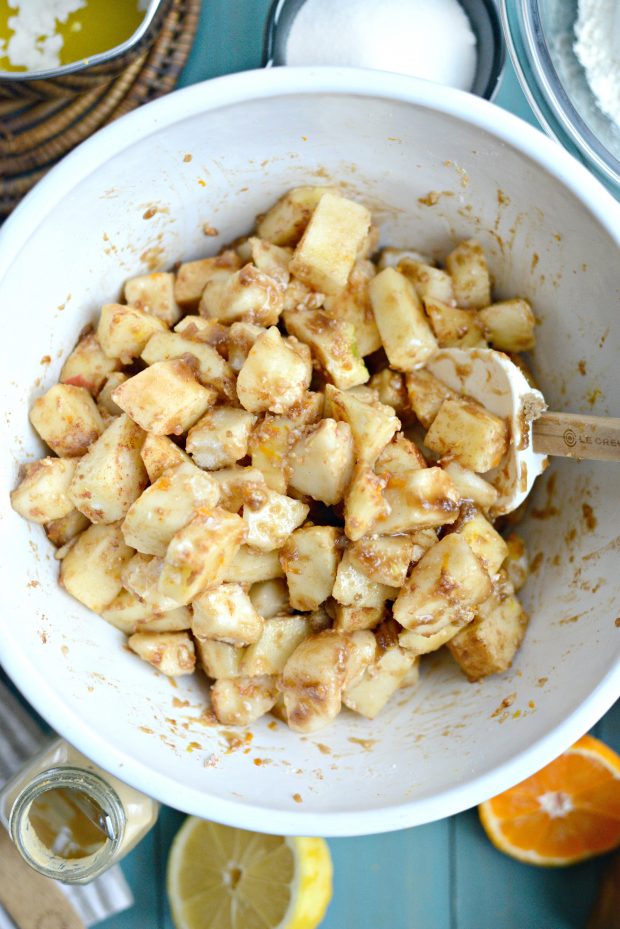 Next just toss it all together…
…and then pour it into a lightly greased baking dish.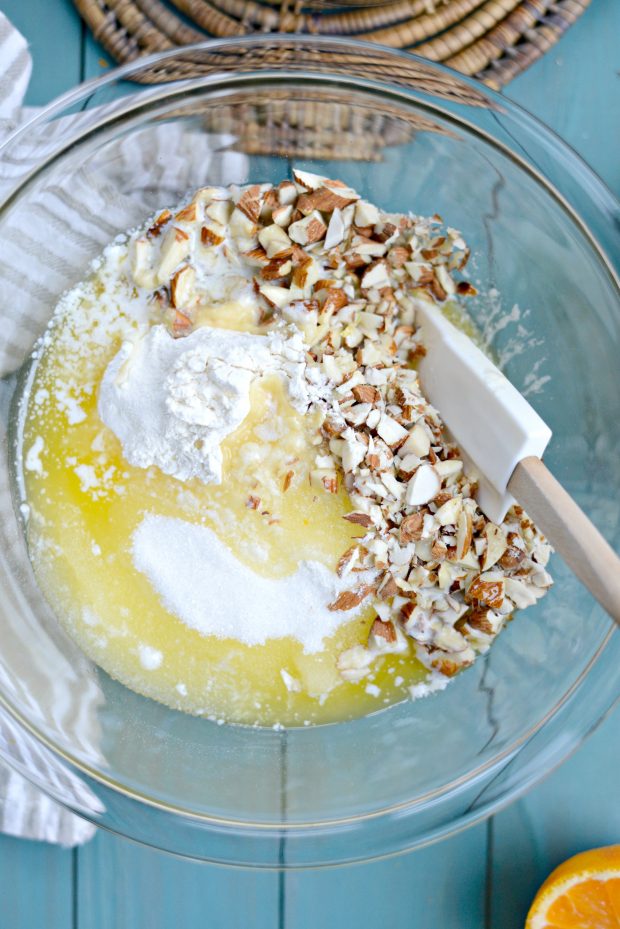 In a small bowl combine 3/4 cup of flour, 1/2 cup of sugar, a 1/2 cup chopped nuts, 1/4 teaspoon kosher salt and pour in 6 tablespoons of melted butter. Stir together until the butter is worked in to the dry ingredients.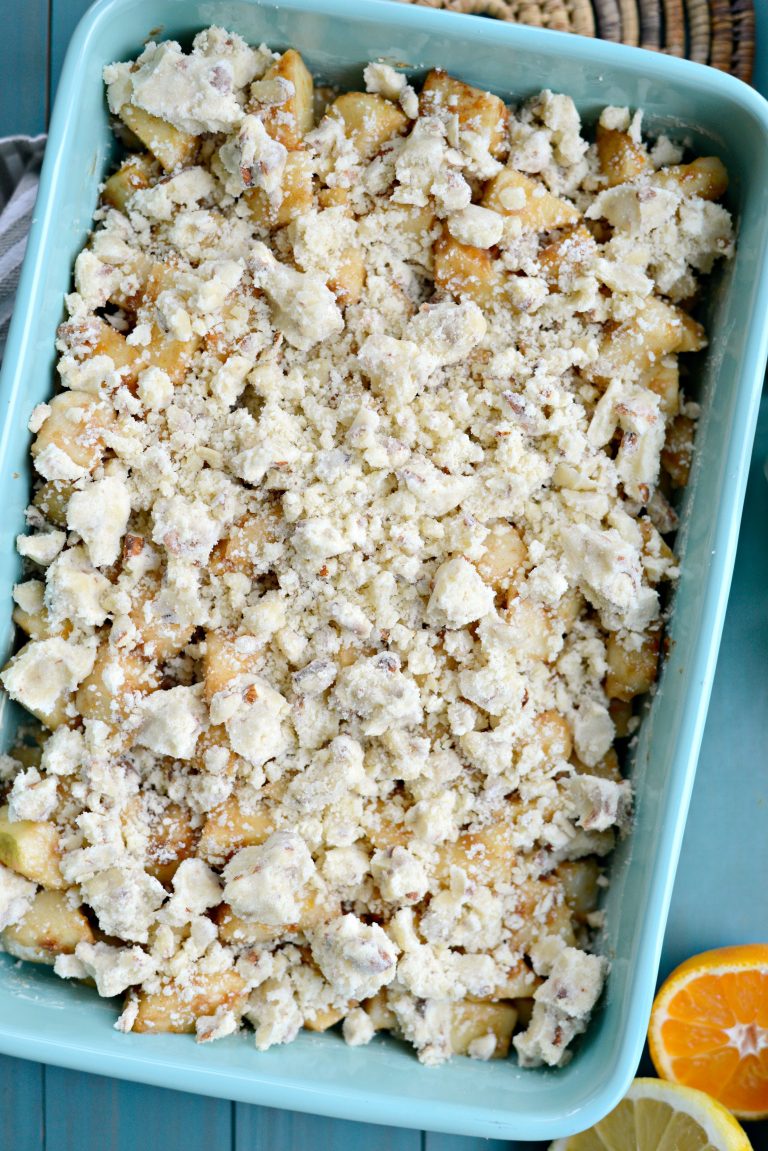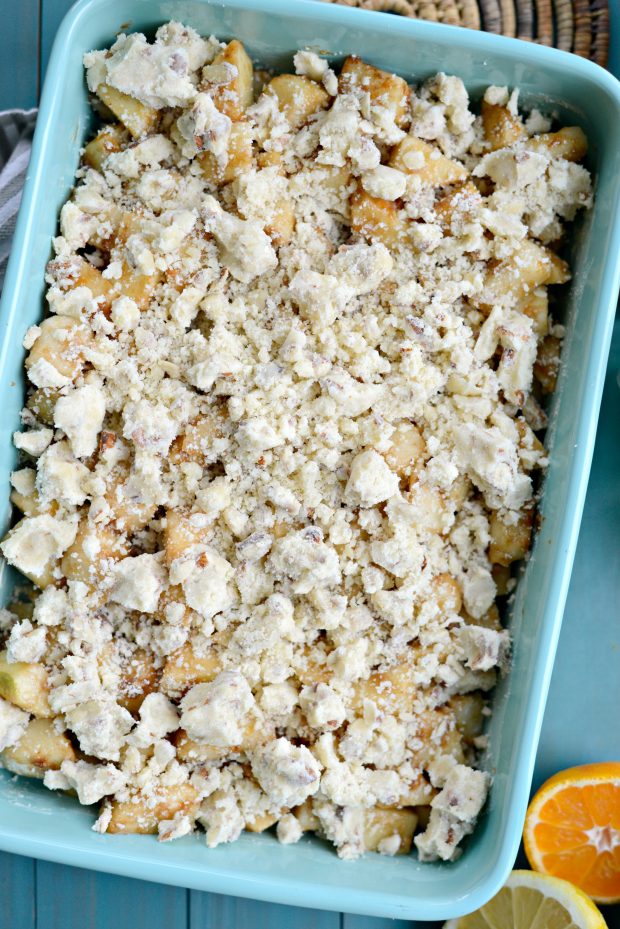 Lastly, just use your fingers to form small crumbles and scatter them across the top of the apple pear crisp.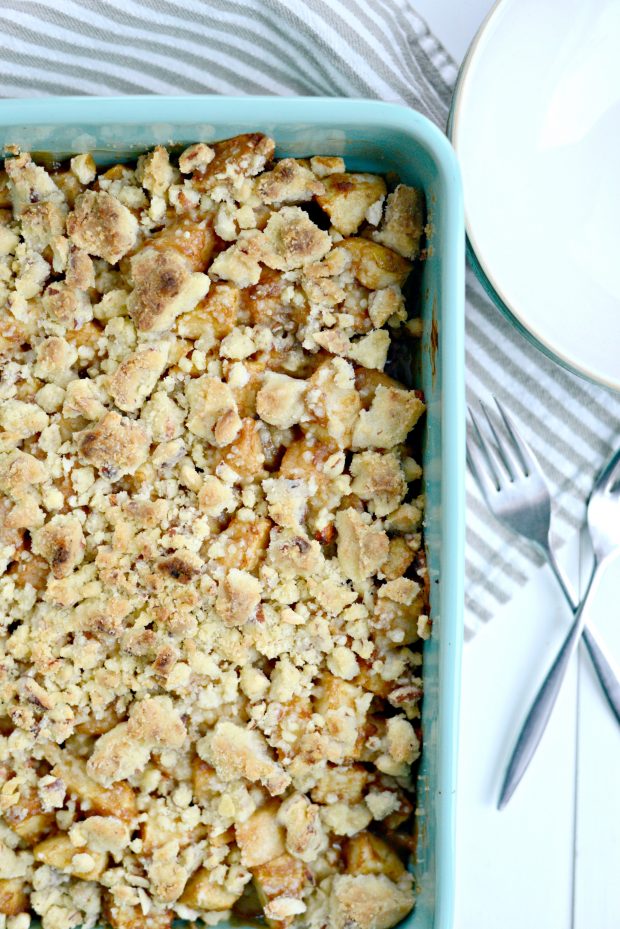 Bake at 400° on the middle rack for 30-35 minutes. That's it!
Scoop and serve with ice cream.
Enjoy!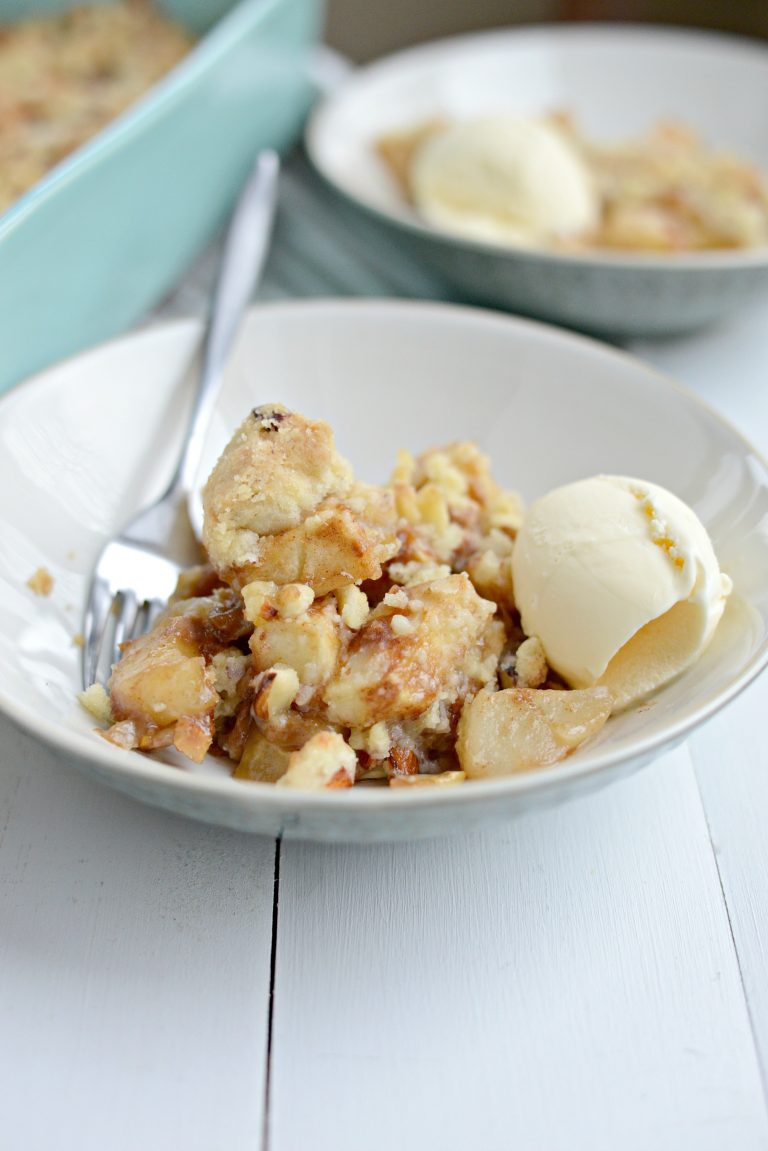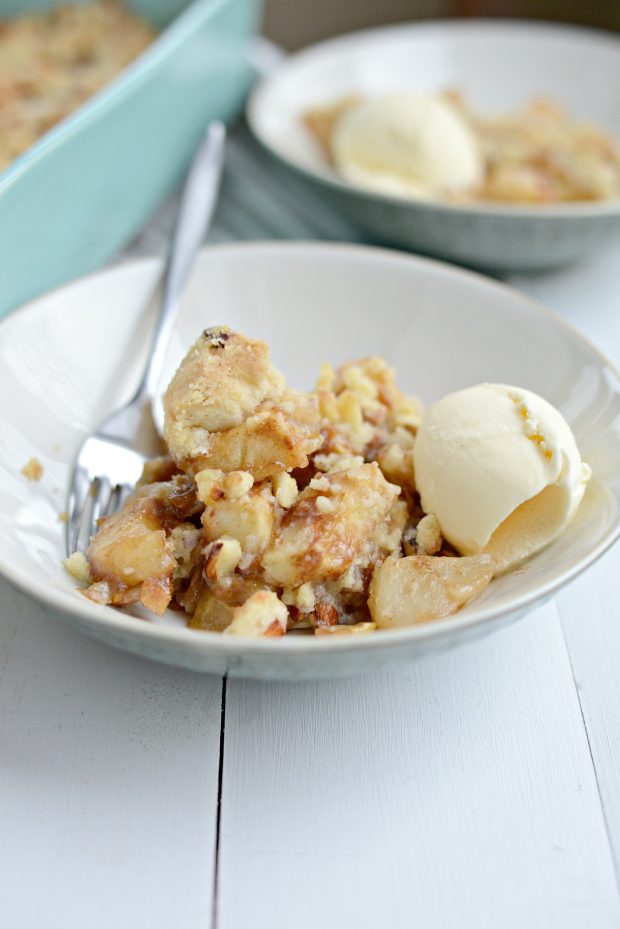 My cookbook Simply Scratch : 120 Wholesome Homemade Recipes Made Easy is now available! CLICK HERE for details and THANK YOU in advance! 
[this post contains affiliate links.]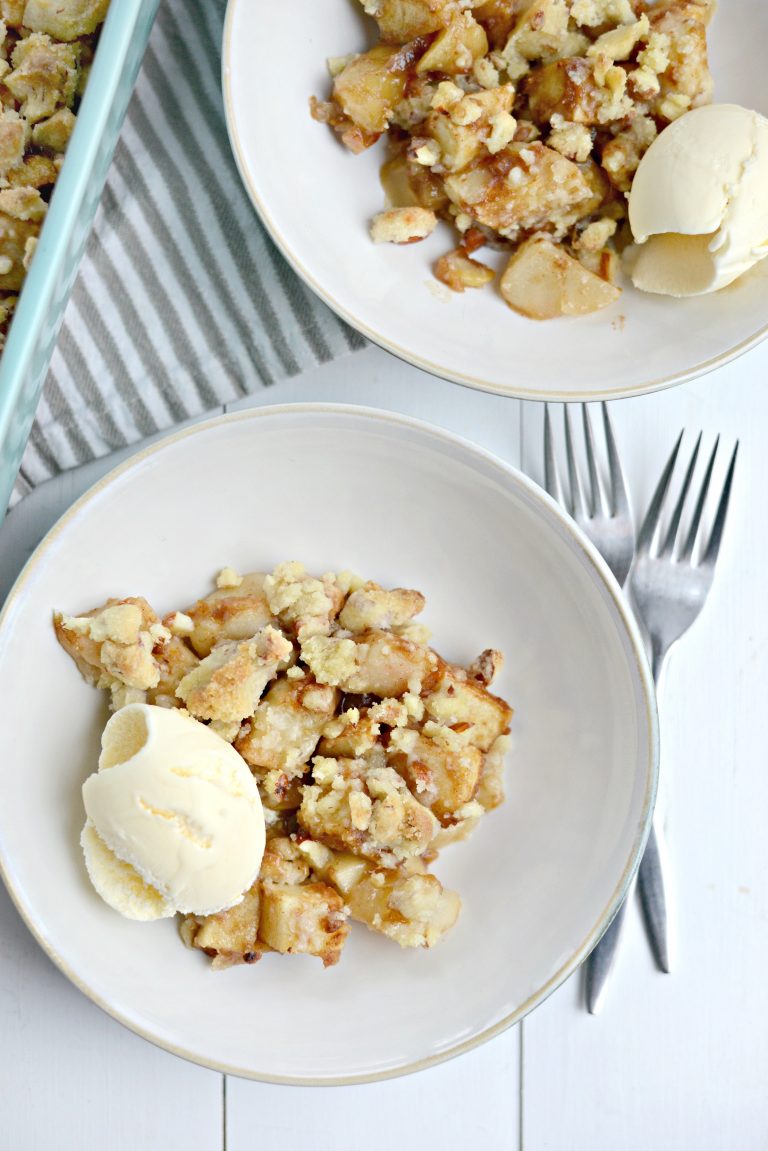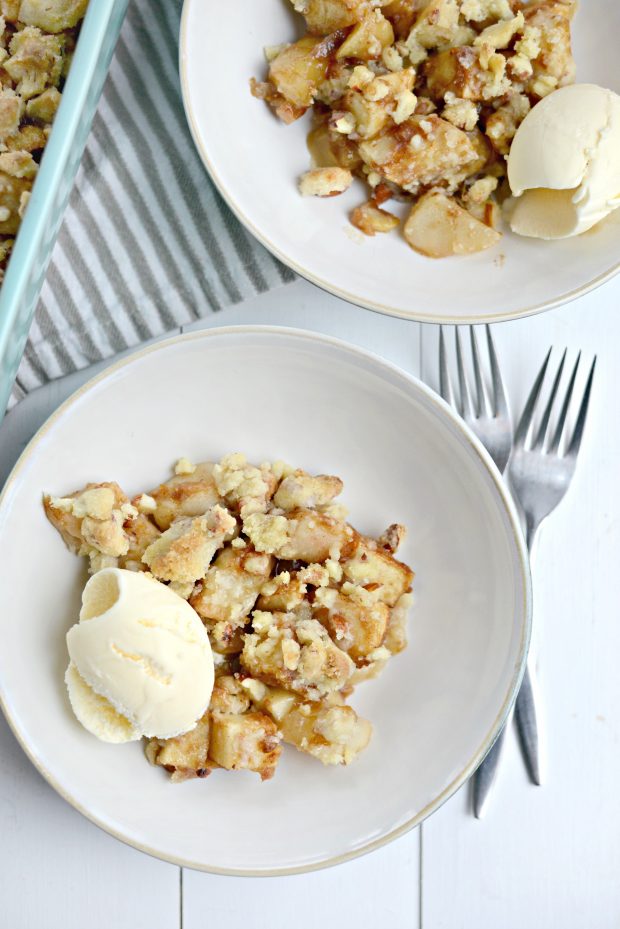 This post may contain affiliate links.
Buy the Cookbook: Simply Scratch : 120 Wholesome Homemade Recipes Made Easy Now available on Amazon »
THANK YOU in advance for your support!