Yes, there's turkey taco beer chili under all those toppings. I know you can almost not see it, but it's there. Swears.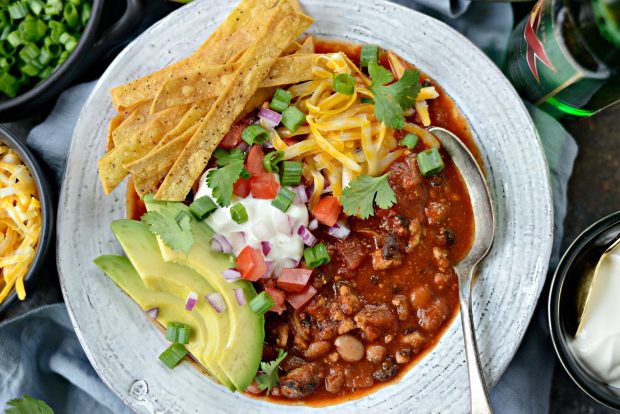 The whole reason people love chili is that it's easy. It's a one pot mamah-jammah and fills you up to the brim with warm cozy feels. Believe me when I say that we are a chili loving family. It's my go to on Football Sunday, it's what I make on Halloween, on nights when my daughters have practice (or games) and pretty much any day that ends in y. So yeah, we kind of love it.
I am all about my chili toppings too. Obviously. Typically I go the sour cream, cheddar and green onion route. You know, keeping it basic. But that just can't be when you make a taco chili. amiright? So I thought about what I put on my tacos (not what Malloree puts on hers, which would just be cheese) and then made sure to top my bowl-o-turkey-chili with all things taco related.
Except for olives. I totally flaked out and forgot about them. And I love  black olives on my tacos too! shoot.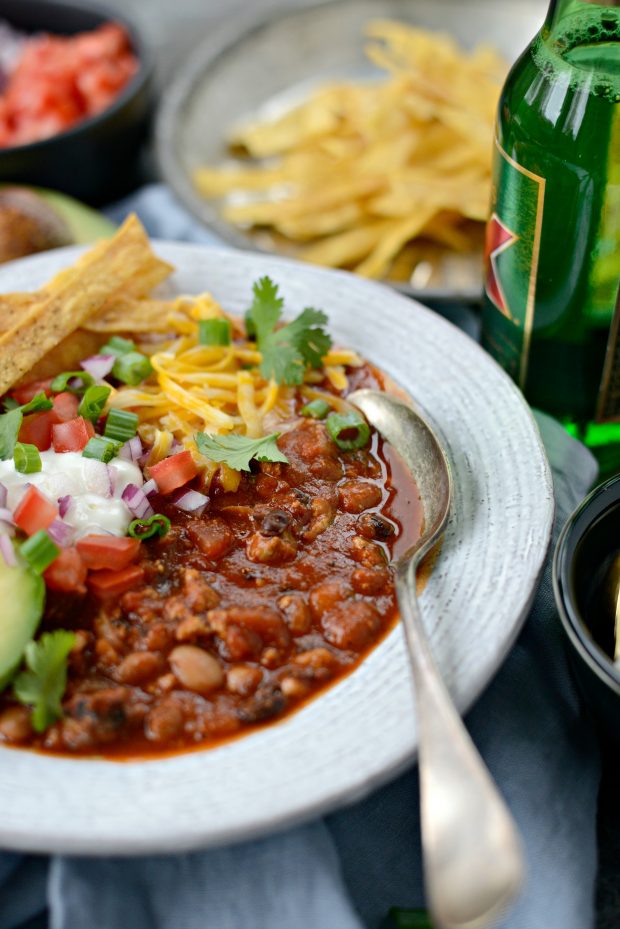 I have always served tortilla chips with my traditional chili recipe. We basically ditch our spoons and use the chips to dip and eat our way out of our bowls. And it wasn't until the most recent chili night that I thought "um hello, why not make a taco chili?"
I'm obviously not the first person to create taco chili. But this one has beer in it so….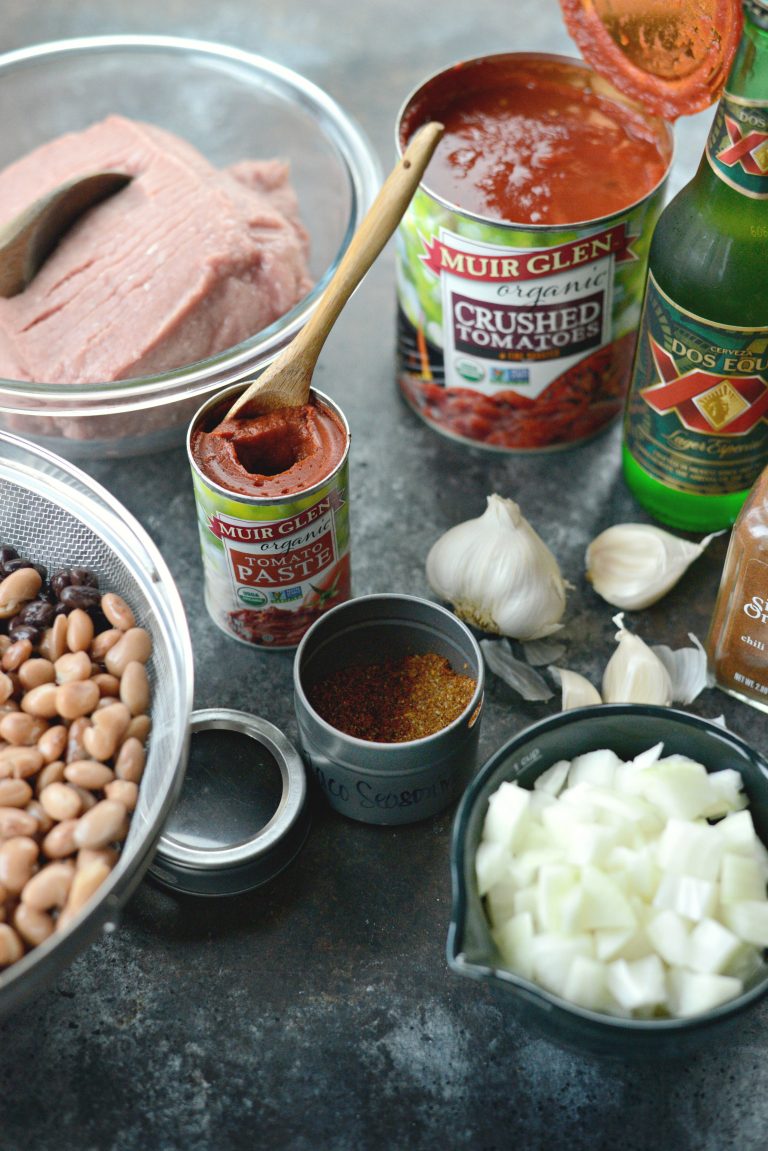 No this isn't a post sponsored by Muir Glen, I just love their products. And it just so happens that my local Kroger store carries a vast array of different products and is the only place I can find (at least by me) that carries fire roasted crushed tomato sauce. — if you can't find crushed fire roasted tomatoes, then regular, non-fire roasted crushed is fine. Don't stress.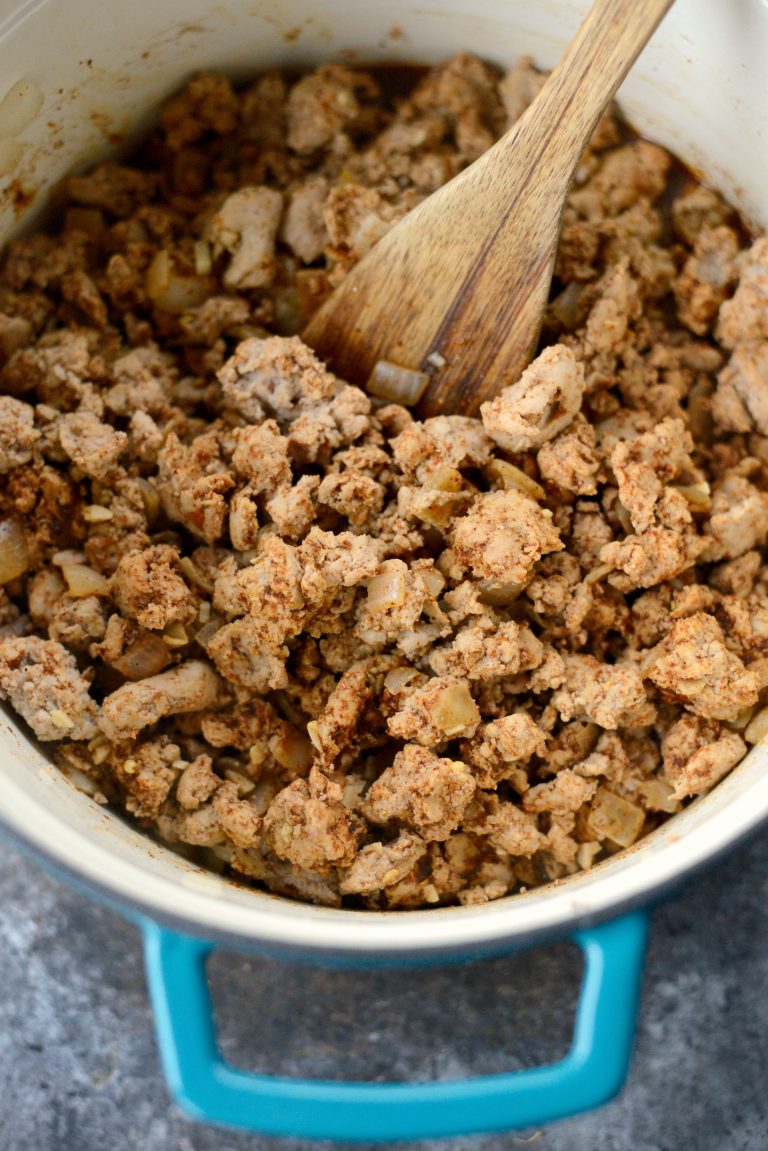 Start this turkey taco beer chili by heating a 6 quart dutch oven over medium heat.  Add a tablespoon of olive oil and sauté the onion and garlic until tender (about 5 to 8 minutes). Add in the ground turkey and break it up with a wooden spoon, stirring occasionally until fully cooked.
Stir in the 3 tablespoons of taco seasoning and chili powder and all of the tomato paste (6 ounces).
I made a double batch of my homemade taco seasoning and measured out 3 (heaping) tablespoons. But feel free to add the whole doubled recipe into the pot!
Pour in the beer. Smelllllllls soooooo goooooood! I'm using Dos Equis which happens to be a Mexican beer and was leftover at our house by our good friend Mike (Hi Mike!). #meanttobe
Add in the crushed fire roasted tomato sauce…
And alllll (the rinsed and drained) beans.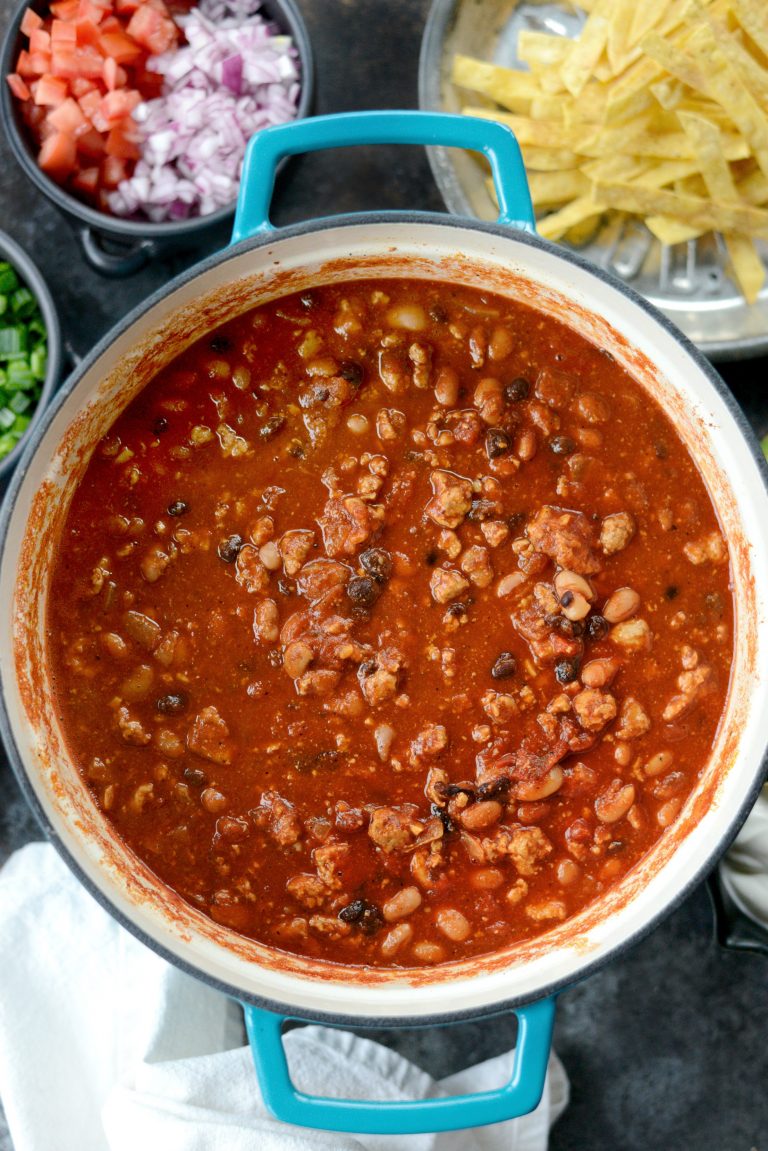 Cover and simmer for 30 to 35 minutes. This is when I prep all those toppings. (:
Boom. Done.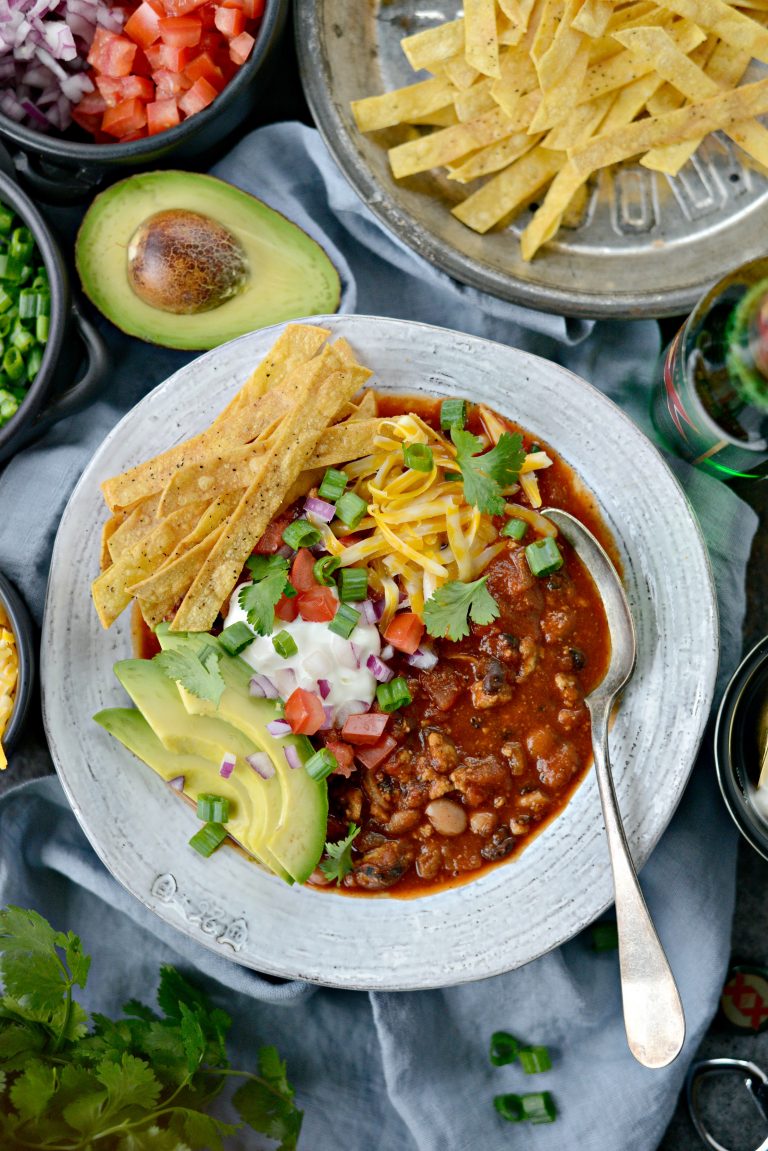 This chili is deliciously awesome! I know, you guessed I'd say as much BUT it was seriously so SO good! The next day it was even better! I loved the ever-so-subtle beer flavor and the robust flavor of the chili. Of course the toppings MADE this chili what it is. I actually added an entire half of an avocado to my bowl (again, SO good) and the chopped fresh tomatoes was really surprising, I thought it added a fresh taste and texture. So I highly recommend the tomatoes (and the avocado and the turkey taco beer chili, of course.) ;).
Enjoy!
Top this Turkey Taco Beer Chili with:
sour cream
sliced avocado
finely diced red onion
finely diced tomato
shredded cheese (I used cheddar jack)
tortilla strips or tortilla chips
cilantro leaves
olives
hot sauce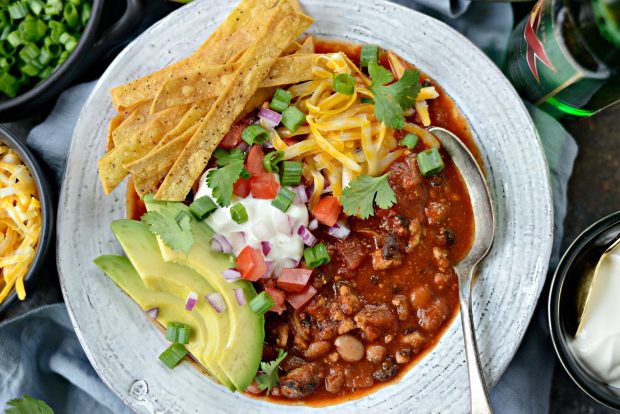 My cookbook Simply Scratch : 120 Wholesome Homemade Recipes Made Easy is now available! CLICK HERE for details and THANK YOU in advance!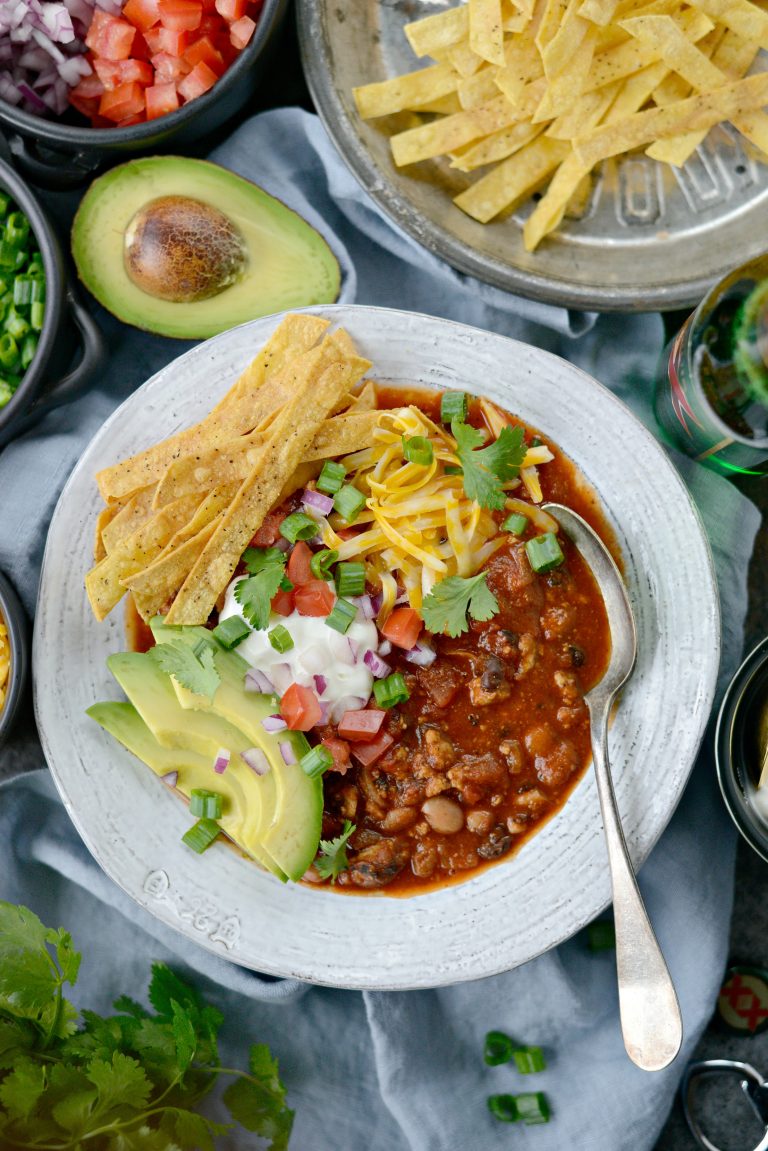 This post may contain affiliate links.
Buy the Cookbook: Simply Scratch : 120 Wholesome Homemade Recipes Made Easy Now available on Amazon »
THANK YOU in advance for your support!