This one pot spaghetti is so ridiculously easy. Because, yes you guessed it, the whole thing is done in one pot! As in the meat, noodles… everything.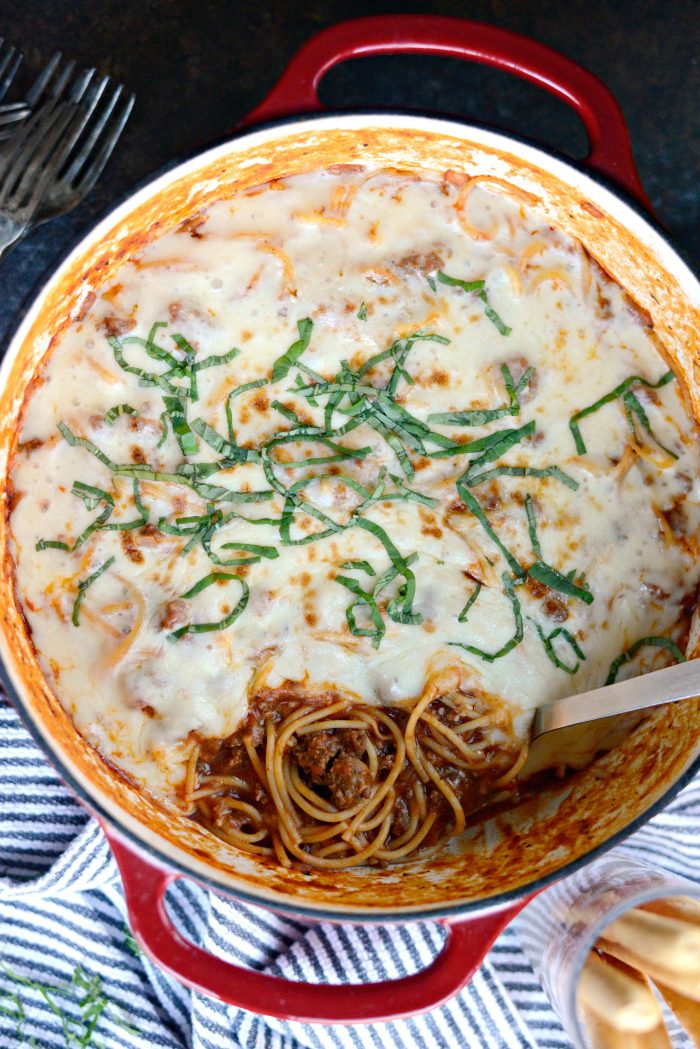 All day Monday I was 1 hour ahead of schedule.
Thanks to myself for not setting my clocks back on Sunday morning.
It wasn't until after I made this one pot spaghetti, washed the dishes, changed loads of laundry and walked into my bedroom and eyed my husbands alarm clock (which he adjusted so he would wake up on time) that it dawned on me. I must have stared at it good and hard for 3 like solid minutes.
These were my thoughts: 1:30? But I thought it was 2:30. Wait. Oh my gosh the clock on the stove is wrong. I should have changed it yesterday. But heyyyy I just gained an hour to take a nap! Zzzzzz.
Speaking of naps (carbs). This one pot spaghetti is so ridiculously easy. Because, yes you guessed it, the whole thing is done in one pot! As in the meat, noodles… everything. As someone who claims to be a professional dishwasher, I try to avoid dirtying (and therefore washing) as little of dishes as humanly (and blogger-ly) possible. So I'm all about those one pot jams.
After making a one pot chili mac and cheese recipe earlier this year, I started testing out spaghetti versions. Because if there's one dish I absolutely cannot stand to wash it's a pots.
Big pots are the worst. And if I could eliminate one of the two? Heck, I am in!
To Make This One Pot Spaghetti You Will Need:
yellow onion
kosher salt
lean ground beef
hot or mild Italian sausage
marinara sauce (homemade or store bought)
spaghetti noodles
low-sodium chicken broth
parmesan
mozzarella
basil, for serving
I preheated my 6-quart Dutch oven over medium heat. Once hot, I then drizzle in 2 teaspoons of olive oil and added in 1 cup diced yellow onion and a pinch of kosher salt. When the onion has softened add 1 pound ground beef and 1/2 pound Italian sausage, breaking it up with a wooden spatula and cooking until browned. Used a spoon to remove the fat to a nearby heat safe bowl.
To the ground beef mixture add 3 cups of marinara and 4 cups low sodium chicken broth.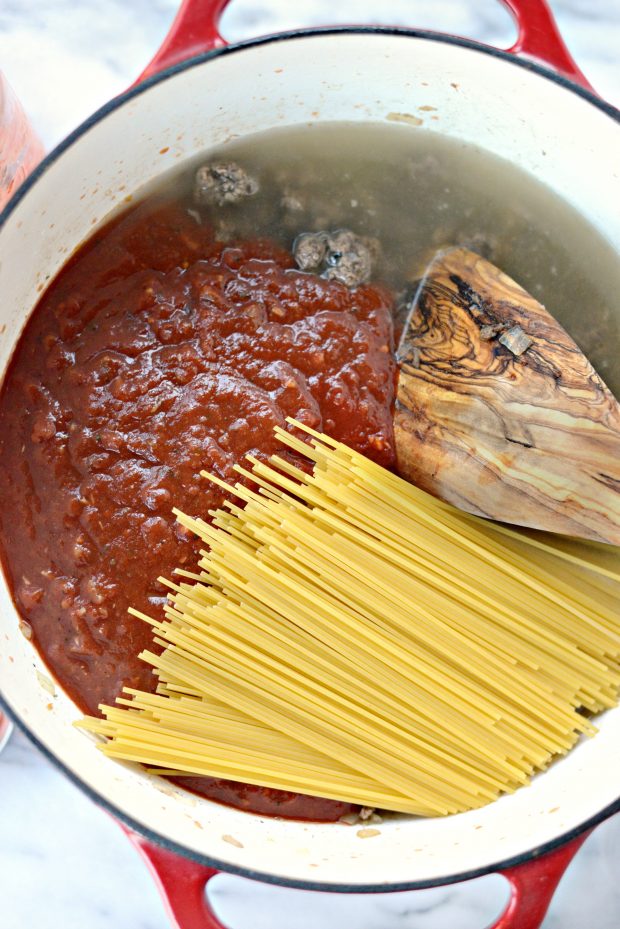 Then add in the spaghetti (I broke it in half), give it a stir and brought it up to a boil with the lid askew. Once at a boil, I stirred quite often because you don't want the noodles to stick to the bottom of the pot. Cook for 15 minutes (once at a boil). I did remove the lid half way through the cooking time.
Remember, be sure to stir often. Those noodles like to stick.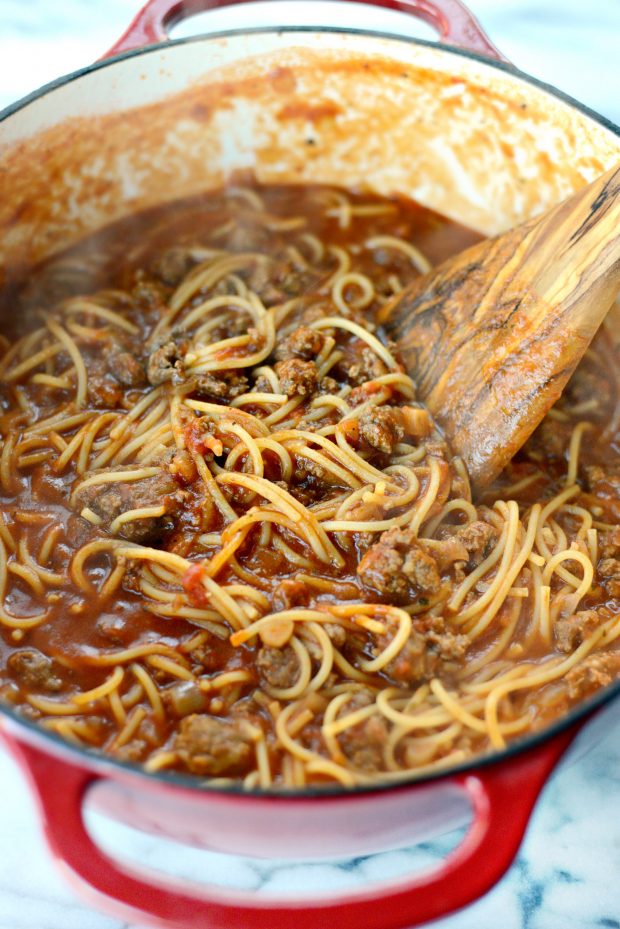 You could totally just serve the spaghetti now…
But cheese makes everything better. I sprinkled 1/3 cup of freshly grated Parmesan and 2 cups freshly shredded mozzarella cheese. Then I slide the whole pot under the broiler for like 2 minutes… not long at all so watch closely.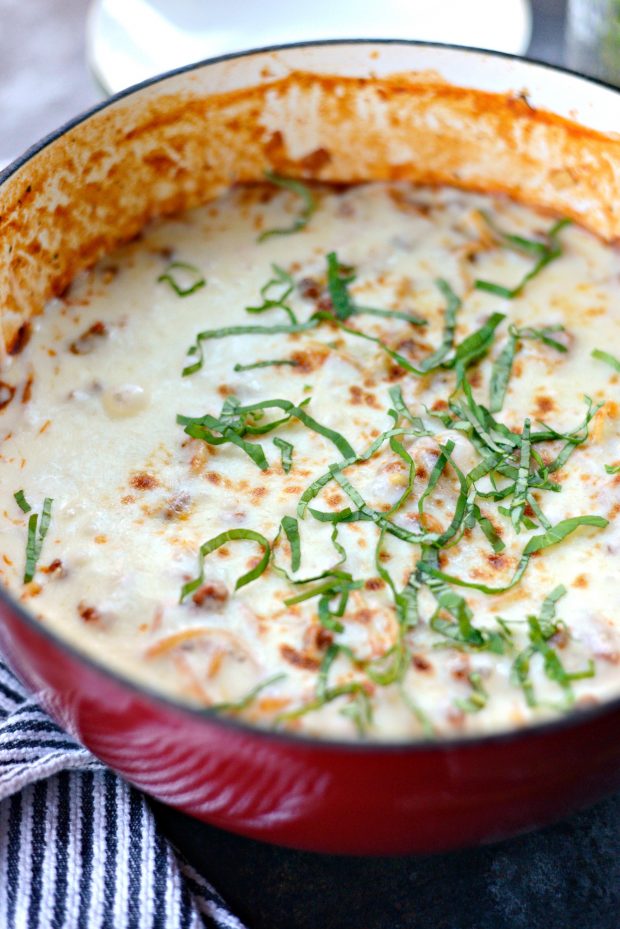 Then I sprinkled the whole pot with fresh sliced basil.
And served.
Enjoy! And if you give this One Pot Spaghetti recipe a try, let me know! Snap a photo and tag me on twitter or instagram!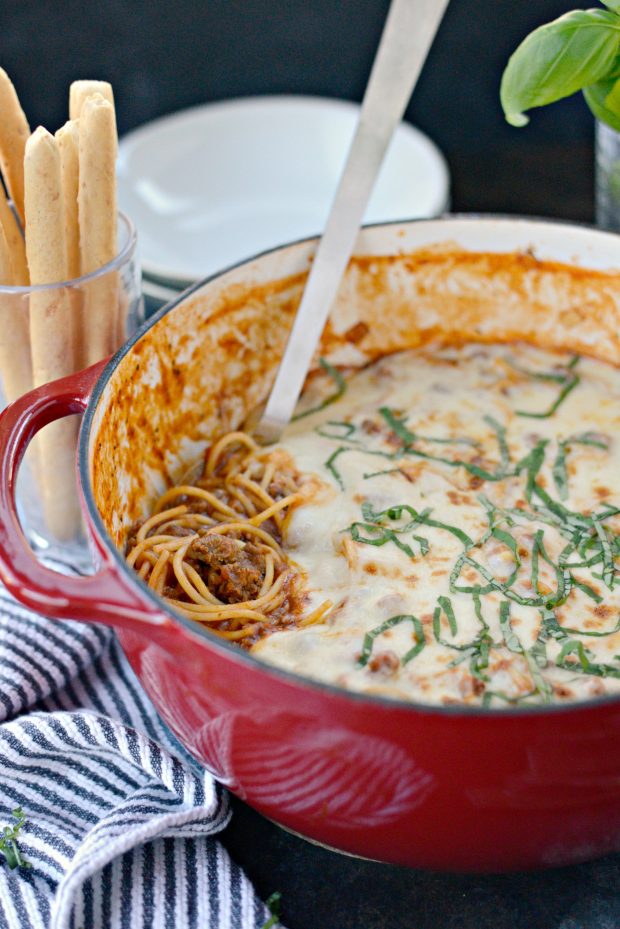 This post may contain affiliate links.
Buy the Cookbook: Simply Scratch : 120 Wholesome Homemade Recipes Made Easy Now available on Amazon »
THANK YOU in advance for your support!