I've decided to step up my slow cooker game by making slow cooker Italian turkey meatballs.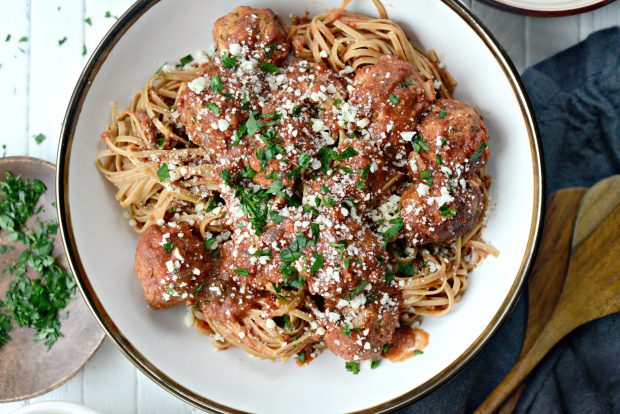 Because, as most of you loyal friends know, I'm not the biggest fan of the slow cooker. I didn't always understand what people love about them or how they could eat 4 out of 7 meals a week via crock pot recipes. Because I've made enough stews and things to know that they all taste like a mash up of each other… a blend of blah (in my opinion) and that nothing compares to oven braising.
I do however love making large hunks of pork in my slow cooker. And now apparently meatballs.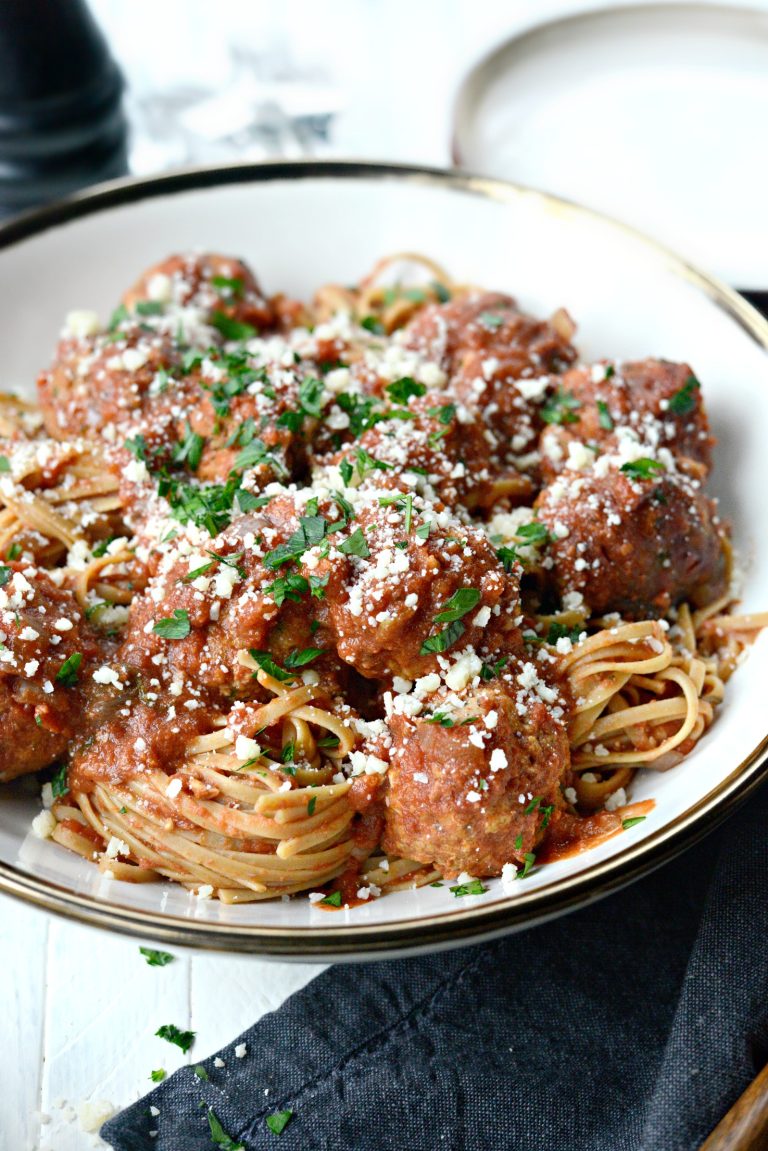 Obviously, slow cooker turkey meatballs have been around for a bit, but I've never made them until last week.
I took my go-to beef meatball recipe, turned them into an all turkey recipe. I whipped up a batch of my Homemade Marinara (from my cookbook) and literally threw it together in minutes, set it on low and made an apple pie. So easy! And the smell that emerged? Mouthwatering. THAT is how slow cooking recipes should be. NOW I get all the hubbub about the slow cooking craze. And maybe, just maybe the reason I didn't like slow cookers before is that I a-l-w-a-y-s cooked on high. Which until recently I read, is a no-no. (oops!)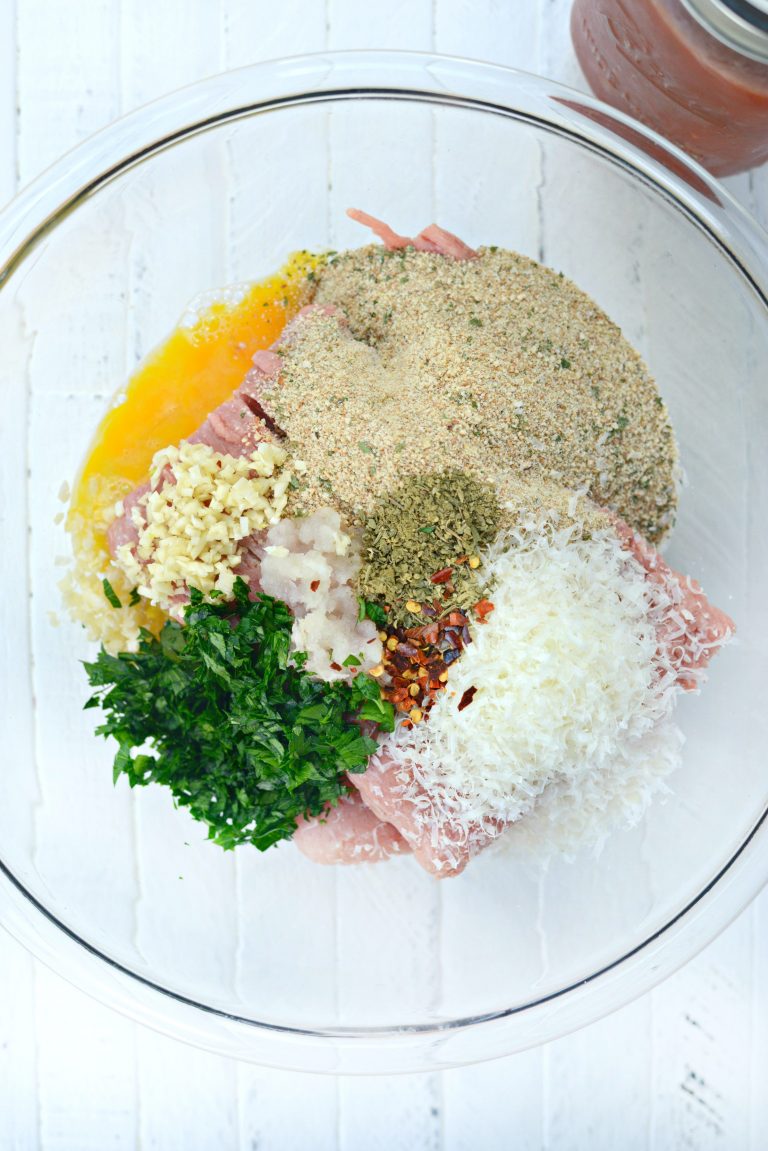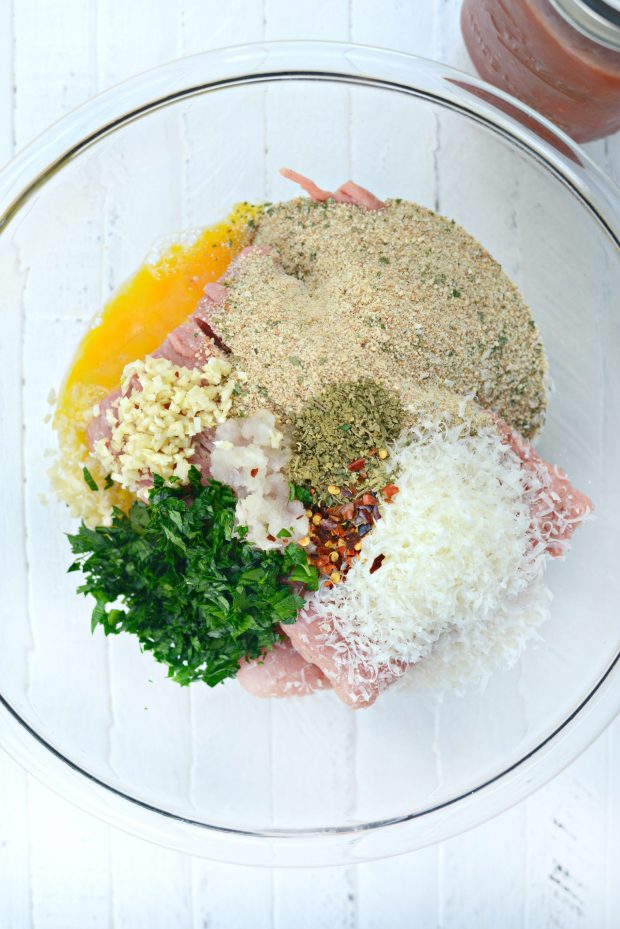 So grab a big-o-bowl and toss in 2 pounds ground turkey. My grocery store had literally two 1-pound packages left. One was regular ground turkey and the other was ground turkey breast. I was a little nervous but the meatballs turned out delicious and moist. Anyway, along with the ground turkey throw in a large shallot that has been grated, 4 minced cloves of garlic, 1 cup Italian breadcrumbs, 1/3 cup freshly grated Parmesan, 1/4 finely chopped parsley, 1 teaspoon Italian seasoning, a pinch or two of red pepper flakes (optional) and 1 egg that's been lightly beaten.
Use a fork to mix everything together.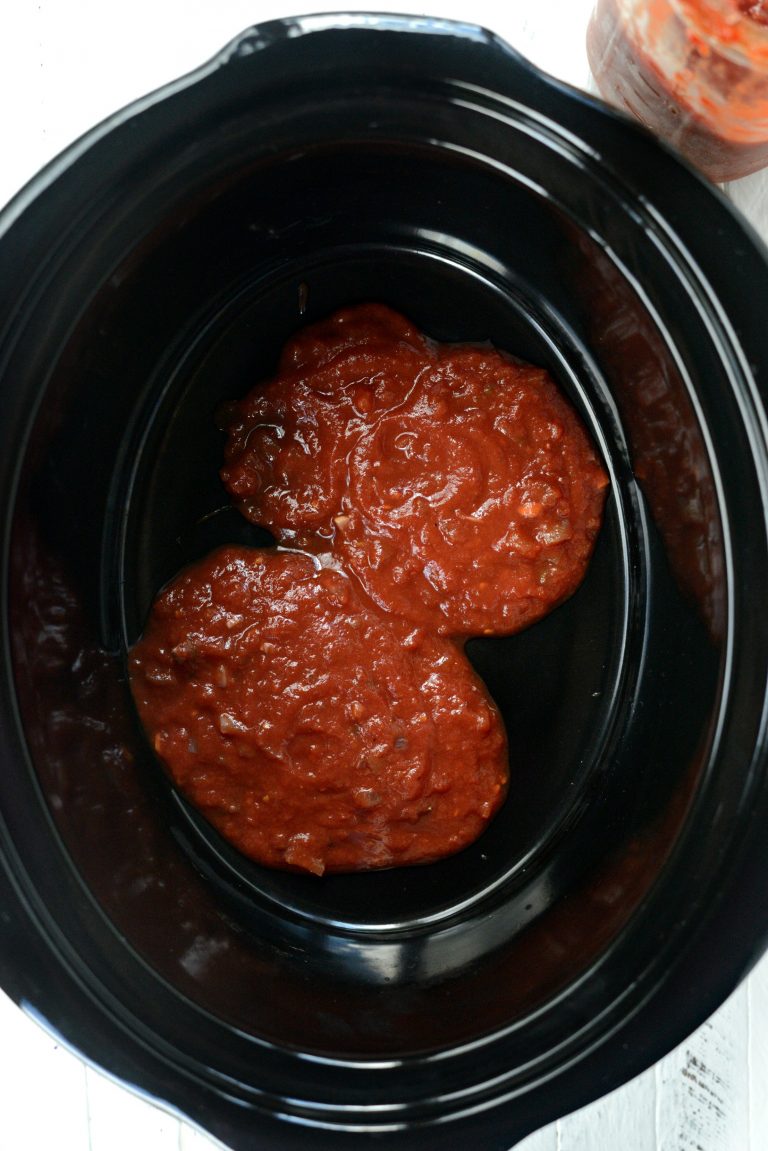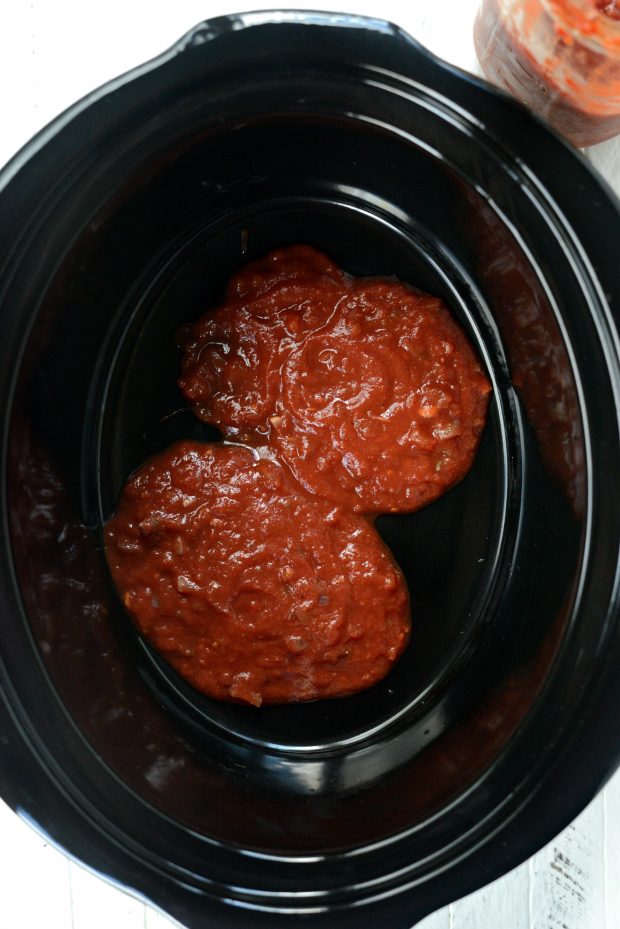 Pour about a cup of marinara in the bottom of your slow cooker. If you're shopping for a slow cooker, here's the one I use and love!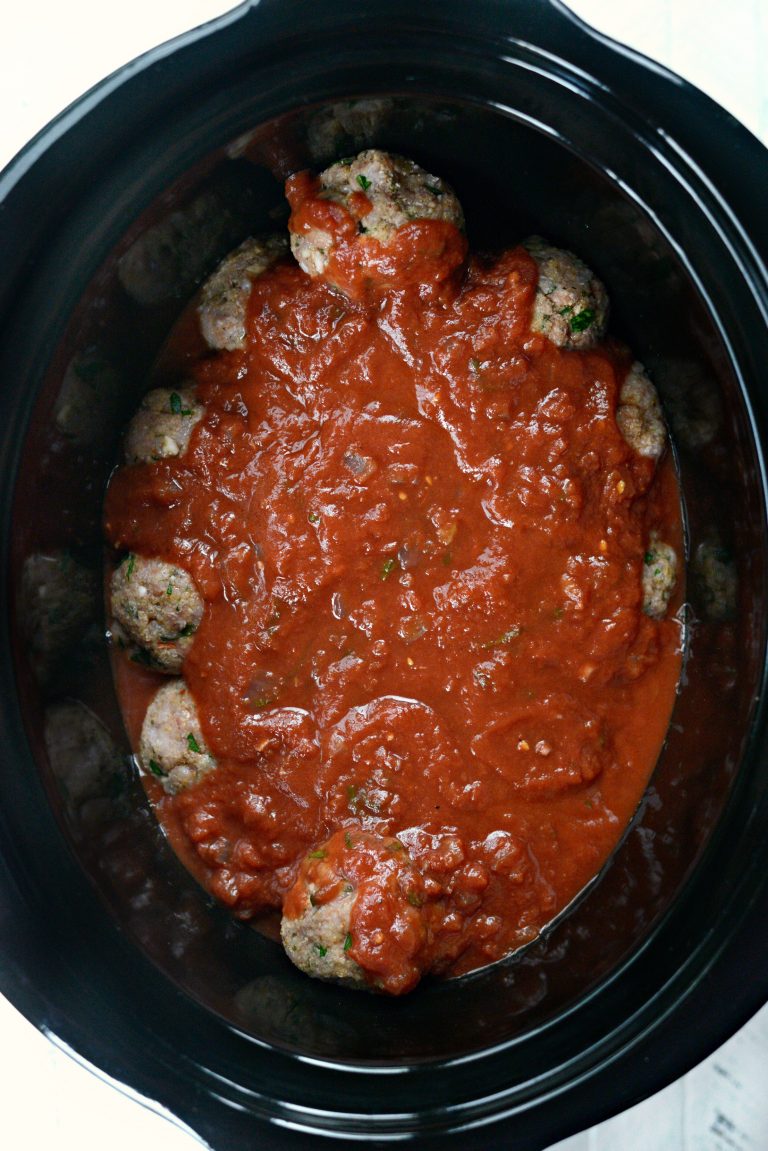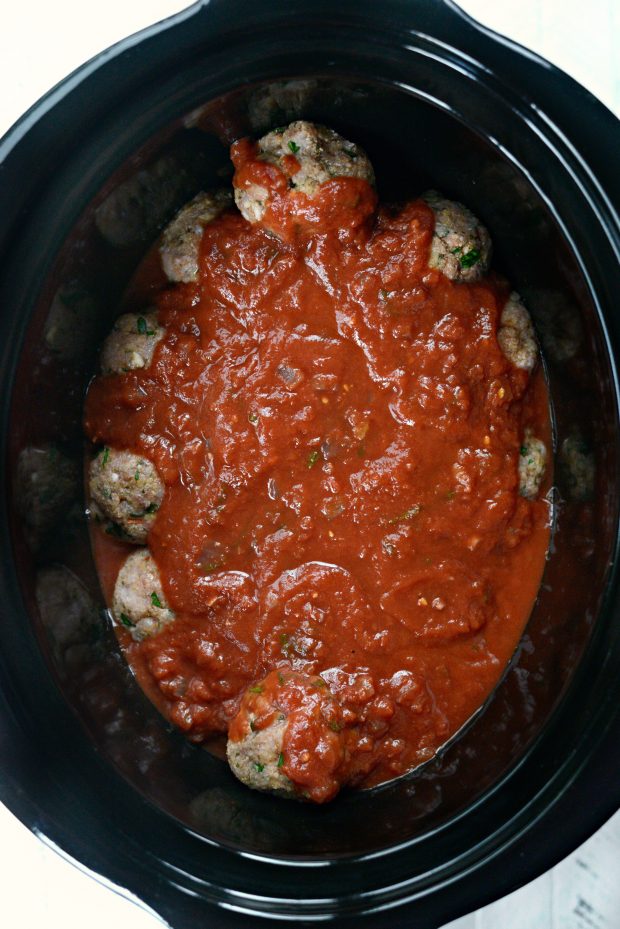 Form the meatballs (mine are slightly larger than golf balls, about 2 to 3 tablespoons of meat mixture– I eyeballed it) and place them into the slow cooker as you go. Pour the remaining sauce over top.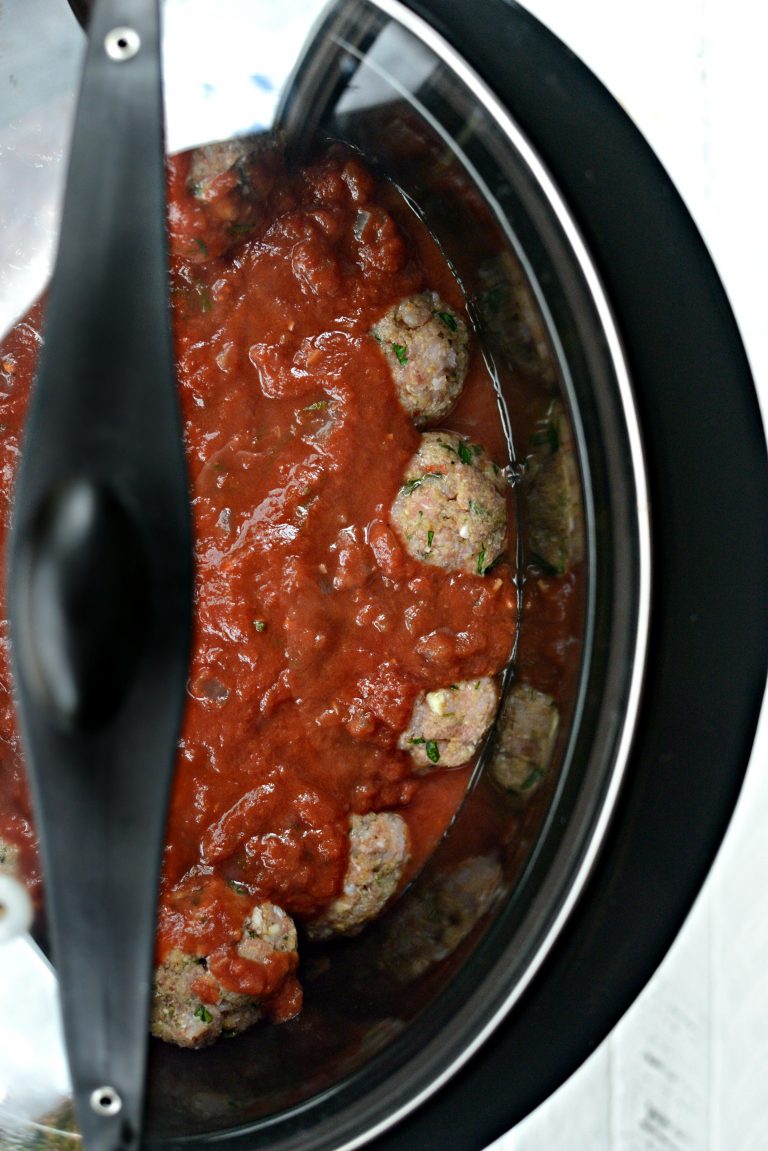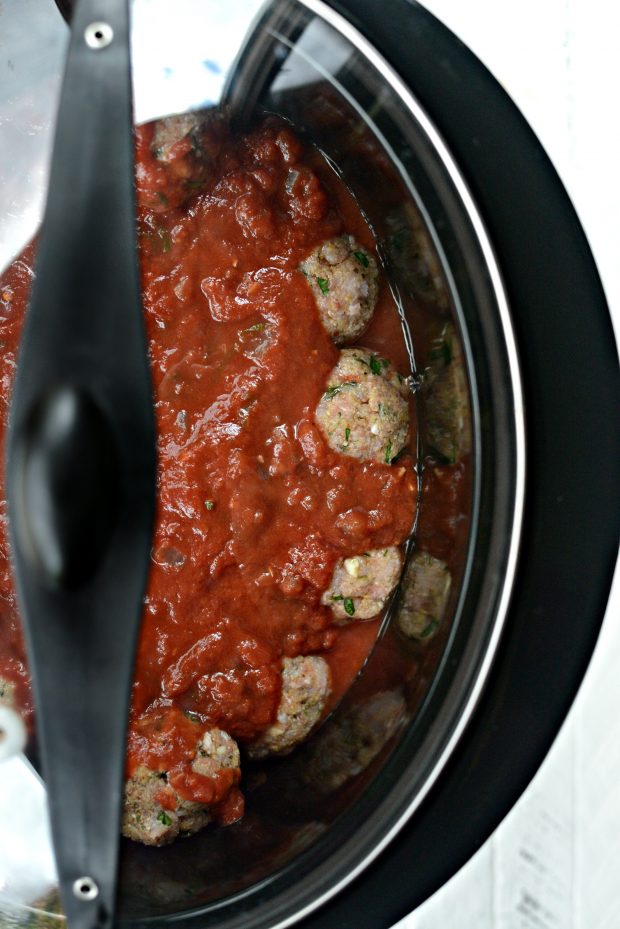 Cover and set to cook on low heat for about 6 to 7 hours.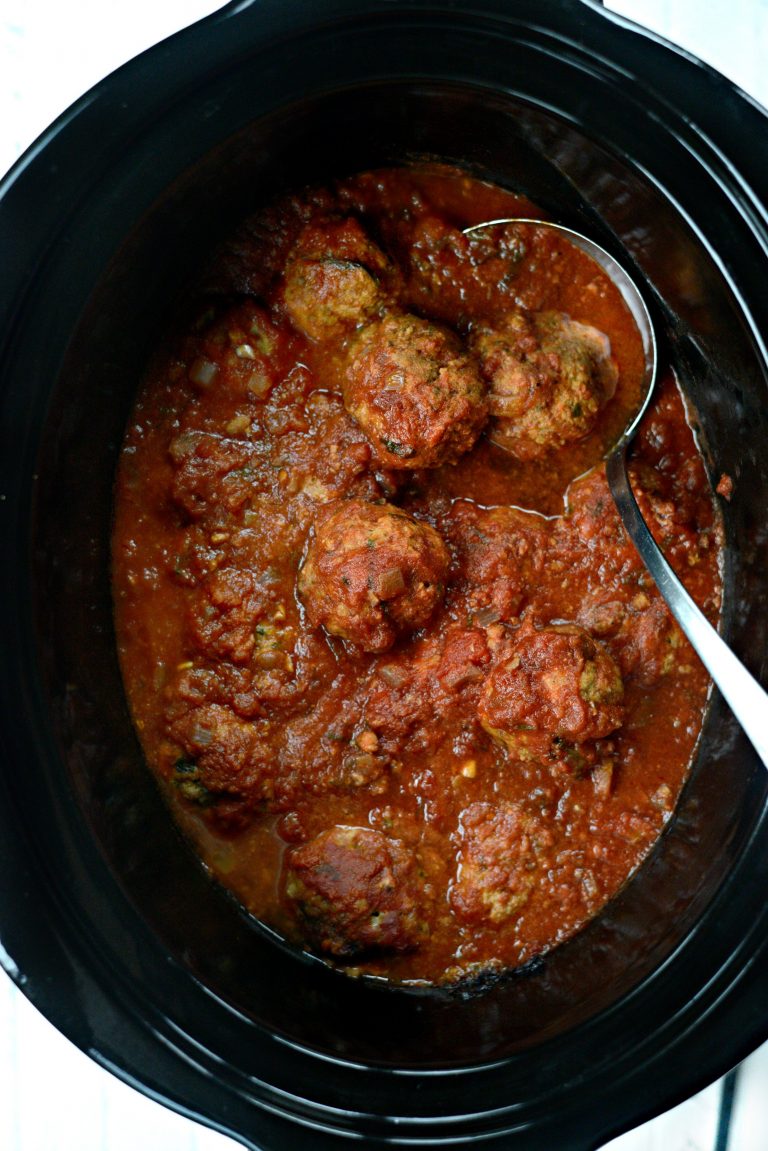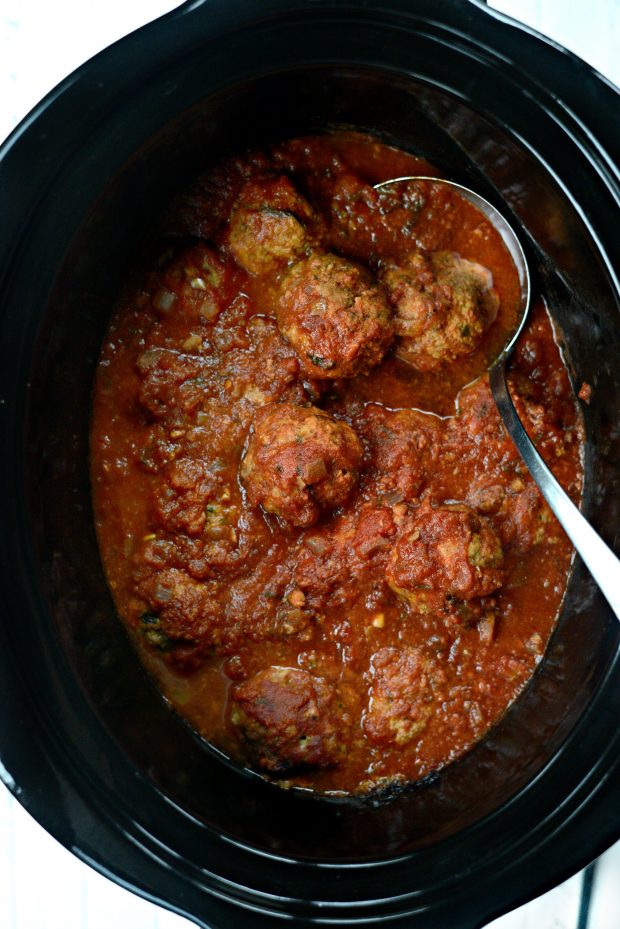 Boom! Magic.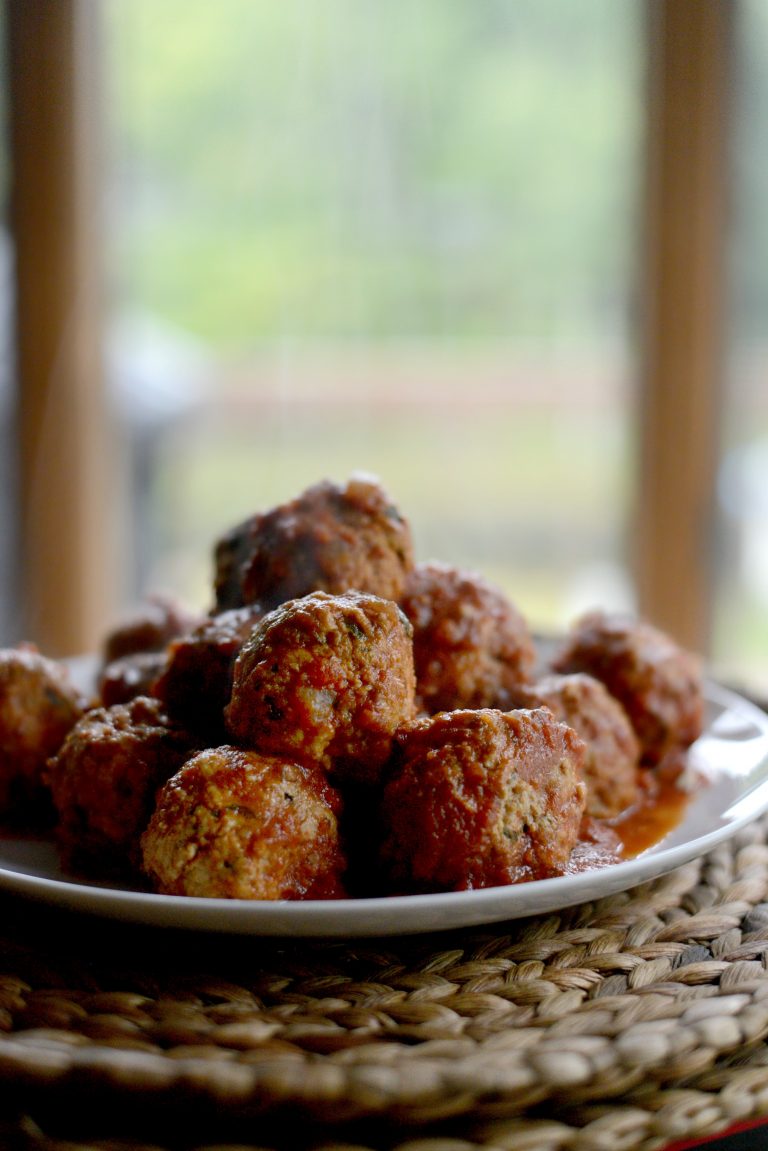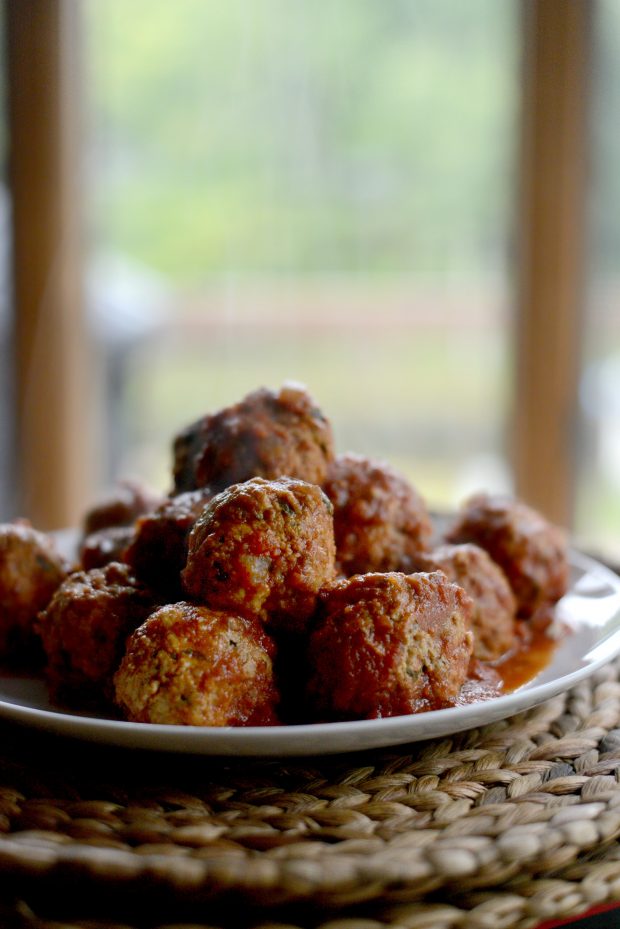 Of course you don't need to eat these with pasta. Roasted spaghetti squash would be fabulous! But my family wouldn't expect some form of carb under their meatballs so I bring a large pot of salted water to a boil and cook 3/4 of a pound of linguine noodles (spaghetti works too) by following the package directions until al dente.
With a few minutes left on the pasta, I removed the meatballs to a platter, drained the pasta and immediately tossed it in the slow cooker with the sauce.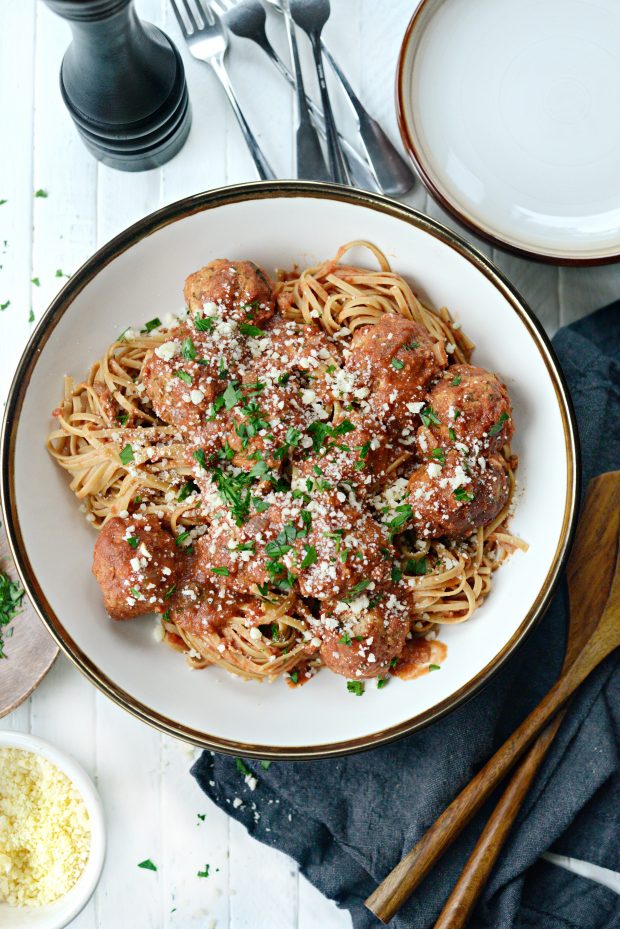 All that's left to do is transfer the saucy pasta to a platter, top with the slow cooker Italian turkey meatballs and sprinkle with freshly crumbled Parmesan and chopped fresh parsley, then serve.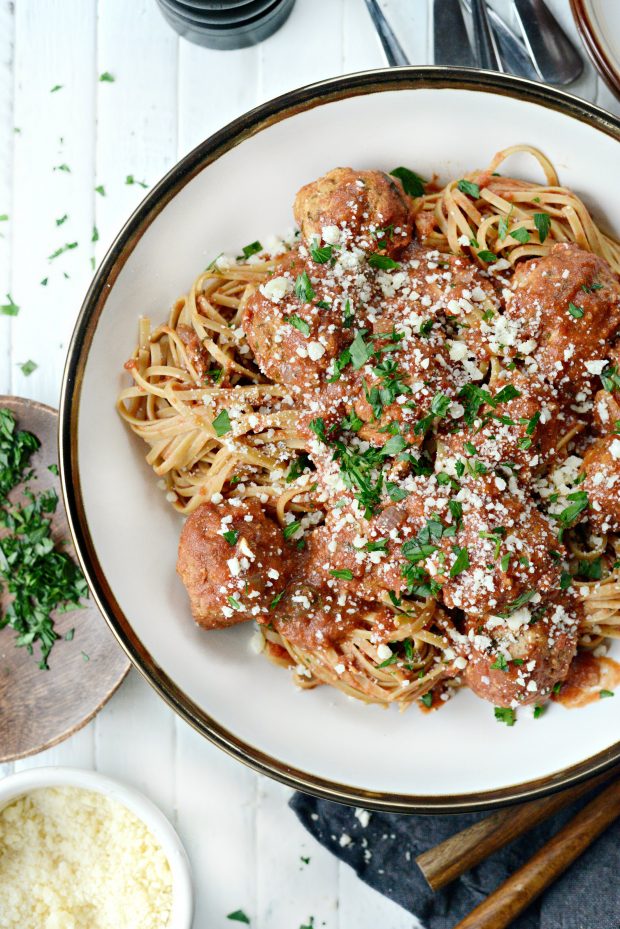 The smell of these cooking throughout the day is phenomenal and pure torture at the same time. I wanted to open my slow cooker and just breath… I could hardly wait until dinnertime.
Not sure if you'd like slow cooker Italian turkey meatballs?
My husband and kids couldn't tell the difference and were surprised they were turkey. Slow cooked meatballs in homemade sauce is the way to go.
Winner-winner turkey meatballs for dinner!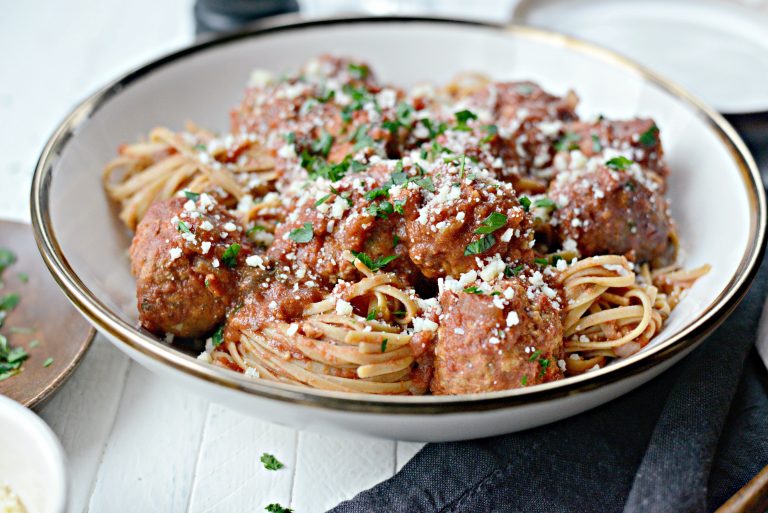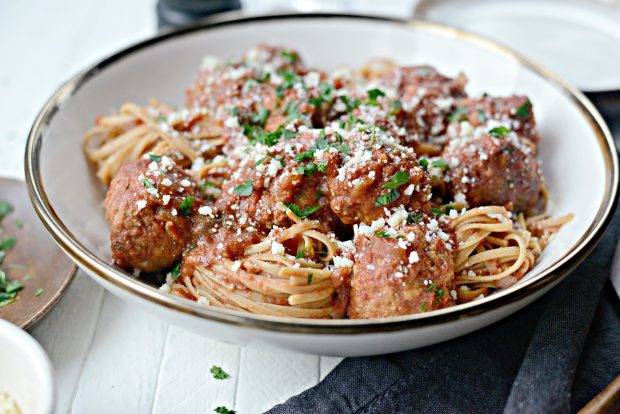 My cookbook Simply Scratch : 120 Wholesome Homemade Recipes Made Easy is now available! CLICK HERE for details and THANK YOU in advance!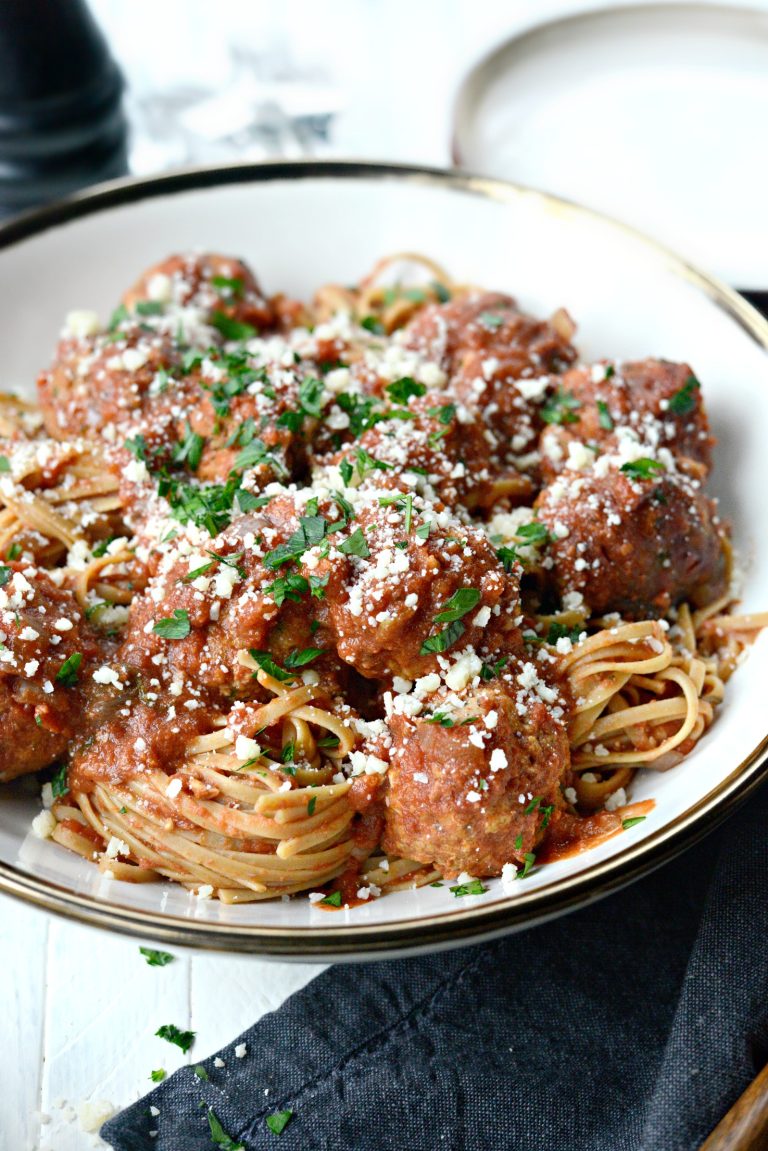 [this post contains affiliate links.]
This post may contain affiliate links.
Buy the Cookbook: Simply Scratch : 120 Wholesome Homemade Recipes Made Easy Now available on Amazon »
THANK YOU in advance for your support!