This grilled radicchio, bell pepper and olive panzanella is loaded with flavor. The dressing is made from fresh tomatoes and it's pretty fantastic!
Last week, I may have made one of the best olive panzanella of my life.
I was on a mission for a colorful, flavorful bread salad and (toot!) I think I nailed it.
In the summer months I like nothing more than to make panzanella my main meal while sipping a chilled glass of white wine on my back deck. My kids however, would like to pick out only the dressing-soaked pieces of crusty bread and make that a meal out of those. Yeah, so not happening. Ps. they totally get that from me.
I'm not sure when my first encounter with Panzanella was, but it's one of my favorite salads EVERRR. In this version I mix an assortment of grilled veggies with sweet, ripe campari tomatoes, briny olives and hand-torn, toasted ciabatta pieces. And the dressing? OHHHHH MYYYY WORD! Sorry for all caps-ing you but it's absolutely phe-NOM-enal and so simple. Salting tomatoes and placing them in a fine mesh strainer over a bowl and then just let the magic happen. In little to no time you'll get enough fresh tomato juice to whip up a simple and tasty vinaigrette. A tomato vinaigrette that I could literally drink out of the jar.
Here, let me show you…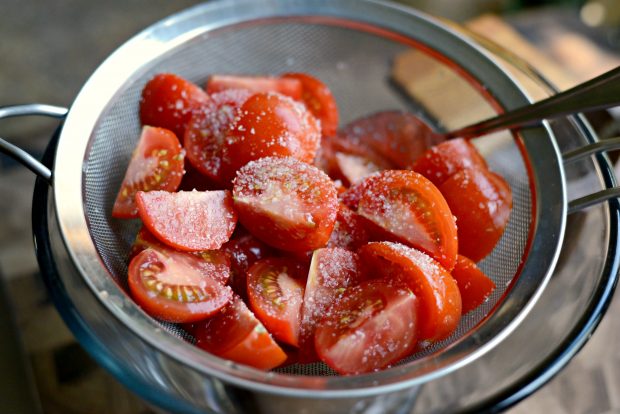 So I quartered a pound of compare tomatoes and placed them in a mesh strainer set into a bowl. Sprinkle with a teaspoon of salt, stir and set off to the side. I stir every now and again to keep the juices flowing.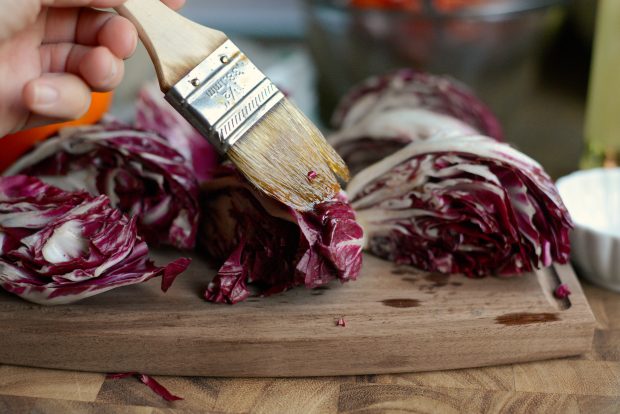 In the meantime, quarter 2 (smallish) heads of raddichio, keeping the stem intact so they don't fall apart on the grill. Then use a pastry brush and lightly paint all of the sides with extra light olive oil.
Also, brush the entire outside of a large orange bell pepper too.
Grill the radicchio, on medium heat and with the lid open, until grill marks appear but is still firm. About 2 minutes a side.
Increase the grill heat to medium-high, close the grill cover and char every inch of the pepper.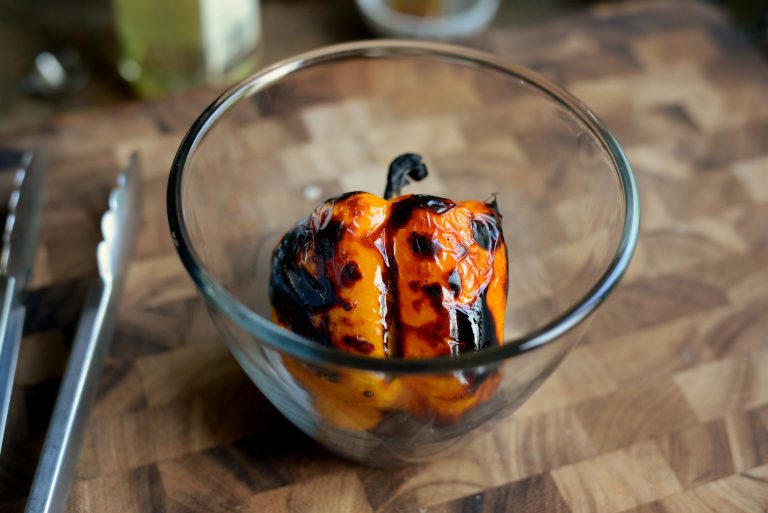 Once the pepper skin is blistered and charred, I pop the pepper into a small bowl and cover tightly with plastic wrap for 10-15 minutes. Then I peel off the skin, remove the stem and seeds and chop into 1/2 inch pieces.
While the pepper is doing it's thing, I hand-tear an entire loaf of ciabatta (mine was 20 ounces) into bite-size pieces. Drizzle with olive oil, season lightly with kosher salt and bake in a preheated 400 degree oven for 8 to 10 minutes or until crispy and golden.
I also toast some pine nuts in a dry skillet until golden and fragrant. You could do this early on and just set them off to the side.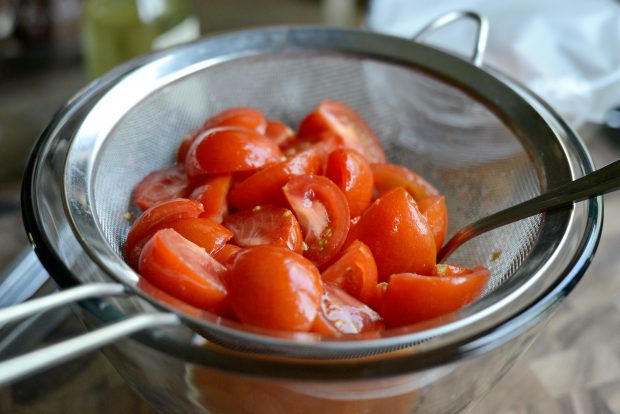 Finally we move on to the vinaigrette!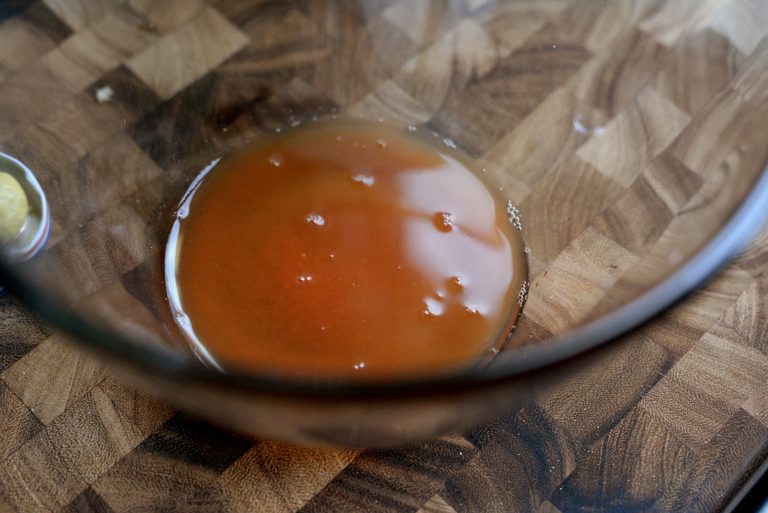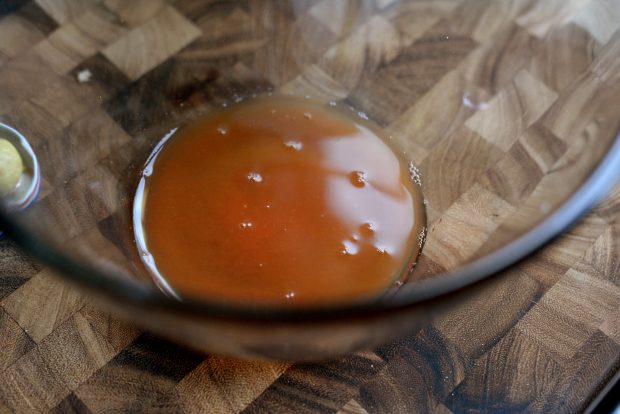 Once you have about 1/4 cup of tomato juice in the bowl you're good to go.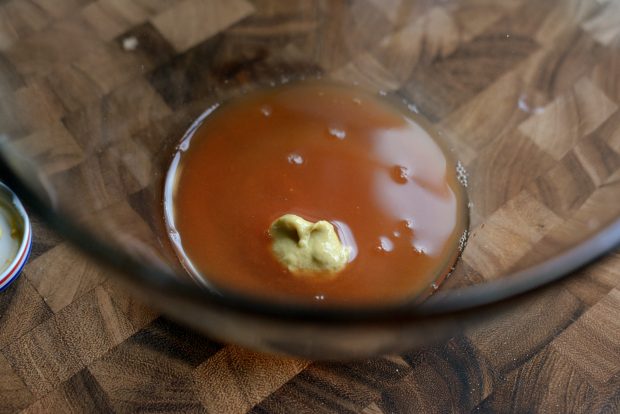 To the juice, add 1 teaspoon Dijon mustard…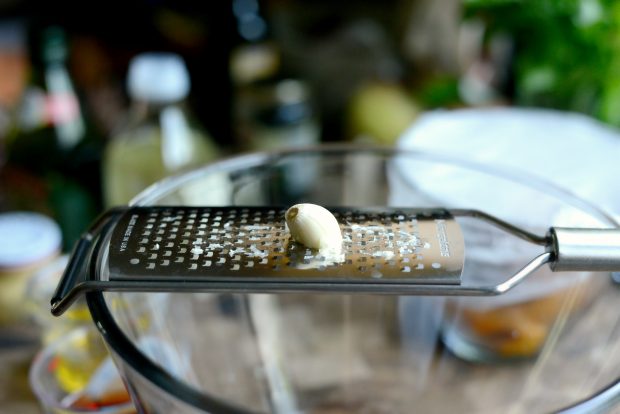 …grate in 1/2 a clove of fresh garlic…
…pour in 2 tablespoons red wine vinegar…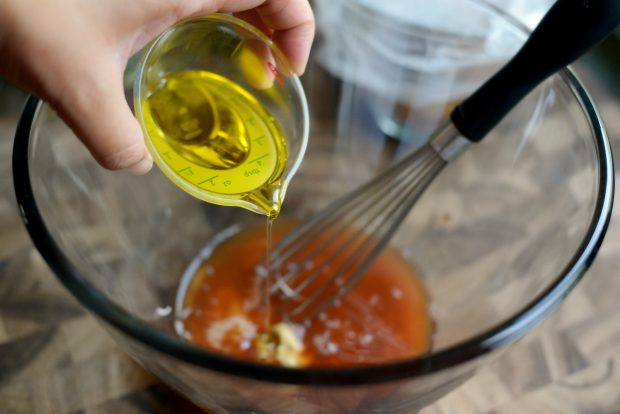 …and whisk in 2 tablespoons olive oil.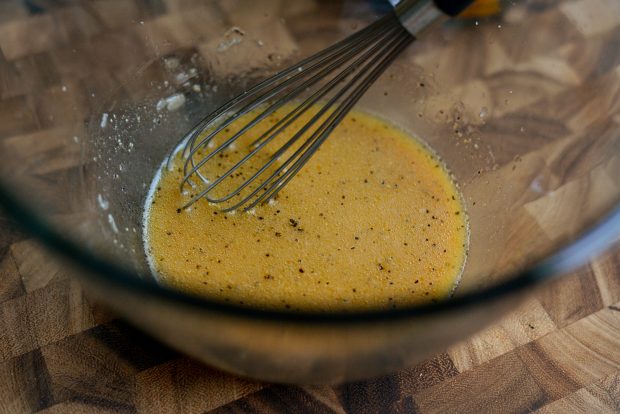 Season with a pinch of sugar, some black pepper and taste test to see if you want to season with with a pinch of kosher salt or not. Keep in mind that the tomatoes and the bread cubes have been salted already.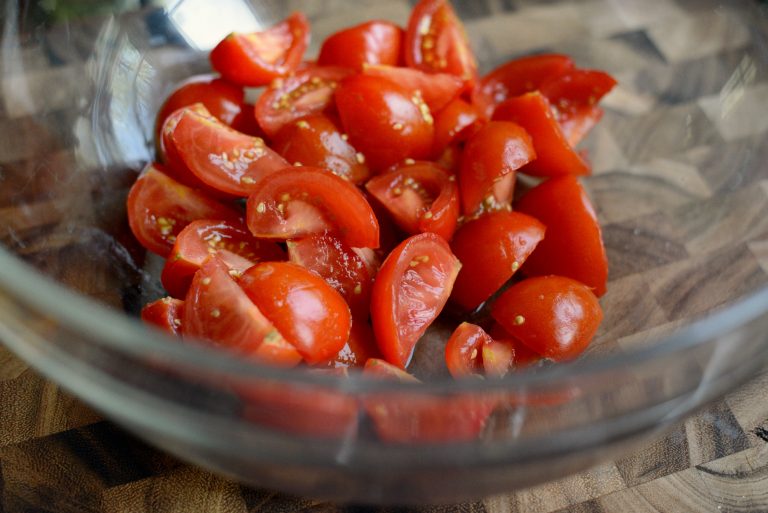 Add the tomatoes to a large bowl.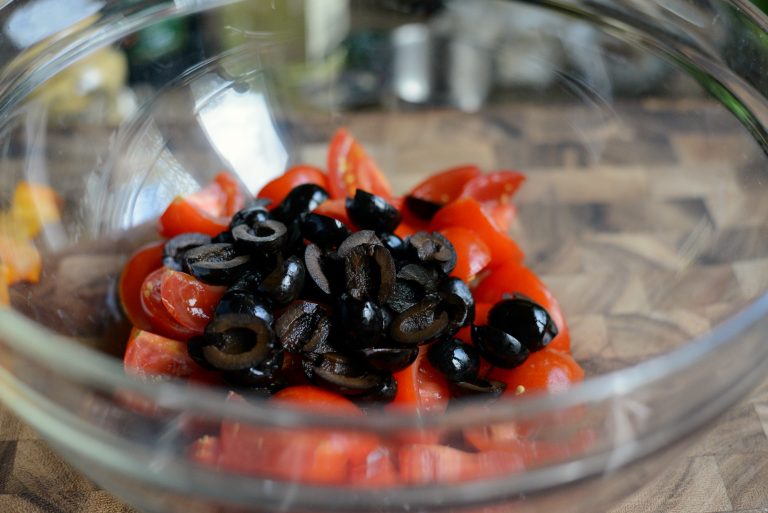 Then add in the olive halves. My good friends at STAR sent me a few of their olives to try and recipe develop with. The olives I'm using today are ready-to-eat and are jarred without liquid. Still the same delicious briny olive flavor but easier to snack on and slice up for salads. LOVE!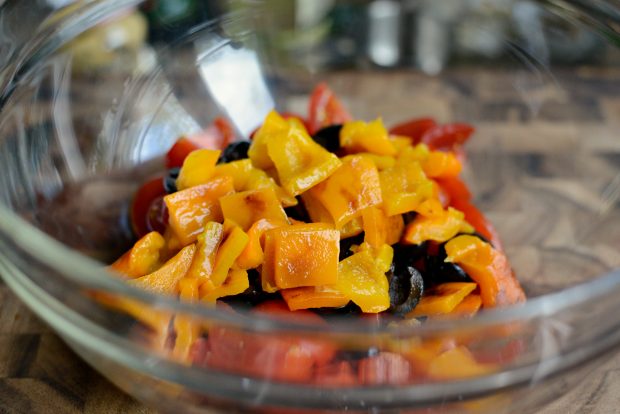 …the roasted orange bell pepper…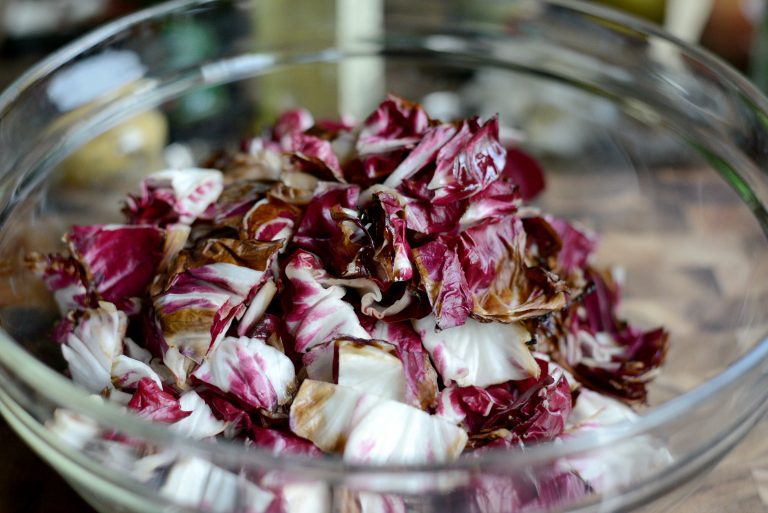 …then the radicchio, after I removed the stem and chopped it into 1-inch pieces.
Then add in the toasty ciabatta.
Give that a quick toss.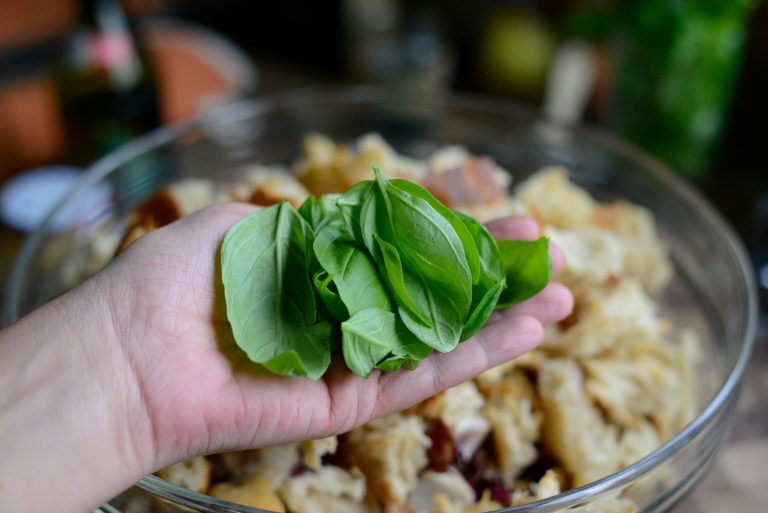 For a pop of green and a ton of delicious herby flavor, grab a handful of fresh basil leaves.
Tear it by hand and add it to the salad.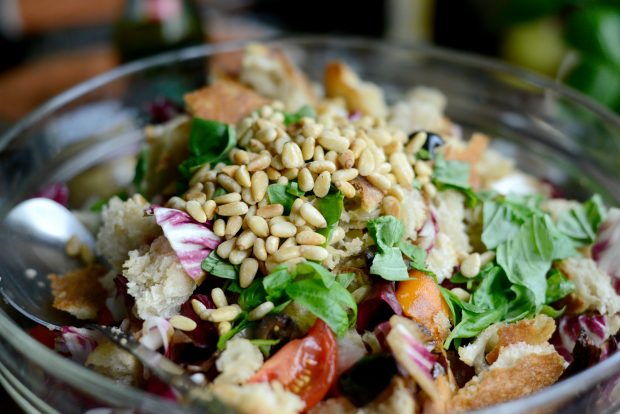 Along with the toasted pine nuts…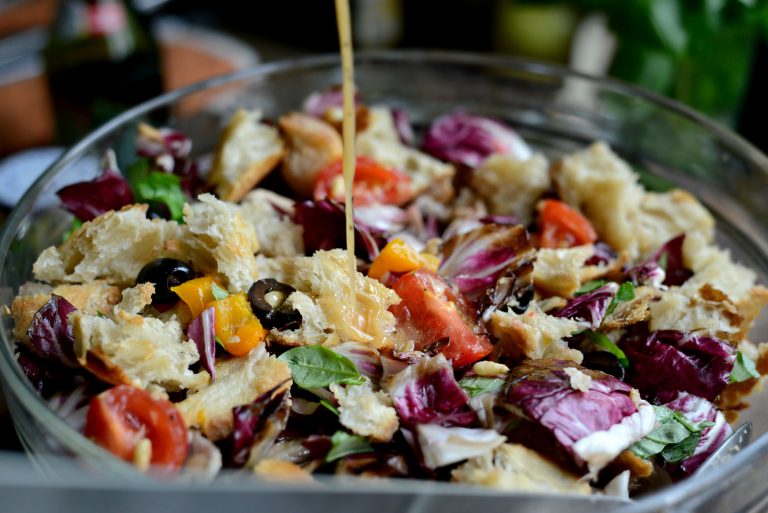 …and the tomato vinaigrette. Excuse me while I hold my face under this for a moment.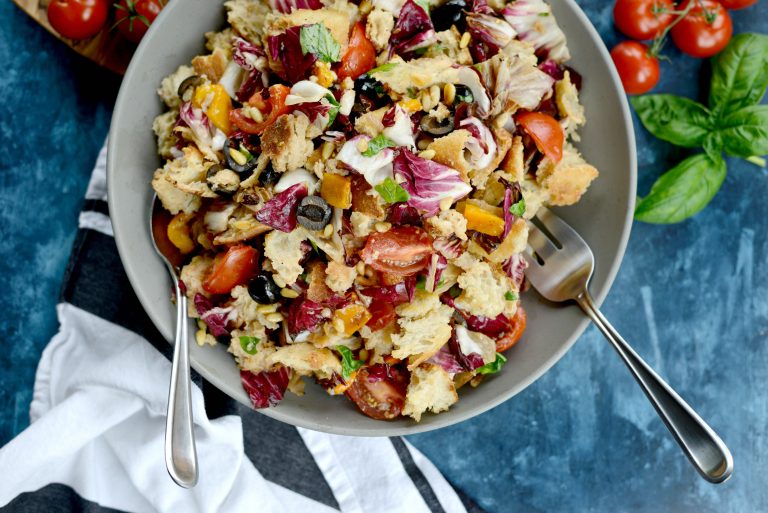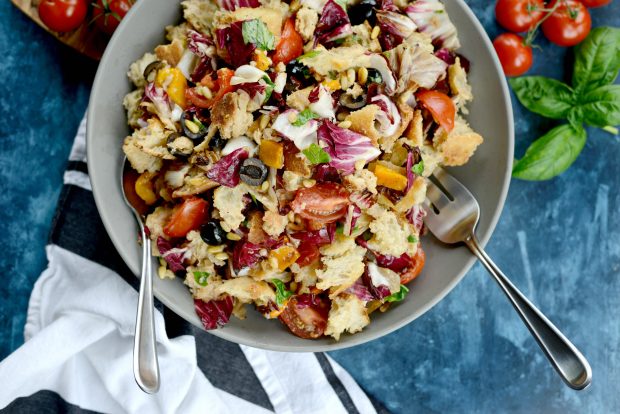 As expected, the tomato vinaigrette soaked bread pieces steal the show. But each and every flavor is so distinct and delicious that as a whole the salad… it's the whip.
This panz makes a lot, so either serve a crowd or make it your main meal. Feel free to grill up some chicken while your at it for a little protein.
Enjoy!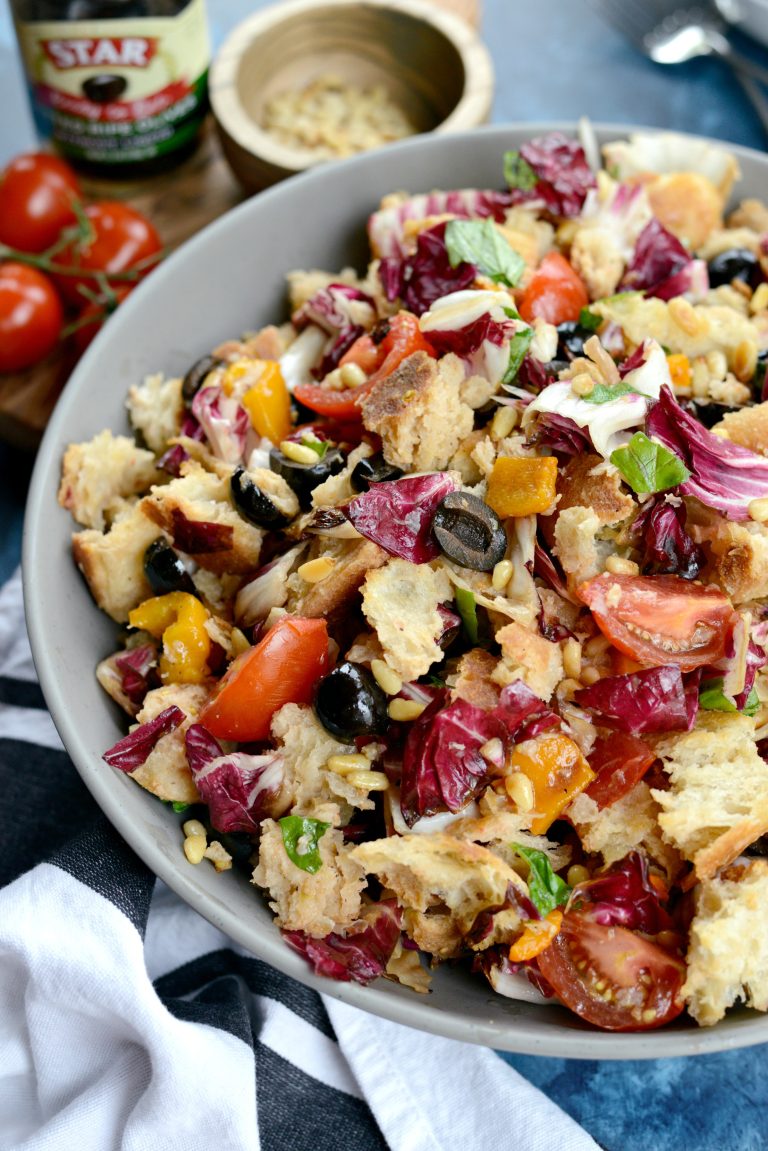 My cookbook Simply Scratch : 120 Wholesome Homemade Recipes Made Easy is now available! CLICK HERE for details and THANK YOU in advance! 
This recipe was created for STAR Fine Foods. As you know, my thoughts are my own and I've been longtime friends with STAR and love their products!
This post may contain affiliate links.
Buy the Cookbook: Simply Scratch : 120 Wholesome Homemade Recipes Made Easy Now available on Amazon »
THANK YOU in advance for your support!