Grilled Chicken Bruschetta is one of the best things that has come of my grill! Flavorful grilled chicken breasts served on top of a bed of peppery baby arugula, piled with the best tomato bruschetta topping and a drizzle of balsamic glaze. Serve with grilled bread.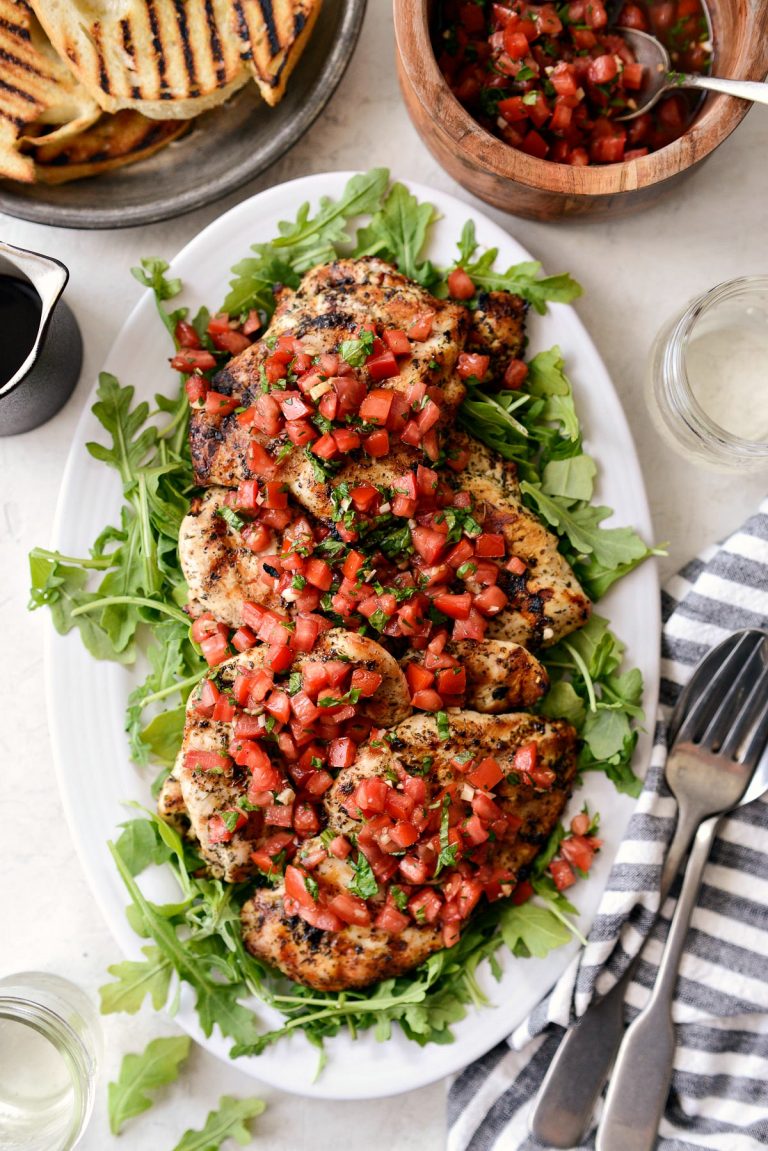 I make dinner a lot.
And I have quite a few favorite go-to's, but after a while, even those get a little old and tiring. On Sunday, the day I meal plan, I was going through the SS archives and saw the recipe for my grilled chicken bruschetta pizza. I instantly had visions of grilled chicken breasts on top of a bed of peppery (baby) arugula, and a tomato bruschetta topping piled high… and of course a little balsamic glaze action. Oh! And toasted bread. Of course there's bread.
To describe this in one word: phenomenal. It was so SO good. The freshness factor was off the charts, I am in love and am counting down the hours until I can have the leftovers. My dreams will consist of tomatoes and basil.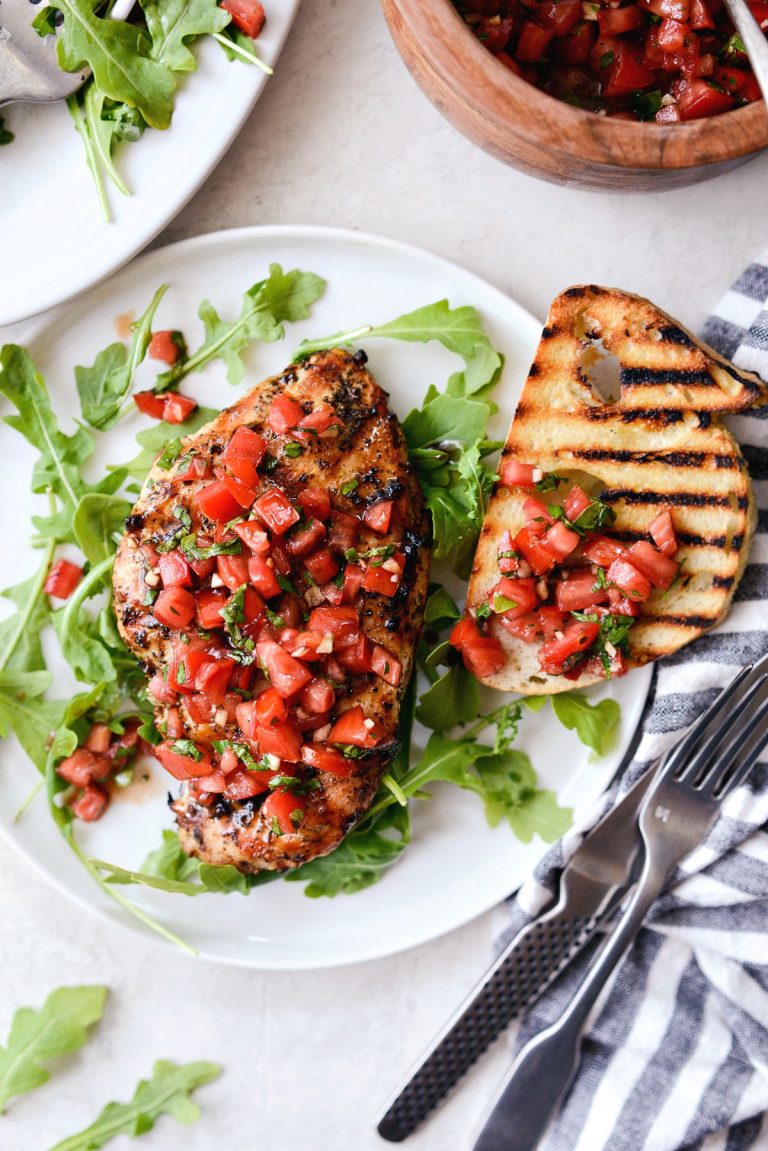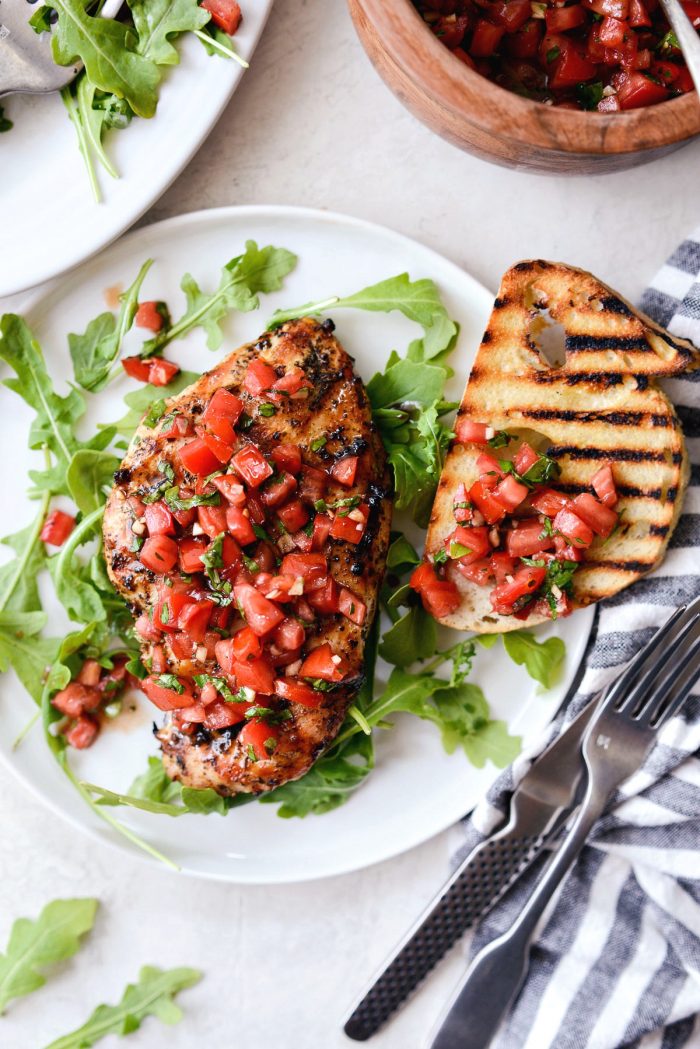 Bruschetta is a lot like pico but more simple and no onions– well, at least not in my bruschetta– and with that said, I can (and have!) eat it by the spoonful. #noshameinmygame
Let's get on with the show shall we?
To Make Grilled Chicken Bruschetta You Will Need:
chicken breasts – pounded thin
garlic olive oil
lemon juice
kosher salt
freshly ground black pepper
roma tomatoes
garlic
fresh basil and parsley
olive oil
balsamic vinegar
Place 4 chicken breasts that have been pounded thin with the flat side of a meat tenderizer in a shallow-ish bowl. I.e. this is a plate. 🤣
Drizzle with about 1 tablespoon of garlic olive oil, squeeze the juice from 1/2 a lemon over top and season with 1 tablespoon italian seasoning, 1/2 teaspoon kosher salt and 1/4 teaspoon coarsely ground black pepper.
Toss around until coated and set the bowl off to the side to start making the most amazing bruschetta topping ever!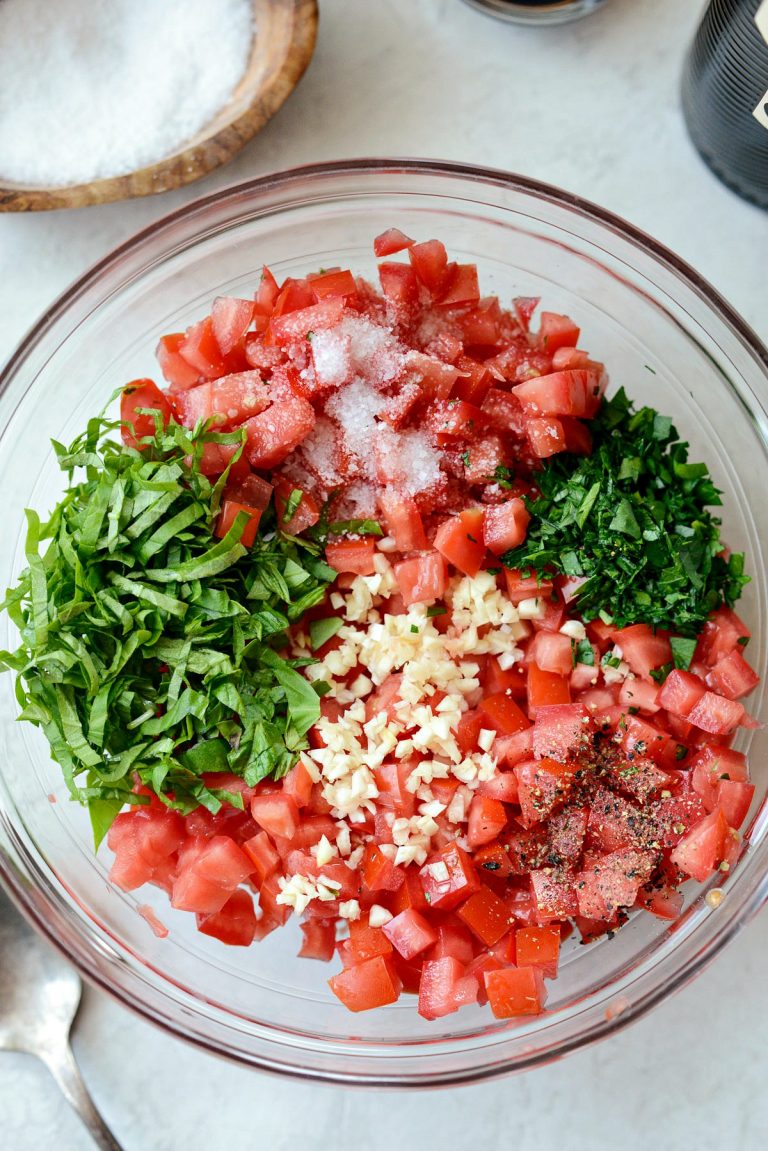 In a mixing bowl add 6 seeded and diced tomatoes, 1/4 cup thinly sliced fresh basil, 1 tablespoon of chopped fresh parsley, 2 cloves of minced garlic, 1/2 teaspoon kosher salt and 1/4 teaspoon freshly ground black pepper.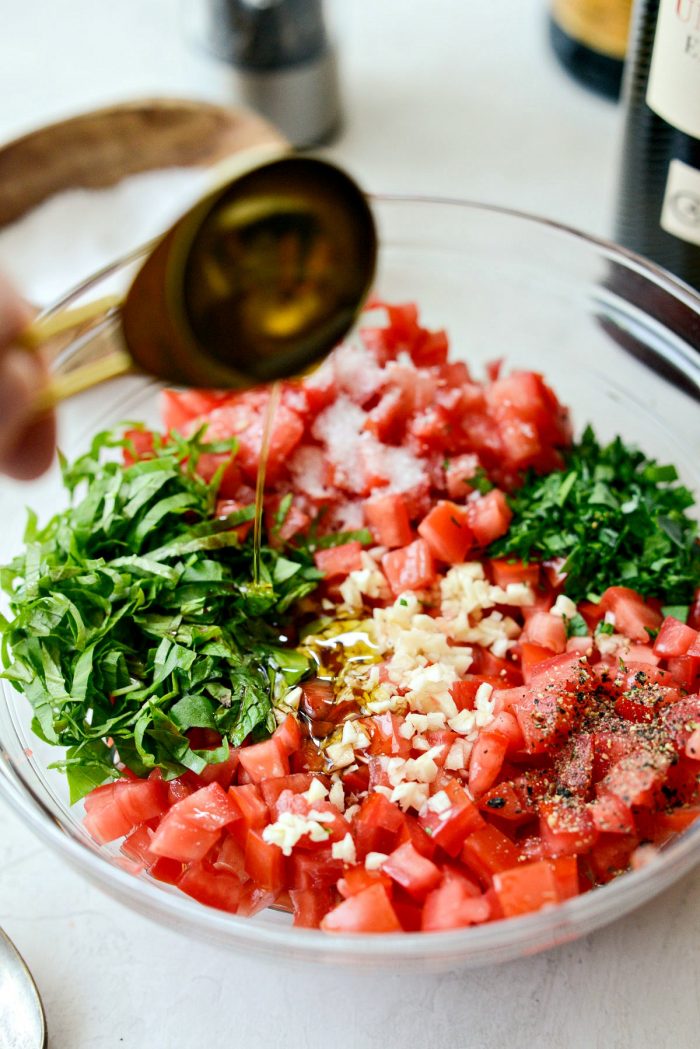 Pour in 1 tablespoons olive oil.
And lastly, pour in 2 teaspoons of balsamic vinegar.
Toss well to combine.
Next, preheat your grill to medium to medium to medium-high (about 500°) and grill the chicken for 3 to 4 minutes a side or until cooked through.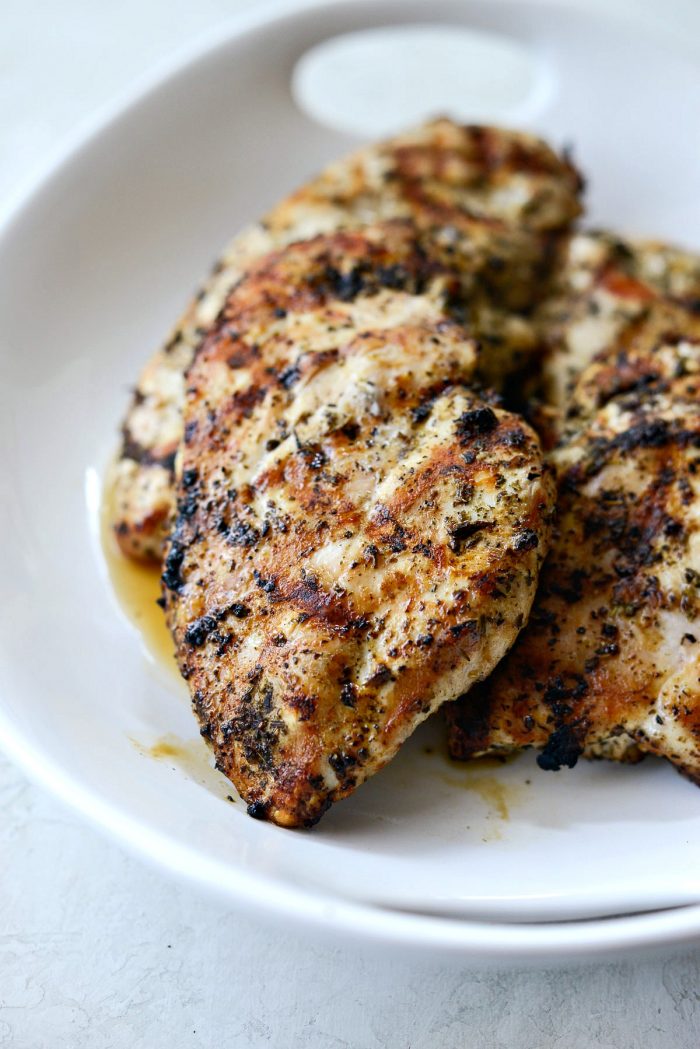 Remove and let rest while you grill up slices of italian bread.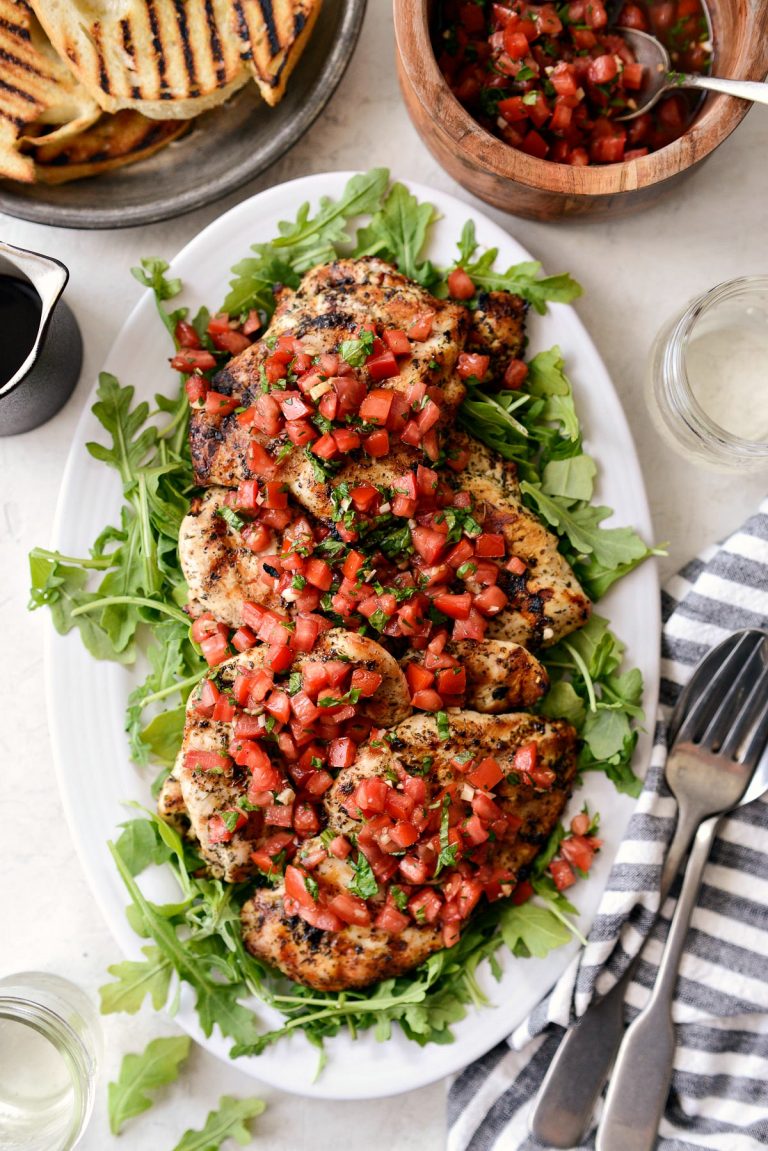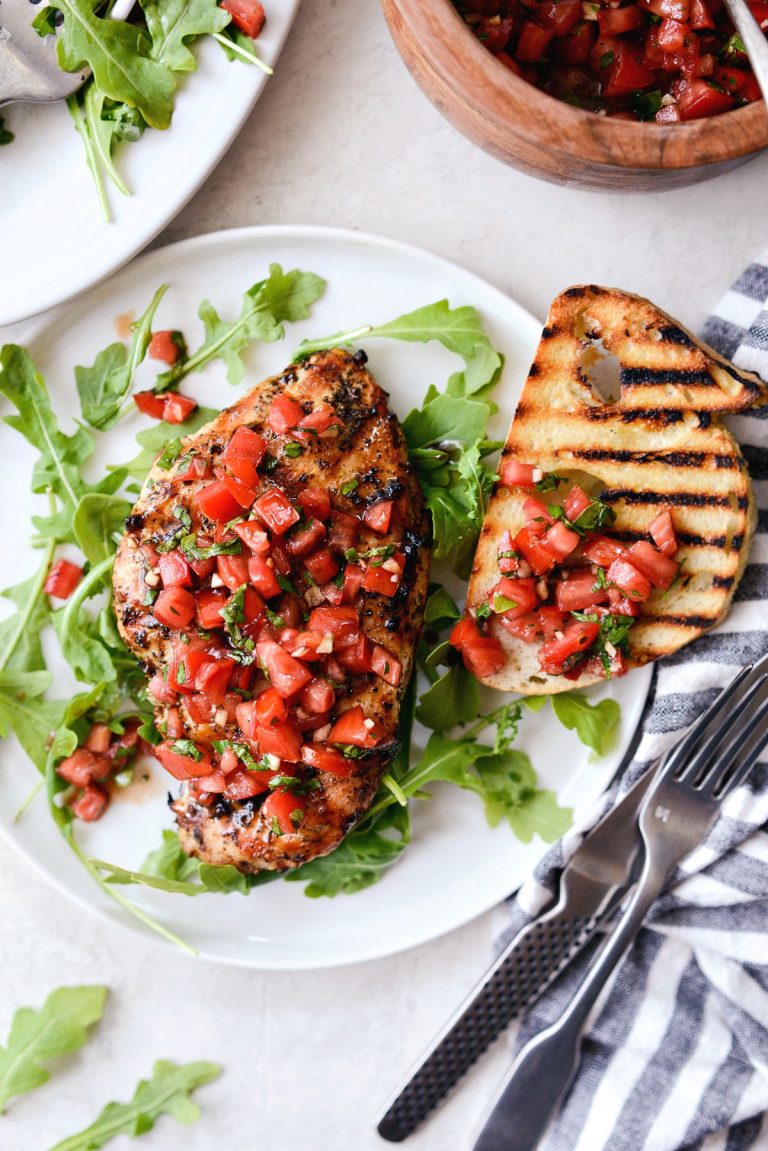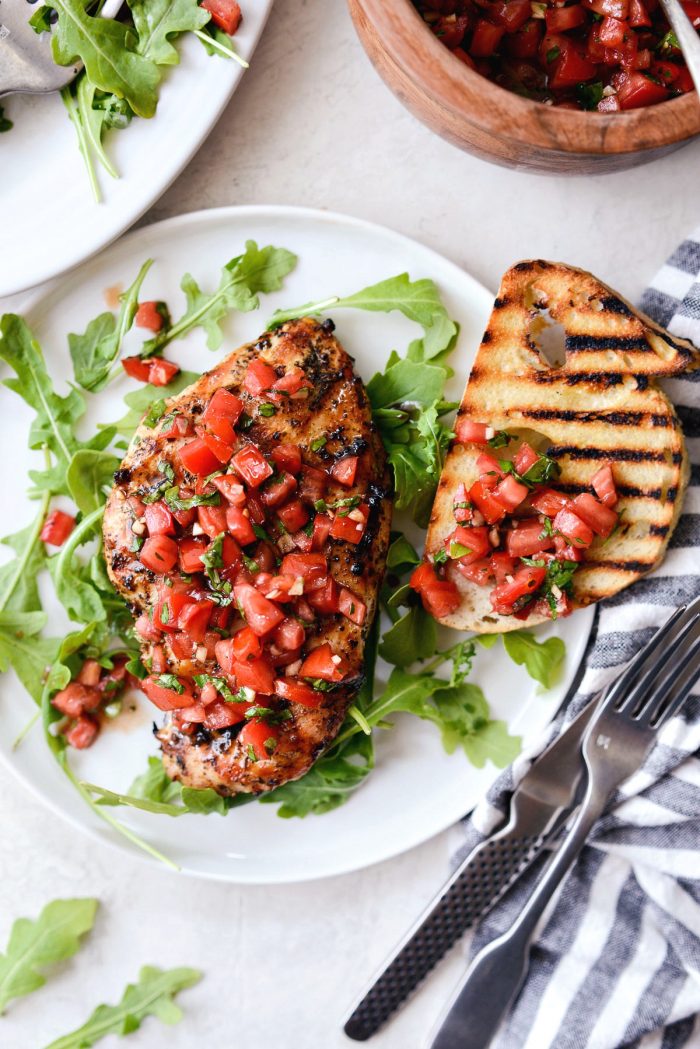 Now just pile baby arugula (baby spinach would be great too!) on to a plate, top it with a tender chicken breast and spoon the bruschetta over the top.
You could even be a little extra and melt some mozzarella on top, right before they come off the grill.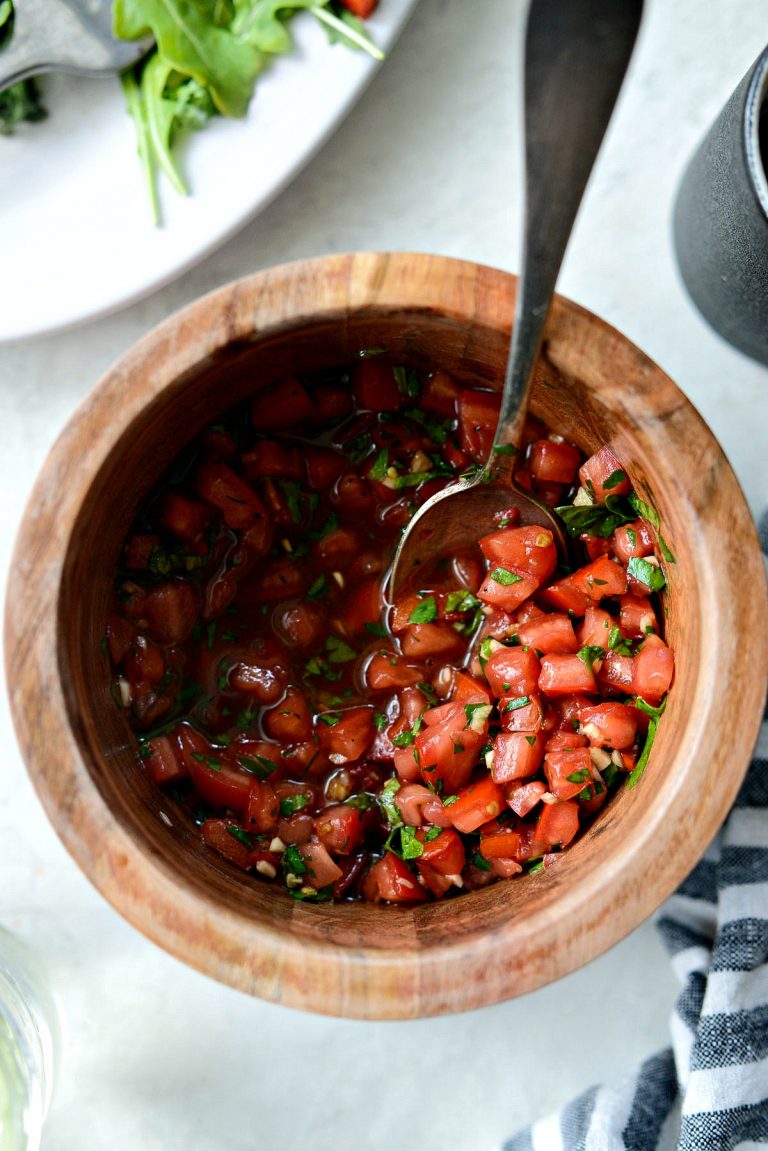 Use the juice that accumulates in the bottom of the bowl to spoon over the arugula, sort of like a vinaigrette. SO. GOOD.
Serve the remaining tomato bruschetta topping in a bowl with extra grilled bread on the side.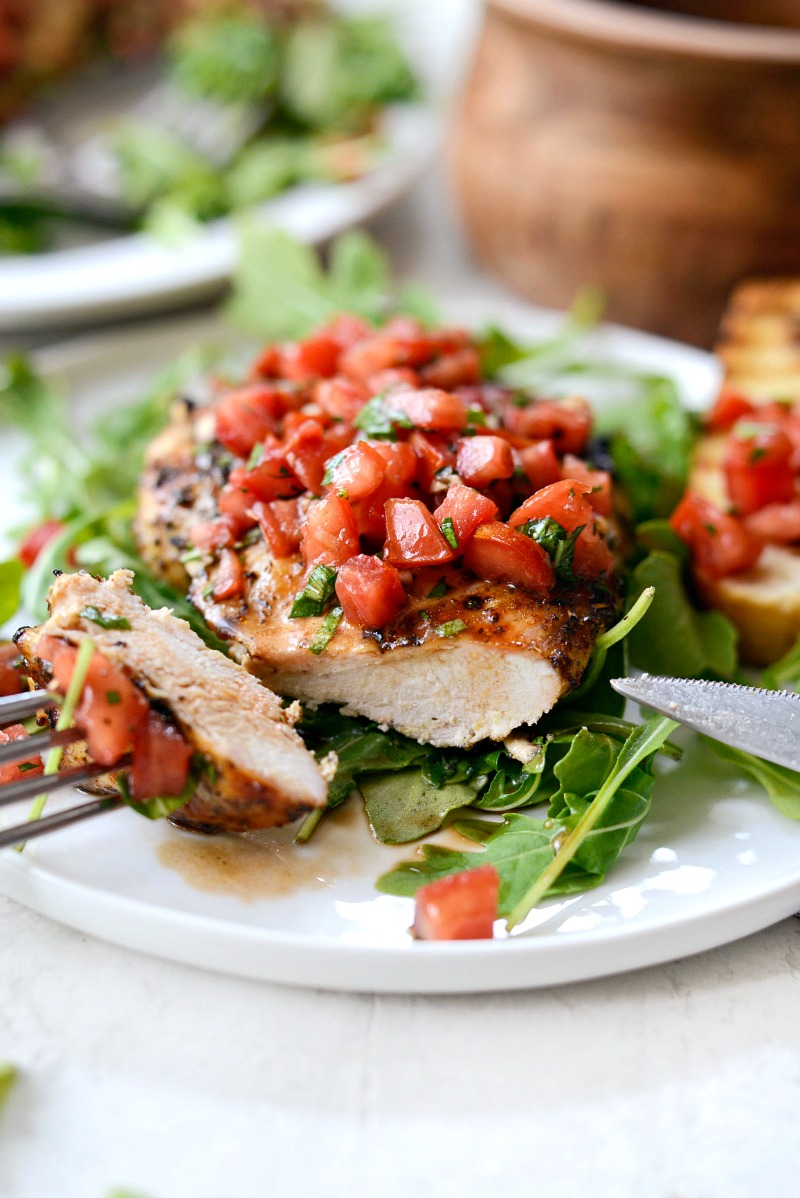 Got dinner plans? Well you do now. Life doesn't get much better than this.
For more grilling recipes click here.
Enjoy! And if you give this Grilled Chicken Bruschetta recipe a try, let me know! Snap a photo and tag me on twitter or instagram!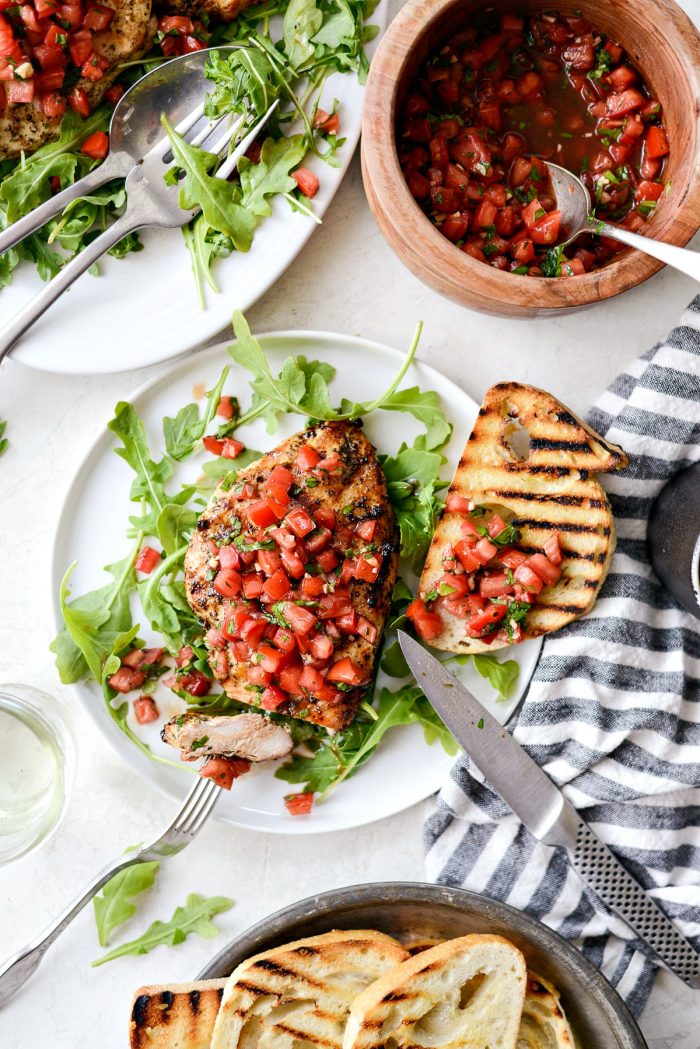 This post may contain affiliate links.
Buy the Cookbook: Simply Scratch : 120 Wholesome Homemade Recipes Made Easy Now available on Amazon »
THANK YOU in advance for your support!