Meet my new favorite dinner, Grilled Chicken Bruschetta. Got dinner plans?? No?! Well you do now.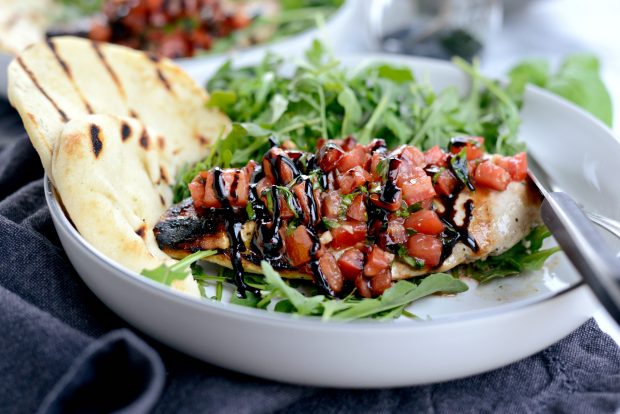 But first! I would like to wish my sister, Julie a very happy birthday! She's coming over and I'm making lunch for us. Happy Birthday Jul! <3
Okay so, I make dinner… a lot. I have quite a few favorite go-to's, but after a while, even those get a little old and tiring. On Sunday, the day I meal plan, I was going through the SS archives and saw the recipe for my grilled chicken bruschetta pizza. I instantly had visions of grilled chicken breasts on top of a bed of peppery (baby) arugula, and a tomato bruschetta topping piled high… and of course a little balsamic glaze action. Oh! And toasted bread. Of course there's bread.
To describe this in one word: phenomenal. It was so SO good. The freshness factor was off the charts, I am in love and am counting down the hours until I can have the leftovers. My dreams will consist of tomatoes and basil.
Bruschetta is a lot like pico but more simple and no onions– well, at least not in my bruschetta– and with that said, I can (and have!) eat it by the spoonful. #noshameinmygame
Let's get on with the show shall we?
Place 6 thin-cut chicken breasts in a shallow-ish bowl. Drizzle with about 3 tablespoons of olive oil (I use garlic infused- yum!), 1/2 a lemon and season with 1/2 teaspoon kosher salt and 1/4 teaspoon coarsely ground black pepper.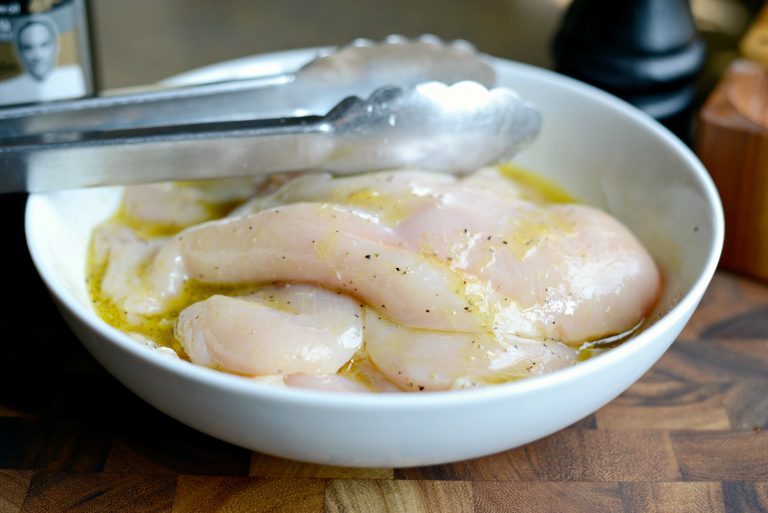 Toss around until coated and set the bowl off to the side to start making the most amazing bruschetta topping evah!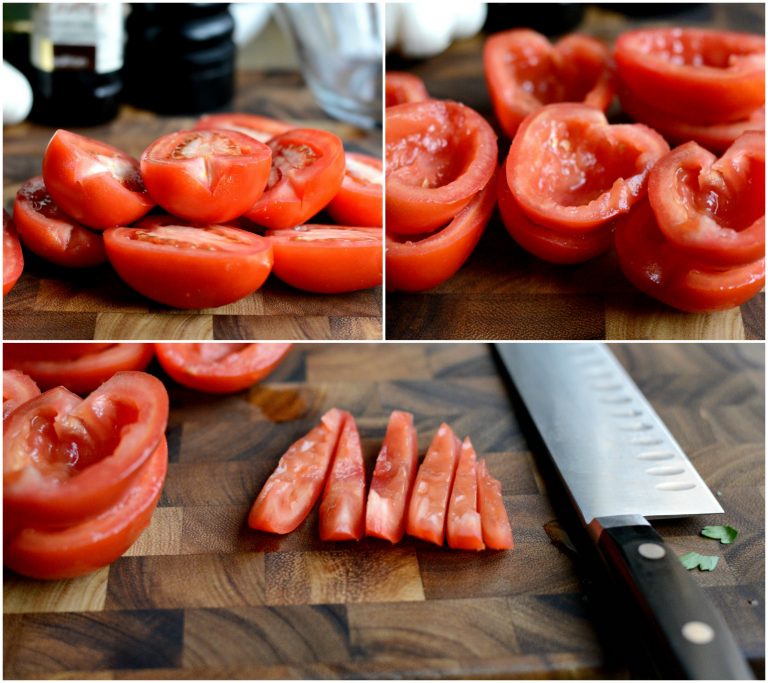 Cut 6 medium Roma (plum) tomatoes in half, cut out the stem and use a spoon to scrape the seeds out. Slice into thin (1/4 of an inch ish) strips and dice small.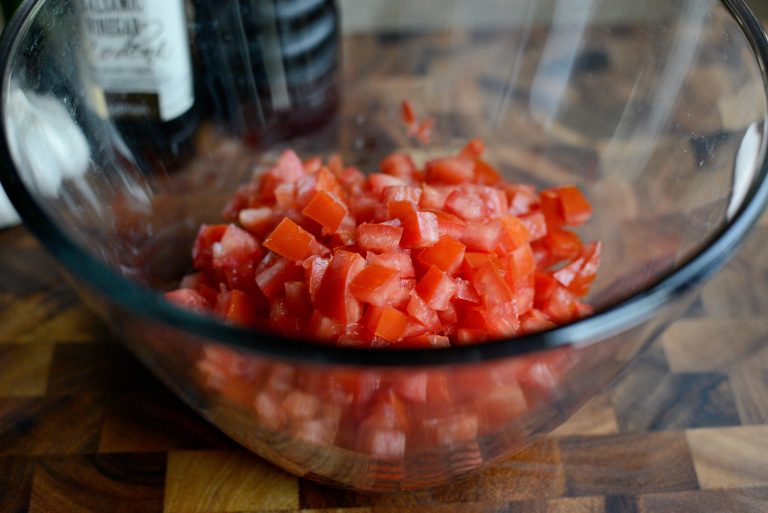 Go ahead and toss the diced tomatoes into a medium bowl.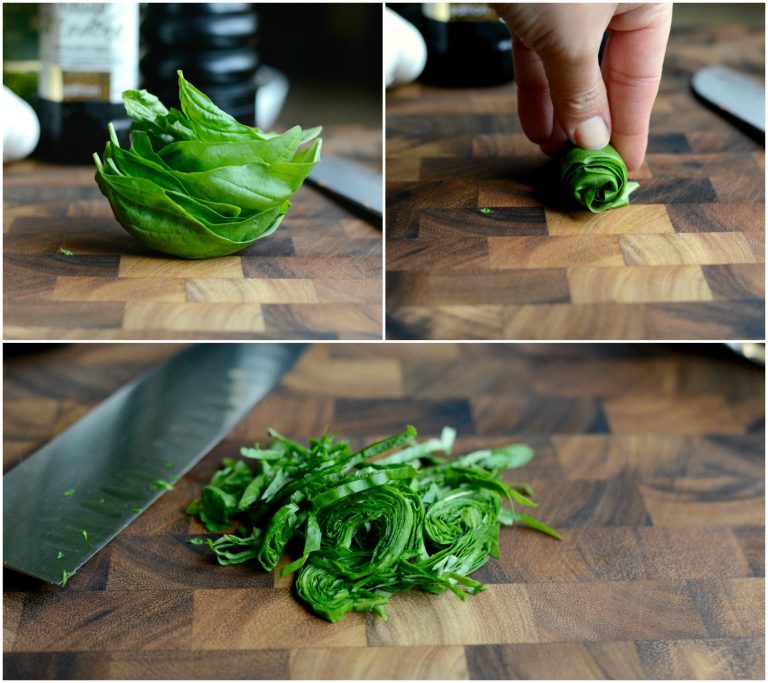 Then stack 10-12 basil leaves, roll them tight and slice into thin ribbons…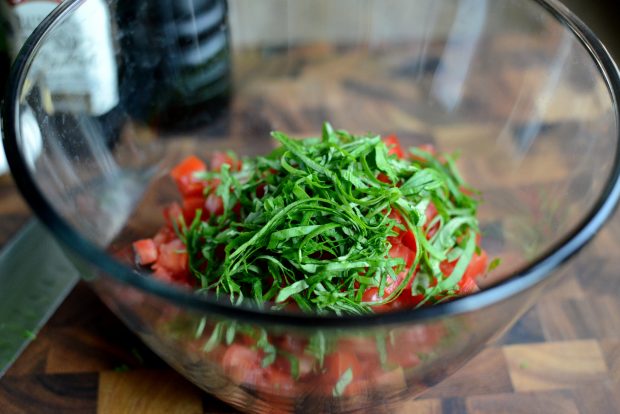 …add them to the bowl.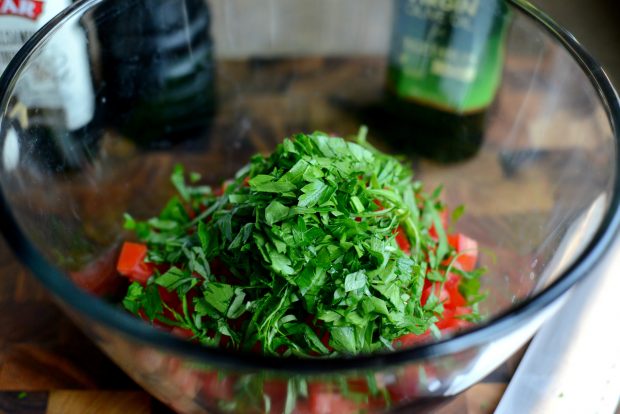 Next add a tablespoon of chopped fresh parsley…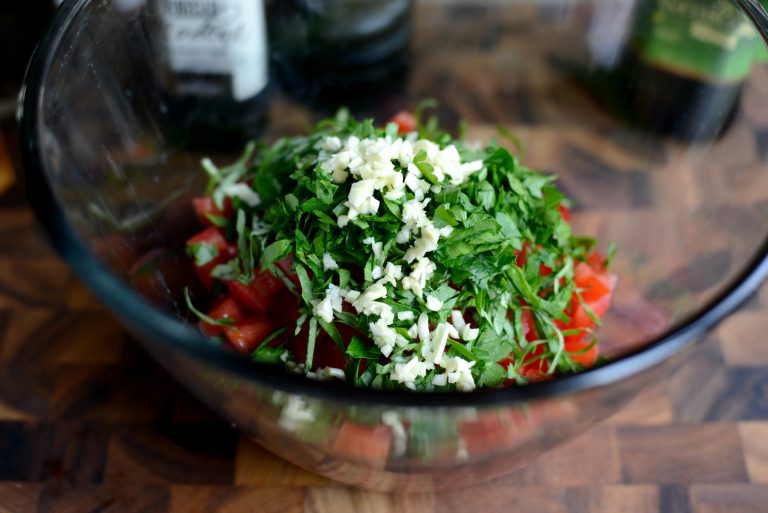 …and then 2 cloves of minced garlic.
Drizzle with 3 tablespoons olive oil…
… 2 tablespoons of balsamic vinegar…
…and season with 1/2 teaspoon kosher salt, 1/4 teaspoon coarsely ground black pepper and a pinch of red pepper flakes.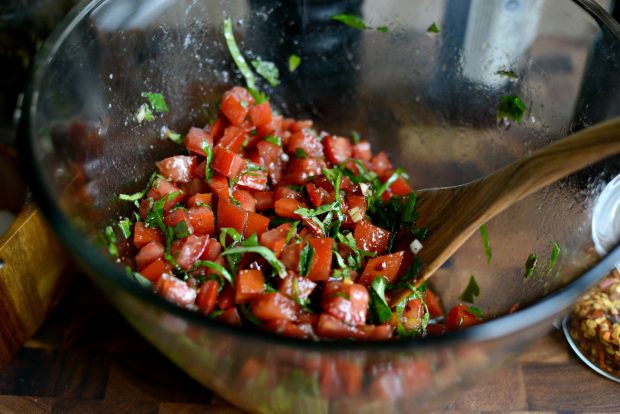 Then grab the gorgeous olive wood spoonula that your sister (who's birthday is today) bought you when she was in Italy and toss until combined. Really any old spoon will do. 🙂
Here is where I tell you to preheat your grill to medium to medium-high and grill the chicken for 3 to 4 minutes a side or until cooked through. I figured you could always refer to this post for instructions. But in reality I burned half the chicken. I wish I could blame it on it being Monday, but it was Tuesday. I have no excuse.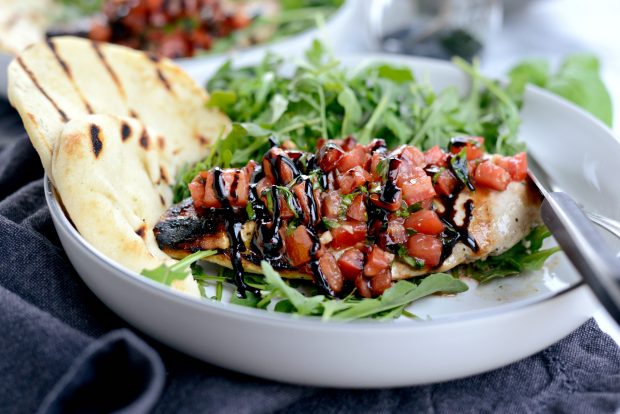 Now just pile high baby arugula (baby spinach would be great too!) on to a plate, top it with a chicken breast and spoon the bruschetta over the top. And use the juice that accumulates in the bottom of the bowl to spoon over the arugula, sort of like a vinaigrette. SO. GOOD.
Grilled bread served along side is the perfect vehicle to sop up any dressing that's leftover.
Life doesn't get much better than this. Oh and only 18 hours until leftovers.
Enjoy! And if you give this Chicken Bruschetta recipe a try, let me know! Snap a photo and tag me on twitter or instagram!
My cookbook Simply Scratch : 120 Wholesome Homemade Recipes Made Easy is now available! CLICK HERE for details and THANK YOU in advance!
[this post contains affiliate links.]
This post may contain affiliate links.
Buy the Cookbook: Simply Scratch : 120 Wholesome Homemade Recipes Made Easy Now available on Amazon »
THANK YOU in advance for your support!