This Dried Cherry Almond Chicken Salad is perfect for a light and flavorful lunch. Shredded chicken is tossed with dried cherries, almonds, green onions and dressed in a light poppy seed dressing.
How was your weekend?
I had a little out-of-town work/travel stuff to do mid-week, then I flew back into Detroit on Friday which only made the weekend feel even longer. I liked it. It meant I had a few more days to get stuff done like laundry, grocery shopping and chicken roasting.
Now I'm facing Monday head on. I'm ready to get back in the swing of things and I have about a weeks worth of lunch already in the fridge just waiting for me. Lunch is in the form of this light and scrumptious chicken salad.
I made this recipe a few weeks ago with the same idea of having lunch pre-made and ready for the week. Unfortunately for me, I made the mistake of mentioning to Pat that it was in the fridge and before the weekend was over, it was gone. So this time I've hidden it in the way back, behind the kefir and milk where he wont even think to look.
It's mine. All mine.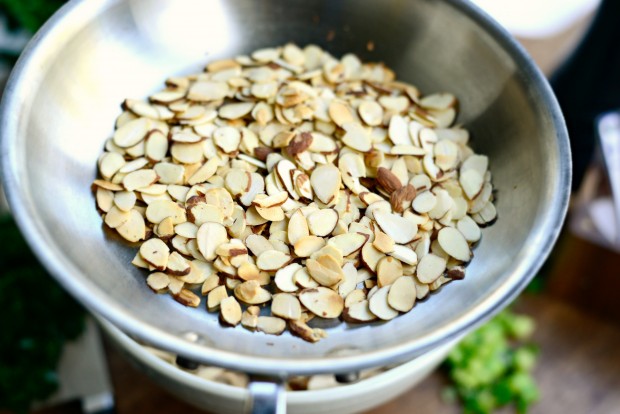 First I toasted 1/2 cup of sliced almonds in a dry pan until golden, flipping and tossing as I went. Remove off of the heat and cool.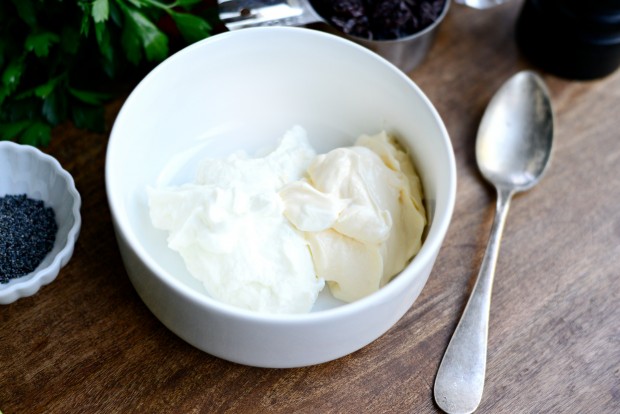 In a small bowl mix 3/4 cup Greek yogurt (I LOVE Fage) and 1/2 cup mayonnaise.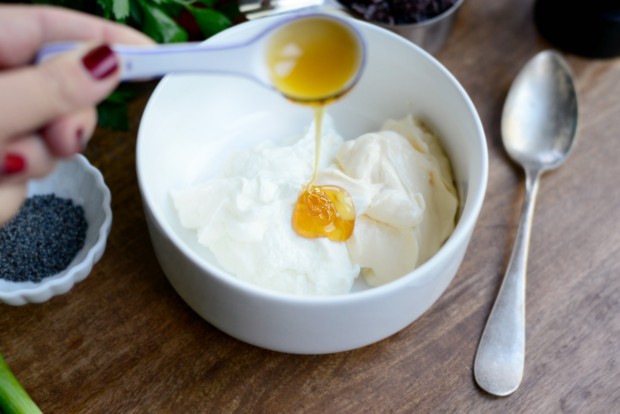 Drizzle in 2 teaspoons honey…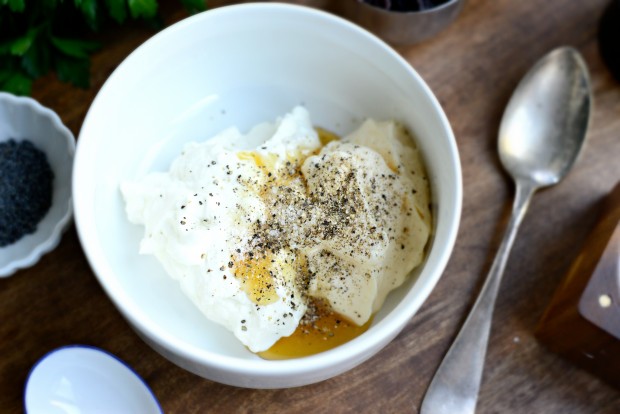 1/2 teaspoon of kosher salt and about 1/4 teaspoon of freshly ground black pepper.
Lastly, add in a tablespoon of poppy seeds and then stir it all together. Stir well so that the honey is mixed throughout.
YUM. I like this dressing because it's light, slightly sweet and ultra creamy.
I added roughly 4 to 5 cups of shredded chicken into a large bowl. The day before, I roasted the chicken. Once it was cool, I removed the skin and shredded both the light and dark meat into large bite-size pieces.
Next, add in 1/3 cup of dried cherries…
Then add in 1 tablespoon of chopped fresh parsley. Next add in the dark parts of 3 sliced green onions.
Lastly add the toasted almonds and then the creamy dressing.
Finally toss to coat and combine all those tasty ingredients.
Crunchy crackers are the perfect thing to serve with this chicken salad. But wrapped in lavash, or on top of salad greens is fine too.
First of all, I love the dried cherry and almond combo. Pat loves the fact that he doesn't have to pick out or around any celery. (although adding some to this recipe wouldn't hurt)
Enjoy!
My cookbook Simply Scratch : 120 Wholesome Homemade Recipes Made Easy is now available for pre-order! CLICK HERE for details and THANK YOU in advance!
This post may contain affiliate links.
Buy the Cookbook: Simply Scratch : 120 Wholesome Homemade Recipes Made Easy Now available on Amazon »
THANK YOU in advance for your support!