This Curried Chicken Salad is loaded with shredded cooked chicken, juicy red grapes, crisp celery, green onions, cashews and cilantro, tossed in a bright yellow curry yogurt dressing. Yields 6 servings.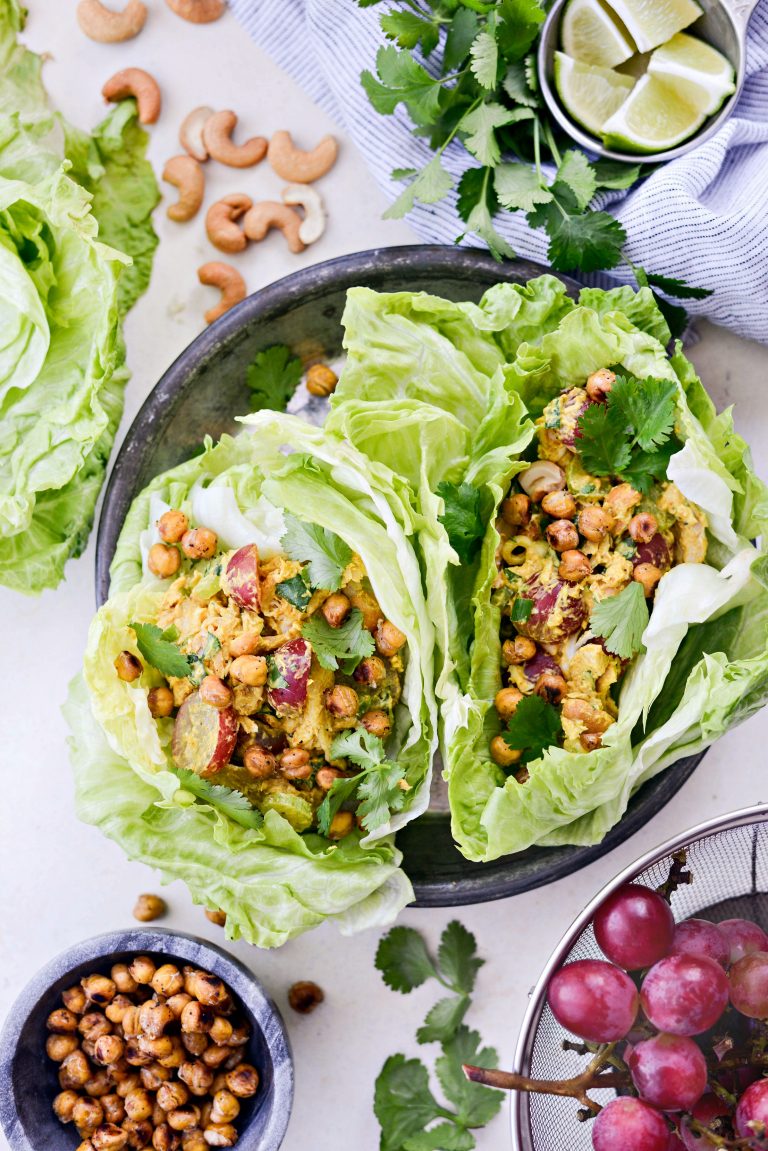 This was my lunch for the week and I'm not mad about it.
You remember that beautiful chicken I roasted a week or so ago? Well after it cooled, I quickly picked and picked every bit of meat off of the bones and shredded it into bite-size pieces. Yes, I roasted a chicken for the sake of this gorgeous vibrant salad. Worth it.
Curried chicken salad is also loaded with fresh grapes, buttery cashews, crisp fresh celery, green onions and cilantro. However the real gem is the bright, golden curry dressing. Because I wanted to make this dressing a smidgen healthier, I swapped out some of the mayonnaise for Greek yogurt. Then I spiced things up with ground curry, turmeric and ginger. You won't even notice the difference.
A little sweetness from honey, tang from lime juice and a little heat from aleppo pepper sends it over the top.
To make the Curried Yogurt Dressing You Will Need:
plain non-fat greek yogurt – Adds creaminess without fat.
mayonnaise – Adds flavor and creaminess. Use any mayo you choose.
honey – Adds a touch of sweetness.
lime juice – Lends acidity and flavor.
curry powder – I use a mild curry powder which usually consists of turmeric, cumin and black pepper (to name a few).
turmeric (ground) – Lends an earthy and slightly musky flavor, and bright yellow color.
ginger (ground) – Gives a pungent, spicy and sweet flavor.
kosher salt – Enhances the flavors in this dressing.
freshly ground black pepper – Lends delicious flavor and bite.
aleppo pepper – Adds delicious flavor with moderate heat.
What is Aleppo Pepper? Aleppo Pepper is a pepper that is dried and commonly used in Middle Eastern and Mediterranean cuisine. It has a moderate heat level, similar to ancho chile but with a fruity raisin-like flavor (thanks wiki!). I purchase my Aleppo Pepper from Penzeys and use it in quite a few recipes and sprinkled over popcorn.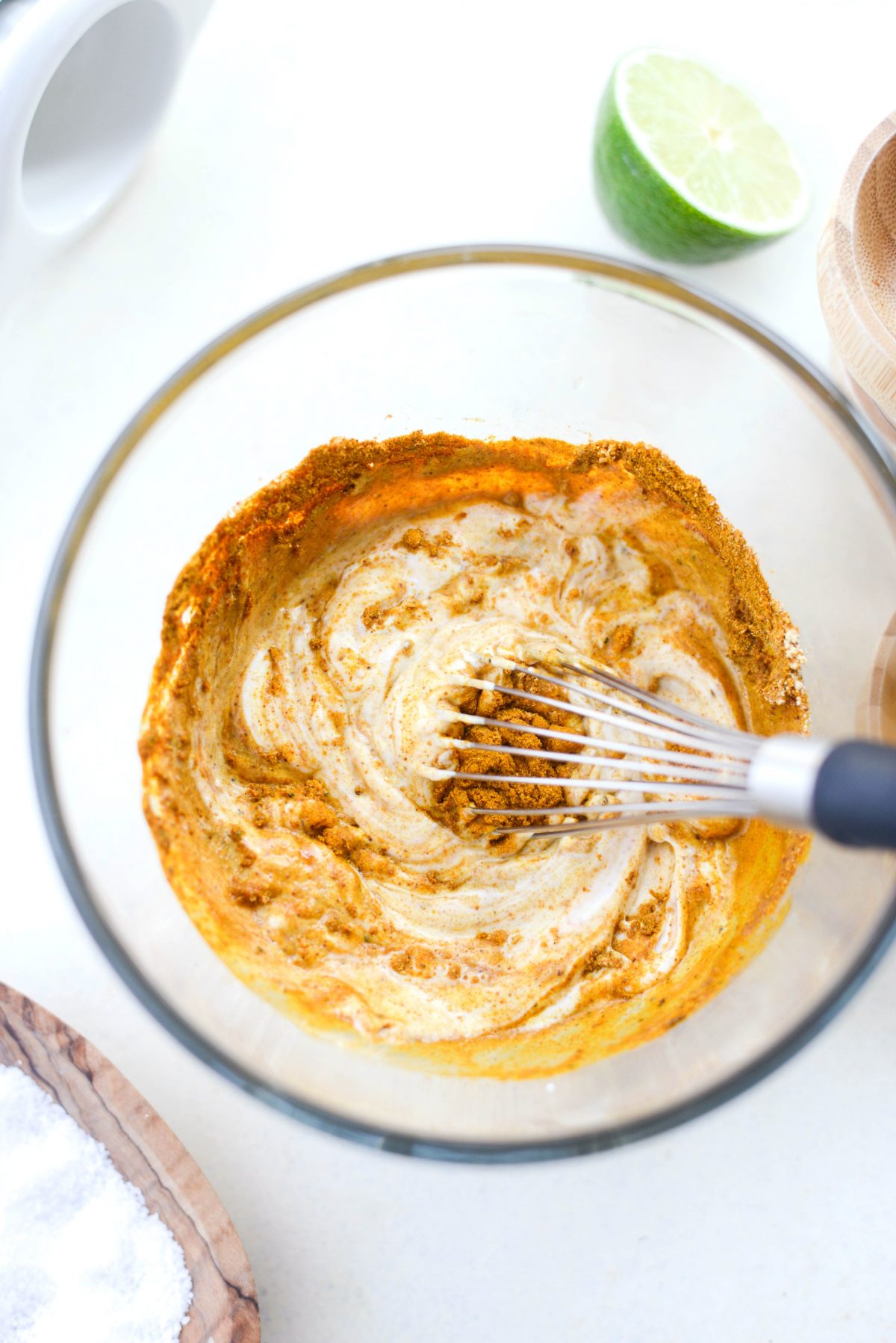 First, in a medium-size mixing bowl, measure and add in 1/2 cup non-fat unsweetened Greek yogurt, 1/3 cup mayonnaise, 2 teaspoons honey, the juice from 1/2 to 1 lime – depending on the size of your lime, 4 teaspoons curry powder, 1/2 teaspoon turmeric, 1/4 teaspoon ground ginger, 1/2 teaspoon kosher salt, 1/4 teaspoon freshly ground black pepper and 1/4 teaspoon aleppo pepper.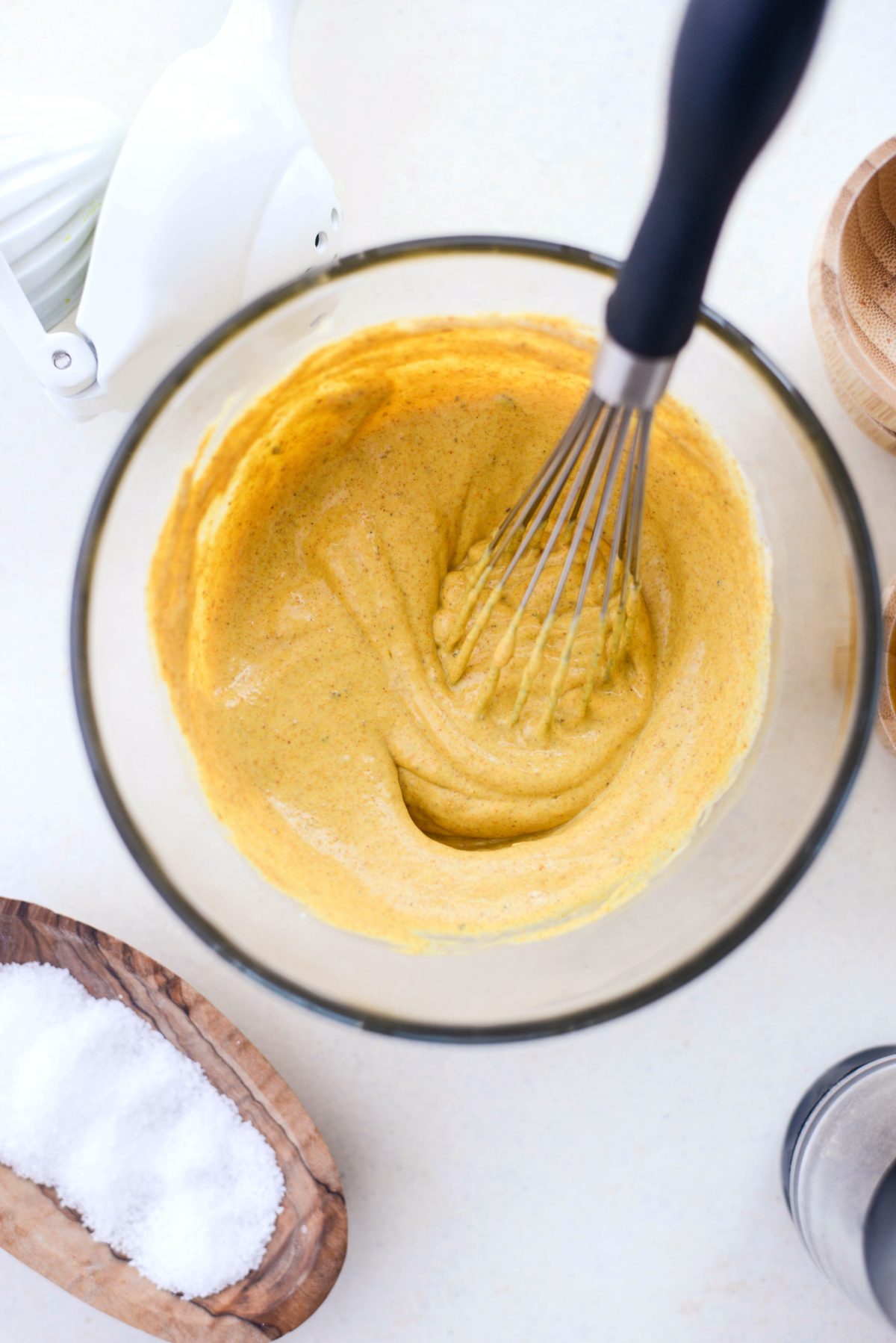 Whisk or stir well to combine.
Because of the turmeric, I highly recommend that you use a spatula or stainless whisk that is a dark color, otherwise it could stain. I learned this the hard way. RIP white spatula.
Next all that's left to do is assemble the chicken salad.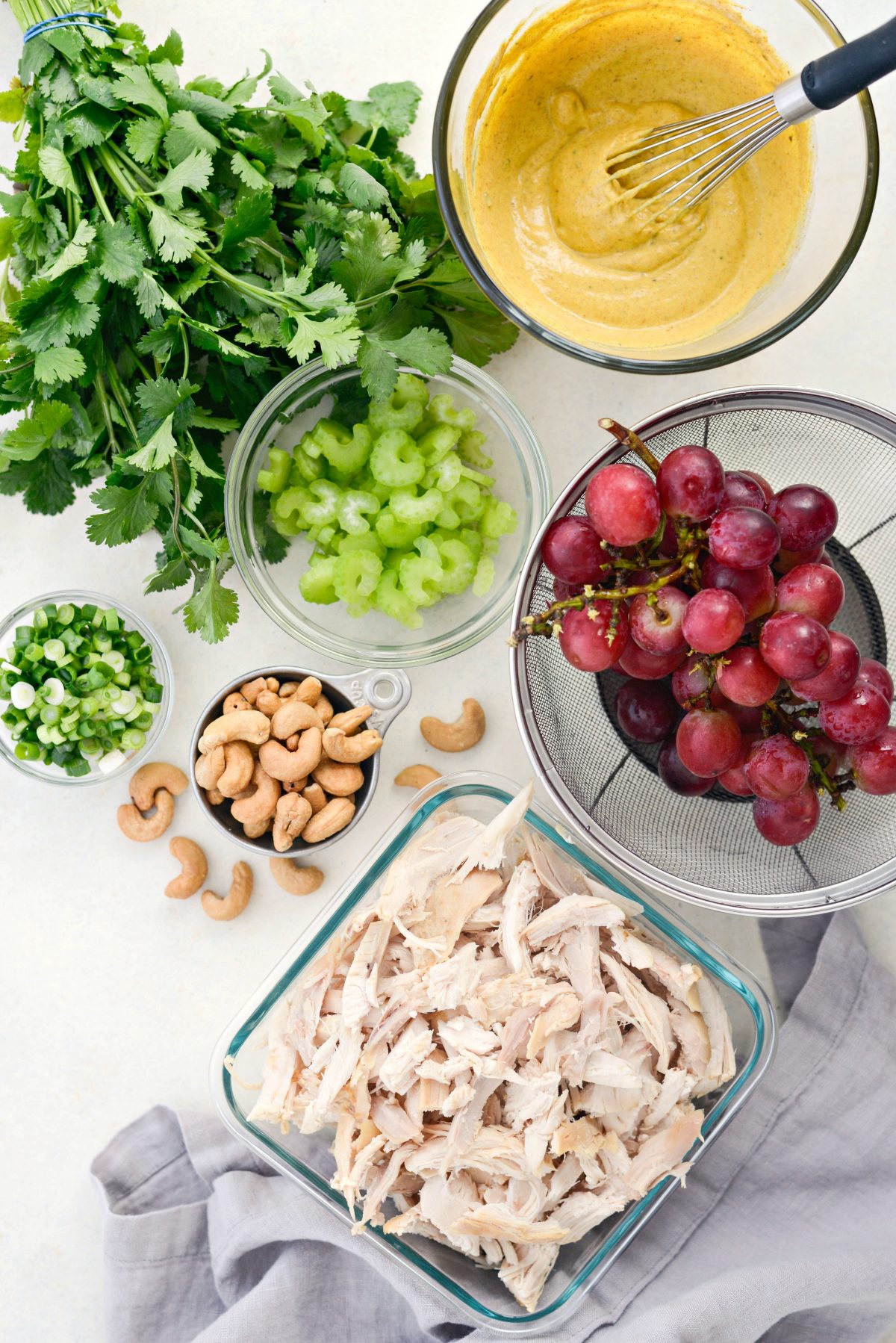 To Build this salad You Will Need:
leftover chicken (cooked and shredded)- Either roasted or rotisserie.
red grapes – Adds a pop of color, sweetness and flavor.
celery – Adds crisp fresh flavor and texture to the salad.
unsalted roasted cashews – Adds a toasty nutty flavor and texture.
green onions – Lends a fresh, crisp and delicate onion flavor.
cilantro – Adds a distinct fresh, citrusy (and to some a soapy) flavor.
curry yogurt dressing – Binds this salad together adding flavor, creaminess and color.
In a large mixing bowl add 4 cups leftover [cooked and shredded] chicken or about 1 rotisserie, 1 cup of halved red grapes, 1/2 cup sliced celery, 1/3 cup unsalted roasted cashews, 1/4 cup sliced or 4 green onions, 1/4 cup cilantro and the curry yogurt dressing.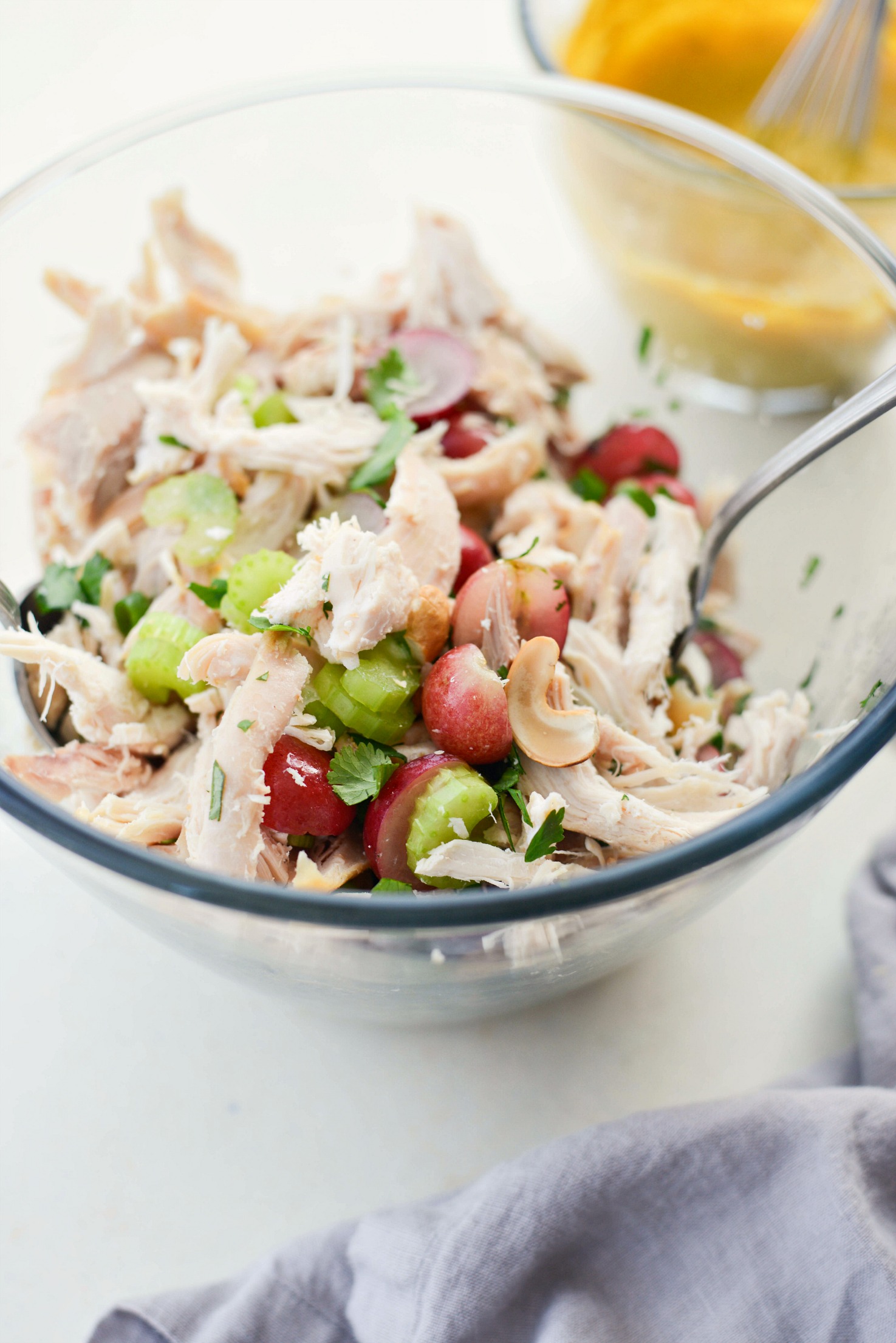 Toss to combine.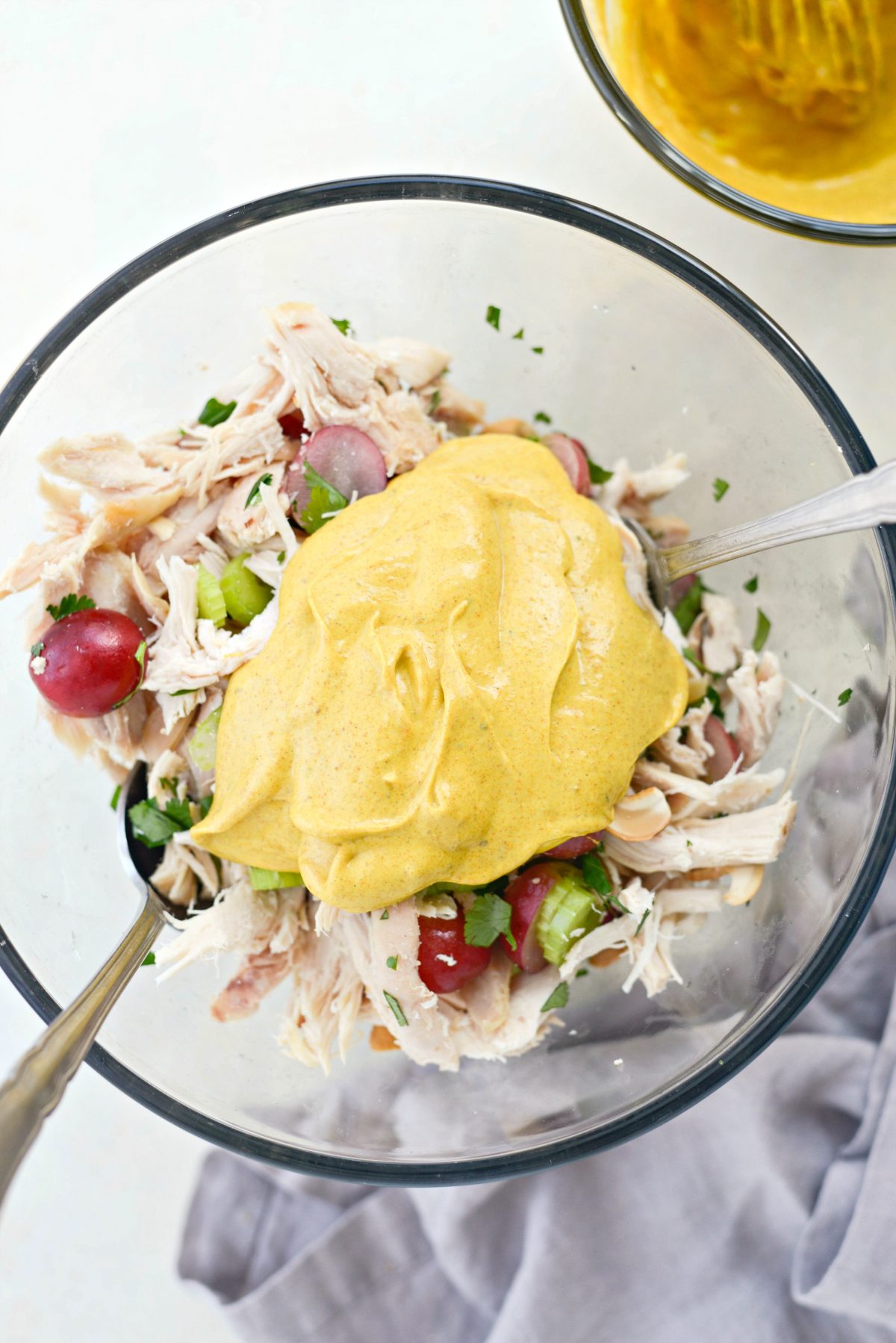 Next pour in all of the golden curry dressing.
Lastly, gently toss to combine. Then cover the bowl tightly with plastic wrap or a lid and refrigerated for an hour or 2 before serving. This will give the flavors a chance to develop.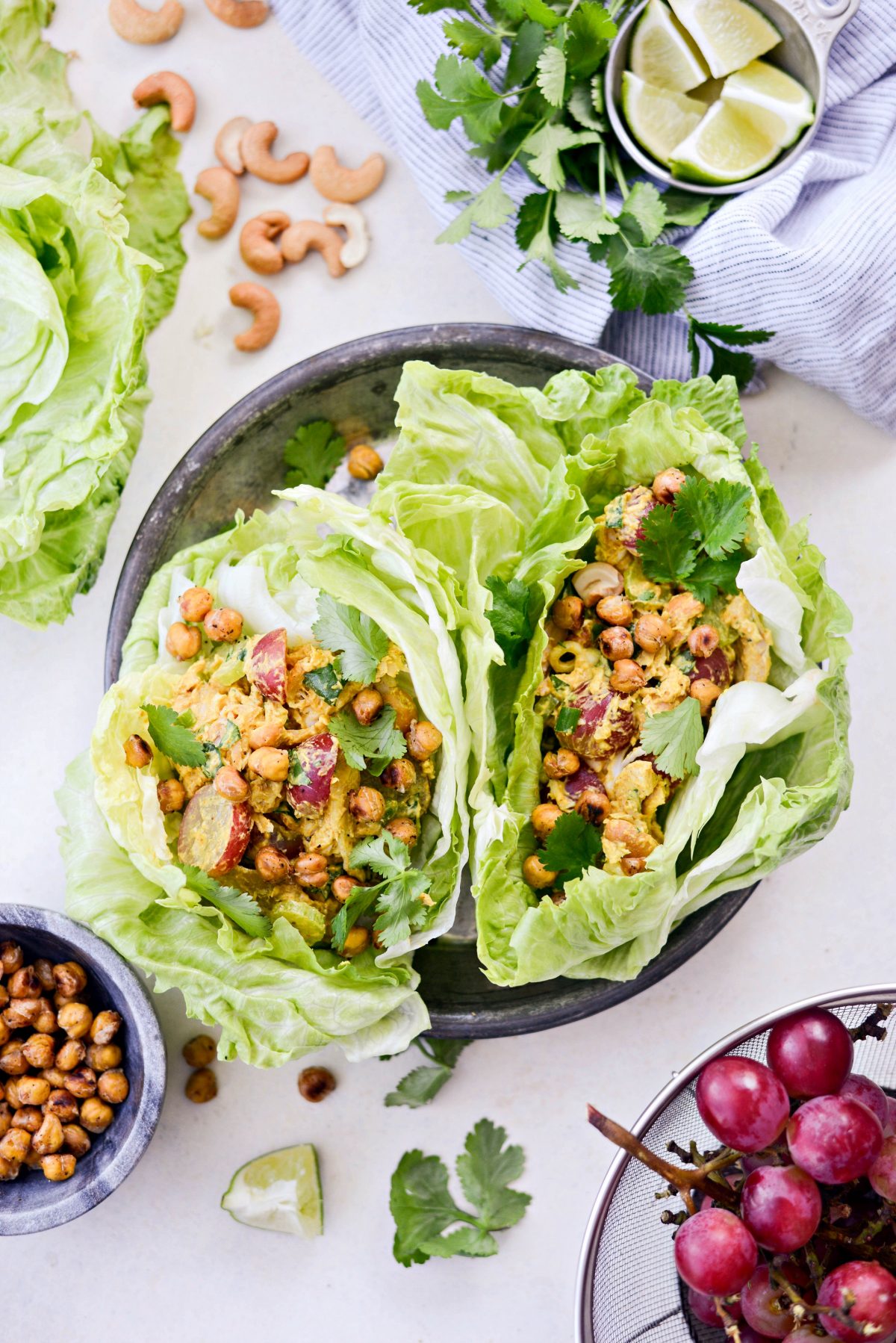 HOW TO SERVE CHICKEN SALAD:
seedy crackers – I like Mary's Gone crackers.
toasted bread – Try it on croissant bread OMG.
lettuce – Serve on or wrapped in romaine, iceberg or bibb lettuce.
sandwich or wrap – Tuck it into a croissant, lavash or wrap of choice or in pita bread.
top with crispy chickpeas – Make the crispy chickpeas in air-fryer (<–easiest!) or roast in the oven!
WHAT TO SERVE WITH CHICKEN SALAD:
Fresh fruit
veggies
chips of choice
small cup of soup

HOW TO STORE CHICKEN SALAD:
Store leftovers in a large container or individual personal size containers with a tight fitting lid.
HOW LONG WILL CHICKEN SALAD LAST IN THE FRIDGE?
If stored properly, chicken salad can last up to 3 to 5 days in the refrigerator.
CLICK HERE FOR ALL MY CHICKEN SALAD RECIPES!
How to Serve This Curried Chicken Salad?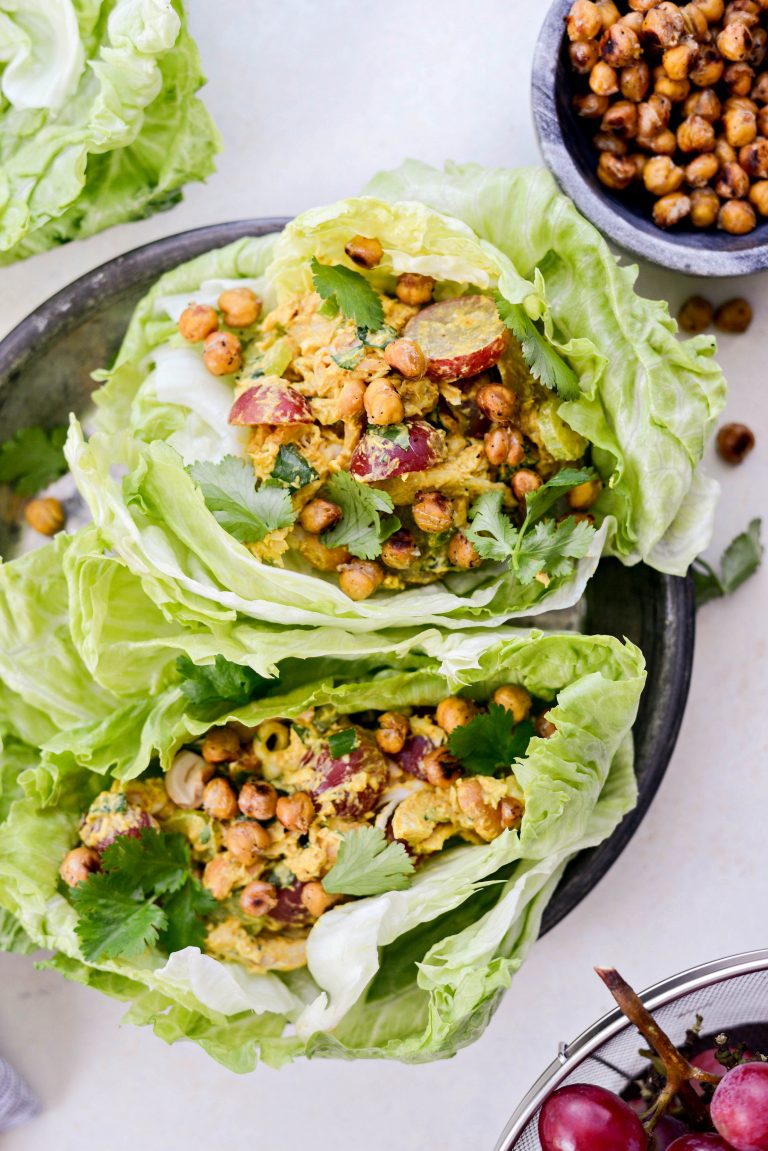 Enjoy! And if you give this Curried Chicken Salad recipe a try, let me know! Snap a photo and tag me on twitter or instagram!
Yield: 6 servings
Curried Chicken Salad with Grapes and Cashews
This Curried Chicken Salad is loaded with shredded cooked chicken, juicy red grapes, crisp celery, green onions, cashews and cilantro, tossed in a bright yellow curry yogurt dressing. 
Ingredients
FOR THE DRESSING:
1/2 cup plain non-fat Greek yogurt
1/3 cup mayonnaise
1 small lime, juiced
2 teaspoons honey
4 teaspoons curry powder
1/2 teaspoon turmeric
1/4 teaspoon aleppo pepper, may sub with red pepper flakes, plus more for serving
1/4 teaspoon ground ginger
1/2 teaspoon kosher salt
1/4 teaspoon ground black pepper
FOR THE SALAD:
4 cups shredded cooked chicken
1 cup halved red seedless grapes
1/3 cup coarsely chopped unsalted roasted cashews, lightly salted is fine
4 green onions, sliced
1/2 cup sliced celery
1/4 cup fresh cilantro, roughly chopped
lettuce leaves, for serving
Instructions
In the bowl of a mini food processor add mayonnaise, yogurt, lime juice, honey, curry, turmeric, aleppo pepper, salt and pepper. Process until smooth scraping down the sides half way through until honey is mixed throughout.

In a large bowl combine the chicken, grapes, cashews, celery, onions and cilantro and all of the dressing. Taste and season with more salt and pepper if desired.

Spoon about 1/2 cup into lettuce leaves and sprinkle with more cilantro and aleppo pepper.
Serving: 1cup, Calories: 339kcal, Carbohydrates: 14g, Protein: 28g, Fat: 19g, Saturated Fat: 4g, Polyunsaturated Fat: 8g, Monounsaturated Fat: 7g, Trans Fat: 1g, Cholesterol: 76mg, Sodium: 375mg, Potassium: 513mg, Fiber: 2g, Sugar: 8g, Vitamin A: 3824IU, Vitamin C: 15mg, Calcium: 75mg, Iron: 3mg
This post may contain affiliate links.
Buy the Cookbook: Simply Scratch : 120 Wholesome Homemade Recipes Made Easy Now available on Amazon »
THANK YOU in advance for your support!