Intensify the deliciousness of grilled steak with this piquillo pepper pesto. Piquillo peppers blended with, parsley, almonds, garlic and Manchego cheese!
I sure hope you're having nice weather this weekend. Unlike me here where it's supposedly going to be in the mid 80's yet raining and storming the entire time. Isn't that just great??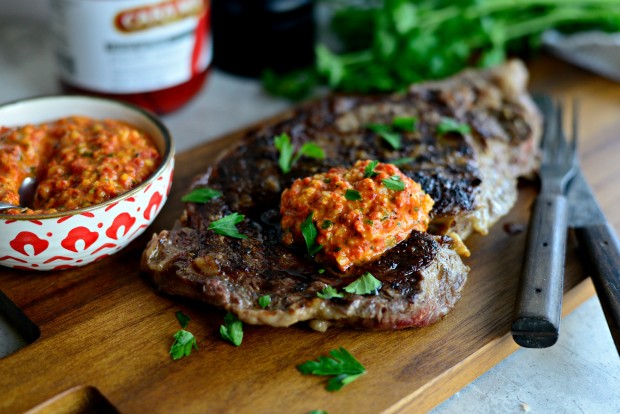 Today it's sunny and I'm currently living the life of a blogger. As I sit here on my back deck, watching our dog chase after birds he'll never catch, listening to music while typing this post up on my laptop that's propped at this awkward angle so my legs can tan. And I'm enjoying every second of sun until the clouds roll in. Such a rough life, right?
Speaking of roughing it, this steak was my lunch the other day. Ribeye, seasoned and grilled until medium well and then I spooned copious amounts of this incredible pequillo pepper pesto.
It's a shame I had to eat this whole steak by myself too. 😉
First gather all of the ingredients to make the pesto: you'll need blanched almonds, parsley, garlic, jarred pequillo peppers, manchego cheese, olive oil and the typical salt and pepper.
I use Cara Mia hand grilled piquillo peppers, they're a little smoky, a little sweet and a smidgen spicy. They're available at select Safeway, Vons, Schnucks and Dierbergs stores or can be purchase online here.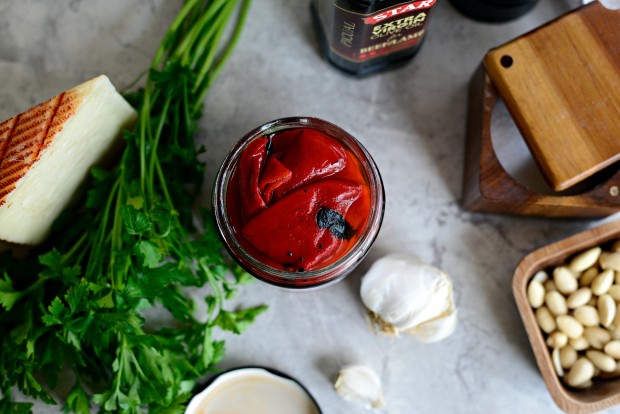 Look at these peppers! The color… the grill marks! I just love them.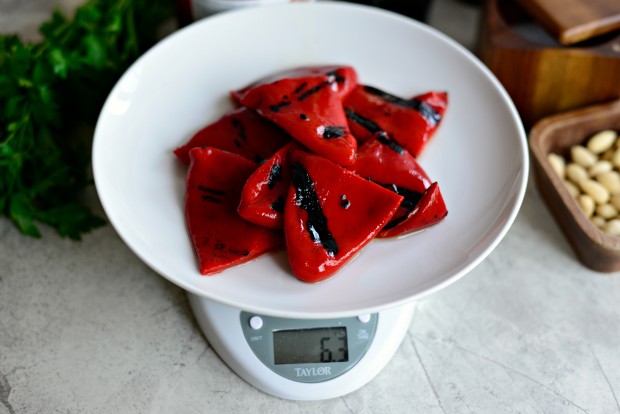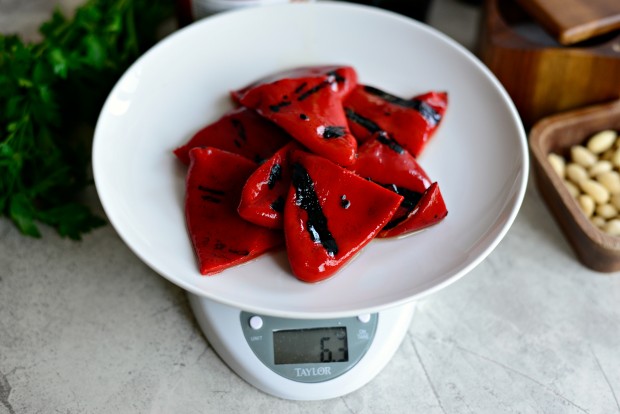 First you'll need 6 ounces of piquillo peppers, for me it was about half of the jar.
Heat a pan with 3 tablespoons of blanched almonds over medium-low heat and toast the almonds until lightly golden and fragrant. Remove and allow the nuts to cool.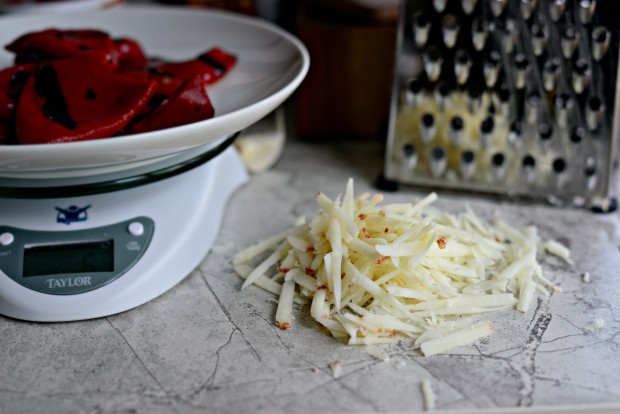 Meanwhile, grate up about 1/4 to 1/2 cup of Manchego cheese.
Then grab a handful (about 1/4 cup) of fresh parsley leaves and then two medium size cloves of garlic.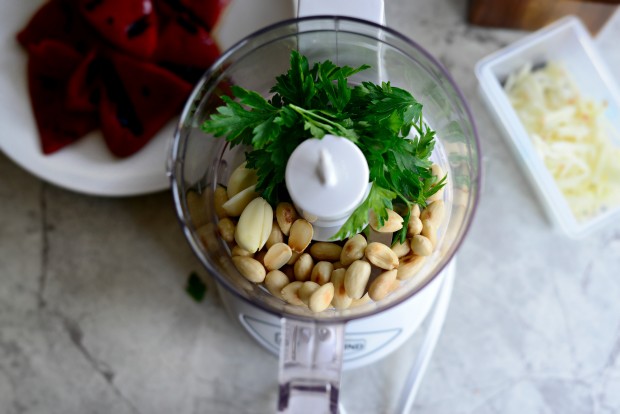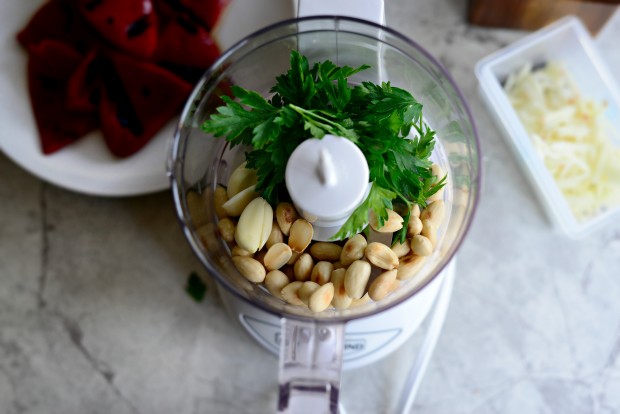 Next add the cooled almonds, parsley leaves and garlic into the bowl of a mini food processor.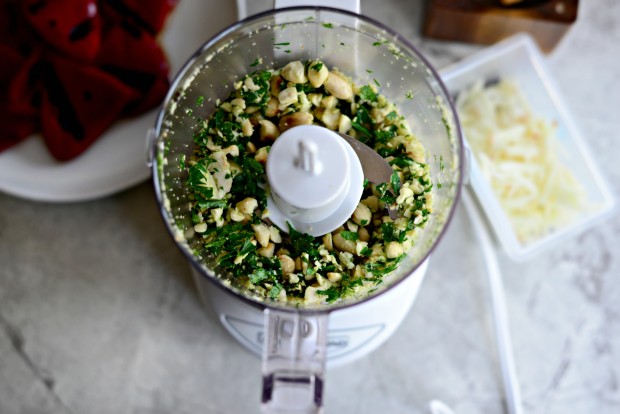 Then pulse until ground. Smells pretty amazing right now, not going to lie.
Then add the peppers, cheese, salt and pepper and 1/2 cup olive oil.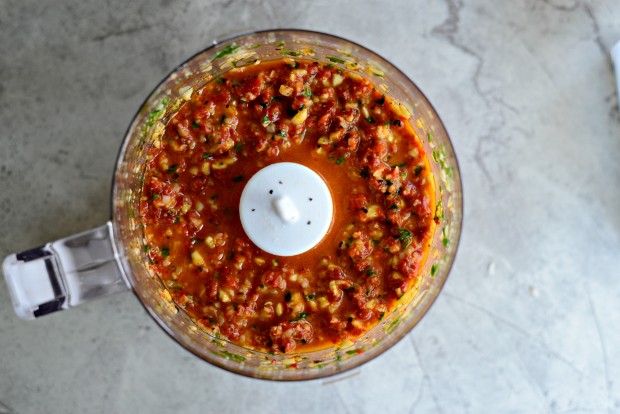 Then pulse until combined.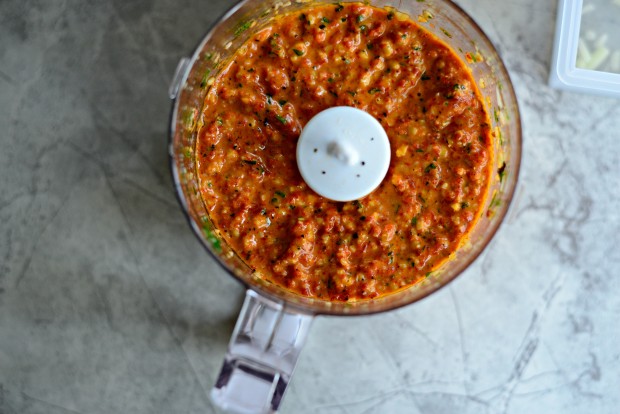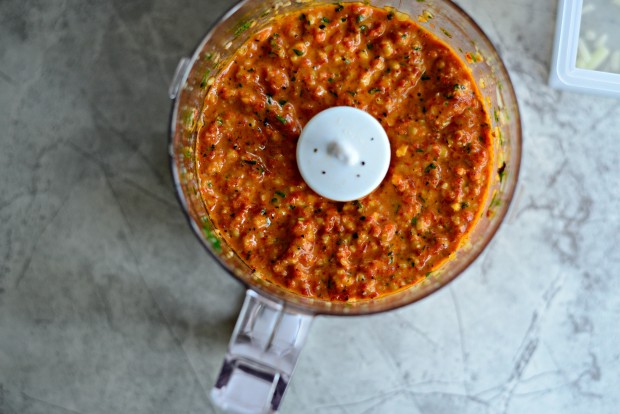 Next give it a check, scrape down the sides of the bowl and proceed with pulsing until desired consistency. Refrigerate pesto until ready to serve.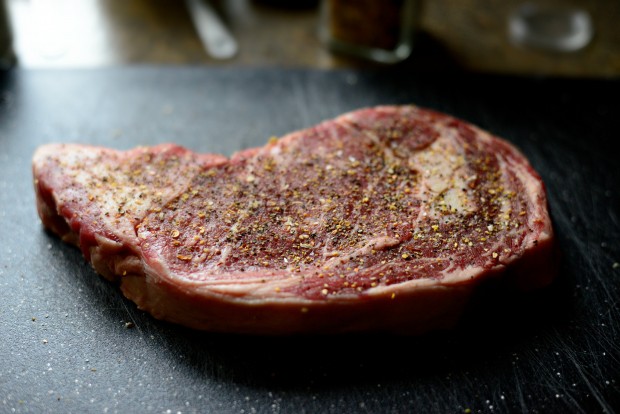 Then sprinkle both sides of the steaks with desired seasoning and grill over medium-high for about 5 to 6 minutes a side or until desired doneness.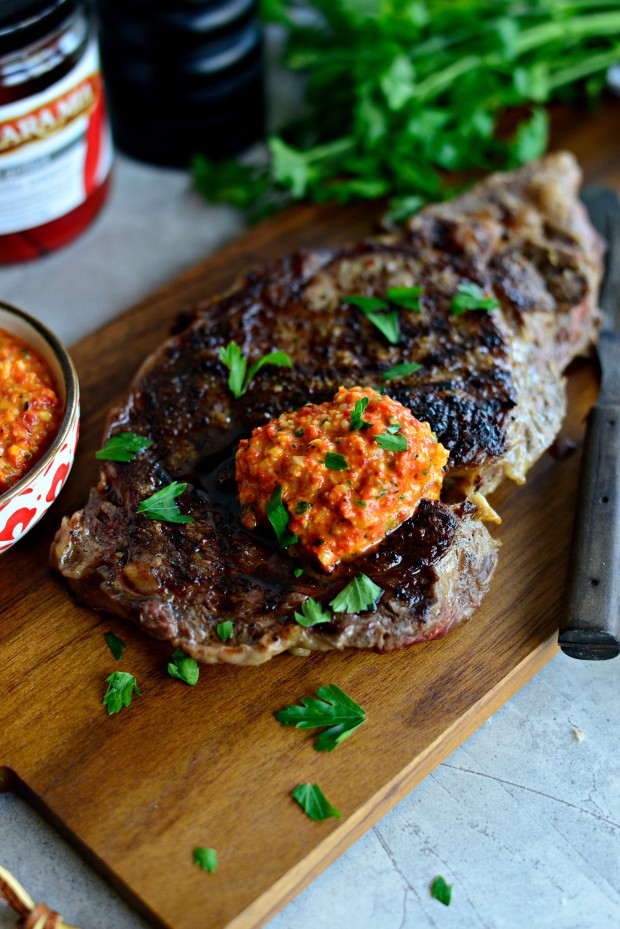 Lastly spoon the piquillo pepper pesto onto your steak and devour.
The pesto adds this amazing smoky-spicy (not incredibly hot or anything), garlicky yet flavorful and healthy something-something to grilled steak. If red meat isn't your thing, try it on chicken or spread it on slices of grilled crusty bread. Of course spooning it into your mouth is always an option.
If the weather is right for grilling, you MUST make this piquillo pepper pesto and slather it over all things grilled.
Note: Cara Mia provided me with these peppers for recipe development. As always, my opinions are my own and these peppers rule. The end.
Enjoy! And if you give this Piquillo Pepper Pesto recipe a try, let me know! Snap a photo and tag me on twitter or instagram!

My cookbook Simply Scratch : 120 Wholesome Homemade Recipes Made Easy is now available! CLICK HERE for details and THANK YOU in advance!
[this post contains affiliate links.]
This post may contain affiliate links.
Buy the Cookbook: Simply Scratch : 120 Wholesome Homemade Recipes Made Easy Now available on Amazon »
THANK YOU in advance for your support!