DIY Homemade Za'atar is great for marinating chicken and topping hummus. And it's so extremely easy to make!
Dear za'atar, I have some serious plans (aka recipes) calling for you.
Thanks for being awesome.
Your friend,
Laurie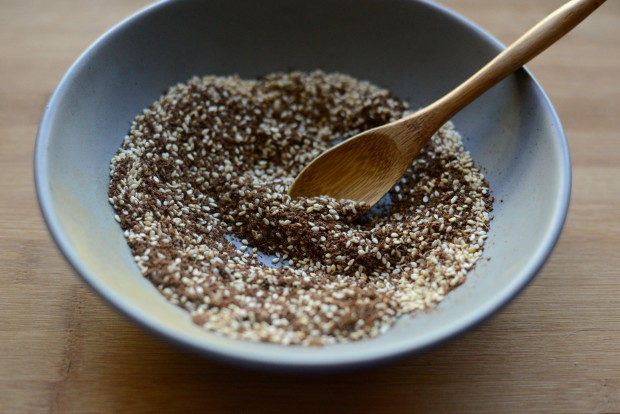 There's a dozen or so ways to prepare za'atar. There's the oh-so convenient way via spice grinder. Or you could get an upper arm workout and bust out your 18-ton mortar and pestle- and by 18-ton I really mean 10 pounds. Whatevs. It feels the same.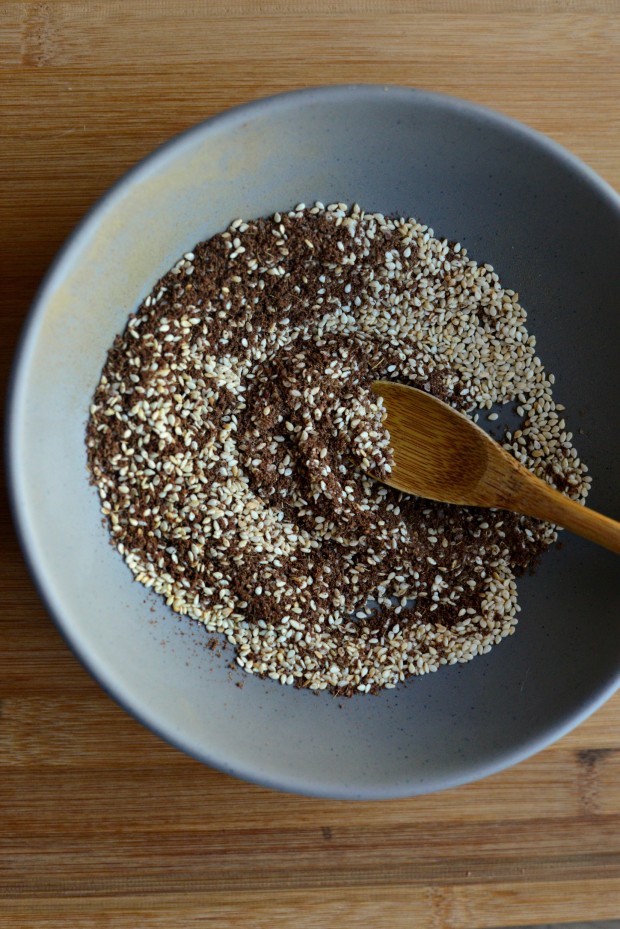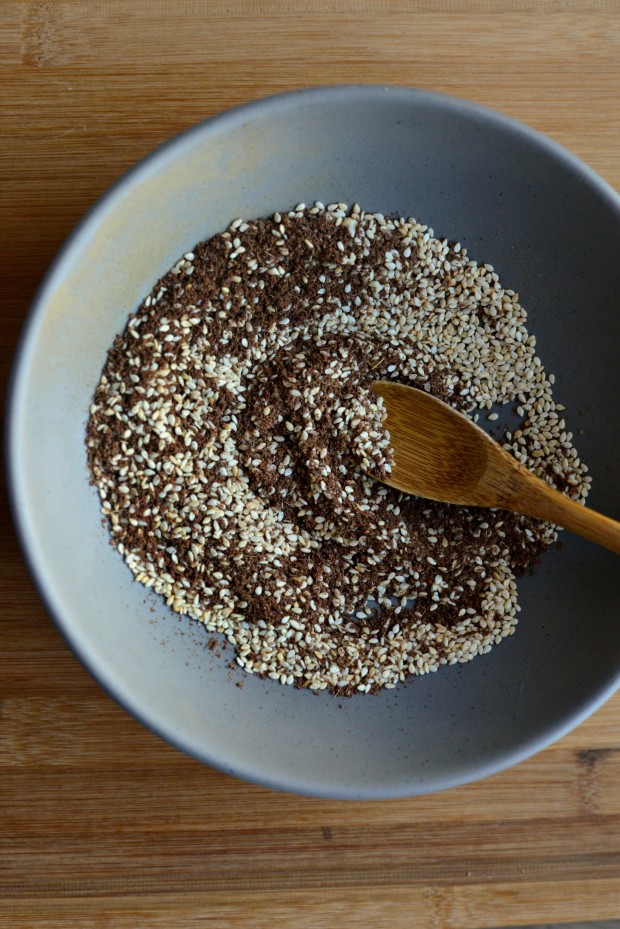 So yeah, za'atar… fun to say, fun to spell. This Middle Eastern spice blend tastes amazing in and on just about anything. If you haven't tried it yet… what are you waiting for?? I love it… one of my favorite ways to use it is to mix this magical spice concoction with olive oil and toss pita chips in just before baking orrrrr coat chicken pieces and roast or grill until tender, juicy perfection. You get the drift… Google-search it and you'll no doubt find a plethora of ways… or just wait until tomorrow and check back to this here blog.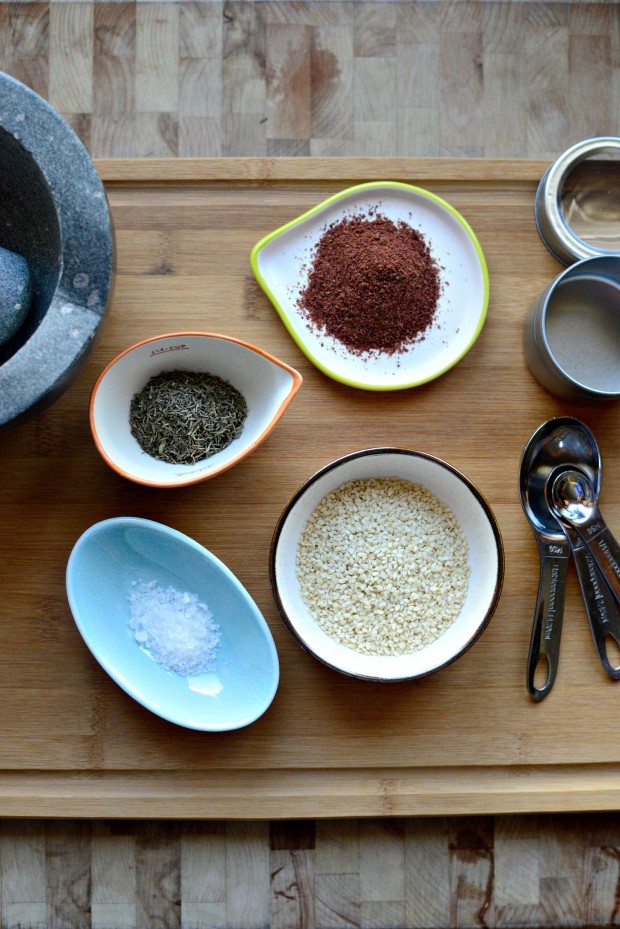 These are just some typical ingredients used in making homemade za'atar; thyme, sumac, salt and sesame seeds. I've also seen herbs like oregano and savory used as well. But we're sticking to the basics, man.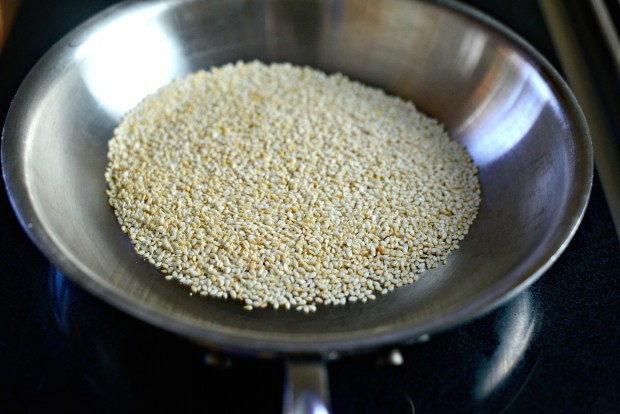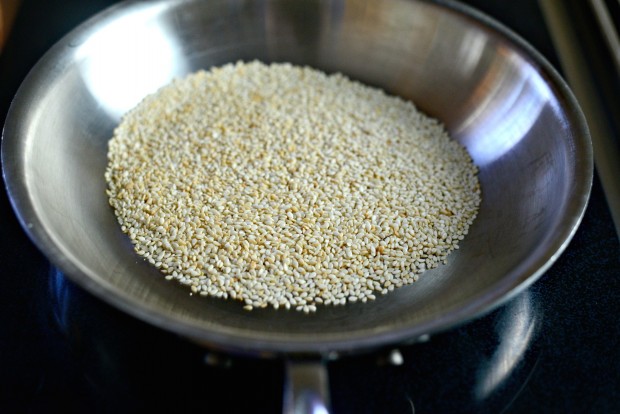 In a small, dry skillet toast the sesame seeds over medium heat, stirring often until fragrant and toasty. Obvs. It takes about 8 minutes or so, watch carefully so they do not burn! Remove off the heat once toasted transfer to a bowl or small plate to cool.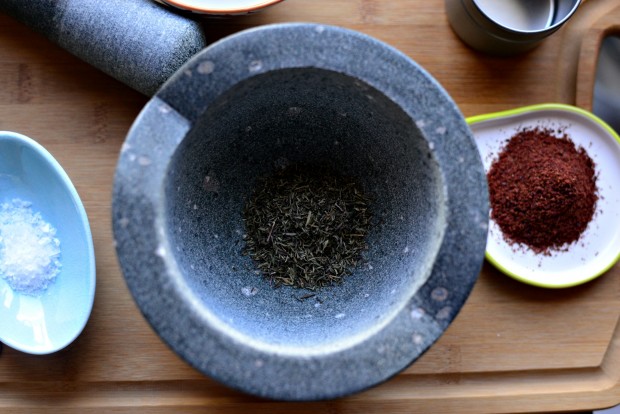 Place the thyme into your mortar. I found mine at HomeGoods for 12 smack-a-roos. I love HomeGoods!!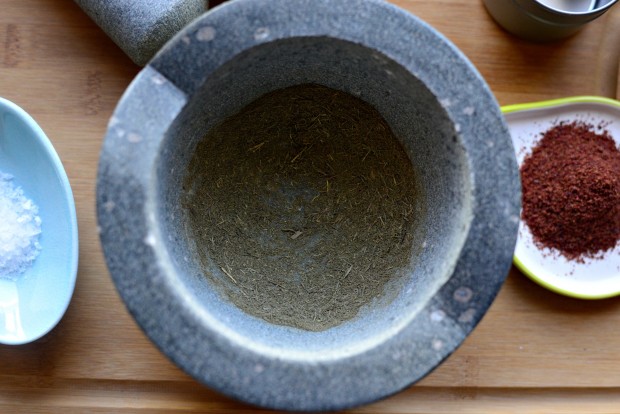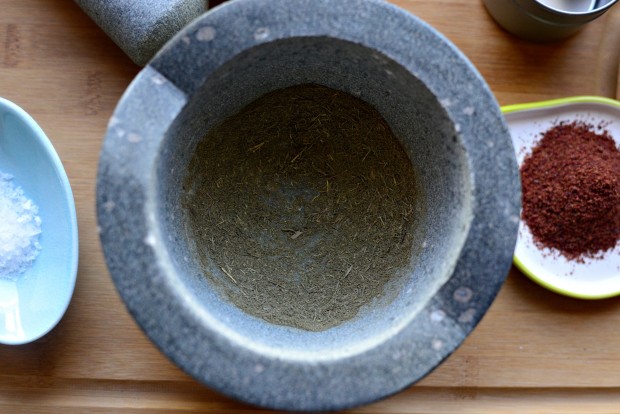 Use the pestle, smashing and grinding the thyme leaves into dust.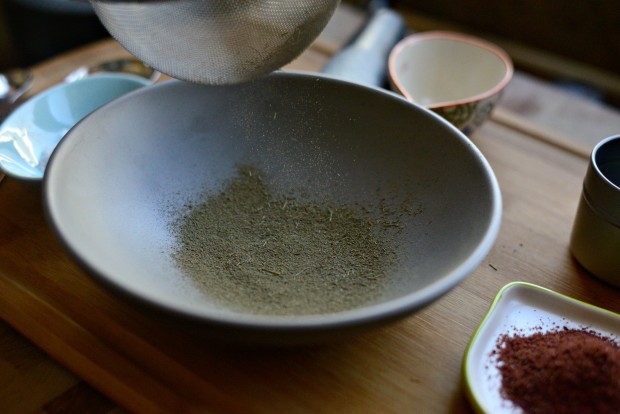 I then sift it through a fine mesh strainer to catch the stem parts. I know… seems like a useless step, right?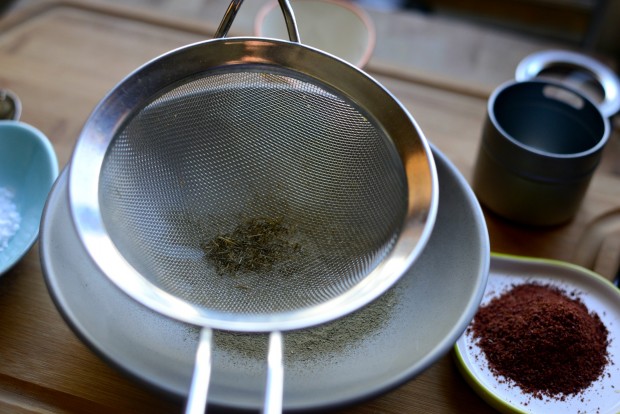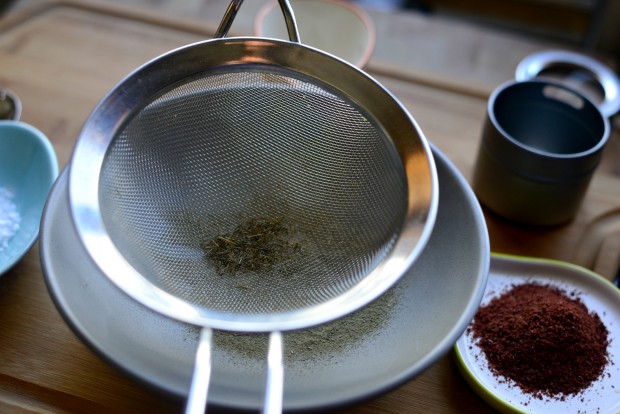 Wrong… see? You probably won't have this issue if you're using a spice grinder. But I grind these stem pieces for a second time (and sometimes a third), but either I'm super weak or these are strong buggers… because they just stay the same.
Next add in the sumac. I purchased mine from Penzy's… but sumac can be found in specialty markets and definitely online.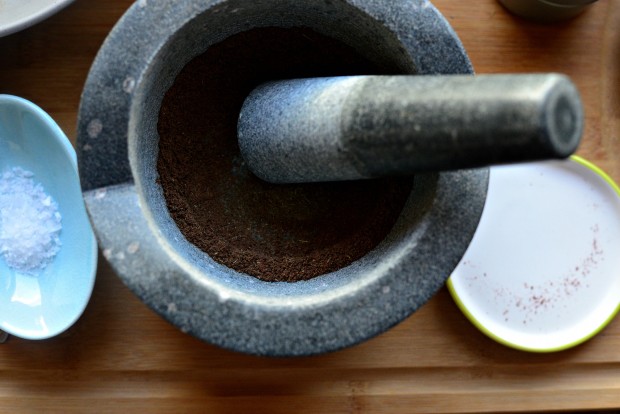 Blend the two together until it's a beautiful shade of burgundy.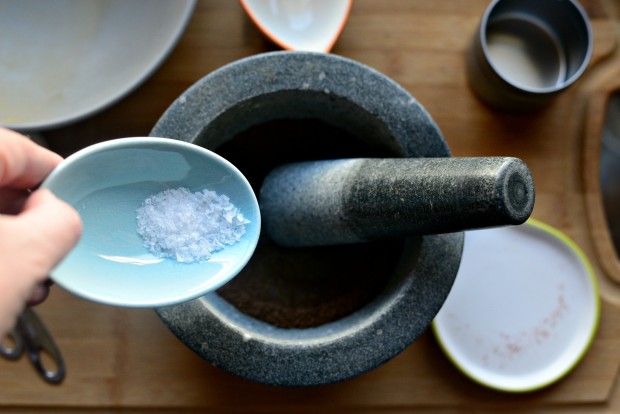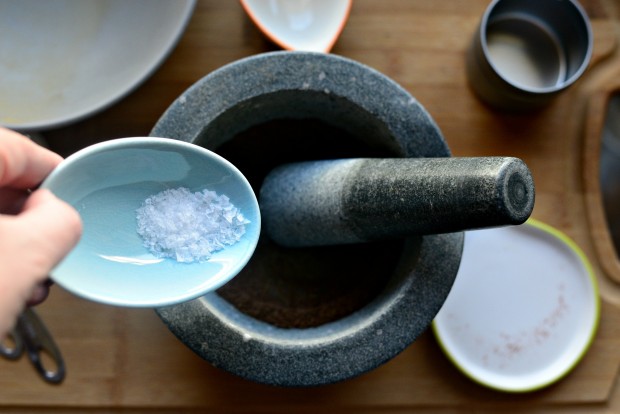 Add in flaked sea salt.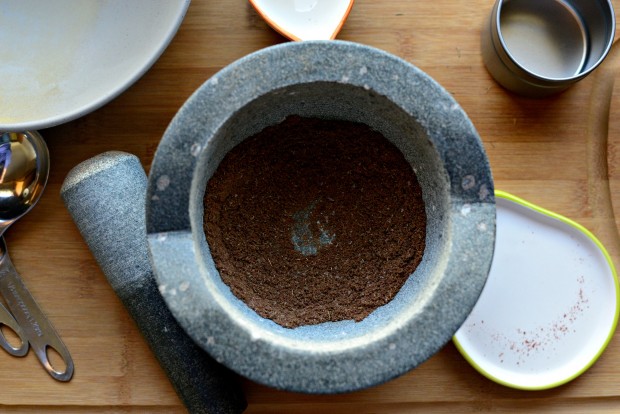 Blending one last time to combine the salt with the spices.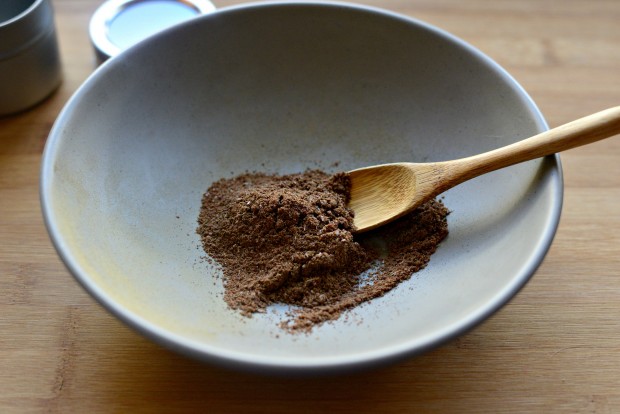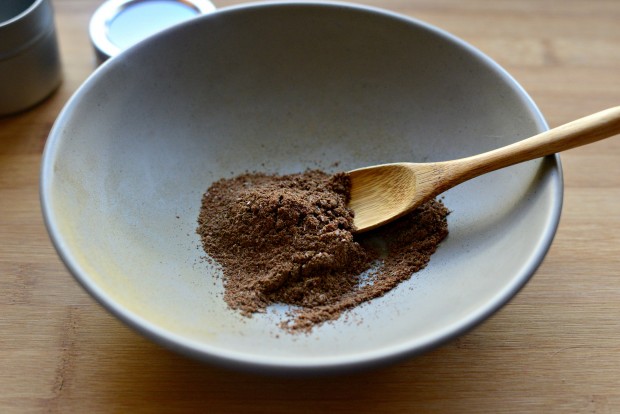 Add it to a bowl…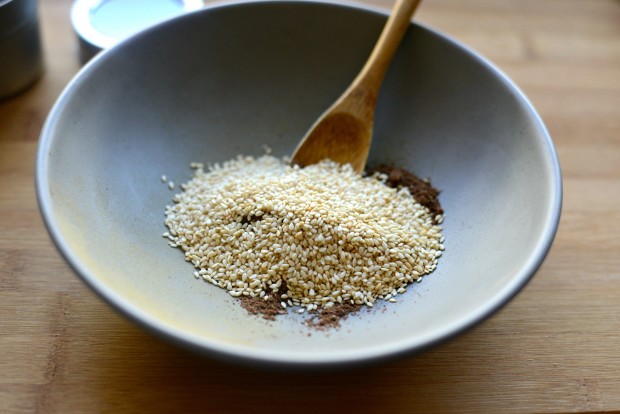 Along with the toasted sesame seeds…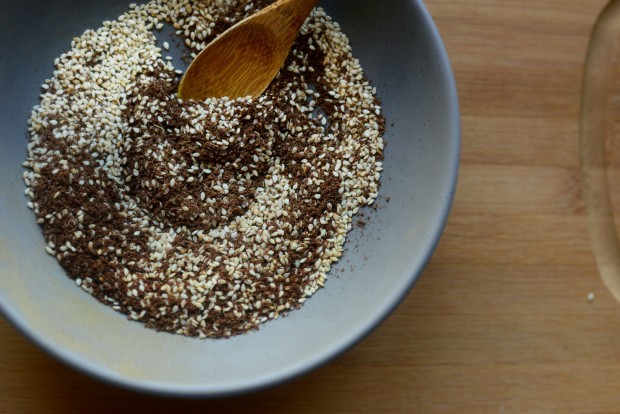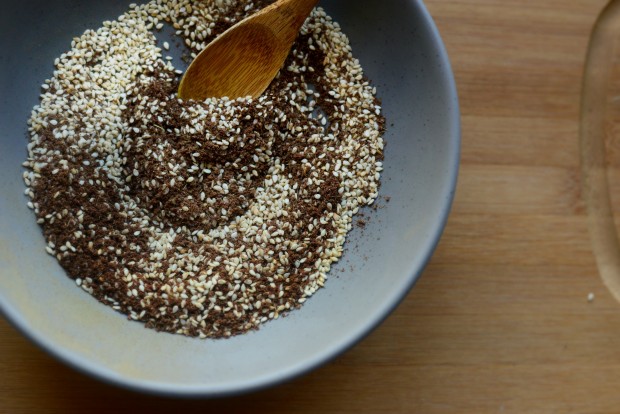 Finally stir to combine. That's it!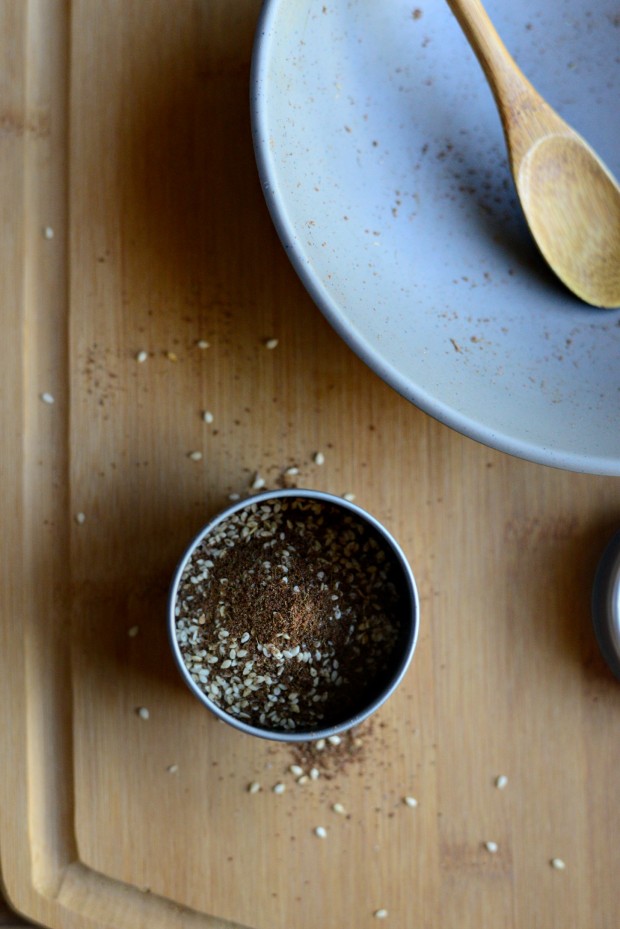 I store this in an air-tight container for a couple of months at least. Glass is best, but I also like using these cute little tins (they even have a magnetic bottom for easy storage!) for a lot of my homemade spice blends. I find them at my grocery store and they cost 2 bucks a pop!
What are your favorite ways to use za'atar? This inquiring mind wants to know!
Enjoy! And if you give this Homemade Za'atar recipe a try, let me know! Snap a photo and tag me on twitter or instagram!
My cookbook Simply Scratch : 120 Wholesome Homemade Recipes Made Easy is now available! CLICK HERE for details and THANK YOU in advance!
[this post contains affiliate links.]
This post may contain affiliate links.
Buy the Cookbook: Simply Scratch : 120 Wholesome Homemade Recipes Made Easy Now available on Amazon »
THANK YOU in advance for your support!