Great for dinner, a side salad or meal prep! This Roasted Broccoli Cauliflower Kale Salad is exploding with nutritious goodness and lots of delicious texture! Roasted za'atar broccoli, cauliflower and chickpeas tossed with wild rice, dried cranberries, raisins, pipitas, toasted pine nuts and fresh herbs (to name a few!) with a little fresh lemon juice and olive oil.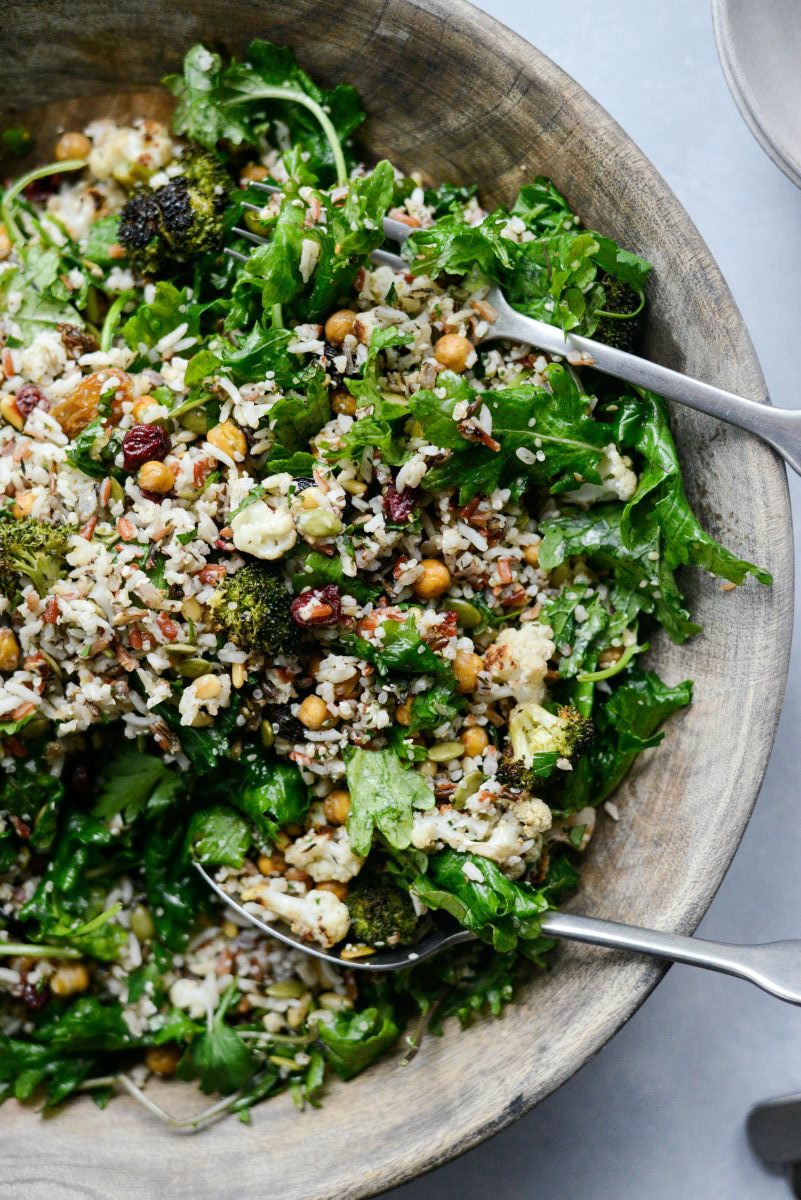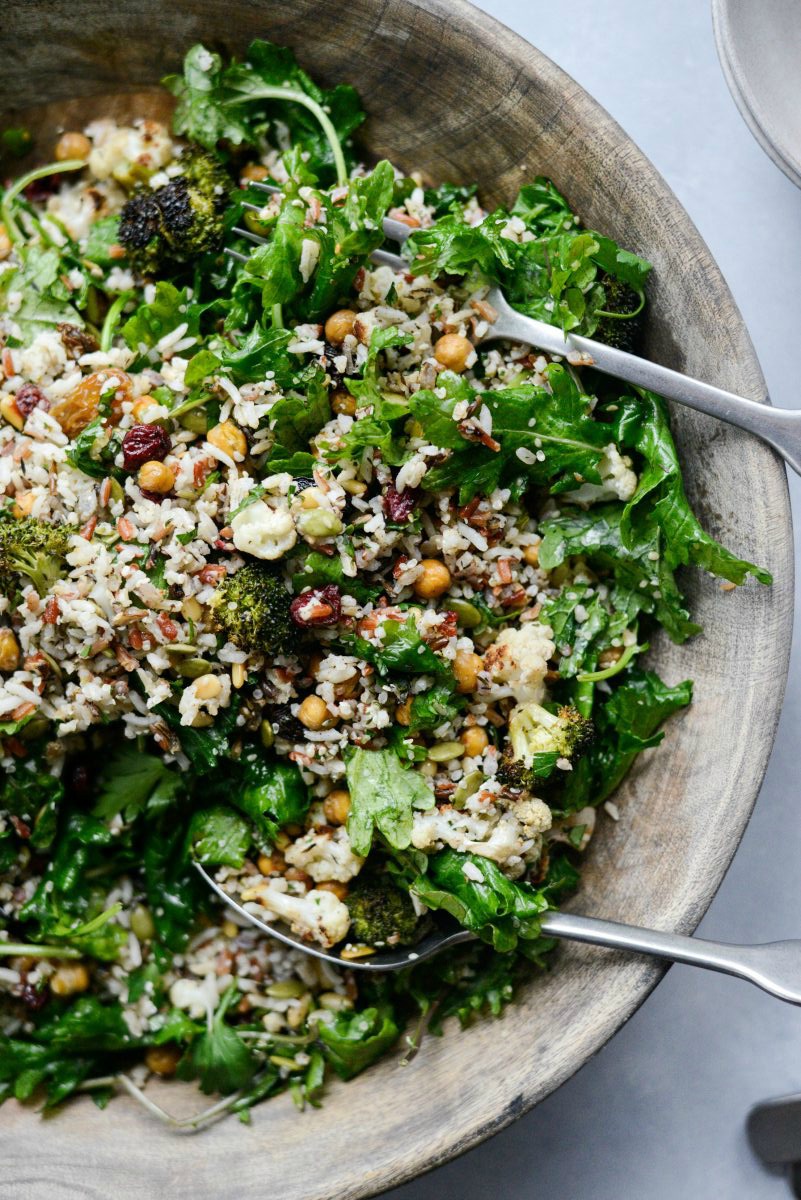 Tomorrow is officially November. Can you even believe it? I'm in complete denial. This year has flown by at lightening speed and the fact Malloree has been keeping a running countdown until Christmas since August (I'm not even kidding) and just informed me that we have like 7 or 8 Monday's left, I'm feeling stressed. Thanks Mal.
Before I bombard your screens with Thanksgiving recipes, I thought I would share with you my latest, greatest and most favorite salad. There's so much more to this salad than the title leads you to believe. If you know me at all, you know that I really love a salad that has a lot of fun ingredients in it. Because salads with different textures and flavors, herbs and spices, nuts and seeds is what we all crave. And I loaded this one up with allthethings. Because why not?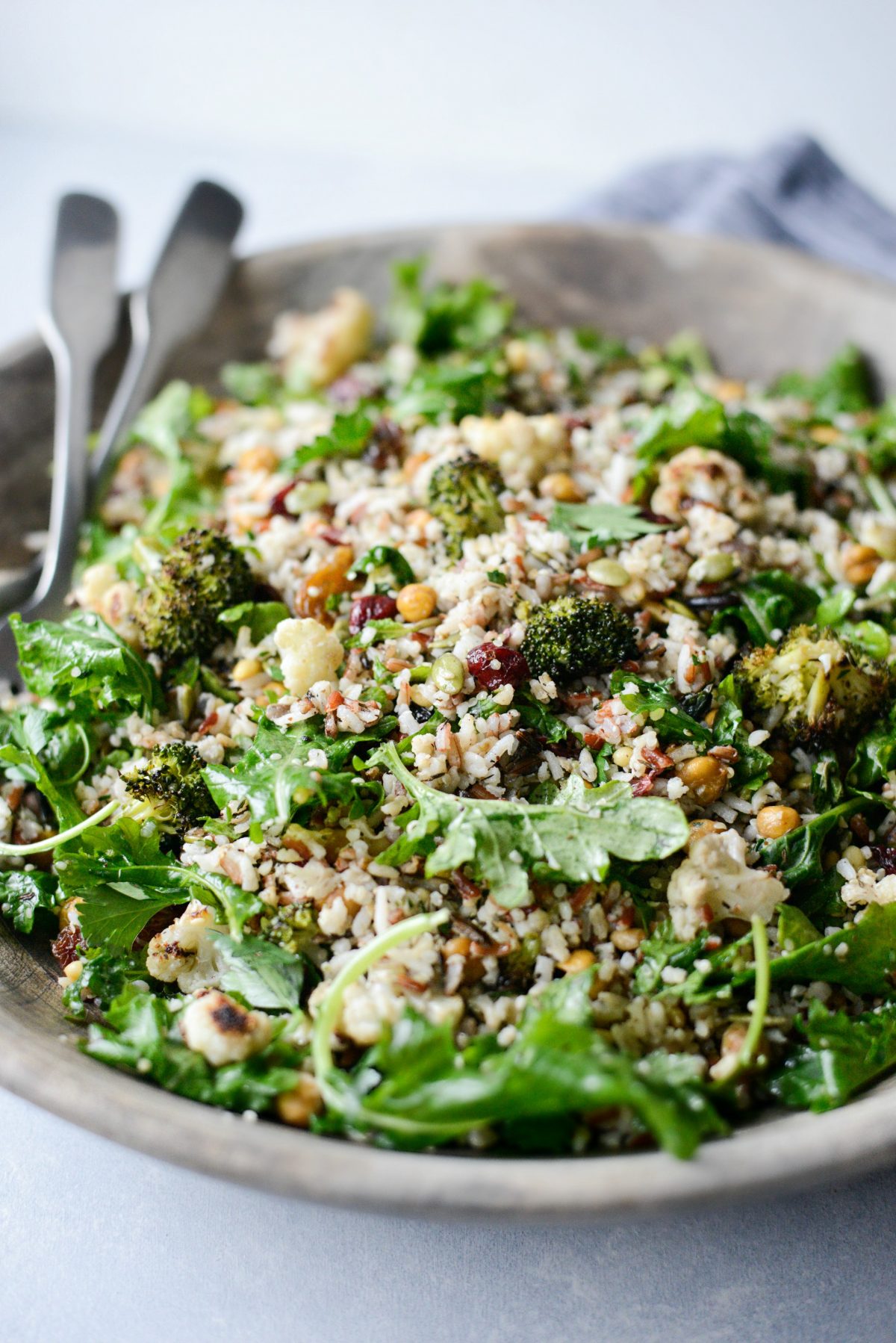 This is a power salad that doubles also as a satisfying delicious vegetarian meal. And because it makes a ton, it's perfect for meal prepping! Feel free to add or omit any ingredient to make it your own.
To make this Roasted Broccoli Cauliflower Kale Salad you will need:
2 cups cooked wild rice
1 small head broccoli
a small head of cauliflower
15 ounce can chickpeas
olive oil
1/4 cup each raisins, dried cranberries, toasted pine nuts, pepitas
2 tablespoons hemp hearts
2 tablespoons minced parsley
2 tablespoons minced fresh mint
5 ounces baby kale
juice of 1/2 a lemon
kosher salt
black pepper
I would suggest starting with the rice. This wild rice blend has wild rice mixed with white, brown and red. I prepared the rice earlier in the day so it would have a chance to cool. I of course used my rice cooker, but added a couple smashed and peeled garlic cloves to the pot so the rice had some subtle garlic flavor. Just remember to remove it before you serve it. 😉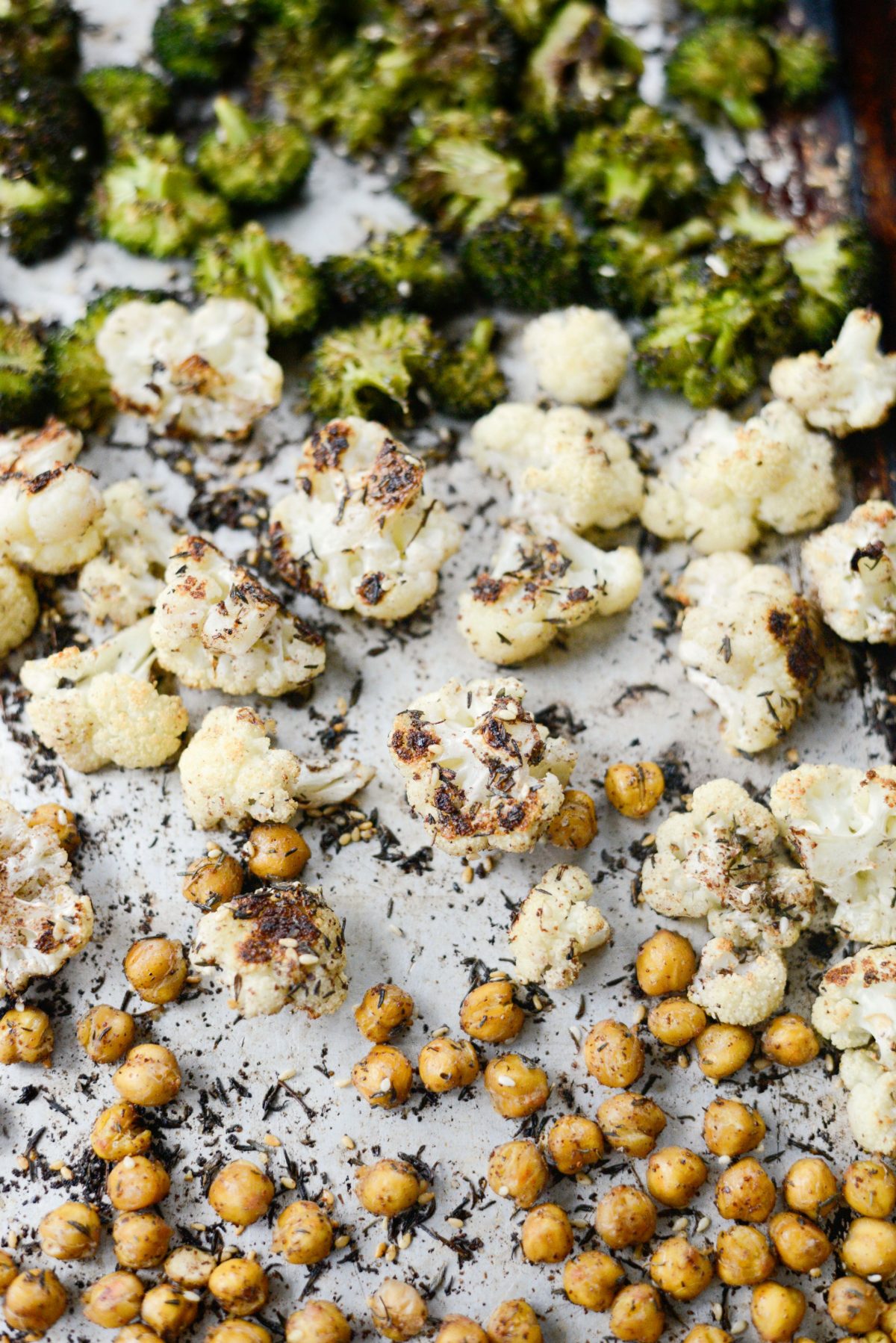 Next were' moving onto the vegetables. Onto a rimmed sheet pan toss the (drained, rinsed and patted dry) chickpeas, the broccoli and cauliflower florets with olive oil and season with 3 tablespoons of za'atar.
Toss and roast in a 425° oven for 20 minutes. Rotating the pan halfway.
Then, to the rice, add the za'atar roasted broccoli, cauliflower and chickpeas. Next measure and add in the dried cranberries and raisins, toasted pine nuts, hemp hearts, pepitas, chopped parsley and mint. And gently toss to combine.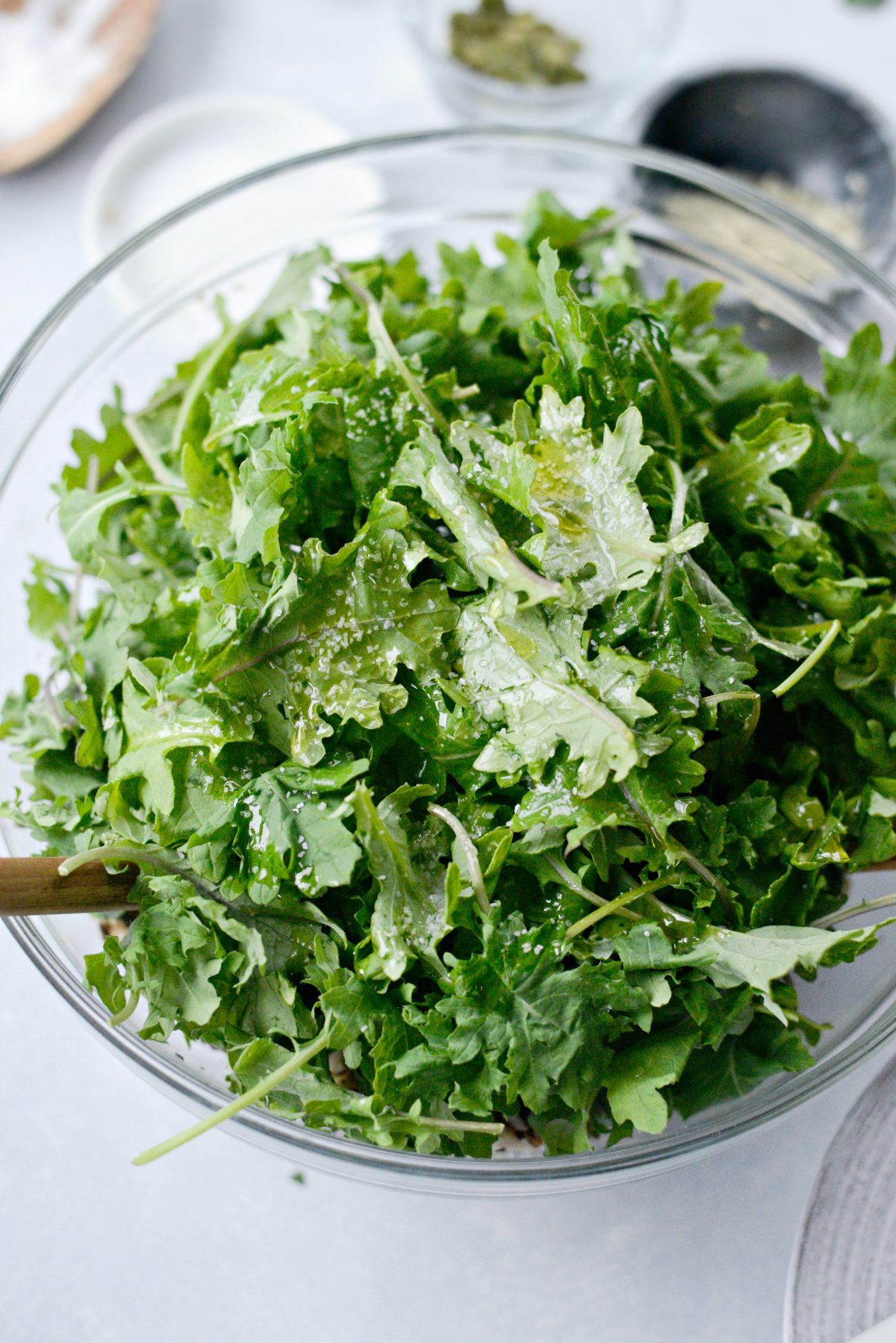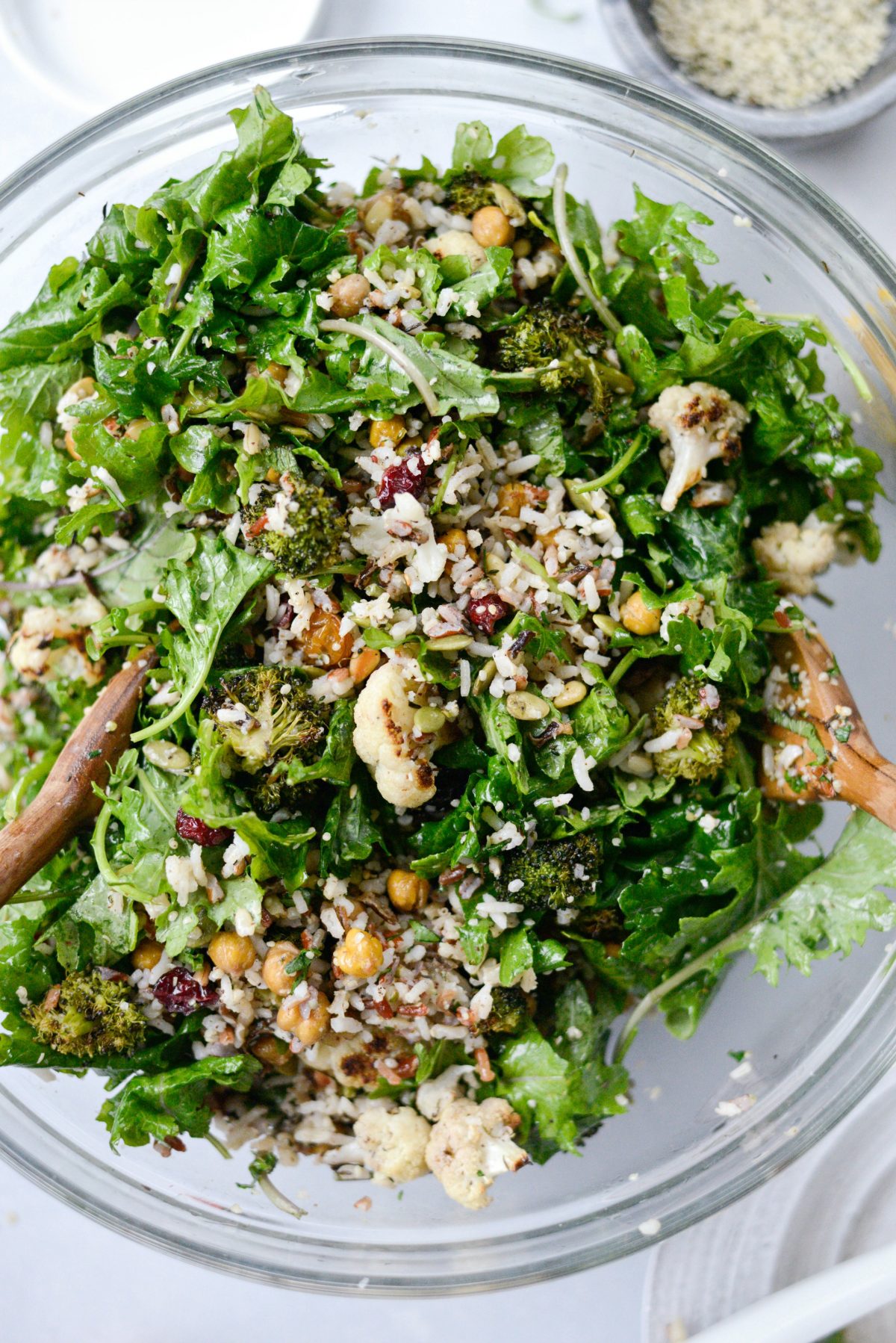 Next add in 5 ounces of baby kale, squeeze the juice of 1/2 a large lemon and drizzle with a few tablespoons olive oil. Then, lastly, season with salt and freshly ground black pepper to taste.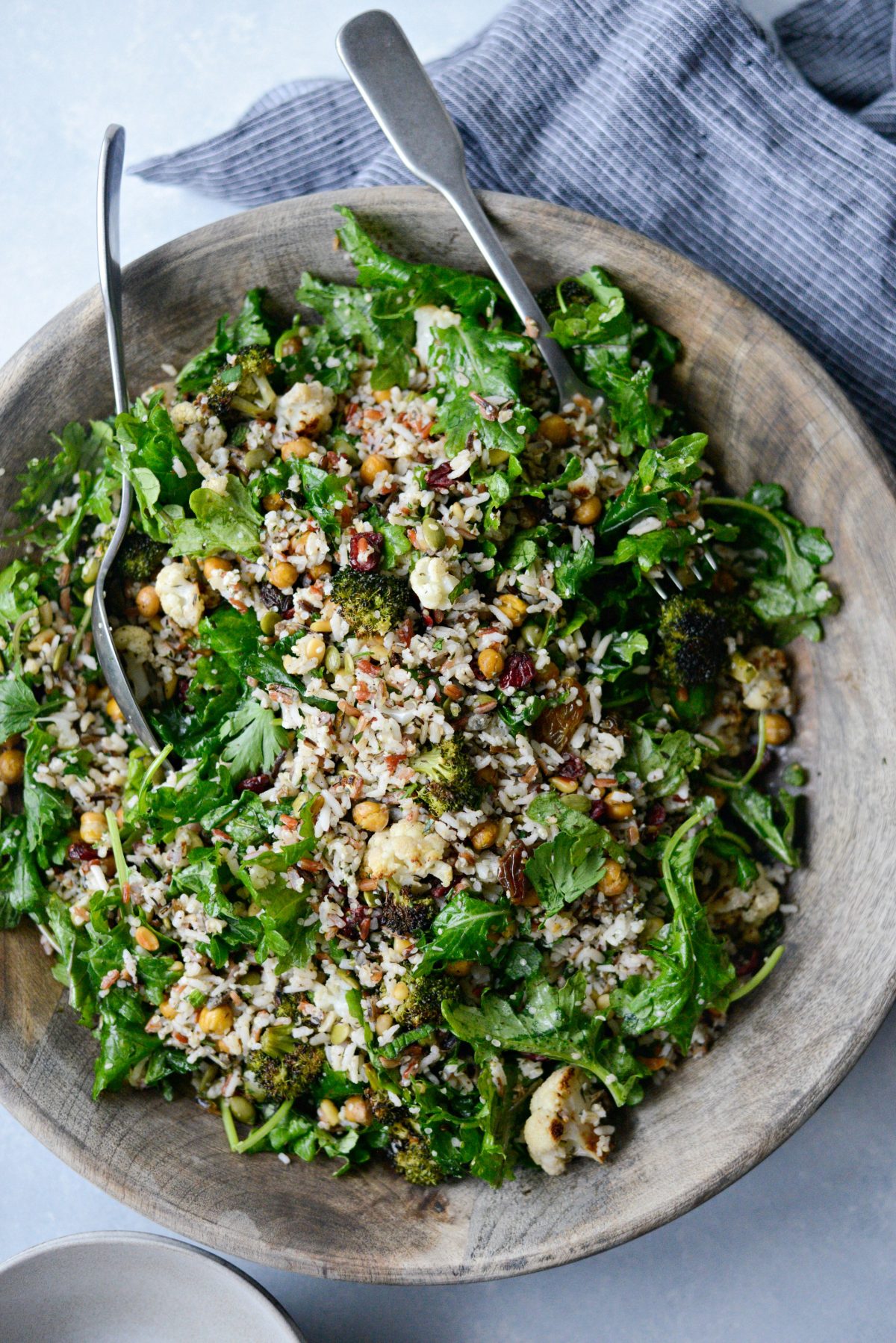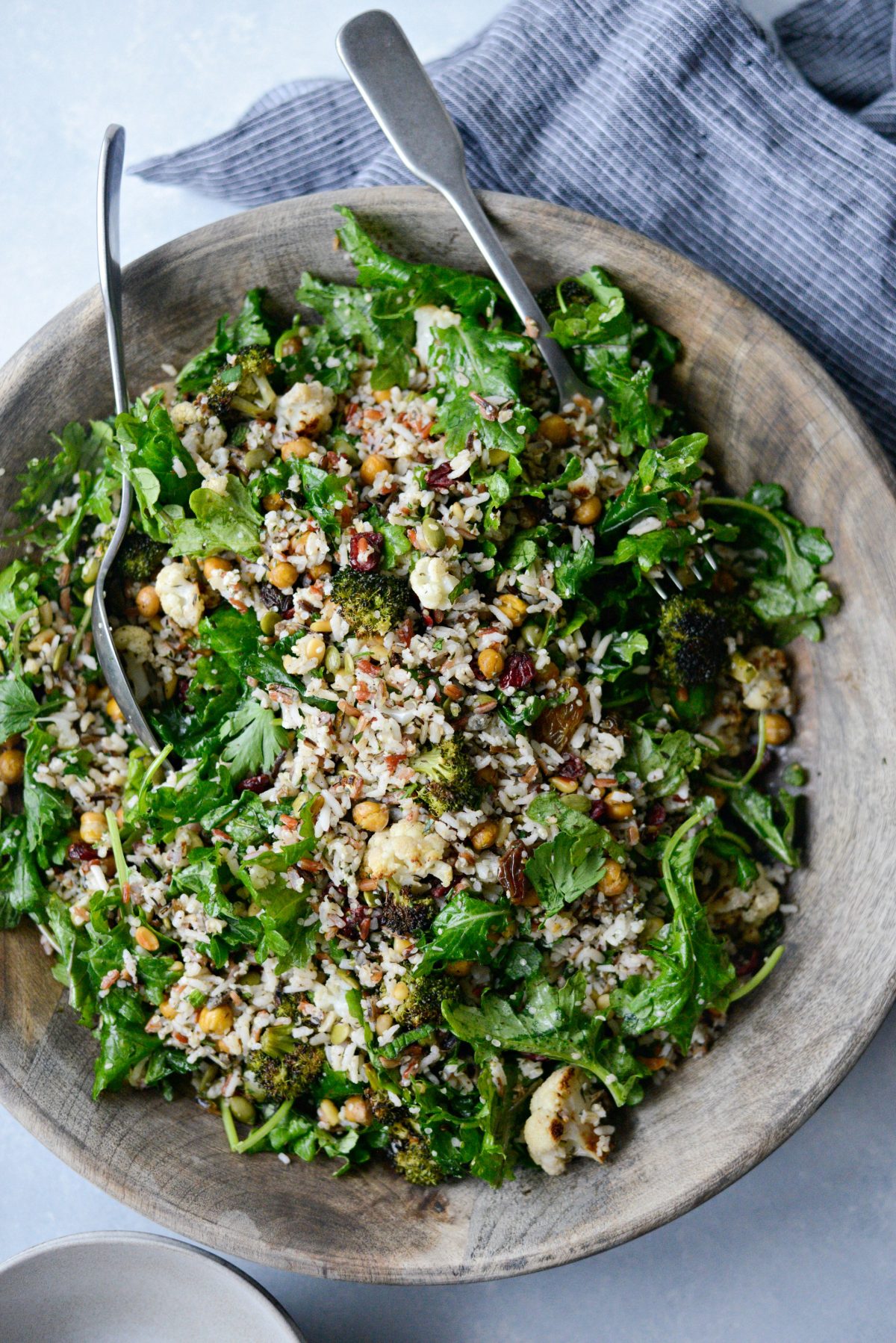 This salad can be served immediately. However, it's delicious slightly rewarmed the next day.
Because we roasted the vegetables in the za'atar seasoning, that along with the lemon juice and oil acts as the dressing meanwhile giving this roasted broccoli cauliflower salad so much flavor. The pine nuts, pepitas and roasted chickpeas add crunch. However, if you need to avoid nuts, sunflower seeds would be delicious too. And it's pretty obvious that the raisins and dried cranberries give sweetness.
Seriously all the bases are covered.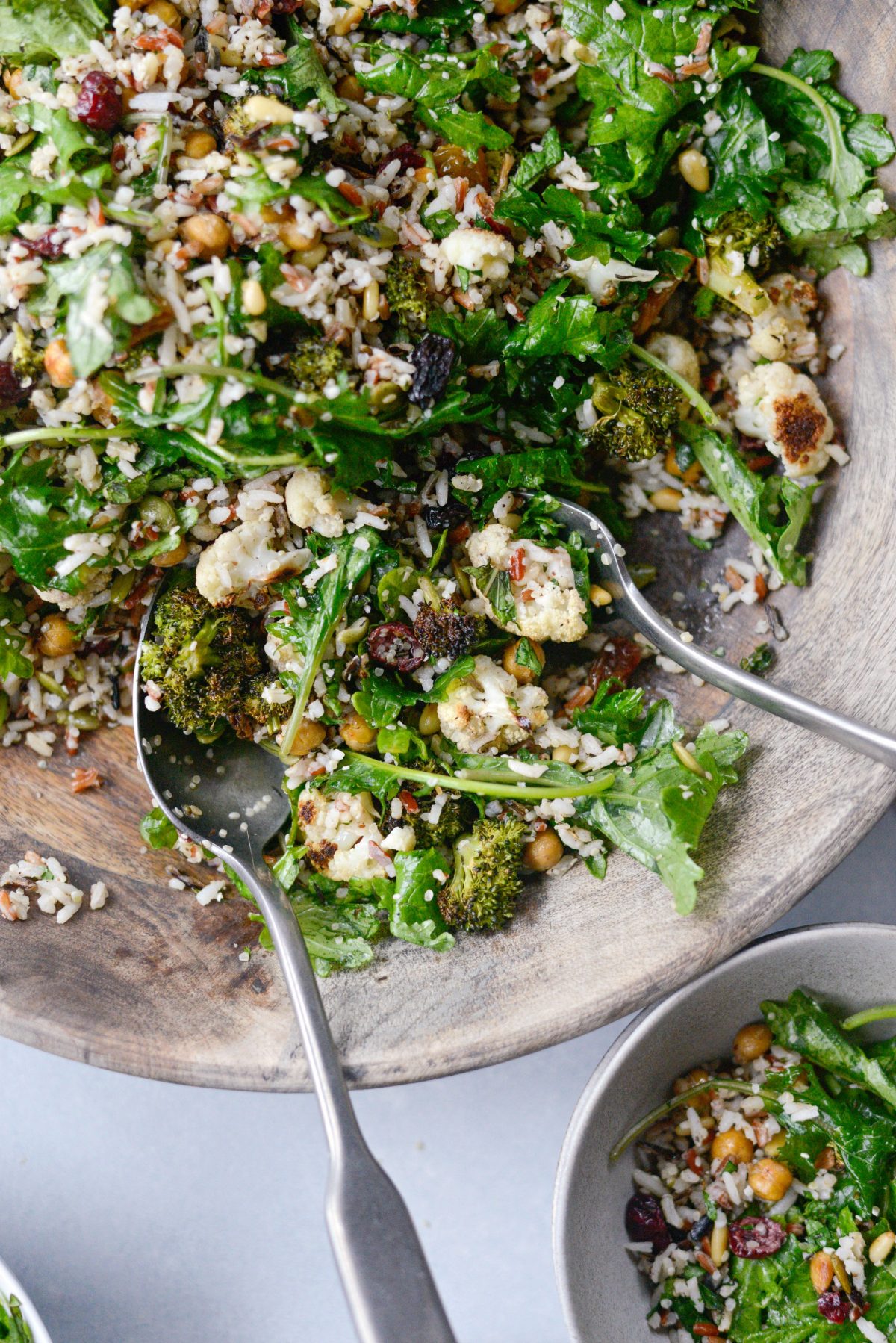 Enjoy! And if you give this Roasted Broccoli Cauliflower Kale Salad recipe a try, let me know! Snap a photo and tag me on twitter or instagram!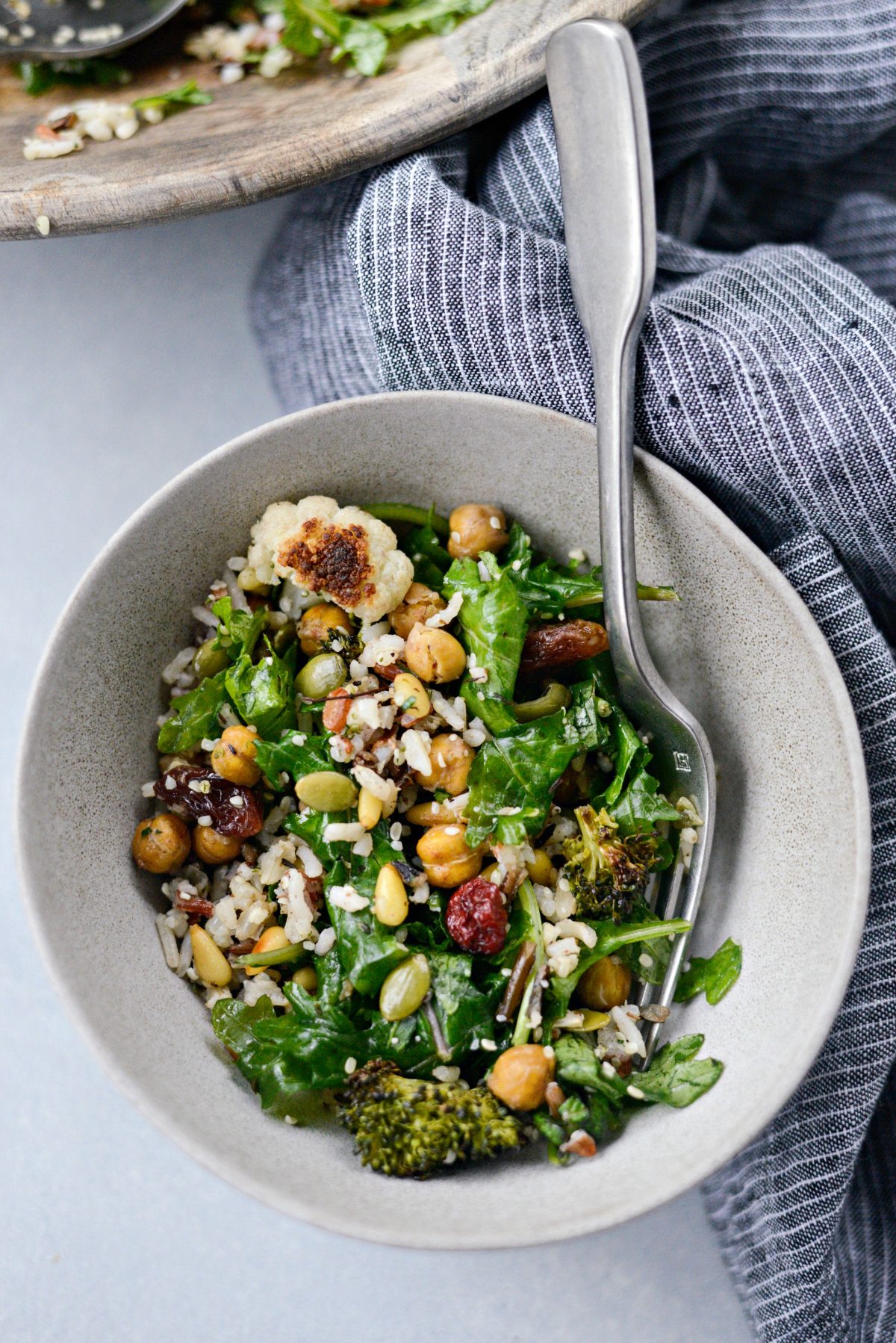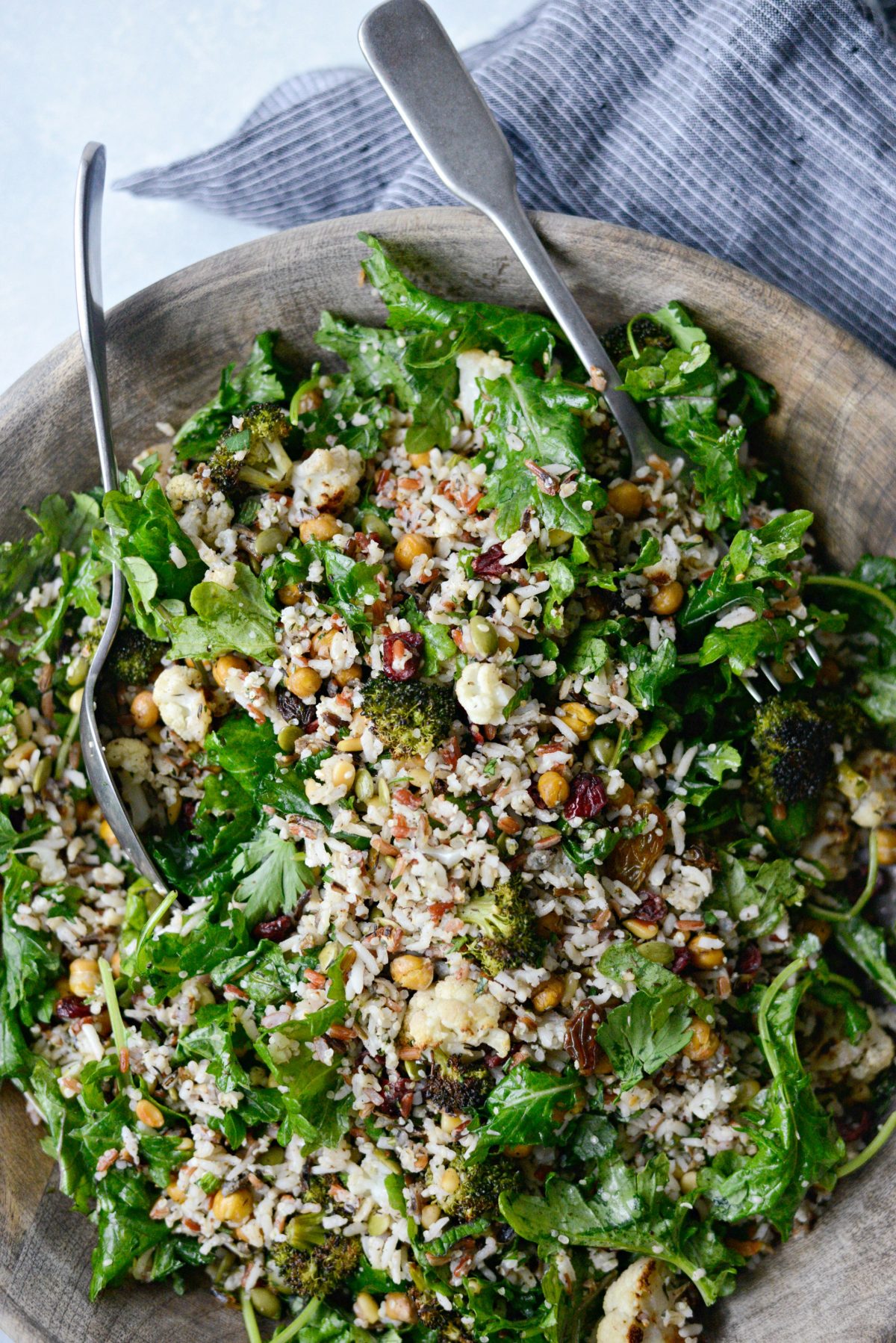 This post may contain affiliate links.
Buy the Cookbook: Simply Scratch : 120 Wholesome Homemade Recipes Made Easy Now available on Amazon »
THANK YOU in advance for your support!