Grilled za'atar chicken thighs are the best thing that will come off your grill this summer. Utterly moist and delicious and so easy to throw together! Chicken thighs marinate in fresh lemon juice, homemade za'atar spice, garlic and parsley for 30 minutes and then grilled to perfection. However, this recipe can also be done in your oven, I've included the method in the recipe instructions. Serve as is or slice and place on top of a fattoush salad. Delicious!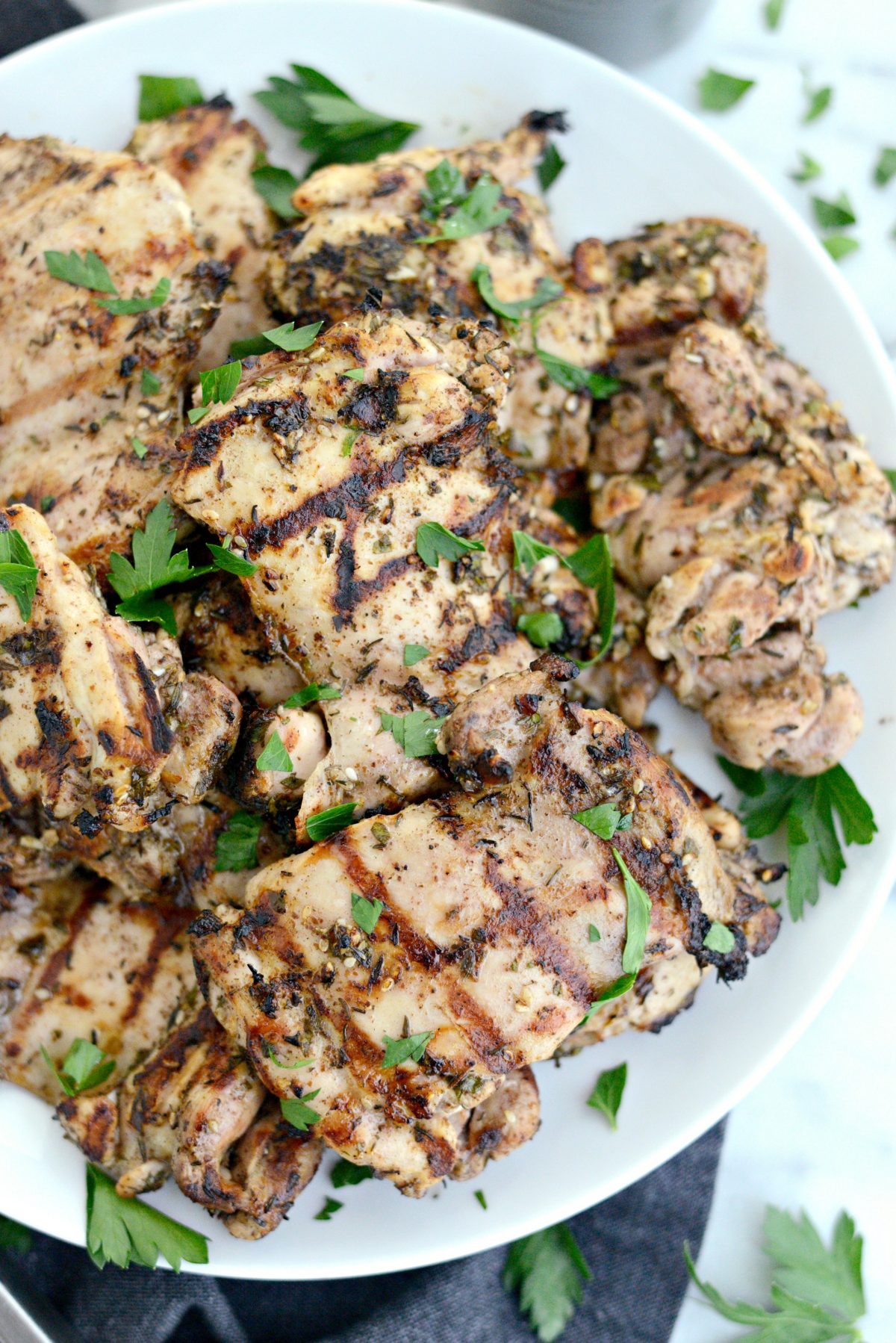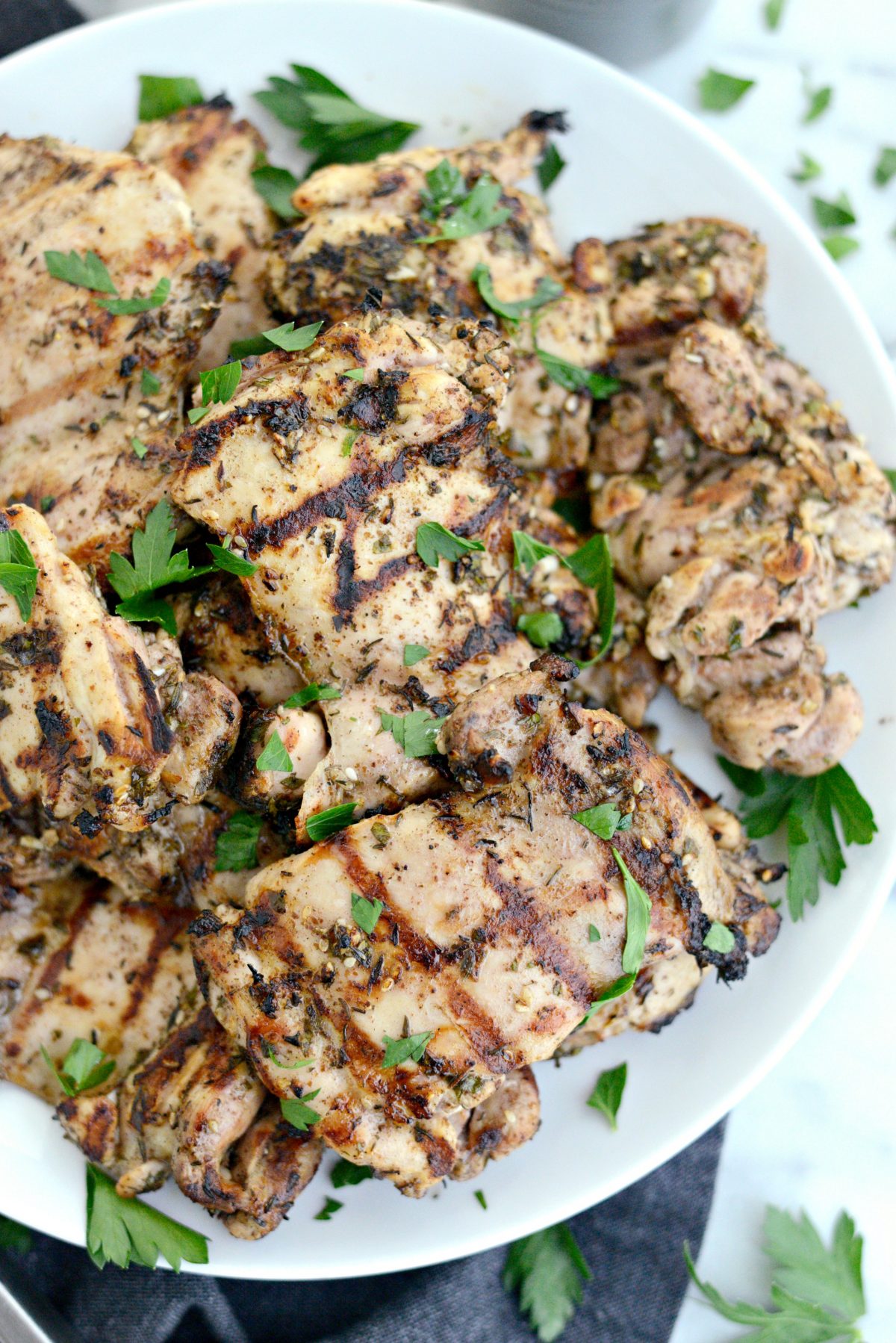 Since my girls are a bit older now (more like since Malloree has begun to like lettuce) we have been on a huge salad kick. Grilled chicken Caesar has been the most reoccurring salad to date, mostly because we love this dressing and shards of Parm. Who doesn't? On other days it's taco salad or this bacon and chicken chopped salad. However, fattoush is one of my personal favorites. It has a light flavorful dressing, torn pieces of crispy-baked pita bread, vegetables galore and features slices of this blow-your-mind grilled za'atar chicken thigh.
I'm thigh meat girl, epecially when grilled, but there's something magical that happened once the thigh meat marinates in this za'atar marinade.
Last Thursaday was our 14th wedding anniversary. FOURTEEN YEARS! Even crazier is that early August marks 20 years of total togetherness or aka our high school anniversary. So yeah 20 years together, 14 marital years filled with laughs, tears, raising our two beautiful daughters, one blog and a cookbook (plus a lot of other great stuff 🙂 ).
Since our anniversary fell on a boring weekday this year and Pat of course worked, we made plans to go out on Friday because he's off on Fridays. Our plans were to celebrate by trying out a recommended bbq restaurant nearby. Which means on Thursday we stayed in and I made one of my favorite dinners of all dinners. Fattoush salad piled high with slices of grilled za'atar chicken.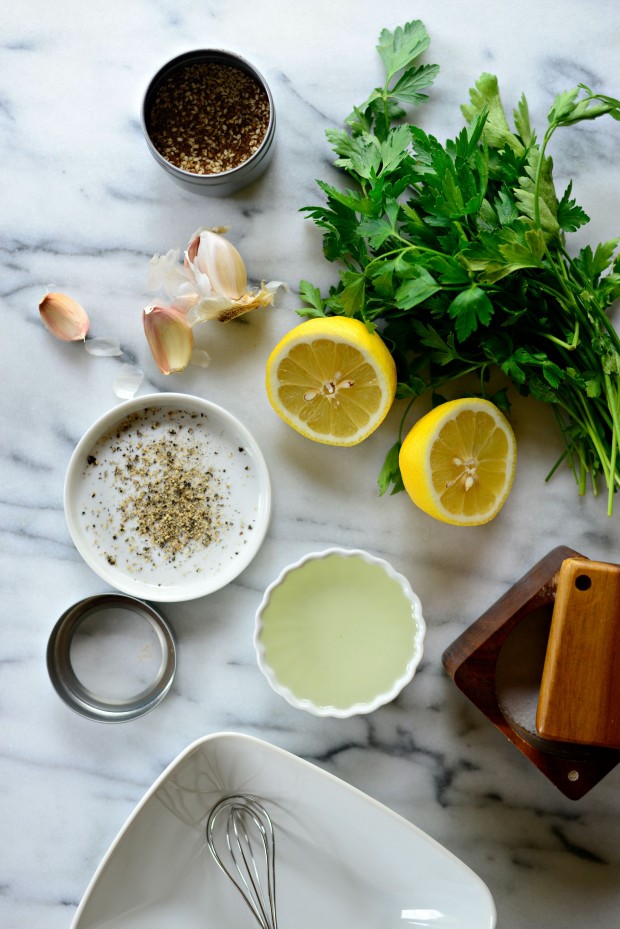 Awhile back I shared my recipe for homemade za'atar.  It takes only minutes to whip up and is the star of this marinade show. You'll also need fresh lemon juice (from about 2 lemons), 2 cloves of garlic, parsley, kosher salt and freshly ground black pepper and light, flavorless oil that can handle high-temperature cooking (I'm using extra light olive oil). Wait until you see how easy this recipe is.
First grab a large baking dish. Then add two cloves of garlic that has been squeezed through a garlic press or very finely minced, 3 tablespoons of za'atar, 1/4 teaspoon of  both freshly ground black pepper and kosher salt, 1 heaping tablespoon of minced fresh parsley and the juice of 1 whole lemon. Lastly, add 2 tablespoons of extra light olive oil or safflower (or sunflower) oil.
Whisk it all to combine.
Add 2 to 3 pound of boneless, skinless chicken thighs to the large dish with the marinade.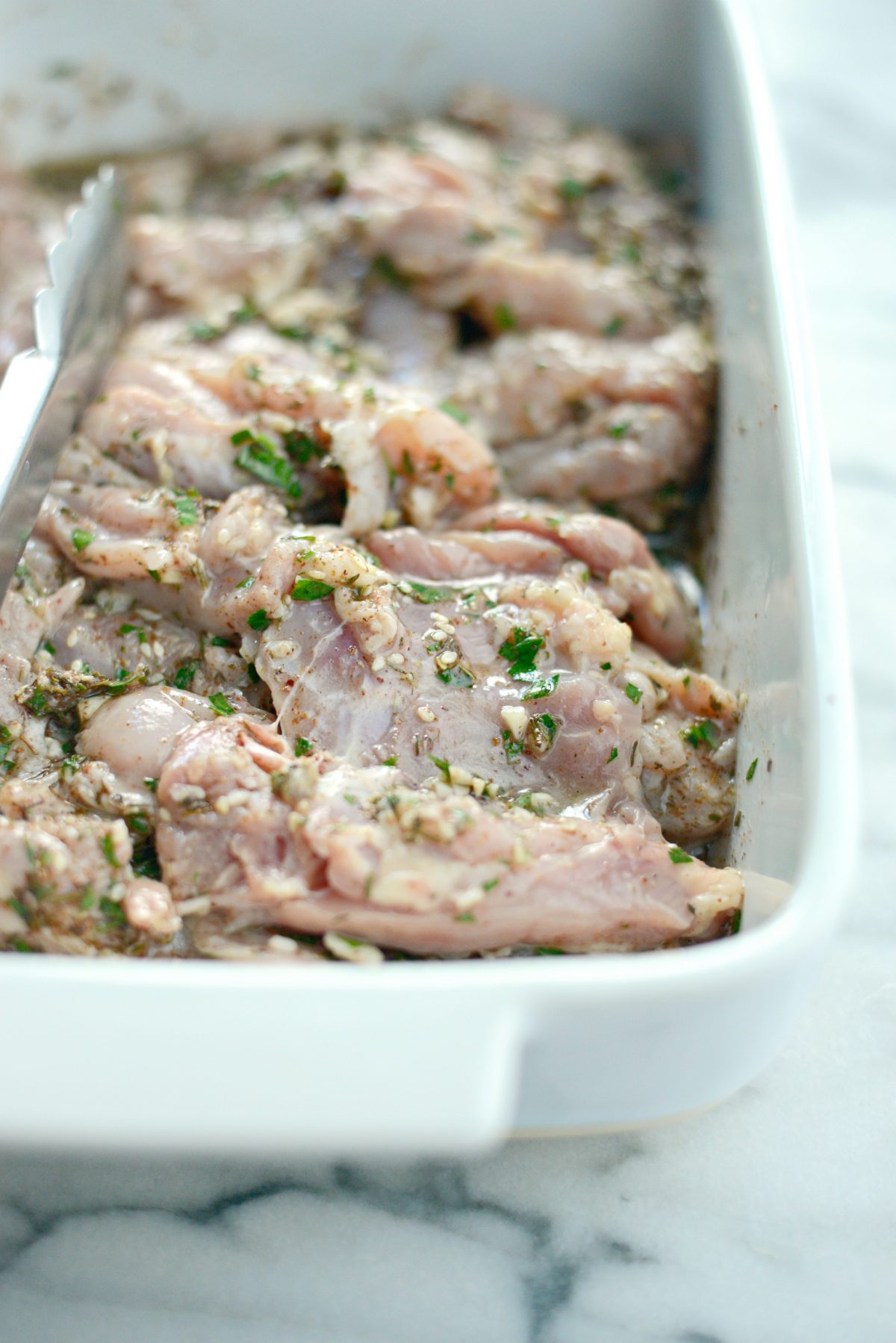 Use tongs to toss and coat all the chicken pieces in the za'atar marinade. Allow the chicken to sit for 25 to 30 minutes on the counter to marinate.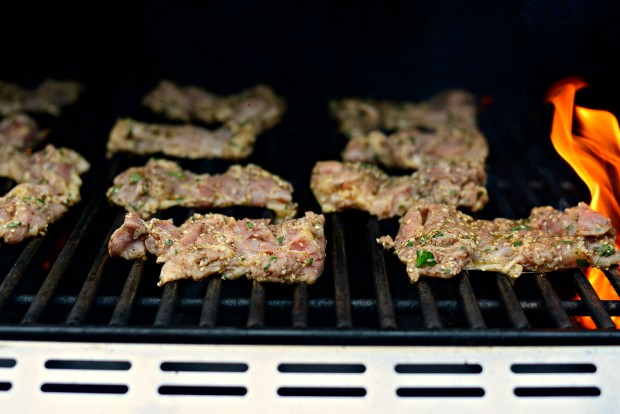 Preheat your outdoor grill (or indoor grill pan to medium/medium-high). Once hot I placed the thighs onto the grill grates and closed the lid, cooking the thighs for about 4 to 5minutes.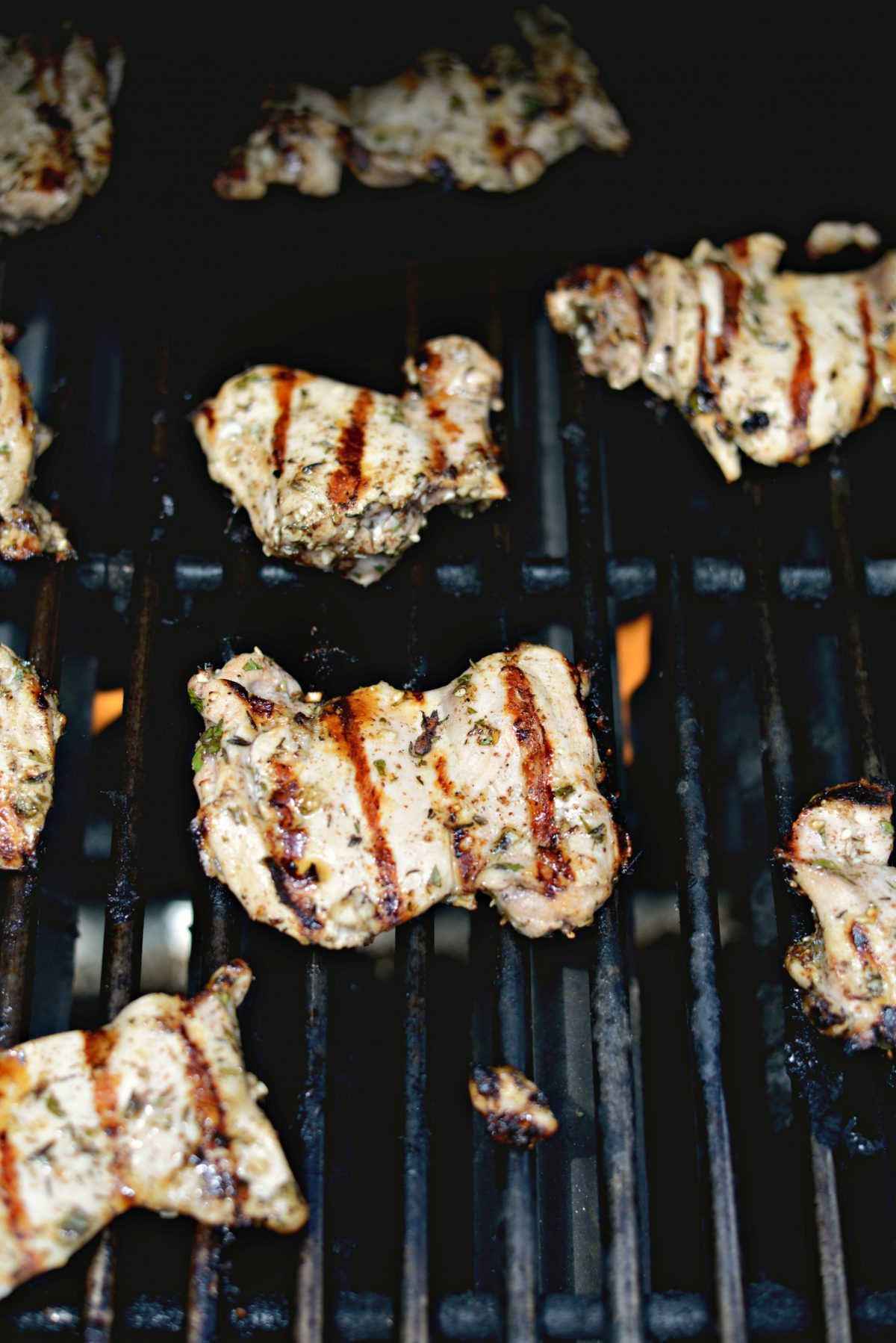 Then use tongs to flip the chicken thighs. Continue to grill for 3 to 4 more minutes or until the chicken is fully cooked.
And that's all folks. Serve this with grilled asparagus or zucchini, or tuck pieces into a pita with things like hummus, red onions, lettuce and tomatoes. But my favorite is slicing it up and topping my favorite fattoush salad recipe. These grilled za'atar chicken thighs makes it. While I was making our fattoush salad, Pat walked by snagging a piece or three like he always does. With his mouth full, he told me that "my chicken was on  point". I gave him a big kiss and then promptly told him that nobody says "on point" any more.
He rolled his eyes.
Enjoy! And if you give this Grilled Za'atar Chicken Thighs recipe a try, let me know by snapping a photo and tagging me on twitter or instagram!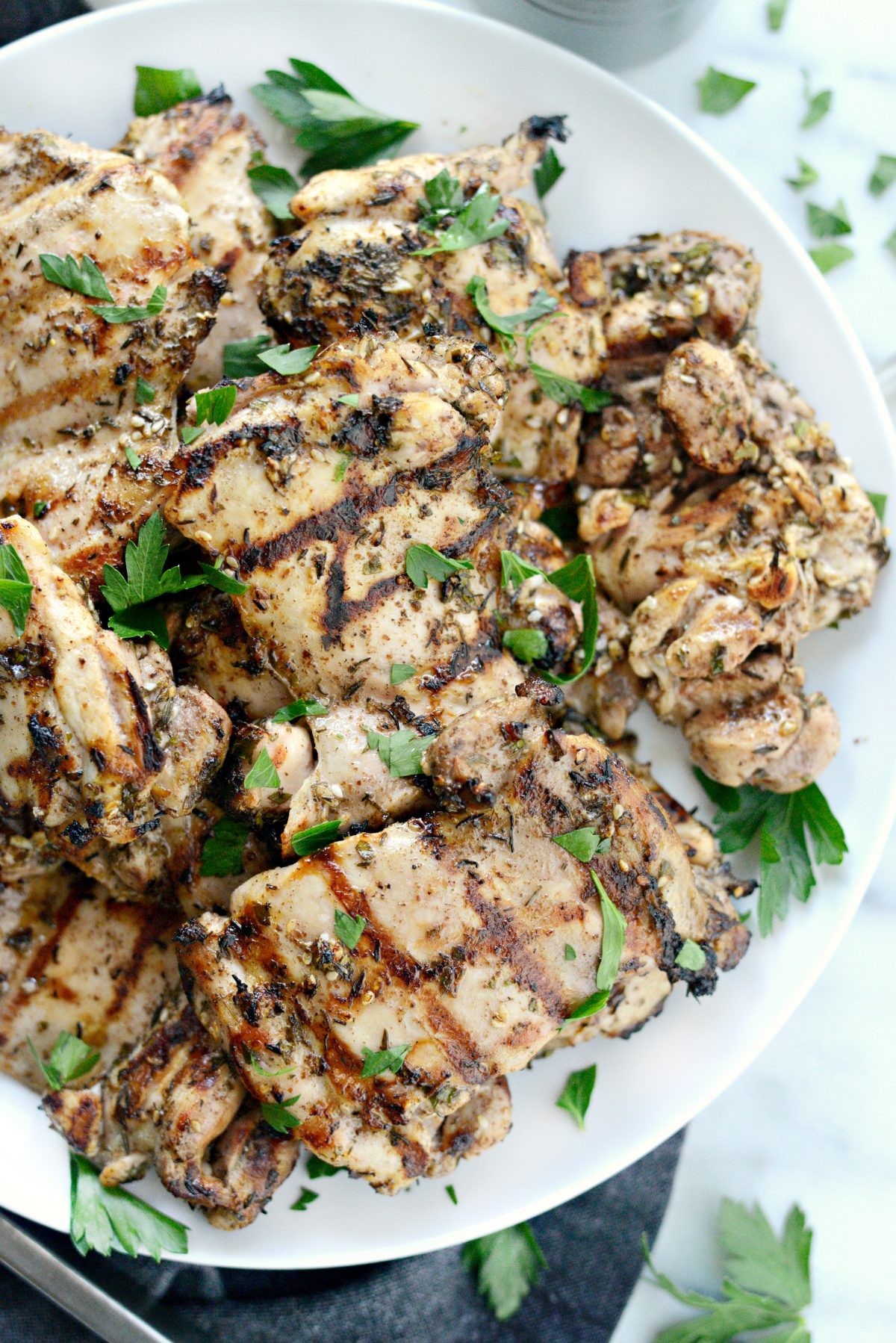 My cookbook Simply Scratch : 120 Wholesome Homemade Recipes Made Easy is now available! CLICK HERE for details and THANK YOU in advance! 
[this post contains affiliate links.]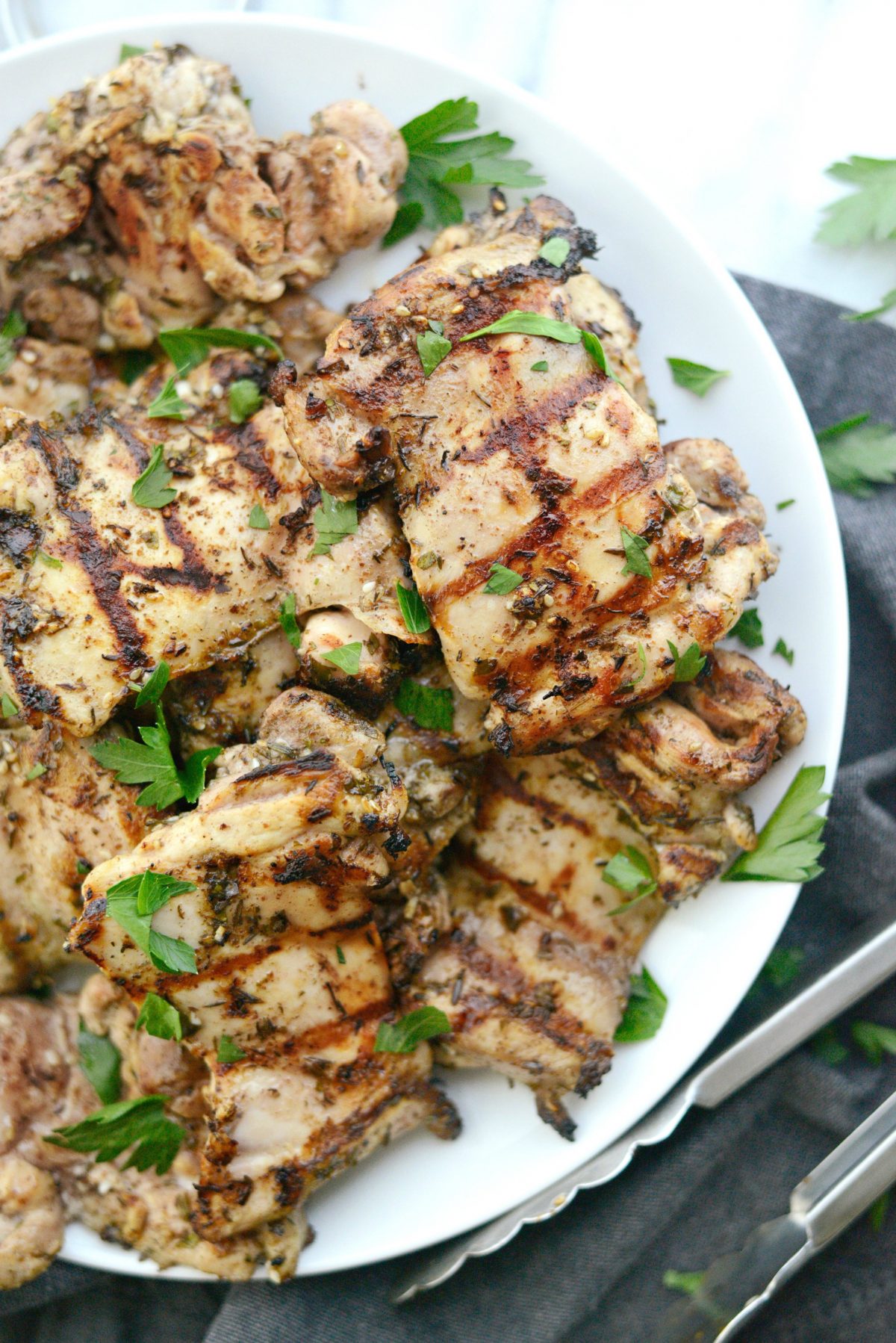 This post may contain affiliate links.
Buy the Cookbook: Simply Scratch : 120 Wholesome Homemade Recipes Made Easy Now available on Amazon »
THANK YOU in advance for your support!