In these Chorizo Sweet Potato Black Bean Tacos; a mixture of sautéed onions, cooked chorizo, roasted sweet potatoes and black beans are stuffed into toasted soft tortilla shells. Top with queso fresco, green onion and a squeeze of fresh lime.
I'm pretty obsessed with these chorizo sweet potato black bean tacos.
And it's safe to say that I've yet to meet a taco that I didn't fall in love with. Tacos are something we make quite often. Usually chicken or beef, which are typical but everyone once in a while I'll make myself chorizo tacos. And because I'm the only one here loves sweet potatoes, I get to enjoy the leftovers for the entire week.
The filling is outrageous delicious and incredibly simple. I like to make a batch and either make tacos, put it on nachos and top with Monterey Jack cheese or eat it as a hash with a fried egg on top. So versatile!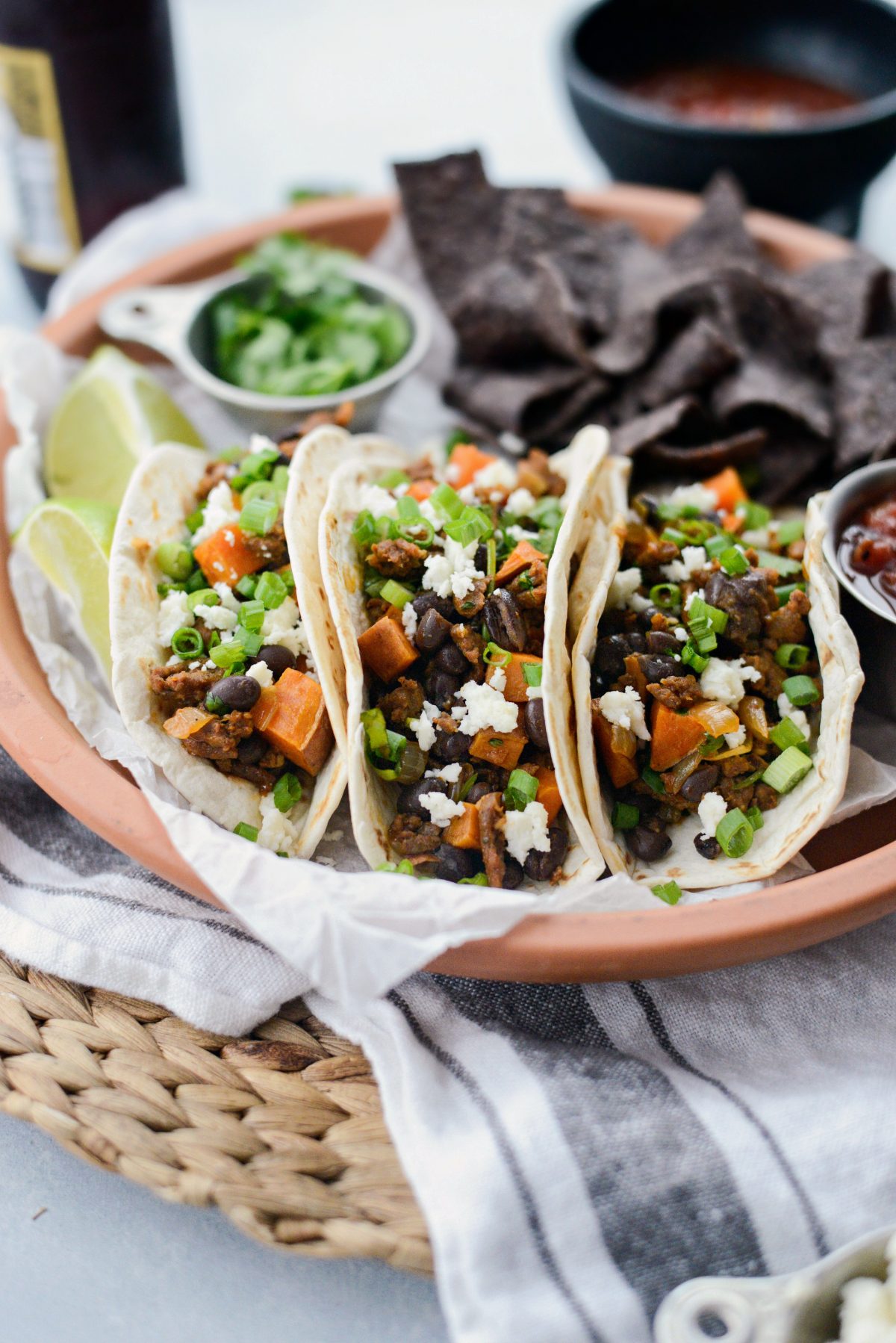 Welcome to Yumsville.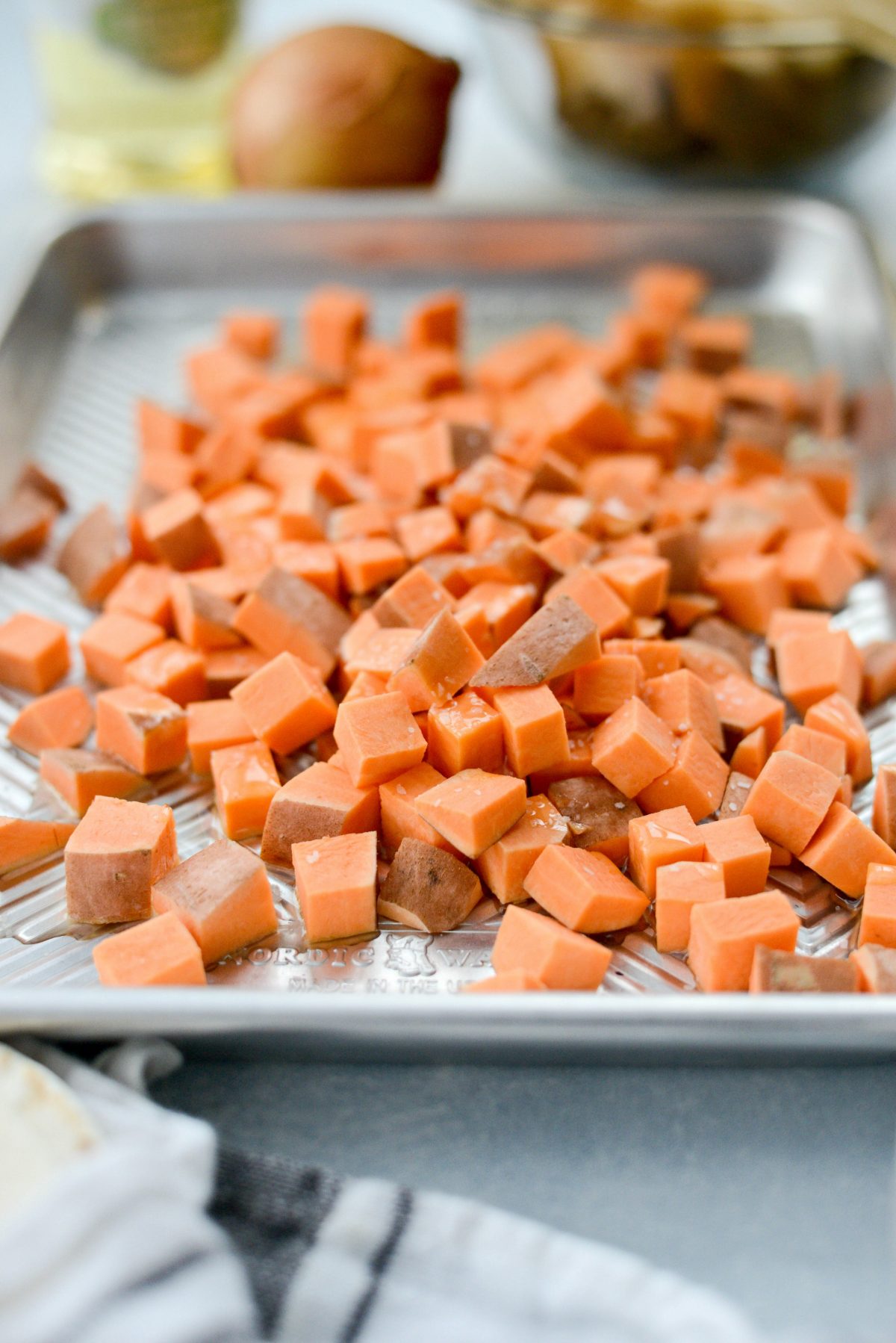 First things first, the sweet potato.
Preheat your oven to 400°. Next, peel and slice into planks, then into strips and 1/4 to 1/2-inch cubes. Toss them onto a metal sheet pan with two tablespoons of light olive oil. Season with salt and pop into a preheated 400 degree oven to roast for 25 to 30 minutes, rotating the pan for even cooking. Do not toss while the potatoes are roasting.
Allow the sweet potatoes to cool before trying to lift them from the pan.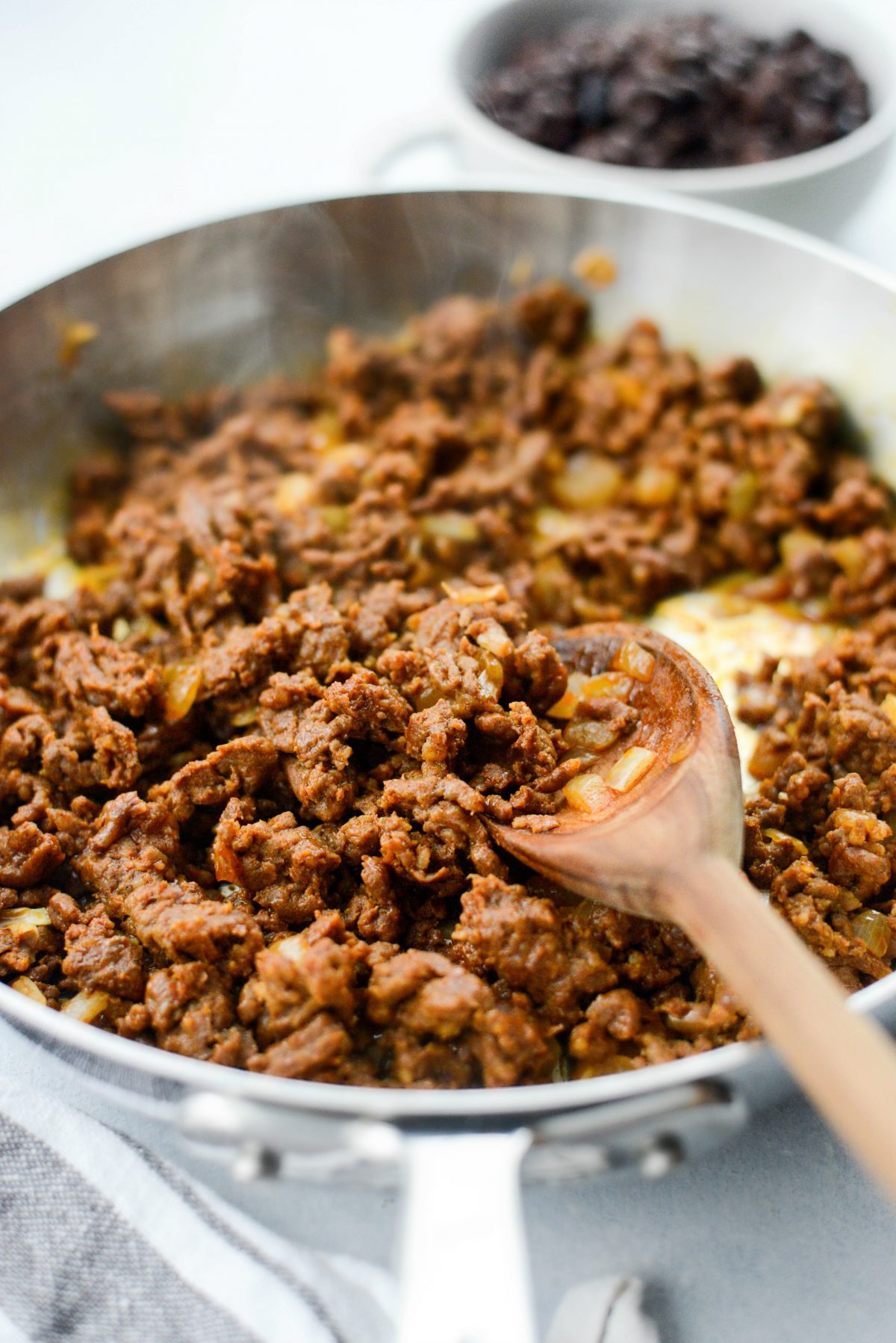 Next, while the sweet potatoes roast, add 1 teaspoon of olive oil into a 10-inch skillet and sauté a small yellow onion that has been diced small and a pinch of kosher salt. Cook, stirring occasionally until softened.
Then add in the chorizo and use a spatula to break it up into small crumbles. Continue to break up the chorizo until it's fully cooked. The only chorizo I could get my mitts on was hot chorizo. I'm not sure if there is mild out there in the grocery universe but, to me, my hot chorizo wasn't out of control spicy.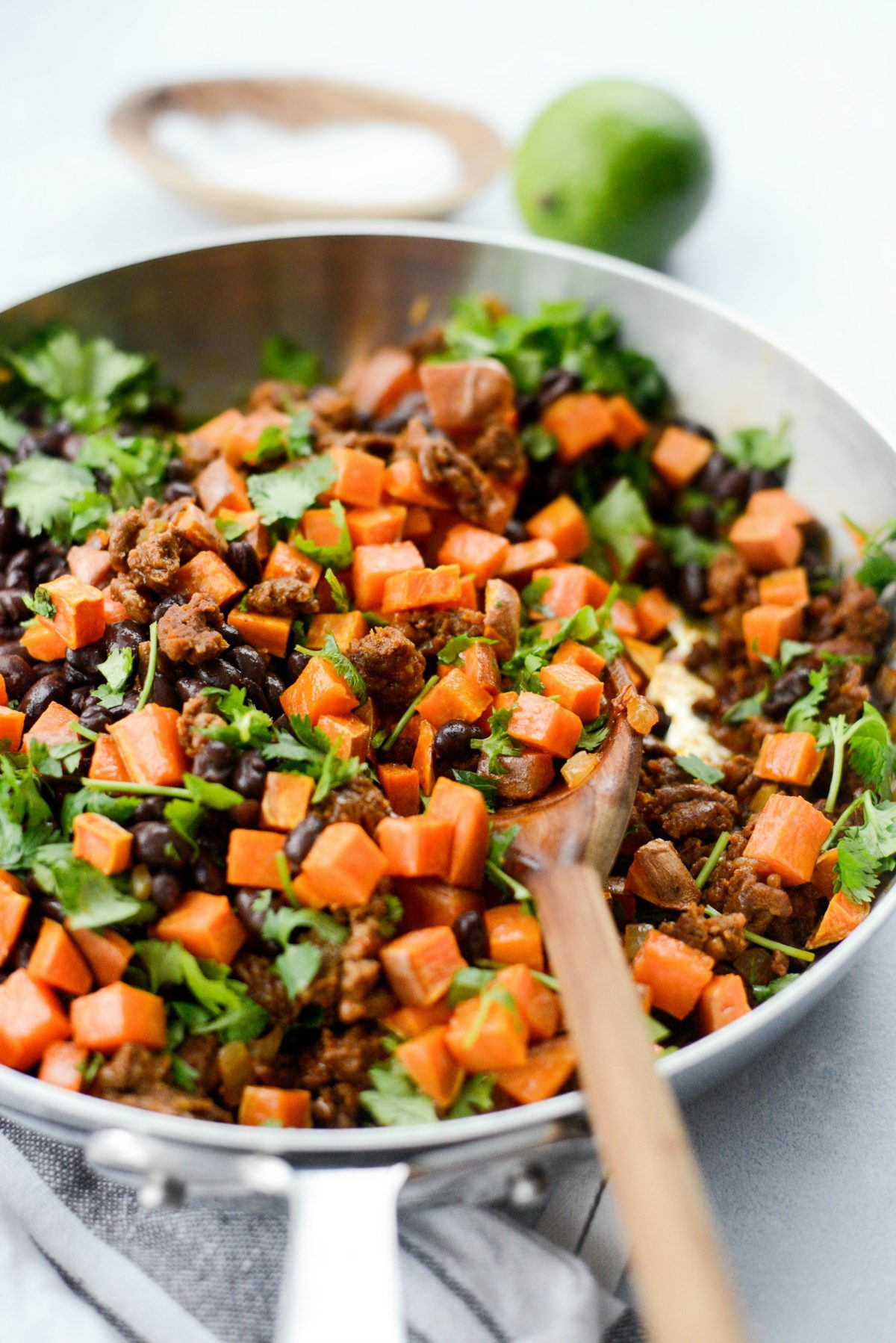 Next, to the cooked chorizo, add in all of the roasted sweet potatoes.
Then to that, add a can of (drained and rinsed) black beans and then 1/2 cup of roughly chopped cilantro. Gently toss to combine.
FYI I like to heat my tortillas in a skillet (over medium heat) or I'll wrap a stack in foil to heat in a 350° oven until they are slightly warm, soft and pliable. YUM!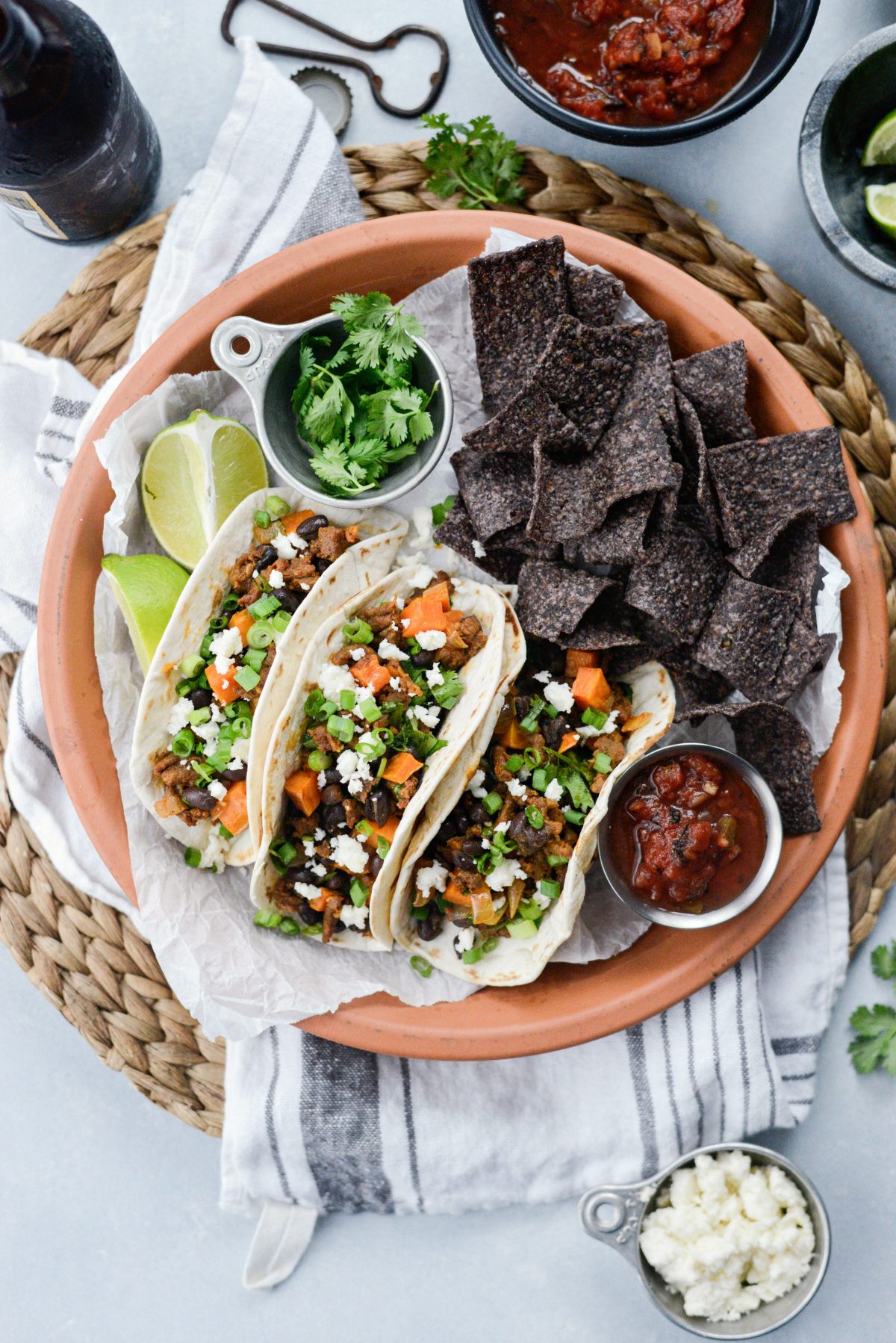 Finally, spoon the chorizo sweet potato mixture into warm, toasted flour tortillas and then top with sliced green onions and queso fresco. Lastly squeeze a wedge of lime over top.
This completes this taco masterpiece and now you can proceed to stuff your face.
Enjoy! And if you give this Chorizo Sweet Potato Black Bean Tacos recipe a try, let me know! Snap a photo and tag me on twitter or instagram!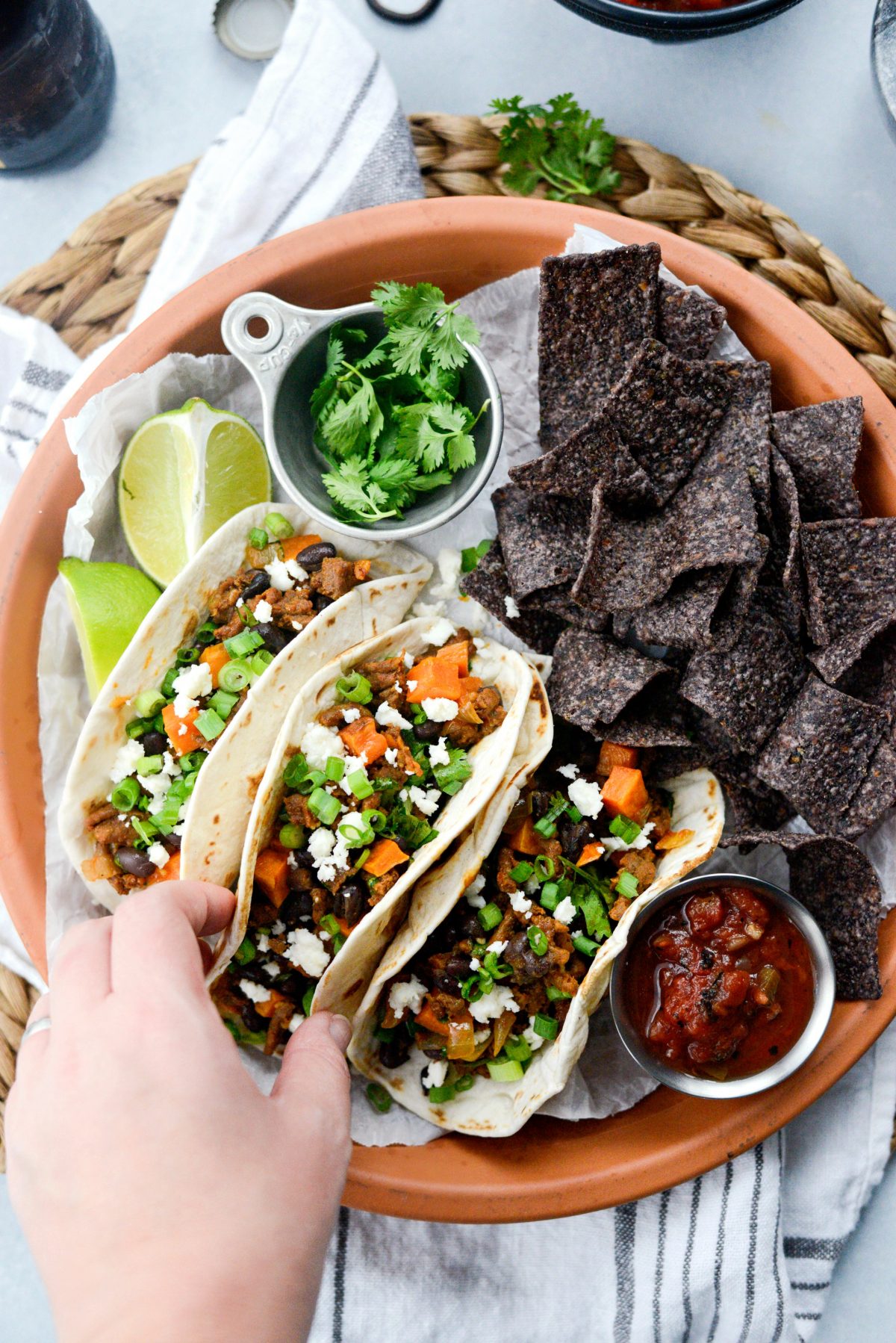 This post may contain affiliate links.
Buy the Cookbook: Simply Scratch : 120 Wholesome Homemade Recipes Made Easy Now available on Amazon »
THANK YOU in advance for your support!