This spicy ginger pineapple fried rice is a quick and slightly spicy stir fry of ginger, a medley of vegetables, sweet pineapple and brown rice.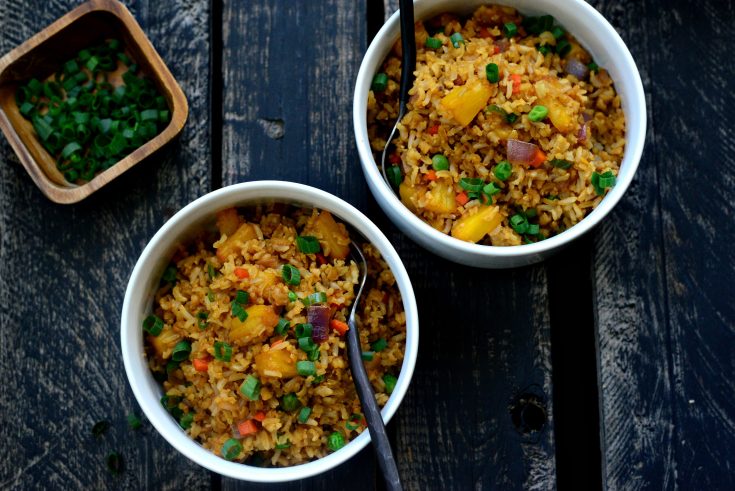 Give me spice, give me ginger and give me ALL the fried rice. Like, literally.
I am not picky when it comes to my fried rice. I'll take it any way at any time, any day of the week. Because fried rice is pretty much the EASIEST thing to make. Ever. Well maybe after cereal. But it is easy, most of the time it's the prep work that isn't; all that peeling, dicing, mincing, measuring and whisking does take a little time compared to the actual stir fry part. The whole shebang can be prepped, made and in your bowl in 30 minutes.
I could easily make a meal out of fried rice. Especially when it's loaded with goodies both pretty and colorful. In this recipe I like to use brown rice to be a little healthier and then pile in vegetables like carrots, onions, serrano chile and peas. Pineapple adds that unique pineapple-y sweetness and all of it eventually absorbs a spicy sriracha-tamari-hoisin sauce. Which is oh-so-good.
Whisk together lo-so tamari, hoisin…
…fish sauce, sriracha…
…brown sugar, white pepper…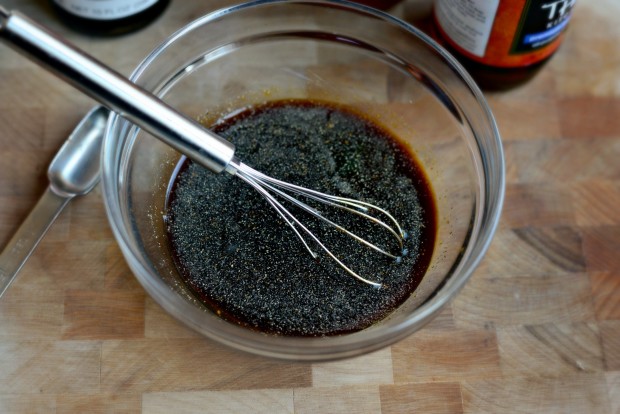 …and whisk. Set it off to the side for a smidgen.
Nexxxxxt mince up some fresh ginger so you have a heaping tablespoon or two, and mince up two cloves of garlic.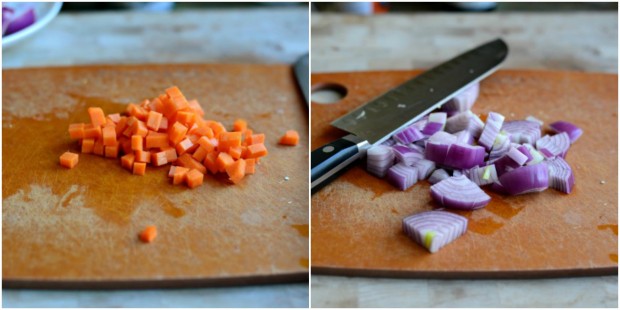 Finely dice one medium carrot and dice up a small red onion.
I remove the seeds from half of the serrano (leaving the seeds in on the other half) and slice them up. And dice up a cup and a half fresh pineapple. As you can see there's lots of dicing going on here.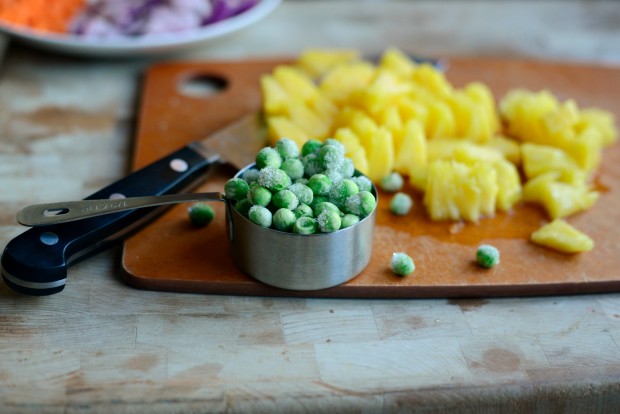 You'll also need to measure out 1/3 cup frozen peas. (aren't they cute??)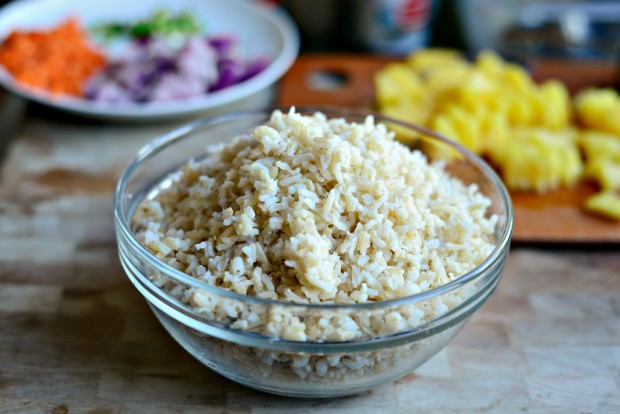 And 5 cups of brown rice. If I know I'm making fried rice then the day before I will cook up a big batch of rice in my rice cooker <—– best invention ever by the way. After it has finished cooking I'll scoop it out and spread it onto a plate, let it cool and then popped it into a container and refrigerate overnight. Freshly made rice just doesn't work as well for fried rice for some reason.
Okayy let's get this fried rice party started! Start by melting 1 tablespoon of coconut oil in a wok or large skillet.
Once it's all hot and glisten-y, drop in the ginger, garlic and carrots.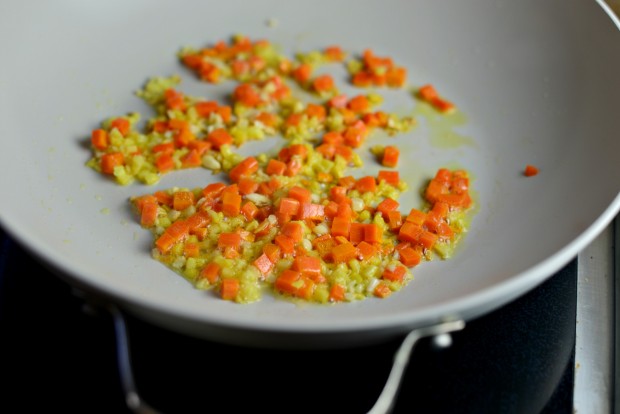 Cook quickly, stirring often for 2-3 or until carrots start to soften.
Scoot them off to the side and add in the onions and serrano. DO NOT stand over the pan unless you like choking on the spicy steam. I do not recommend it.
Cook, again stirring often until onions just start to soften.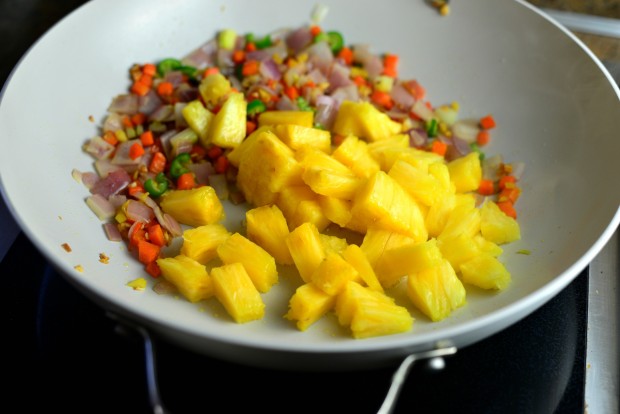 Scoot those veggies off to the side and drop in the pineapple. Let them sear and caramelize for a few minutes…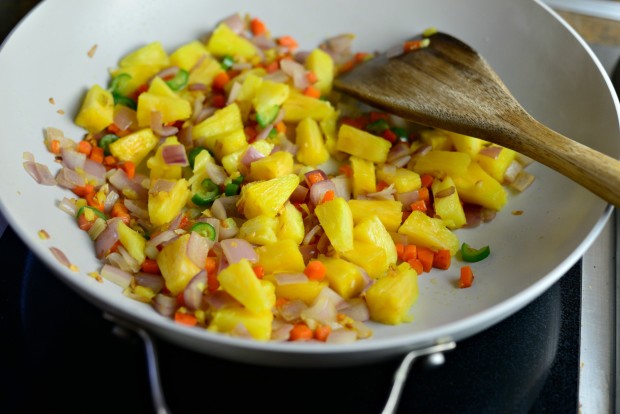 …before stirring and heating through.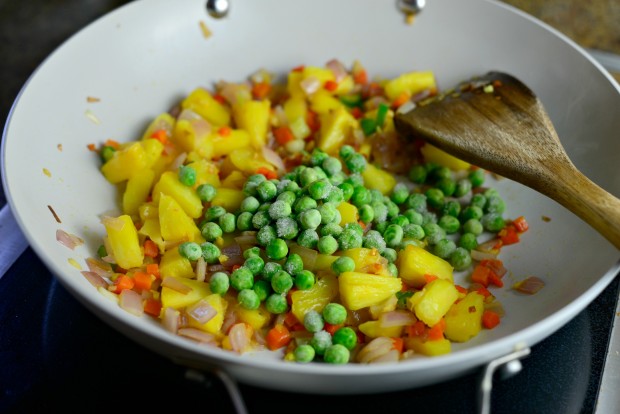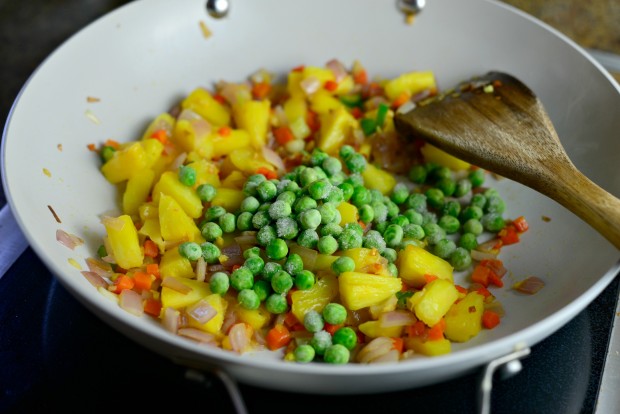 Add in those frosty peas…
The brown rice…
…the saucy liquids…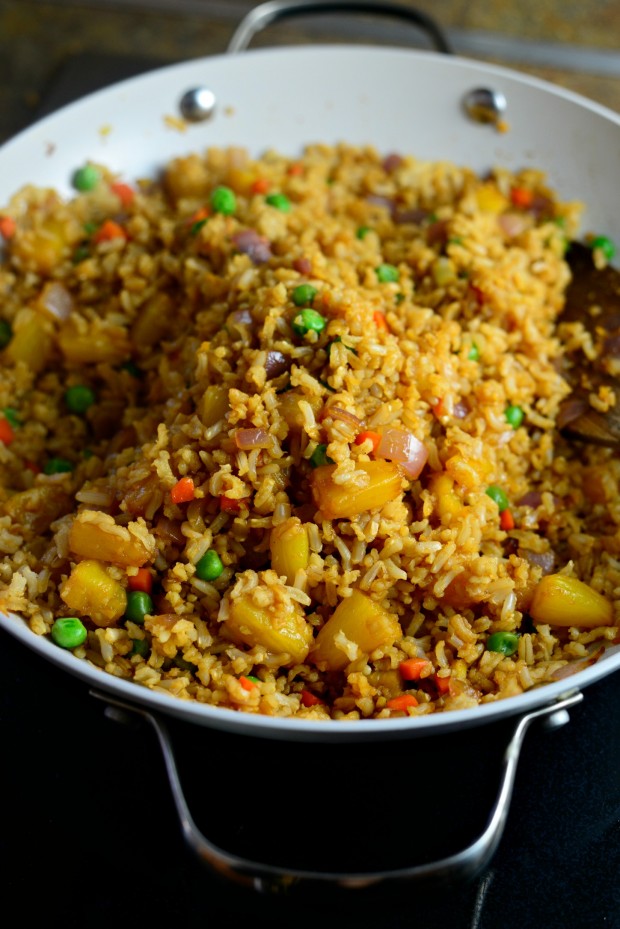 Toss until the rice and goodies absorb all of it and are heated through.
Sprinkle with a few slice green onions for a pop of green. Serve as is, or add in shredded cooked chicken or cubed pieces of pork to round out your Pineapple Fried Rice. Eat with a fork, a spoon… a shovel. Whichevs.
This is a choose your own adventure situation.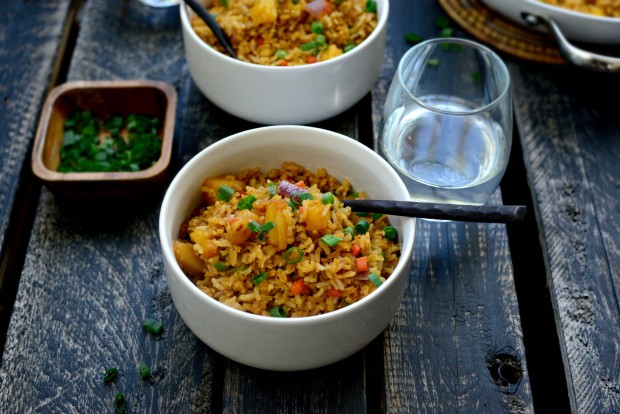 Enjoy! And if you give this Pineapple Fried Rice recipe a try, let me know! Snap a photo and tag me on twitter or instagram!
Yield: 4 servings
Spicy Ginger Pineapple Fried Rice
A quick and slightly spicy stir fry of ginger, a medley of vegetables, sweet pineapple and brown rice.
Ingredients
5 tablespoons low-sodium tamari
1 tablespoon hoisin sauce
3/4 teaspoon fish sauce
1/2 teaspoon sriracha
3/4 teaspoon dark brown sugar
1/4 teaspoon white pepper
1 tablespoon coconut oil
1 tablespoons minced fresh ginger, or more to taste
2 cloves fresh garlic, minced
1 medium carrot, peeled and finely diced
1 small red onion, chopped
1 small serrano chile, halved and sliced (seeds removed for less heat)
1 cups chopped fresh pineapple
1/3 cup frozen peas
5 cups leftover cooked brown rice
4 green onions, sliced for garnish
Instructions
In a small bowl combine tamari, hoisin, fish sauce, sriracha, brown sugar and white pepper. Whisk to combine and set off to the side.

In a large 12-inch skillet or wok, melt 1 tablespoon coconut oil over medium-high heat.

Once hot, add in ginger, garlic and carrots. Cook, stirring often for 2 to 3 minutes.

Scoot the carrot-ginger mixture off to the side of the pan before adding in onions and serranos, stir fry for 3 to 4 minutes or until onions start to soften.

Toss with the carrots and scoot it all to the side before adding in the pineapple. Let the pineapple sear, undisturbed for 2 minutes before adding in the peas, stirring and cooking for 2 minutes.

Add in brown rice and sauce, tossing to combine. Cook stirring often until rice absorbs the sauce and is heated through.
Serving: 1g, Calories: 385kcal, Carbohydrates: 74g, Protein: 10g, Fat: 6g, Saturated Fat: 3g, Polyunsaturated Fat: 1g, Monounsaturated Fat: 1g, Cholesterol: 1mg, Sodium: 1441mg, Potassium: 464mg, Fiber: 7g, Sugar: 9g, Vitamin A: 2800IU, Vitamin C: 31mg, Calcium: 63mg, Iron: 3mg
[this post contains affiliate links.]
This post may contain affiliate links.
Buy the Cookbook: Simply Scratch : 120 Wholesome Homemade Recipes Made Easy Now available on Amazon »
THANK YOU in advance for your support!