I'm pretty sure this pecan whole wheat pie crust is my favorite new pie crust.
After this chocolate-doozy of a crust I shared with you last year I thought to myself "How can I step it up a notch and deliver a pie crust that will blow minds?" because believe it or not, that's my one mission in life.
So being that we are in full-blown pie season right now, what's a better way to breathe new life into pie crust than by adding chopped pecans? I mean c'mon! It adds such amazing texture and of course flavor. And its rustic beauty is something to behold…. for like 30 seconds before you inhale it.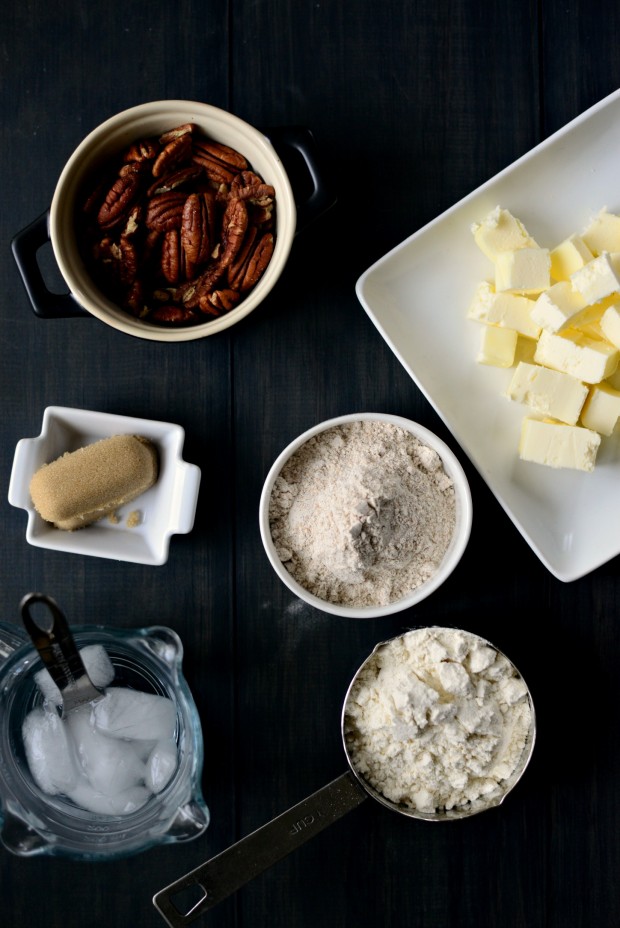 I've always been a fan of crust; pizza, bread and especially pie crust. Saving the decorative crimped edge for the very last and sometimes I even dunk it into my coffee. I'm such a weirdo… but I embrace it.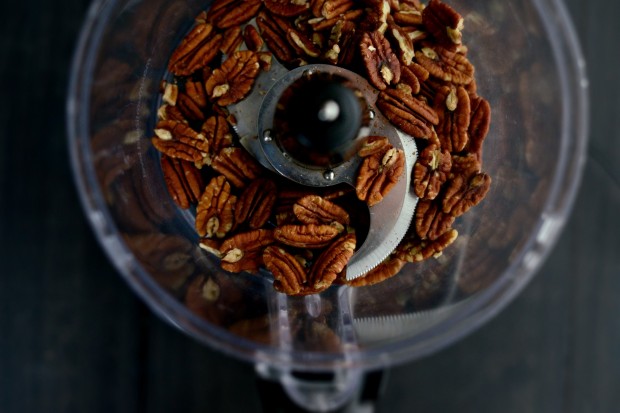 First order of business is to pulverize some pecans. I threw about a cup of pecan halves into my food processor…
…and pulsed until the resembled coarse crumbs.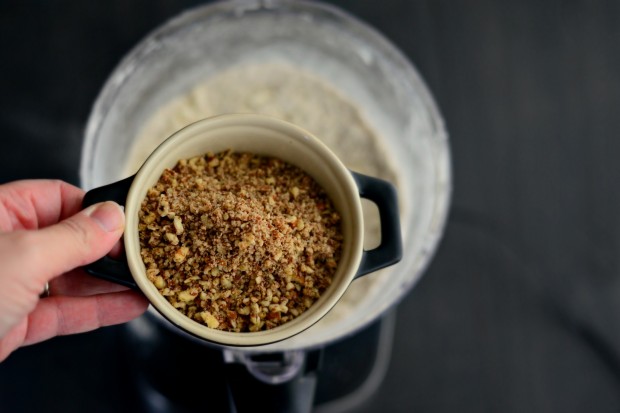 Then I removed them and measured out 3/4 cup and set them off to the side.
Then I taped out any extra nuts and added in 3/4 cup flour, 1/4 cup plus 2 tablespoons whole wheat flour, 2 tablespoons light brown sugar and 1/4 teaspoon kosher salt.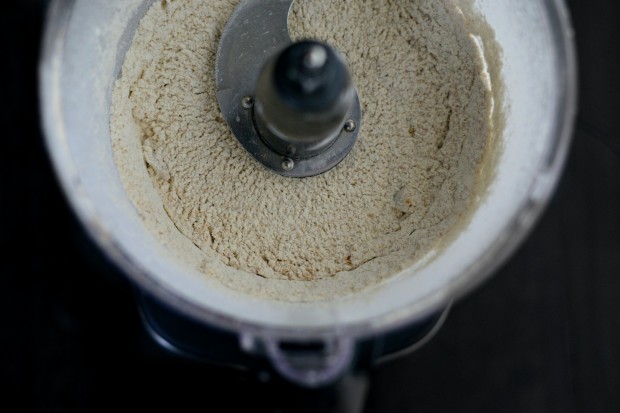 Simply pulse to combine.
While I'm getting all my ingredients together, I always cube up butter and stick it in the freezer to get it nice and icy cold. Then right when I need to add it, I pull it from the freezer and drop it right on in.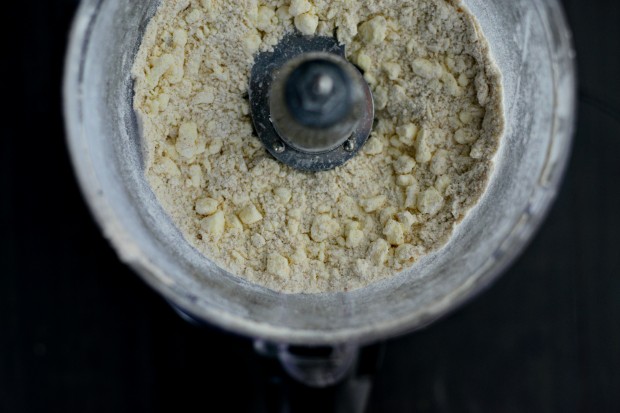 Again, pulse it a few more times until the butter is in large crumbles.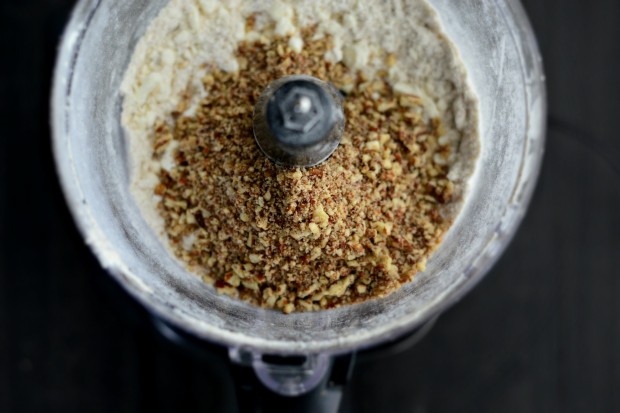 Add in the pecans…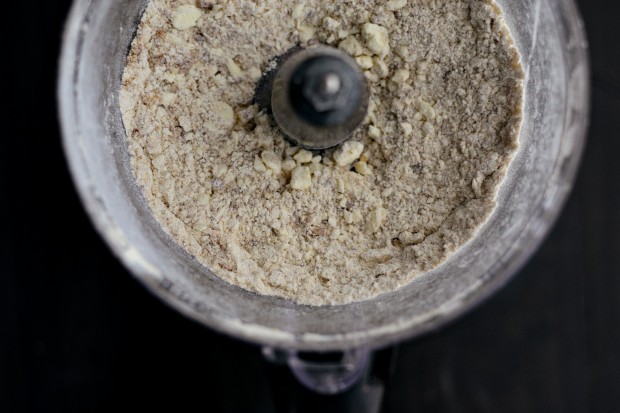 And pulse a few more times.
Next, measure and add in 2 to 3 tablespoons of ice cold water (no ice allowed) and pulse after each tablespoon until it forms large crumbles.
Like so.
It should hold together nicely when you squeeze it in your palm.
Dump the dough onto some plastic wrap…
Form it into a disc and refrigerate for 30 to 40 minutes.
When the time is up, pull it out and slap it down onto a lightly floured surface.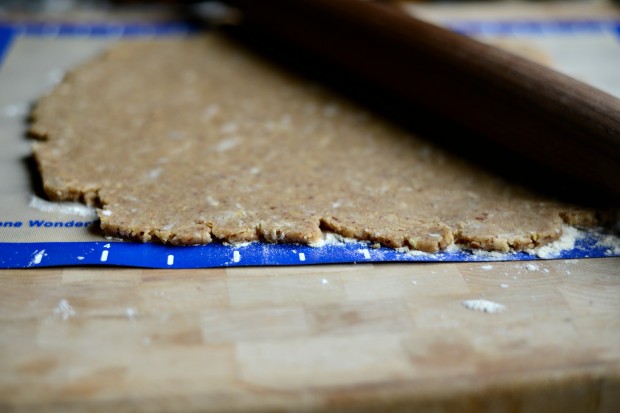 Roll it out to fit a 9-inch pie plate with 3/4 to 1-inch or so … overhang.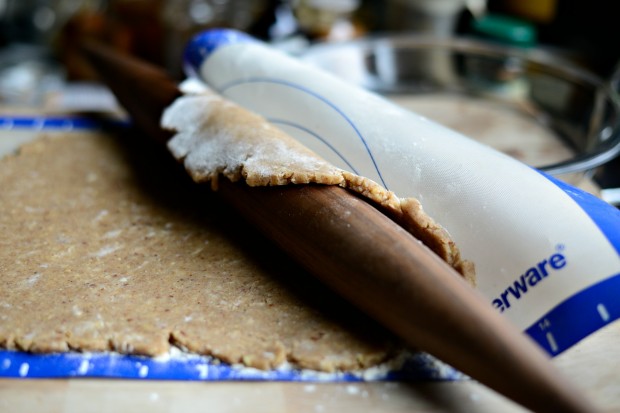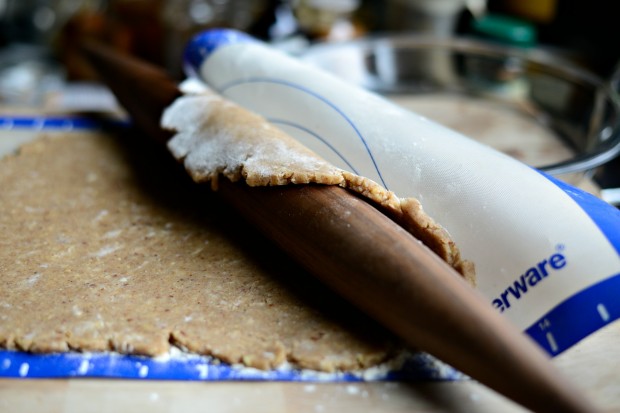 Carefully roll it around your rolling pin…
…and drape it over your pie plate.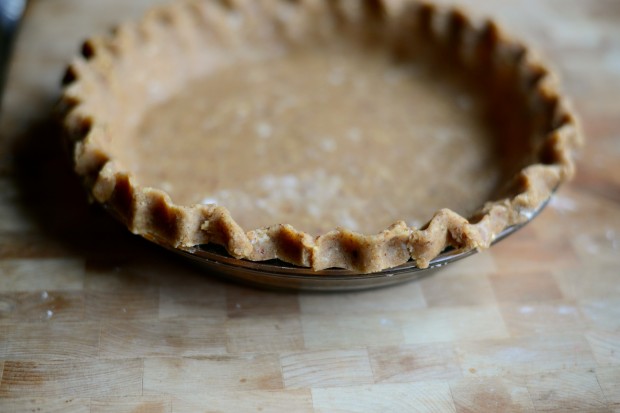 Fold over the extra dough underneath and crimp using your fingers or a fork.
Now you just fill, bake and enjoy!
For baking temperatures and times just follow the pie filling recipe you are using. BUT I have a recipe for the perfect filling coming at ya shortly, so stay tuned!
Enjoy! And if you give this Whole Wheat Pie Crust recipe a try, let me know! Snap a photo and tag me on twitter or instagram!
My cookbook Simply Scratch : 120 Wholesome Homemade Recipes Made Easy is now available! CLICK HERE for details and THANK YOU in advance!
Yield: 1 recipe
Pecan Whole Wheat Pie Crust
A buttery, flaky, whole wheat and pecan crust. This recipe yields 1 (9-inch) bottom pie crust.
Ingredients
3/4 cup pecan halves
3/4 cup unbleached all purpose flour
6 tablespoons whole wheat flour
2 tablespoons light brown sugar
1/4 teaspoon kosher salt
1/2 cup unsalted butter, cut into pieces (ice cold)
2-3 tablespoons ice water, as needed
Instructions
Place the pecan halves into your food processor and pulse until chopped. Transfer to a small bowl and set off to the side.

Add the flours, sugar and salt to the food processor bowl and pulse to combine. Add butter and pulse again, the butter should be in fairly large pieces.

Add in chopped pecans and pulse a few times until the combined. Add water, pulsing after each tablespoon until the dough comes together and is crumbly but not overly wet.

Transfer dough onto a piece of plastic wrap, form a disc and refrigerate for 30 minutes.

On a lightly floured surface, roll dough to fit a 9-inch pie plate.
Notes
*Follow the directions in the pie recipe you are using for baking times.
Serving: 1recipe, Calories: 1902kcal, Carbohydrates: 136g, Protein: 23g, Fat: 147g, Saturated Fat: 63g, Polyunsaturated Fat: 20g, Monounsaturated Fat: 54g, Trans Fat: 4g, Cholesterol: 244mg, Sodium: 605mg, Potassium: 616mg, Fiber: 14g, Sugar: 27g, Vitamin A: 2884IU, Vitamin C: 1mg, Calcium: 129mg, Iron: 8mg
[this post contains affiliate links.]
This post may contain affiliate links.
Buy the Cookbook: Simply Scratch : 120 Wholesome Homemade Recipes Made Easy Now available on Amazon »
THANK YOU in advance for your support!