In this rhubarb crumble, tart rhubarb topped with a buttery oat crumble and baked to perfection. Serve warm with a scoop or two of vanilla ice cream.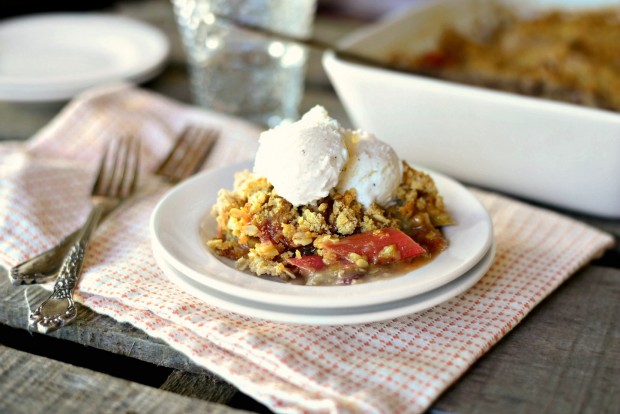 You know that saying… easy as pie? Well I think it should be "easy as crumble".
because let's face it, crumble is 800 times easier than pie.
No crust making, chilling or rolling to the perfect thickness. Making crumble is as easy as a quick rinse, chop, mix, sprinkle, bake and eat. With ice cream.
This is crumble has my name all over it. The filling is a simple combination of fresh rhubarb, brown sugar and lemon. And the topping is just as simple… brown sugar, thick cut oats, cardamom and butter. But when baked together it becomes something wonderful.
Plus, who doesn't love a dessert that calls for butter?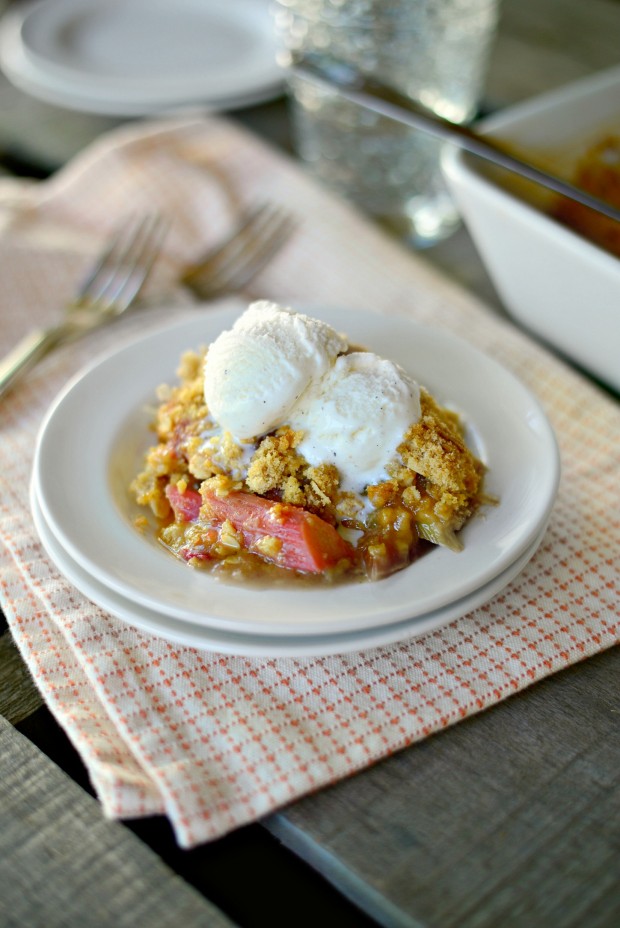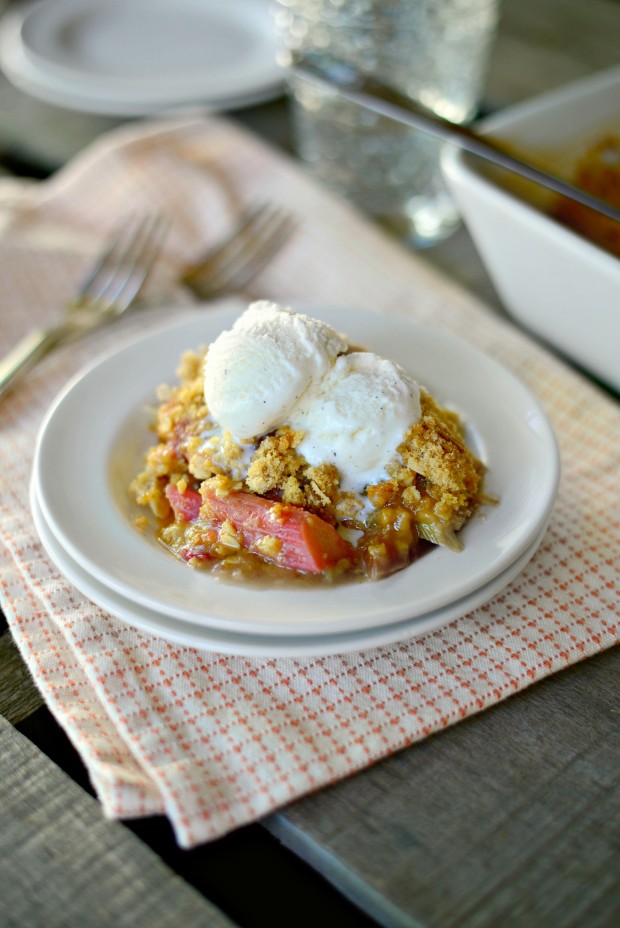 To Make This Rhubarb Crumble You Will Need:
fresh rhubarb
light brown sugar
cornstarch
juice from half a lemon
kosher salt
all-purpose flour
light brown sugar
old fashioned rolled oats
ground cardamom
kosher salt
unsalted butter, plus more for greasing
vanilla ice cream, for serving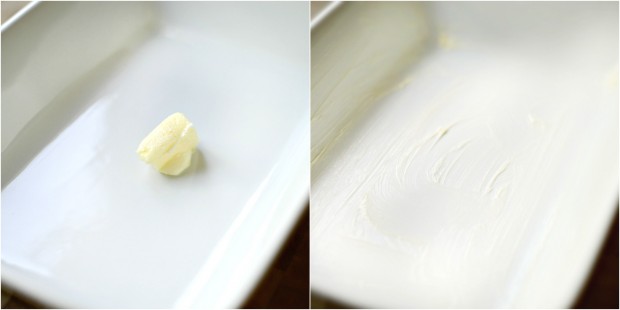 Start by greasing an 8 x 11 baking dish with 1/2 tablespoon of butter.
How pretty is my homegrown rhubarb? I literally just pulled these from my garden and made this crumble right after.
It doesn't get better than that.
First, trim of the ends of the rhubarb.
Slice it into 1/2-inch or so pieces and throw all of it in to a big bowl.
You will need 8 cups of rhubarb total.
To the rhubarb add 3/4 cup of light brown sugar.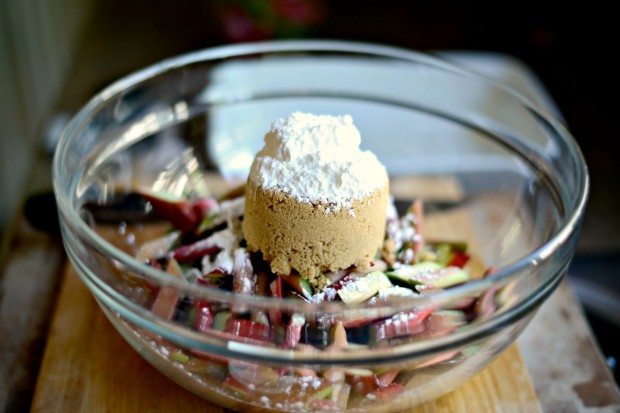 1/4 cup of cornstarch.
With a couple pinches (about 1/4 teaspoon) of kosher salt.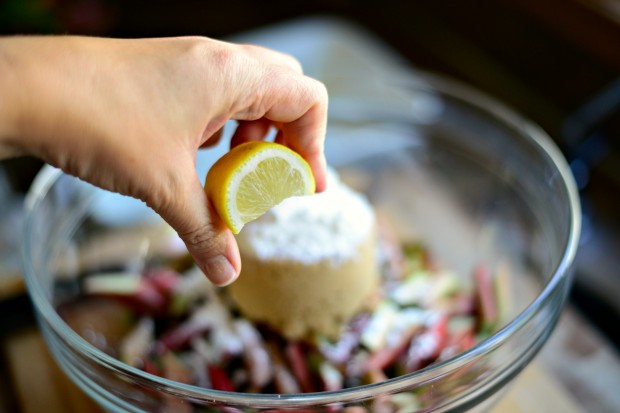 Squeeze 1/2 of a juicy lemon, or about 1 tablespoon.
Give it a toss to combine.
Spread it into the buttered baking dish.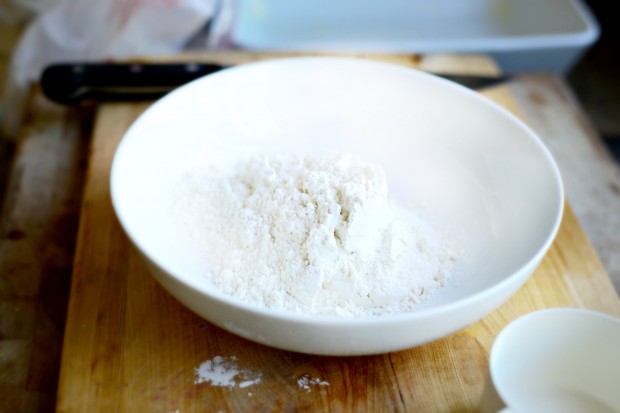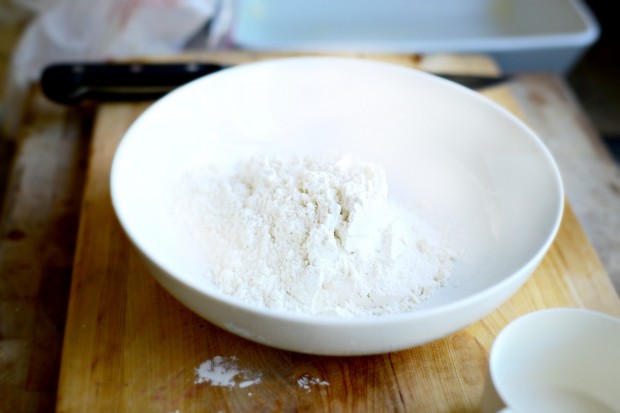 If you think the rhubarb filling was easy, wait until you see the crumble. Measure and add 3/4 cup of all-purpose flour into a bowl.
To it add 3/4 cup of light brown sugar.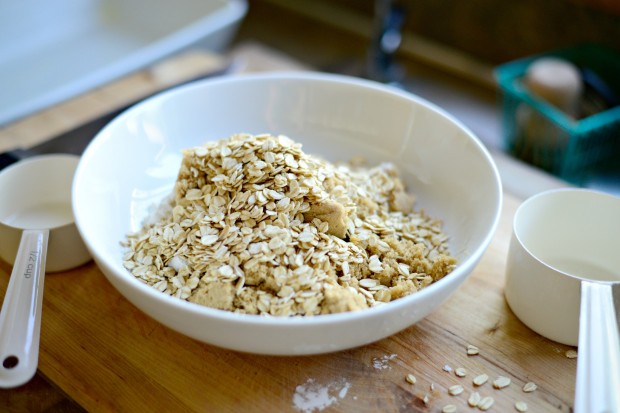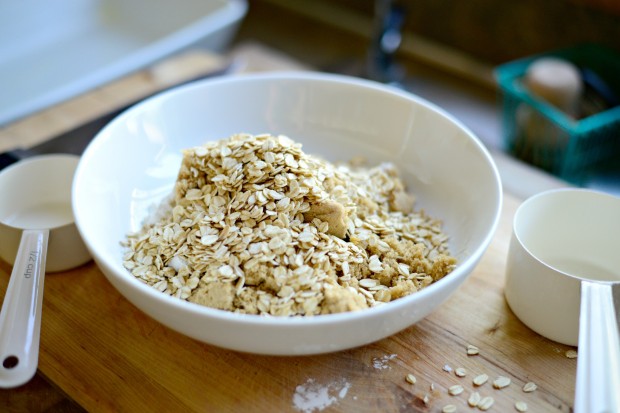 3/4 cup of old fashioned rolled oats.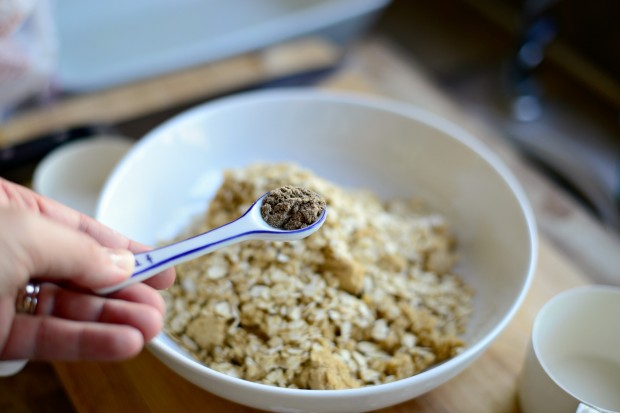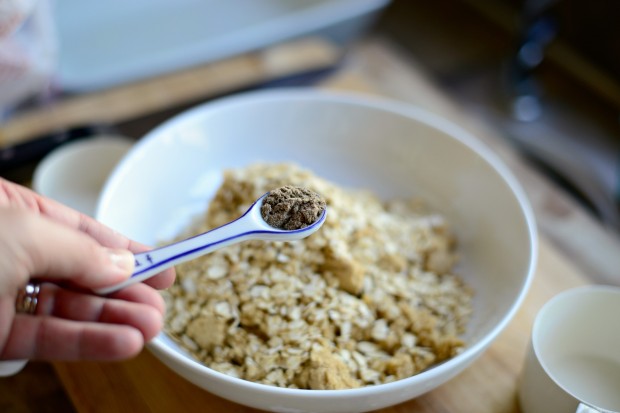 And 1/2 teaspoon of cardamom.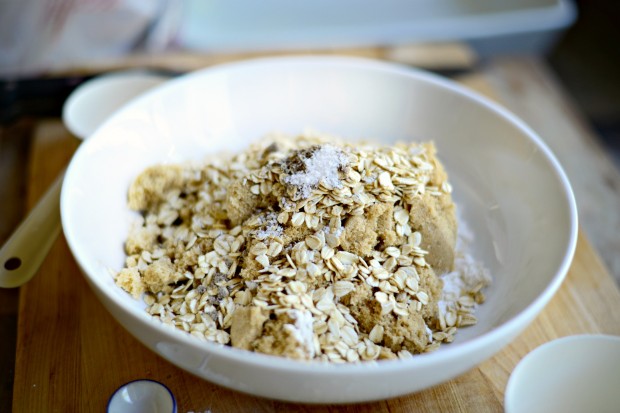 Lastly add a 1/4 teaspoon of kosher salt.
Use a spatula to break up all the light brown sugar clumps and mix to combine.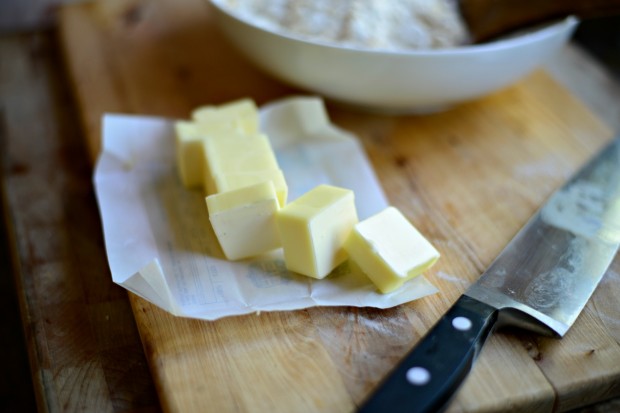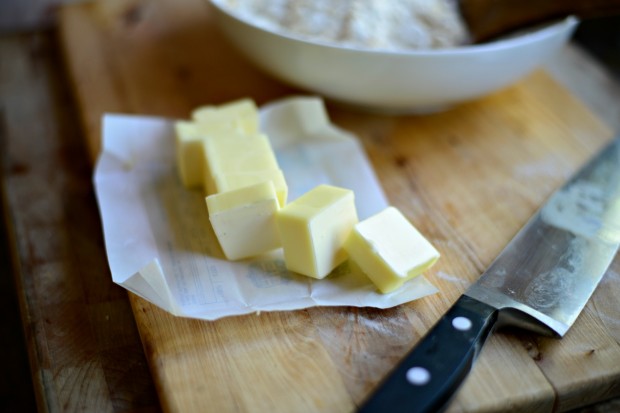 Next, slice up one stick of cold unsalted butter.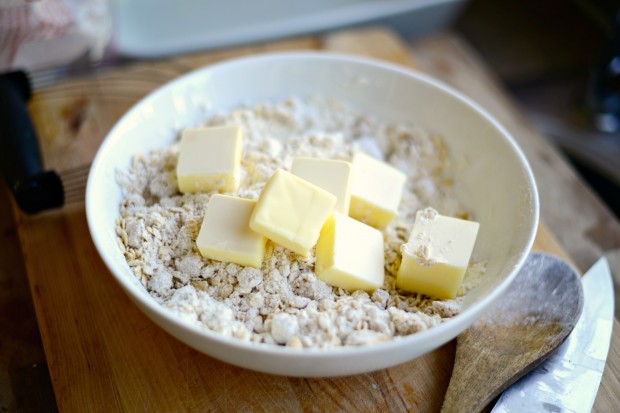 Drop it into the bowl with the oats and brown sugar.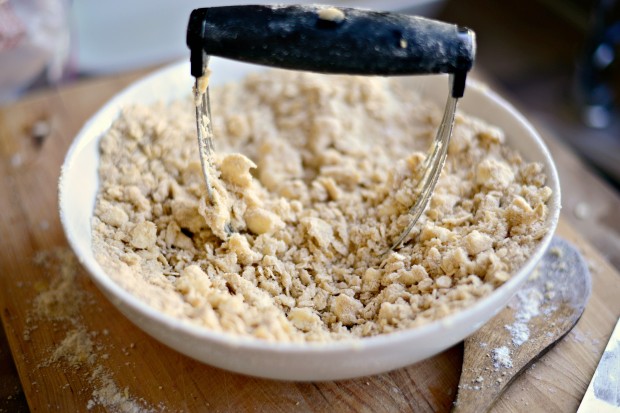 Grab a pastry cutter and work the butter into the dry ingredients. Try not to make a mess. It's helpful if you use a big enough bowl.
When will I learn?
Sprinkle the crumble over the rhubarb and bake it on the middle rack of your preheated 350° oven until brown and bubbly. That's it!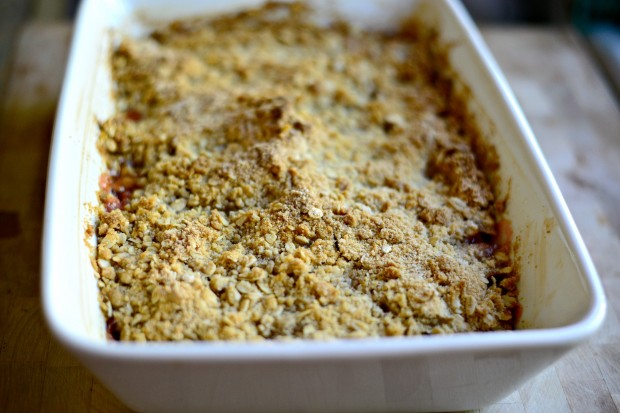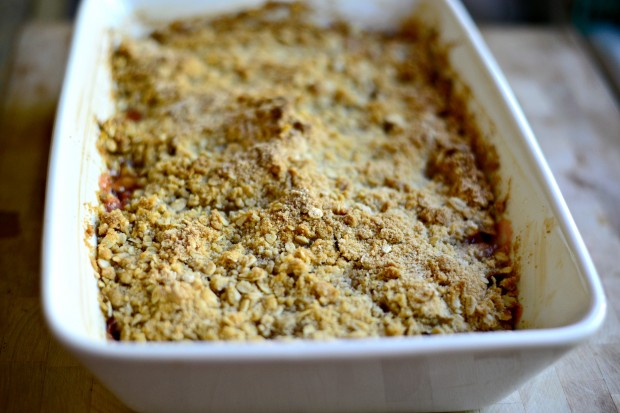 Depending on the size of your rhubarb pieces, it should take 45-60 minutes.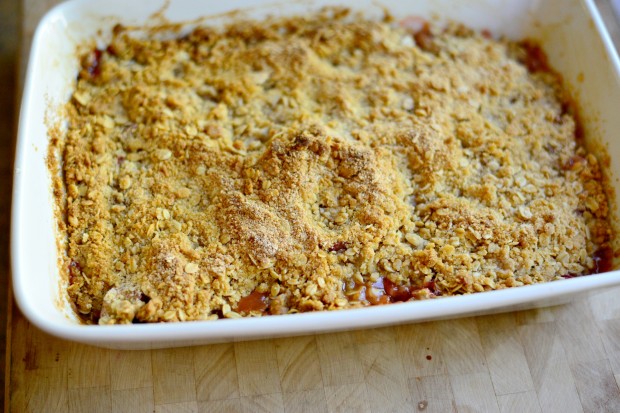 You can always tell because the rhubarb is tender and the juices are bubbling along the sides of the dish. Allow the crumble to cool for about 20 minutes or so before serving.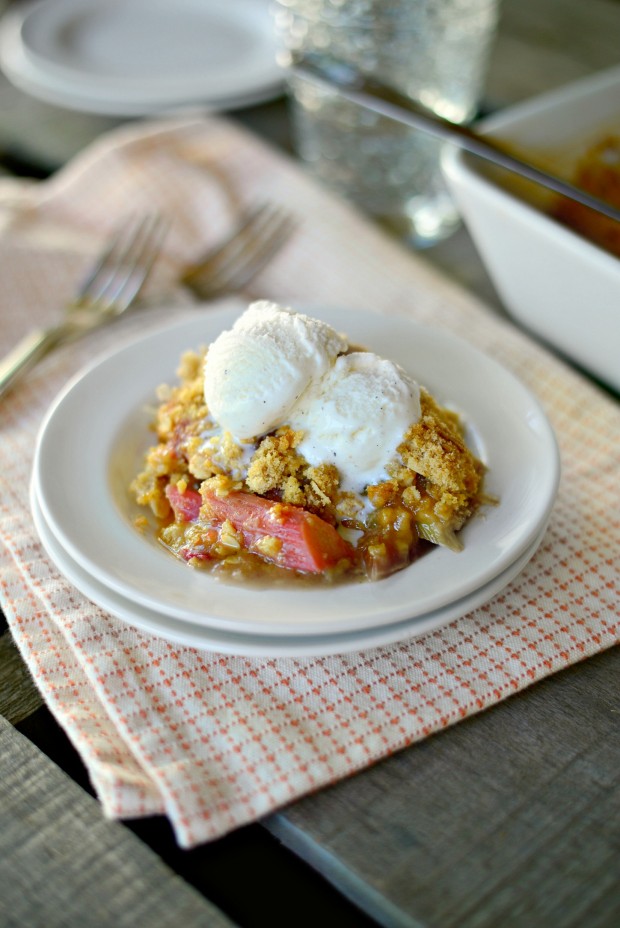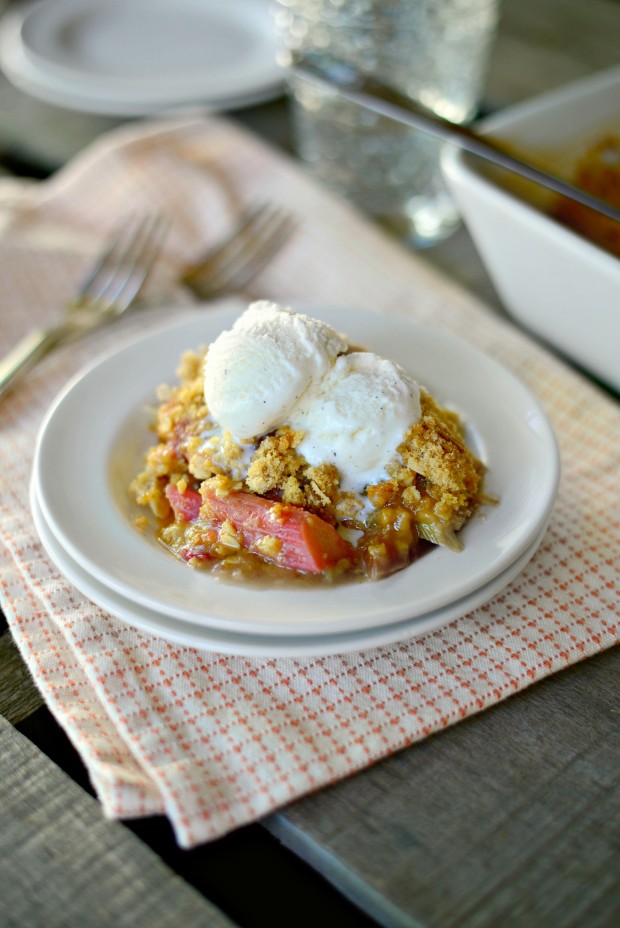 Oh yes. Yes, yes, YeS, yEs, YES! This is spring on a plate or in a bowl, depending.
Truth: I had two helpings. There, I said it.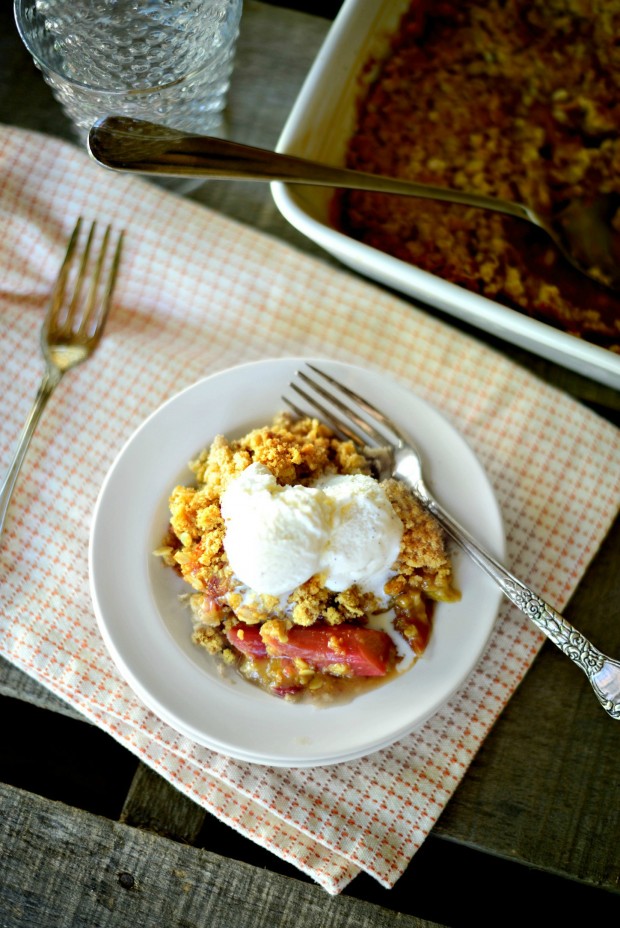 I'm not typically a warm dessert and cold ice cream kind of gal, unless it's crumble. For some reason it just makes sense. So go on and serve this delicious rhubarb crumble with a scoop or two of vanilla ice cream and maybe a cup of coffee. I know you'll love it!
Enjoy! And if you give this Rhubarb Crumble recipe a try, let me know! Snap a photo and tag me on twitter or instagram!
This post may contain affiliate links.
Buy the Cookbook: Simply Scratch : 120 Wholesome Homemade Recipes Made Easy Now available on Amazon »
THANK YOU in advance for your support!