Truth be told, I do love a good veggie burger. Sautéed peppers, onions and garlic are mixed with spices, smashed black beans and cooked brown rice. This southwest black bean and rice veggie burger is absolutely delicious and satisfying!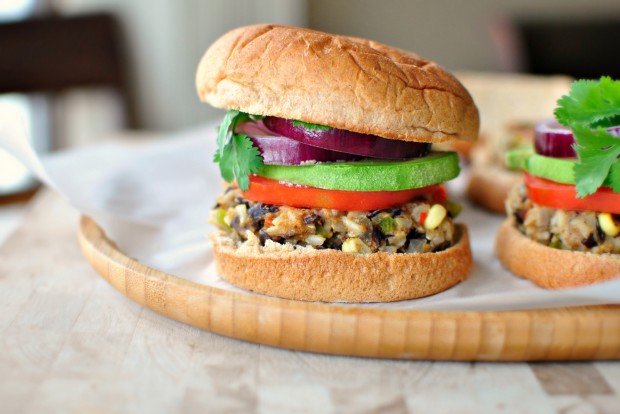 Truth be told, I do love a good veggie burger.
In fact, I sometimes keep those Morning Star veggie burgers in my freezer and quite often make one into a quesadilla for breakfast in the morning. With that being said, I wanted to save me a little dough, make my own and uh-duh, share them with you!
But don't think for a second you need to eat these with the buns. I actually prefer these burgers open-faced or even without the bun… it sort of complicates things. I really could happily eat this burger bun-less, piled high with all the fixings and never miss the bun, like at all. But my family likes their burger patties in between buns. So I obliged.
To Make These Southwest Black Bean and Rice Veggie Burgers You Will Need:
yellow onion
green bell pepper
red bell pepper
2 cloves of fresh garlic, minced
cooked black beans
cooked brown rice
olive oil
olive oil spray
sweet corn
kosher salt
cumin
chili powder
cayenne pepper
breadcrumbs
egg – lightly beaten
Start by dicing up 1 small to medium onion, keeping it on the small side, so you have about 3/4 cup.
Then dice up a 1/4 cup of both green and red pepper.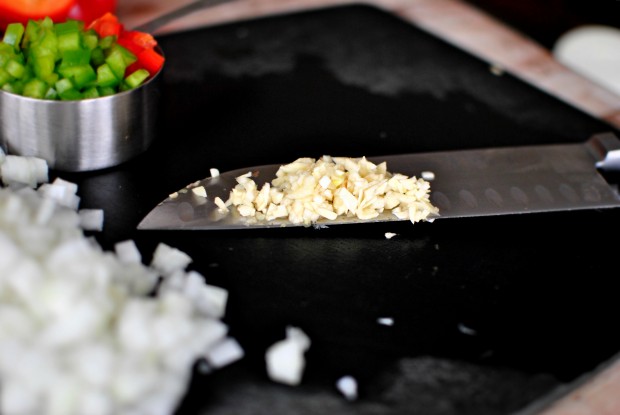 And mince up 2 cloves of fresh garlic.
Throw the onion and peppers into a 10-inch skillet with a teaspoon of olive oil.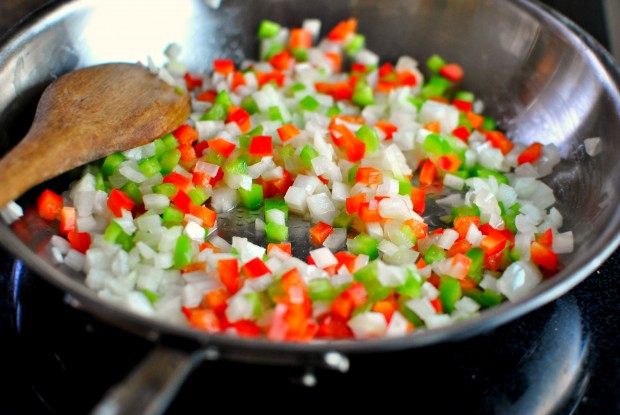 Sautee the veggies until soft and the onions are translucent.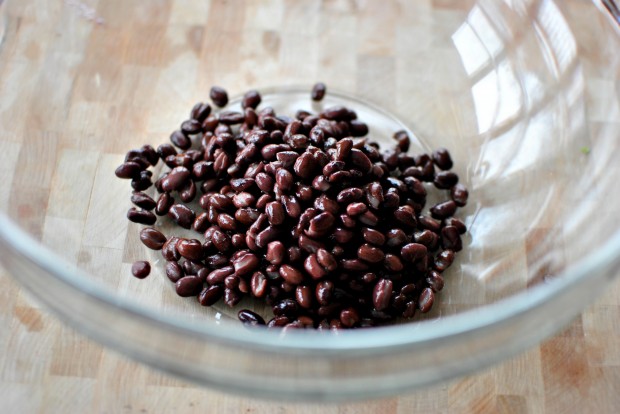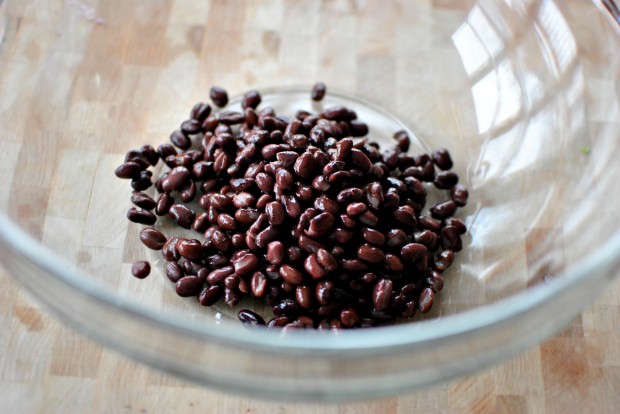 Meanwhile, drain and rinse 1 (15 ounce can) black beans and add them to a large bowl.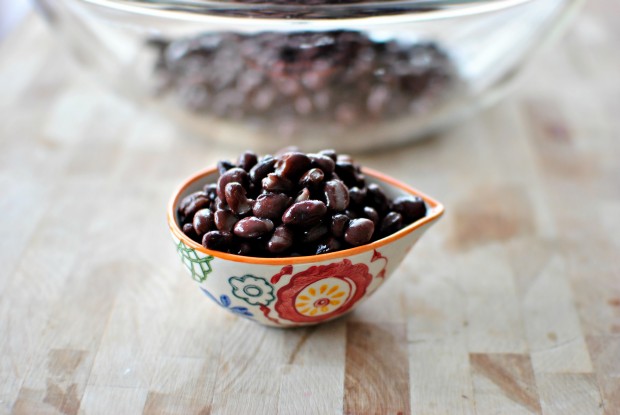 If you want the burgers flecked with black beans then just reserve about a quarter cup.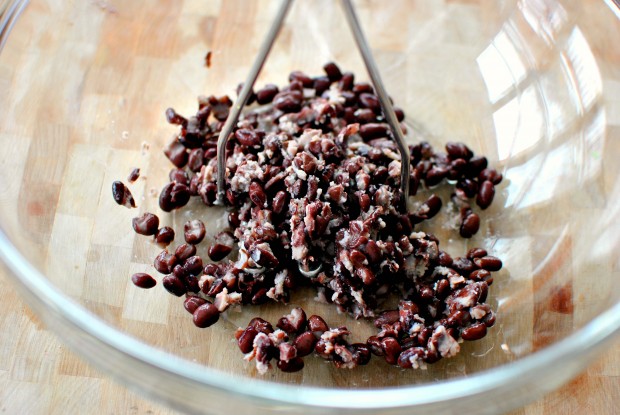 Then mash those up.
Until they're as smooth as they're going to get.
Earlier in the day I cooked up some brown rice in my rice cooker. A rice cooker is a total life saver. Especially for those that are like me and cannot make rice to save my life. And if you have some leftover brown rice, that works wonderfully too!
You'll need 1-1/2 cups cooked brown rice. I gently press the rice into the measuring cup so those are semi-packed measures.
Once the veggies are soft and the onions are translucent, I added in the minced fresh garlic. Cook for a minute until the garlic is fragrant.
Add in the 3/4 cup of thawed sweet corn and the 1/4 cup of the reserved black beans.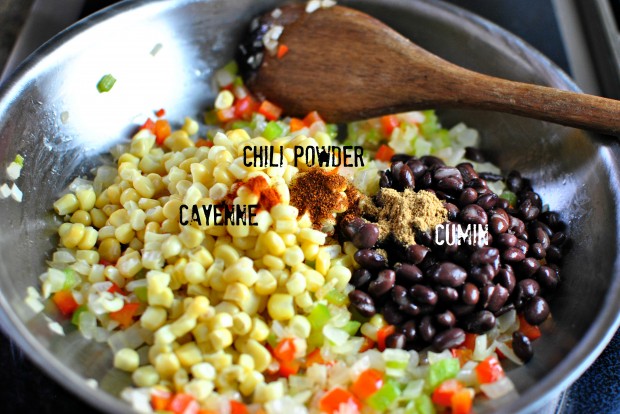 Season with a 1-1/4 teaspoon of kosher salt, 1/2 teaspoon of chili powder, 1 teaspoon of cumin and a pinch or two of cayenne pepper. Or you can use 2 teaspoons of my homemade southwest seasoning.
Stir that all together and scoot the pan off of the burner to cool for a few minutes.
Once the pepper and onion mixture has cooled a bit, add it into the bowl with the beans and brown rice.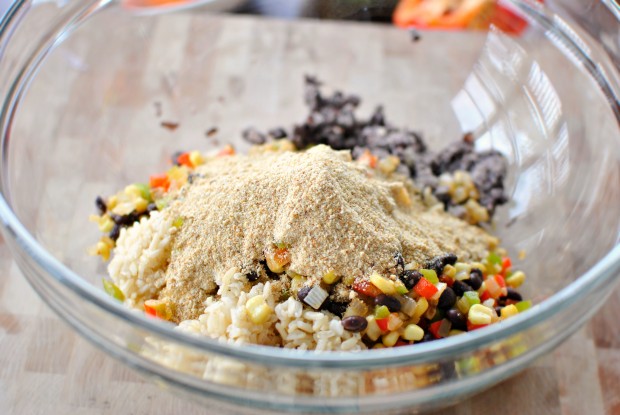 Add in the 1/3 cup of bread crumbs.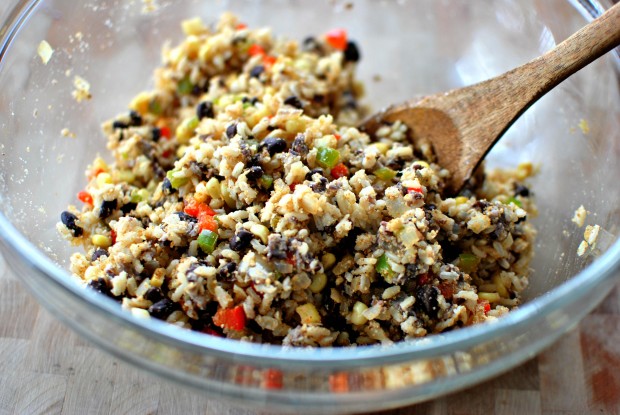 Then just give it a quick stir to combine, break up any clumps of beans as you go.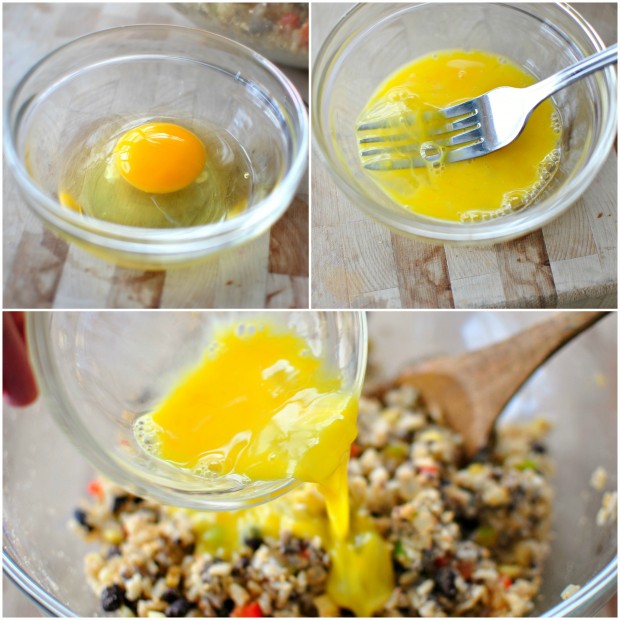 Beat one egg and add that into the mixture.
Stir to incorporate the egg.
Form the mixture into 8 equal sized burger patties. I won't lie, it's messy. Try to form them into tight patties the best you can so they will stay formed when you flip them.
I like to use a griddle or a skillet, I'm not quite sure how these would hold up on an actual grill or grill pan. So I play it safe and use my trusty old griddle. Spray with olive oil spray or add a teaspoon or so and use a spatula to spread the oil around so it's lightly coated.
Add the patties and cook for 6-8 minutes a side.
I use my spatula and gently press the patties.
Flip ever-so-carefully once a nice, golden crust forms on the bottom. Continue to cook for another 6-8 minutes.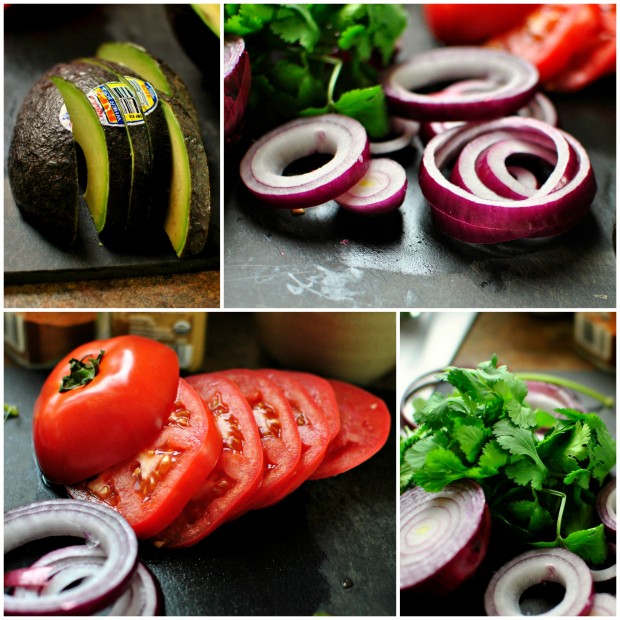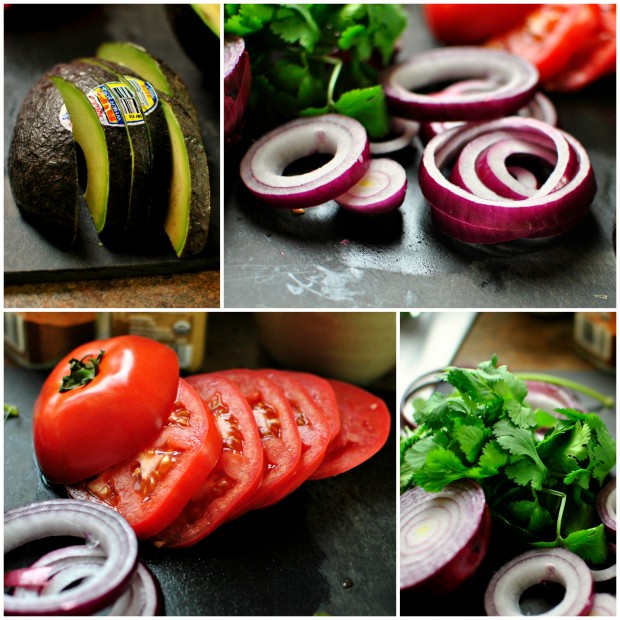 Then just prep the toppings you want for your burgers.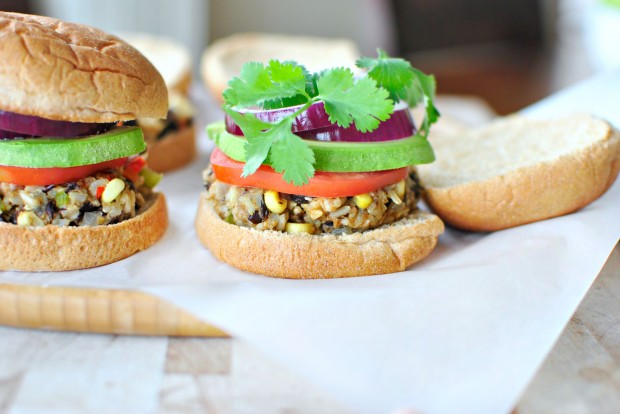 All that's left to do is top them with more veggies and devour!
These healthy veggie burgers are where it's at. I love the spices and the bites of sweet corn and black beans. So SO good! My picky husband even gave me a thumbs up. Which says A LOT!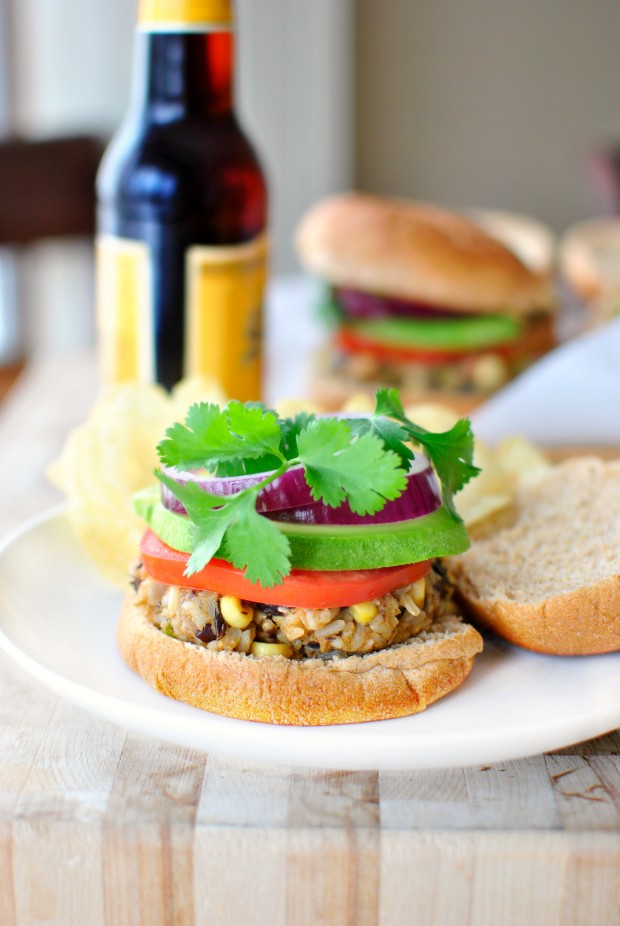 As you can see I like mine with red onion, slice fresh tomato, avocado and a few fresh cilantro leaves.
However these would be excellent with pretty much any combo you want or none at all. They are definitely good in between two toasty tortillas and lots of gooey cheese. But hey, that's just me. Don't be like me. Be healthier than me.
I packed the rest away in the freezer and plan on having those breakfast quesadillas over the next few weeks… if I can hide them from the rest of my family (wish me luck).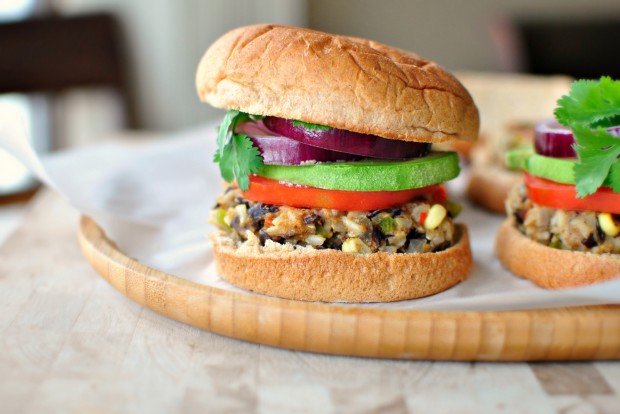 Enjoy! And if you give this Southwest Black Bean Veggie Burger recipe a try, let me know! Snap a photo and tag me on twitter or instagram!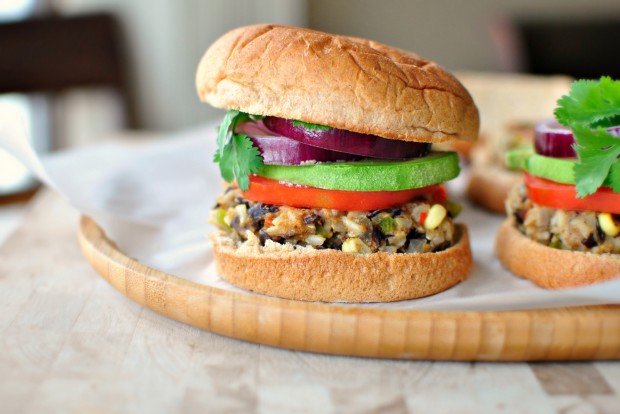 This post may contain affiliate links.
Buy the Cookbook: Simply Scratch : 120 Wholesome Homemade Recipes Made Easy Now available on Amazon »
THANK YOU in advance for your support!