This vegetarian spaghetti squash lasagna is incredibly delicious! A pasta-less lasagna with layers of spaghetti squash and a hearty vegetable ragu that's chocked-full of onions, carrots, zucchini, yellow squash, mushrooms and garlic. These simmer it into delicious oblivion in crushed tomatoes and red wine. It's a sauce I could literally eat with a spoon and/or some crusty bread. There's so much flavor going on that you won't miss the pasta!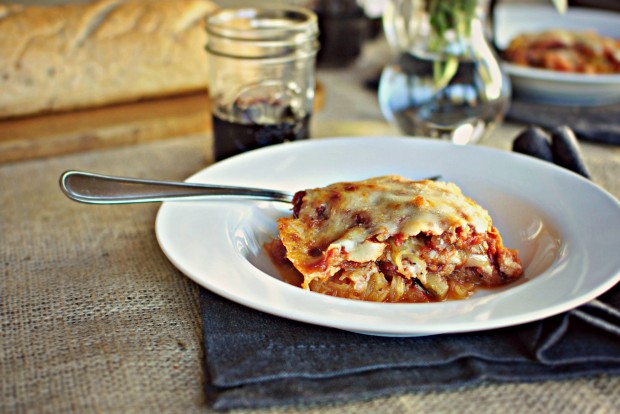 I have a little meatless for your Monday.
It was about time that SS had a vegetarian lasagna. And since squash is in season, why not use spaghetti squash as the "pasta" and while we're at it, layer it with a veggie loaded sauce! And of course, lasagna isn't lasagna without allthecheese?
This lasagna is a recipe I developed for Simply Organic. I decided to omit the traditional ricotta layer because I wanted to keep it light. The end result being a fresh, flavorful lasagna spiced perfectly with rosemary, basil and oregano and did I mention this lasagna is actually good for you? Except maybe all the cheese… but it's not like you're going to peel off the top layer, fold it up and eat it like a sandwich. Ha-um that would be crazy. Yeah, I mean who would do such a thing? ME. I did the thing. However the over abundance of veggies totally cancels the calories of the cheese, right?
First prepare the spaghetti squash:
Start by trimming the ends off of the spaghetti squash. Cut it in half, remove the seeds and place cut-side-down in a large baking dish. Roast the squash halves in a 375° oven for about an hour or until a knife glides effortlessly when pierced. Keep your oven preheated at the same temp for the lasagna.
Then remove and let cool off until safe to touch. Use a fork and scrape the flesh of the squash to form the spaghetti strands.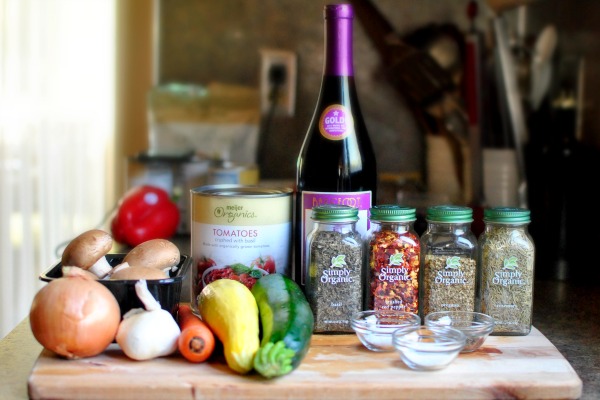 To Make The Sauce You Will Need:
olive oil
butter
yellow onion, chopped
carrot, grated
zucchini, sliced into 1/4 inch thick half moons (about 1 1/2 cups)
yellow squash, sliced into 1/4 inch thick half moons (about 1 1/2 cups)
crimini mushrooms/baby portobellos (about 3 medium-sized)
fresh garlic, minced
1-1/2 teaspoons rosemary
1/2 teaspoon basil
1/2 teaspoon oregano
1 can (28 ounce) crushed tomatoes
1/2 cup pinot noir
1 teaspoon sugar
sea salt
freshly ground black pepper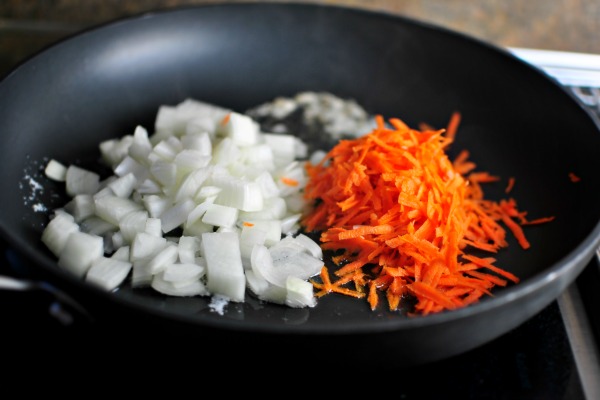 In a 10-inch pan, add 1 teaspoon olive oil and sauté a diced yellow onion (about 1 cup) and 1 medium carrot (that has been grated) together until they are soft.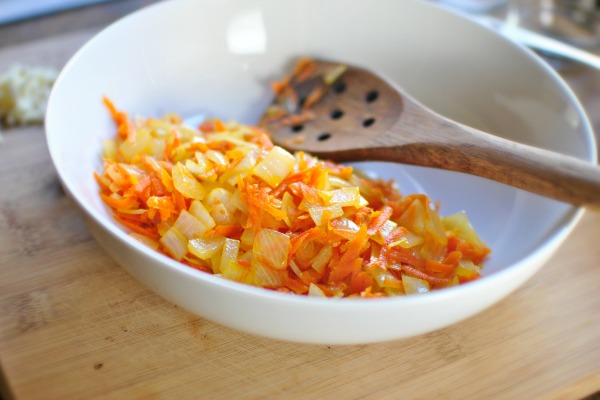 Once soft, transfer them to a clean plate and get going on the rest of the vegetables.
Increase the heat to medium-high adding more oil if needed. Add 1 medium zucchini and summer squash (that were halved and sliced) to the pan and sauté until golden and they are just starting to turn soft. Try not to stir too much so they can brown.
Turn the heat back down to medium and add in 1 cup finely chopped cremini mushrooms.
Cook for a minute or two before adding in 2 cloves minced fresh garlic and cook for 2 minutes.
To the skillet, add the sautéed onions and carrots back in along with the 1-1/2 teaspoons rosemary, 1/2 teaspoon both dried basil and oregano, 1 (28 ounce) can crushed tomatoes and 1/2 cup dry red wine. You can totally substitute broth for the wine!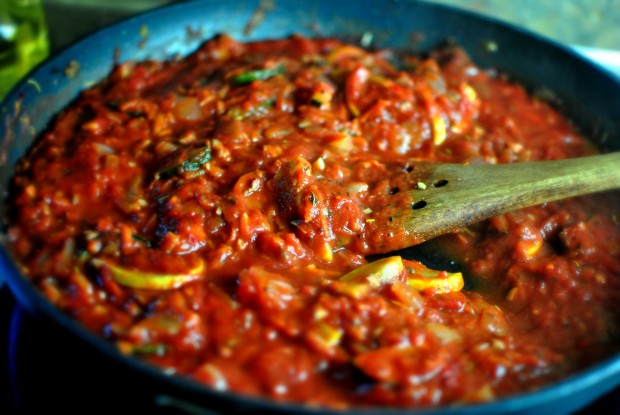 Lastly, season with 1/2 teaspoon sugar and kosher salt and black pepper to taste. Let the sauce simmer for 15-20 minutes until it has thickened slightly.
Smells heavenly.
Spread a little bit of the sauce on the bottom of a baking dish.
Next, add half of the spaghetti squash and season with a pinch of salt and pepper.
Top with half of the sauce and sprinkle with 1/2 cup freshly grated mozzarella and 1/4 cup grated Parmesan.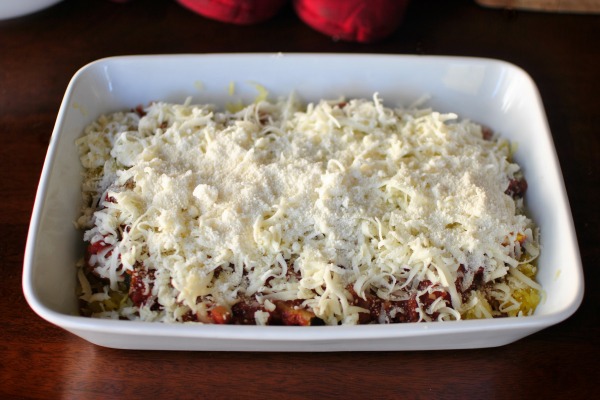 Top that with the remaining spaghetti squash, sprinkle with a little more kosher salt and pepper and top with the remaining sauce and cheese. Since the sauce and squash are already cooked, you really only need to get the cheese melted and golden brown on top.
Slip the lasagna onto the middle rack of your preheated 375° oven and bake for 25 to 30 minutes.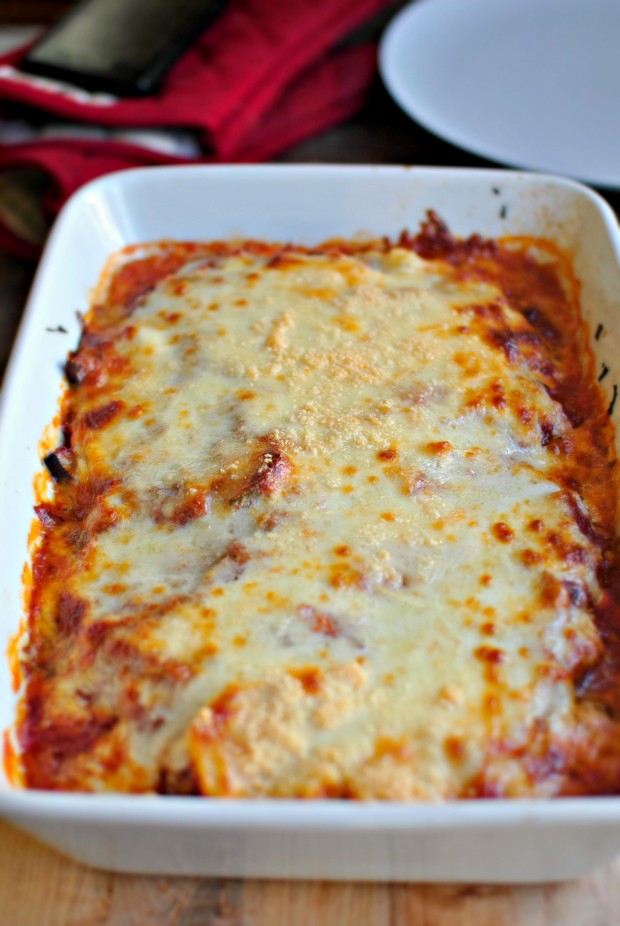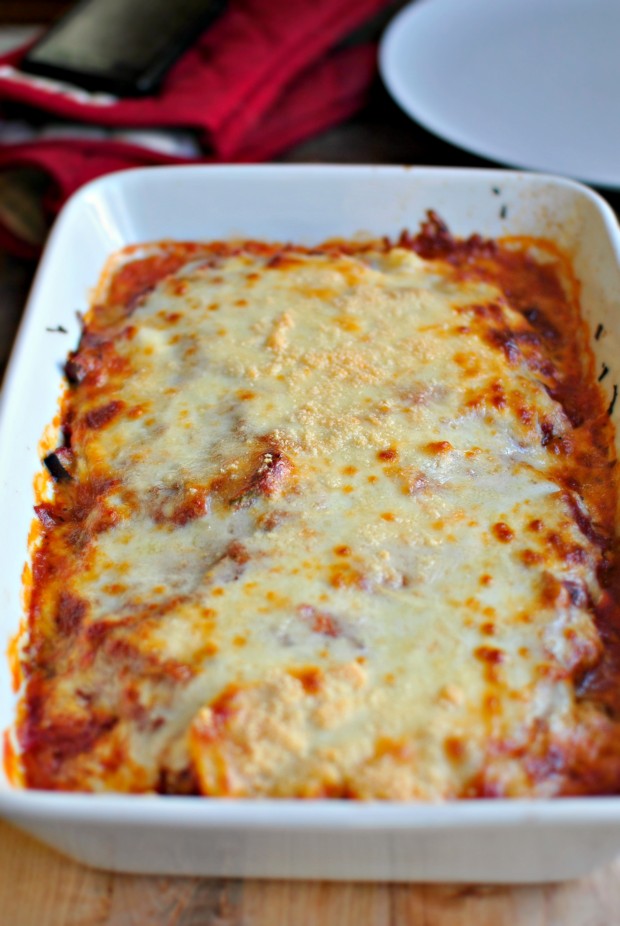 Let cool for a few minutes before slicing and serving.
This vegetarian lasagna is SO good I had two helpings… so did my twelve year old.
Serve with a sprinkle of fresh basil or parsley and with a loaf of crusty bread.
Enjoy! And if you give this Vegetarian Spaghetti Squash Lasagna recipe a try, let me know! Snap a photo and tag me on twitter or instagram!
This post may contain affiliate links.
Buy the Cookbook: Simply Scratch : 120 Wholesome Homemade Recipes Made Easy Now available on Amazon »
THANK YOU in advance for your support!