This hazelnut and blueberry baked oatmeal is warm, comforting and so flavorful! And a fun twist of flavors too!
I fell in love with a flavor combo.
It's true. Roast-toasted hazelnuts and dried blueberries and cardamom in oatmeal with a touch of honey… oh my word.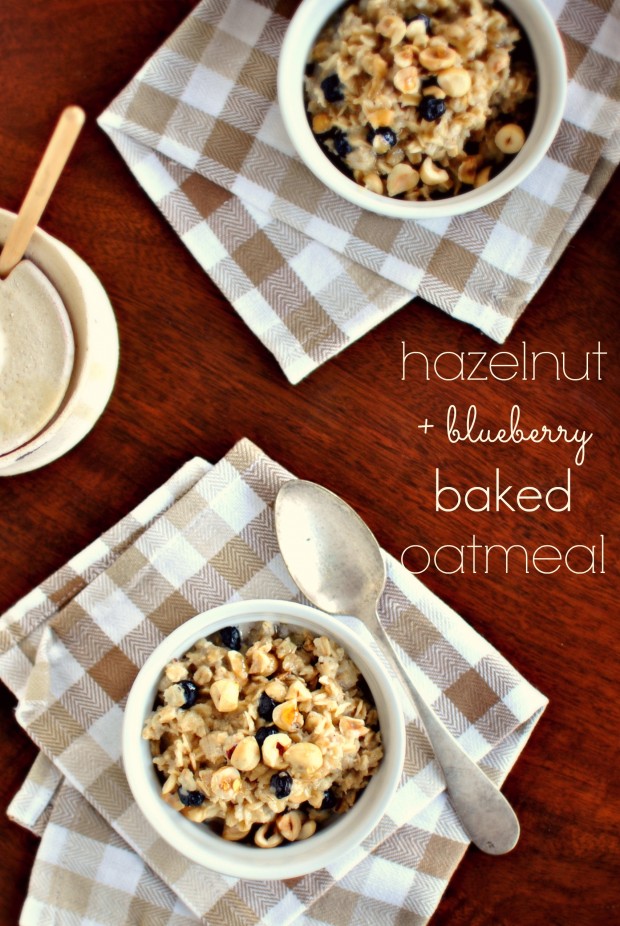 I'm a huge fan of baked oatmeal. And in my opinion it's 800 times easier than the stove-top or microwave method. You don't have to babysit it, stirring it, making sure there's not an oatmeal boil-over, which always seems to happen by the way.
Okay so have you heard of dried blueberries or am I the last one to hear about these gems? Are we calling them blasins now… I mean, these are things I need to know. Anywho a few weeks ago I was at Costco and there they were! I'm like… oh heck YES these are going in some granola, some cookies and oatmeal YAYAH! Then we checked out with the most hodgepodge cart Gatorade, dried blueberries… a winter coat for me. I'm so not ashamed.
Remember how yesterday I roast-toasted hazelnuts right? Well in the midst of roasting I spotted those dried blueberries errr-ah blasins and the thought just clicked and baked oatmeal was on.
As you can see it's pretty simple ingredients. Old fashioned oats (not quick cooking), hazelnuts, dried blueberries, whole milk, brown sugar, buttah, my favorite spice ever… cardamom, nutmeg, a little salt and a final drizzle of honey seals the deal in the end.
Next, chop up a mess of hazelnuts. This is about a half cup.. give or take.
Thenchop half of them into smaller pieces (about a third of a cup) and kept some larger pieces for sprinkling on the oatmeal afterwards. I'm always thinking ahead.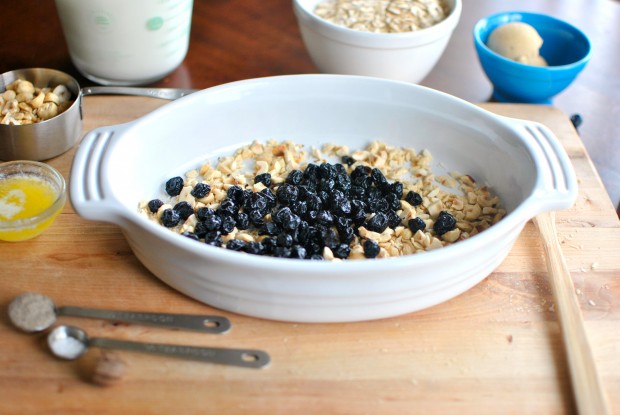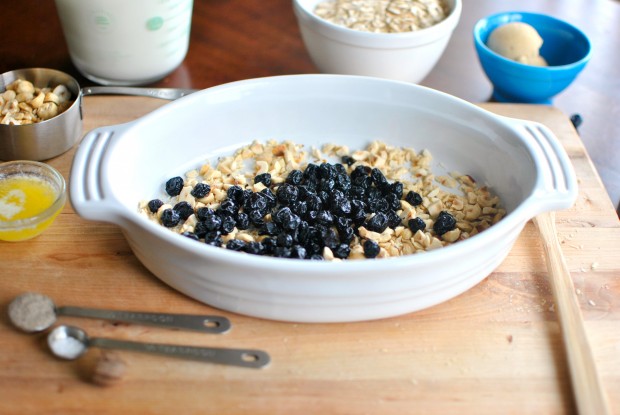 Then in a baking dish add the nuts, blueberries…
Next add in brown sugar, salt, cardamom and nutmeg.
Next add in the oats…
And then give it all a stir.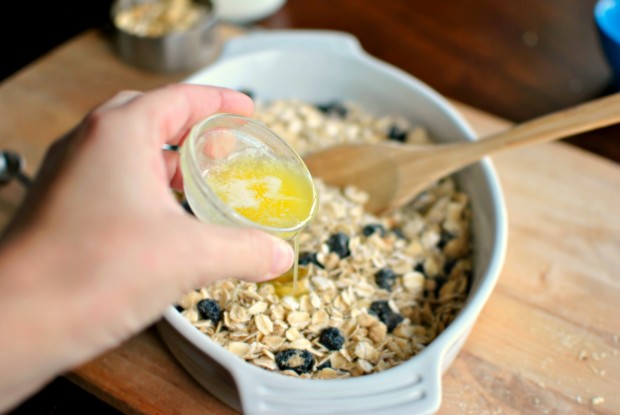 Next pour in the melted butter.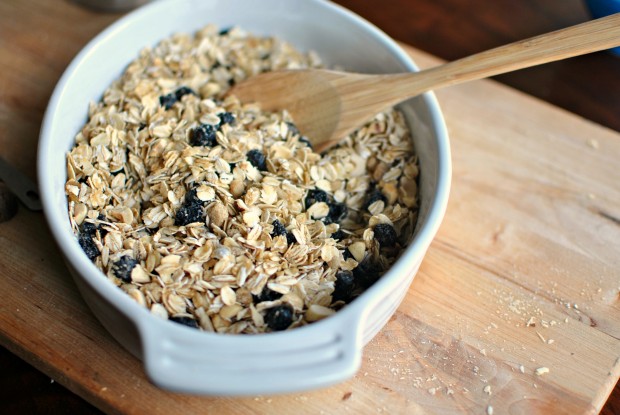 And then stir that too.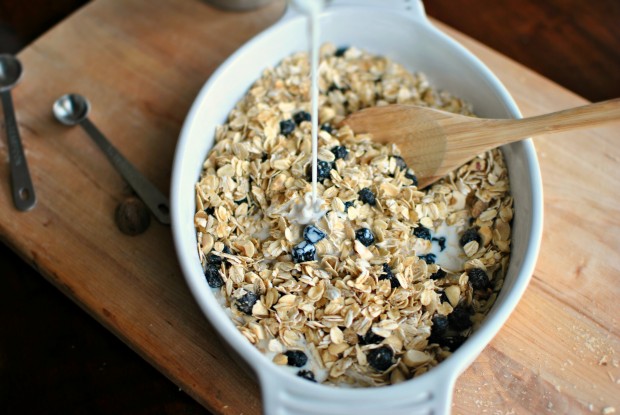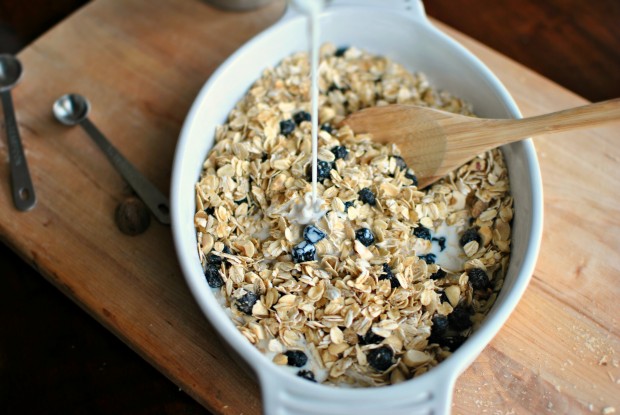 Next pour the whole milk over top…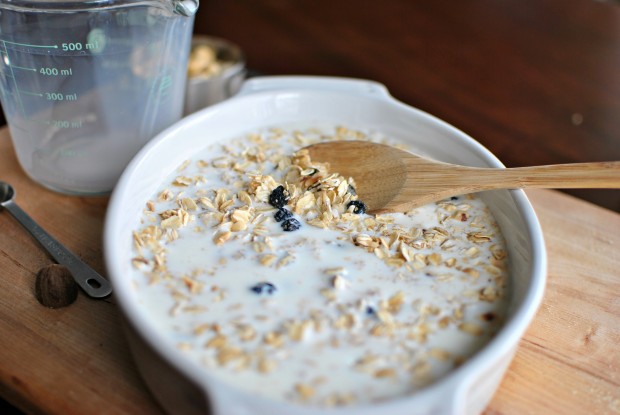 And then slide the whole thing into your preheated 350 degree oven to bake for 20-25 minutes.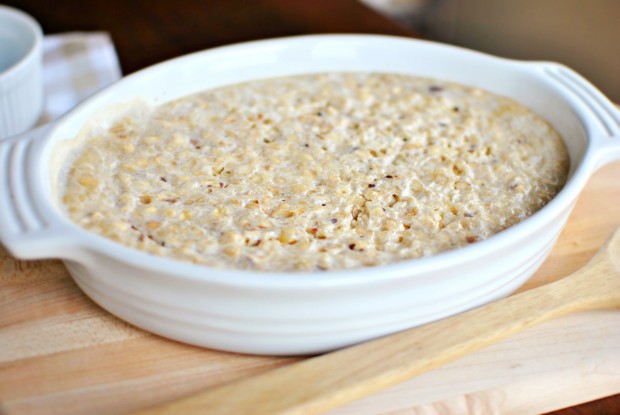 Then, remove it out of the oven…
Lastly, give the oatmeal a final stir.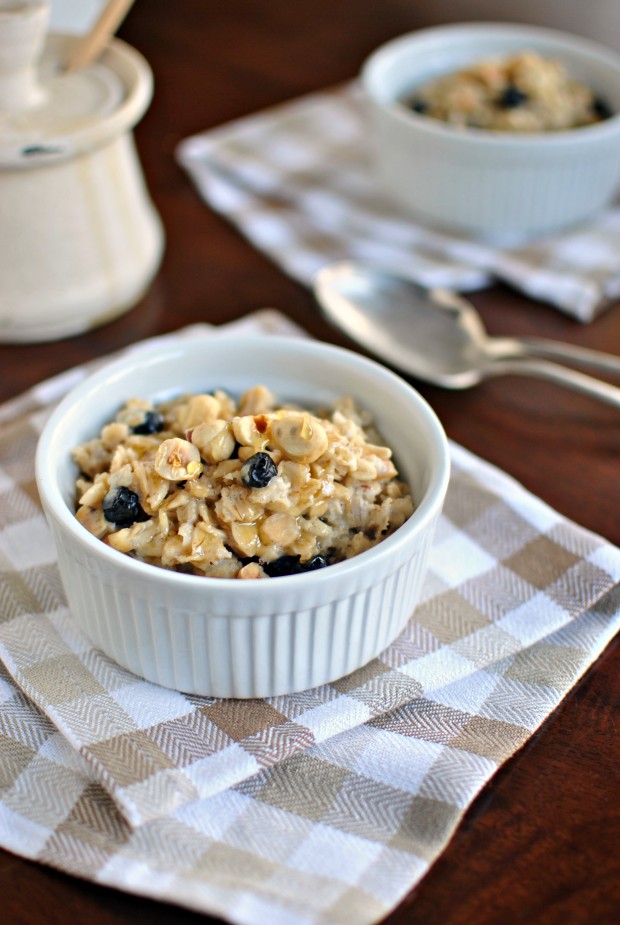 Finally, serve spoonfuls of this Hazelnut and Blueberry Baked Oatmeal into bowls, top with coarsely chopped hazelnuts and a drizzle of honey.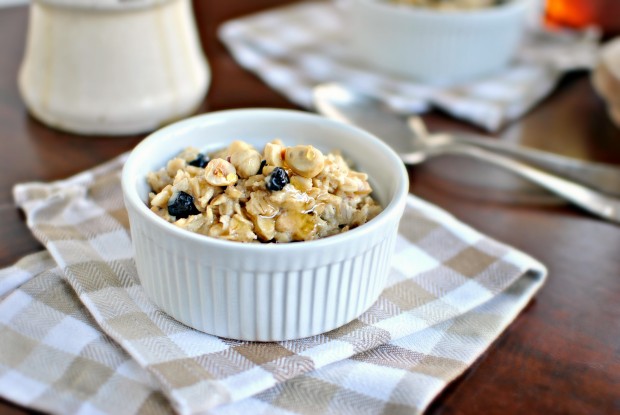 Why hello there my new favorite breakfast!
I know I say this serves 4, however today, it served one. 😉
Enjoy! And if you give this Hazelnut and Blueberry Baked Oatmeal recipe a try, let me know! Snap a photo and tag me on twitter or instagram!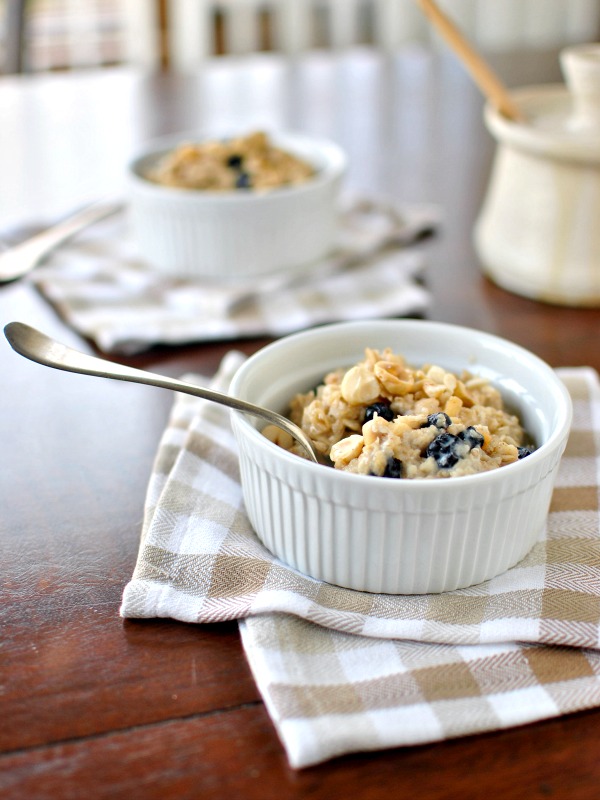 This post may contain affiliate links.
Buy the Cookbook: Simply Scratch : 120 Wholesome Homemade Recipes Made Easy Now available on Amazon »
THANK YOU in advance for your support!