This pot roast cheddar grilled cheese is AMAZING! Leftover pot roast, topped with sauteed onions, cheddar and sandwiched between buttered bread and grilled.
Is it weird that I purposefully made pot roast so I could make this sandwich?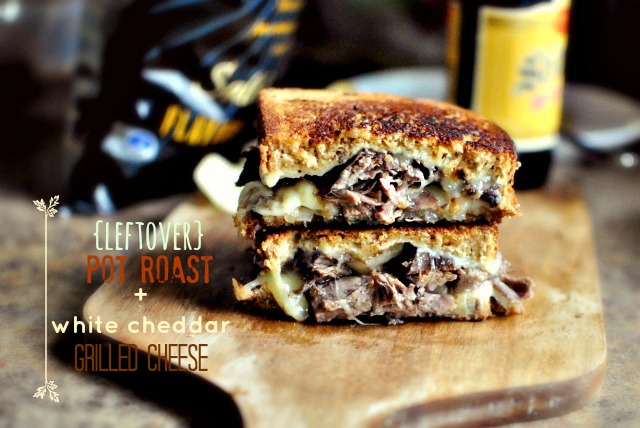 I was so excited that I went to bed at night thinking "Tomorrows the day! I'm making a pot roast cheddar grilled cheese!" I just know all my fellow grilled cheese addicts are nodding their heads and totally picking up what I'm laying down. I mean it makes so much sense; saucy shredded beef, sandwiched between TWO layers of white cheddar, topped with sautéed onions and grilled on buttered bread until crispy and golden. Amazeballs, yeah I said it.
So as you can imagine I about died after the first bite. The beef. The cheese. The ONIONS! It's crazy good and total comfort food in grilled cheese form. Which technically grilled cheese already is comfort food so this means this sammich has doubled the comfort factor. I believe this is just what you weekend needs.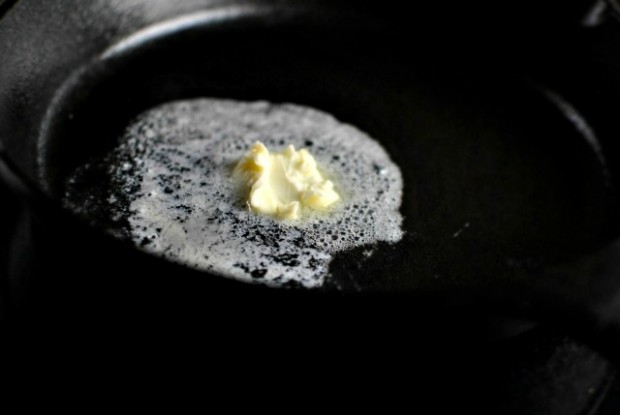 Like all good things, start with a couple tablespoons of butter in a skillet preheated on medium low heat.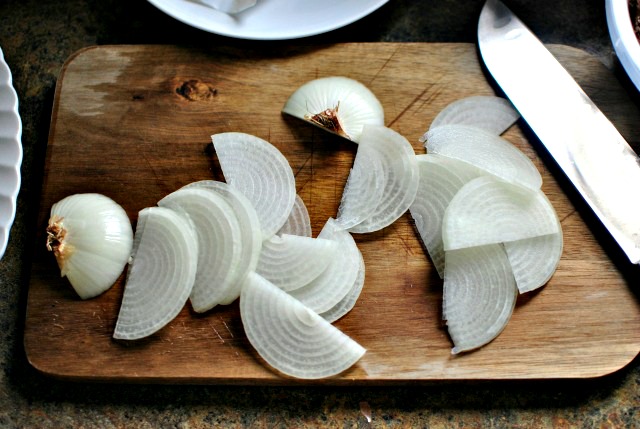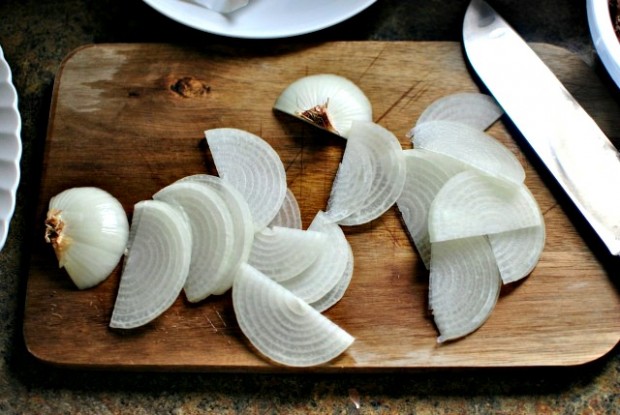 Then halve and slice up a medium sized yellow onion very thin.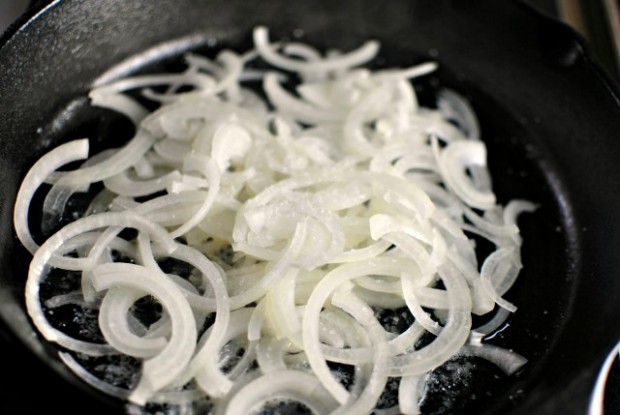 Next, add the onions into to the buttery skillet and season with a couple pinches of kosher salt. Give them a toss in the butter and slowly cook them until they are soft and slightly golden.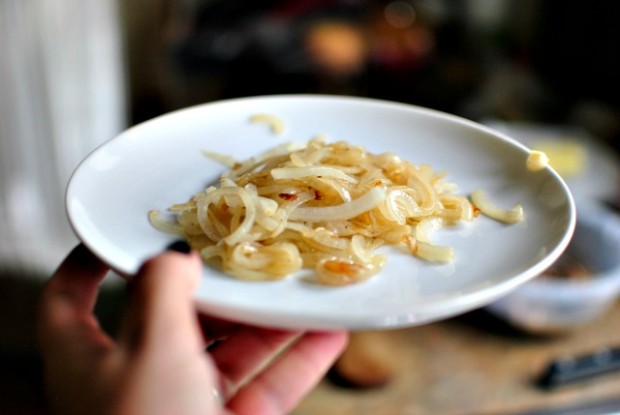 Then, once cooked, remove them to a plate for a second and move onto the bread buttering and sandwich building.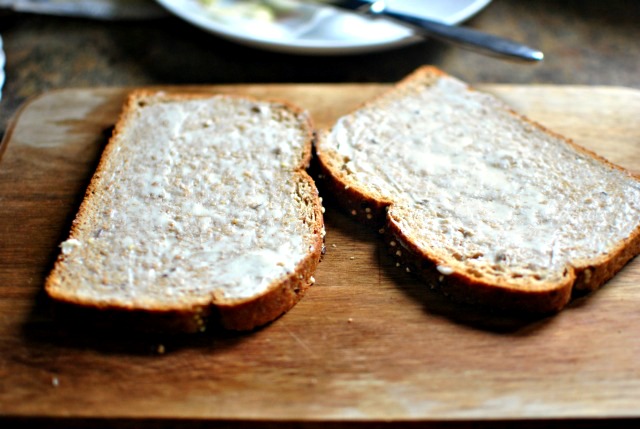 Next, butter the bread. I used whole grain bread; try to use a bread that that's sturdier and can handle the load better than let's say your typical white bread.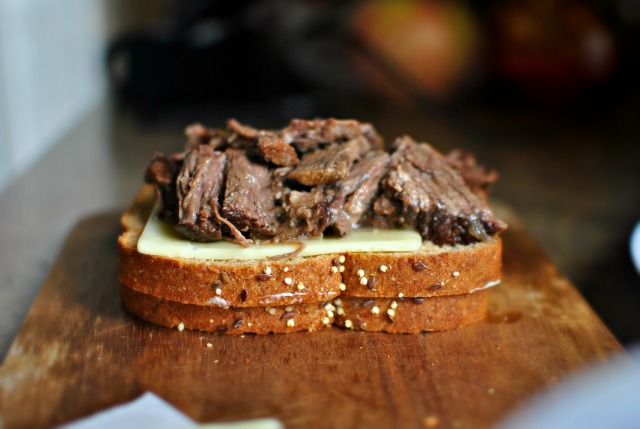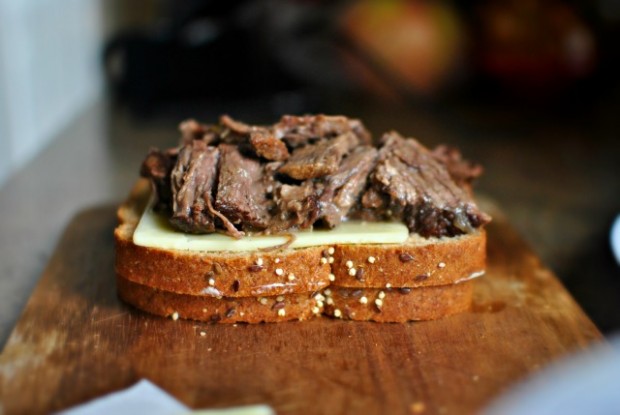 Then top with a slice of white cheddar and copious amounts of shredded pot roast. Ohhhhhhh yes.
Next, add the a second slice of cheddar and divide the sautéed onions among the two sandwiches.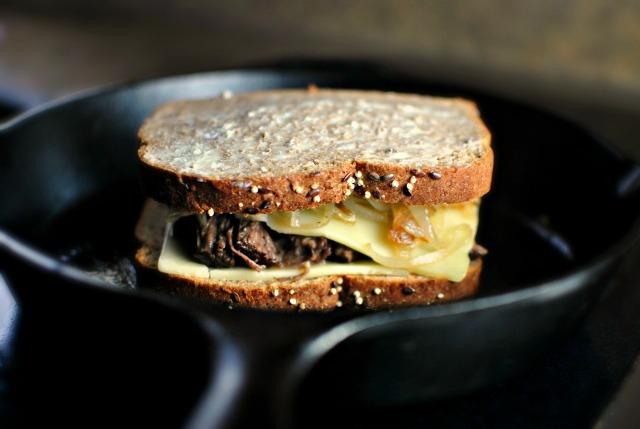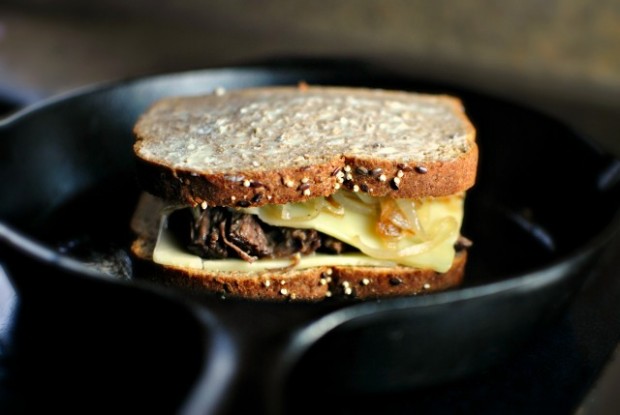 Then grill on both sides until golden or slightly burnt if you're like me, flip and repeat. :p
This pot roast cheddar grilled cheese is delicious.
So cheesy.
Totally amazing.
Very comforting.
Did I mention cheesy?
Enjoy! And if you give this Pot Roast Cheddar Grilled Cheese recipe a try, let me know! Snap a photo and tag me on twitter or instagram!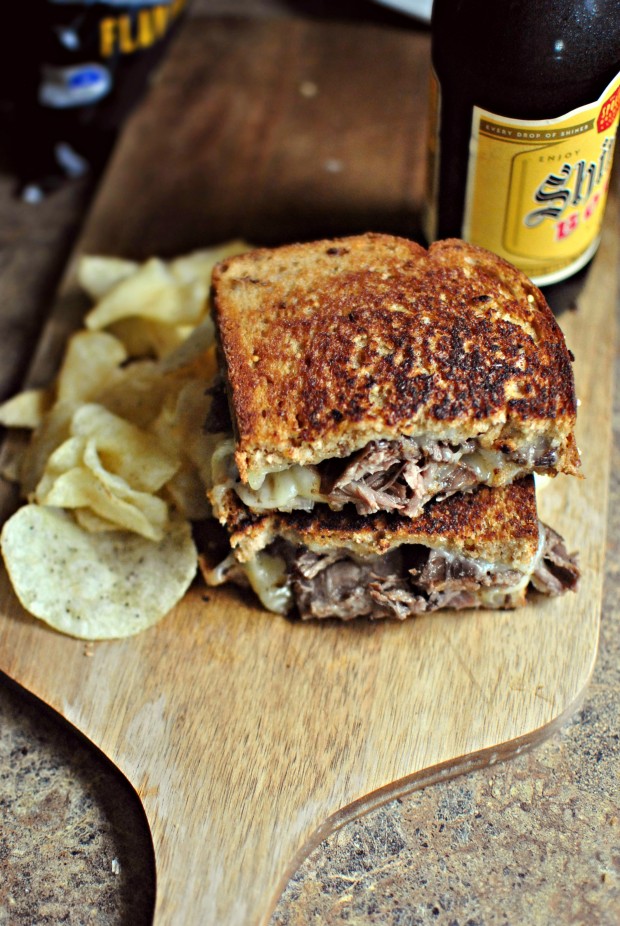 My cookbook Simply Scratch : 120 Wholesome Homemade Recipes Made Easy is now available! CLICK HERE for details and THANK YOU in advance!
[this post contains affiliate links.]
This post may contain affiliate links.
Buy the Cookbook: Simply Scratch : 120 Wholesome Homemade Recipes Made Easy Now available on Amazon »
THANK YOU in advance for your support!