This classic Beef Pot Roast is as easy as it gets. Beef cooked in wine and broth, throw in carrots and potatoes and served in a big ol bowl with a slice of yummy bread. Totally comfort food and the reason why I love fall.
Speaking of fall, is the weather all janky lately or what? It's stuck at the 70-ish degree mark. Not quite fall weather if you know what I mean.
But that doesn't mean I haven't been craving warm and cozy meals and I'm not going to wait any longer.
I'm also craving boots, sweaters and scarves and I just can't bear to wear them in this sunny warm weather which is such a drag.
To Make This Classic Beef Pot Roast You Will Need:
beef chuck roast
kosher salt
olive oil
butter
yellow onions
garlic
pinot noir
beef broth
fresh thyme
bay leaf
ground black pepper
carrots
redskin potatoes
This recipe is a no-brainer. It's probably why I like it so much. Sear, sauté, simmer and off to the oven to finish up. I've made quite a few different pot roasts in my life, some that even called for tomato paste (not good). Those ones aren't my favorite. So I just stick to my tried and true recipe… because, as you know, you can never go wrong with a classic.
(I've also included instructions, in the recipe printable, on how to make this slow cooker friendly!
Start by heating a large (5 qt. or larger) Dutch oven over medium-high heat and add in a tablespoon of olive oil. Swirl so it coats the bottom of the pot.
Season both sides of your 3-1/2 pound chuck roast generously with kosher salt. I don't pepper my roast because when the meat hits the hot pot it's going to burn the pepper. So I add it later on.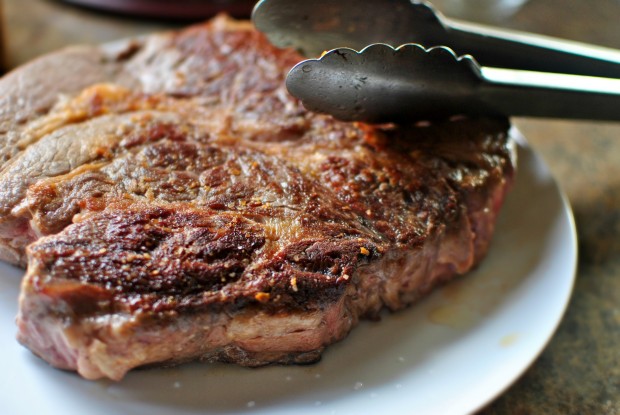 Once a good crust forms remove the roast to a plate.
Then, reduce the heat to medium and coarsely chop 2 medium yellow onions and add them to the pot.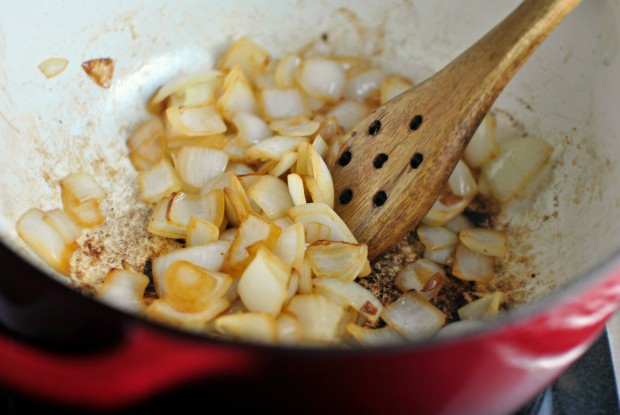 Sauté the onions until they soften, about 5-8 minutes.
Chop up the 3 cloves of garlic and throw that in with the onions. Stir and let the garlic cook for a minute.
Note: Here is where you can transfer everything to a slow cooker if you wanted to. Cook, covered in your slow cooker, on low for 6 to 8 hours.
Put the roast back in and pour in 1 cup of Pinot Noir. In the end, there isn't an overly wine-y taste. It's super subtle, and I get hints of it in bites. However if you're avoiding wine altogether then try swapping it out for more beef broth. I just can't guarantee the flavor will be the same. So if you try it… let me know!
Next, pour in 2 cups of beef broth.
Then add the 4 sprigs of fresh thyme and 1 bay leaf.
Next, add in 1/2 teaspoon of black pepper.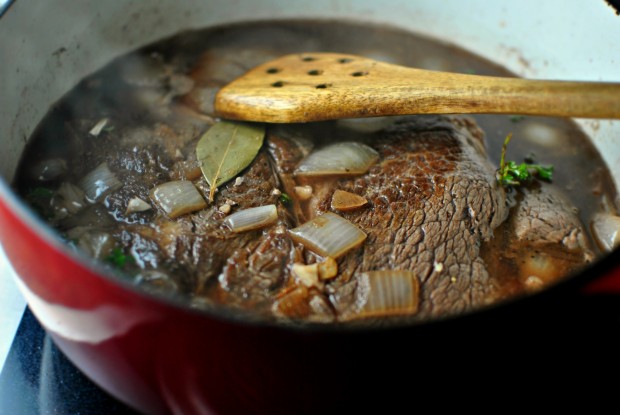 Give it all a stir.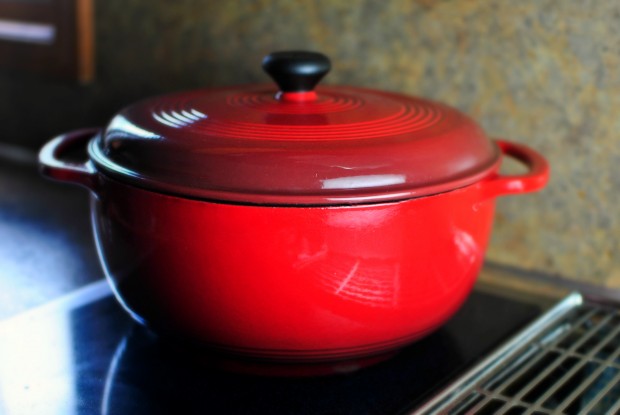 Next, cover and bring to a simmer before popping the pot into a preheated 350° oven for 2 hours.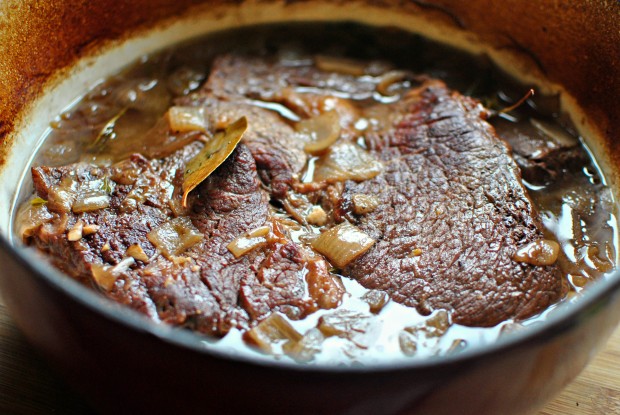 After the 2 hours are up, the roast is just about done and smells marvelous.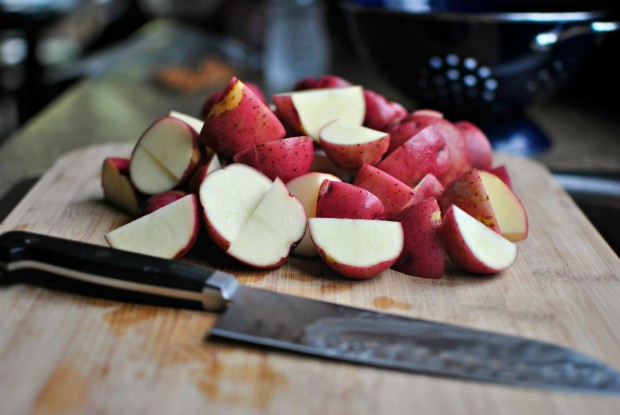 Then wash and quarter up 1-1/2 to 2 pounds of red skin potatoes. Really you could use the potato that you like best. I like red skins best… so I use them. Ya dig?
Next add the quartered potatoes and the chopped, peeled carrots I forgot to photograph. (whoops!) But you all know what carrots look like anyway so it's all good.
It should take 30 minutes for the potatoes and carrots to cook and be fork tender. When that happens, pull out the roast and stare at it. You've got two options; a: slice it into meaty chunks. Or b: shred it into meaty chunks. I like both… truly. Ps. I may frame that second shot… I just love it so.
Then add the roast bits back into the pot of love and stir it so the meat can absorb that fan-tabulous sauce.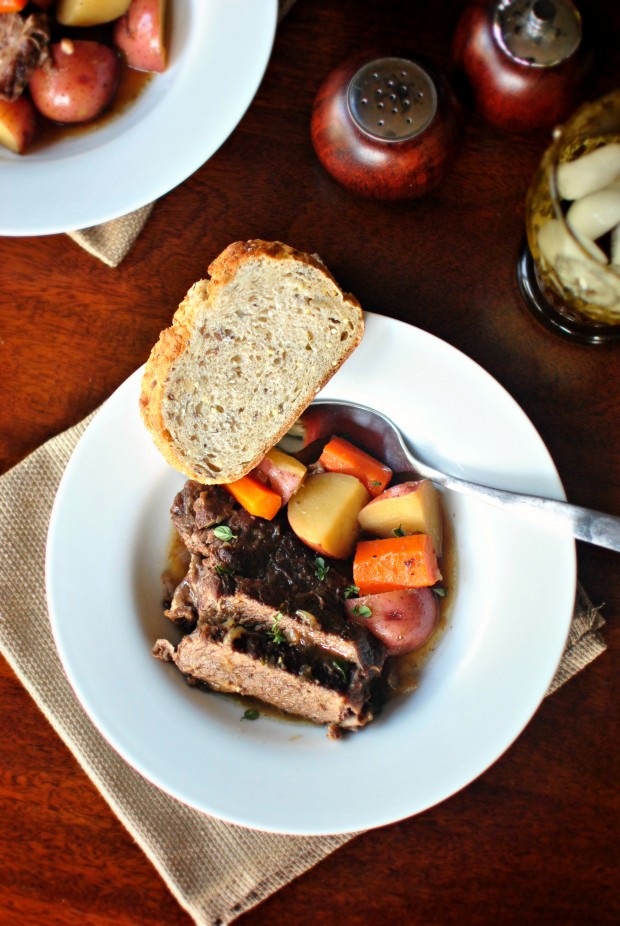 Serve this Beef Pot Roast it in a bowl, a plate or a trough hung around your neck… jussst kidding. But not just kidding about how good this is. The roast is fall-apart-melt-in-YO-mouth delicious. Like I may or may not have licked the bowl AFTER I sipped from its rim. Jussst sayin'.
Oh and IF you have leftovers, you must make this Pot Roast + Cheddar Grilled Cheese Sandwiches!!
Enjoy! And if you give this Beef Pot Roast recipe a try, let me know! Snap a photo and tag me on twitter or instagram!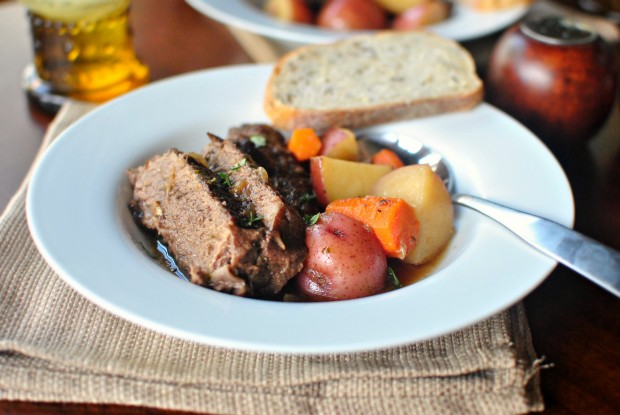 This post may contain affiliate links.
Buy the Cookbook: Simply Scratch : 120 Wholesome Homemade Recipes Made Easy Now available on Amazon »
THANK YOU in advance for your support!