In this Roasted Garlic Guacamole, a ton of roasted garlic and a few avocados are combined with lime juice, cilantro. A delicious dip for your chip!
Cinco de Mayo is upon us.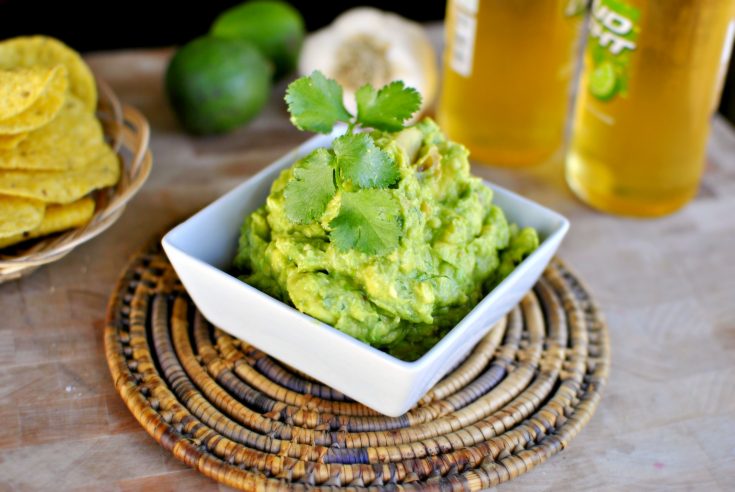 And I still have a couple recipes rollin' in. Heck it's always Cinco de Mayo in our house as we love Mexican food! Okay, now so far I've given you the beans, crispy pork, tostadas and ummm who could forget the margs? But Cinco de Mayo can't be complete without some guac.
This simple roasted garlic guacamole is for all you garlic lovers out there, or for all you married peeps… because after a few bites of this garlic-loaded-guac you definitely won't be landing any sort of mate in the near future. So it's best you consume this if you already have someone sworn to love, honor and cherish you for all time. Ummm hello.. TWO heads of roasted garlic are smashed into this to make it garlicized to the max, you see what I mean right?
This dip is dope.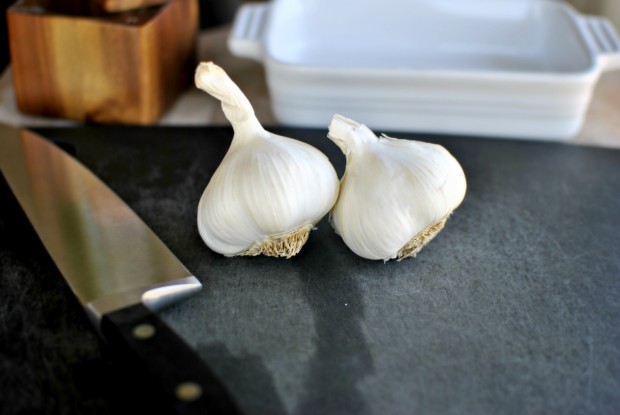 Grab two pretty good size heads of garlic. Pick ones that are free of any cracks, dents or suspicious spots.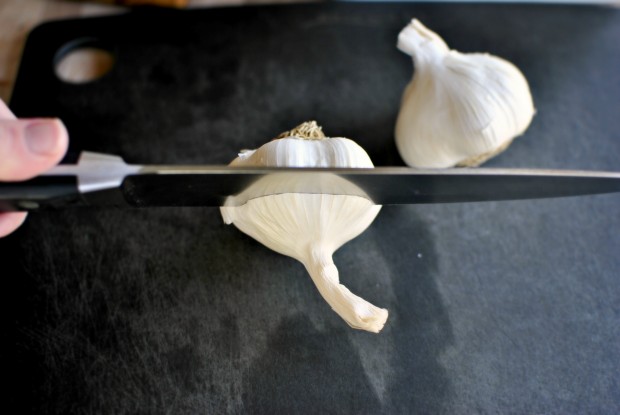 Using a pretty sharp knife, lob off the top third of the head to expose all those purty cloves inside.
Place in a small oven-safe dish, drizzle with olive oil…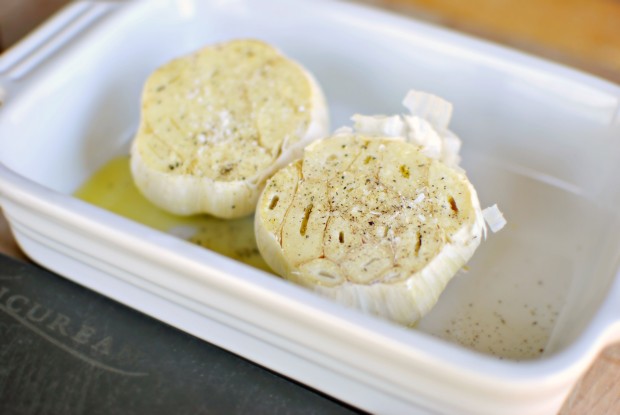 Sprinkle with a couple pinches of kosher salt and black pepper, cover with aluminum foil and roast in a 400 degree oven for 45 minutes. This is my standard way to roast garlic, it's easy and your guaranteed perfect roasted garlic jewels every time.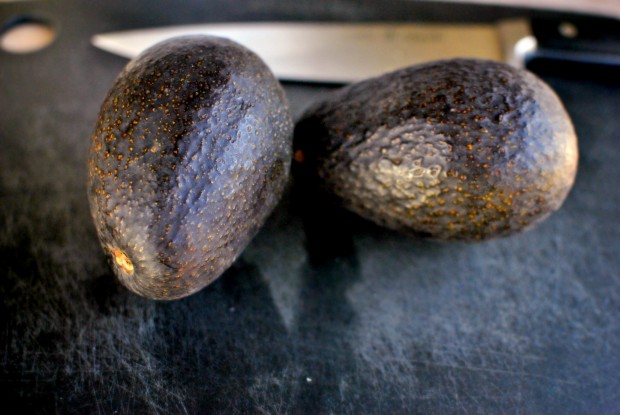 Moving on to the avocados. You'll want to pick up two LARGE avocados or 4 small ones. Make sure they are ripe by pressing gently… if the skin is dark-ish black color and there's a little give when you press your good to go. Also, if you remove the little stem piece and see green is also a good detecter.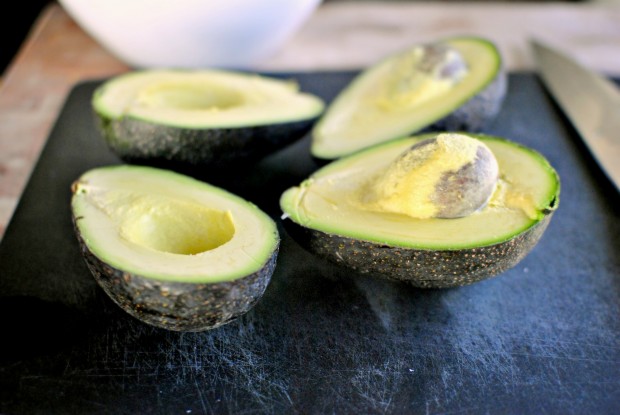 Then, cut in half from top to bottom and remove the pit…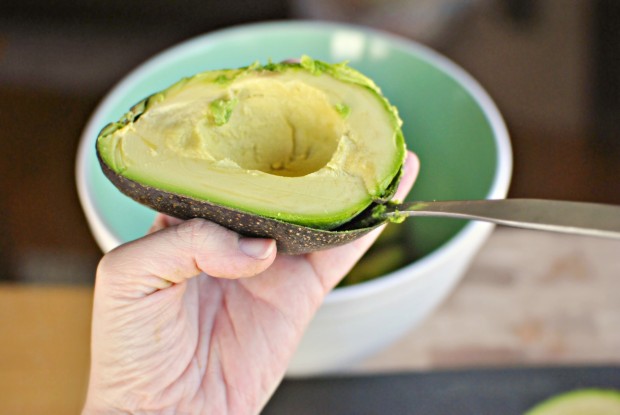 Next, armed with a spoon simply scoop out the luscious insides and plop them into a large bowl.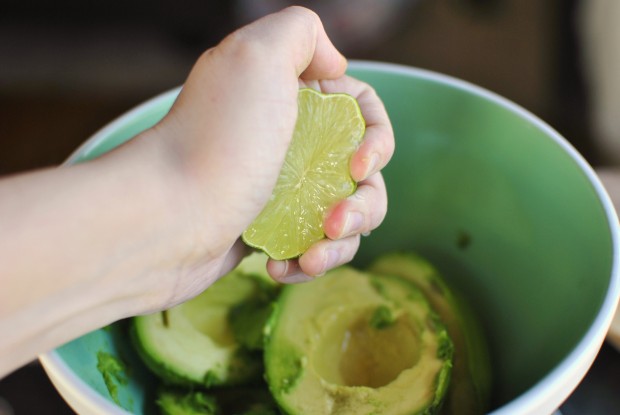 Next, squeeze in the juice of two small limes, or 1 good sized lime. The lime juice will keep the avocados from oxidizing so they can stay that beautiful bright green color!
Now the garlic cloves are out of the oven… they've cooled a bit, you wouldn't want to burn those fingers of yours.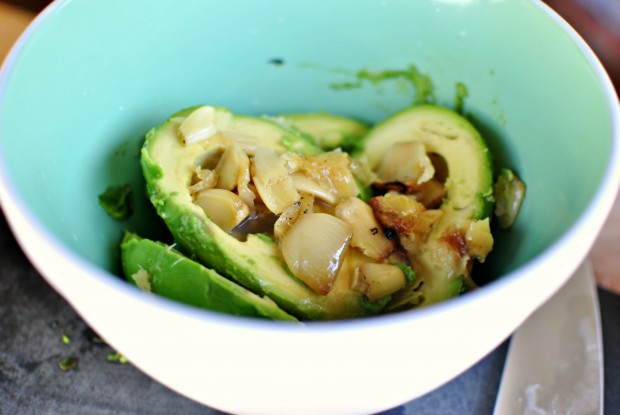 Next, squeeze the garlic heads to extract all of the roasted cloves into the bowl with the avocados and lime juice.
Mash it all up with a fork or wooden spoon. Should still be pretty chunky.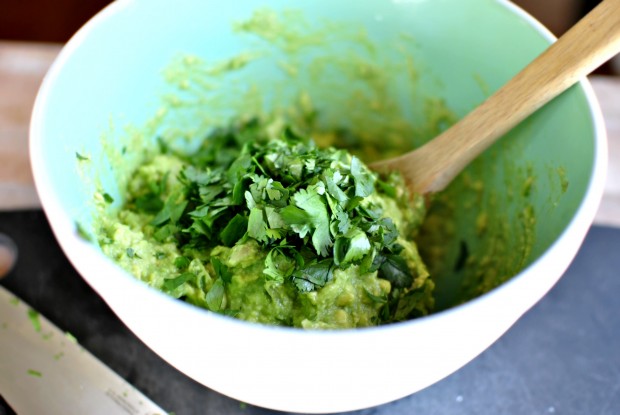 Then throw in a tablespoon of chopped cilantro…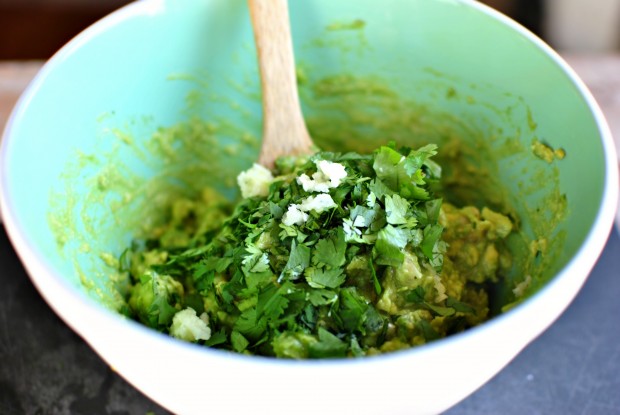 Next add in 1 clove FRESH garlic for some fresh garlic flavor. FYI roasted garlic and fresh garlic taste nothing alike, I promise.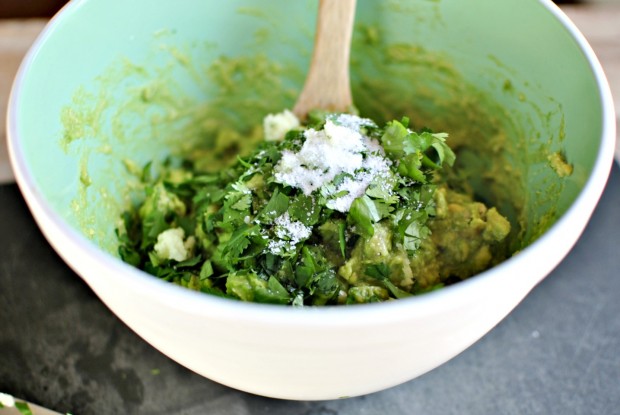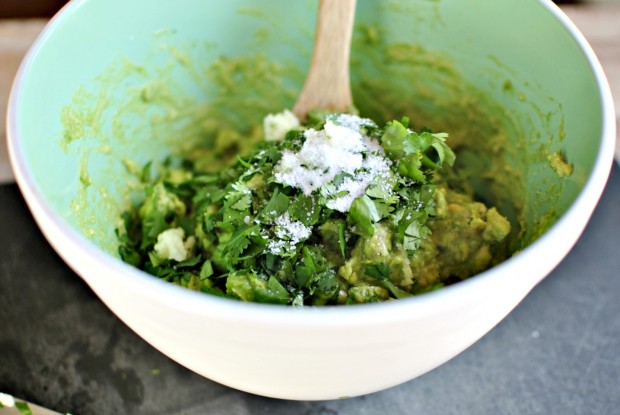 Lastly, season with a couple of healthy pinches of kosher salt (to taste) and then just stir that all together.
A ton of garlic and a couple of avocados get mashed together with lime juice and fresh cilantro for a delicious dip for your chip!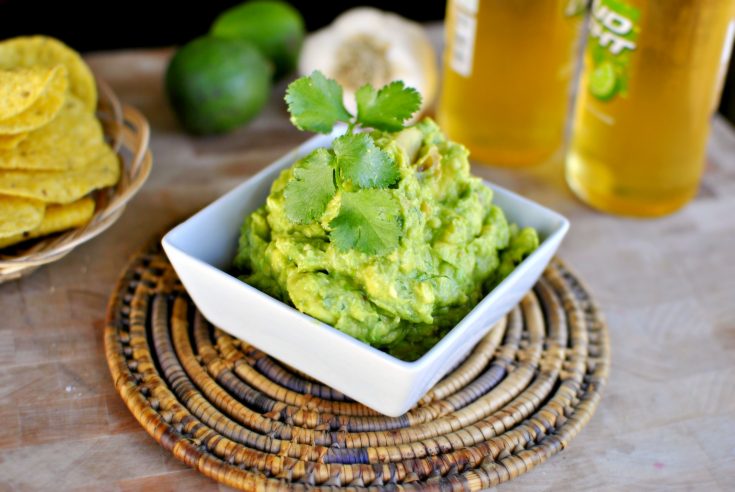 So go on and grab some corn tortilla chips and start dipping.
This roasted garlic guacamole is so darn amazing!
Enjoy! And if you give this Roasted Garlic Guacamole recipe a try, let me know! Snap a photo and tag me on twitter or instagram!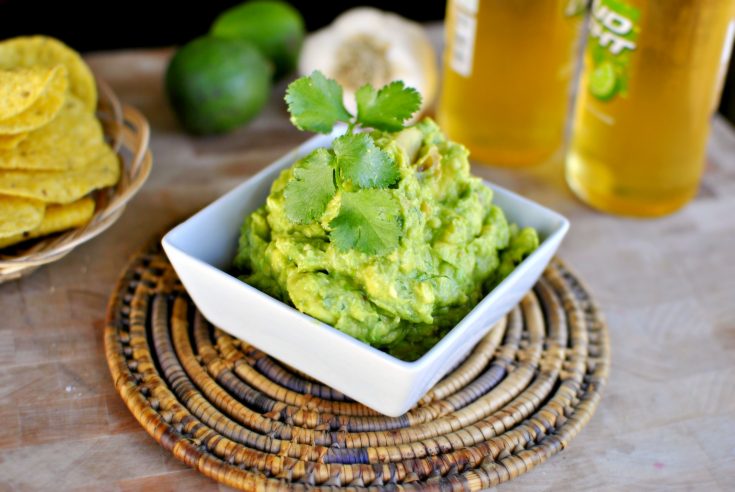 My cookbook Simply Scratch : 120 Wholesome Homemade Recipes Made Easy is now available! CLICK HERE for details and THANK YOU in advance!
Yield: about 1-1/2 cups
Roasted Garlic Guacamole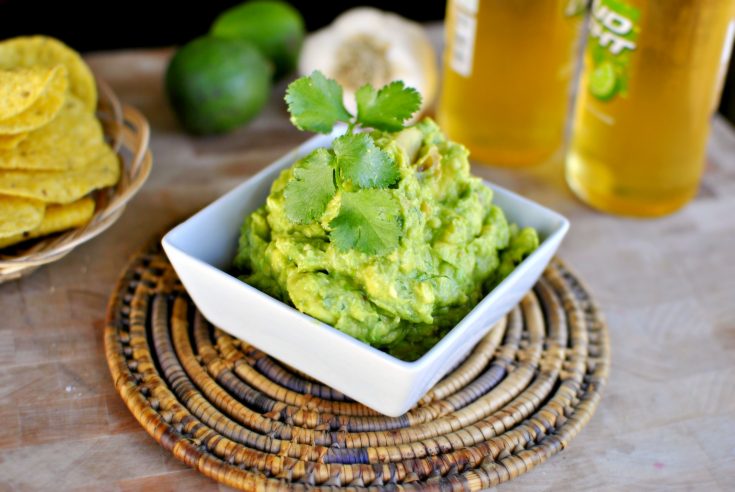 A ton of garlic... a couple of avocados, all mashed together with lime juice, cilantro for a delicious dip for your chip!

Prep Time 10 minutes

Cook Time 45 minutes

Total Time 55 minutes
Ingredients
2 heads of garlic
1-2 tablespoons olive oil
kosher salt and black pepper
2 large avocados
juice of 2 large limes or about 1/4 cup
1-2 tablespoons chopped fresh cilantro
1 clove fresh garlic, squeezed through a garlic press or minced
corn tortilla chips, for serving
Instructions
Pre-heat your oven to 400°.
Cut off the top third of the two heads of garlic to expose all of the garlic cloves inside.
Place into oven-safe dish, drizzle with olive oil and sprinkle with a couple pinches of kosher salt and a pinch of black pepper.
Cover with foil and roast for 45 minutes. Remove and let cool before handling.
Halve the avocados, remove the pit and scoop out the flesh into a large bowl. Squeeze in the juice from the limes and add in the cooled roasted garlic cloves [either squeeze the garlic heads over the bowl or pick out with a fork], mash the two together until slightly chunky guacamole starts to form.
Lastly add in the chopped cilantro, fresh garlic and season it with a couple pinches of salt. Stir that all together and serve along side some corn tortilla chips.
[this post contains affiliate links.]