This Asian Cabbage Slaw is a light and healthy, this slaw is like summer in a bowl! Fresh cabbage, carrots and peppers tossed in a basil ginger dressing!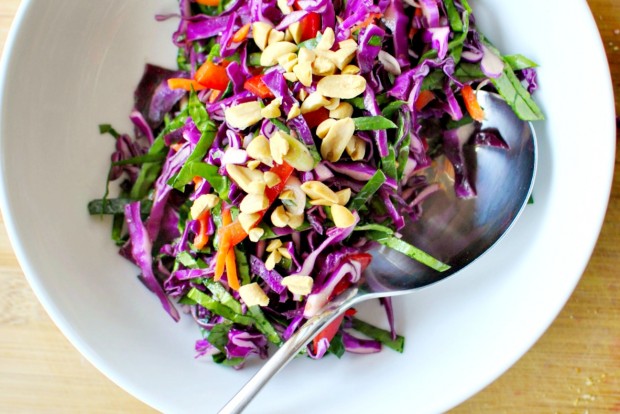 This is what I call summer in a bowl.
You guys I'm so excited about this slaw because is loaded-to-the-max with veggies and is pretty healthy. This slaw is crunchy, flavorful and it's one of those slaws that can be transformed from side dish to main dish with the addition of some protein aka grilled chicken or shrimp.
I made this recipe for a few of my girlfriends last weekend when Pat was up north wild turkey hunting. And you know what they say; "when the guy is away, the girl will invite her girlfriends over for a feast of a dinner".
Or something like that.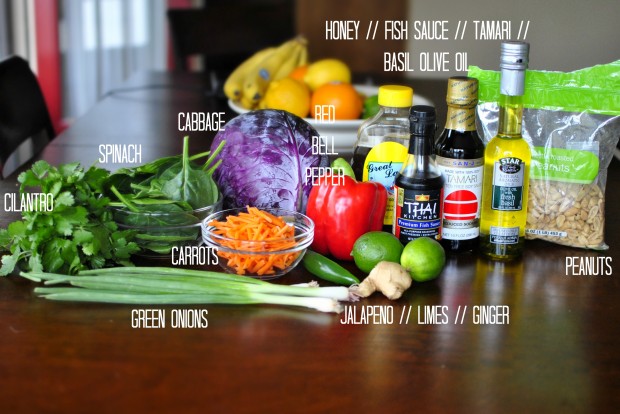 I originally was going to make this recipe I found in Bon Appétit magazine, but then I started changing things. I just couldn't help myself. It's just what us food people do. Between the four of us, we proudly polished off the whole bowl of slaw on top of eating ourselves silly with these satay skewers and big fat slices of this cheesecake.
By the end we all were in a food coma. Mission accomplished.
This is a one bowl sort of deal. Unless you're a blogger then it's several bowls, but it's practically a cinch to whip up.
First, start with the dressing by adding 3 tablespoons of basil infused olive oil into a good-sized bowl.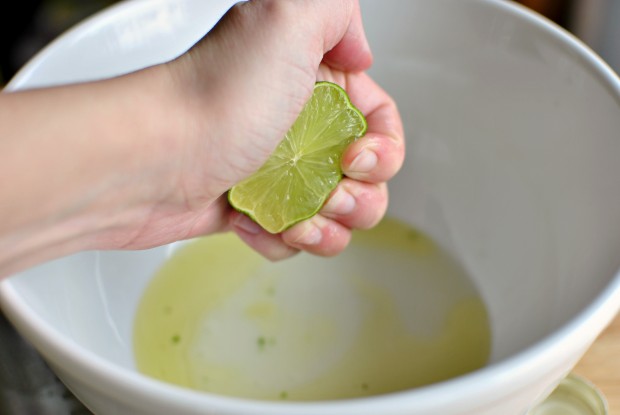 Next, squeeze in a few limes. Mine were small so I used two which gave me about 2 tablespoons, give or take.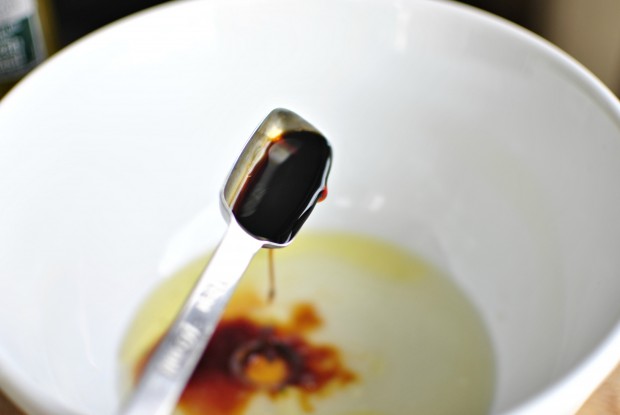 Then measure and add in 1 tablespoon of low-sodium tamari (or use a low sodium soy sauce).
Next add in 1 teaspoon honey.
Then 1/2 teaspoon fish sauce.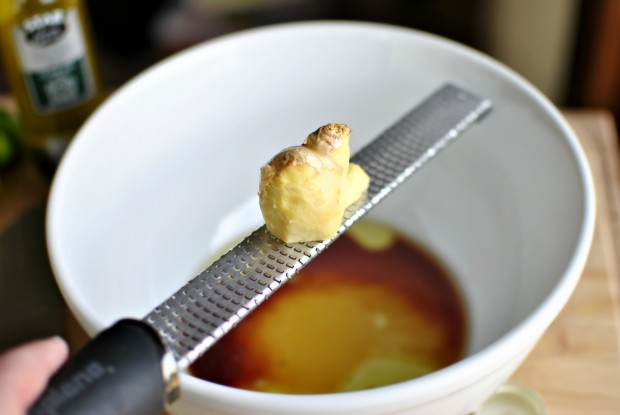 And then grate in 1 teaspoon of fresh ginger root.
Next, give it a whisk, set it off to the side and move on to the veggies.
Finely dice up half a (seeded and de-ribbed) jalapeño and add it to the bowl. Watch out for flying juices while dicing, I had a close call when some juice landed dangerously close to my eyelid. It could've been bad. So bad.
Also, be sure to wash your hands thoroughly.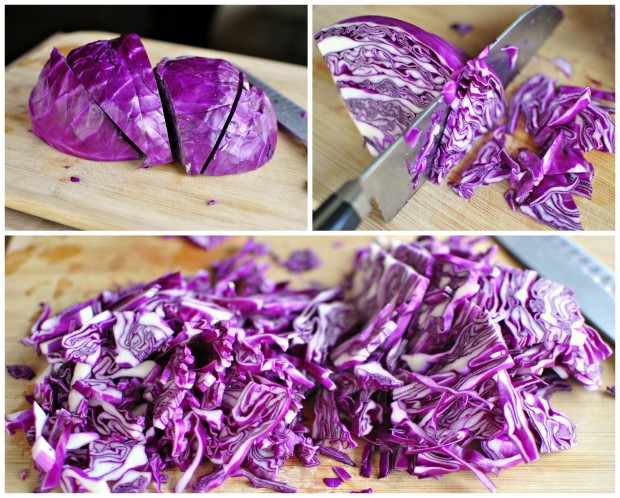 Next, grab a half a head of purple cabbage, quarter it and slice it thin.
Then stack quite a few baby spinach leaves, trim off the stems and slice thin, to match the cabbage of course and add those to the same bowl.
Next, add in a half cup of carrots, you can use the bagged kind or finely julienne whole carrots.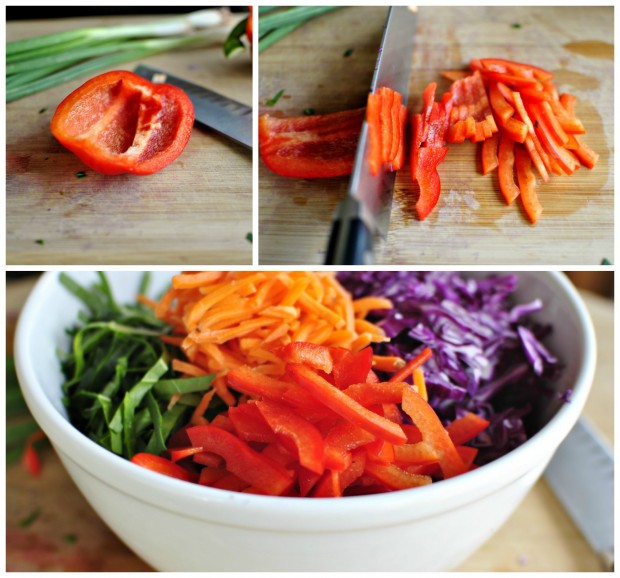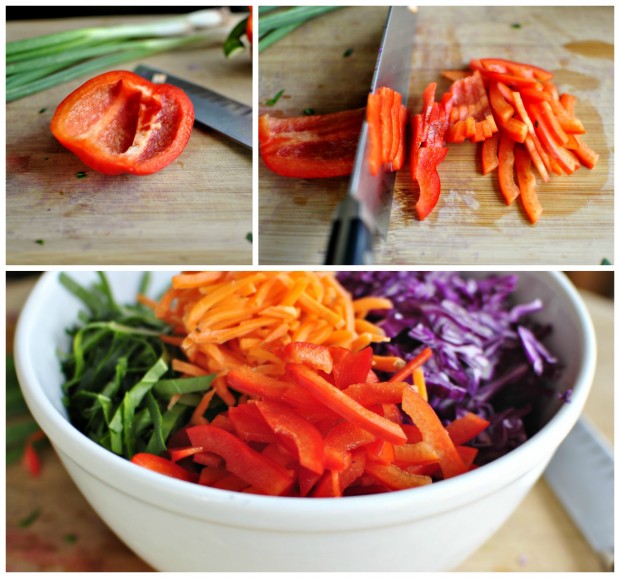 Then slice a "cheek" off of a red bell pepper and trim off any of the white membrane from the inside. Cut it in half lengthwise and slice thin strips as well.
Next, slice up three green onions and a huge handful of cilantro.
And then add it to the bowl with the rest of the rainbow ingredients.
Lastly, toss to combine.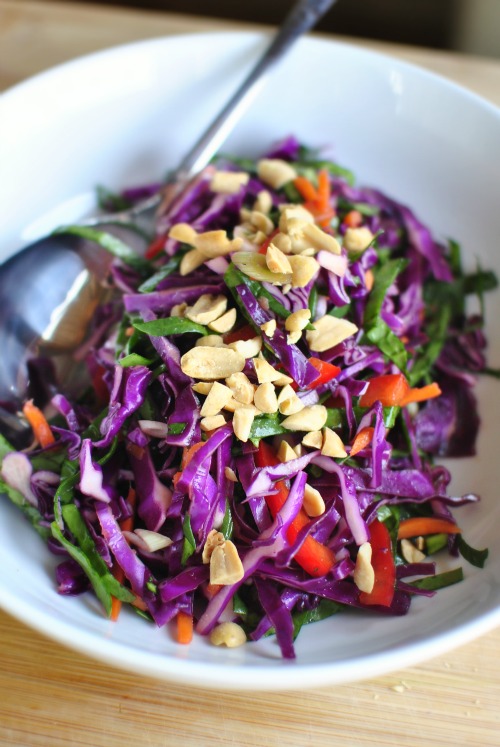 Finally, serve with a few chopped peanuts on top for more added crunch.
I could really make a meal out of this healthy Asian cabbage slaw. It's packed full of nutritious goodness and makes putting down a slab of that cheesecake totally worth it.
Enjoy! And if you give this Asian Cabbage Slaw recipe a try, let me know! Snap a photo and tag me on twitter or instagram!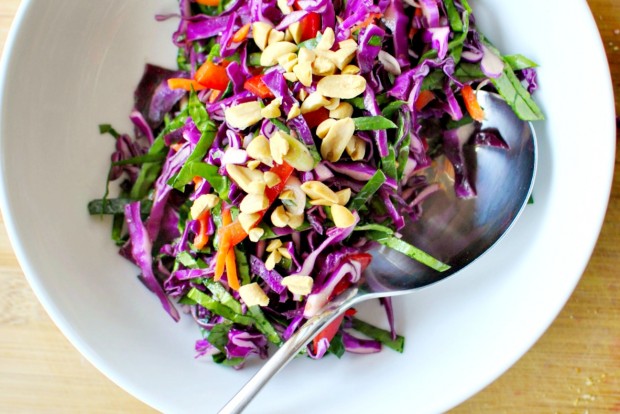 My cookbook Simply Scratch : 120 Wholesome Homemade Recipes Made Easy is now available! CLICK HERE for details and THANK YOU in advance!
[this post contains affiliate links.]
This post may contain affiliate links.
Buy the Cookbook: Simply Scratch : 120 Wholesome Homemade Recipes Made Easy Now available on Amazon »
THANK YOU in advance for your support!