These Buffalo Chicken Flatbread Pizzas are perfect for a quick and easy dinner or as a fun appetizer for game day. Naan is spread with homemade buffalo sauce, shredded jack cheese and cooked chicken and topped with crumbled blue cheese cheese. Serve with more buffalo sauce, blue cheese dressing and sliced green onions. Makes 2 in about 15 minutes.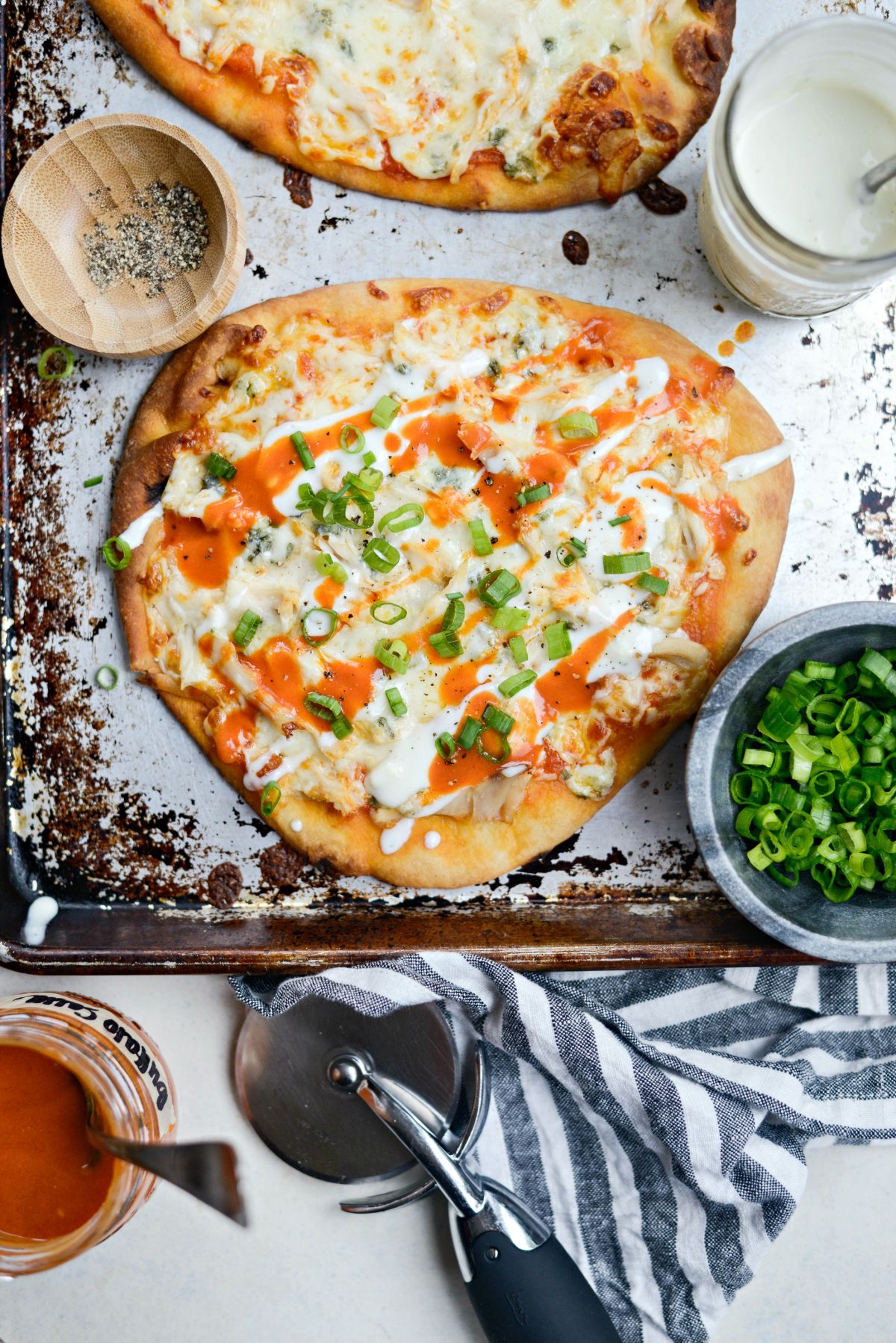 I'm totally obsessed with Frank's. Like really obsessed. Like I so put that **** on everything. I swear.
For example, in the past month I've put it in or on my tacos, nachos, wings, popcorn, eggs and now my pizza. I even had a little anxiety issue while pouring the very last of the bottle in order to make this recipe. I clearly need therapy. But the retail kind not the sit down in a chair and gush about how I'm sickly addicted to Frank's Red Hot I am.
Because I mean c'mon that would be crazy.
These buffalo chicken flatbread pizzas or naanzas (did I just invent something here?) are just another way to fuel my love for Frank's. They're simple, delicious and only take 15 minutes!
Here's what you will need to make these naanzas: naan bread (regular, garlic or whole wheat), olive oil, buffalo sauce, monterrey jack cheese, 1 cup leftover shredded cooked chicken, blue cheese, green onions and blue cheese dressing. I used this blue cheese dip recipe and thinned it out with a little more buttermilk so it was thin enough to drizzle.
Blue cheese, add that to the list of addictions.
Now I feel I must confess. I did NOT make my own naan this time.I know, tisk-tisk. But I honestly just love this brand and always have it on hand for quick dinners. It's all natural so I feel less guilty about it and shortcuts sometimes are a necessity in life amiright?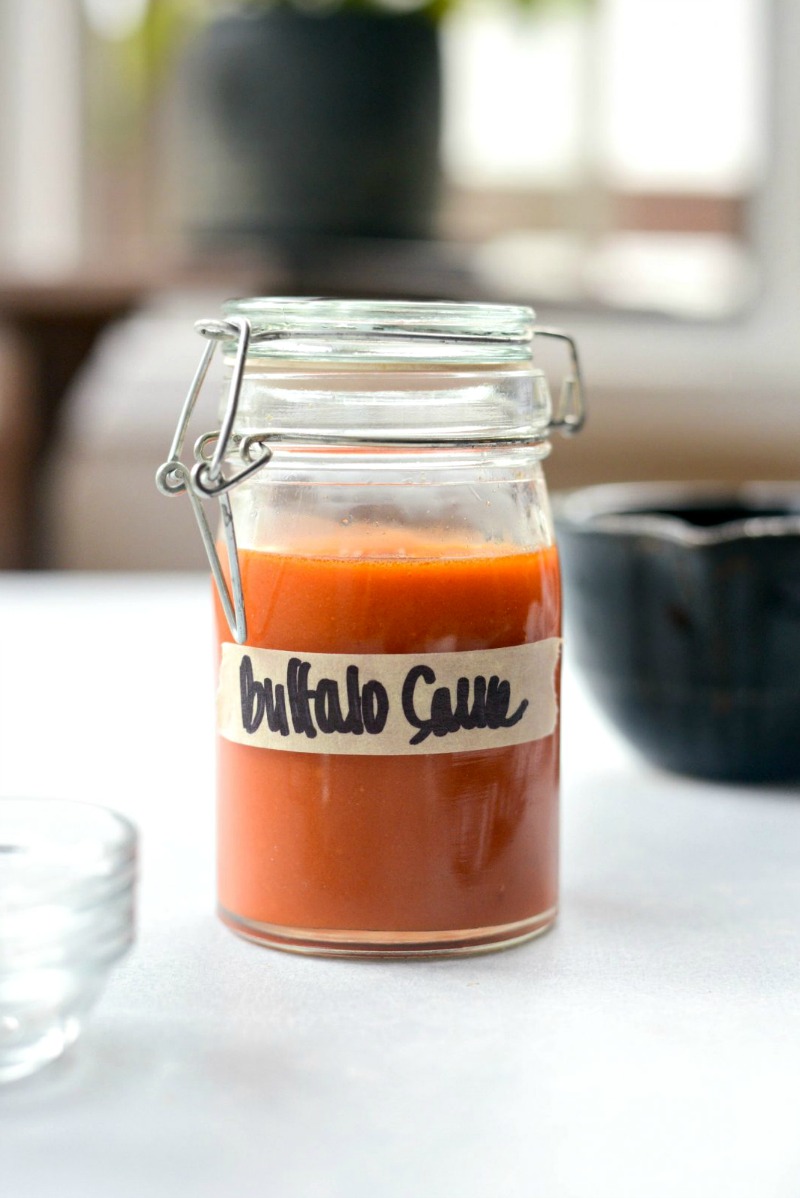 Start by making the buffalo sauce. It's pretty easy to throw together and only calls for a few ingredients. My buffalo wing sauce is semi-homemade because in our house, using anything other than Frank's would be illegal. If you have Frank's on hand, you also probably have butter, garlic powder and cayenne.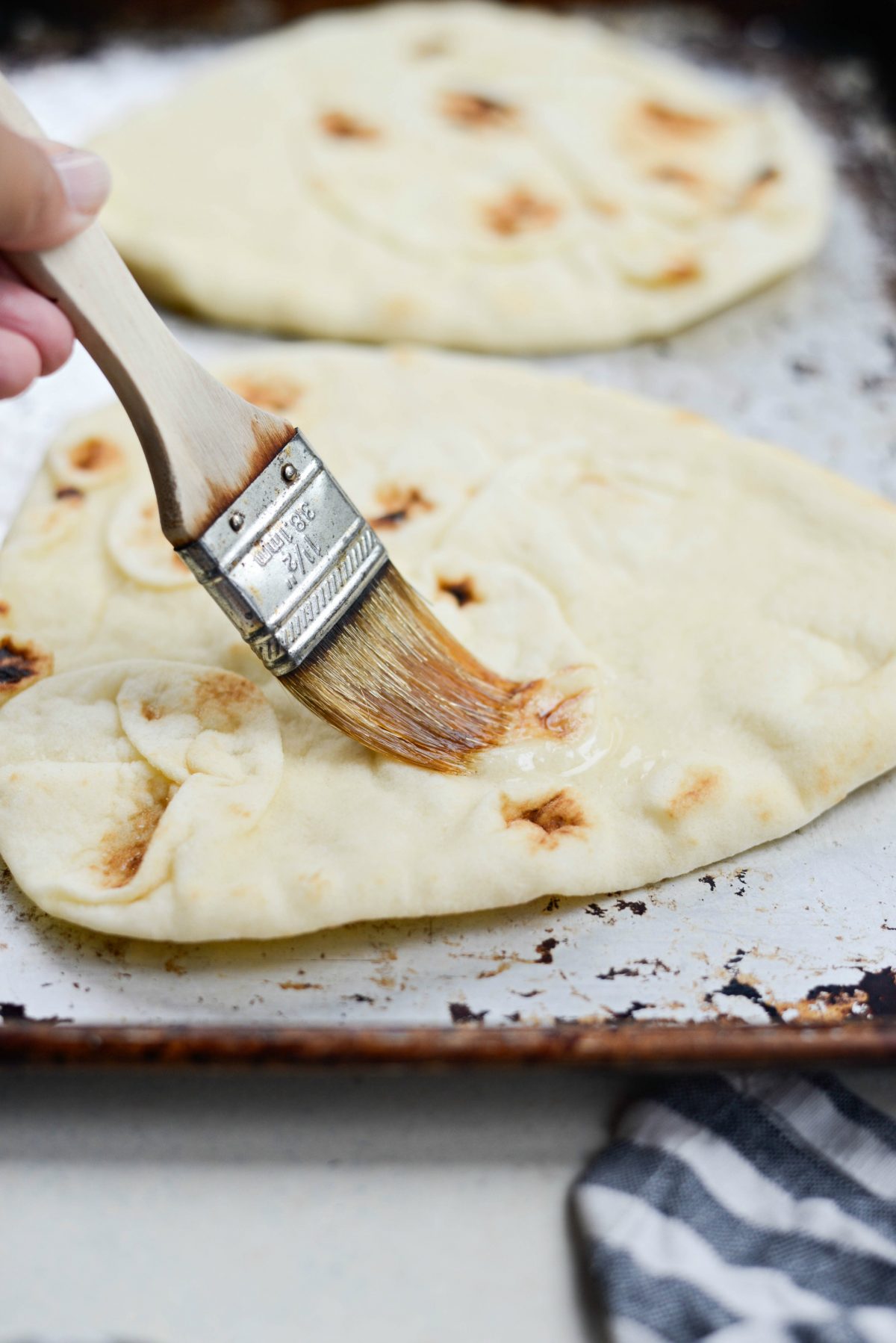 Place the naan onto a metal, rimmed baking sheet and lightly brush the top side with olive oil.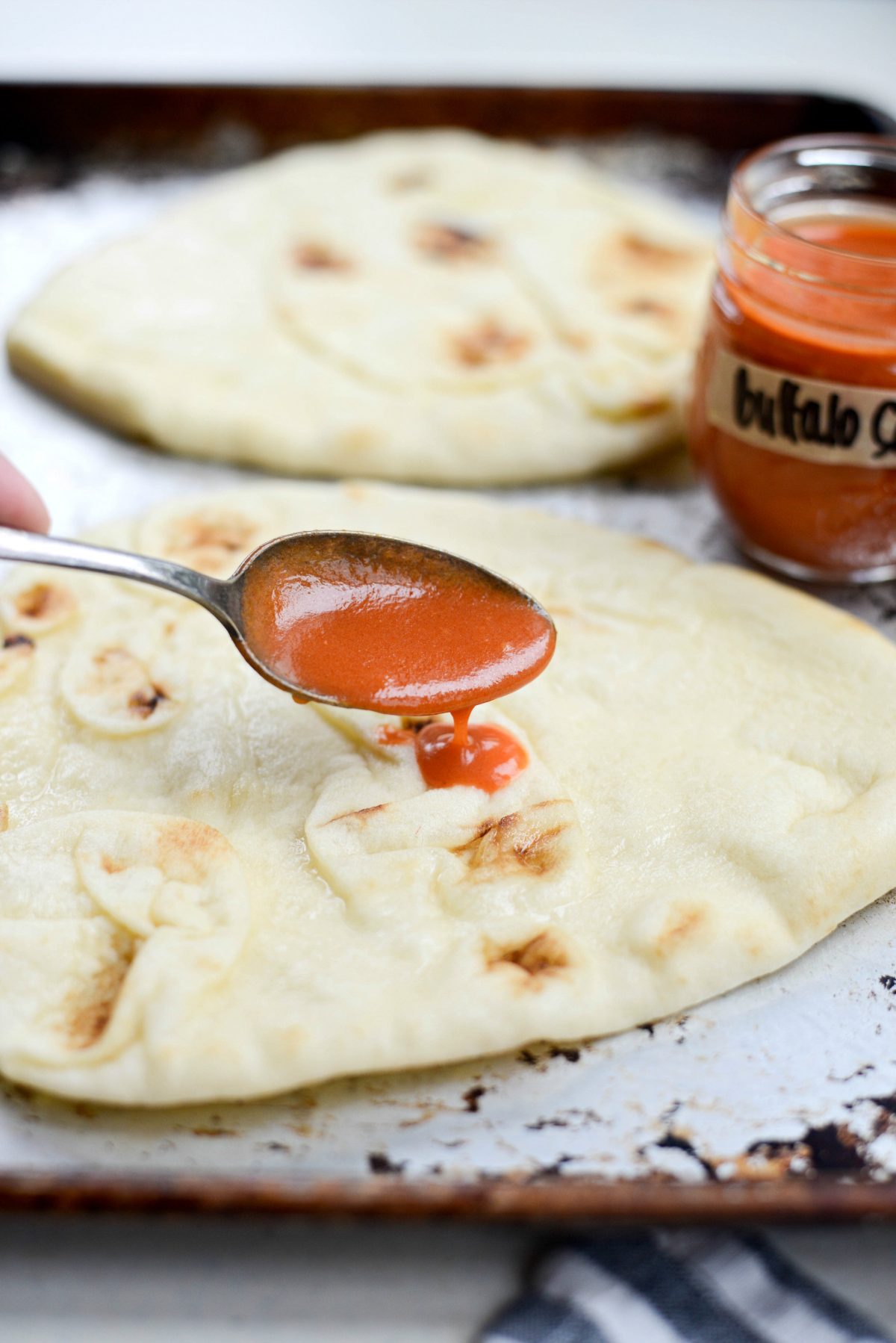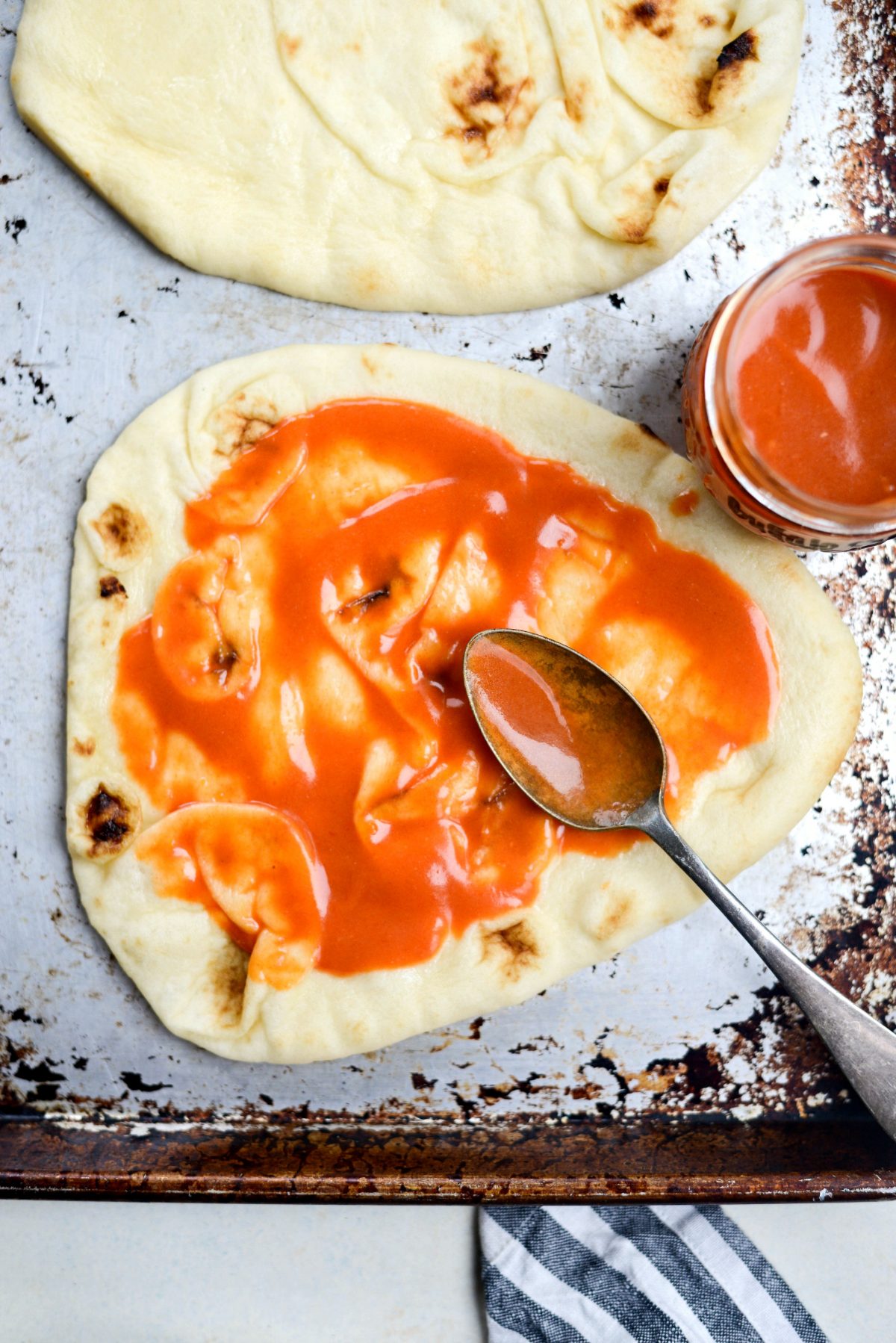 Next add a couple of spoonfuls of the buffalo sauce onto each naan and spread out leaving a 1/2-inch edge.  You'll most likely have left over sauce that you can save for pretty much anything that or just double the rest of the pizza ingredients (keeping the sauce recipe the same) to make more pizzas.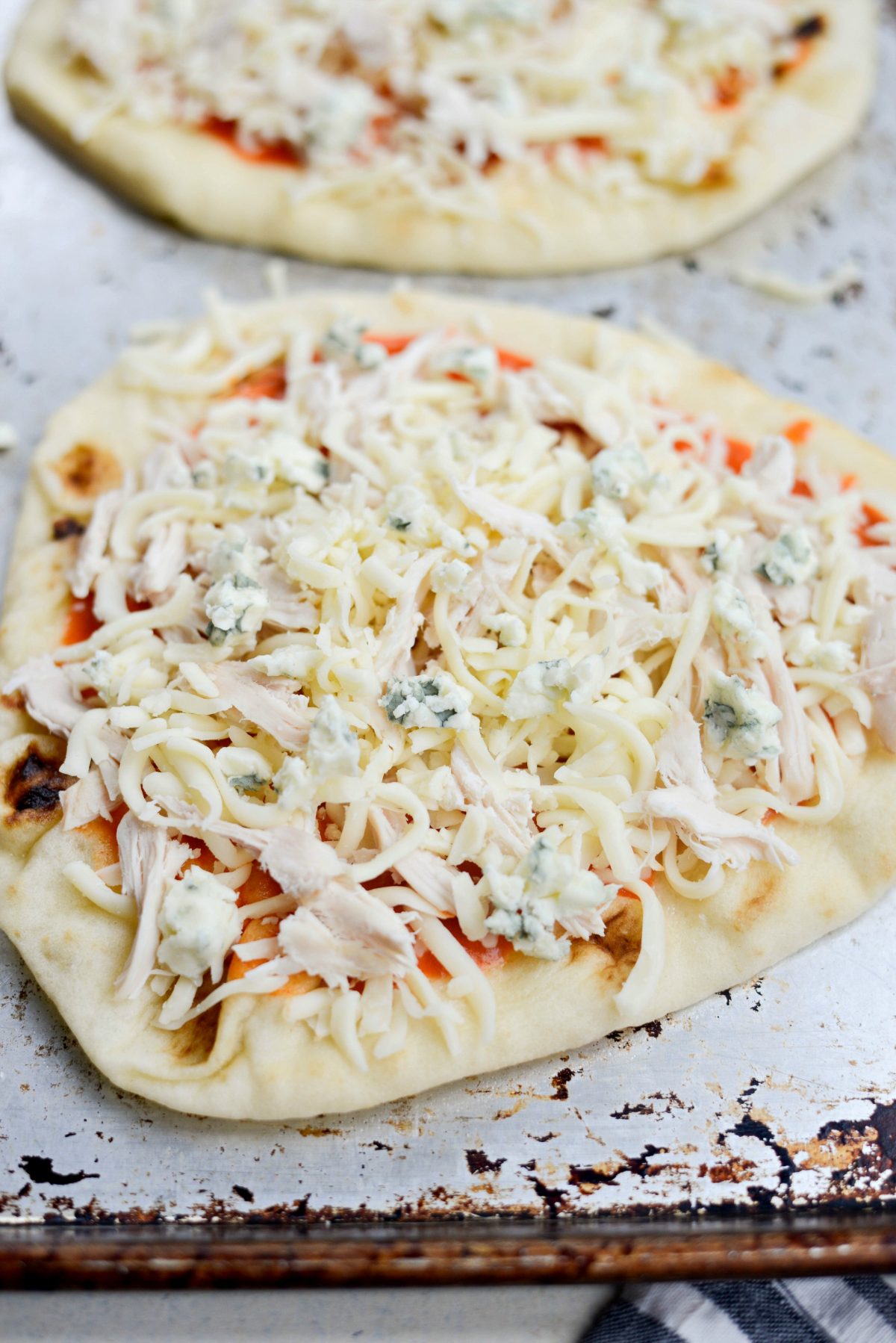 Then sprinkle each pizza with the 1-1/2 cups of shredded jack cheese and 1 cup of shredded cooked chicken. Lastly, sprinkle with freshly crumbled blue cheese.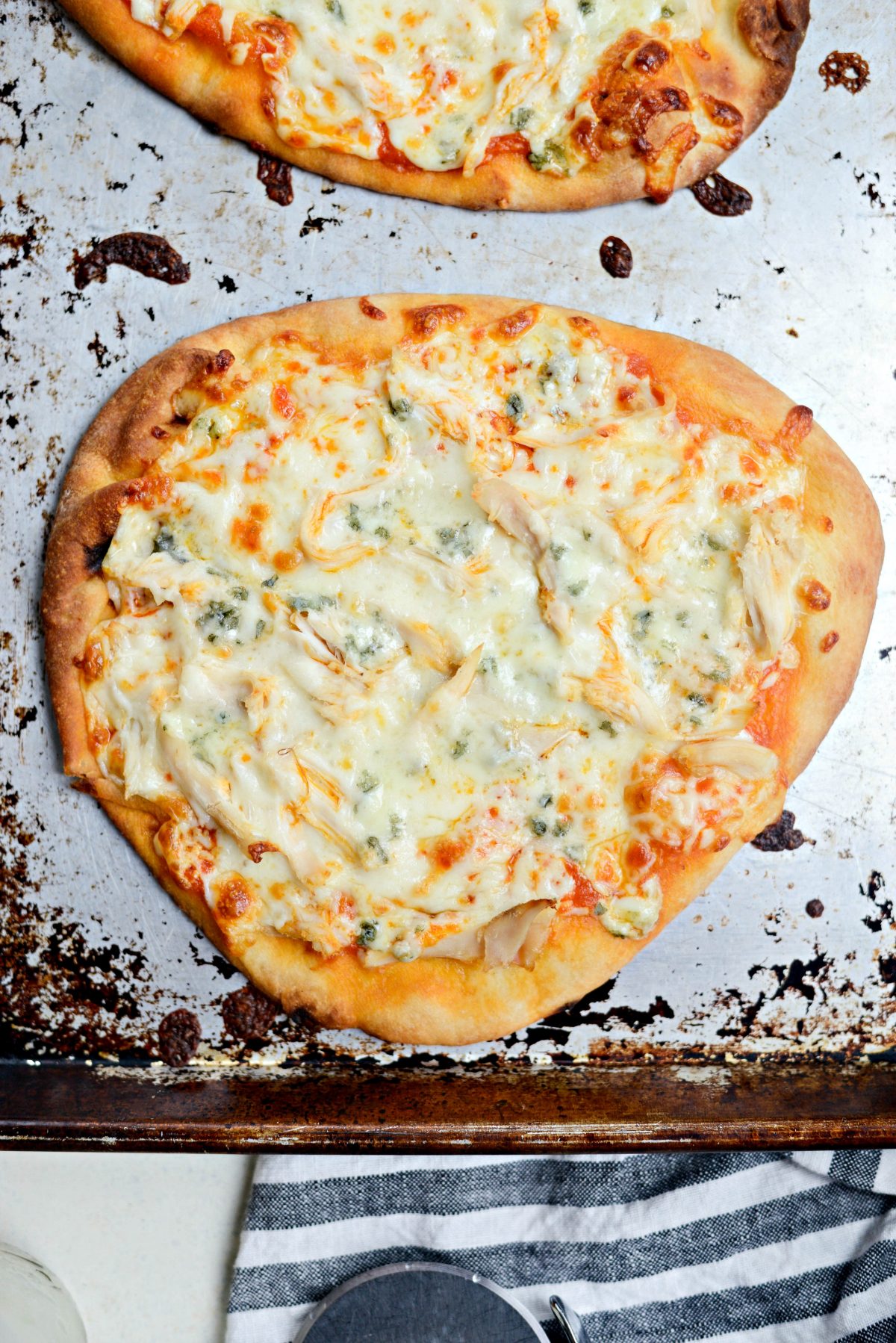 Next slide the pan into a preheated 425° oven. Bake for 10-12 minutes or until the cheese has melted and the crust is golden and crispy.
I wish you could smell this!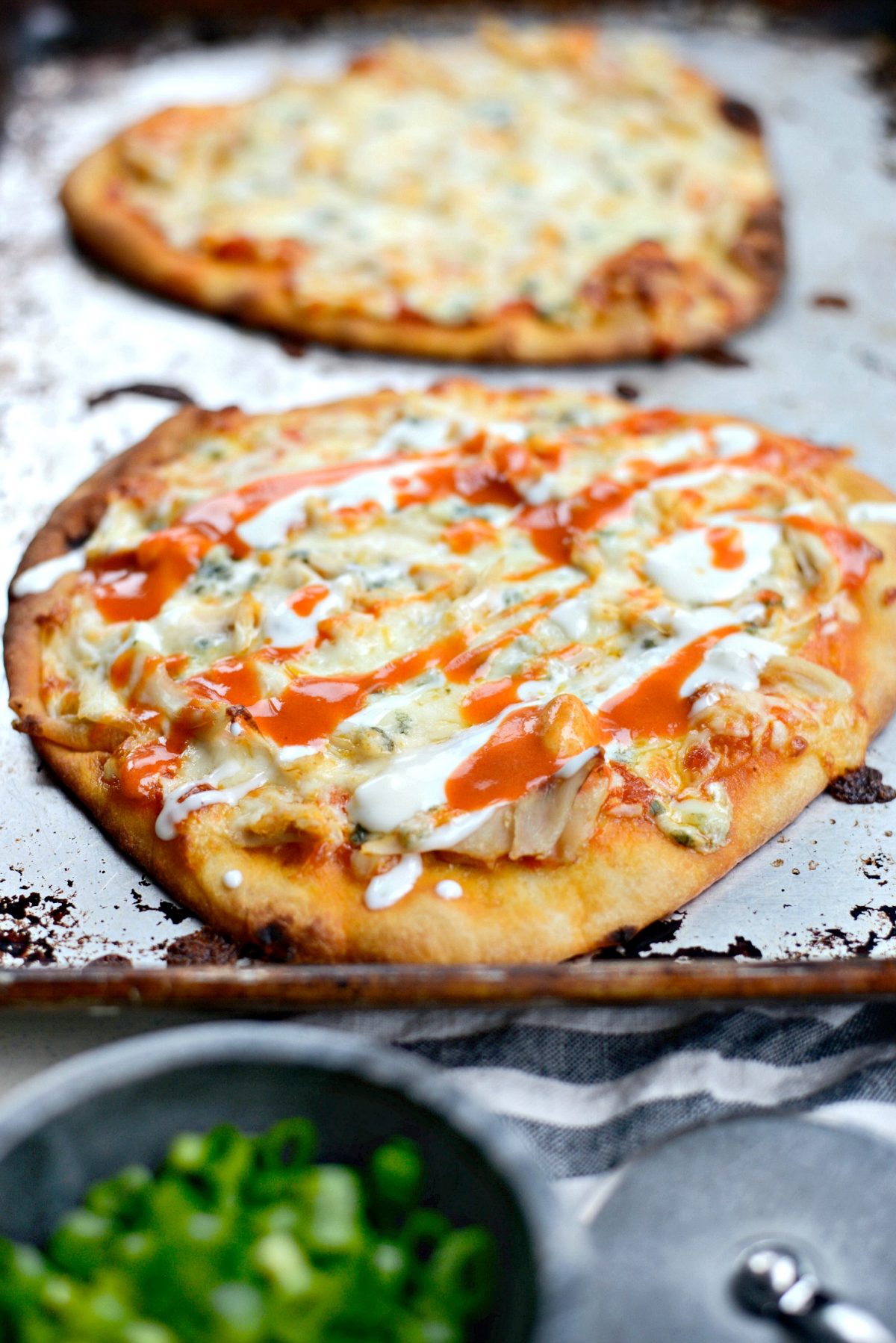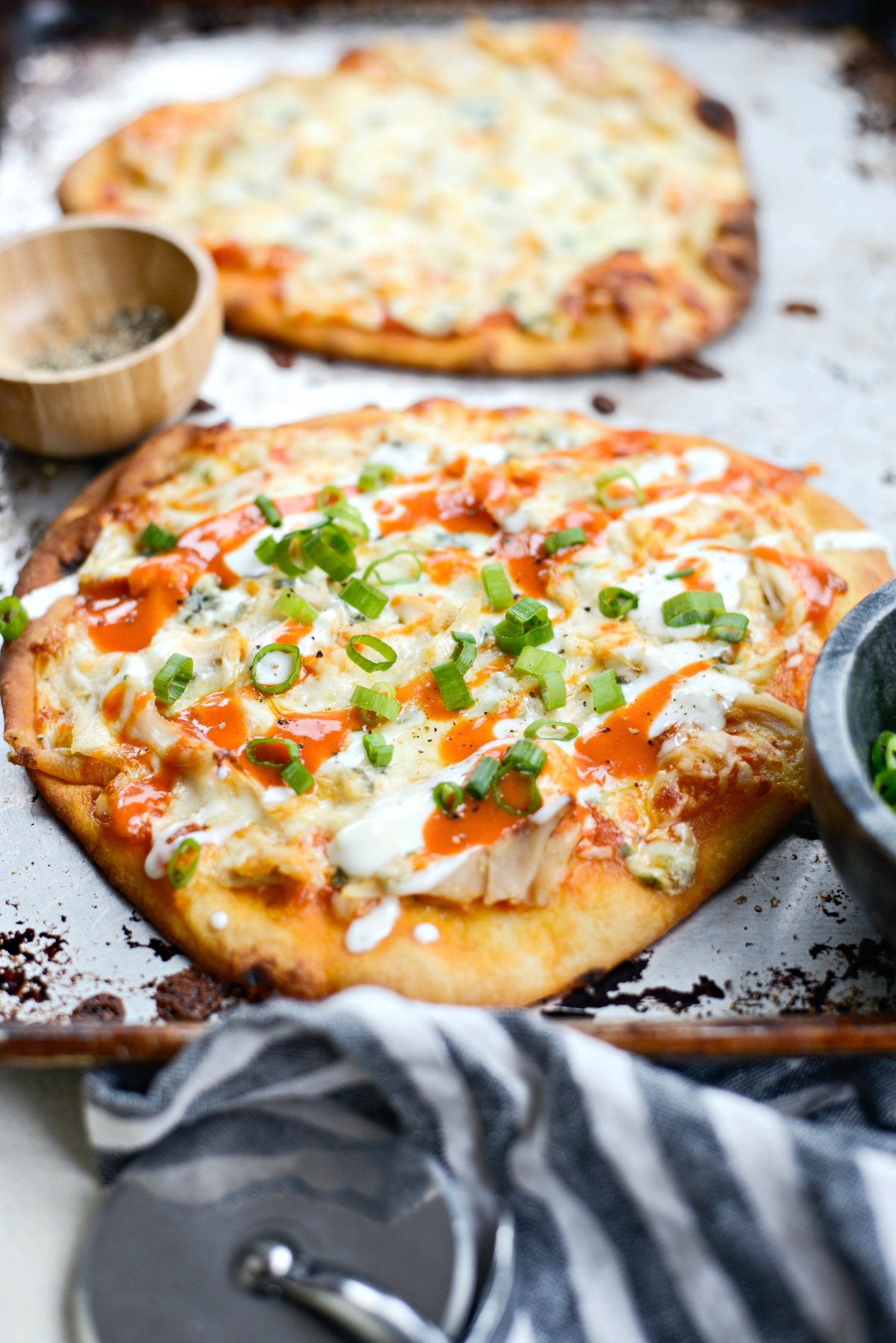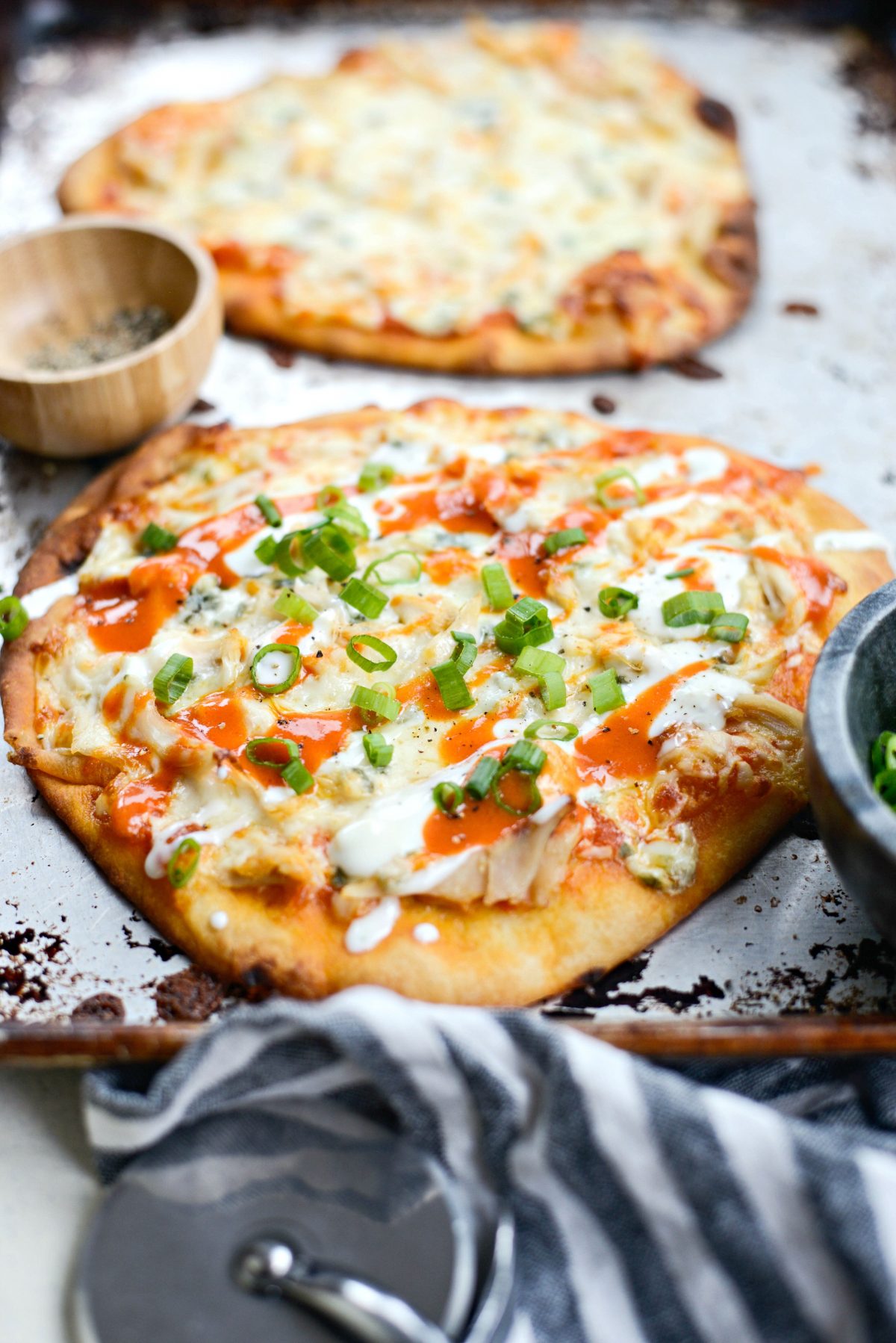 Before serving, drizzle each pizza with more buffalo sauce and blue cheese dressing. Sprinkle with a little freshly ground black pepper and sliced green onions.
Use a pizza cutter to slice the buffalo chicken flatbread pizzas into thirds and serve! Dinner, a kick-butt app or afternoon snack, whatever the reason I have no doubt these naanzas will be devoured!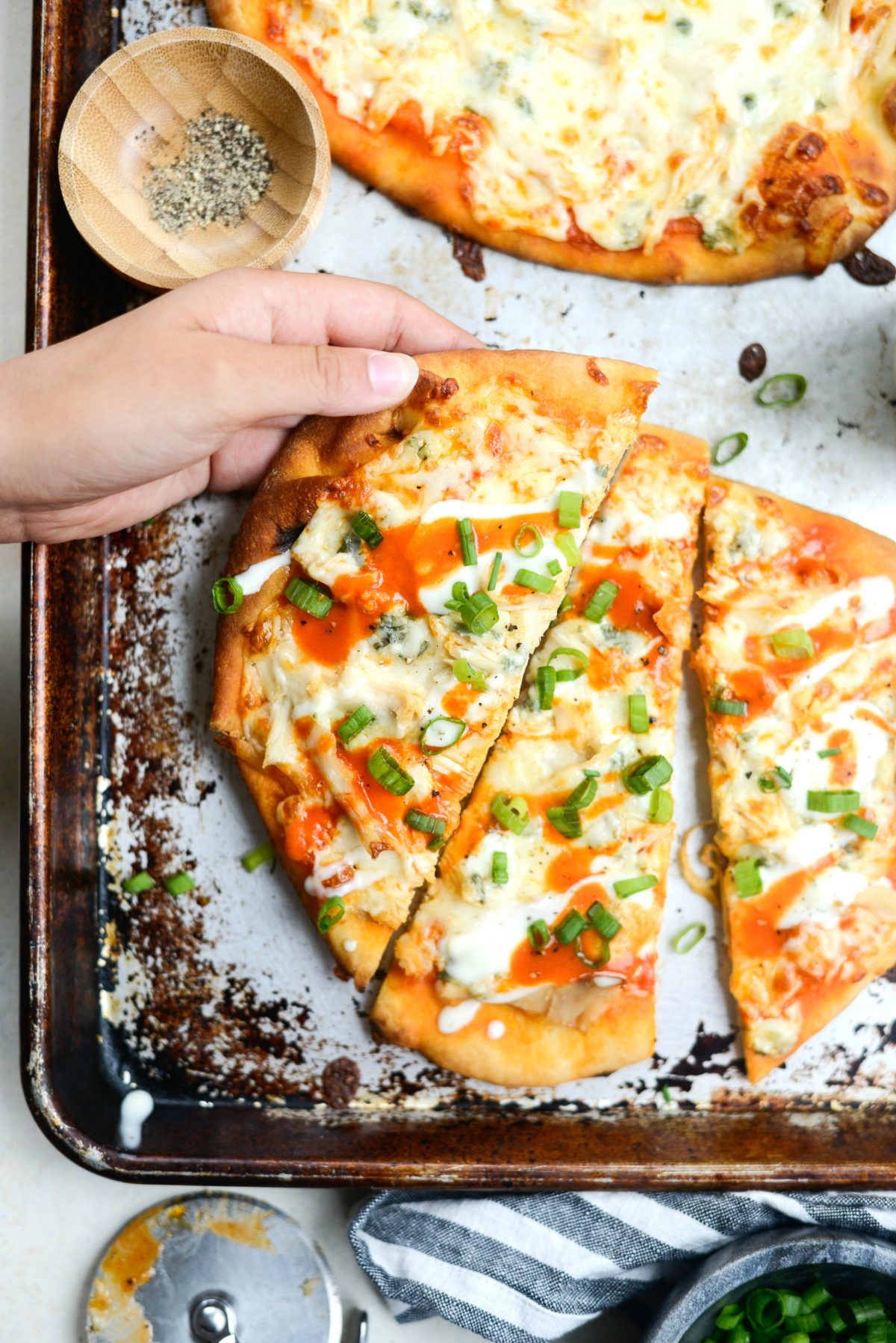 Enjoy! And if you give this Buffalo Chicken Flatbread Pizzas recipe a try, let me know! Snap a photo and tag me on twitter or instagram!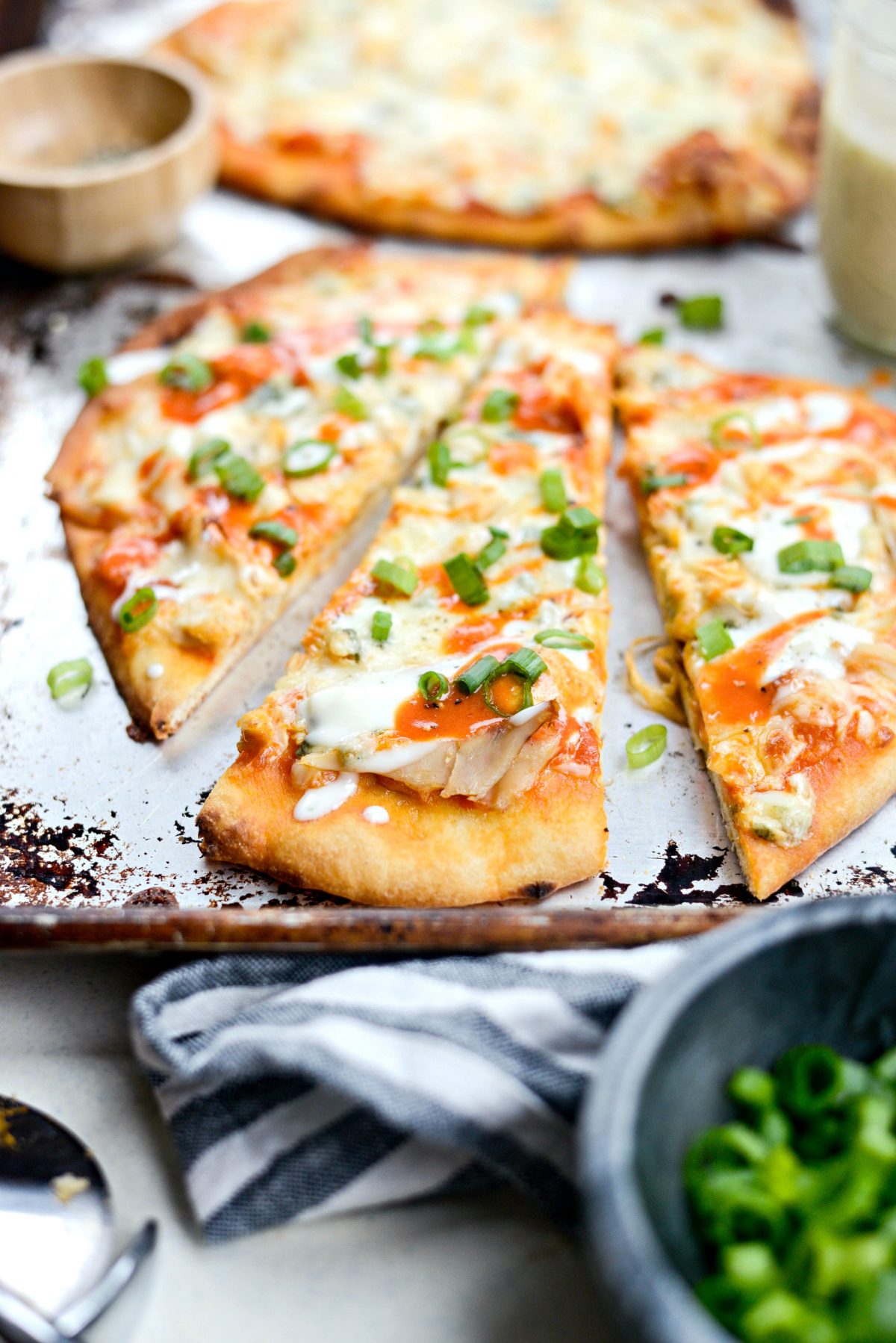 My cookbook Simply Scratch : 120 Wholesome Homemade Recipes Made Easy is now available! CLICK HERE for details and THANK YOU in advance! 
[this post contains affiliate links.]
This post may contain affiliate links.
Buy the Cookbook: Simply Scratch : 120 Wholesome Homemade Recipes Made Easy Now available on Amazon »
THANK YOU in advance for your support!