Homemade naan is probably the easiest bread to make EVER! Dip it in your favorite curry, toast for chips or eat as a wrap to a sandwich.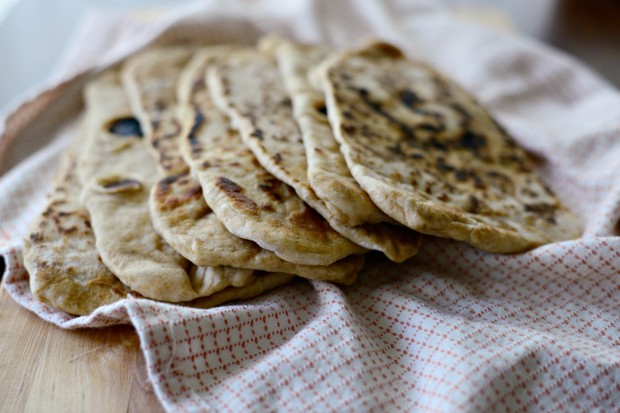 Homemade naan you guys!
Whether it's to wrap sliced grilled meat, caramelized onions and peppers for a bangin' sandwich or for tearing into chunks and dipping it into soups or stews. Naan is my favorite bread. It has also come to the rescue many many times when I've been less than thrilled to cook dinner. My personal favorite is using naan as the base for tomato and pesto pizzas, but I also love all on its own and dipped into melted butter.
I'm here to tell you that making homemade naan from scratch is pretty darn easy and a whole lotta fun. If you can make pizza dough, you can make naan. If you can't make pizza dough then you can still make naan. It's THAT easy. This delicious leavened bread recipe doesn't bake in the oven but in a hot buttered cast iron skillet. Which I love. But take some precautions and crack a window, open doors and if you have a ceiling fan… you may need to use it.
Even though my kitchen filled with a thin layer of gray smoke all was forgotten the moment my lips wrapped around a hunk of warm, freshly made naan dunked in a bit of melted butter.
Have mercy.
Place 1-1/2 teaspoons of sugar into a bowl.
Pour in 6 tablespoons of milk plus 2 tablespoons water that has been heated to 110-115 degrees. I measured them out into a small saucepan and heated on the stove top, using my instant read thermometer to alarm me when it reached that temp.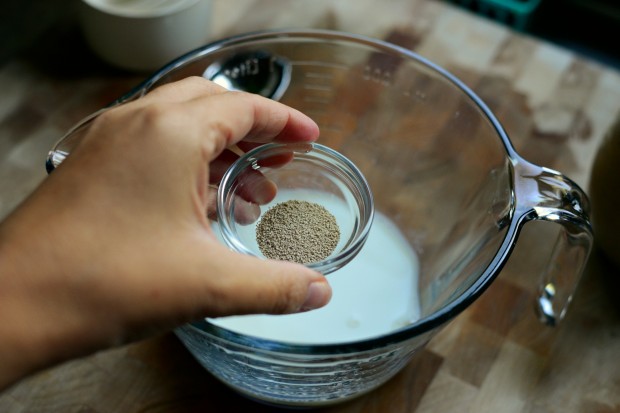 Next you will need 1/2 teaspoon of active dry yeast.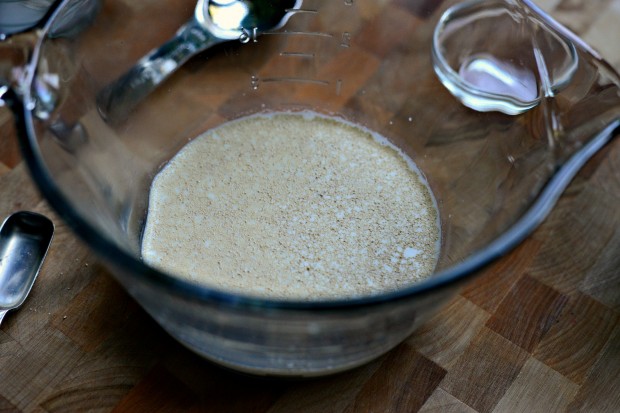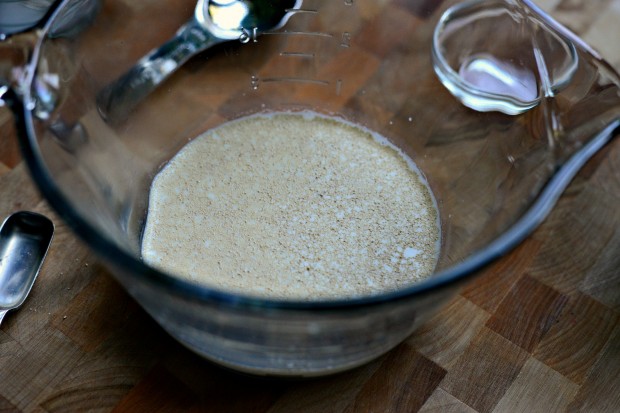 Sprinkle it over top and let it sit for 10 minutes.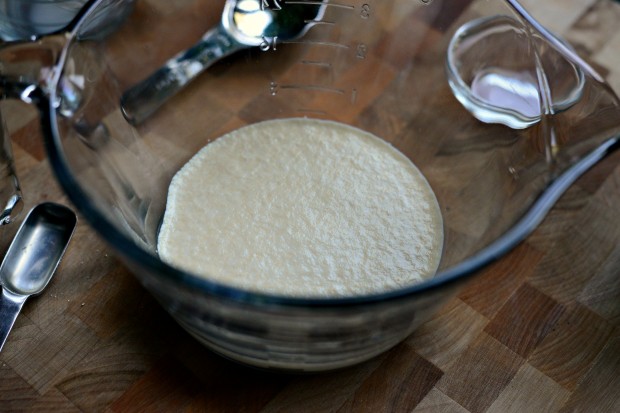 In those ten minutes the yeast should bloom and become slightly foamy.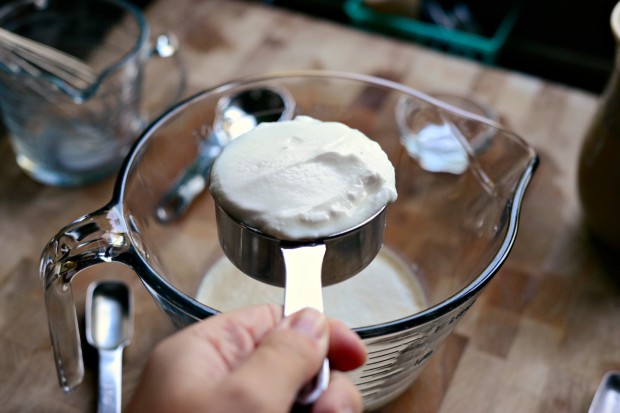 Next measure out a half cup of full fat plain yogurt.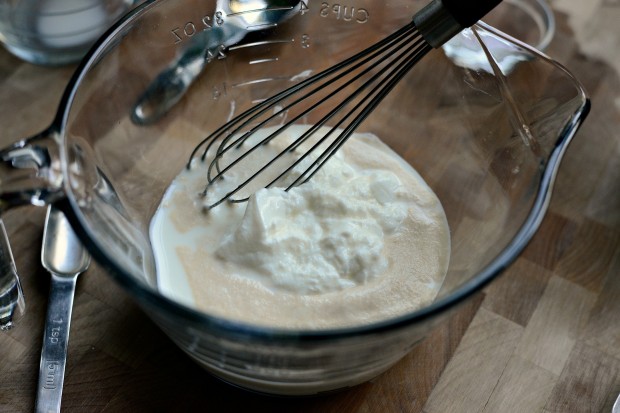 Add it into the bowl with the yeast…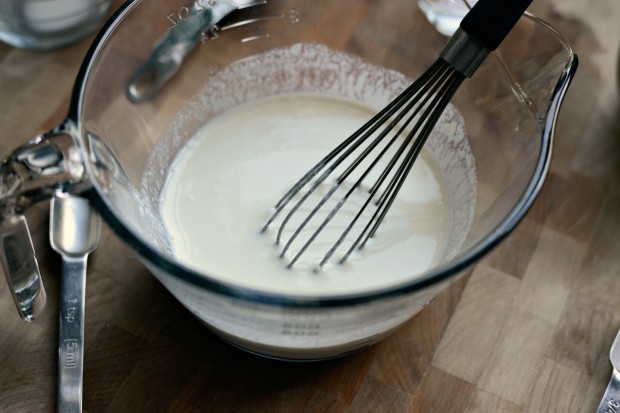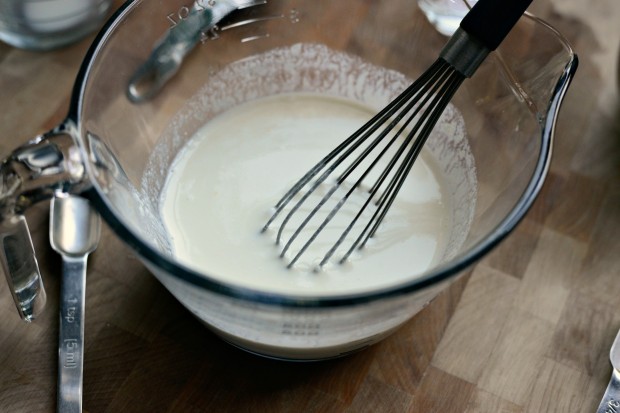 …and whisk to combine.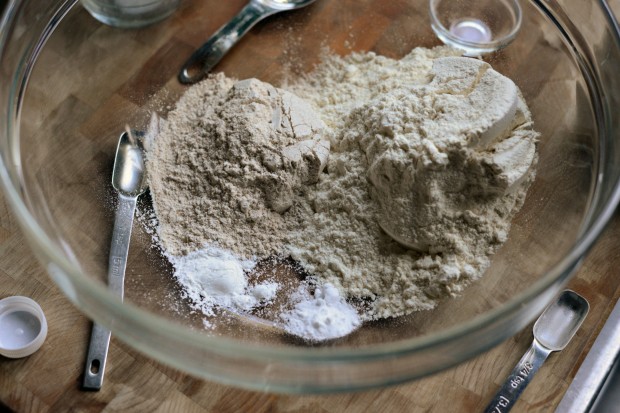 While the yeast was doing it's thing I measured out 1-1/2 cups all purpose flour and a half cup whole wheat flour plus 3/4 teaspoon baking powder and 1/2 teaspoon baking soda.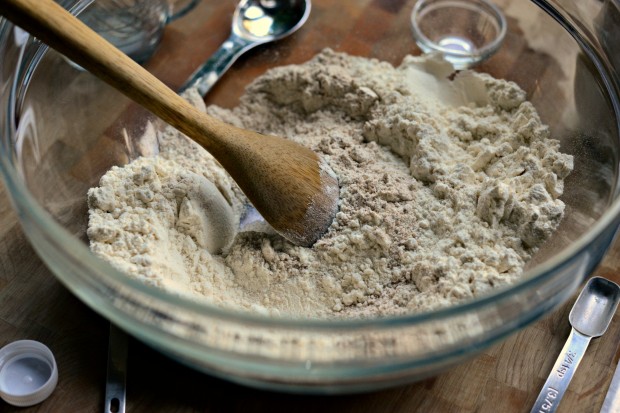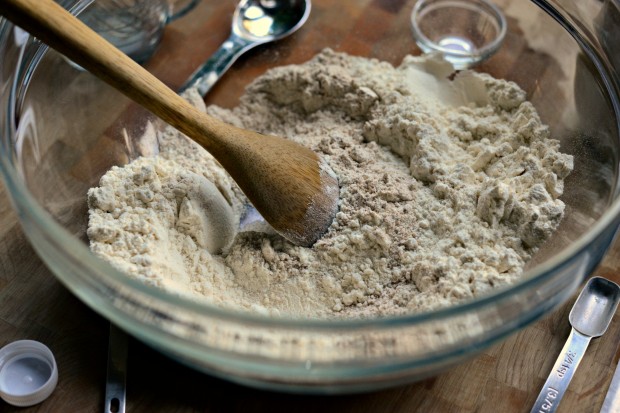 Stir with a spoon to combine.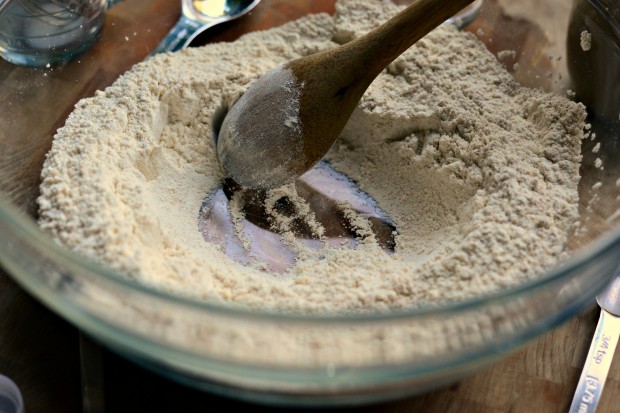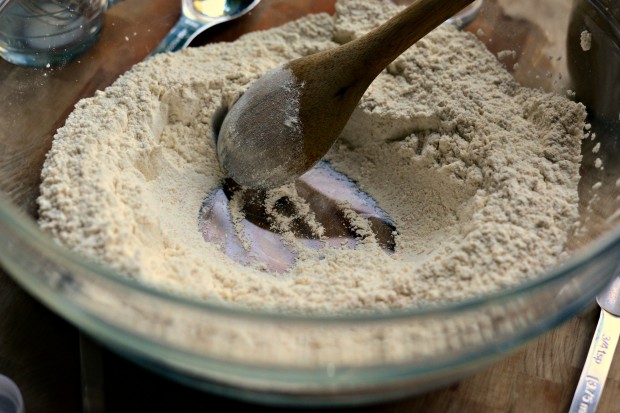 Make a well in the center…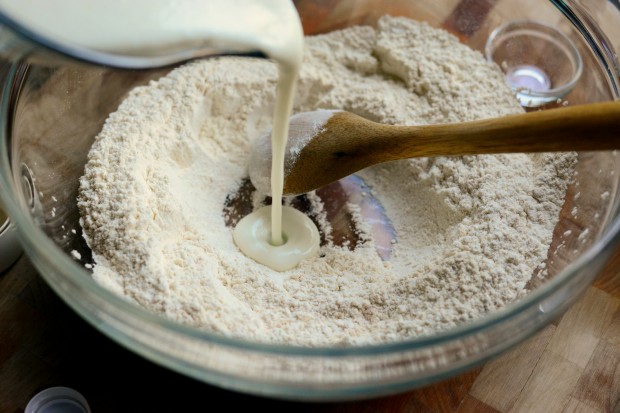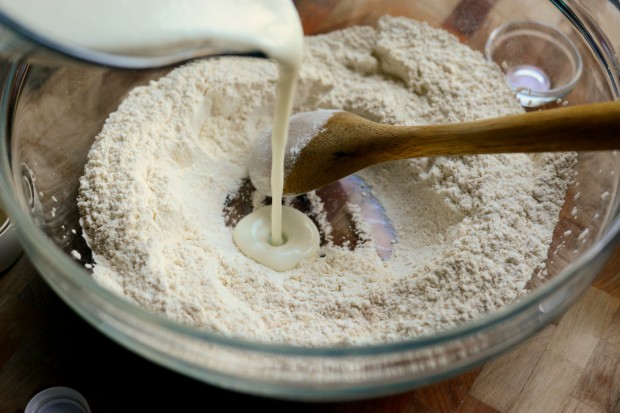 Pour the yogurt/yeast liquids into the center of the dry ingredients.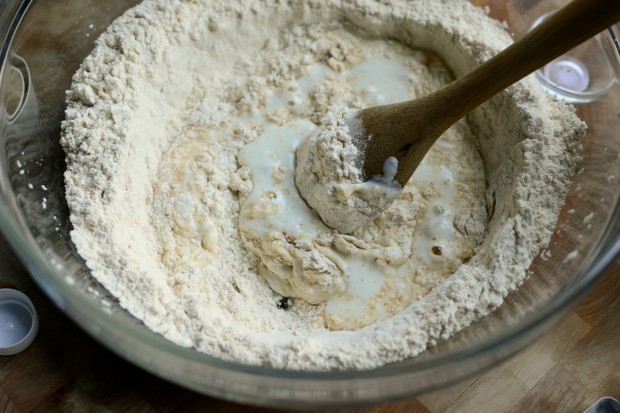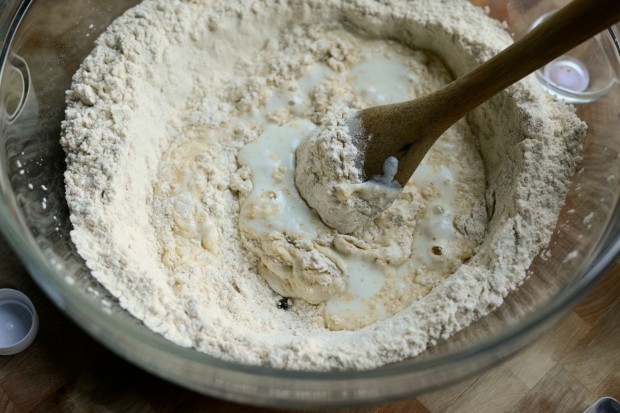 Slowly stir the dry into the wet ingredients…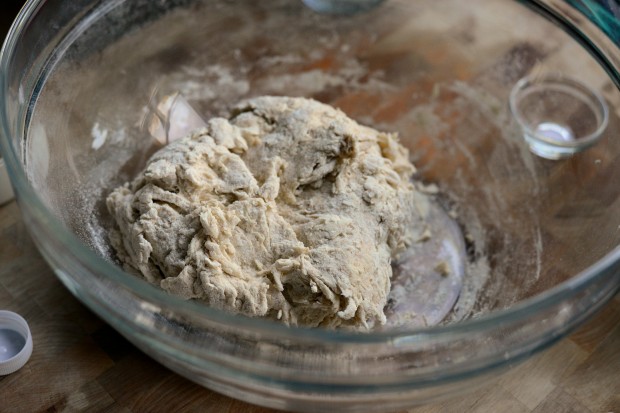 …until the wet and dry are incorporated and the dough has just come together.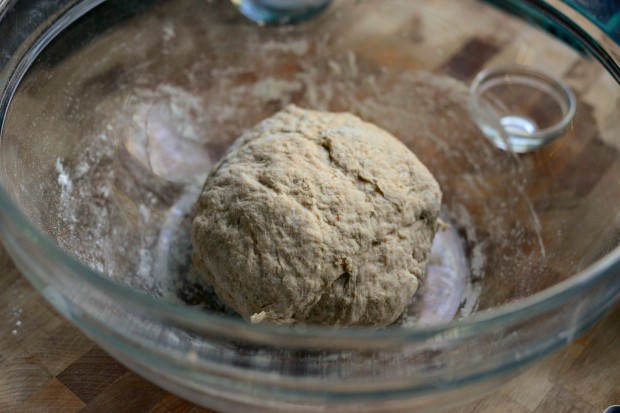 Knead by hand until the dough is smooth and form it into a ball.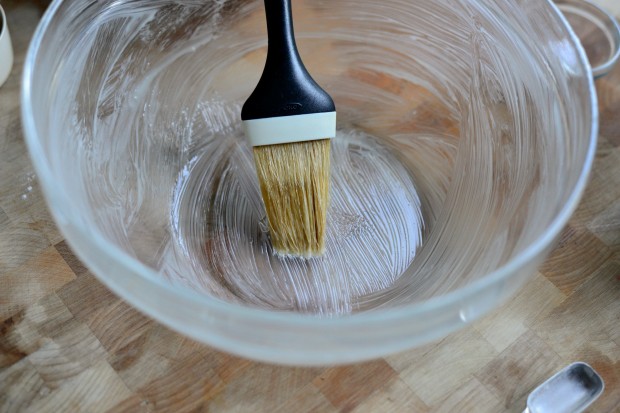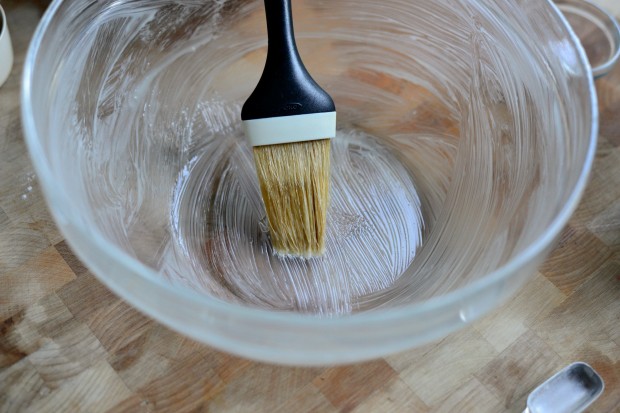 Lightly brush a medium sized bowl with melted butter.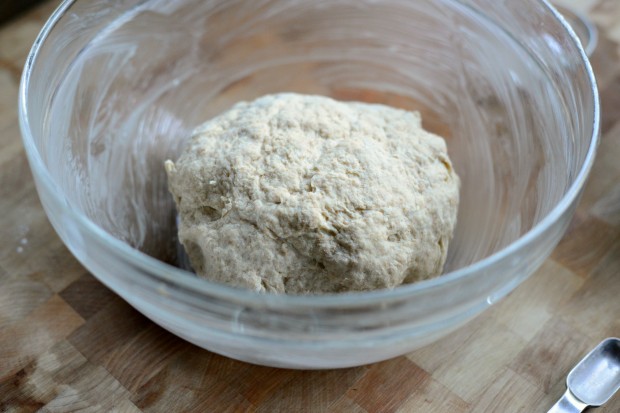 Place the ball of dough into the buttered bowl…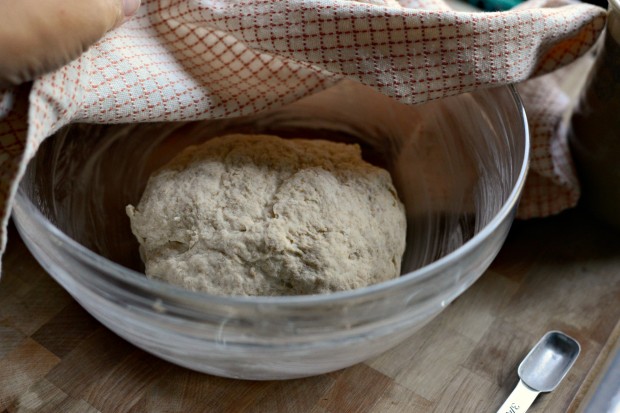 Cover with a clean kitchen towel and place in a warm place to rise for 1 hour. My house isn't particularly warm all the time so in those instances I like to place the covered bowl on the top of my dryer if I'm doing laundry at the time or next to my oven if I'm preheating it for some reason.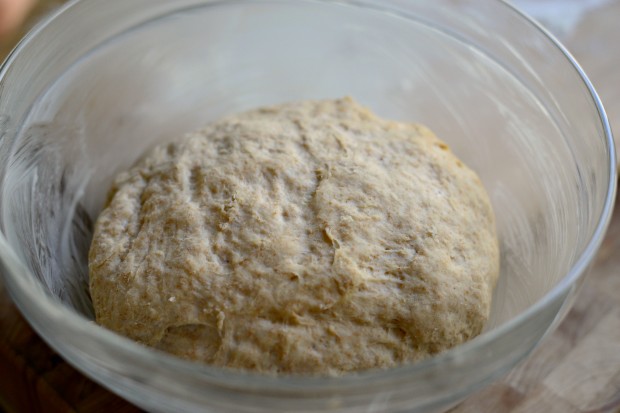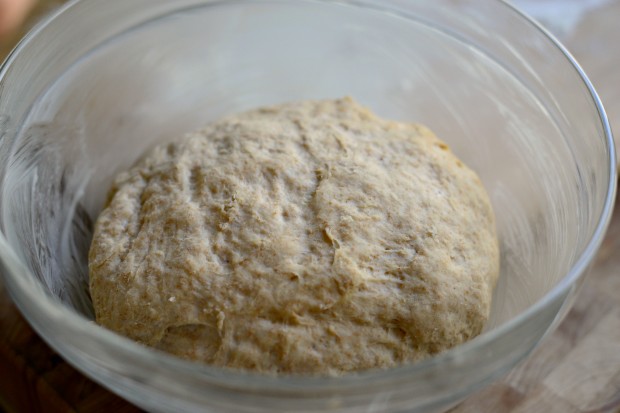 Once the time is up and the dough has risen and doubled in size…
Use your hands to punch it down, expelling all of the air out.
Turn the dough out onto a generously floured surface and cut in half. I like using a pizza cutter for this.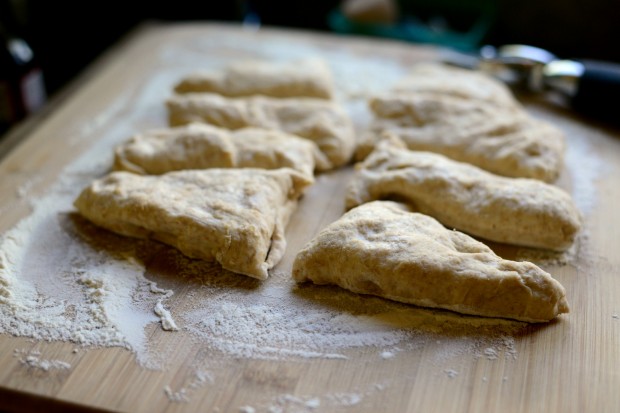 Cut each half into 4 triangular pieces for a total of 8.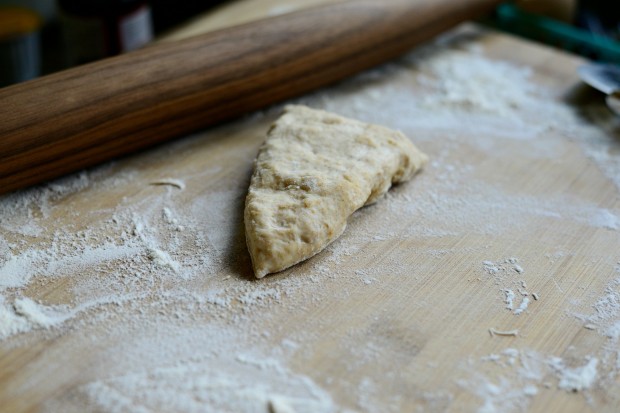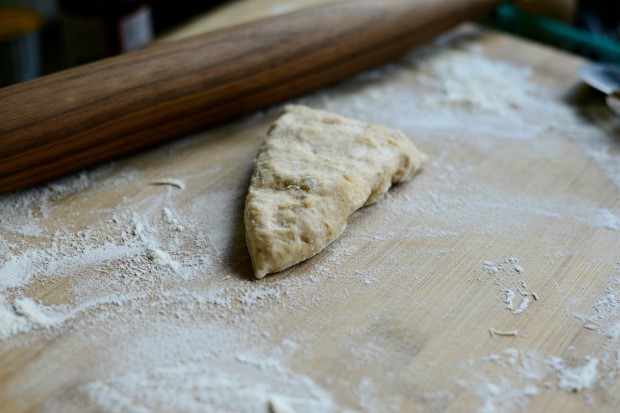 Then working with one dough triangle at a time …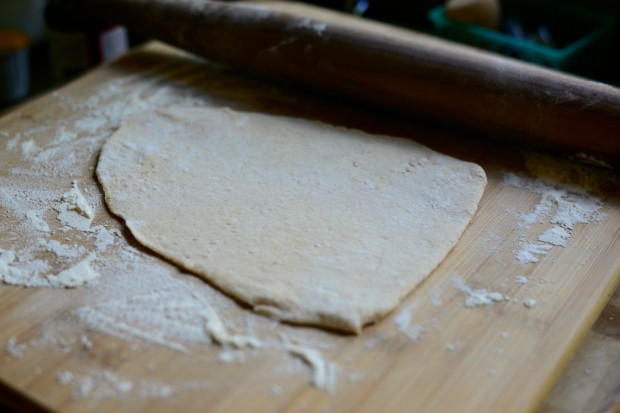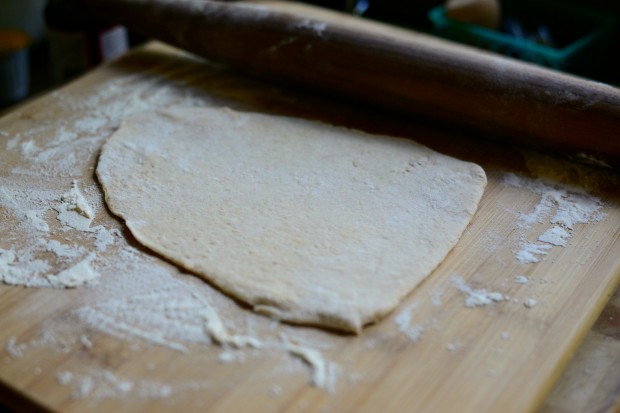 Use a floured rolling pin to roll the dough out thin, about 1/8 of an inch think. I repeat this with the remaining pieces of dough and layer them between a clean dish towel.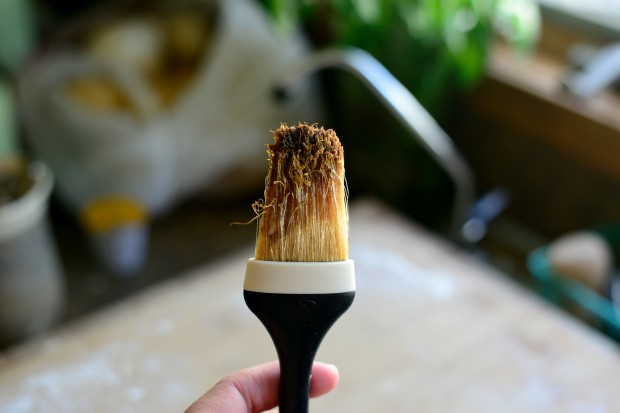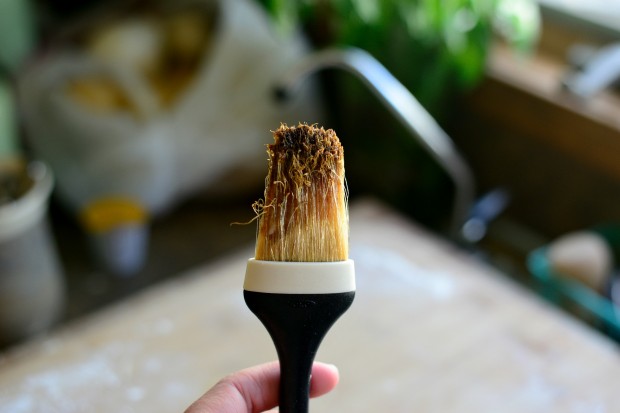 Crack windows and turn on a fan if you can before heating a 12-inch cast iron skillet over medium-high heat. Once the skillet is hot, quickly brush with melted butter. Use a brush that doesn't have natural fibers that will singe, burn and ruin your favorite pastry brush. Trust me it was a sad, sad day.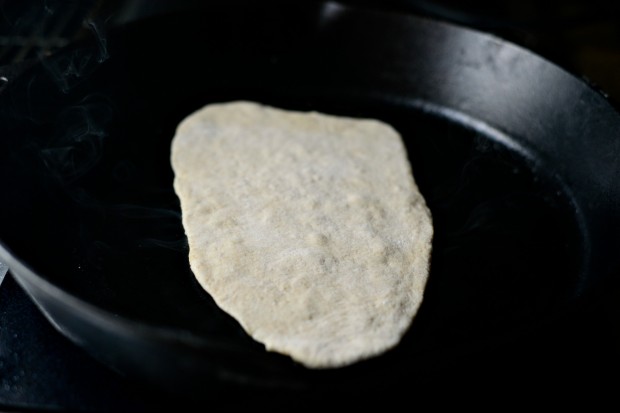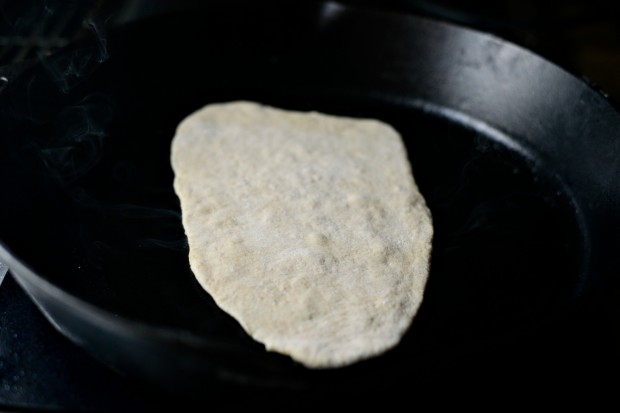 Then simply lay the rolled out dough in to the buttered hot skillet.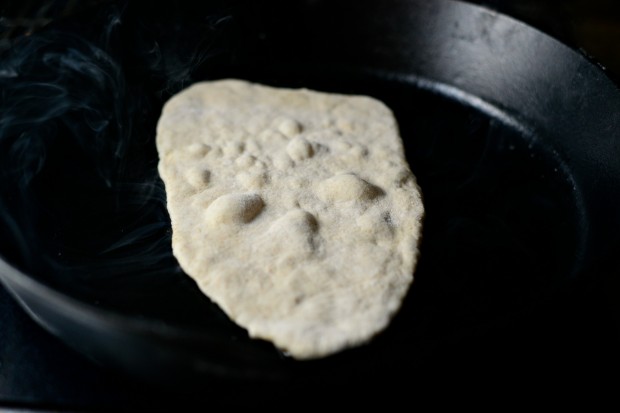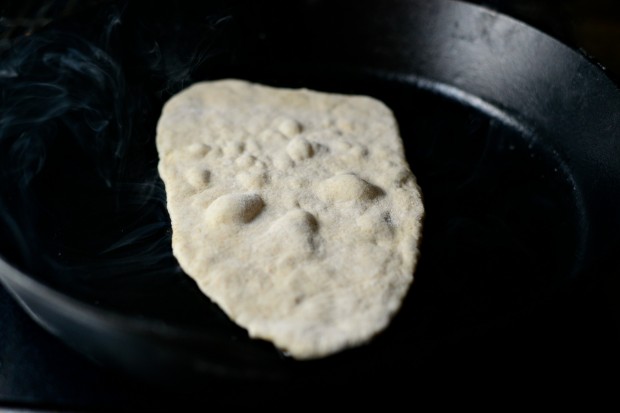 As the dough cooks you can literally see the bubbles form right before your eyes.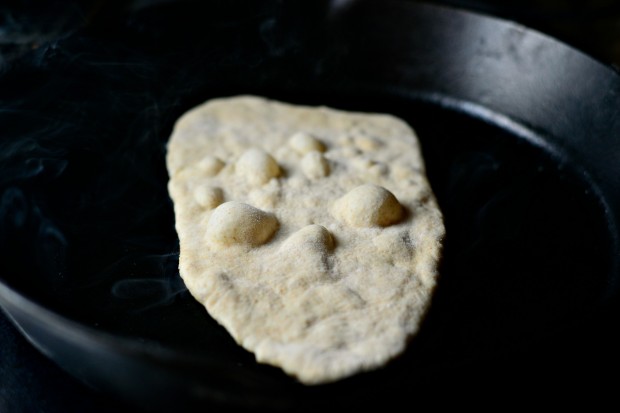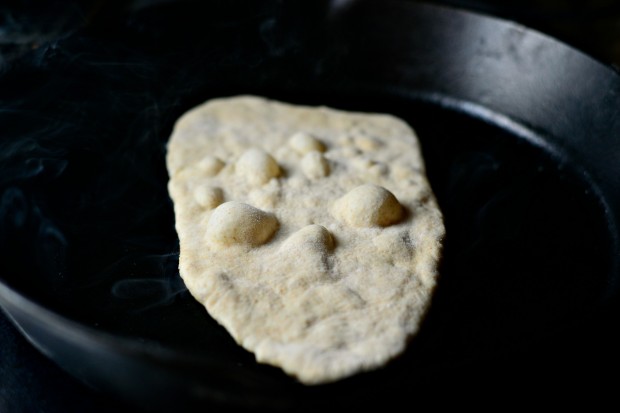 After about 30 seconds to maybe one minute or once the bottom of the naan is golden…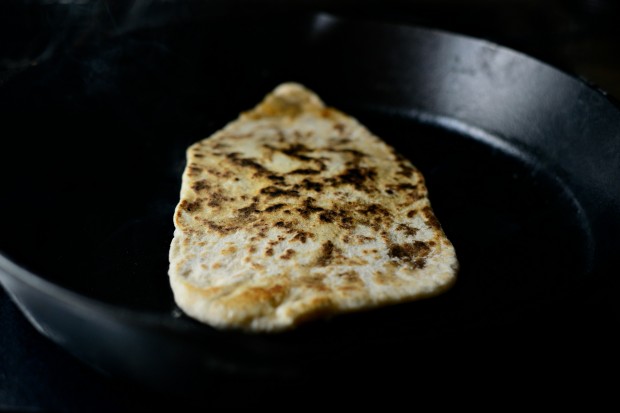 Flip and cook for no more than 30 seconds. Adjust the heat as you go so they don't burn. The whole naan cooking process takes little to no time at all, maybe 1o minutes total to turn out 8 pieces of naan bread. So fast!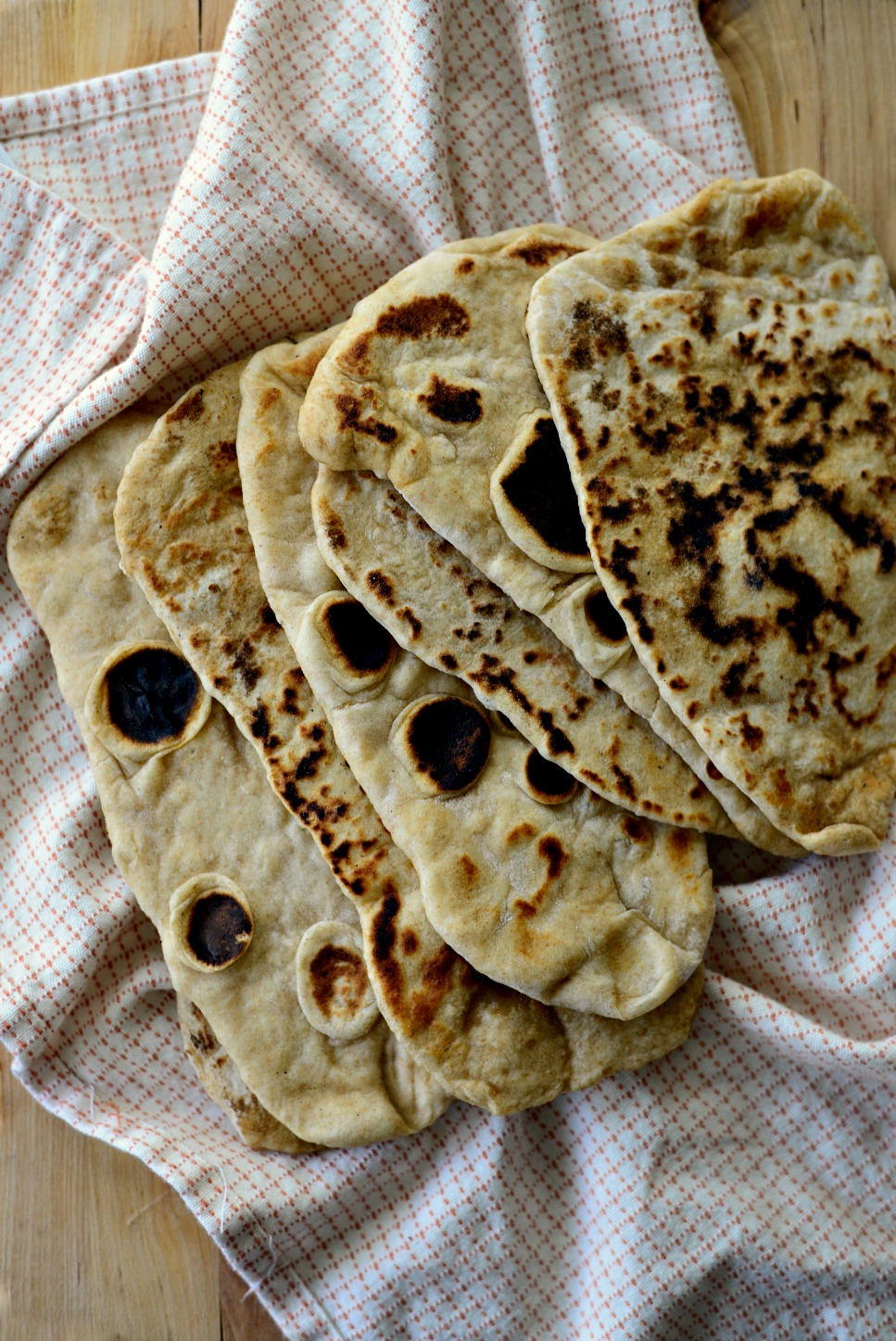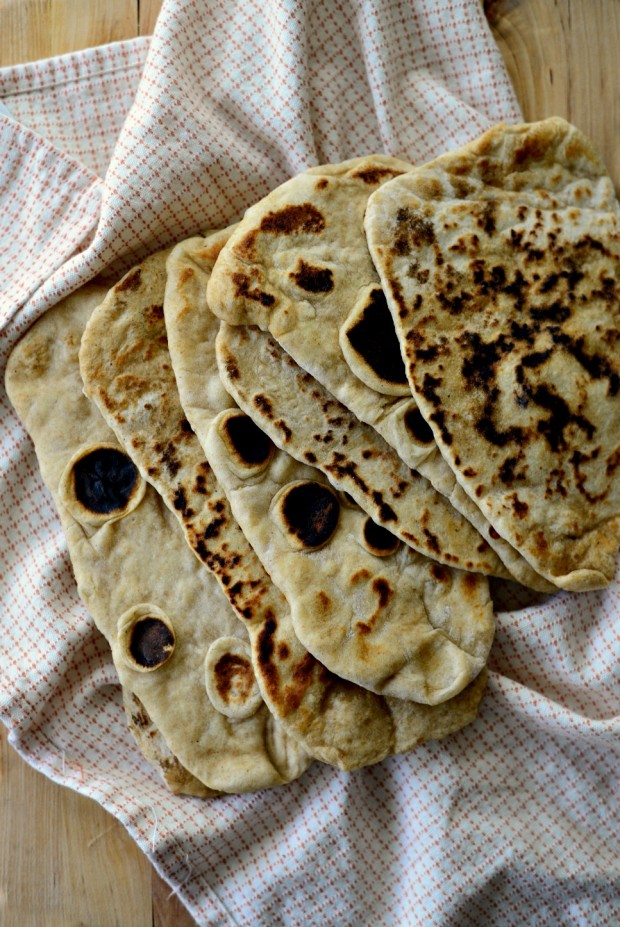 Once you take the plunge and try your hand at making homemade naan bread, you won't go back to store bought. Promise. It's my newest favorite bread to make next to homemade pita bread. Still though I have to admit the feeling of making homemade bread of any sort still gets me all excited. As if you couldn't tell.
Enjoy! And if you give this Homemade Naan recipe a try, let me know! Snap a photo and tag me on twitter or instagram!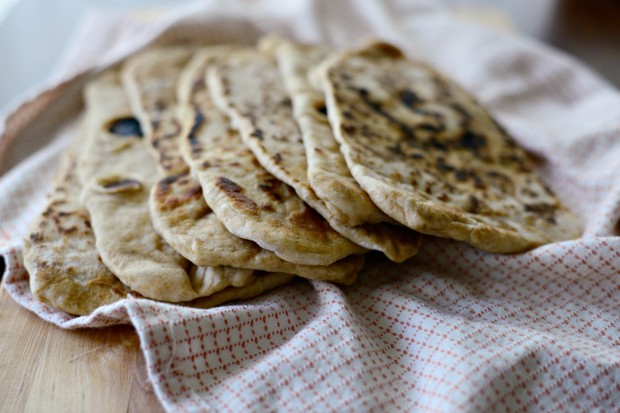 My cookbook Simply Scratch : 120 Wholesome Homemade Recipes Made Easy is now available! CLICK HERE for details and THANK YOU in advance!
Yield: 8 naan
Homemade Naan
Probably the easiest bread to make EVER!
Ingredients
1½ teaspoon sugar
6 tablespoons whole milk
2 tablespoons water
1/2 teaspoon active dry yeast
1/2 cup full fat yogurt
1½ cups unbleached all-purpose flour
1/2 cup whole wheat flour
3/4 teaspoon baking powder
1/2 teaspoon baking soda
ghee
Instructions
Add sugar to a medium bowl. Heat milk and water in a small saucepan or use a small dish in a microwave until thermometer reaches 110-115 degrees. Stir water into sugar to dissolve, immediately sprinkle the yeast over top and set aside for 10 minutes to proof. Once the yeast has foamed, stir in the yogurt.

In a large bowl combine the flours, baking soda and baking powder, stir with a wooden spoon and make a well in the center.

Pour the yeast/yogurt mixture into the center of the well and stir, gradually incorporating the flour. Once the dough comes together, knead by hand until smooth, adding more flour if necessary.

Lightly butter the inside of a medium bowl and place dough in the center. Cover with a clean kitchen towel and place the bowl in a warm place to rise for 1 hour.

Punch the dough down to expel the air. Turn dough out on a generously floured surface and cut in half. Cut each half in half and use a floured rolling pin to roll into thin oblong ovals.

Heat a cast iron skillet over medium-high. Once hot brush with melted butter and place one dough oval in the center of the skillet. Cook for 30 seconds to 1 minute or until the bread bubbles and the underneath is browned. Use tongs to flip cooking for an additional 30 seconds or so. Brush the skillet each time before repeating with remaining rounds of dough.

Serve warm and enjoy!
Serving: 1loaf, Calories: 133kcal, Carbohydrates: 26g, Protein: 5g, Fat: 1g, Saturated Fat: 1g, Polyunsaturated Fat: 1g, Monounsaturated Fat: 1g, Cholesterol: 3mg, Sodium: 121mg, Potassium: 98mg, Fiber: 2g, Sugar: 2g, Vitamin A: 35IU, Vitamin C: 1mg, Calcium: 60mg, Iron: 1mg
This post may contain affiliate links.
Buy the Cookbook: Simply Scratch : 120 Wholesome Homemade Recipes Made Easy Now available on Amazon »
THANK YOU in advance for your support!