These Homemade Chicken Pot Pies are amazing! Homemade pie crust encloses shredded chicken and vegetables swimming in a easy homemade gravy. You will love them!
I have some rules when it comes to pot pie making.
They are as follows…
Rule No. 1: They have to be in individual portions.
Rule No. 2: No "cream of chicken soup" can be used, what-so-ever.
Rule No. 3: There has to be plenty of crust. So much crust you won't notice that there isn't a bottom one.
To start I poach a couple chicken breasts. It's real easy, just throw a couple chicken breasts into a glass baking dish and cover them with 3 to 4 cups of boiling water, seal with foil and bake in a 400 degree oven for 30-40 minutes. Done.
Then I just transfer them to a cutting board to cool, so I don't burn my precious fingers. A blogger needs her fingers.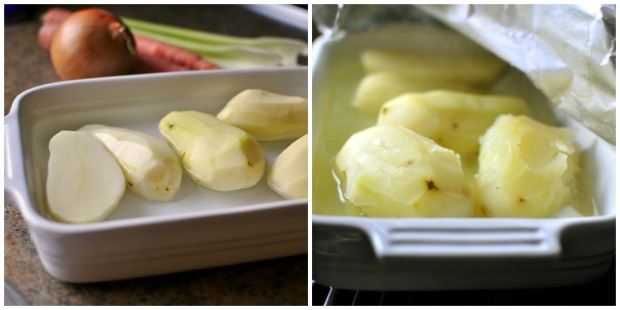 If I ever have leftover cooked potatoes I would just dice those up, skin-on and all. But if I don't, then I poach those too. Peel, cover with water and foil and bake in a 400 degree oven until fork tender which is about 30-40 minutes depending on their size.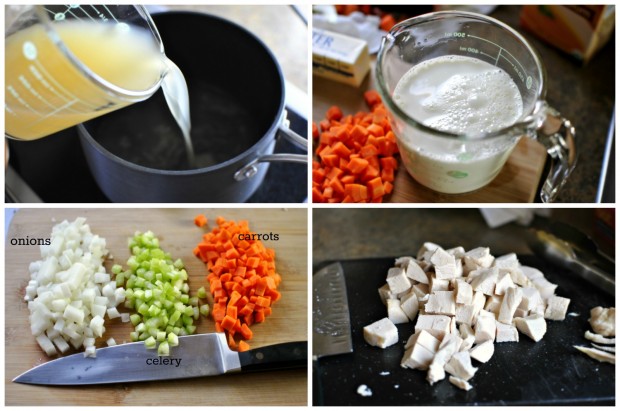 While the chicken and potatoes are poaching away in the oven, I get started on a little prep. I heat up 3 cups of chicken broth, bring a cup and a half of whole milk up to room temperature and dice up the veggies and cooked chicken.

Then roll out the homemade pie crust dough. I use a bowl that's larger than the ramekins so that there's some overlap-age. Then take a knife to trace and cut out the circle. Quickly pop the dough back into the fridge so they stay cold.
Now comes the cooking part. Melt 3 tablespoons of butter in a large Dutch oven over medium heat.
I add the carrots first (since I think they take the longest to soften up) and cook those for about 5 minutes.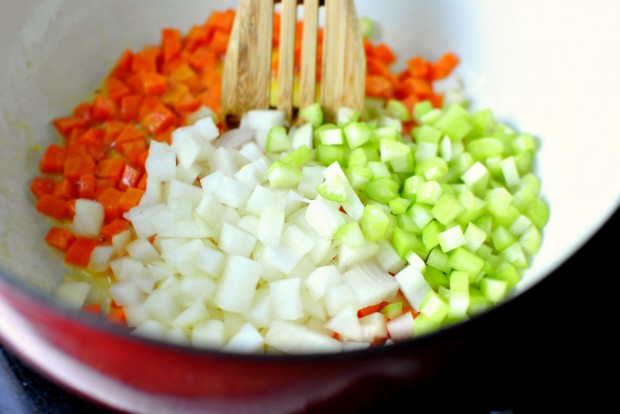 Then the onion and celery join the party.
Sprinkle with a teaspoon of kosher salt…
…and a half teaspoon of fresh cracked black pepper.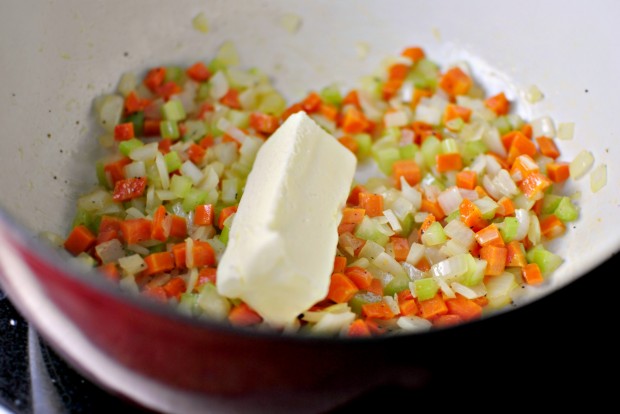 Once the carrots are soft -but not too soft- I throw in the remaining 6 tablespoons of butter. Yess…. 6 tablespoons.
When the butter has melted add in the half cup of flour and stir.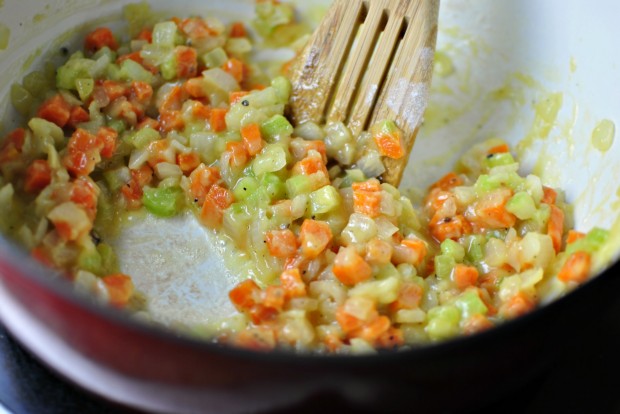 Cook the flour, stirring often, for two minutes.
Then pour in the 3 cups of hot broth and the 1-1/2 cups of whole milk. Simmer until thick, about 5-8 minutes.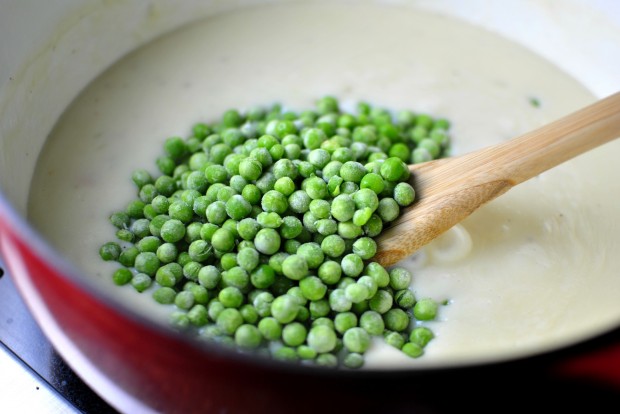 Then throw in a cup of frozen peas…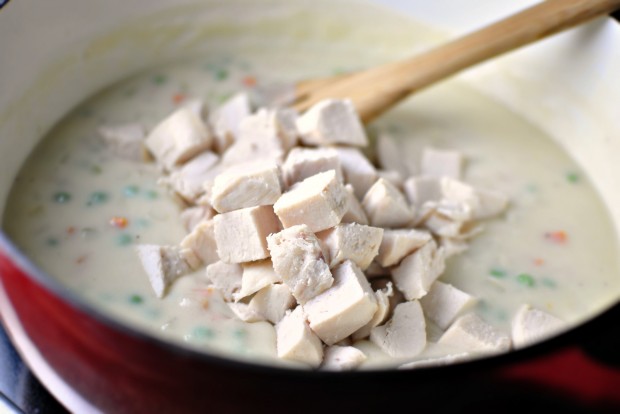 …the cubed chicken…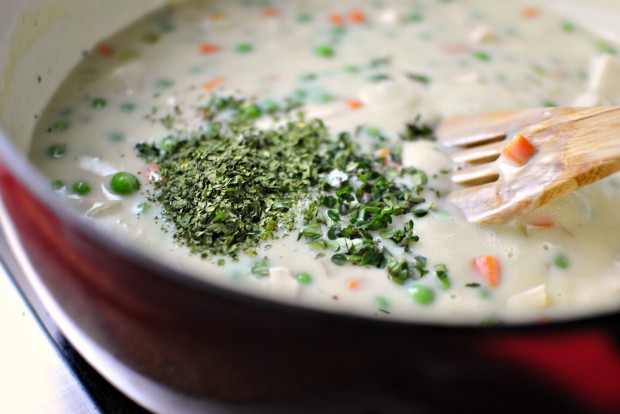 and then measure and add a teaspoon of chopped fresh thyme and a tablespoon of dried parsley.
OH! and a half cup or so of frozen corn. Which adds some color. 🙂
Stir those all together and check to see if it needs more salt. I always end up adding another teaspoon of kosher salt right here. But give it a taste and season to your preference.
Cube up about a cup of the cooked potatoes. I drop them into some greased ramekins, so that I don't stir and lose them in the pot pie filling.
Use 12-ounce ramekins if possible (linked in the recipe) I think this size would work best for individual portions.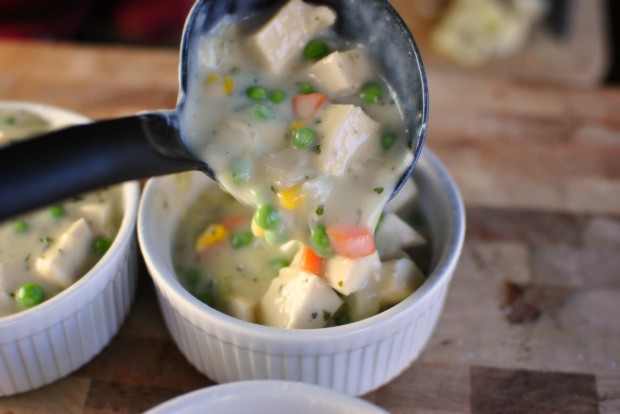 Pour the filling over the potatoes, filling the ramekins to the brim.
Ahhh yes….
It's a good idea to let the homemade chicken pot pies filing cool a tad before placing the pie dough over top. If the filling is super hot then it will melt the dough. Not cool. Pinch the crust around the rim so it forms a seal.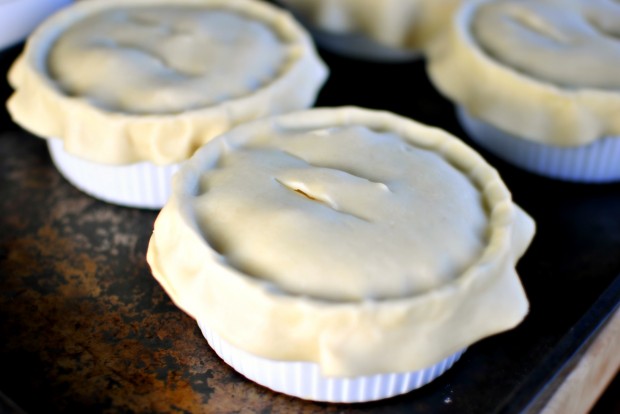 With a sharp knife, make a few slits for ventilation. Then pop them into a 375° oven for 20-25 minutes or until they are crisp and golden. I rotate my pan halfway through for even cooking and browning. You could always mix an egg with a tablespoon of water and brush it over top before baking to make the crust glossy and gorgeous!
Voila! Your very own chicken pot pie! One that you don't have to share and has plenty of crust.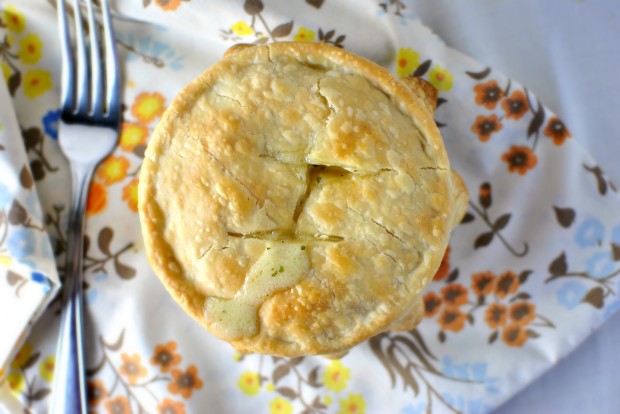 And the Homemade Chicken Pot Pies should so bubbly and hot it bursts out the top and drips down the side. That's how you know they're done.
Homemade Chicken Pot Pies are comfort food to the max.
Enjoy! And if you give this Homemade Chicken Pot Pie recipe a try, let me know! Snap a photo and tag me on twitter or instagram!
My cookbook Simply Scratch : 120 Wholesome Homemade Recipes Made Easy is now available! CLICK HERE for details and THANK YOU in advance!
[this post contains affiliate links.]
This post may contain affiliate links.
Buy the Cookbook: Simply Scratch : 120 Wholesome Homemade Recipes Made Easy Now available on Amazon »
THANK YOU in advance for your support!