Slow cooker balsamic honey pulled pork is sweet, tangy and delicious! Try serving it on cornbread and top with pickled jalapeños! Delicious!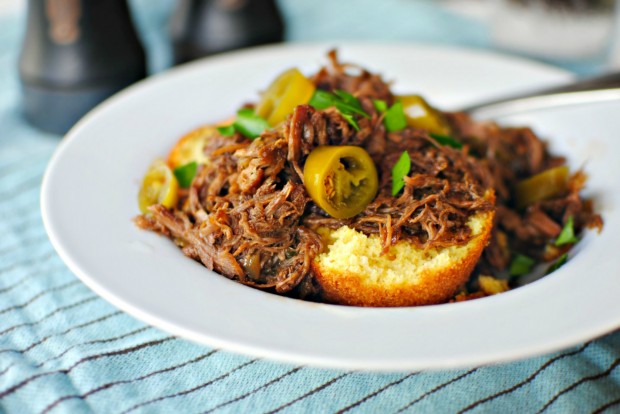 Yesterday was a day spent slow cooking balsamic honey pulled pork.
The weather outside was windy and rainy, the Detroit Lions and Tigers were playing which means my husband took over the TV and well I took over the slow cooker. Tell me, how lame is that? No I kid… while the slow cooker was going I took over cleaning… wait that's even lame-er. Ummm I-I did the laundry?! Oh never mind.
Now I wish I could tell you that this slow cooker balsamic honey pulled pork is a "set it and forget it" kind of recipe… well it is, and it's not. There is a fair amount of prep work, but then you get to forget it for about eight hours which gives you time to clean, do laundry, make cornbread and/or check Pinterest.
Then right before it's done all you have to do is make the quick and easy balsamic-honey bbq sauce, shred the pork and toss it around in the sauce and EAT. So I guess I would say that it's a recipe perfect for a cozy Sunday and maybe not-so-much a busy Monday. But then again, anything is possible.
Sooooo this is a pork butt roast. It's about 3.5 lbs, with the bone IN. Purchasing a roast with the bone in will yield more flavor.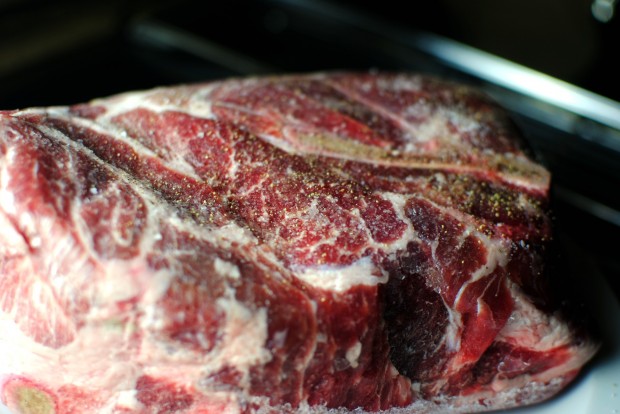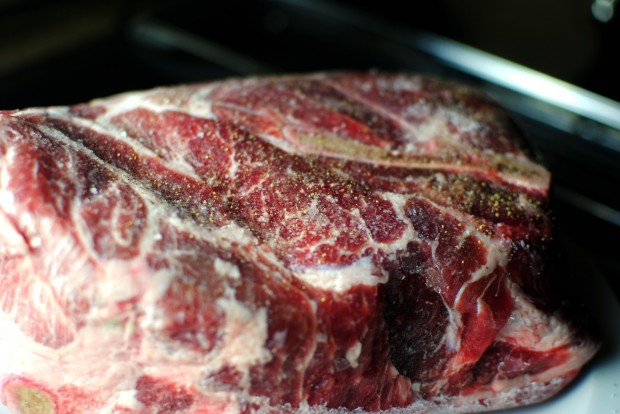 Next, start by seasoning it generously with kosher salt and freshly ground black pepper.
Next, heat a large deep-sided skillet over medium-high heat with a tablespoon or so of olive oil. Then sear it on each side for about 5-8 minutes per side.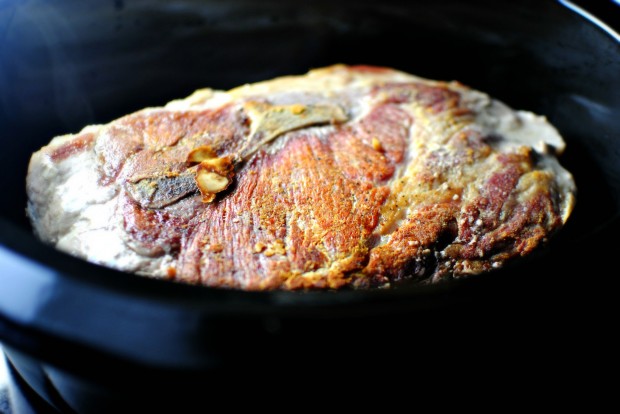 Next, use tongs to place the seared roast into your slow cooker.
Next, immediately turn off the heat under the pan, stand back and then slowly poured about 1/2 cup to 3/4 cup of chicken broth I eyeballed it). Then scrap up all those little browned bits of flavor on the bottom of the pan.
Along with the roast, I added in half a diced green pepper and 2 small yellow onions.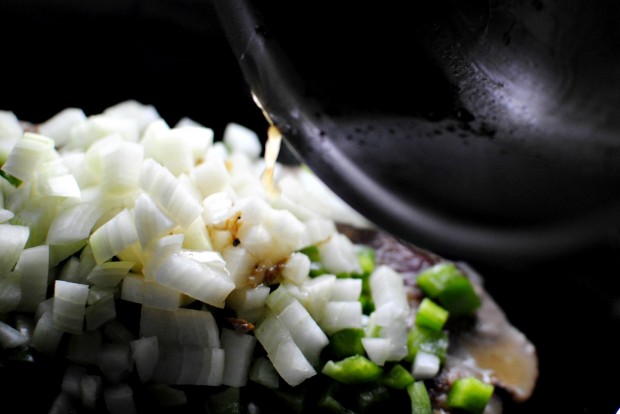 Next, pour in the pan juices with the broth.
Then grab some rosemary and thyme.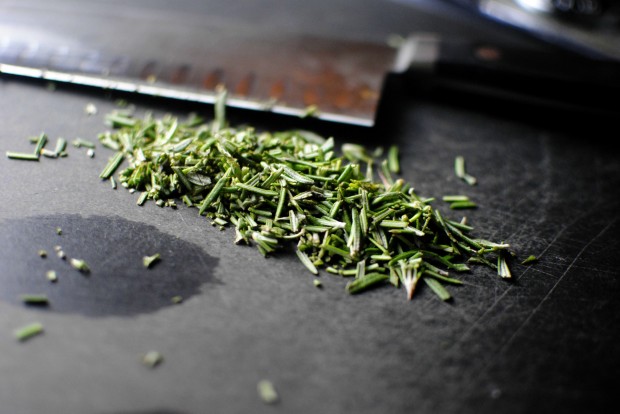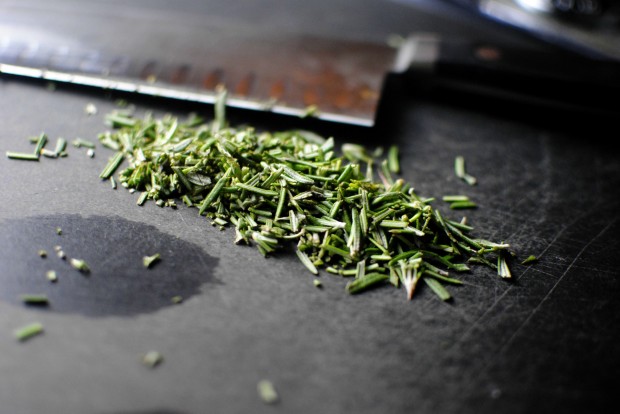 Next, strip off the leaves by running your fingers along their stem backwards… they should pull free easily.
For this, you'll need a tablespoon of chopped rosemary…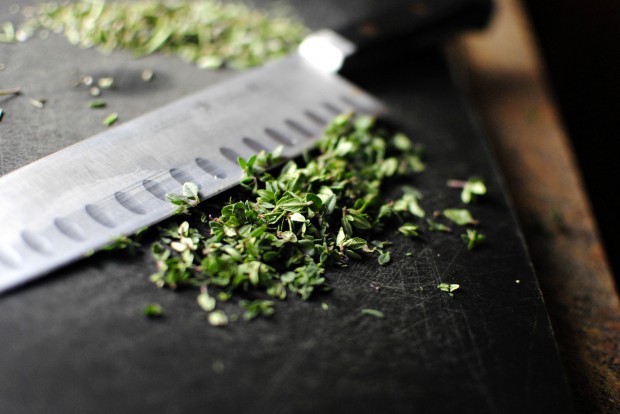 And then a tablespoon chopped thyme.
Lastly, add the chopped herbs into the slow cooker, secure the lid and turn on high for 8 hours. No need to stir, flip or any of that jazz. Just enjoy the aroma that fills your home.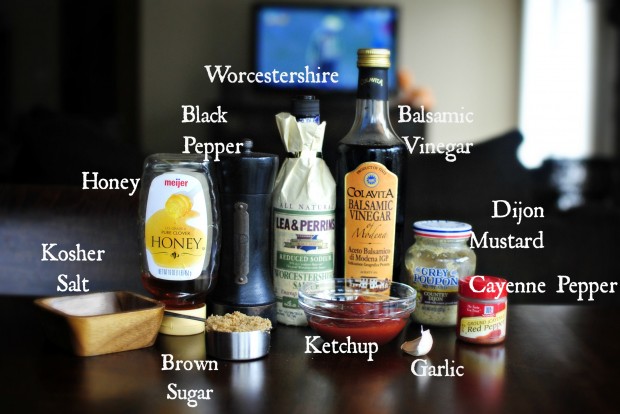 With about 30 minutes left on the pork you'll want to start the balsamic bbq sauce. This sauce is slightly sweet from the brown sugar and honey. And the balsamic vinegar gives it its tang. I would imagine this sauce would work lovely on chicken too!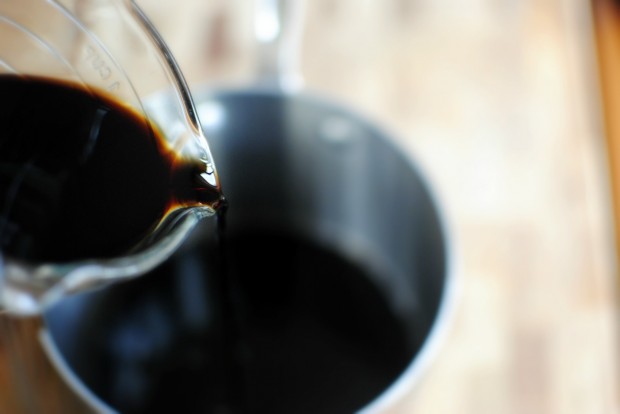 First, grab a sauce pan and pour in 1 cup of balsamic vinegar.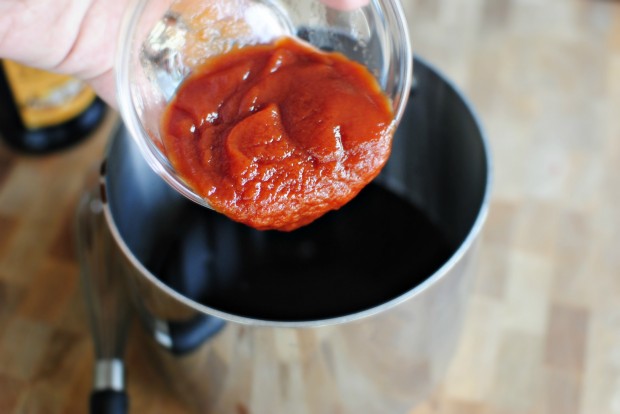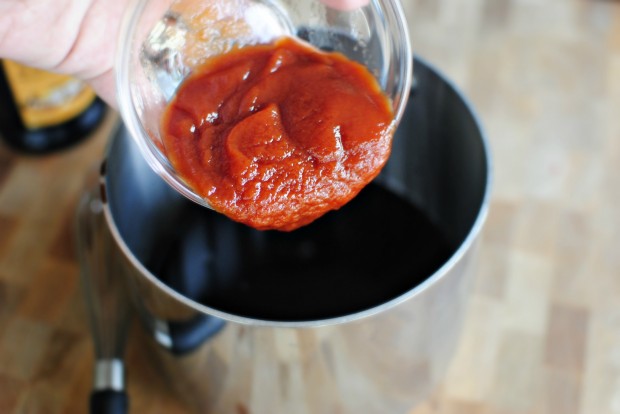 Next add 1 cup of ketchup.
Then 1/4 cup of dark brown sugar.
Next pour in 1/3 cup of honey. Beeeeautiful!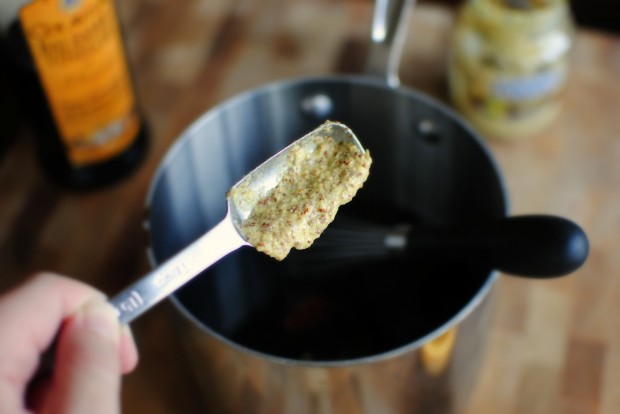 Then one tablespoon of Dijon mustard.
And then 1 tablespoon Worcestershire sauce.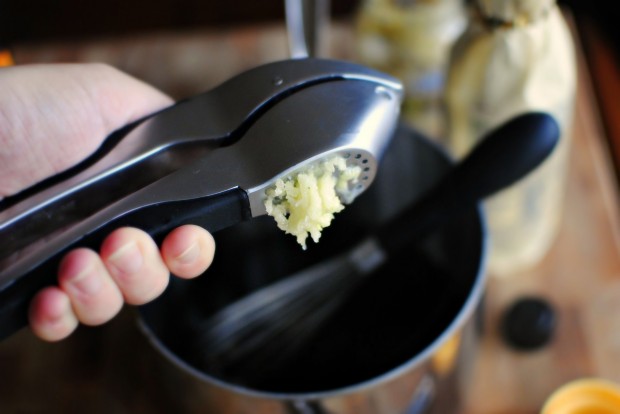 Next, press one clove of garlic or you can finely grate it on a microplane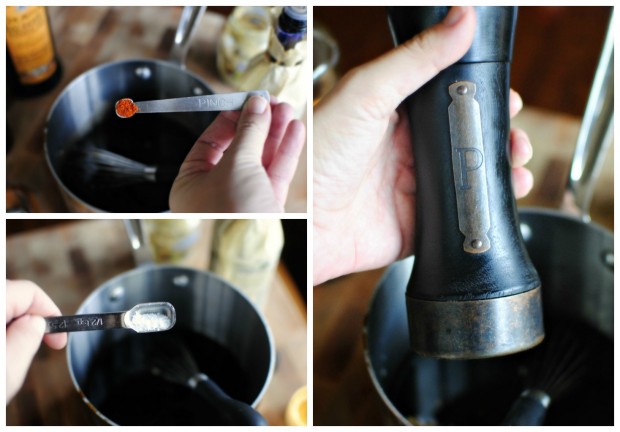 Lastly, season with a pinch of cayenne pepper, a 1/2 teaspoon of kosher salt and 1/4 teaspoon of black pepper.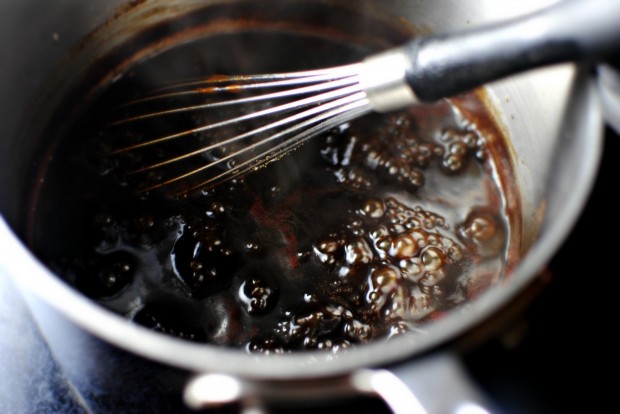 Whisk and bring to a simmer over medium-high heat. Simmer for 20 minutes or until reduced by a third.
Taste test to check to see if you want more sweetness, adding more honey if desired.
Meanwhile; remove the pork from the crock pot. It should be falling off of the bone, as you can see I mean literally.
Next, sift through the meat and remove any fatty pieces before shredding the pork with a couple of forks.
Drain the liquids out of the slow-cooker and into a mesh strainer. Keep those onions, peppers and herbs and put them back into the crock pot.
Next, turn the crock pot down to low, throw in the shredded pork and pour in the balsamic honey barbecue sauce.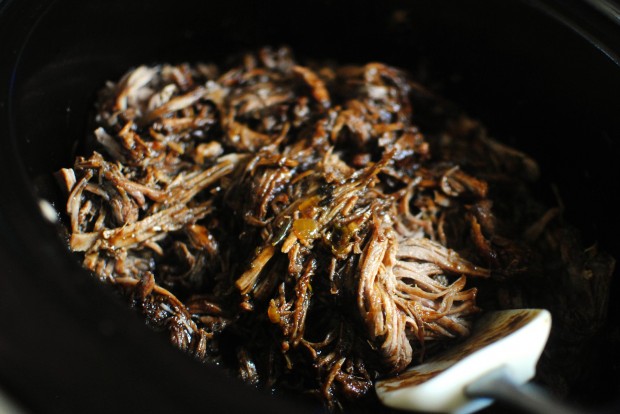 Next, toss it all around to get the pork nice and saucy.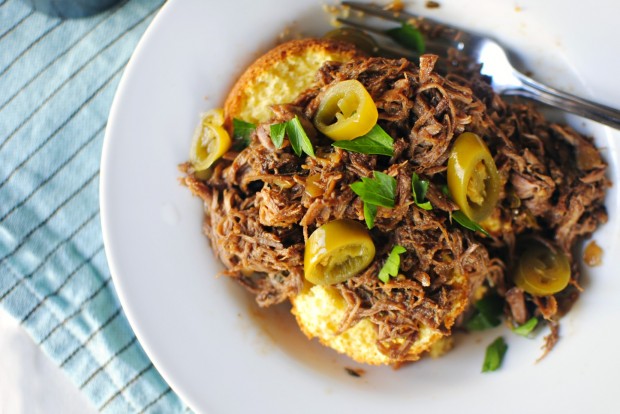 Finally, it's time to dish it up. You could stack the balsamic honey pulled pork on top of slider buns or dinner rolls. However today I piled the pork on halved corn bread for an open-face situation.
Oh and I slipped a few slices of pickled jalapenos onto mine to cut through the tangy sweetness.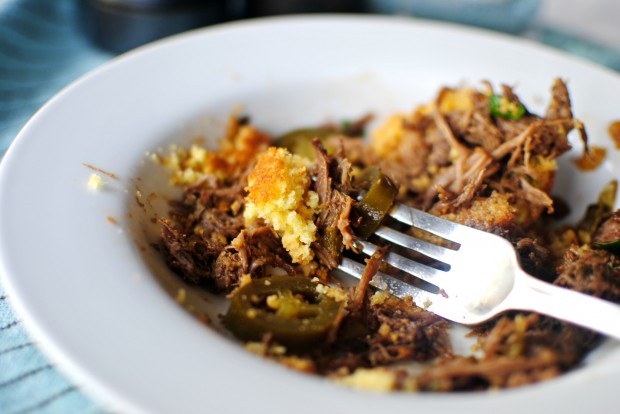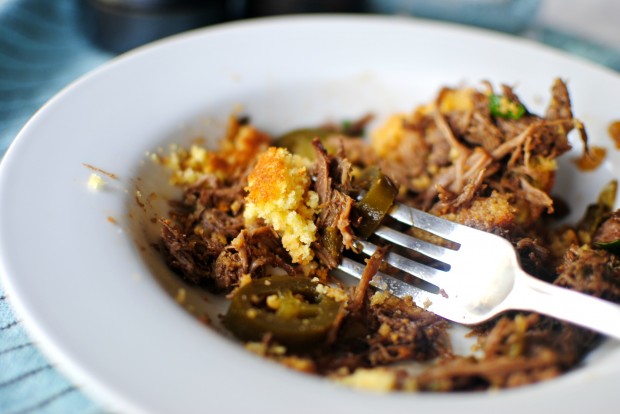 The Slow Cooker Balsamic Honey Pulled Pork is so easy, delicious and comfort food for sure and I'm already looking forward to the leftovers!
Enjoy! And if you give this Slow Cooker Balsamic Honey Pulled Pork recipe a try, let me know! Snap a photo and tag me on twitter or instagram!
My cookbook Simply Scratch : 120 Wholesome Homemade Recipes Made Easy is now available! CLICK HERE for details and THANK YOU in advance!
[this post contains affiliate links.]
This post may contain affiliate links.
Buy the Cookbook: Simply Scratch : 120 Wholesome Homemade Recipes Made Easy Now available on Amazon »
THANK YOU in advance for your support!