This homemade Classic Red Velvet Cake is moist, rich and decadent. A luxurious two-tiered ruby red buttermilk cake with a simple cream cheese frosting.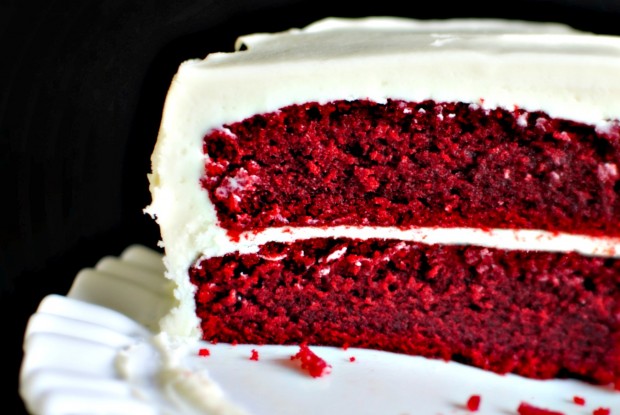 Did you notice how I hit you with a few healthy recipes before I clobbered you with this doozy? It's the only way I can make up for what you are about to see.
Growing up birthdays were always a big deal, still are actually.
When my sisters and I were kids we got to pick out what we wanted to have for our birthday dinner and we even picked the flavor of cake too! My problem was, as a kid I never liked cake. It was a frosting thing. So I always picked chocolate chip cookie bars or cheesecake instead. This is a tradition I've passed on with my own girls. My oldest, who is just like her dad, requests chocolate-chocolate chip cake with butter-cream frosting. Which is fine and totally delicious.
But my youngest is like me (sorry to tell ya girly, but it's true) she doesn't love-love cake either. It's a frosting thing for her too. If she does eat it, then it's cream cheese frosting and that-tis-it. That's why the past two years running, she's requested this for her birthday cake. But this year was different. For her 8th birthday she specifically requested a red velvet cake.
What 8 year old dreams of red velvet cake for their 8th birthday? A foodie in the making, that's who. I'm so proud!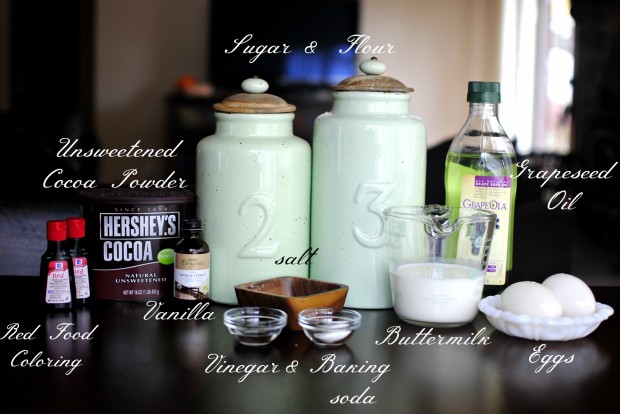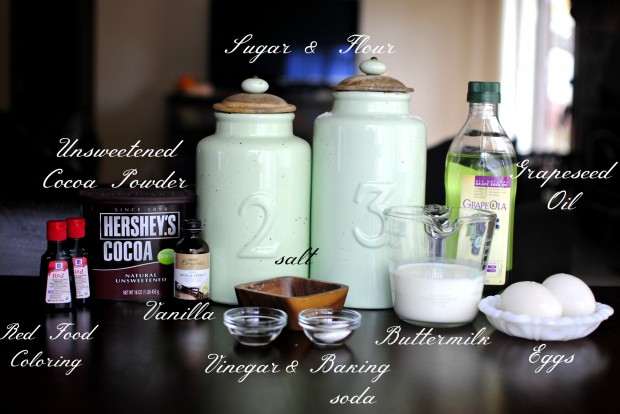 To Make This Classic Red Velvet Cake You Will Need:
eggs
grapeseed oil or a light flavorless oil
low-fat buttermilk
distilled vinegar
pure vanilla extract
red food coloring
2-1/2 cups all-purpose flour
2 cups granulated sugar
1-1/2 tablespoons unsweetened cocoa
1 teaspoon kosher salt
1 teaspoon baking soda
Since I've only ate red velvet cakes and never-ever-in-my-life made one, I had to do some research. I did some collaborating and a lil' fine tweaking and made what I decided was the best red velvet cake I've ever had in my life. I've been hesitant for so long because there is just so-so-SO much red food die, I couldn't bring myself to make one. But I believe everything in moderation and plus when a pair of soft hazel eyes got all kitten-like asking me if I would make it specially for her birthday… I caved. Okay all she had to say is "red velv-…." and I was in like flynn.

Start by cracking 2 large eggs into a large measuring (this makes for easy pouring), and give them a quick beating.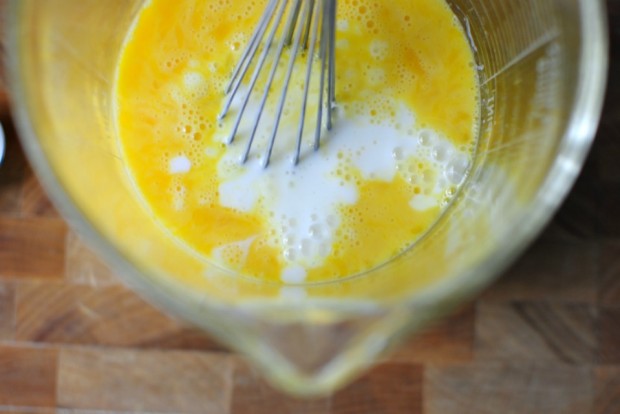 Add in 1 cup low-fat buttermilk and 1 tablespoon distilled white vinegar.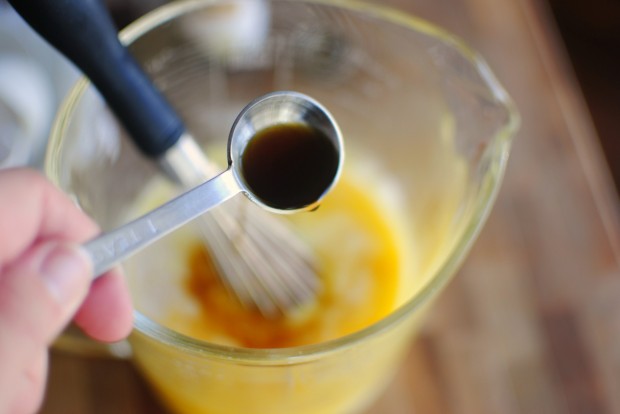 1-1/4 teaspoons pure vanilla extract.
And 2, yes two (1 ounce) bottles of red food coloring.
It's called red velvet for a reason, right?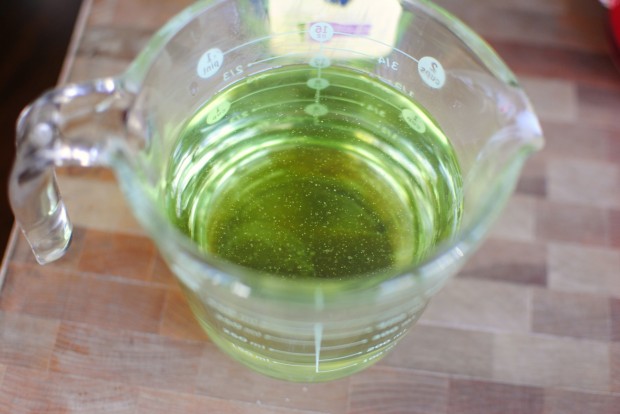 Add 1-1/2 cups of grapeseed oil to the egg mixture.
Grape seed oil works is mild tasting and is wonderful used in cakes. Not to mention that it is WAY better for you. There has to be some kind of balance with the TWO bottles of red dye, right?!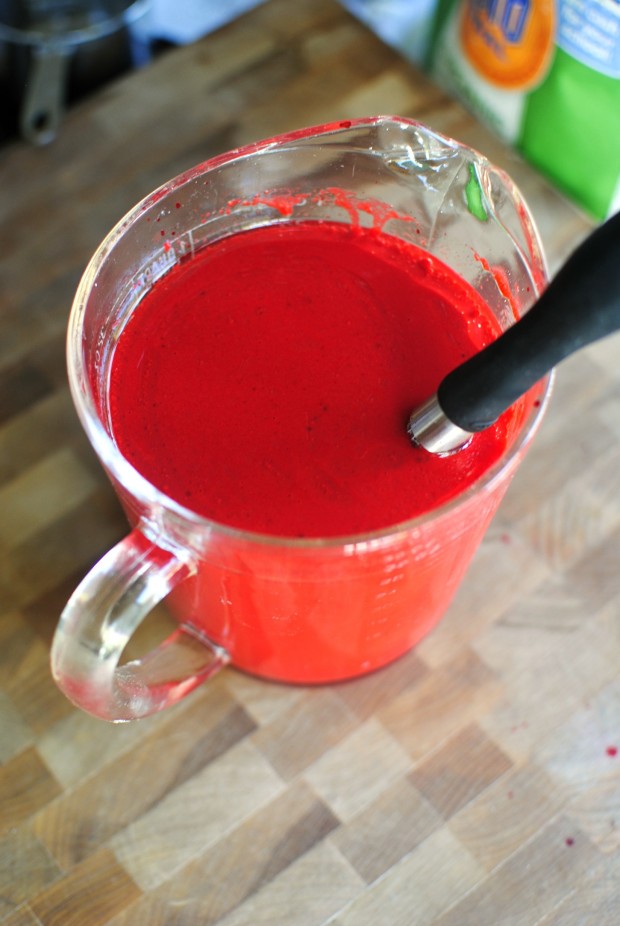 Stir. And watch out for red droplets that will stain anything and EVERYTHING! Believe me, I speak from experience… goodbye favorite funky-floral kitchen towel, you will be missed.
Set that off to the side and start working on the dry ingredients.
In the bowl of your mixer, combine the 2-1/2 cups all-purpose flour, 2 cups granulated sugar, 1-1/2 tablespoons unsweetened cocoa, 1 teaspoon kosher salt, 1 teaspoon baking soda.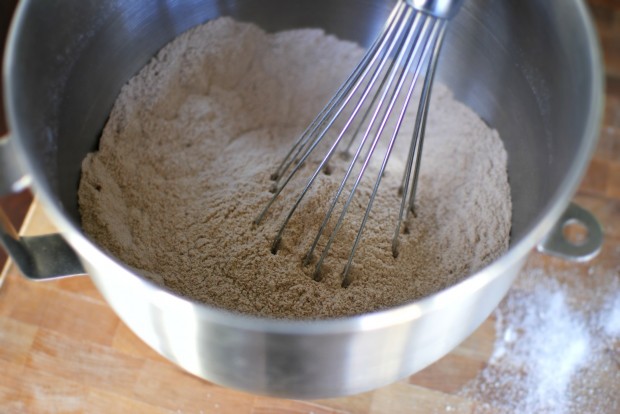 Give it a quick whisk to fluff and get ready for the RED.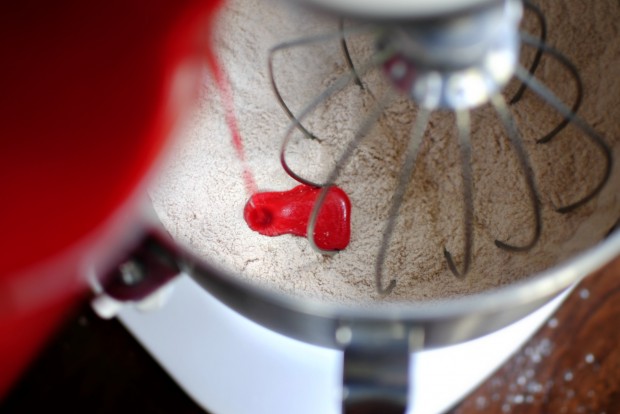 Add the RED wet ingredients into the dry and fit your mixer with a whisk attachment.
Turn her on medium and mix until everything is completely blended.
Seriously! I want a lipstick AND a pair of shoes in that color… and a clutch. And maybe nail polish too!?
I greased, floured and lined my 9 inch cake pans.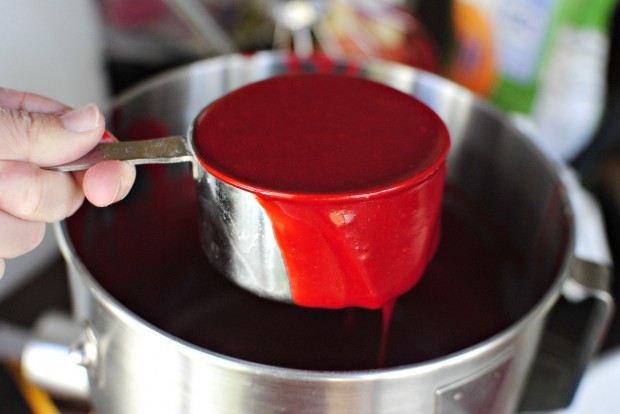 I like to use a measuring cup to divvy up cake batter. It keeps everything even.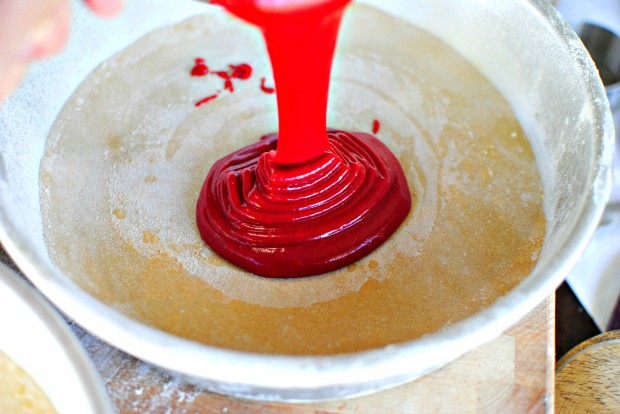 Pour.
Swipe and taste!
And tap the cake pans so any trapped air bubbles may escape. Now just bake in a preheated 350° oven for about 25-30 minutes. Depending on your oven you may need to rotate the pans for even baking.
Have the cakes cool for 10 minutes before removing them from pans.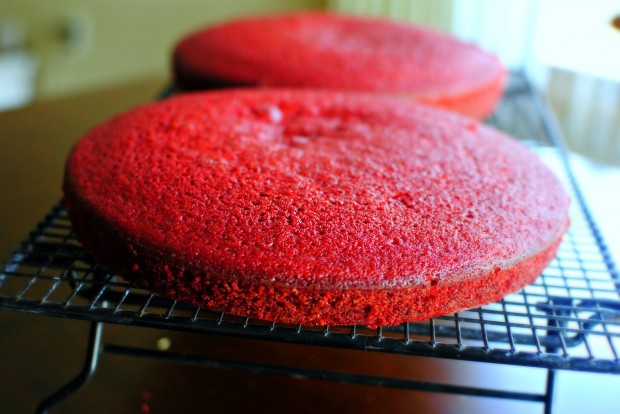 Once removed let them cool completely. Now I made the cake part of this recipe a day in advanced. I wrapped the cakes, individually, and popped them in the fridge until the next day for frosting. But you don't have to do that.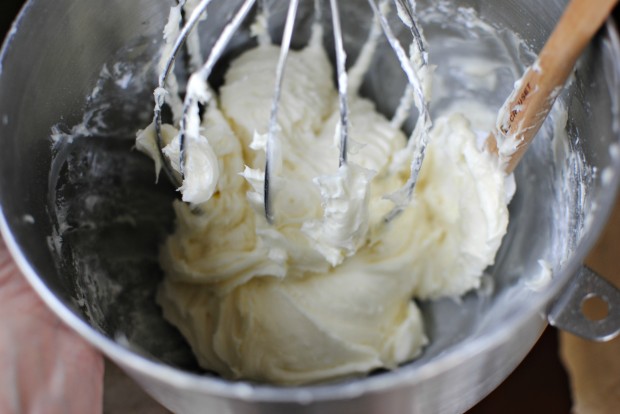 Cream cheese frosting, I love the stuff… I'm not a huge fan of overly sweet frosting and this one is perfect!
For a step-by-step recipe for how to make this cream cheese frosting Click Here.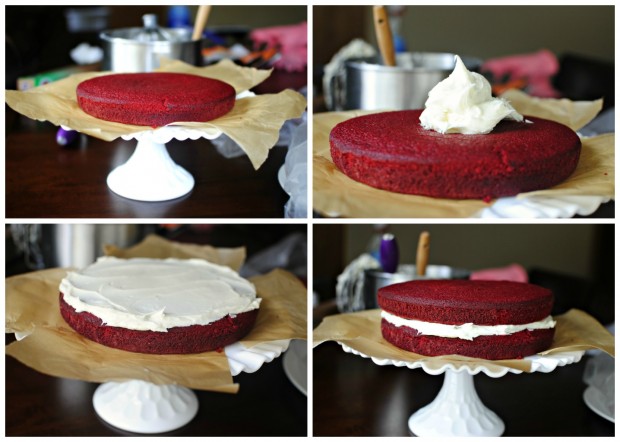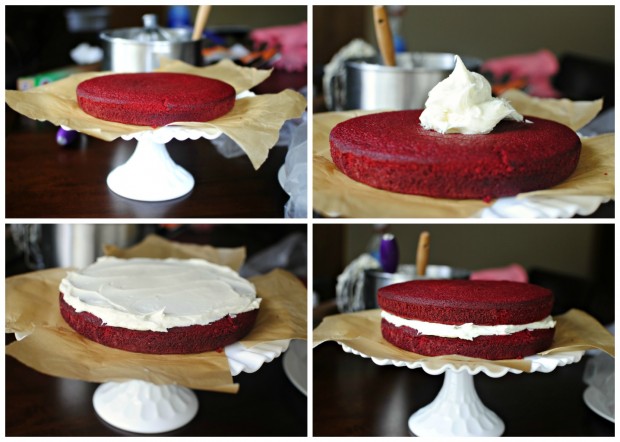 Now comes the fun part.
Place one layer on your cake stand. Dollop a generous amount of frosting and spread it out evenly so some of it starts to fall off the sides of the cake. Place the next layer on top.
Place a larger amount of frosting on top and smooth it out over top and along the sides.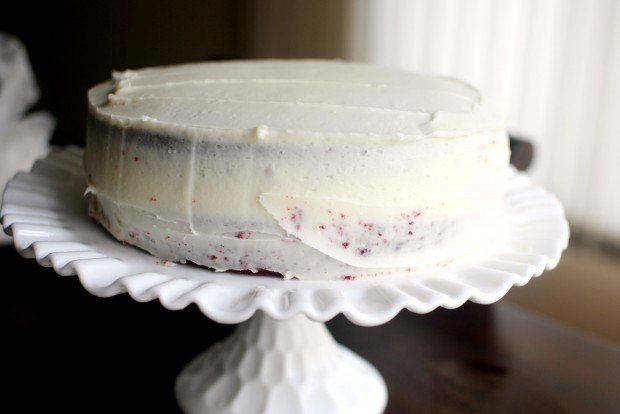 I took my spatula and scraped it so it would trap in any crumbs and then I popped this into the fridge for one hour so the frosting could harden up a bit aka "a crumb coat".
After the hour was up I plopped the remainder of my cream cheese frosting over top and smeared it over top of the crumb coat.
Bam.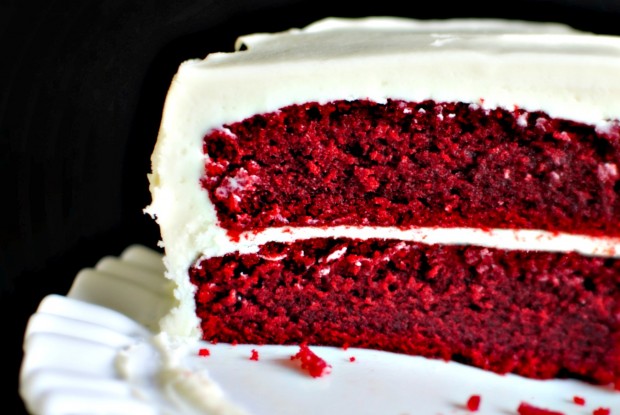 Red Velvet.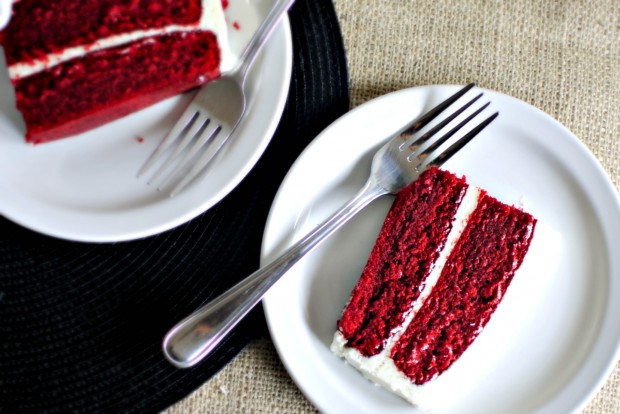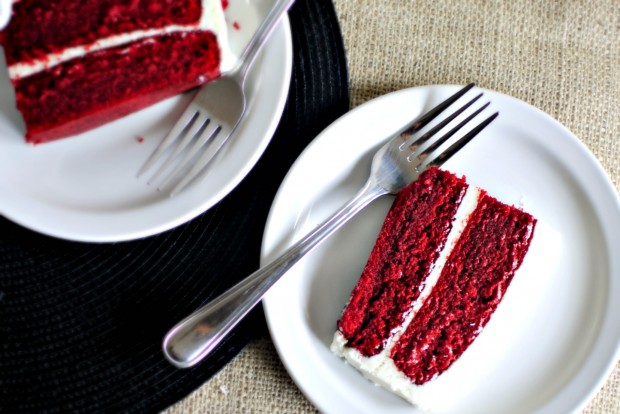 I don't like to throw the M-word out there, but this seriously is the muh-muh-moistest cake I've ever had the pleasure to eat. And I'm not even a huge cake fan, so this is huge!
But what was even better than this Classic Red Velvet Cake?
Was when my daughter told me 'thank you Mom' and how 'lucky she felt to have a mom who likes to bake'. Gah! I know… I'm totally choked up right now.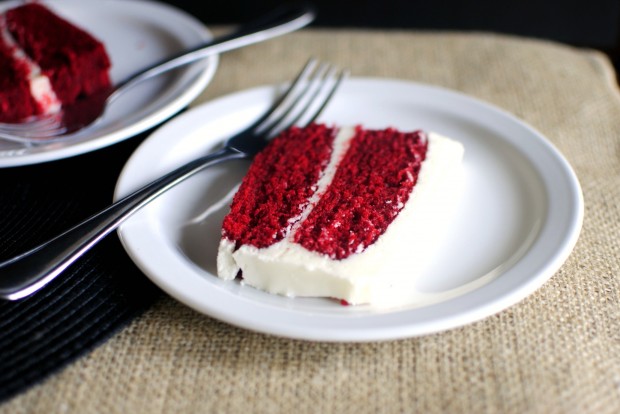 So now this weekend you should totally make this Classic Red Velvet Cake. Take pictures and share them with the world (or with me on facebook)! I'm tellin' ya… this is as easy as cake-makin' gets. The cake is perfect, the ratio of cream cheese frosting to cake is spot on… so why not?
Ps… Red velvet is the new chocolate.
If you are wondering if this Classic Red Velvet Cake recipe can be made into cupcakes, the answer is YES! Here's a post with the details on how to make the BEST Red Velvet Cupcakes (baking temp, time etc.) and white chocolate cream cheese frosting.
Enjoy! And if you give this Classic Red Velvet Cake recipe a try, let me know! Snap a photo and tag me on twitter or instagram!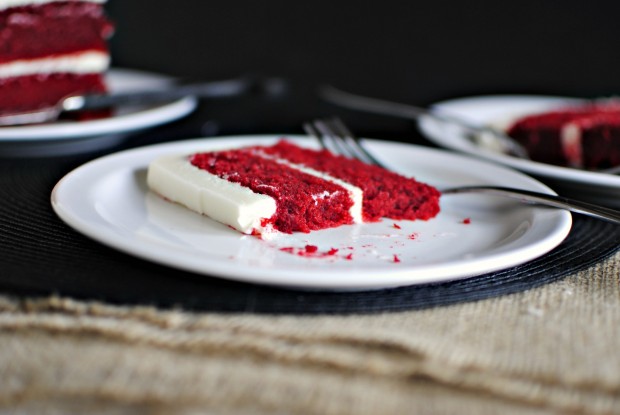 Yield: 18 servings (depending}
Classic Red Velvet Cake
This homemade Classic Red Velvet Cake is moist, rich and decadent. A luxurious two-tiered ruby red buttermilk cake with a simple cream cheese frosting. Yields 1 double layer 9-inch cake which will feed 8 to 32 people if sliced accordingly.
Ingredients
RED VELVET CAKE:
2 large eggs
1½ cups extra light olive oil
1 cup low-fat buttermilk
1 tablespoon distilled vinegar
1¼ teaspoon vanilla extract
2 ounces red food coloring
2½ cups unbleached all-purpose flour
2 cups granulated sugar
1½ tablespoons unsweetened cocoa
1 teaspoon kosher salt
1 teaspoon baking soda
CREAM CHEESE FROSTING:
16 ounces softened cream cheese softened
8 tablespoons unsalted butter, softened and at room temperature
2 teaspoons pure vanilla extract
4 cups powdered sugar
Instructions
MAKE THE CAKE:
Preheat your oven to 350°.

Line, spray and dust with flour (shake out the excess flour) two 9-inch cake pans. Set those aside.

Lightly beat the eggs with a whisk and then add in the oil, buttermilk, vinegar, vanilla and food coloring. Whisk together until combined.

In the bowl of your mixer, stir together the flour, sugar, cocoa, baking soda and salt.

Add the wet ingredients into the dry and mix on medium until combined, scraping the bottom of the bowl once or twice.

Use a measuring cup to divide the batter evenly among the prepared pans. Tap a few times on the counter to release any air bubbles.

Bake for 25-30 minutes or until a cake tester is inserted and comes out clean. Depending on your oven, you might want to rotate the pans for even baking.

Let the cakes cool for 10 minutes in the pans before removing them to a wire rack.

Once the cake cools it's time to frost.
MAKE THE FROSTING:
Pull the cream cheese and butter out of the fridge and place on your counter 1 hour before making frosting.

Place the softened cream cheese into the bowl of your stand mixer. Blend on medium speed until creamed.

Use a rubber spatula to scrape down the sides before adding in the butter and vanilla. Blend on low speed until combined with the cream cheese.

Gradually add the 4 cups of confectioners sugar (about 1/3 to 1/2 cup at a time) mixing well after each addition.

Once combined,scrape down the sides and switch over to the whisk attachment. Mix on high speed for 10 to 15 seconds.

This recipe yields enough frosting for a 9-inch two-layer cake, 1 9x13 cake or roughly 2 dozen cupcakes.
Notes
For more of a whipped frosting beat (with the whisk attachment in) for 10 seconds longer. For some of my cakes I like to do a "crumb-coat" or a thin frosting to seal in the crumbs. So for this recipe I made a double batch of frosting. First putting a generous amount in between the layers, then a thin coating on the outside. I refrigerated the cake before applying the final frosting layer. This step is totally optional, but if you do decide to crumb coat... add an additional hour to the prep time. You might have a little frosting leftover but I'm sure you can get creative on how to use it up 😉
Serving: 1slice, Calories: 559kcal, Carbohydrates: 64g, Protein: 5g, Fat: 33g, Saturated Fat: 11g, Polyunsaturated Fat: 3g, Monounsaturated Fat: 17g, Trans Fat: 1g, Cholesterol: 62mg, Sodium: 295mg, Potassium: 91mg, Fiber: 1g, Sugar: 50g, Vitamin A: 531IU, Vitamin C: 1mg, Calcium: 49mg, Iron: 1mg
This post may contain affiliate links.
Buy the Cookbook: Simply Scratch : 120 Wholesome Homemade Recipes Made Easy Now available on Amazon »
THANK YOU in advance for your support!