In these Lighter Chicken Enchiladas cooked shredded chicken is mixed with a light chipotle sauce, stuffed into tortillas, topped with muenster cheese and baked until gooey and delicious! Yields 8 enchiladas or 4 servings (2 each).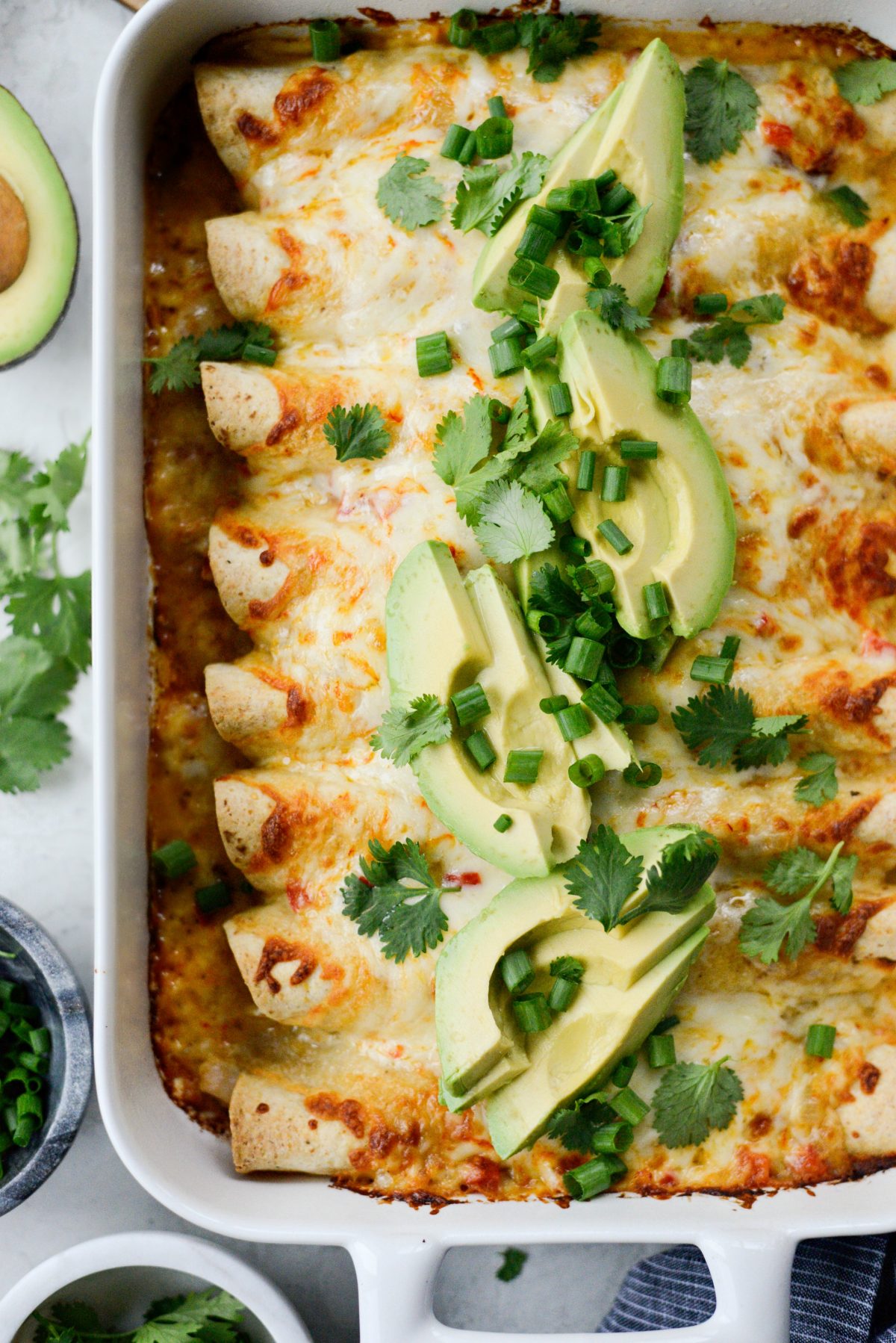 I've never met an enchilada I didn't like. Stuffed and baked tortillas topped with sauce and cheese? What's not to love?
I'm a little particular about my enchiladas. I prefer homemade enchilada red sauce (shocker right?) over store-bought, I love those crispy tortilla edges, so I go for and end piece every time. What I love about this particular enchilada recipe is that the sauce is different. Yes, enchiladas without a red sauce!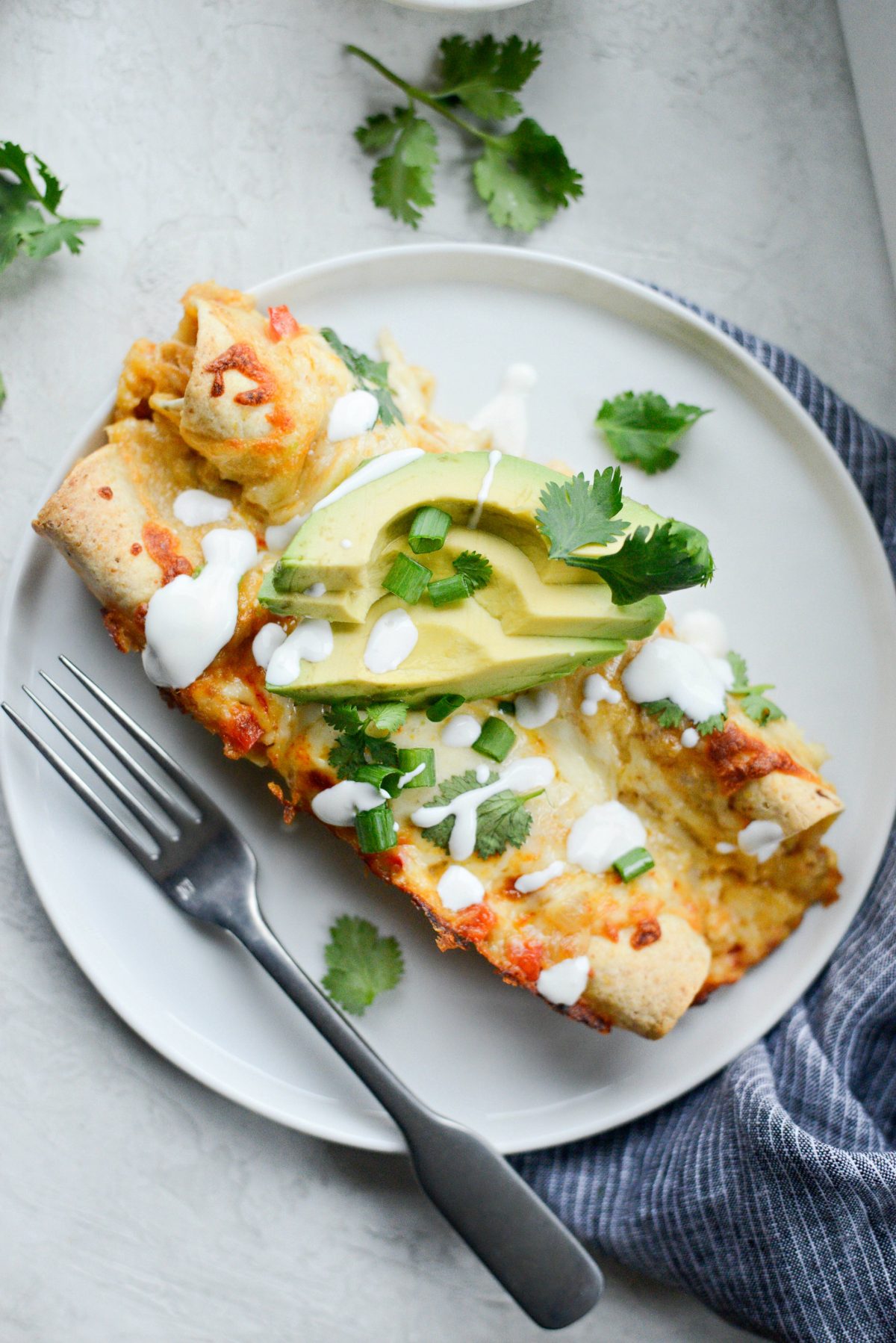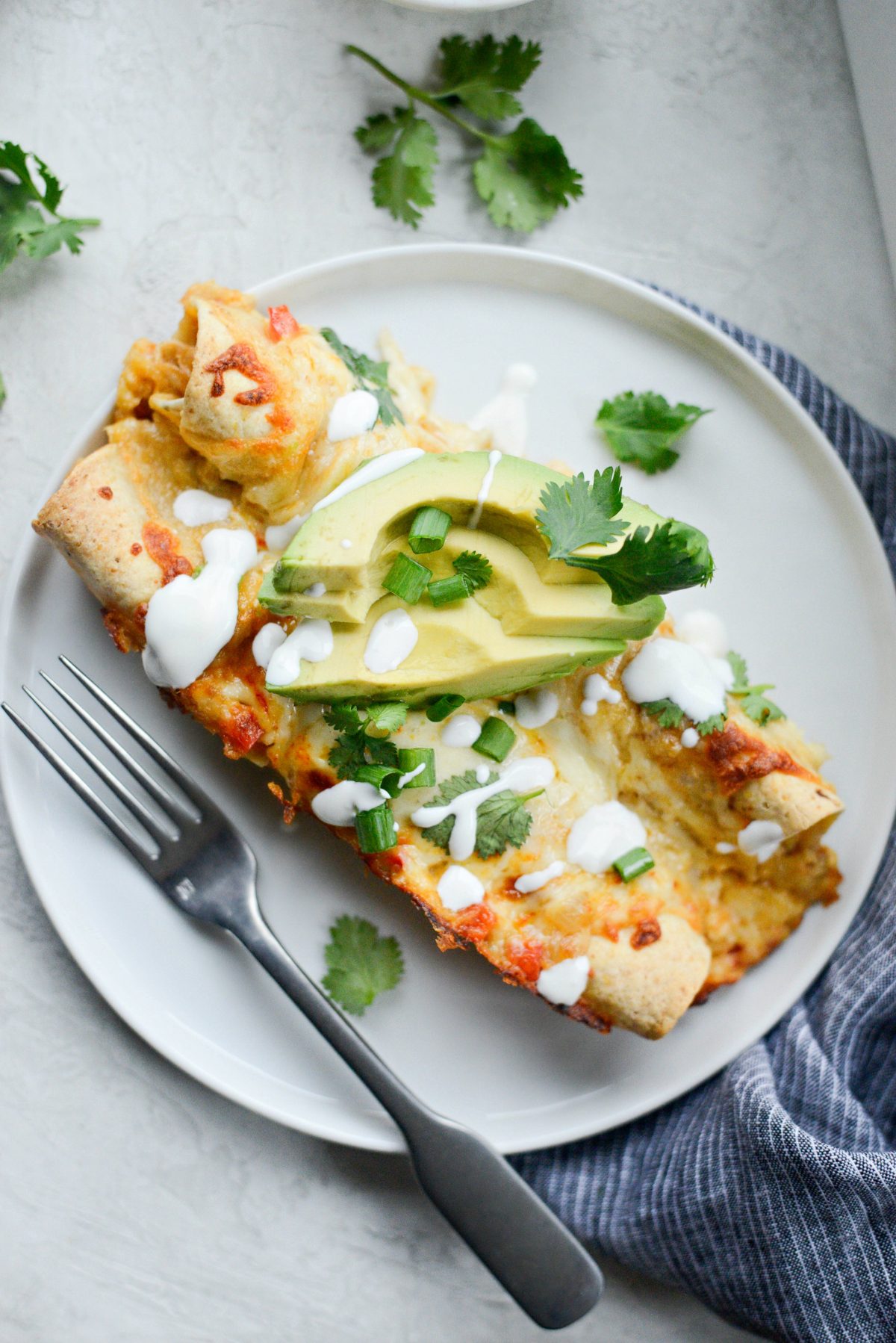 This sauce is made by sautéing onions, peepers, garlic, cumin and chipotles. A quick and simple roux plus broth makes for a lighter, creamy and broth-like sauce.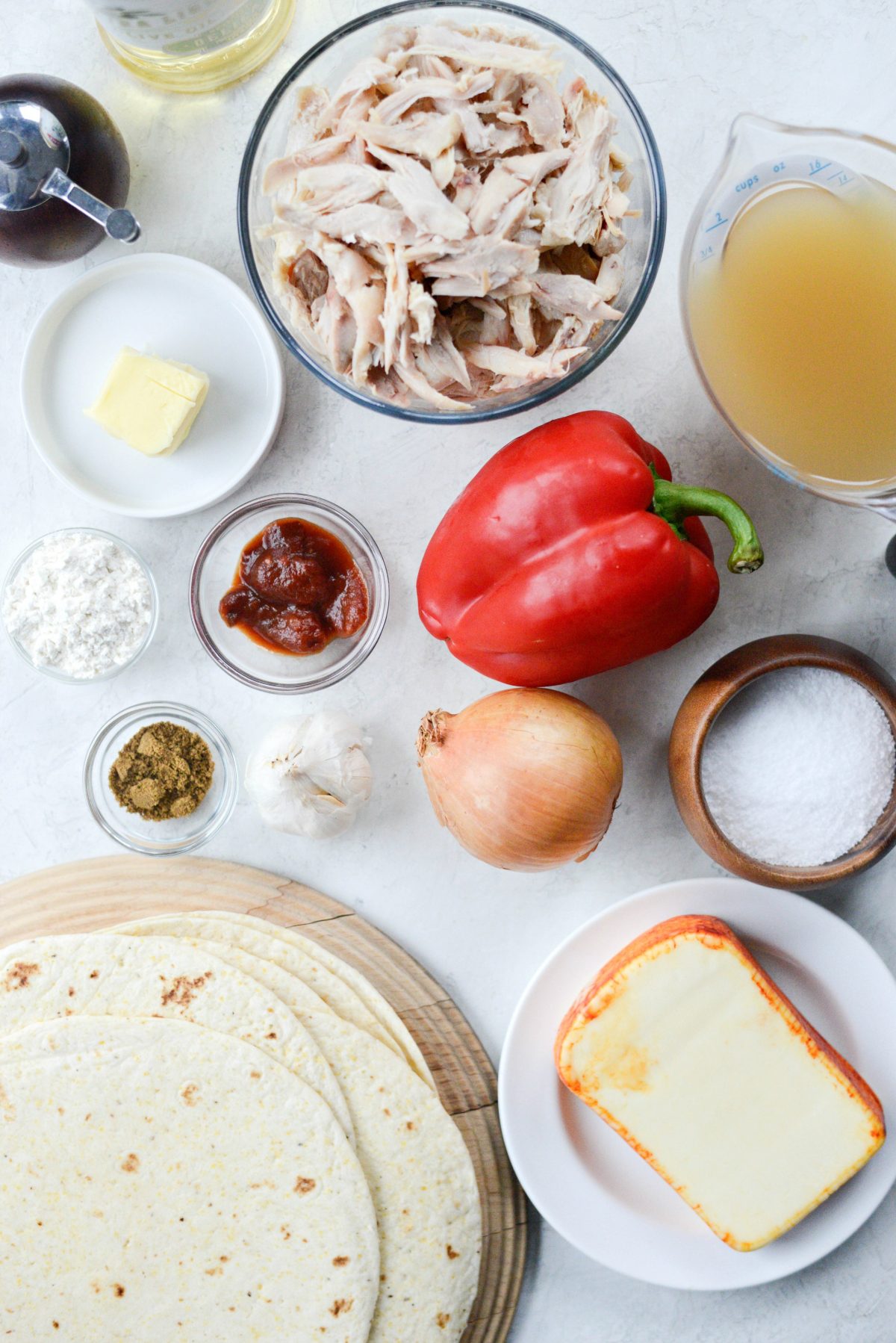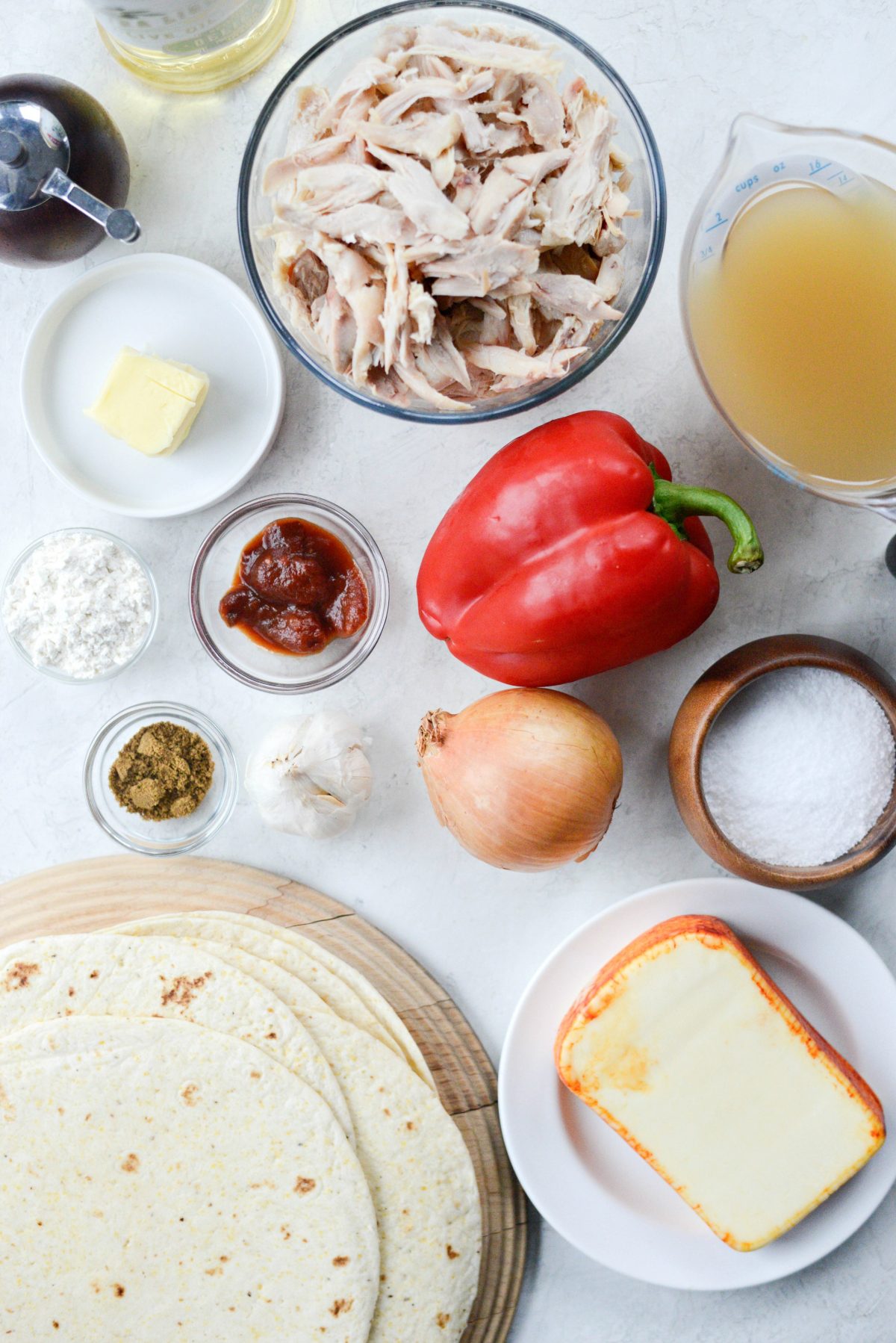 First gather all your ingredients. Here's what you'll need; 3 to 4 cups shredded chicken (either roasted or rotisserie), olive oil, 1/2 cup diced red bell pepper, 1 cup diced yellow onion, 3 cloves fresh garlic, 2 tablespoons butter, 2 tablespoons all-purpose flour, 2 to 3 small chipotles (finely chopped) in adobo plus 1 to 2 teaspoons adobo sauce, 1-3/4 cup low-sodium chicken broth, kosher salt and freshly ground black pepper, 10 tortillas (I like whole wheat or the corn and flour blend) and Muenster cheese.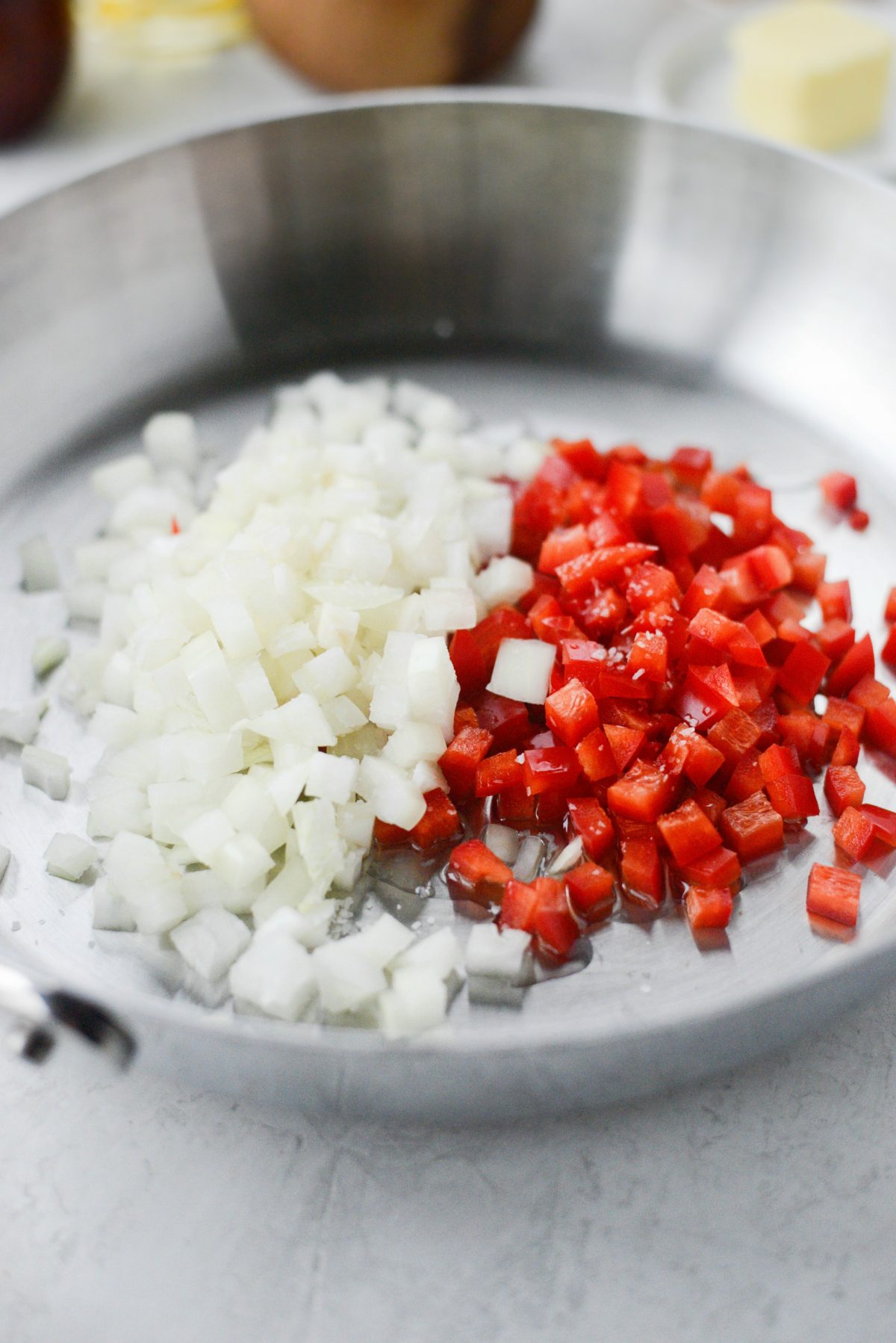 Start by spraying a 9×13 baking dish with olive oil spray, then set it off to the side. Then heat a couple teaspoons of olive oil in a large skillet over medium heat. Next add in 1 cup finely dice onion and 1/2 cup finely diced red bell pepper. Cook until tender, about 5 to 8 minutes.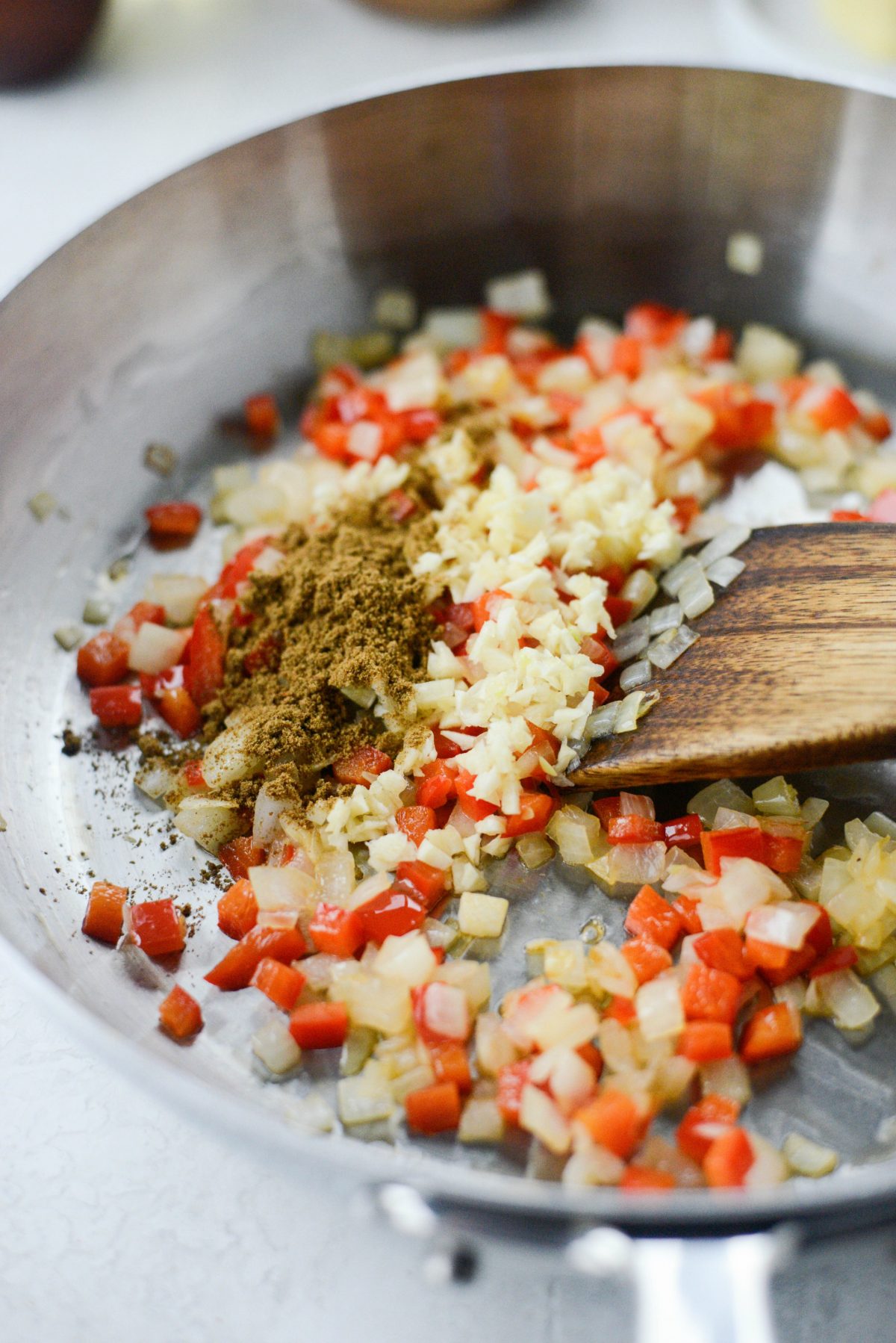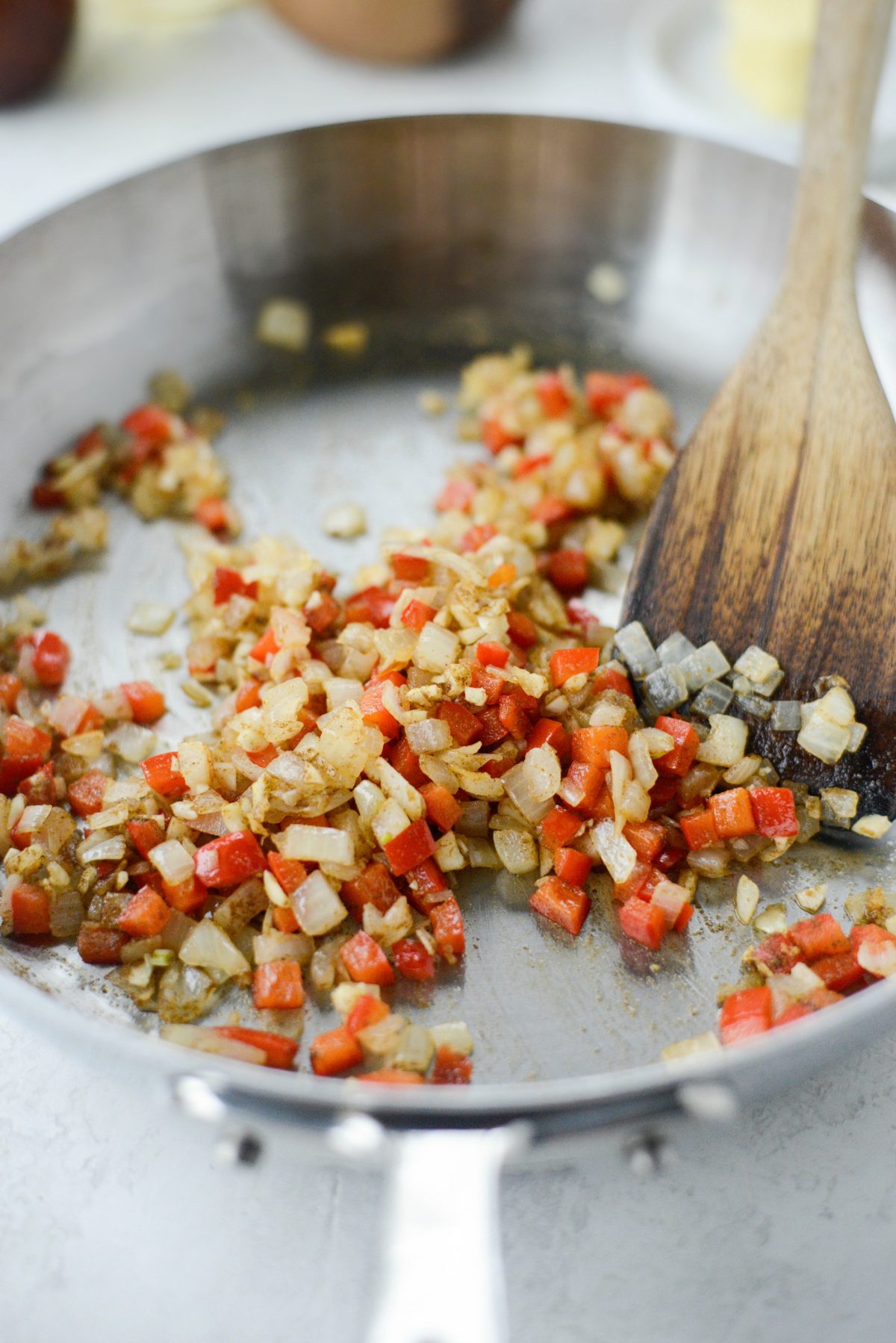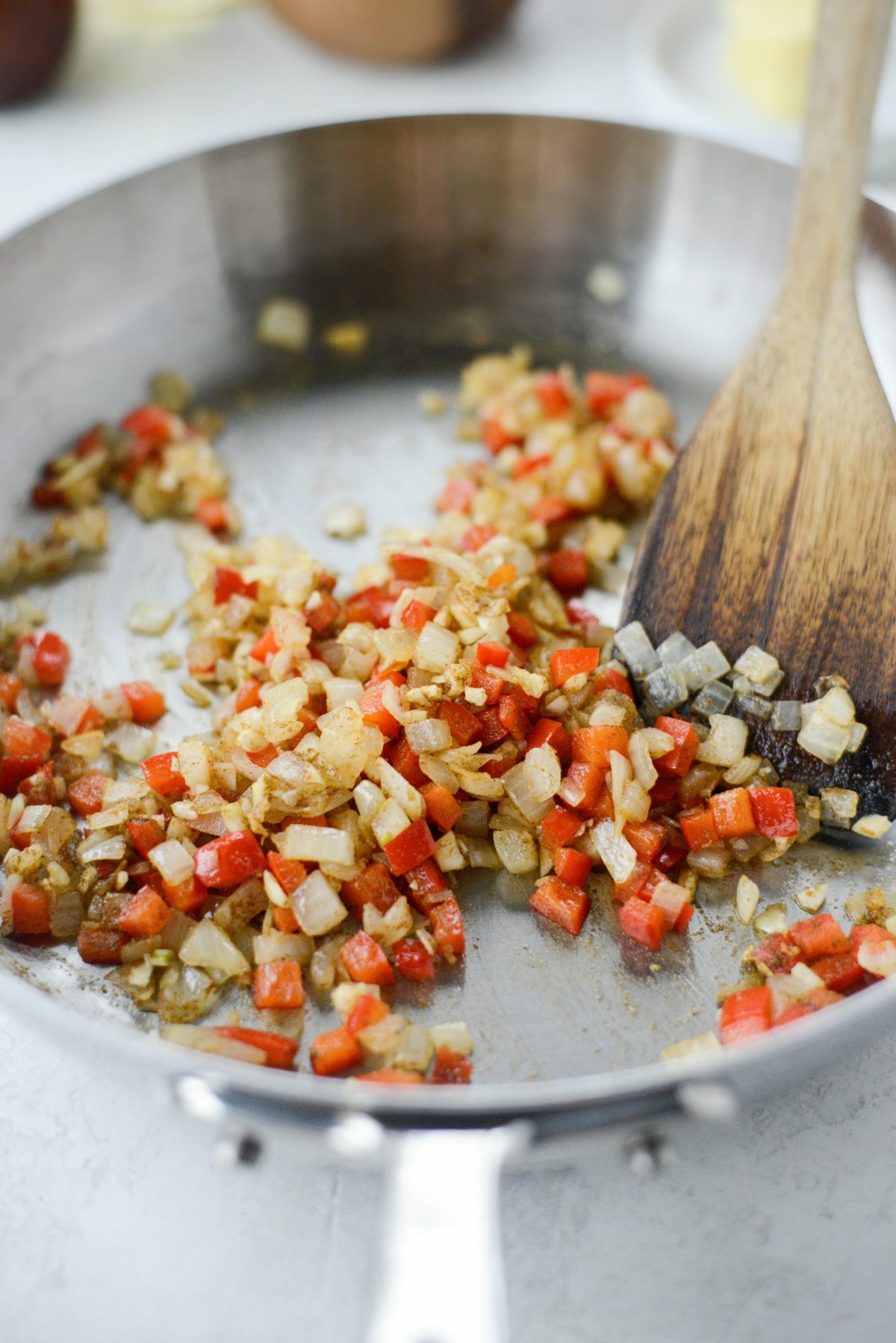 Once the peppers and onions are soft and translucent, add in the teaspoon of cumin and 3 cloves minced garlic, cook for 1 to 2 minutes.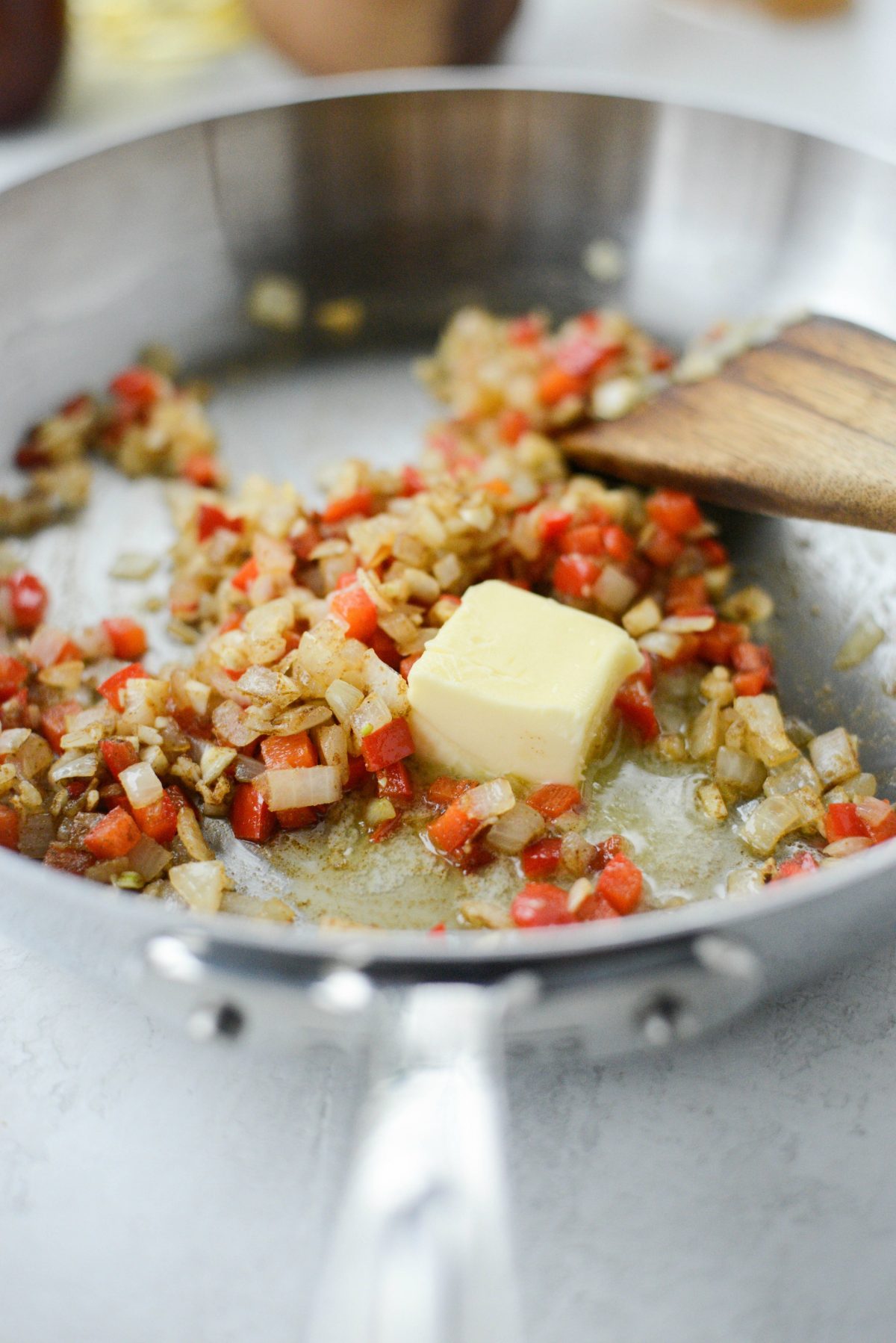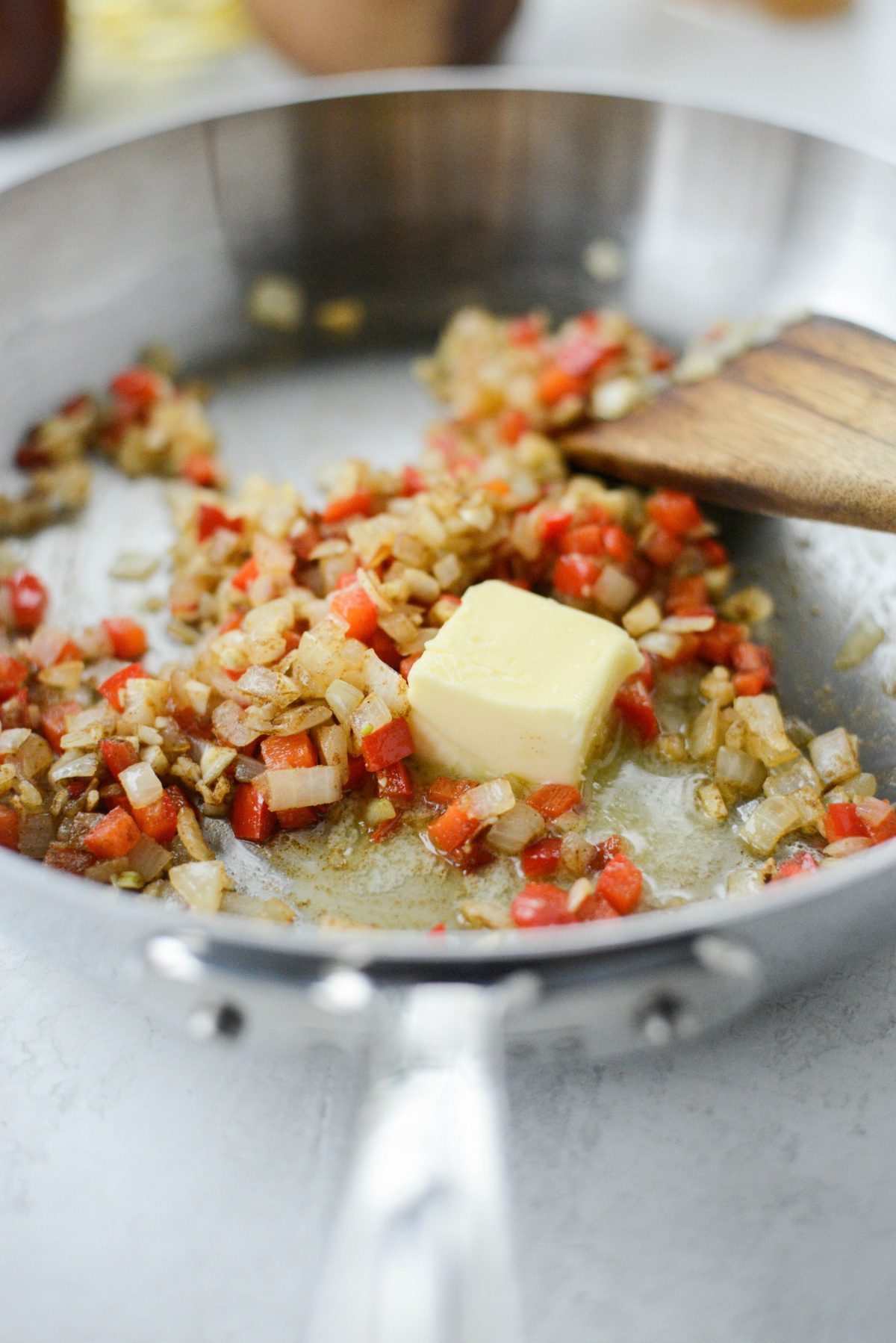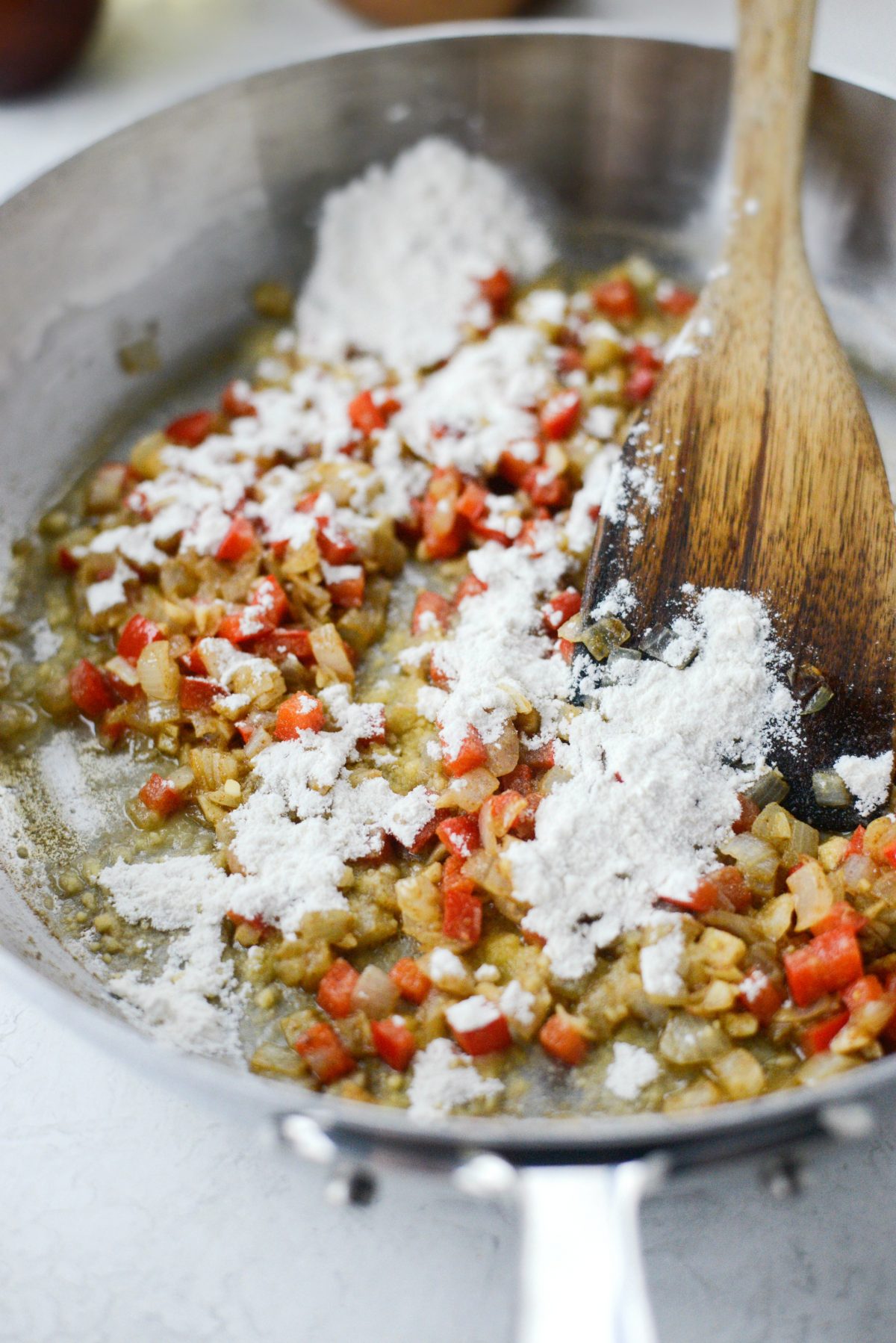 Next add in a 2 tablespoons of butter and stir until melted, then stir in the 2 tablespoons of all purpose flour. Stir until a wet paste forms and cook for 2 to 3 minutes.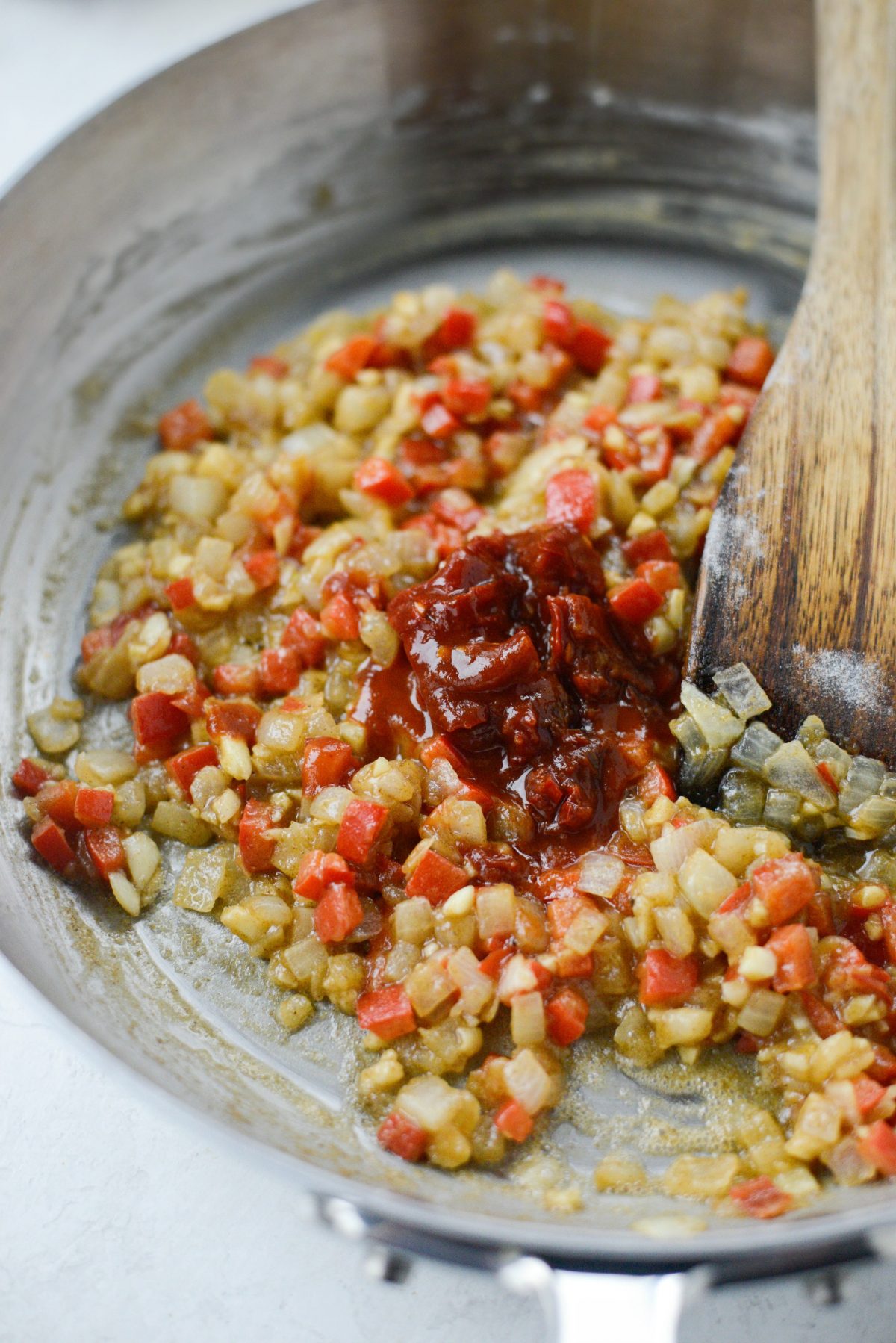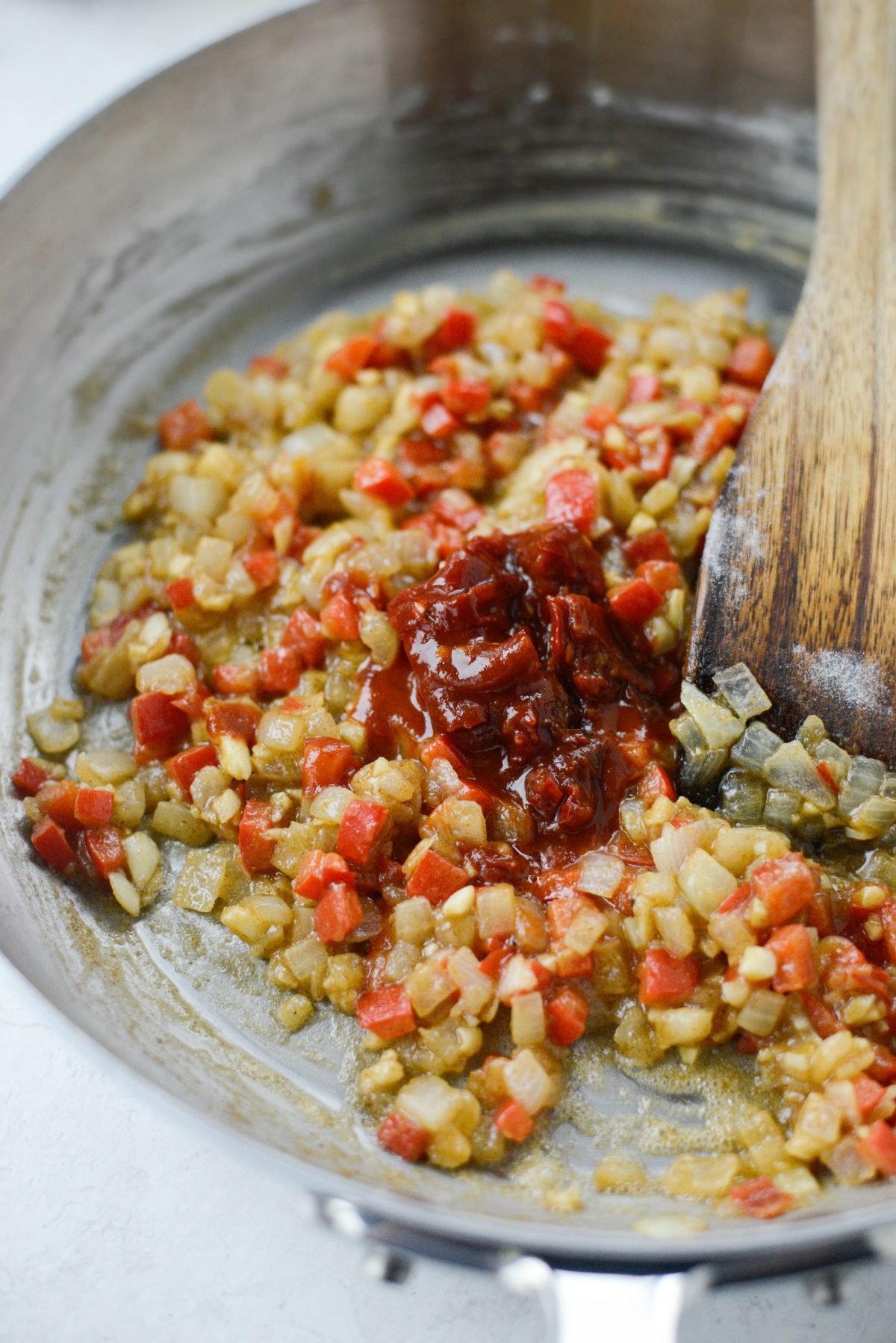 Then add in the minced chipotles and 1 to 2 teaspoons adobo sauce, more or less to taste.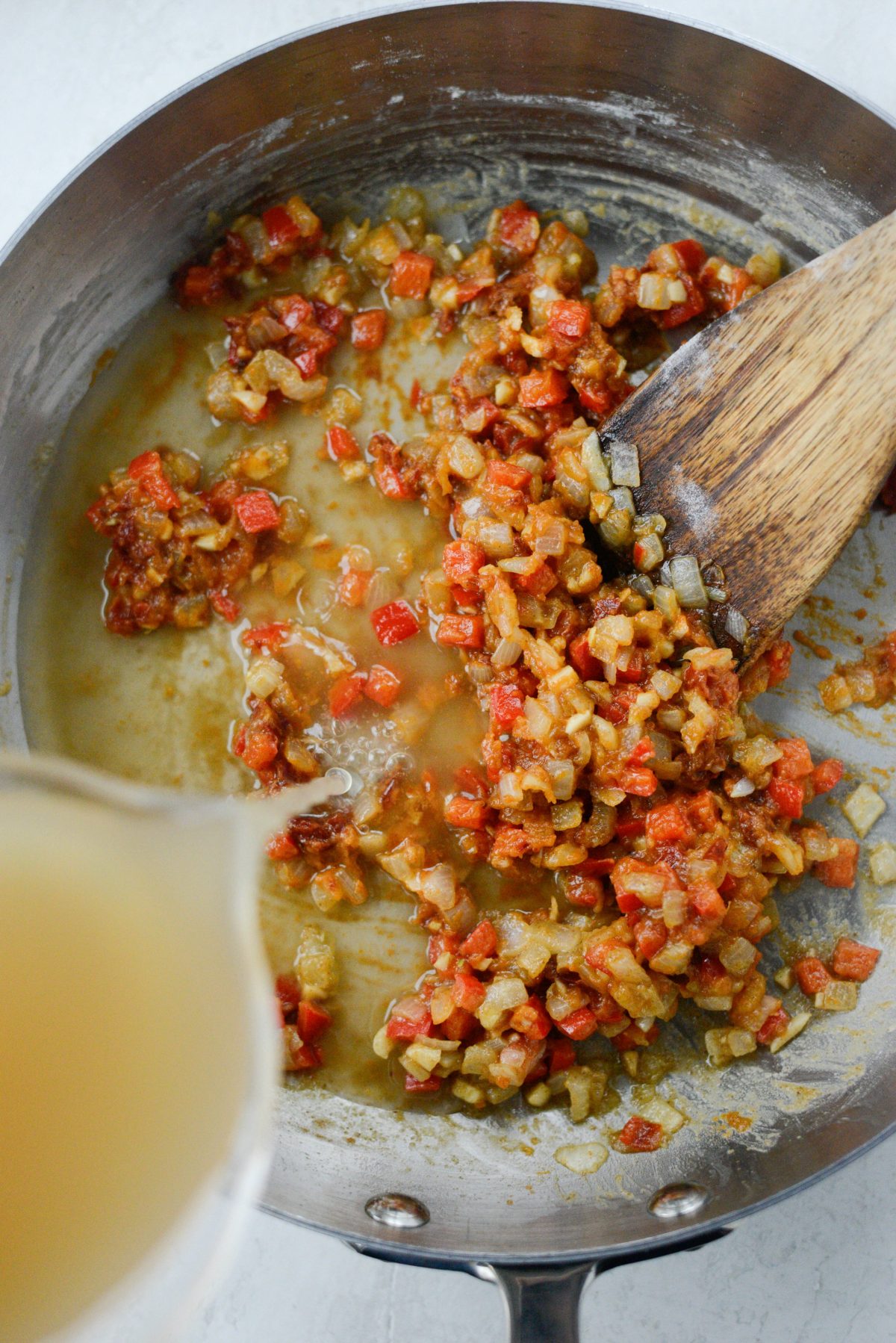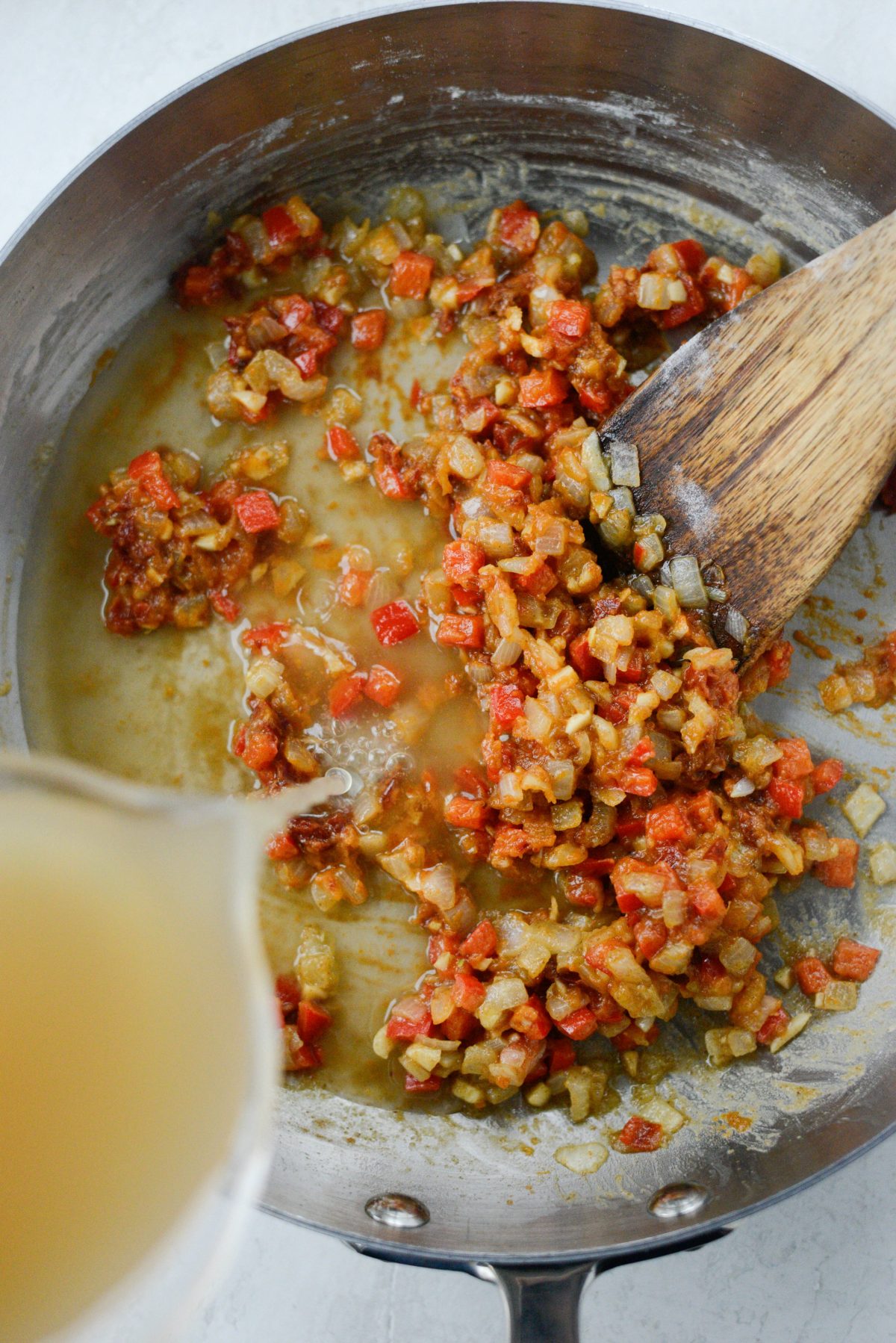 Next stir in 1-3/4 cup of chicken broth. Increase the heat to medium-high, stirring occasionally for 5 to 10 minutes or until the sauce has thickened. Then taste and season with 3/4 teaspoon kosher salt and a few turns of black pepper, about 1/8 teaspoon give or take.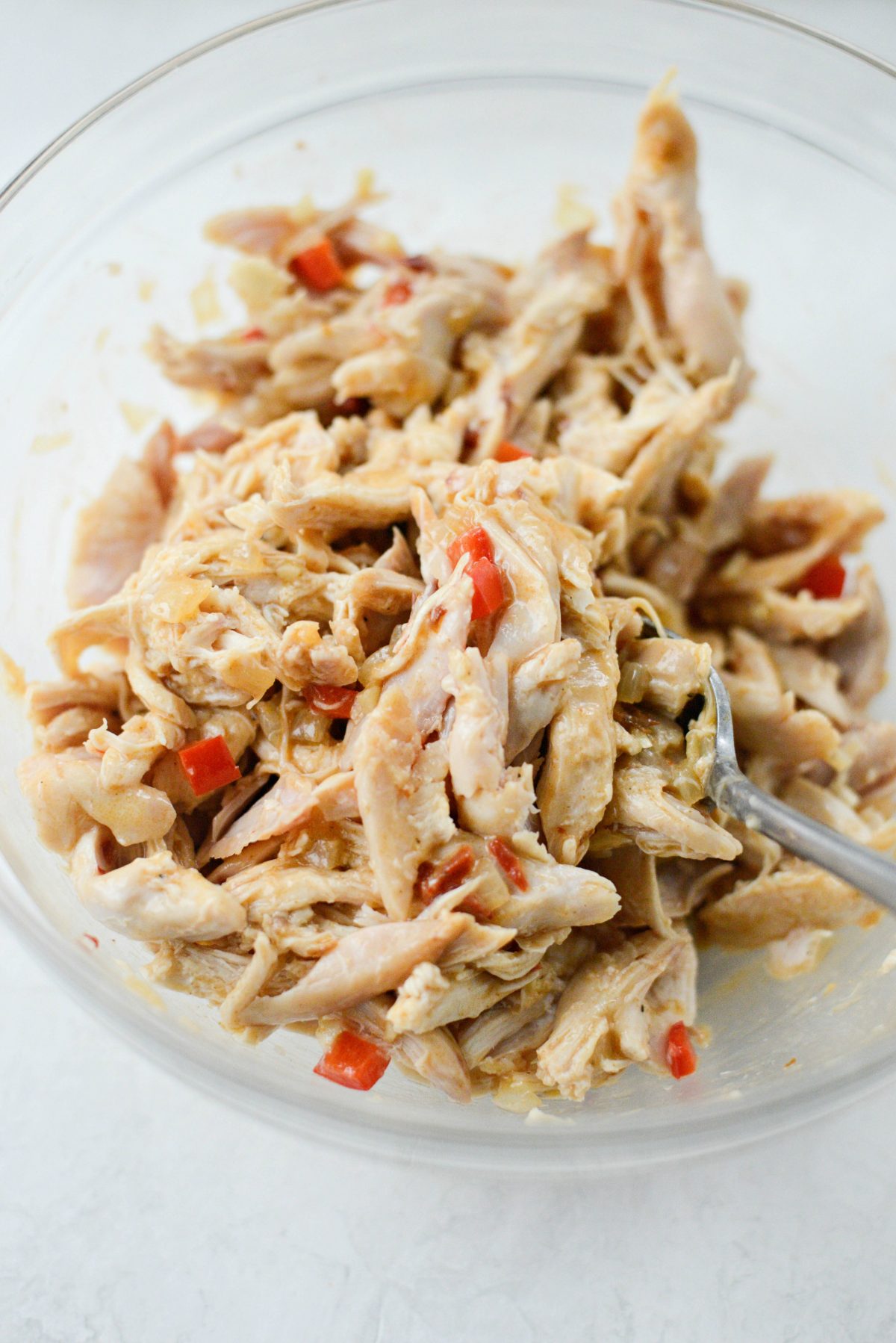 Take 3/4 cup of the sauce and it to the shredded chicken, tossing to combine.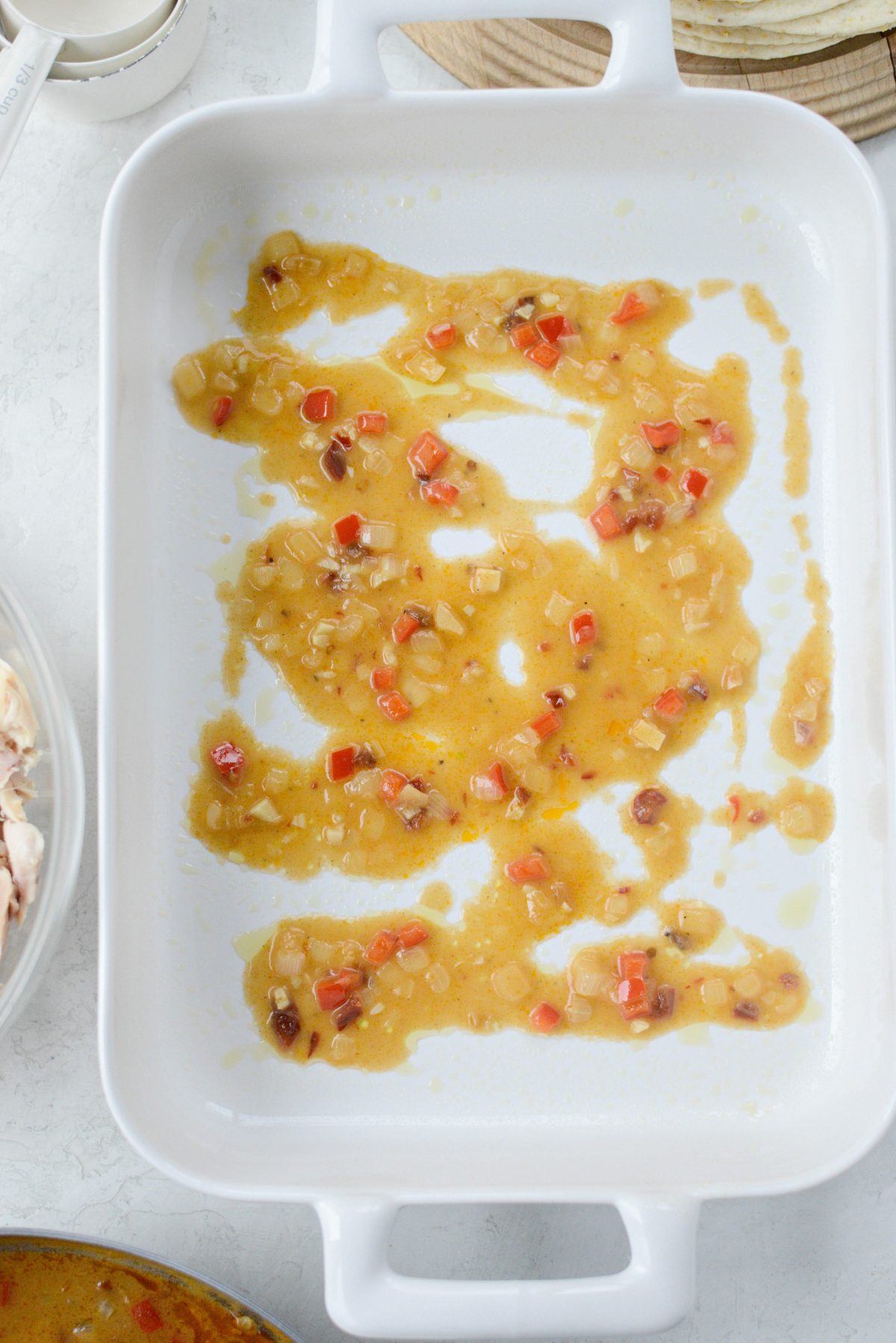 Next spread a 1/2 cup or so of the sauce into the bottom of the prepared baking dish.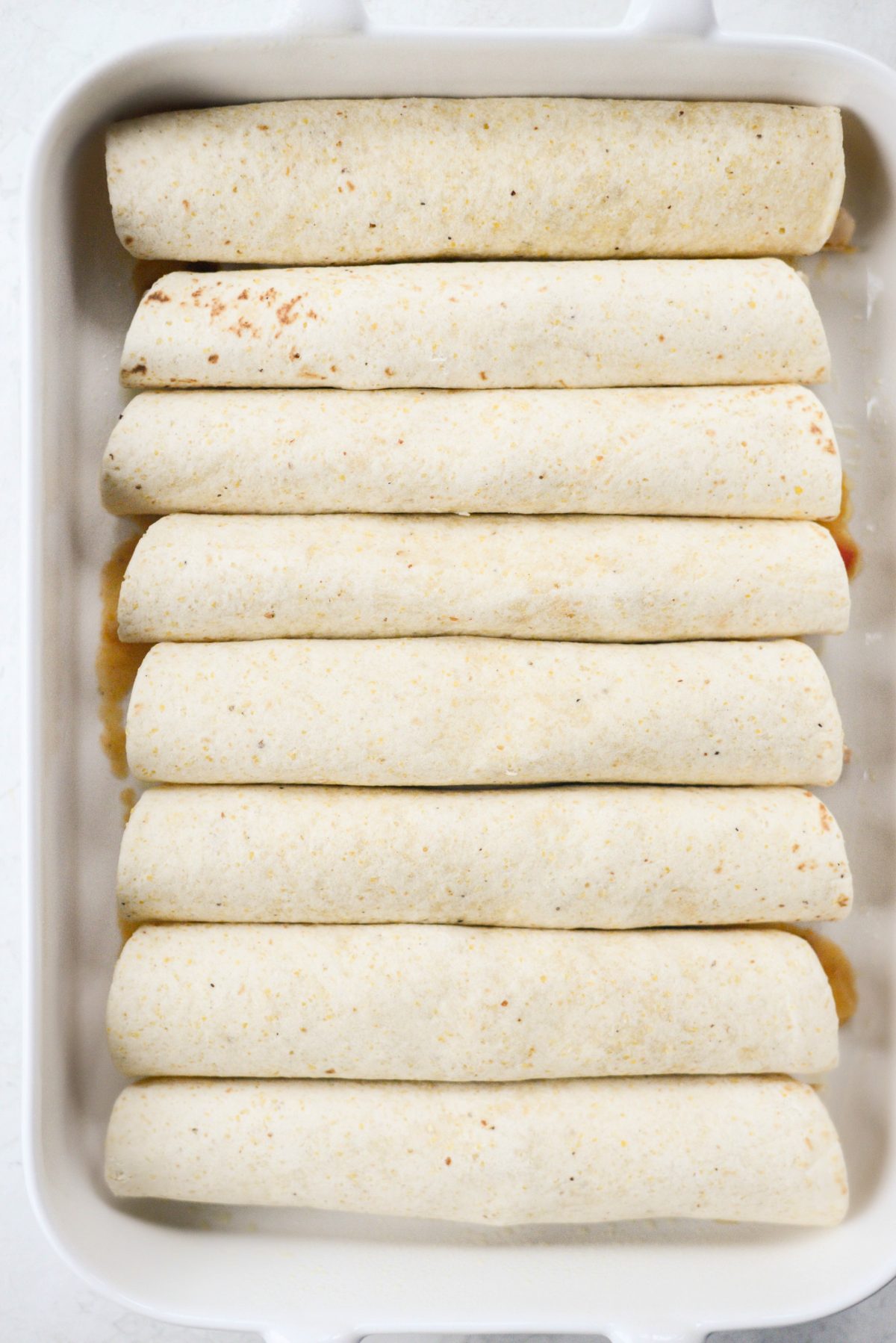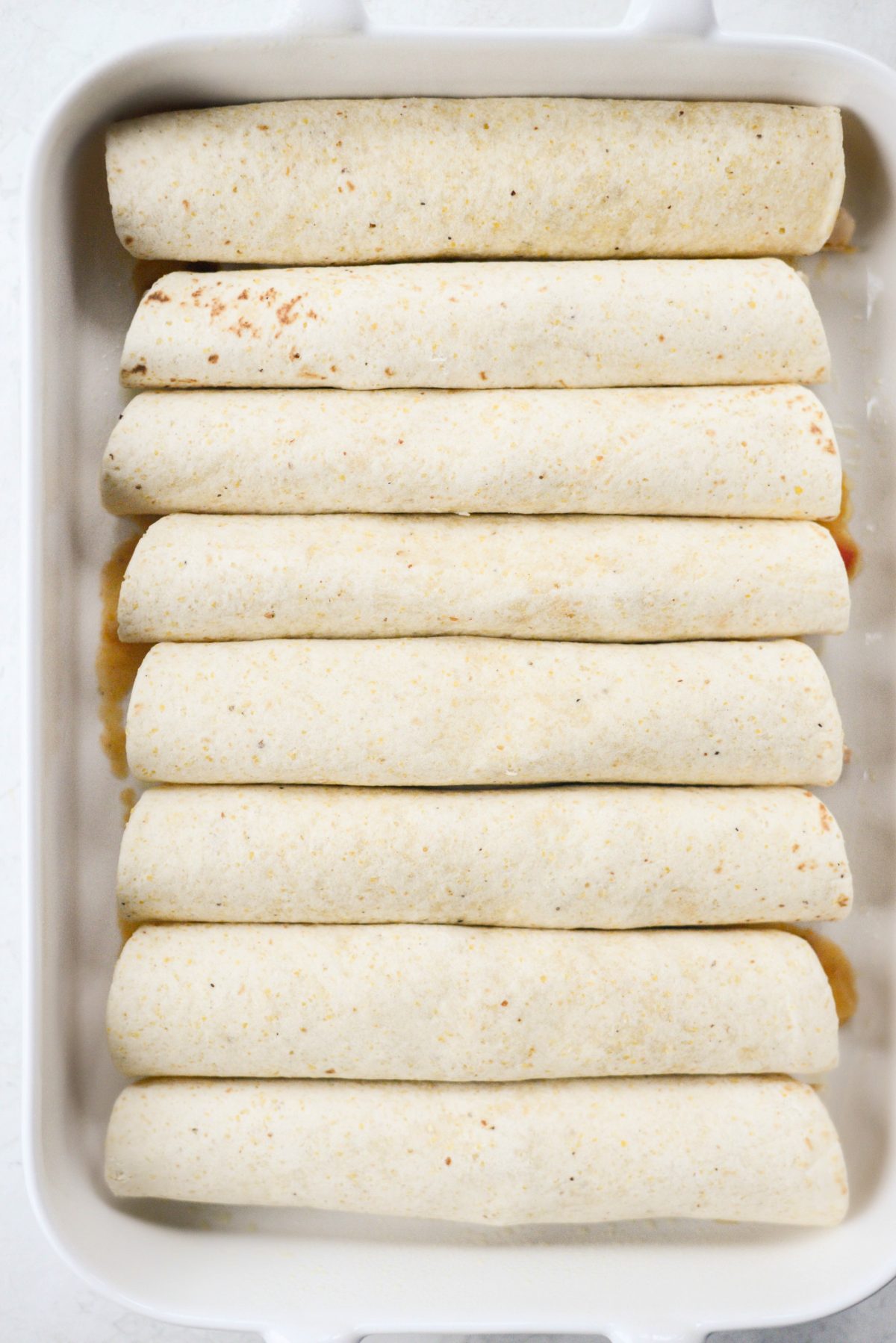 Spoon some of the chicken mixture down one side of a tortilla. Tuck, roll and repeat. Line them up, seam side down, in the baking dish.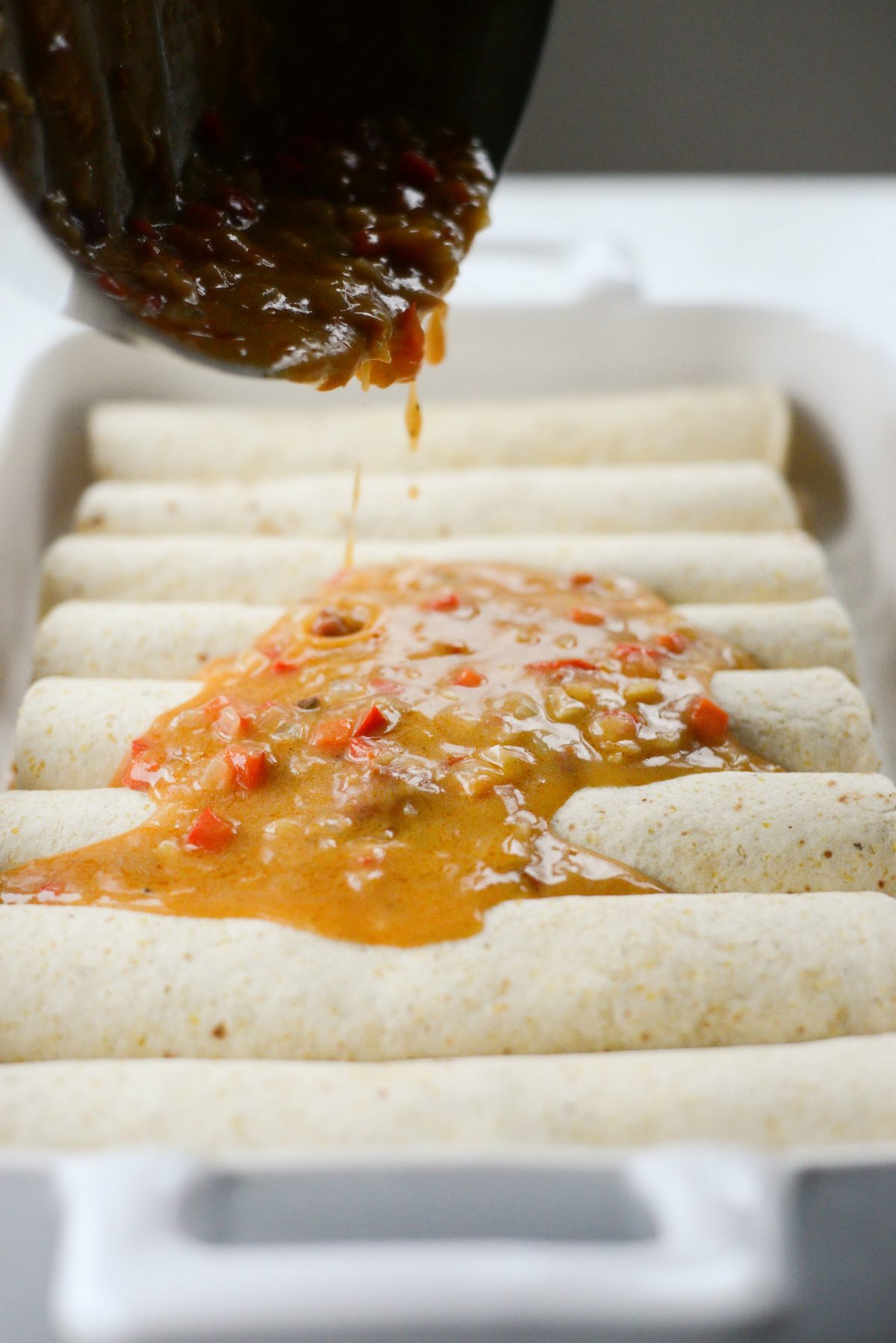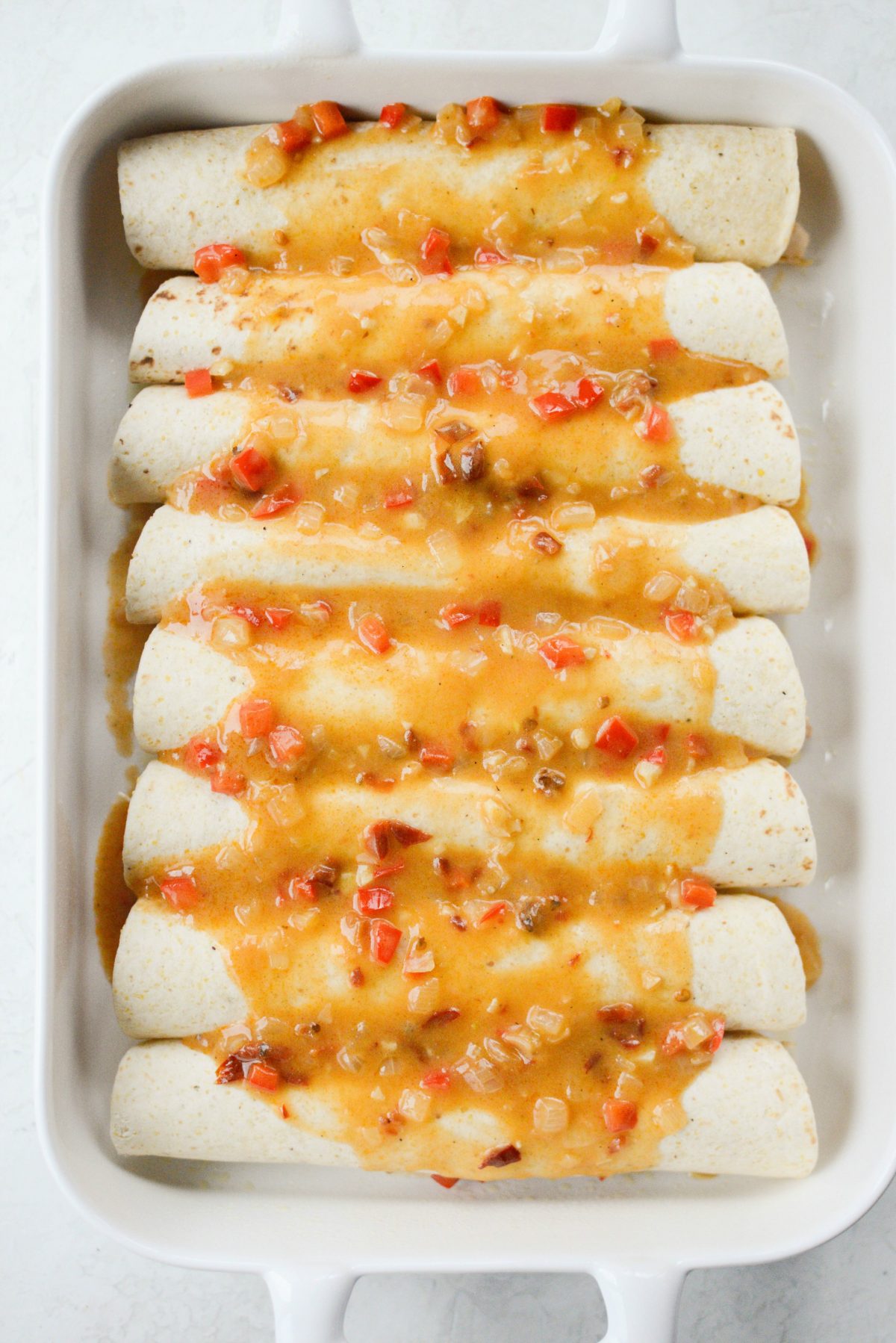 Then pour all of the remaining sauce over top of the rolled enchiladas, use a spoon to smooth it out over top.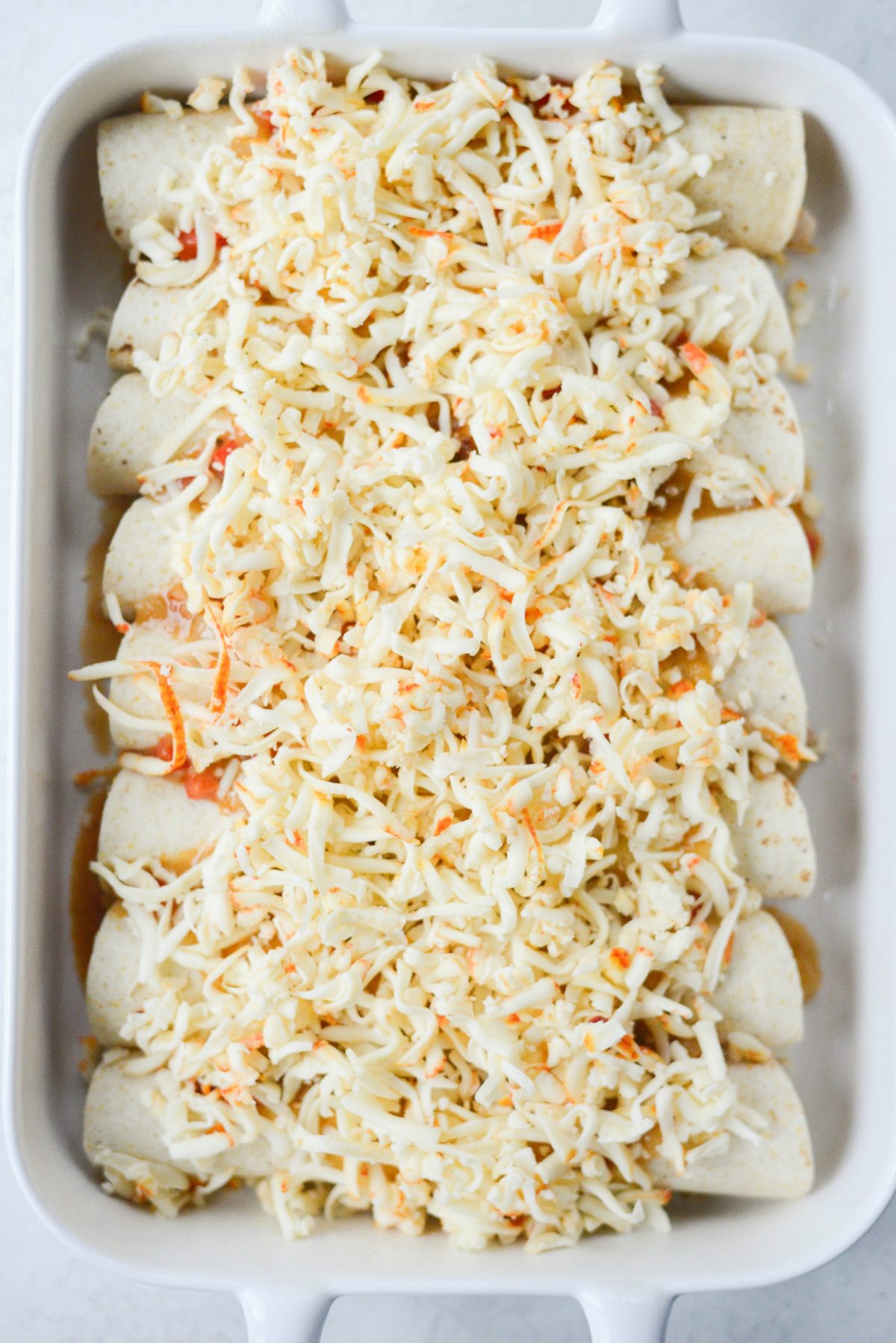 Lastly, grate about 1 cup or more (you decide) of Muenster cheese and then sprinkle it over top.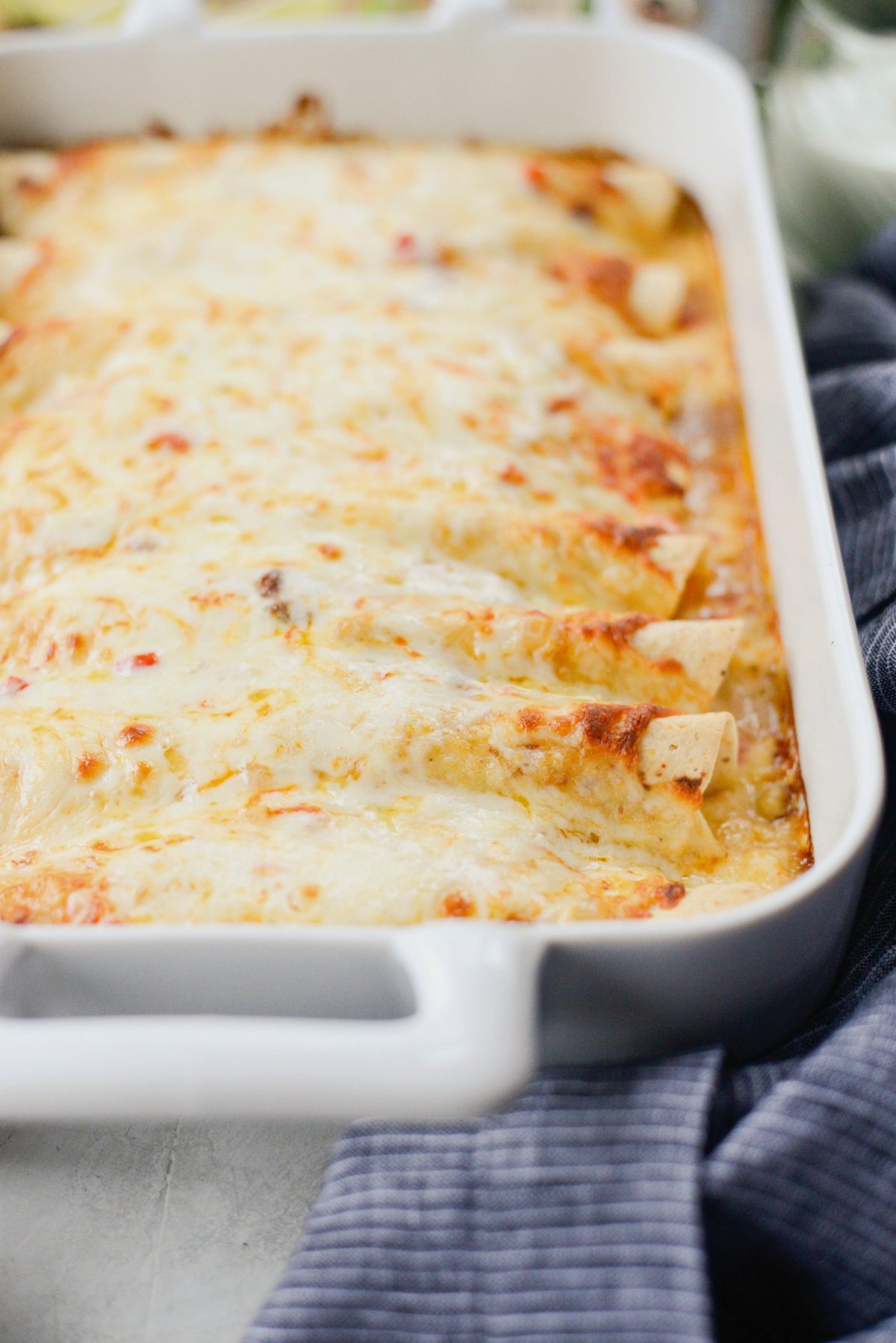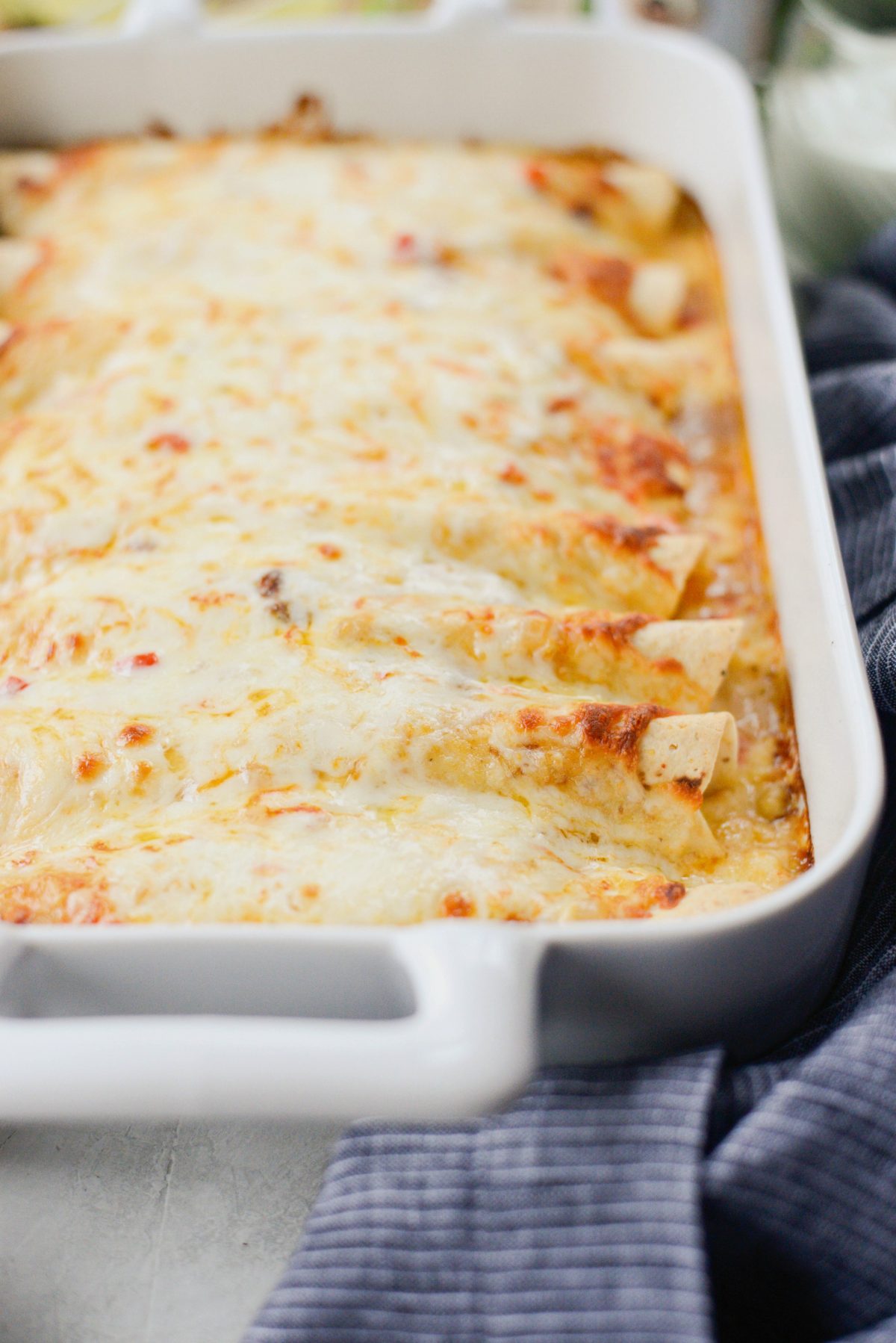 Finally slide the pan of lighter chicken enchiladas onto the middle rack of your preheated 400° oven for about 15 minutes or until the cheese is melted and golden in spots.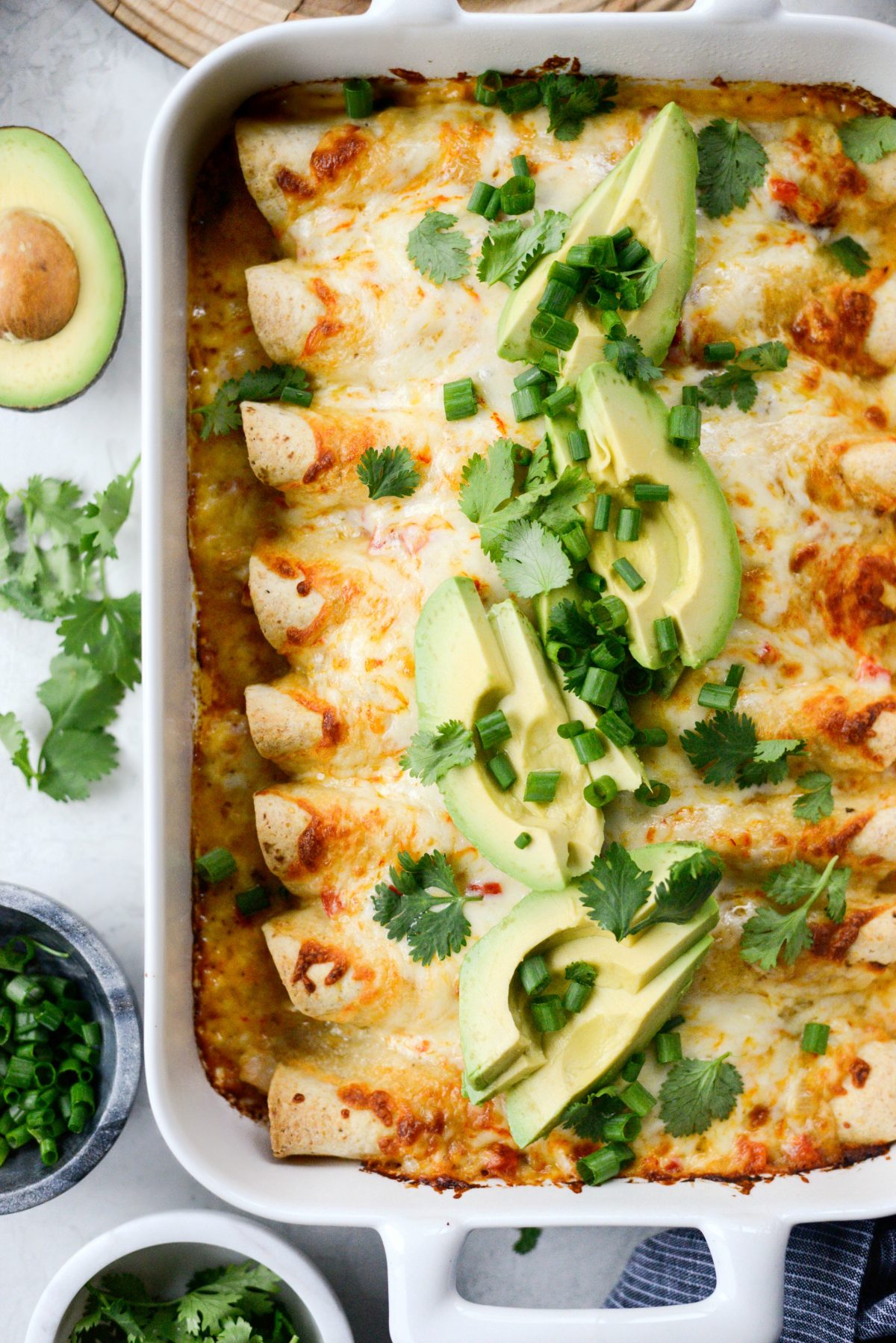 With enchiladas, sometimes I cover with foil and sometimes I don't. For some reason, with this recipe, I never cover it. The cheese melts and turns golden brown and where the cheese touches the pan, it gets super crispy.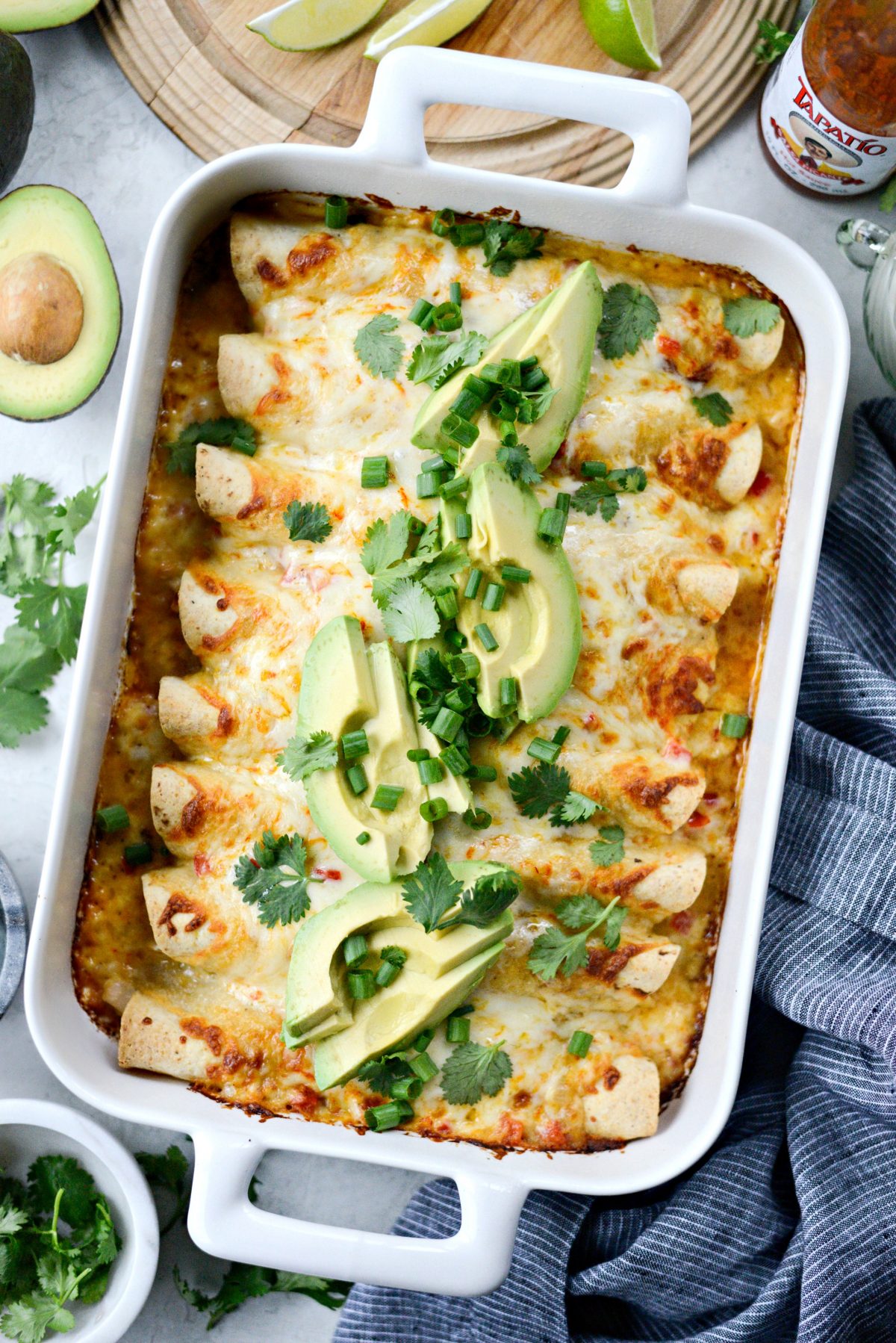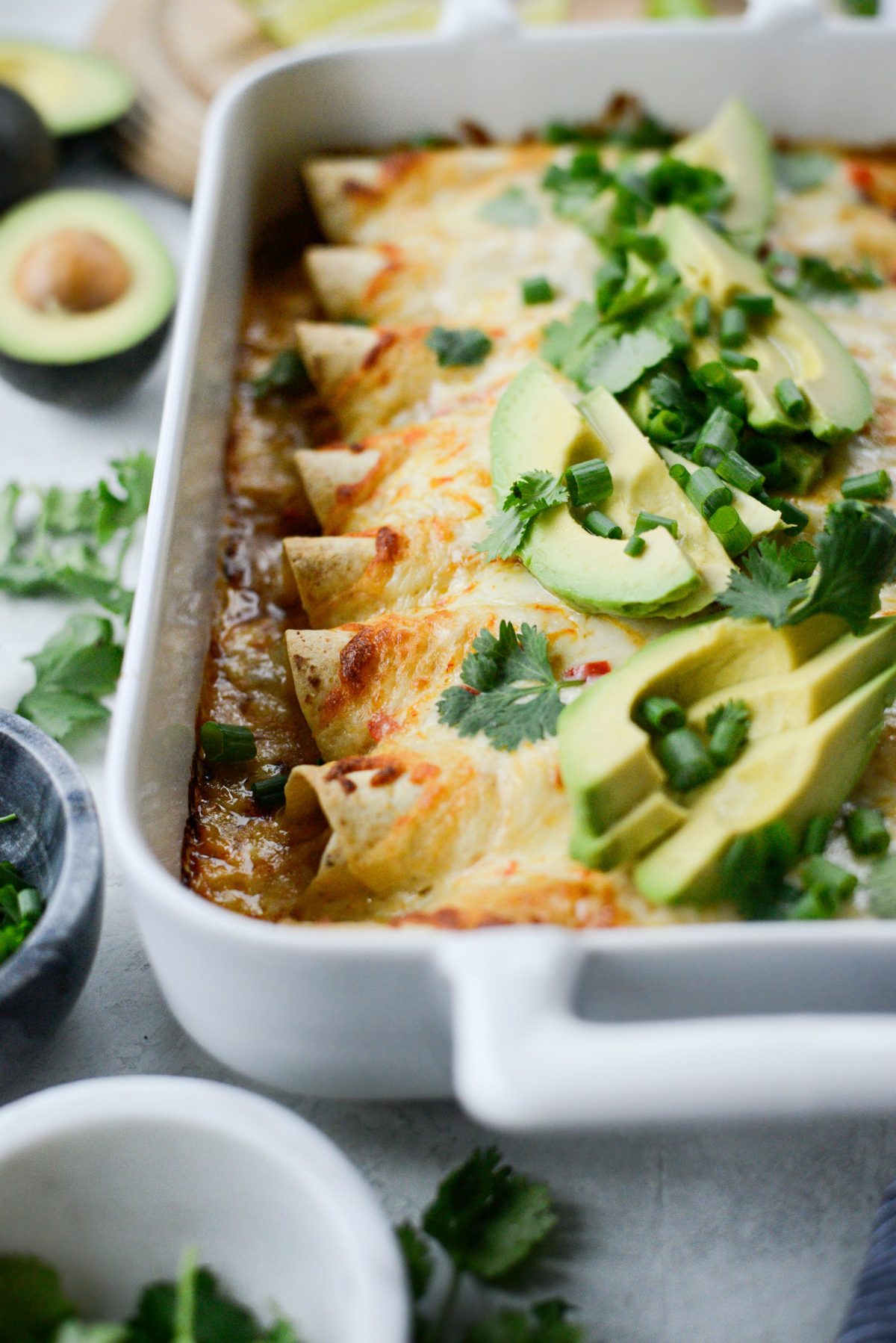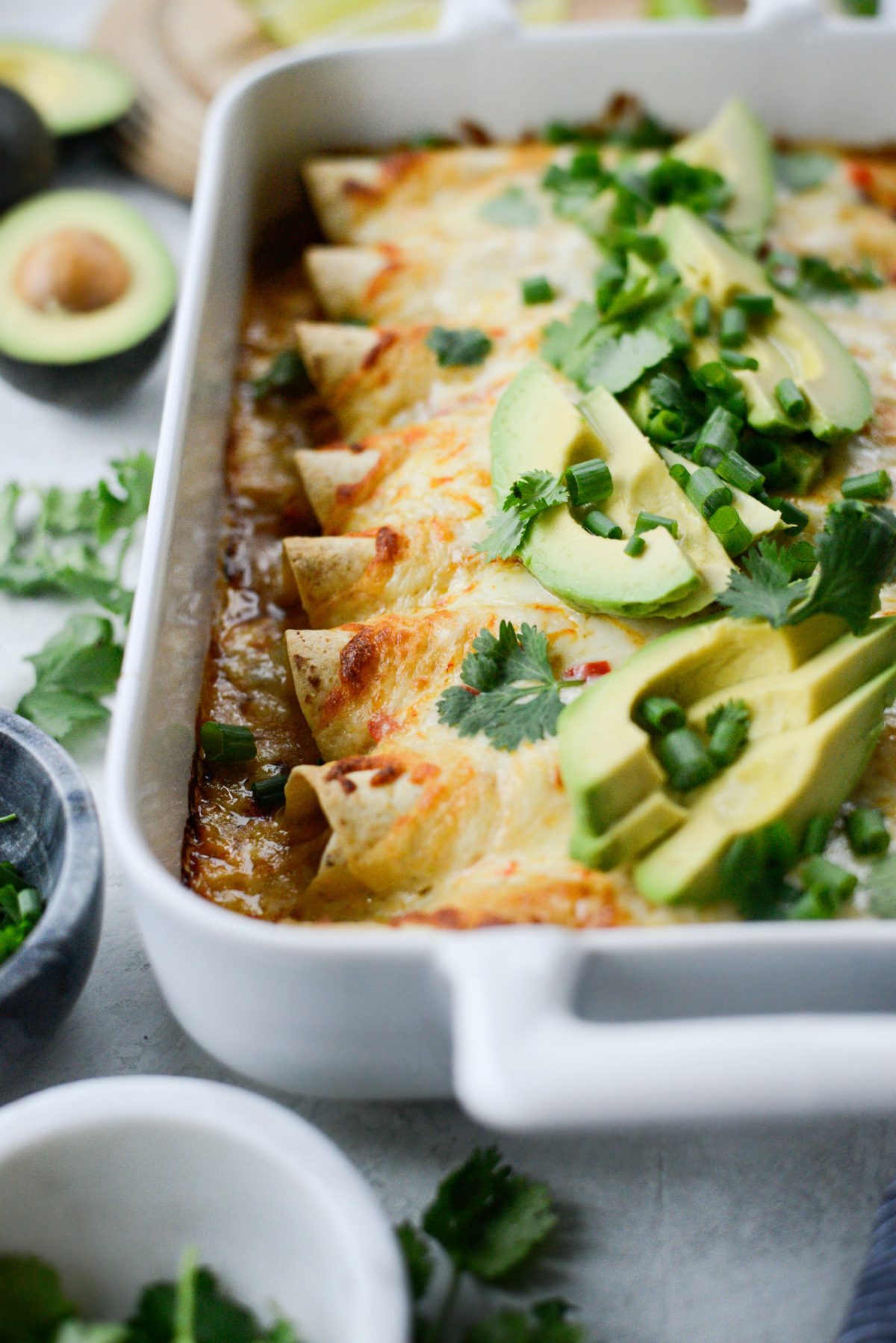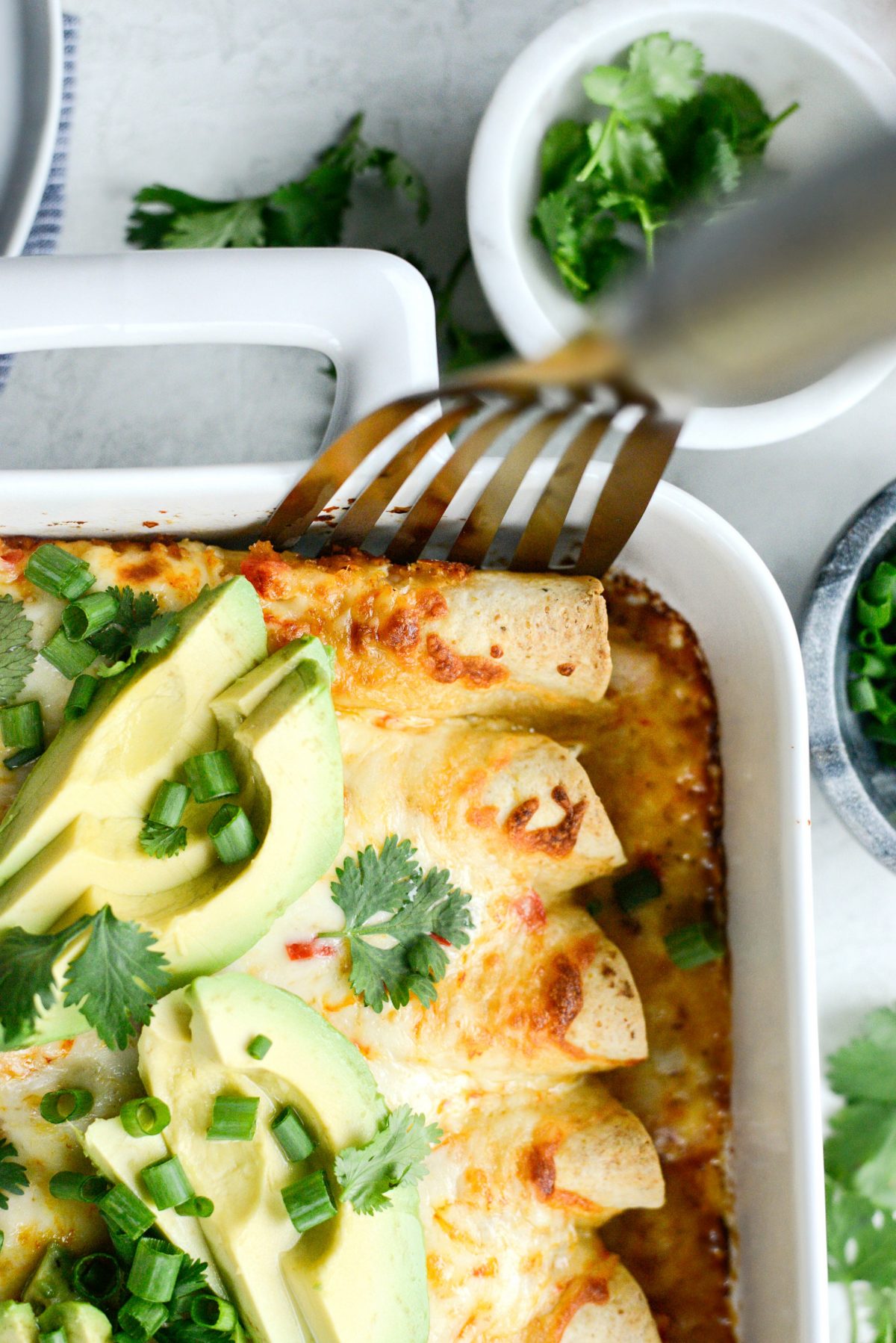 Allow these lighter chicken enchiladas to cool for a minute while you finish prepping some easy toppings.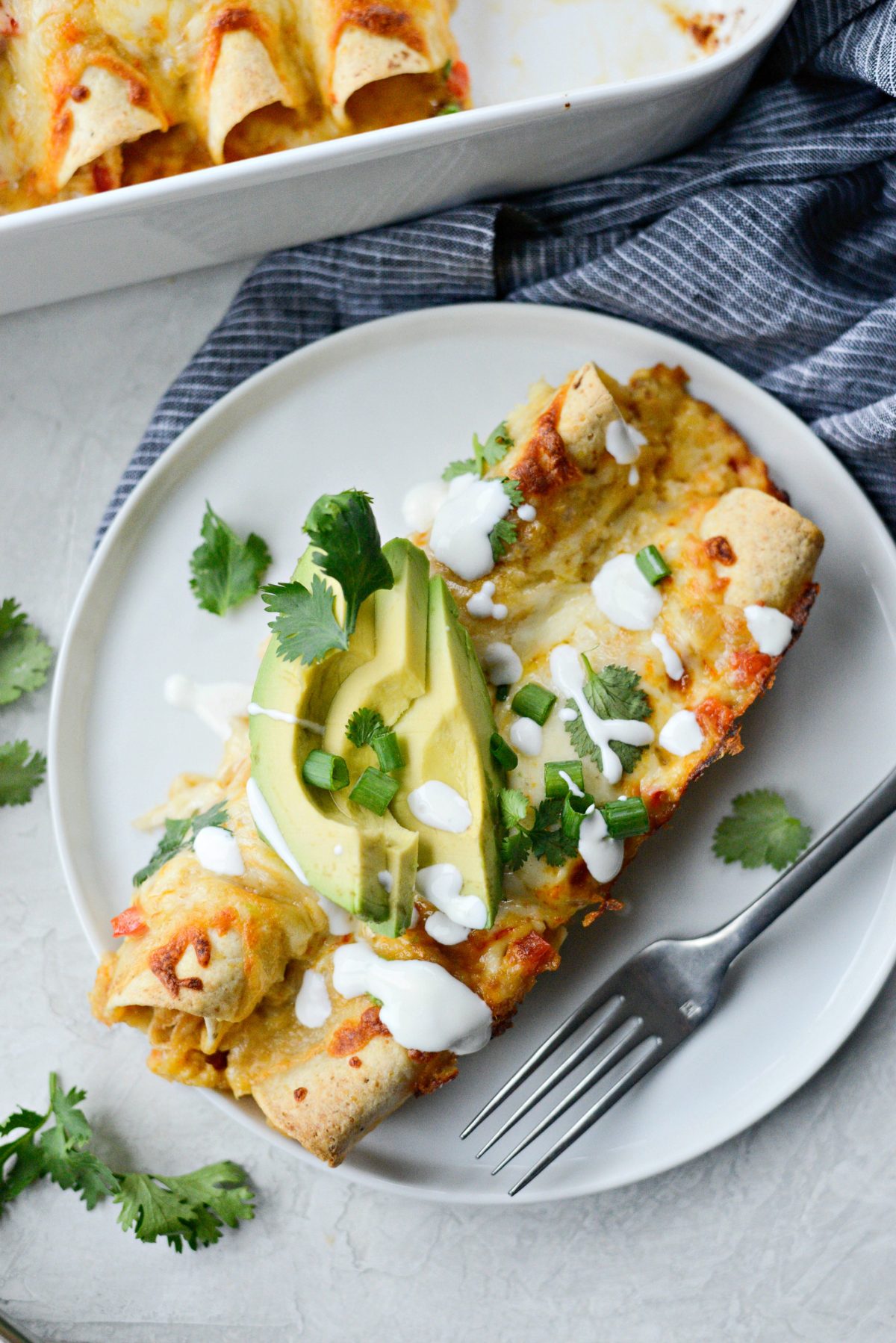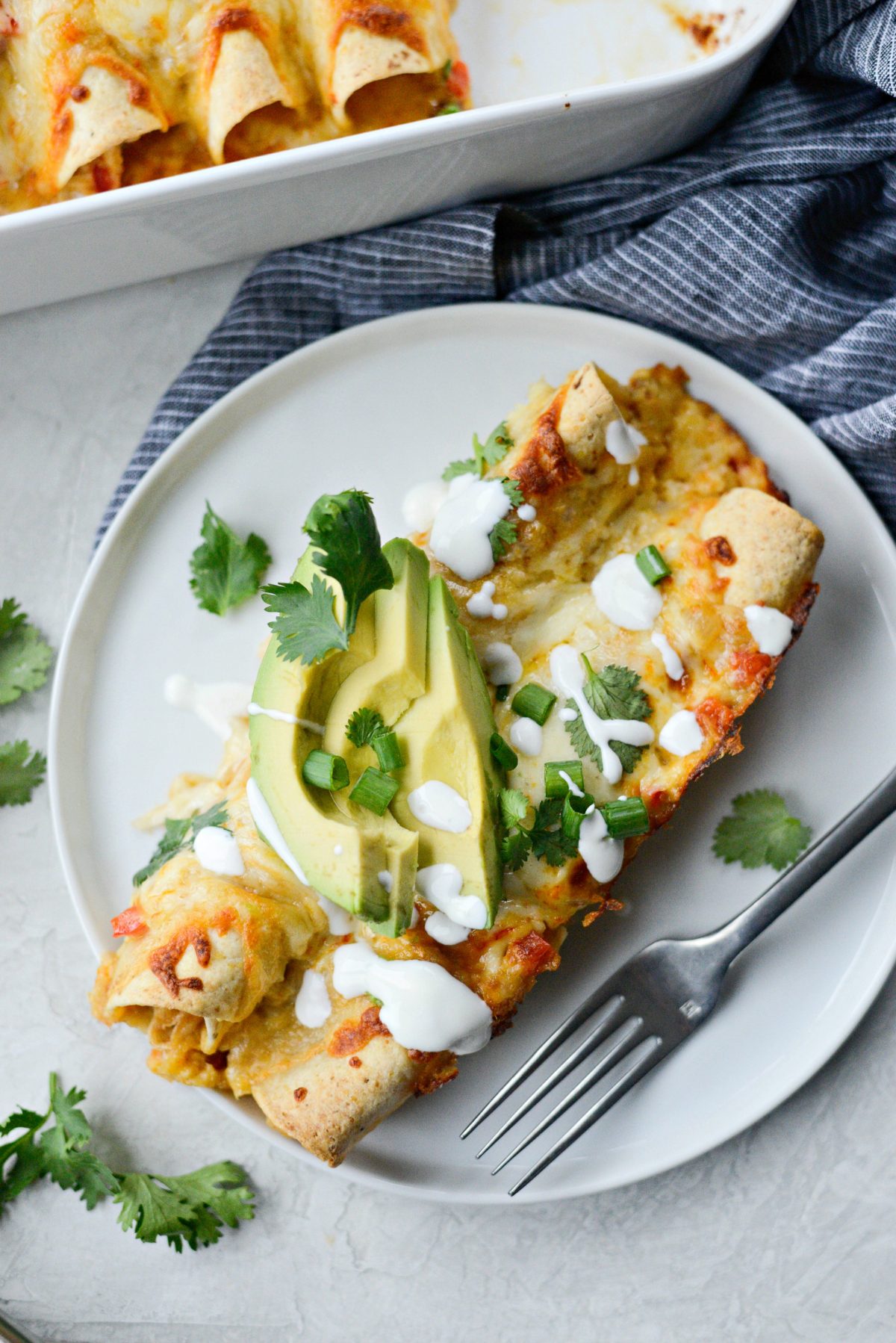 We like ours with a little sour cream, a few dashes of hot sauce, green onions and some torn cilantro leaves. But you could so do chopped tomatoes, raw onion or sliced fresh jalapeños.
These lighter chicken enchiladas are definitely a family favorite in our house and I hope they are in yours too!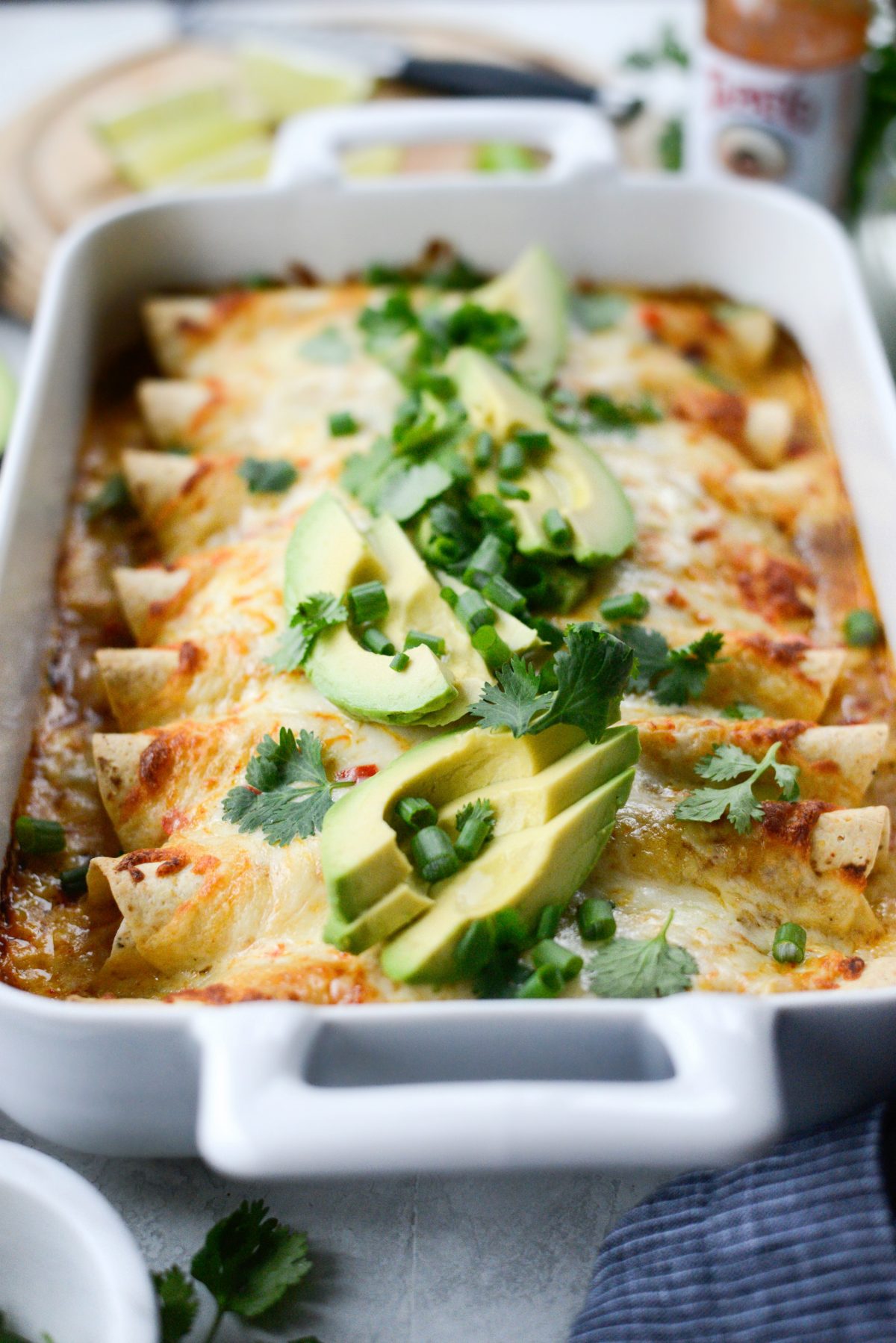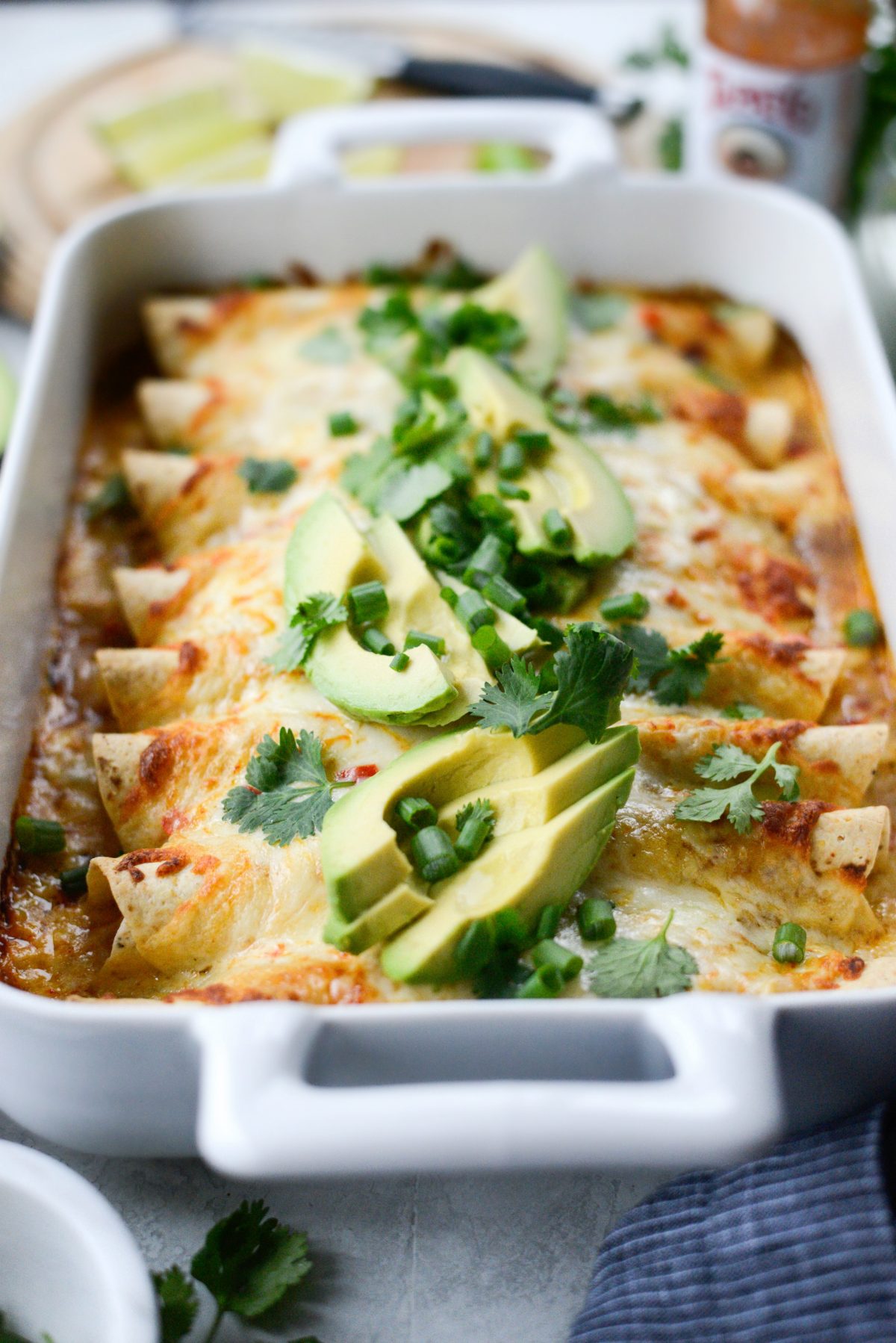 Enjoy! And if you give this Lighter Chicken Enchiladas recipe a try, let me know by snapping a photo and tagging me on twitter or instagram!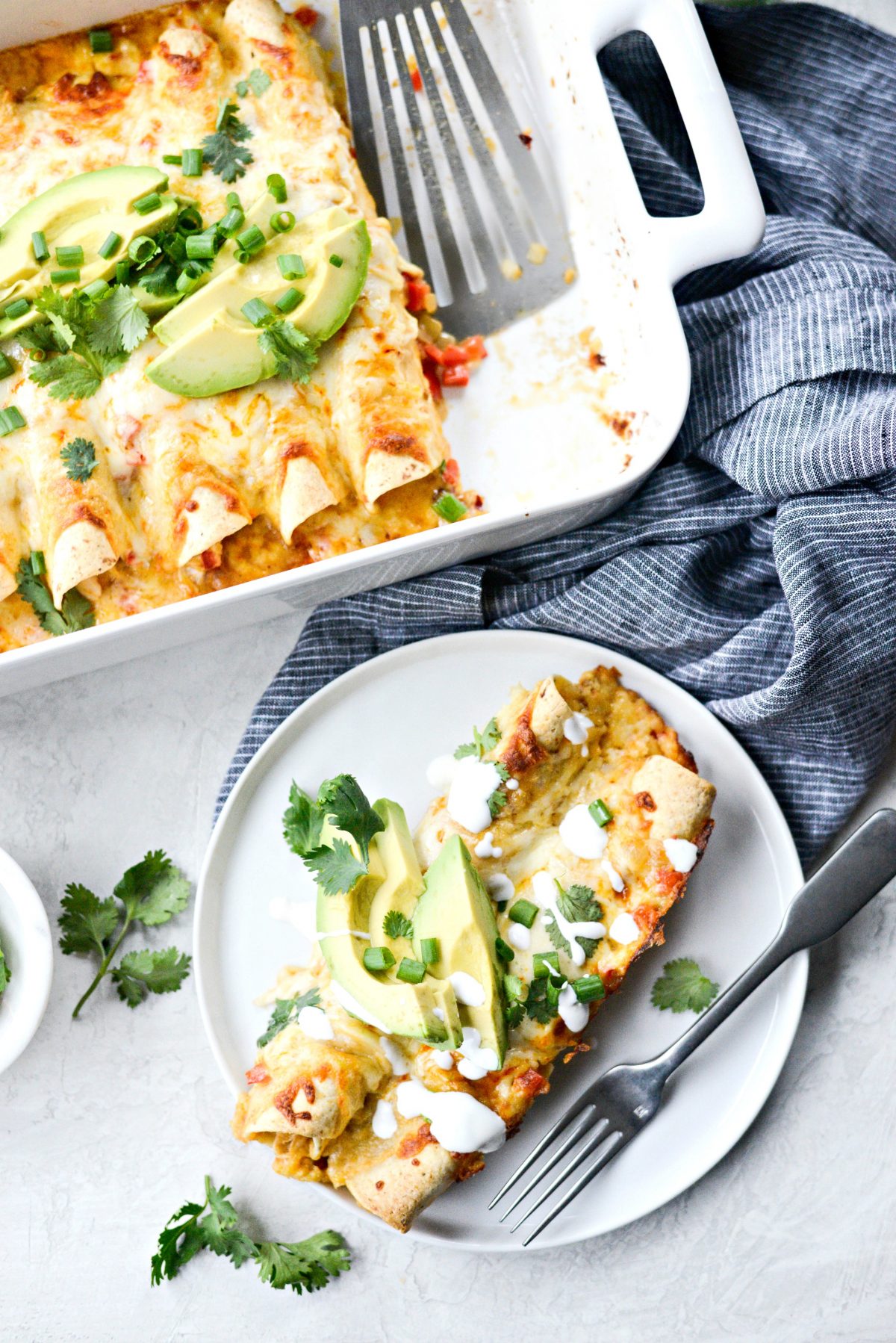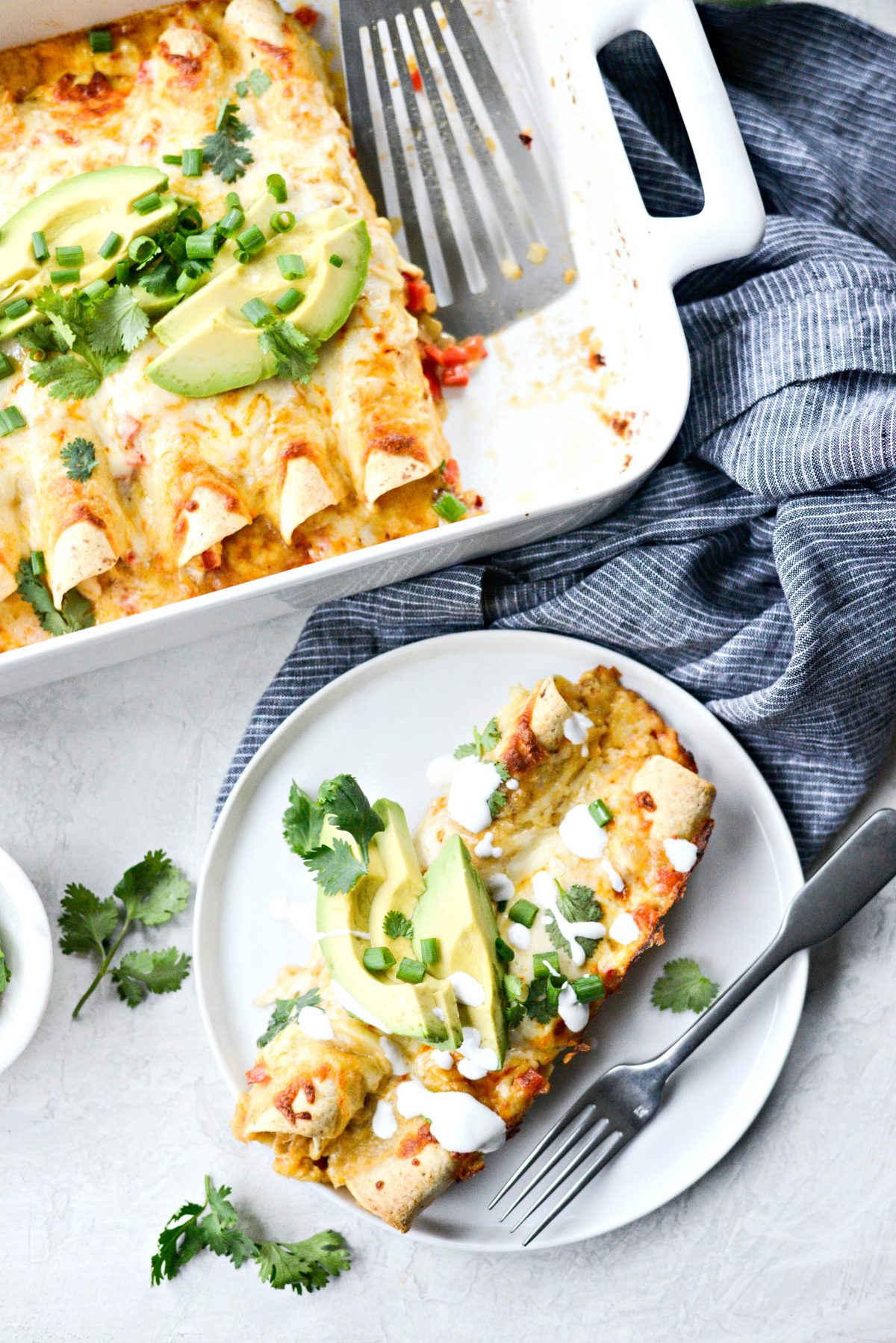 My cookbook Simply Scratch : 120 Wholesome Homemade Recipes Made Easy is now available! CLICK HERE for details and THANK YOU in advance!
[this post contains affiliate links.]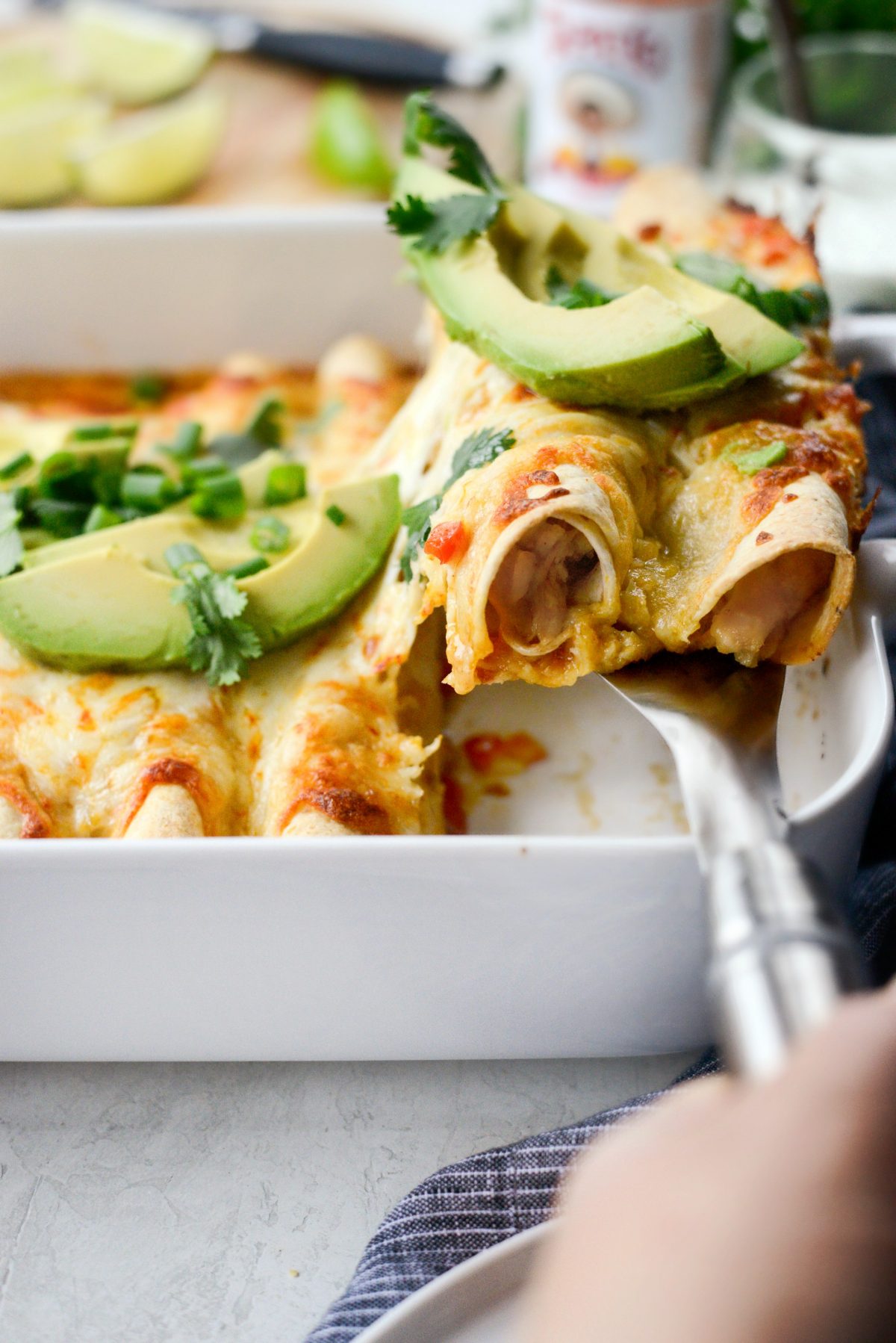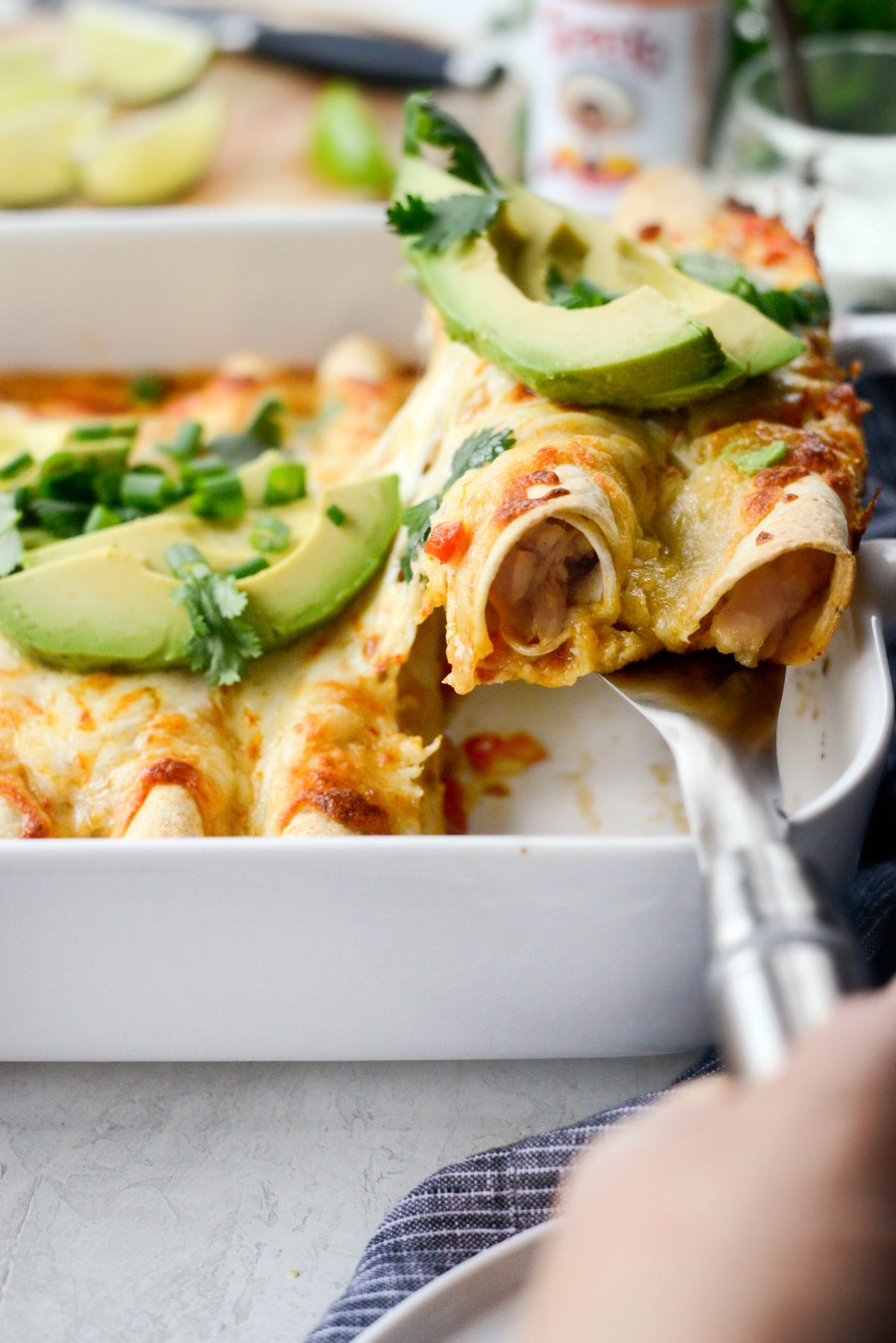 This post may contain affiliate links.
Buy the Cookbook: Simply Scratch : 120 Wholesome Homemade Recipes Made Easy Now available on Amazon »
THANK YOU in advance for your support!