Strawberry Banana Smoothie is a classic smoothie combo. But this recipe has a touch of honey and cinnamon for added nutritional benefits and flavor!
There I was at work, on my break, browsing through the overly priced items at our hospital gift shop. My eyes stopped at the magazines. I know right, a real shocker! I had most of the food magazines on the shelf, except for the newest Food Network one. So I picked it up along with some Worther's Originals. So out the door I went spending five dollars and something just to occupy my time– for when I wasn't on the clock, of course. 😉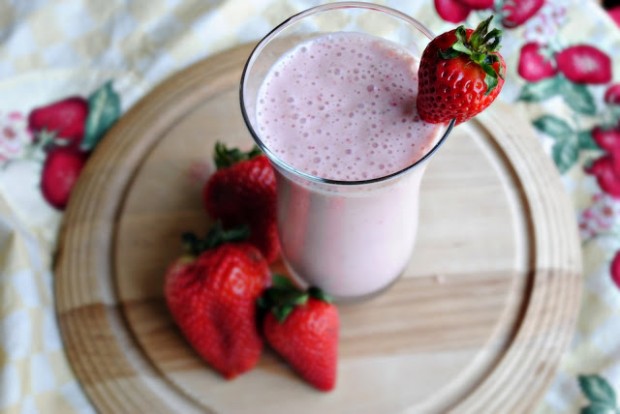 As I flipped through, I passed lots of "to try" recipes that I bookmarked with little pieces of white paper. And then it happened. I had an idea. Okay, well with a huge thanks to the magazine. There it was, in the center of the magazine, a tiny booklet that said 50 smoothie recipes. I love smoothies! And since my new year resolution is to eat less bread (I know, please pray for me) you can imagine how my breakfast options have dwindled. So with that thought… I LOVE SMOOTHIES!?!
To kick off the first "smoothie" recipe I didn't want to do anything crazy… or to weird. So we are keeping it simple and smooth… get it? lol. This recipe came from the Food Network booklet in my magazine this month, and since it was second on their list, I thought why the heck not? Strawberry and banana is a pretty safe combination, no? But have you ever added cinnamon to your smoothie? or honey?
To Make This Strawberry Banana Smoothie You will Need:
vanilla yogurt
honey
pinch of cinnamon
banana, cut into chunks
1 cup strawberries, hulled and halved
1 cup ice
1/4 cup whole milk
Ice is key to a thick smoothie and so is frozen fruit, i.e. bananas or strawberries, just keep them frozen for an extra thick drink! Either way, add 1 cup ice or frozen fruit to your blender.
After the ice, add the 6 ounces vanilla yogurt.
To that add 1/2 tablespoon honey.
A pinch of ground cinnamon.
Next add in 1 chopped banana.
And then 1 cup diced strawberries.
Lastly, pour in 1/4 milk.
Secure the lid to your blender and blend it until smooth!
Pour into glasses.
Enjoy! And if you give this recipe a try, let me know! Snap a photo and tag me on twitter or instagram!
This post may contain affiliate links.
Buy the Cookbook: Simply Scratch : 120 Wholesome Homemade Recipes Made Easy Now available on Amazon »
THANK YOU in advance for your support!