Baked Apple Cinnamon Oatmeal; apples are mixed with cinnamon, nutmeg, oatmeal and raisins and baked in the oven. Serve topped with brown sugar and milk!
Living in Michigan means that when Fall hits, we get to hit the cider mills. It never dawned on me that a lot of other states aren't fortunate enough to experience apple picking, snacking on piping-hot cinnamon-sugar doughnuts while watching apples being pressed for apple cider. How unbelievably sad!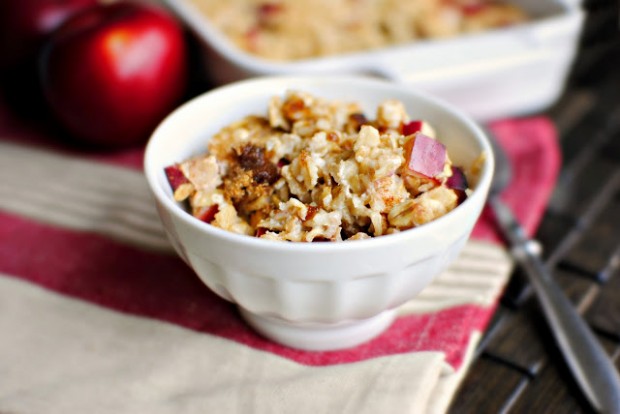 Besides the traditional apple pies, crisps, crumbles and scones…  oatmeal is my next favorite comfort food to bake apples in. So, are you an instant oatmeal fan? Or are you the soak your oats over night kind? With so many different ways for one to make oatmeal, I'm starting to think baked is the best! It comes out of the oven all light and fluffy and the apples are perfectly baked! Not to mention your home fills up with the smell of apples and cinnamon! *siiigh*!
This recipe is crazy easy to prepare, just combine, bake and breakfast will be served in 30 minutes or less!
Gather and measure your ingredients.
First, halve and then quarter and remove the center core of an apple.
Next just slice and dice one small to medium sized apple…
…into small bite-size chunks.
Then, combine the oats, apple and brown sugar into a large bowl.
Lastly, season them with kosher salt, fresh nutmeg and cinnamon…
…and add in the melted butter.
Next, give it a good hefty stir.
And dump it all into a small ungreased baking dish.
Spread…
…and pour in the entire two cups of milk over top.
No need to stir or mix.  Just place the dish into a preheated 350 degree oven to bake for 25-30 minutes or until most of the milk is absorbed.
Remove and let cool. I shared this with my two daughters while my husband was hunting. So if I was making this for four adults I would double it for sure! But my girls and I shared this leaving a little bit left over for me to save.
Serve it up! I like mine with a little extra brown sugar and a drizzle of milk.
It's gooood.
Make it. Eat it. Love it.
Enjoy! And if you give this Baked Apple Cinnamon Oatmeal recipe a try, let me know by snapping a photo and tagging me on twitter or instagram!
My cookbook Simply Scratch : 120 Wholesome Homemade Recipes Made Easy is now available! CLICK HERE for details and THANK YOU in advance! 
[this post contains affiliate links.]
This post may contain affiliate links.
Buy the Cookbook: Simply Scratch : 120 Wholesome Homemade Recipes Made Easy Now available on Amazon »
THANK YOU in advance for your support!