Lunch Lady Sloppy Joes are a fun twist on sloppy joes and an easy dinner for any night of the week. Hotdog buns, stuffed with a mozzarella cheese stick and topped with hot sloppy joe sauce for a string-cheesy and delicious dinner.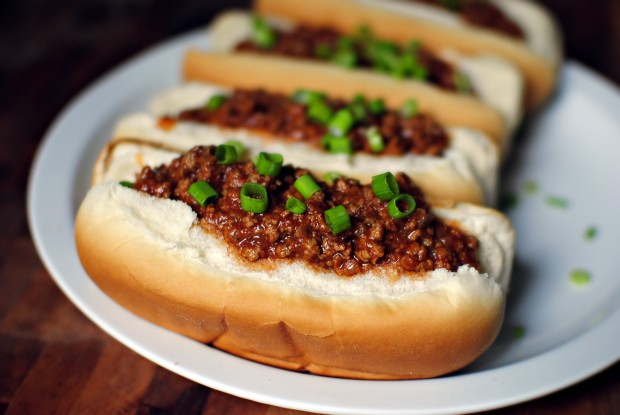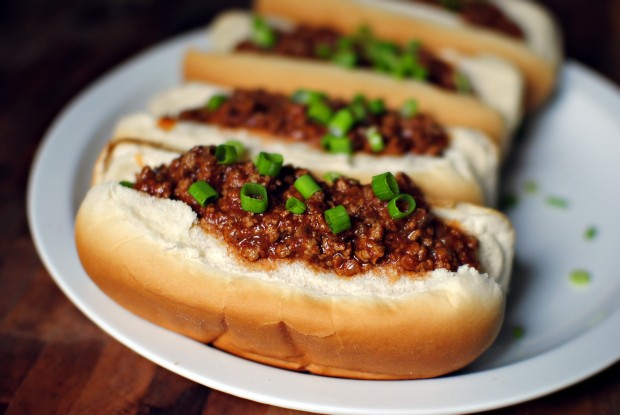 Let's talk dinnertime, shall we?
More often than not I find myself in a bit of a struggle when it comes to what to make for dinner. Sometimes I just want to eat popcorn and Hershey kisses and be done with it. But I have these responsibilities. You know, kids.
Well, tonight was one of those nights. And no, we didn't eat popcorn and Hershey kisses. After working a couple of twelve-hour shifts, I was only in the mood to cook something that didn't take a whole lot of thought or time. So as I started flipping through my ever growing stack of recipes, I was suddenly struck by a memory of a childhood favorite.
First before we move on, let me say that before today this recipe was nameless. My Mom didn't have a name for these, because it was one of those things she made for us kids to use up the leftover sloppy Joe sauce (she's clever like that). So there I sat tapping my fingers on my desk wondering what to call this recipe?! Then I was reminded of an old SNL skit, the one of Chris Farley as the lunch lady in Lunch Lady Land? She would bust out in son, singing "Sloppy joe… slop, sloppy Joe" with that giant mole on her (his?) face. The. Best. I hope the song is now stuck in your head as it is mine.
And that, my friends, is how I got the name Lunch Lady Sloppy Joes.
Let's get started on the 'sloppy' sauce.
Throw some bacon fat or olive oil into a deep sided skillet.
First, dice an onion very fine.
Then add them to the warm bacon fat in the skillet and cook until soft and translucent, not browned.
Next squeeze the garlic cloves through a garlic press (or finely mince) into the pan. Stir and cook for 1 minute.
Then add in the ground round. Use a potato masher to smash the meat into small crumbles.
Next measure and add in 1-1/2 teaspoons of chili powder. I'm using Ancho because I love it but regular chili powder is fine too.
Then add in about 1 to 2 teaspoons of yellow mustard. I go by taste. I'm so one of those people.
Lastly, add the (15 ounce) can of tomato sauce and a small pinch of sugar. Then pour in 1/4 cup of water and the worcestershire sauce to taste.
Then season with salt and pepper.
Stir the sloppy joe sauce and over medium-heat, bring it to a simmer for about 10-15 minutes.
Meanwhile slice up some green onions.
This is the toughest part of the recipe. Ready? Okay. Now carefully remove the mozzarella cheese from the wrappers.
And then place each one inside of their own hot dog buns. Tough stuff isn't it?
Doesn't this look freaking weird? like white hot dogs? HA. No. Seriously it's delicious, I promise.
Next you'll wan to top them with the Sloppy Joe sauce and sprinkle with the green onions. Because the sauce is piping hot it should soften the string cheese, therefore creating the most amazing cheese pull.
I like to serve them with some Bettermade chips and a Rock & Rye Faygo pop to make the childhood memory complete!
My girls ate these up and requested them again the next day! For another fun version check out my recipe for Saucy Mozzarella Dogs! Because there's no such thing as too many kid-friendly recipes where cheese is the star. 😉
So fun and totally delicious. The proof is in the string!
Enjoy!
And if you give these Lunch Lady Sloppy Joes a try, let me know! Snap a photo and tag me on

twitter

or

instagram!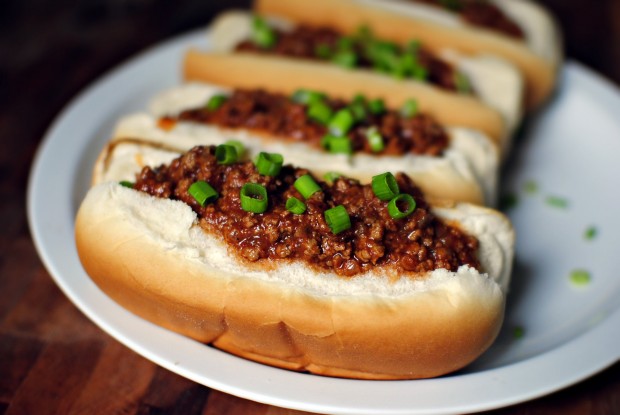 My cookbook Simply Scratch : 120 Wholesome Homemade Recipes Made Easy is now available!

CLICK HERE fo

r details and THANK YOU in advance!

Yield: 8 servings
Lunch Lady Sloppy Joes
Lunch Lady Sloppy Joes are a fun twist on sloppy joes and an easy dinner for any night of the week. Hotdog buns, stuffed with a mozzarella cheese stick and topped with hot sloppy joe sauce for a string-cheesy and delicious dinner.
Ingredients
2 teaspoons olive oil or bacon fat
1 cup finely chopped yellow onion
1 garlic clove, minced
1-1/4 pounds ground round
1-1/2 teaspoons regular or ancho chili powder
2 teaspoons yellow mustard, or to taste
1/2 teaspoon sugar
1 (15 ounce) can tomato sauce
1/4 cup Water
Worcestershire Sauce, a few drops to taste
3/4 teaspoon kosher salt
1/4 teaspoon freshly ground black pepper, to taste
8 mozzarella string cheese sticks, at temperature**
8 hotdog buns, toasted if you're in the mood
sliced green onions, for serving
pickled jalapenos, for serving (optional)
Instructions
In a medium sauce pan, over medium-low heat, sauté the onions in olive oil (or bacon fat). Once soft and translucent add in the garlic, cook for one minute. Next add in the ground beef and use a spatula (or potato masher) to break it up into small pieces and cook thoroughly.
Then measure and add in the ancho chili powder, mustard, sugar, tomato sauce, water, Worcestershire, salt and pepper to the meat mixture. Stir and simmer over medium-low heat for 10-15 minutes.
Place the cheese sticks inside the buns and top with sloppy Joe sauce. Sprinkle with green onions, pickled jalapeno slices and/or anything else your heart desires and serve!
Notes
For optimal cheese string action, warm the mozzarella cheese sticks in the microwave until very soft (but not melting) before placing in the bun and pouring sloppy joe sauce on top.
Nutrition Information:
Yield:
8
Serving Size:
1
Amount Per Serving:
Calories:

460
Total Fat:

21g
Saturated Fat:

9g
Trans Fat:

0g
Unsaturated Fat:

10g
Cholesterol:

86mg
Sodium:

1080mg
Carbohydrates:

34g
Fiber:

3g
Sugar:

8g
Protein:

32g
Nutrition information isn't always accurate.
[this post contains affiliate links.]