Heirlooms, oh how I love you and especially in this Balsamic Heirloom Tomato Salad.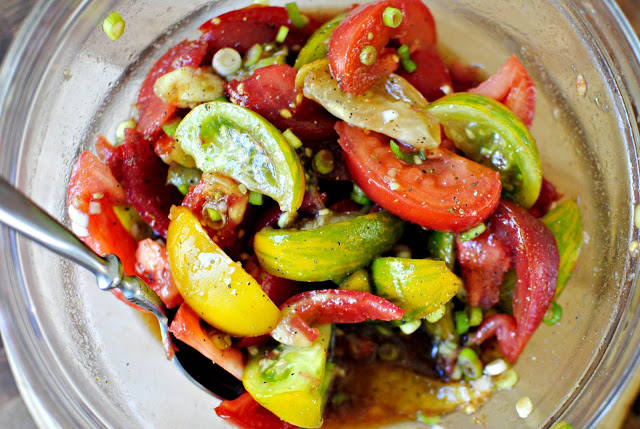 This was the first time I've ever had heirloom tomatoes, *gasp* and it was love at first bite!
This recipe celebrates the delicious freshness of tomatoes. I usually make my regular old tomatoes this way, but now I that I fell in love with heirlooms… I don't think I'll ever go back, EVER! There's just something about them. I was like a crazy person when I first took a bite, I was so ravenous that they almost didn't make it to the dinner table. I usually get that way over cookie dough or cake batter, so this was a total first for me!
So if and when I'm going to consume tomatoes… this. is. how I rolllll.
To Make This Balsamic Heirloom Tomato Salad You Will Need:
tomatoes
garlic
green onions
balsamic dressing
Just look at all the colors! Those green and yellow zebra tomatoes, I read, are a crossbreed of four different heirlooms…. so vibrant and purrrrty!
Then wash and remove all stems.
Next, halve and quarter the tomatoes into desired size. I like mine on the larger side.
Then place in a colander and sprinkle with kosher salt. Set the colander in a bowl (to catch all the juices) for about 20 minutes or so. After the 20 minutes, place the salted tomatoes into a clean bowl. Looky! It's like a rainbow of tomatoes in there!
Next slice up a bunch of green onions and add to a bowl with one minced clove of garlic.
Then mix one part balsamic to three parts olive oil.
Next add in a pinch of oregano, I grind mine in my palm with my finger.
Then using my mini whip, I whisk those ingredients into submission.
Then toss in a bowl along with the green onions and garlic and then pour over the salted tomatoes.
Lastly, season with lots of fresh cracked black pepper and give one last stir before serving! Naturally these would benefit from a little time it the fridge… but they're delicious right away… straight out of the bowl and puh-lease use your fingers… it's a total must!
Enjoy! And if you give this Balsamic Heirloom Tomato Salad recipe a try, let me know! Snap a photo and tag me on twitter or instagram!
Yield: 6 servings
Balsamic Heirloom Tomato Salad
In this Balsamic Heirloom Tomato Salad, wedges of heirloom tomatoes tossed in a garlicky balsamic dressing. Fresh and perfectly delicious!
Ingredients
2 pounds heirloom tomatoes, of different color and variety
1 bunch green onions, sliced
1 clove garlic, minced
kosher salt
3 tablespoons extra virgin olive oil
1 tablespoon balsamic vinegar
1 pinch dried oregano, ground in your palm
freshly ground black pepper, to taste
Instructions
Wash and remove stems. Slice tomatoes into halves, quarters or eighths depending on the size of the tomato and toss into a colander set over a large bowl.

Generously sprinkle kosher salt over tomatoes, gently toss and let sit for 20 minutes. The salt not only removes some extra water from the tomatoes, but seasons them too.

In another bowl combine the sliced green onions and garlic. In a measuring cup combine the balsamic vinegar, olive oil and oregano.

Whisk until combined and pour over salted tomatoes. Toss, season with fresh cracked black pepper and serve!
Serving: 1g, Calories: 94kcal, Carbohydrates: 7g, Protein: 1g, Fat: 7g, Saturated Fat: 1g, Polyunsaturated Fat: 1g, Monounsaturated Fat: 5g, Sodium: 9mg, Potassium: 375mg, Fiber: 2g, Sugar: 4g, Vitamin A: 1300IU, Vitamin C: 22mg, Calcium: 20mg, Iron: 1mg
This post may contain affiliate links.
Buy the Cookbook: Simply Scratch : 120 Wholesome Homemade Recipes Made Easy Now available on Amazon »
THANK YOU in advance for your support!