This Pineapple Carrot Coconut Cake is deliciously moist. Cake layers loaded with fresh pineapple, carrot and coconut are sandwiched between cream cheese frosting. Now if you need an indication of how good this cake is, my husband LOVED it and he hates carrots, pineapple and coconut.
I was in the mood for cake.
It has been far too long since I posted a "sweet" recipe, and I couldn't go another day without… cake.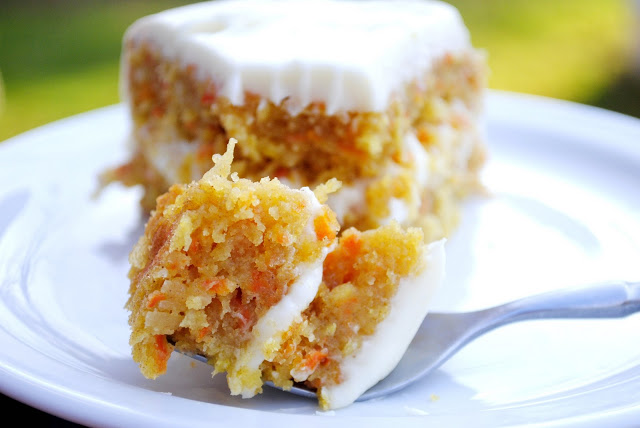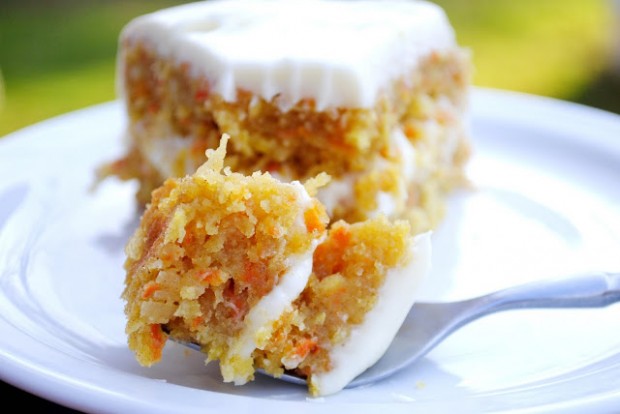 I'm not sure where I got this recipe from, it was one of those in a stack of a million I have printed off of the internet, but it was begging to be made so I had no problem obliging.
Since it has been in the 60's this week and in celebration of the warm weather I give to you this pineapple carrot coconut cake. Totally to die for! The original recipe called for a can of crushed pineapple and if you follow this blog regularly you know I'm just not a fan of canned pineapple. Nothing beats the real thing and to me super fresh pineapple is the way to go… so I made my own!
To Make this Pineapple Coconut Carrot Cake You Will Need:
unbleached all-purpose flour
baking powder
ground cinnamon
grated fresh nutmeg
unsalted butter, softened
granulated sugar
large eggs
whole milk
grated carrots
1 cup flaked coconut
1 cup fresh pineapple, crushed
1 recipe for cream cheese frosting
Get your ingredients ready and preheat your oven to 350°.
First things first, get your pans ready. I dread this part the most, because I don't use spray you really need to make sure you don't miss a spot! I also trace and cut out wax paper to fit the bottom of the pans so the bottom of the cake won't stick. But I still butter the whole cake pan!
Click HERE to learn how to line cake pans!
In a medium bowl add 2 cups unbleached all-purpose flour, 2-1/2 teaspoons of baking powder, 2 teaspoons ground cinnamon and 1/4 teaspoon grated fresh nutmeg.
Whisk and set aside.
In a large bowl add 3/4 cup (1-1/2 sticks) softened butter.
Add 1-1/2 cups sugar to the butter and mix on medium speed.
Stop when the butter is light and fluffy.
I crack my 3 eggs in a separate bowl so I can add them gradually, and to pick out any shells if any.
Add one egg at a time and mix thoroughly after each additional egg.
Look how pretty!! The farm fresh eggs made this batter a bright yellow!
Now you want to alternate adding the flour mixture and milk. Start with some flour and mix…
Alternate adding a couple of tablespoons of the 1/2 cup of whole milk and the dry ingredients until all of both are added in.
You should probably scrape down the sides of the bowl in between each step!
Now add all 2 cups grated carrot and mix.
I used a box grater to grate mine but fee free to use your food processor because I'm lazy and didn't want to lug out my food processor. It did it take me forever to grate two cups of carrots and there was carrot shrapnel on the floor, counter and me… ugh. You might want to save yourself the misery and just get out your food processor.
Unless you don't have one, then GOOD LUCK and happy grating!!
Good thing Seamus the floor cleaner is nearby to get the falling pieces! Look he got something, his whiskers are crumbed!!
When we got him as a puppy, the breeders called him Sad Eyes. He uses those on me all the time to get treats… and they work all too well!
Add pineapple to your mini or regular food processor and puree until it measures 1 cup, adding more if needed. This is when having a mini food processor comes in handy!
Now you can add the 1 cup fresh crushed pineapple and mix until incorporated.
Lastly, measure a heaping cup of flaked coconut.
Then add it to the batter.
Mix just until combined. Scrape the sides and bottom of the bowl to insure all ingredients are mixed well.
Divide evenly into the two greased 9-inch cake pans. Tap on the counter to settle the batter. Bake for 35 to 40 minutes or until a tester comes out clean. In my oven it only took 35 minutes. But we all have different ovens, so watch it carefully.
Let the cakes cool for 10-15 minutes in the pan before trying to remove them from the pan. Set your timer and go check your facebook, wash some dishes or do another load of laundry!
Run a knife along the edges of the cake to loosen.
Once the cakes are removed from the pan, let them cool completely before frosting.
Oh-my-goodness! Looks and smells incredible!
The time has come to frost.
I have already made the Classic Cream Cheese Frosting. So now I just cut some small strips of wax paper and placed them on the cake stand. The reason I do this is so that when I frost I don't get frosting all over the cake plate. I'll remove the strips before slicing and serving the cake.
Place one of the cake layers upside down and remove the wax paper liner.
Add a generous dollop of the cream cheese frosting onto the top of the first cake layer.
Spread evenly leaving an "over hang" of frosting.
Carefully place the next layer (bottom side facing up) on top of the frosting.
Place the remaining cream cheese frosting on top of the second layer and spread evenly on the top and the sides of the cake.
Remove the wax paper strips and ta-dah! Now pat yourself on the back!
This cake is super moist. My husband hates carrots, pineapple and coconut, but he loved this cake. He even made sure that I put that in this post!
The flavors meld so well they become one in a sense. I love this cake and you will too! Just think it has all the food groups in it so its GOTTA be healthy, right?
When you have a cake with cream cheese frosting, make sure you store it in the refrigerator!
Enjoy! And if you give this recipe a try, let me know! Snap a photo and tag me on twitter or instagram!
This post may contain affiliate links.
Buy the Cookbook: Simply Scratch : 120 Wholesome Homemade Recipes Made Easy Now available on Amazon »
THANK YOU in advance for your support!