Broiled Tilapia Parmesan is bright and extremely flavorful! A mixture of spices blend and parmesan cheese blended in a creamy topping before being spread on tilapia filets. Broil until flaky and delicious!
Unlike my last post, my girls LOVE LOVE LOVE fish.
Salmon, tilapia, halibut- you name it and they will eat it. And then there is my husband, who will only eat fish if it is beer battered, deep fried and smothered in tartar sauce which means tonight he had pizza rolls while the girls and I dined on cheesy-topped tilapia and roasted broccoli. His loss is my gain, because I'll have left overs for lunch the next day!
I totally get my husbands aversion to non-fried fish, because I too was once a very picky food eater. So it takes one to know one. My mom is an excellent cook and made us try a lot of things. From buckwheat to carob, tvp (gag) and swordfish and I bet that contributes significantly to why I am no longer picky eater.
I originally found this recipe via AllRecipes.com and it's been a favorite of ours (with the exception of Pat) since the first bite. I will however stress that buying fresh tilapia fillets from your grocery store's seafood counter is a total must. Of course you can use frozen, but fresh tilapia is typically larger than the frozen ones and the texture of the (fresh) fish is incomparable. Also, equally important, knowing where your grocery store sources their seafood.
This tilapia Parmesan recipe is light, bright, extremely flavorful and conveniently cooked under the broiler. It's the kind of recipe you'll say to yourself… "Wow! I made this and I.am.awesome!"
Hold onto your hats, it's about to get cheesy up in here!
To Make Tilapia Parmesan You Will Need:
tilapia fillets
butter
mayonnaise
parmesan cheese
Old Bay seasoning
dried basil
garlic powder
celery salt
black pepper
fresh lemon juice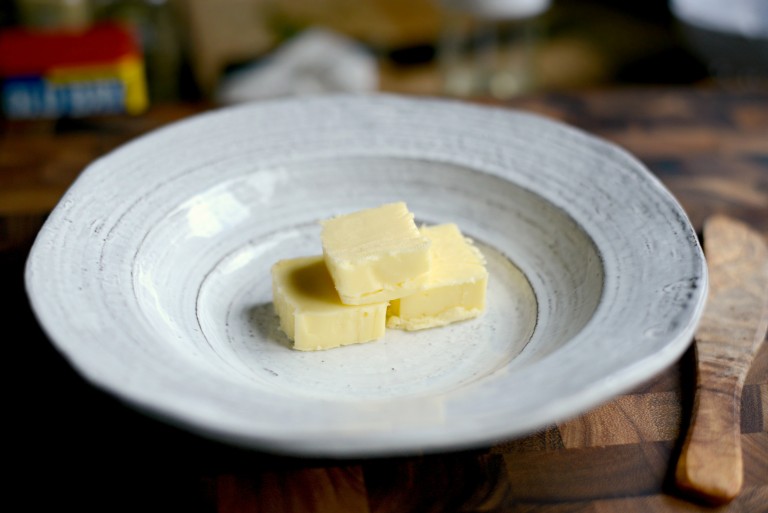 Move the oven rack to the highest position in your oven and preheat your broiler on high. Add the softened butter to a medium bowl.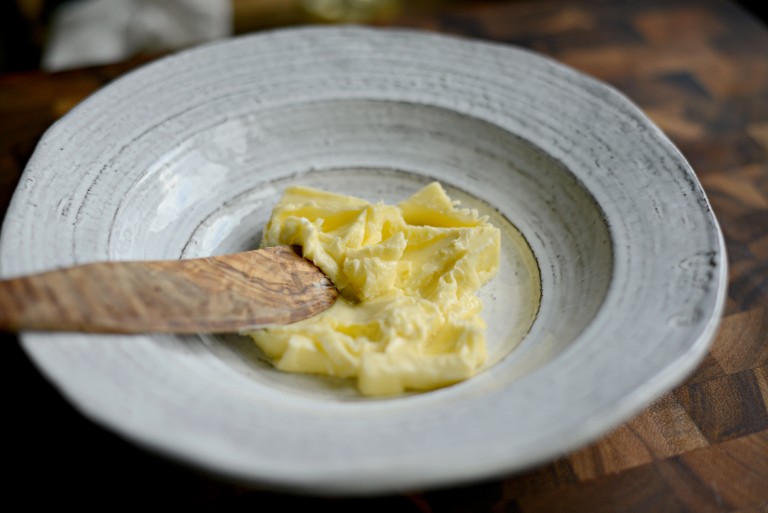 Smash it up a little with a spatula.
To the butter, add in 3 tablespoons of mayonnaise.
Grate 1/2 cup of parmesan in a medium sized bowl. I know we are breaking some kind of culinary law by putting cheese on top of fish, but I'm a rule breaker.
Measure and add in 1/2 teaspoon Old Bay seasoning, 1/4 teaspoon of both dried basil and black pepper and 1/8 teaspoon of both celery salt and onion powder.
To the parmesan mixture, squeeze in the juice from half a juicy lemon (about 2 tablespoons).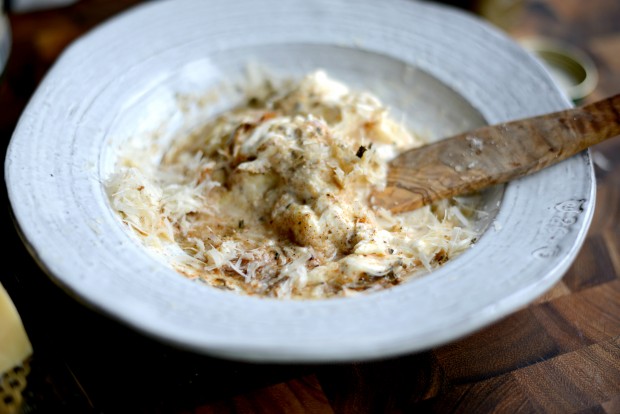 Give it a stir.
Until smooth and set aside.
Lightly butter a foil lined baking sheet. The foil will make for an easier clean up. Just ball it up and toss into the trash. Boom. Done. Arrange the fish with the pretty side down and the darker side up. Slice the pan with tilapia under the broiler for about 2-3 minutes.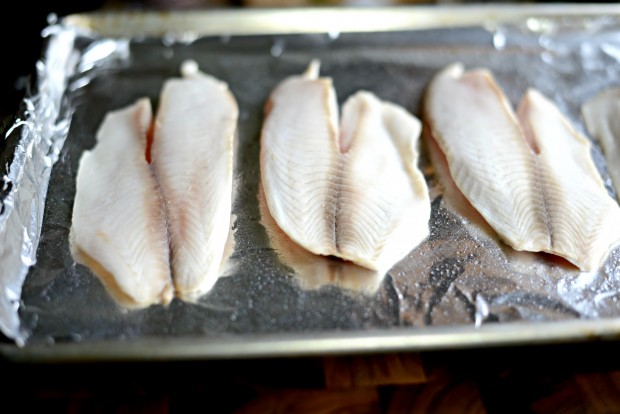 After the 2-3 minutes, remove the pan. The fish should be slightly opaque.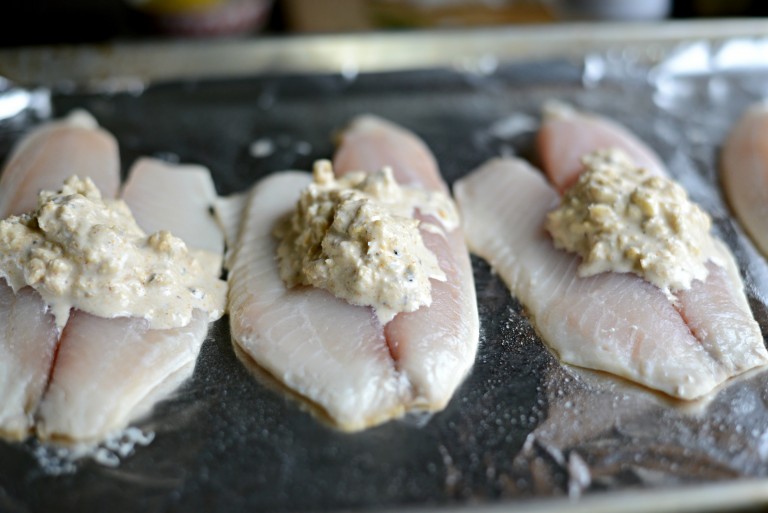 Flip the fish so it is pretty side up, and spoon the parmesan mixture on top.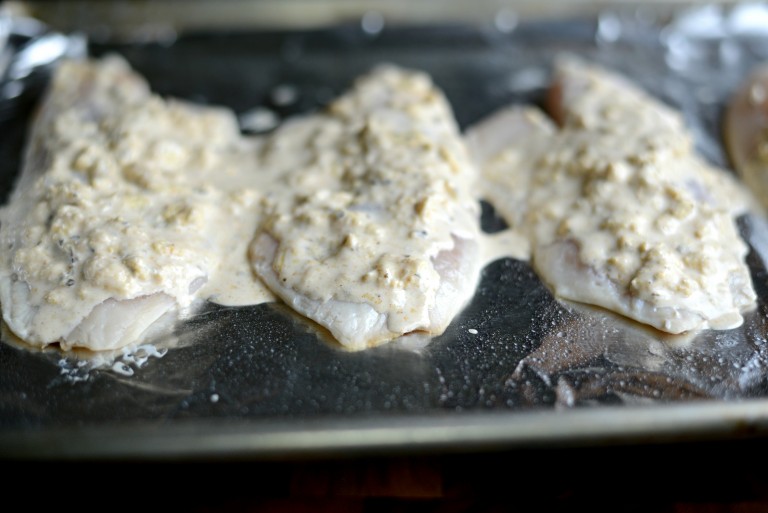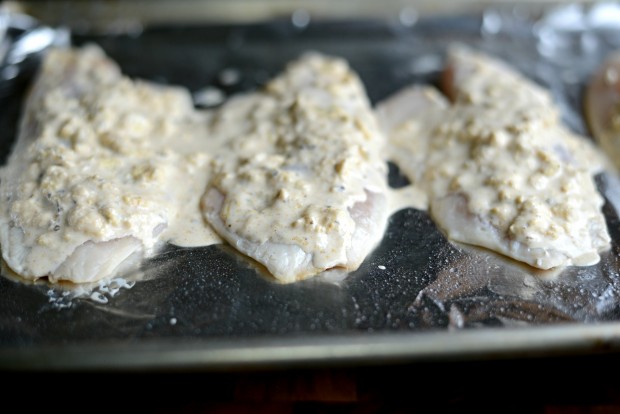 Spread the parmesan mixture over the fillets. Go ahead and place the fish back under the broiler for another 3-6 minutes or until the parmesan mixture starts to bubble and brown.
Smells Amazing!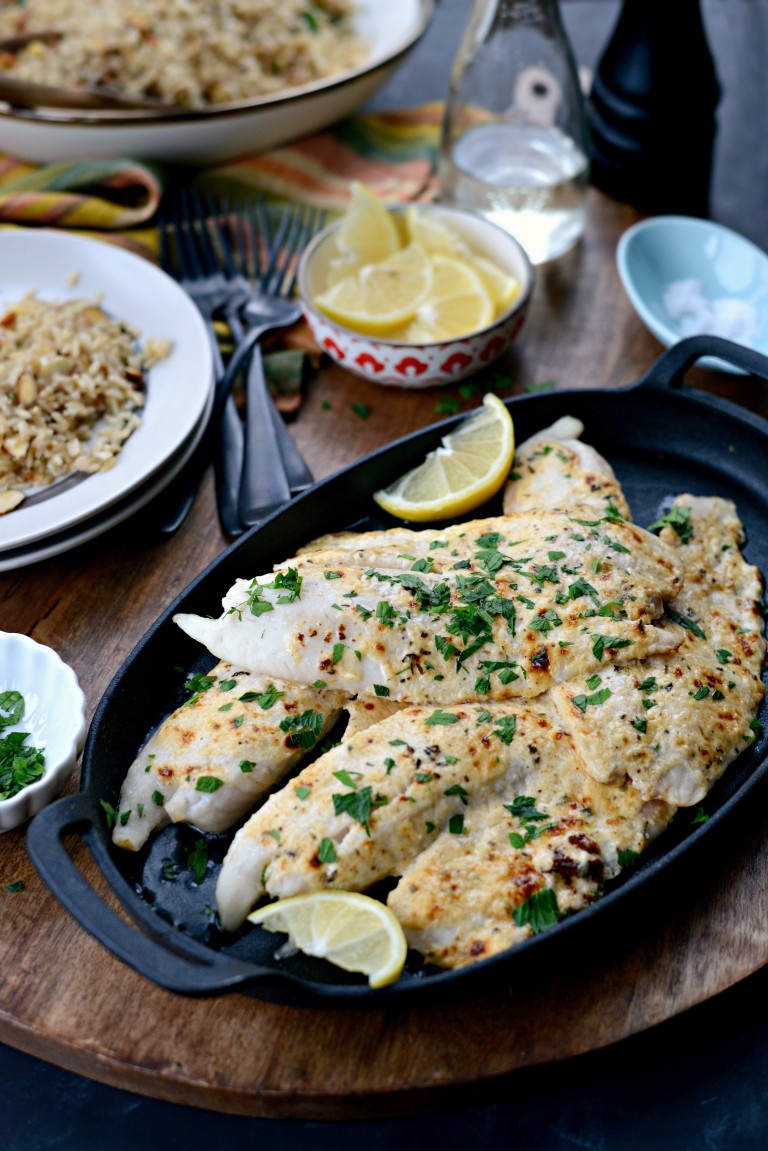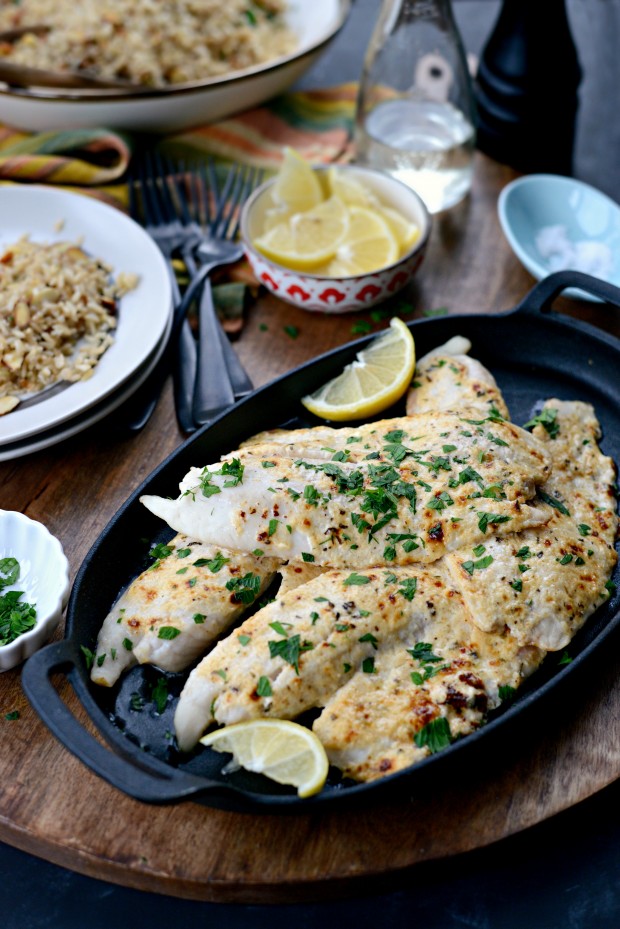 Serve your broiled tilapia parmesan with roasted broccoli and garlicky toasted almond basmati rice and your meal is complete!
Enjoy! And if you give this Broiled Tilapia Parmesan recipe a try, let me know! Snap a photo and tag me on twitter or instagram!
This post may contain affiliate links.
Buy the Cookbook: Simply Scratch : 120 Wholesome Homemade Recipes Made Easy Now available on Amazon »
THANK YOU in advance for your support!